PERSON OF THE YEAR!
HALL OF FAME DINNER!
TICKETS NOW ON SALE!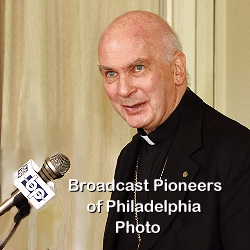 Cardinal John Foley
Broadcast Pioneers Luncheon
Bala Golf Club, Philadelphia
Wednesday, June 15, 2011
(Photo by Broadcast Pioneers' President Jerry Klein)
Our 2011 Person of the Year is His Eminence Cardinal John P. Foley, Broadcast Pioneers of Philadelphia member and a native to this area.
When the Roman Catholic Church needed to tell the world that the cardinals had chosen a new pope, they relied on the traditional plume of white smoke. For more sophisticated communications efforts over the past 20 years, the Vatican turned to Cardinal John Foley. It was he who told the world that Pope Benedict was elected. He began his broadcasting career as a teenager as a WJMJ Radio announcer. He was co-producer and co-host of the Philadelphia Catholic Hour on WFIL Radio. He co-produced 20 television episodes of "The Making of a Priest," for Group W.

In 1984, he was named by Pope John Paul II as President of the Pontifical Commission. It's the office responsible for all the Vatican's print and electronic communications and ministries. He held that post for more than 20 years and was responsible for the Today Show's week-long broadcast from the Vatican. He also was commentator for NBC broadcasts of the Christmas Midnight Mass from the Vatican for 25 years. In 2007, Foley was elevated to Cardinal.
The inductees for our "Hall of Fame" for 2011 (in alphabetical order):
Cherie Bank, former WCAU-TV medical reporter & TV host
Dann Cuellar, reporter for 6ABC, WPVI-TV's ACTION NEWS
Howard Eskin, WIP sports talk host & sportscaster on NBC 10
Steve Highsmith, PHL 17 & NBC 10 host and political reporter
Wally Kennedy, KYW Newsradio anchor/former TV/radio talk host
Tim Lake, anchor of 4 pm, 6 pm & 11 pm news on NBC 10, WCAU
Steve Levy, former anchor/reporter/sportscaster at Channels 3, 6 & 10
Andy Musser, Phillies/Eagles/Sixers sportscaster for 25 years!
Barry Reisman, Philly's Jewish-American radio host since 1965
Stephanie Stahl, CBS 3's medical specialist/reporter and TV Host
We will also be inducting 15 people posthumously into our Hall of Fame. All posthumous honorees will be honored in one short video that evening. They are:
Larry Brown, former WPEN Radio air personality/TV pitchman
Dick Covington, former KYW Newsradio anchor/ID announcer
Jack Creamer, "The Handyman Show" host on WIP & Channel 3
Tommy DeNoble, Bandstand regular & TV host/singer/engineer
Bob Dome, former broadcast advertising executive extraordinaire
Randy Kraft, former TV news anchor and actor on "General Hospital"
Jack Lamar, all round Philadelphia area broadcaster & announcer
Don Lancer, former KYW Newsradio anchor known as "The Dean"
Norman Leebron, producer, sales manager and all-round broadcast guy
Helen Lipkin, former 30s/40s WDAS kids show host & WPTZ personality
Mac McGuire, DJ and singer on WPEN, WIP, KYW and WCAU Radio
Tom Moorehead, former WFIL-TV sports director and TV personality
Roy Neal, former WIBG announcer, WPTZ personality & NBC newsman
Charlie O'Donnell, Bandstand announcer, movie host/network announcer
Joel A. Spivak, former WCAU Philadelphia TV & radio air personality
Tickets are now on sale. Prices are $80 for the member (each member can buy ONLY one ticket at the member price) and $95 for everyone else (including spouses, friends and guests). The event will once again take place at the City Avenue Hilton, 4200 City Avenue, Philadelphia. The date is Friday, November 18th. Reception is at 6 pm with dinner being served at 7 pm. Doors open at 5:45 pm. Cash Bar all night long. Valet parking is $10. Event lot parking is $5. Make plans to be there! Just click here for our reservation form. Just print, fill in and mail. Don't forget to include your check.
BOARD MEETING:
Important notice to all members of our board. The next board meeting will be at 10 am on Wednesday, September 21st, just before our luncheon. Note the new start time: 10 am.
WELCOME NEW MEMBERS:
Jon Hitchcock is the president and general manager of CBS 3 and The CW Philly 57 since April of 2009. Previously, he was vice president and general manager of LIN Television Connecticut duopoly, WTNH-TV and WCTX-TV, for seven years. He is the past Chairman of the Connecticut Broadcast Association and served on the board for NATAS in New England.
Angela Rogers has been in the business for 16 years. She's the 6 pm and 11 pm newscast director at WPVI-TV since 2006. Before that, from 1995 to 2005, she was with KJRH-TV, in Tulsa, Oklahoma, which is her hometown. There, she worked as a TD, director, photographer, and editor. She holds a Bachelors of Science degree in Mass Communications from the University of Tulsa.
Denise Nakano has been involved in broadcasting for 15 years. She is currently an anchor/reporter at NBC 10, where she has worked since July of 2003. Before that, she was with KCPQ-TV in Seattle, WTVH in Syracuse, and KHSL in Chico, California. Denise is a native of LA and earned her Bachelors of Arts Degree in Communications from the University of the Pacific.
We are thrilled to have these new members. They've helped to bring our total membership up to 441 (an all-time record). We hope to see as many of you as possible at the September luncheon.
DIGITAL ARCHIVAL PROJECT NEWS:
Larry Kane
Action News
WPVI-TV
Thursday, July 29, 1976

Jim O'Brien
Action News
WPVI-TV
Thursday, July 29, 1976
Here is part of an early evening Action Newscast from Thursday, July 29, 1976. Broadcast Pioneers member Larry Kane is the anchor, with Jim O'Brien on weather and Broadcast Pioneers member Joe Pellegrino on sports. On this broadcast, Don Tollefson did a news story report on the "Action Cam." It was not a sports story.
Our transfer comes direct from a WPVI-TV 3/4" video tape. However, it is a generation down. Why? Well, this 3/4" recording consisted of various reports. This was taken from an aircheck and then dubbed onto the final 3/4" tape. The copy we have did have some problems. While all the other cuts on the tape were fine, this particular one had low contrast and was dark. With today's digital technology, we can lighten the video and restore it to what it should have been. However, the recording is not as sharp and clear as we would prefer. In our opinion, the Real Video version is slightly clearer and cleaner.
Watch with Real Video!
Watch with Windows Media!
King George VI, the head of the British Empire, died on Wednesday, February 6, 1952 at Sandringham House in Norfolk, England, the country estate of the Royal family. The king was found dead by one of the staff at 2:30 am, Philadelphia time. The official announcement was made 3 hours and 15 minutes later by a spokesman at the estate. Shortly thereafter, the home service of the BBC Radio announced the news to the British nation and then closed down operations. The king suffered a coronary thrombosis, a fatal blood clot to the heart, shortly after falling asleep. He also had lung cancer. He was 56. Princess Elizabeth (who automatically became Queen) was at the royal hunting lodge in Kenya when she got the news.
Prime Minister Winston Churchill addressed the British nation the next evening at 9 pm (British time). It was 4 pm here in Philadelphia. While the speech was carried live in the United States, many stations reaired the address later that evening when people returned home from work. WIP Radio in Philadelphia was one such station. That night, Thursday, February 7, 1952, the station rebroadcast Churchill's address. Afterwards, there was a ten-minute wrap-up by WIP. This was a local wrap-up and NOT part of the original Mutual Broadcasting System's original feed. WIP was a Mutual radio affiliate at that time.
We have the complete broadcast in our archive. We present to you the local wrap-up after Churchill's address. This would have been on Thursday evening, February 7, 1952. As of now, we have not yet been able to identify the announcer.
Listen with Real Audio!
Listen with Windows Media!
IN TOUCH WITH OUR MEMBERS:
In mid-August, we received a phone call from Pat Neal down in North Carolina. She's the widow of Roy Neal, a local Philadelphia broadcaster who later spent three decades with NBC News. Roy will be inducted into our Hall of Fame this November at our annual banquet. Pat said how wonderful it was that we were recognizing Roy for his work here in our area. As many of you know, Roy donated photos and three chapters of a book to Broadcast Pioneers. He was certainly a believer in our archival project. Pat promised to check in their treasure trove of a basement to see what else can be sent to us to help preserve the history of this market.
On Thursday, September 8th, at the Hilton on City Avenue, member Dom Giordano will be presented with the Ben Hecht Award for Outstanding Journalism. The Award is being presented by The Zionist Organization of America, Greater Philadelphia District, an organization that believes in keeping Israel strong.
Member Harvey Sheldon has reminded us that his new Internet radio station HARVEYSHELDONPHILLYRADIO.COM is in the memory of Art Raymond. Harvey e-mailed:
Every night on WPEN radio, from 9 pm 'til 11 pm, Art Raymond (known as Pancho) was playing mambo & Cha-cha-cha records. Everyone was invited to come to the studio...at 22nd and Walnut, downtown Philly. Every night, Monday through Saturday, the studio was packed with dancers. If you were not there, you might walk in your neighborhood and hear all of the radios tuned to Pancho, The Man in the Black Sombrero.

The record stores could not stock enough of the 45's of the music of Tito Puente, Perez Prado, Tito Rodriguez, Pupi Compo, Noro Morales and many others that were played by Pancho. Just across the street, there was a club. The Harvey Sheldon Jazz All Stars were there playing jazz and mambo music. I also performed mambo music on the college circuit and on Sunday nights at dances in Jewish temples.
"Take Your Shot at Cancer, " a charity golf tournament in Woodstown, NJ, takes place on Sunday, October 2nd. The tournament benefits Breast Cancer Vaccine Research through member Uschi Keszler's organization, "Pennies in Action." They're also having a dinner/concert by "The Dovells." For info call (856) 769-8333.
How many of our members remember when radio actually became a reality 90 years ago? Well, maybe only one. Edna Whittington Cathcart will be 103 this month and her memory is still quite keen. Edna was 12 years old when KDKA went on the air. KDKA was and still is the sister station of KYW Radio. Member Michael Muderick spoke with Edna recently. She was alert and sharp and had some interesting stories about her career in broadcasting. She'd be happy to receive birthday greetings and letters from Broadcast Pioneers members. You can contact her at:
Waverly Heights Retirement Community
1400 Waverly Road
Gladwyne, PA 19035
Kudos to member Pat Ciarrocchi, who traveled to Denver a couple of weeks ago to record a one on one sit down interview with Archbishop Charles Chaput. Chaput will be installed as Philadelphia's archbishop on Thursday. Pat said,"There were no limits on what I could ask and no questions went unanswered." The first part aired last Thursday and the rest aired over Labor Day weekend.
Member Kenny Jeremiah says that he'll be appearing along with Bittersweet on Wednesday, September 21st, from 6:30 pm to 10 pm at the Mirabella Cafe in Cherry Hill. Member Charlie Gracie tells us that he has an upcoming tour of the United Kingdom (known to many of you as "England") scheduled for this fall. Beginning this Sunday, he'll have his own weekly radio program on WLVT, Cruisin' 92.1, from 3 to 4 pm.
Congratulations to John Brown, who on September 1 st celebrated 32 years of traffic reporting. Two years in Chicago and the rest (30) in Philly. John says; "I remember having black hair when I started in 1979!" Way to go, John. You still look and sound great!
WE REMEMBER:
Carolyn Wean, 68, was KYW-TV's first female news director from 1978 to 1980. At that time, she returned to Pittsburgh (where she spent most of her broadcasting years), to Channel 3's sister station KDKA-TV as vice-president and general manager. She later became production chief at the Steel City's public television station WQED-TV, home of "Mister Roger's Neighborhood." She passed away in mid-August after a lengthy illness.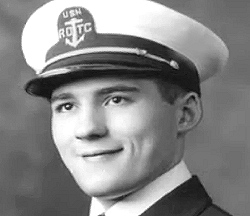 Jerome "Jerry" Shestack, 88, husband of member Marciarose, passed away during the middle of last month. He was the former president of the American Bar Association and appointed ambassador to the United Nations Commission on Human Rights by President Carter. He was a decorated US Naval Officer in the Pacific Theater during WWII. He also was a speech writer for Ed Muskie, Hubert Humphrey and Sargent Shiver. The couple met when Jerry was at Harvard and Marciarose was a freshman at Emerson College. Watch this ten minute video about his life.
Dorothy Brunson, 72, died last month from ovarian cancer. She was the first African-American women to own a radio station (WEBB in Baltimore) and later a TV station (WGTW, Channel 48 here in Philadelphia). She was born in Georgia and grew up in New York's Harlem. She was also co-founder of Howard Sanders Advertising, the first African-American advertising agency on Madison Avenue. In 1986, she was granted the license for the vacant Channel 48 here in the Quaker City. Shortly after coming to Philly, she told The Baltimore Sun why was wanted a television outlet:
We all have a bit of fantasy in projecting where we want to be. Going into television at almost 50, that's crazy, I'm secure, I'm safe. Why take on another $10 million worth of debt? Because I'm a dreamer. The great fantasy. The impossible, the impractical. Not to be caught up in the boredom trail. The ultimate challenge is to be the great entrepreneur. The great businesswoman. I want to be a great businesswoman. It's a dream.
Rick Buckley, Jr., 74, died recently after suffering a brain embolism while on his boat in Long Island Sound. When Buckley Broadcasting purchased WIBG from Storer Broadcasting in 1969, Buckley left his position as President of Buckley Broadcasting of California (a division of the parent company) and came to Philly to run WIBG. He became president of the parent company during September 1972 when his father, Richard D. Buckley, Sr. passed away. There will be a memorial service this Thursday morning in Greenwich, CT.
Joey Vento, 71, owner of Geno's Steaks in South Philly, died at the end of last month from a heart attack. Joe became a local celebrity for his out spoken opinions on immigration and health care. He was frequently appearing as a guest on local radio and TV. He also did his own radio commercials. The business was started 45 years ago by Joey's dad who started with $6, two boxes of steaks and some hot dogs. The shop got its name from a local boy who wrote his own name on the back part of the building.
ON THE HEALTH FRONT:
Board Member Bill Wright, Sr., famed WIBBAGE Good Guy, suffered a foot injury while exiting a Paratransit vehicle last month. He received nine stitches in his little toe. While he had to take it easy for a few weeks, a full recovery is expected and we all hope to see him at our September luncheon.
Gerry Wilkinson, our chairman of the board, continues to suffer from a hearing (inner ear) disorder. Gerry has been having hearing problems for several years but over the summer the loss got worse, sometimes to the point where the audio was so distorted that he couldn't tell what was being said. Sometimes it makes it hard to hold a conversation in person or on the telephone. Doctors are still trying to figure out what's going on.
Board member Emeritus Herb Clarke is suffering from Alzheimer's and has been moved into an assisted living care center. His wife, Barbara, tells us that Herb has good days and not so good ones. Anyone wishing to send Herb a card or greetings can do so by writing at his home address listed in our membership directory. About ten days ago, member Bill Baldini and his wife, Joan, visited the Clarkes. Bill told us:
Herb has seemed to improve somewhat from the last time we saw him. We all should include Herb in our prayers, and let's not forget Barbara either. They're such good people.
We heard from Board member Ed Hurst who, for awhile, thought that he might need surgery for partially blocked arteries. Turns out that his doc said that it's not necessary. Ed, by the way, told us that he went to a 62 and 2/3 year school reunion. He said that they were afraid to wait any longer. If they ever have a 75 year reunion, we trust that Ed will be there.
WE REMEMBER THE WORLD TRADE CENTER TOWERS: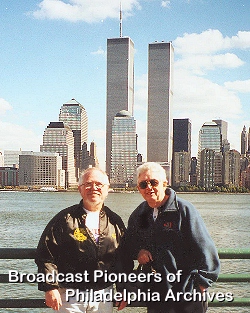 (Left to right) Broadcast Pioneers member Tom Moran with Joe Hayes
Picture taken from Jersey City, NJ
Sunday, October 8, 2000
Of the above photo, Tom Moran says:
Joe and I met at the start of our sophomore year at St. Aloysius High School in Jersey City exactly 62 years ago this month. We have been friends ever since. As a matter of ironic fact, several of us from the "Class of '52" got together yesterday (August 24th) in Spring Lake on the North Jersey Shore to 'do lunch' and just hang out. Any time I'm visiting my old home town, JC, I try to get a photo or two of Lower Manhattan with the WTC in the frame. My latest 'visit' shows one of the new WTC under construction. Most photos taken from Exchange Place in Jersey City.
We have several hours of KYW Newsradio coverage from Tuesday, September 11, 2001, in our audio archive. It begins at 4:25 pm and the station is broadcasting a live conversation between Anchor Elaine Keno and Mideast Bureau Chief Jay Bushinsky from Jerusalem. The clip is about 5 minutes long.
Listen with Real Audio!
Listen with Windows Media!
WE HATE TO KEEP MENTIONING THIS BUT:
Three and a half months ago, you should have received your membership renewal form. Current membership expired at the end of June (unless you've already renewed). Memberships of those who joined in the last few months will expire in 2012. However, you still should have received a form. If you haven't already done so, please correct any contact information. This information will be used to create our new membership directory. Because of the nature of this business, we do not maintain any type of membership list online. This is for your own personal security.
Remember that Broadcast Pioneers is a mainly dues-supported non-profit organization that is federally recognized and state chartered. We have charitable status for federal income purposes. For those of you who wish to do so, there is a place on your renewal form to make an extra contribution to this organization. If you can do so and want to help out, an extra contribution would be appreciated. It will help keep Broadcast Pioneers strong. Check with your tax advisor, because membership dues and donations may be deductible on your federal income tax.
Send in your renewal now if you haven't already done so. Why? Your membership expired about 9 weeks ago. Please take a minute and mail it back today. Broadcast Pioneers thanks you for your continued support.
ADVERTISE IN OUR 2012 MEMBERSHIP DIRECTORY:
There's not much time left (a little less than a week) if you wish to advertise in our new Membership Directory, which will be mailed to members in the fall. It's our special 50th anniversary issue! Our membership is at a record high, so advertising in our membership directory makes more sense than ever before. The cost per ad has NOT increased but the number of members is more than double what it was five years ago. We're giving you a chance to reach more people for the same cost. Ads start at $175 and help defray the cost of publishing the directory. Call us at (856) 365-5600 or e-mail us at pioneers@broadcastpioneers.com.
ADVERTISE IN OUR BANQUET BOOKLET:
Time to start thinking about whether you wish to purchase an ad in the banquet booklet for our November 18th Person of the Year/Hall of Fame Dinner. The cost per ad has NOT increased in the last five years. Last year, we had 376 people attending the banquet. We're giving you a chance to reach more people for the same cost. Ads start at $175 and profits help fund all the activities of our organization. Call us at (856) 365-5600 or e-mail us at pioneers@broadcastpioneers.com. Consider running a congratulatory ad for one or all of our honorees. Thanks for your support. You keep Broadcast Pioneers strong!

Did you know...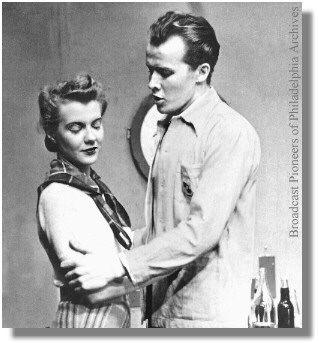 Connie Parkinson & unidentified male actor
W3XE (now KYW-TV)
Thursday, May 2, 1940
Buried in our archives we found a xerox of a hand-written personal history of someone's adventures with W3XE and WPTZ. The document had no identifying information on it but was dated October 16 & 17, 1982. Whoever it was worked there from 1939 or so until at least 1950 and was their chief set designer.
Roy Neal e-mailed us about a decade ago:
I remember him. I think his name was Smith...Art Smith, I believe. He designed "Open House" and all other sets we used. I saw him once in Hollywood, after he left Philadelphia. Very talented guy.
We are not sure where this document came from or how we got it. However, it is believed to be part of the "memories" file that was used as a basis for the 50th anniversary of Channel 3, which was done in December of 1982 by KYW-TV.

We now know that Smith's first name was William. William Craig Smith passed away in August of 1986 at the age of 67. Smith was nominated twice for Emmy Awards because of his work in television. He was also nominated for an Oscar in 1982 for his efforts in Victor-Victoria. He studied under Clyde Schuyler and Alexander Wyckoff here in Philadelphia. He was born in 1918 and went to art school after high school.
Here's part of what the paper said:
I began working for W3XE either in 1939 when I graduated from art school or early in 1940. My interest was actually in set, that is to say scenery, design but the real need was for cameramen and my time was spent both building and painting sets and operating one of the two studio cameras. I was not used to operate the remote camera since I had no real knowledge of baseball or football and was too slight in build to handle the enormous cameras on field tripods which were inherently top-heavy and difficult to handle. These field cameras had only sports sights consisting of a wire frame at the front and a peep-sight at the back. The cameraman had no control over focus which was adjusted from the control truck (or temporary control room).

In the studio it seems to me the two cameras, both of them hand built in the Philco lab, did not match. One was obviously older and used a single lens. The "view finder" consisted of a hole cut in the back of the camera housing through which one viewed the image as it appeared on the target of the iconoscope via an ordinary pocket mirror glued inside the front of the housing! The silver spattered mica of the target was basically gray so that the observed image was very dim. It was also upside down and was seen that way by the cameraman! Control room instructions had to be quickly transmitted by the operator - down for up, up for down, etc. The other camera was much newer and had an optical view finder involving 2 lenses, one for the picture tube....

Both cameras were huge by today's standards. The cables to control had been hand fabricated and stuffed sausage-like into canvas sleeves. The final assembly was about 2 and ½ inches in diameter and extraordinarily clumsy. When it was found that the canvas covers caused objectionable swishing sounds when pulled across the floor, they were recovered with velour or cotton velvet. We did not see electronic view finders until after the war and the studio bought two of the newest RCA orthicon cameras. I remember the engineers being too impatient to await delivery from Camden, going across the bridge in a station wagon to carry those instruments like new born babies up to the top floor of the Architects Building on Locust Street.

Scene from "Last Year's Nest"
(Left to right) Leonard Valenta and unidentified person
WPTZ, Channel 3
1942

To go back to the roof top studio at the factory.... As you might expect the heat when all these lamps were on defied description. The studio at one point bought the cameraman pith helmets but they got in the way of what crude view finders there were and were finally abandoned. Performers frequently passed out on camera. I remember one group of nurses from one of the hospitals who did a program of Christmas carols during the season. As they sang, they started to slide out of the bottom of the picture and were slid along the floor into the "shady" end of the studio until they came to. The effect on our audience of 300 or 400 must have been fairly startling.

Obviously these pictures had all the charm of a portrait taken in one of those dime store booths. Aside from the shell-shocked appearances of the performers forced to endure the heat and searing brilliance of the lights, they managed to look more or less normal on the air thanks to one of the most bizarre systems of make-up. As it was explained to me, the camera's tubes were very sensitive to infra-red radiation and without special steps taken the whole veinous structure of the face and other flesh tended to show through as if the skin had been stripped away. Joe Noble made up a batch of make-up in shades of gray. He concocted this disgusting mess out of cold cream, zinc oxide and (I presume) lamp black. It managed to black out the radiation but the prettiest of women under all the battleship grey turned into strange aliens and plain people were so grotesque as to bring children to tears and strong men to near hysteria.
Shortly after the war broke out, I believe; the studio shut down due to the fact that our frivolous activities were interfering with the testing of certain secret devices downstairs in the factory. Nobody ever said so but most of us knew it was radar. In the time before the operation was reduced to showing film from facilities at the transmitter at Wyndmoor, Pa, it seems our on the air time from Tioga & "C" was severely curtailed partly to save the iconoscopes which were in short supply having been, I think, built right there. At night I remember these tubes were gingerly removed from the cameras, stored in specially plush lined boxes and locked in a safe!

The war was finally over and if I'm not mistaken, all of us who had been overseas came back more or less whole. Old gear came out of storage and work began to convert existing facilities atop of the Architects Building into a TV Studio, formerly the headquarters for the Philadelphia Chapter of the American Institute of Architects. We had game shows, cooking shows (one opened with the announcer saying "Ben Butler has pigs' feet" which panicked the populace) quiz shows, puppet shows, ballets, plays, short operas, tricky titles - the works.

By the time I joined W3XE, Philco had been experimenting with mechanical and electronic TV for about six years, so I know little about those very early years. I recall them telling me that Philo Farnsworth had worked with them in the beginning and had later gone on his own. When I got there, the chief administrative job was held by someone called (I think) Nick Alexander. I don't think he saw the future in television and within a year he was gone to form a Dydee-Wash. And that's the truth. Under him was Warren Wright, the man who hired me originally and who stayed.
EDITOR'S NOTE: Warren Wright was the creator and voice of "Willie the Worm" on WCAU-TV for years. Willie was built out of a few dollars' worth of automobile parts purchased from Pep Boys, but that's an entirely different story!