The Broadcast Pioneers of Philadelphia is a federally recognized, state chartered 501(c)(3) non-profit corporation serving Philadelphia since 1962.

Frank Stone
Newsletter Editor

September Luncheon
The Bala Golf Club
Wednesday, September 19th, 2012

Reception at 12 noon
Lunch at 12:30 pm
Ratecard: $28 per person

(new)

PLEASE RESERVE NOW!
(856) 365-5600
rsvp@broadcastpioneers.com
A "Third Wednesday" Double Bubble!
Tribute to John Roberts and Charlie Gracie Live in Concert!



Call Now to Reserve! (856) 365-5600!
Time for our new season of luncheons to begin! Our first one will be on Wednesday, September 19th. Our luncheons are ALWAYS on the third Wednesday, hence the name, "Third Wednesday." Hopefully, this will help people remember when they are.
Well, our September "Third Wednesday" luncheon is a "Double Bubble," two events rolled into one. First up is a "Tribute to John B. Roberts." He was a former president and Chairman of the Board of this organization. He was also a newscaster on Channel 6 and WFIL Radio for 20 years. John Roberts was the founder of WRTI Radio and co-founder of WHYY-TV and radio.
Our moderator for the tribute will be Ed Cunningham, former Roberts' student & producer at WHYY-TV and radio. John's widow, Agnes Roberts will be with us for the tribute, so plan to say hi. Our speakers that day include (in alphabetical order):
Dave Conant, Station Manager of WRTI, the Temple University radio station
Dave Custis, former producer of "Your Hit Parade" radio broadcasts in the 80s
Sam Feinberg, former Station Manager of WPHL-TV, Channel 17 in Philadelphia
Jane Norman, TV's "Pixanne" and former John Roberts Temple University student
(856) 365-5600! RSVP Today!
On the second half of our "Third Wednesday" luncheon, we'll have a live concert featuring the truly amazing "Charlie Gracie." Charlie is the only person (EVER) to have top 20 hits separated by a half century. In 1957, he had the number one hit "Butterfly" (pushing Elvis out of the top position) and earlier this year he had a top twenty smash, "Baby Doll." Broadcast Pioneers member Charlie Gracie will be introduced by Johnny B. Hall, another member of our organization.

At the September luncheon, we'll have the brand new golden colored Broadcast Pioneers Lapel Pins. They are brand new and can be obtained with a donation of $7 or two pins for a donation of $10 or more.
Reserve for the luncheon today! (856) 365-5600!
It all takes place at the beautiful and historic Bala Golf Club, 2200 Belmont Avenue (across the street from the State Police) in the Wynnefield section of Philadelphia. Only minutes away from Channels 6, 10 and 17 and the radio stations in Bala Cynwyd. Call now for reservations. (856) 365-5600! Don't miss this one!
Meet and greet (networking) starts at 12 noon, and a full-course lunch including salad, coffee or tea and dessert will be served at 12:30 pm. There will also be a crudité and cheese table. Cash bar available all afternoon!
Plenty of FREE parking. The luncheon is open to all our members, their guests and any person in the industry or associated fields, whether active or retired. You do NOT have to be a member to attend. Call NOW with your reservation(s), (856) 365-5600!
(856) 365-5600! Call now to reserve!
Please note: The price for our monthly luncheons is now $28 per person. Prior to this increase, we had not raised our luncheon prices since 2005. That's seven full years. We tried our best to maintain our old pricing but recently our caterer pushed our cost up by 25%. Please note that we do NOT make a profit on the lunches; they do NOT add any net revenue to our treasury. On an annual basis, the luncheons cost more than they bring in. They are done so that our members can enjoy good food and great programs, see old friends and have a wonderful time.
In order to speed up check-in at the luncheon, it would help if you had the $28 in exact change or your $28 check already written. Make it payable to the Broadcast Pioneers of Philadelphia.
"Third Wednesday"
Good food, great programs & a wonderful time!

Visit Our Website Often - http://www.broadcastpioneers.com

2012

"Person of the Year"
& Hall of Fame Inductees
Tickets On Sale Now!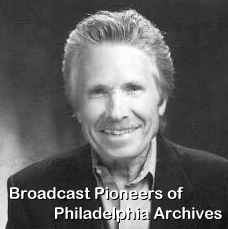 The date is Friday evening, November 16th!
PERSON OF THE YEAR
Dean Tyler, former WIBG Good Guy, former WIP PD and former WPEN & WMGK General Manager
HALL OF FAME (LIVING INDUCTEES) (in alphabetical order):
Donald Barnhouse, commentator for WCAU-TV, now seen on WFMZ-TV
Lu Ann Cahn, co-host of "The 10 Show" on NBC 10, eight-time Emmy winner
Angelo Cataldi, morning sports talk show host on WIP-AM/94, WIP Radio
Charlie Gracie, rock singer, big hits were "Butterfly" (1957) & "Baby Doll" (2012)
Stan Hochman, veteran sports reporter/commentator, Daily News columnist
Sylvia Kauders, veteran TV, stage/movie actress, & public relations consultant
Jay Lloyd, long-time Suburban Bureau Chief for KYW Newsradio, 1060
Robin Mackintosh, veteran "Eyewitness News" journalist for KYW-TV/CBS 3
Liz Matt, long-time co-host of 6ABC's "AM Philadelphia"/reporter for Fox 29
Beasley Reece, former football player/sports anchor for KYW-TV, CBS 3
Tommy Roberts, former owner of WTMR Radio, 800 on AM in Camden, NJ
Cecily Tynan, WPVI-TV, 6 ABC "Action News" prime-time meteorologist
HALL OF FAME (POSTHUMOUS)
Frank Beazley, WCAU-TV Sales Director, head of Center City Film & Video
Red Benson, former WPEN late night telephone talk host, also with WCAU
Bud Brees, best known as the "singing disc jockey" on WPEN Radio
Tom Donahue, pioneer disc jockey at WIBG, father of progressive rock radio
Christopher Graham, long-time "Uncle WIP" kids host in the twenties & thirties
Judy Lee, former Channel 3 & NBC-TV weathercaster/news anchor/weather girl
Al Martino, popular South Philly singer who appeared in "The Godfather"
Joe Pyne, radio/tv talk show host who pioneered debate type programming
Charles Shaw, CBS Radio journalist & News Director at WCAU Radio & TV
Ed Yates, former director for "Bandstand" and "American Bandstand"
Tickets are now on sale. Prices are $85 for members (each member can buy ONLY one ticket at the member price) and $95 for everyone else (including spouses, friends and guests). The event will once again take place at the City Avenue Hilton, 4200 City Avenue, Philadelphia. The date is Friday, November 16th. Reception is at 6 pm with dinner being served at 7 pm. Doors open at 5:45 pm. Cash Bar all night long. Valet parking is $10. Event lot parking is $5. Make plans to be there! TICKETS NOW ON SALE! Just click here for our reservation form! Just print, fill in and mail. Don't forget to include your check.
Remember, we are a 501(c)(3) non-profit organization. That means a majority portion of the ticket may be tax deductible on your federal income taxes. All donations may be 100% deductible. Ask your tax advisor how this may apply to you.
ATTENTION BOARD MEMBERS:
There will be a meeting of our Board of Directors on Wednesday morning, September 19th at 10 am, just prior to our luncheon. Board members should RSVP their attendance.
EXCELLENT ADVERTISING OPPORTUNITIES (Deadline approaching):
(Also a good way to show your support of Broadcast Pioneers!)
We are currently planning for the 2013 Membership Directory and our 2012 Person of the Year/Hall of Fame Banquet Program booklet. Both publications offer excellent reach, high rates of frequency use and a qualified buyer who will respond to your message! Several of last year's advertisers have already renewed for this year. Don't be left out. Send your message to a unique niche market via Broadcast Pioneers publications. Deadline for the Membership Directory is less than a month away, so you must act now. Deadline for the Banquet Program is less than two months away. For more information or to place your ad or for banquet sponsorship/naming opportunities, contact: The Broadcast Pioneers of Philadelphia. E-mail address is pioneers@broadcastpioneers.com or call (856) 365-5600!
THE IMPORTANCE OF WHAT WE DO:
Ian Bush is currently an anchor, reporter and editor for KYW Newsradio. Ten years ago, he was a student at Villanova University. He attended our very first symposium for college students in 2002. The next year, Ian was one of our scholarship winners. After receiving the scholarship, he wrote to us in 2003:
I sincerely thank the Broadcast Pioneers for awarding me a scholarship. Unfortunately, my last name "Bush" doesn't yield the same campaign contribution checks as some other powerful figures with the same surname. This award helps immensely with the already high and ever-rising cost of tuition for my studies as a communication major at Villanova University.

I also owe the Broadcast Pioneers a debt of gratitude that falls under yet another category. Currently, I am a desk assistant and production assistant at KYW Newsradio. I would not have gotten that job and all the great things that have resulted from it – including the possibility of an on-air position in Philadelphia – if it wasn't for the Broadcast Pioneers forum (symposium) I attended at NBC10 last year.

There, Pat Delsi brought me into a world where I was able to learn from and mingle with broadcast legends such as Herb Clarke and Larry Litwin. I expressed my passion for radio – especially news radio – to them and also provided contact information should they learn of any job possibilities that would suit me.

To my surprise, Mr. Litwin sent a list of opportunities the next day, and Herb Clarke offered to recommend me to Steve Butler, the program director at KYW. Two weeks later, I was in the door at one of the most renowned and most listened-to news radio stations in the country. And I have the Broadcast Pioneers to thank.

As I keep hearing, in the communication business, it's all about who you know and being in the right place at the right time. I'm glad I learned of the Broadcast Pioneers – a fine organization in which I'd be honored to one day hold membership – and I'm elated you're on my side.
WELCOME NEW MEMBERS:
FULL MEMBER:
Marlin Taylor is the radio program director atSirius XM Radio in Washington, DC. Marlin was the PD and Station Manager for WDVR in 1963. He originally stated in broadcasting in 1955 as a part-time announcer and engineer at WTNJ in Trenton. After working in Philly, he was general manager at WBCN in Boston and WHCN in Hartford. Welcome aboard, Marlin.
ASSOCIATE MEMBER:
Tom Fosnocht III is the Music Director for the Media Theater in Media, PA. There, he has worked on various performances including Les Miserables, Annie, The Sound of Music and Jesus Christ Superstar. He is also a musician (piano), published arranger, recording artist and more. He earned in Bachelor of Music degree at the Oberlin Conservatory of Music in Ohio.
We are thrilled to have these new members. They've helped to bring our total membership up to 475 (an all-time record). We hope to see as many of you as possible at the September luncheon.
WE NEED VOLUNTEERS:
We need volunteers who can help us prepare for our annual banquet. We need script writers for videos and bio writers for the banquet booklet plus others. We can definitely use your help. Please e-mail us at: pioneers@broadcastpioneers.com.
DIGITAL ARCHIVAL PROJECT NEWS:
Marc Howard
WPVI-TV, Action News
Wednesday, August 13, 1980

Jim Gardner
WPVI-TV, Action News
Wednesday, August 13, 1980
Currently, the Democrat Party's convention is going on in Charlotte, North Carolina. But 32 years ago, it was 1980. The Democrat Party was holding its convention in New York City. Action News went to the Big Apple to cover the story. Jim O'Brien was anchoring the 5:30 pm cast with Marc Howard doing the 6 pm. This excerpt was from the 6 pm newscast. Part of this clip contains an exclusive WPVI interview done by Jim Gardner with Secretary of State Edmund Muskie.
Our transfer comes direct from a WPVI-TV 3/4" video tape. However, it is a generation down. Why? Well, this 3/4" recording consisted of various reports. This was taken from an aircheck and then dubbed onto the final 3/4" tape. In our opinion, the Real Video version is slightly clearer and cleaner. By the way, we ran a different excerpt from this convention in our February 2012 newsletter. The video is about half way down the page.

These clips illustrate the importance of our DAP, digital archival project. As you watch this video, you'll see that the recording is not in perfect shape. We had a tough time getting good video from this particular 3/4" cassette. This format seems to not survived into today very well. Other video formats seem to fare better. One of the leading technology magazines said recently that 3/4" tapes will increase in difficultly playing at the rate of 2% every three years. So, some of these tapes may not be transferable in the near future and the material stored on them can be lost forever.
Broadcast Pioneers member Max E. Solomon started selling radio time in 1929. In 2001, when this interview was recorded, he had been retired for over 30 years and lived year-round in Florida. In the fall of 2001, Solomon moved back to the Philly area to be near friends and his family. Max and his wife had been married for 75 years at the time of this interview. That's three-quarters of a century.
On September 19, 2001, Max was visiting relatives here in Philadelphia. His grandson, Roger Krone, is a time salesman (following in Max's footsteps) for Power 99, WUSL Radio. Roger brought Max E. Solomon along to our meeting. Afterwards, our newly installed Chairman of the Board Pat Delsi sat down and talked with Max about his life-long career in broadcast sales on our webcast series, PIONEERS IN BROADCASTING.

This video was shot on high-speed VHS tape. However, because of the light from the windows, the picture of Max was dark. In fact, in some places you could only see a shadow. It looked like one of those videos where the speaker was kept in the dark to hide their true identity. In 2001, our video was also running only 5 frames a second.

During the summer of 2011, we pulled the original tape from our video archive and re-encoded the interview. It now runs at 30 frames a second (TV standard) and we were able to lighten the video. While it is nowhere near perfect, it is much better than our previous version.

In the summer of 2012, we added the same interview but in the Windows Media Format. In our opinion, the Real Video version is clearer and more watchable.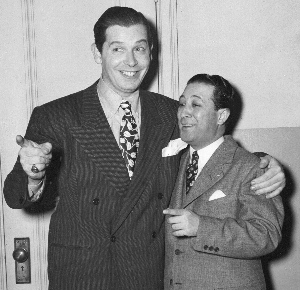 (Left to right) Milton Berle and Max E. Solomon
after you read the following story, you'll wonder
how Max got Berle to pose with them. READ ON!
The mission of our DAP, Digital Archival Project, is to preserve the history of our broadcast market. Broadcast Pioneers member Max E. Solomon was a salesman extraordinaire. He was an early president and chairman of this organization.
Here's a classic Max Solomon story that is known across the country: It was 1951, during the peak of Milton Berle's fame and Max walked into a car dealership (Sunny Stein) to try to sell the owner some commercials. The owner told Max, "Don't even talk to me. The only commercial I'll buy is just before Milton Berle starts his show."

Solomon told him "No problem." The owner said, "I bet there is a waiting list." Max said no and that the owner could start advertising the next Tuesday (Berle was on Tuesdays at 8 pm). The contracts were signed and Tuesday came and went. On Wednesday, the owner called Max E. Solomon and said that his commercial didn't run.

Max said, "Sure, it did." The owner said that he watched Channel 3 from 7:45 pm (15 minutes before Berle came on the air) until after the show ended and didn't see his spot. Max replied, "Oh, you didn't say you wanted it to run on the same station that carried Berle." (The spot ran just before Berle's show started but on a different station, Channel 6). The advertiser wasn't charged for the air time.
As part of our recording history, we asked Broadcast Pioneers member Allen Stone (who is best known as a Famous 56 newscaster) to tell us a little about his days working with game show host Jack Barry and comedian Ernie Kovacs at WTTM in Trenton, New Jersey. Allen writes:
It was the forties. Intent on seeking a career in the theater, I had completed a year at the renowned American Academy of Dramatic Arts in New York, where I fell in love with the radio classes. Returning to my home in Trenton, New Jersey, I became acquainted with the two staff announcers at radio station WTTM, Jack Barry and Ernie Kovacs.

Jack convinced me that I should abandon seeking a career in the theater. He convinced me that broadcasting was the place to be and invited me to join him and Ernie on the WTTM announcing staff. Preparing to take up my position, I asked Jack what would be my first assignment. He told me to consult with Ernie, who had a job behind the cigar counter at the nearby drug store. In later years, when he became a TV and movie star, the ubiquitous cigar would become his trademark.

Approaching Ernie, I told him Jack had advised me to ask him what my first assignment would be at WTTM. Ernie explained that he was doing a mystery serial every Saturday called "Paris Greene, The French Detective." I asked why the title. He told me Paris Greene was a French poison and my first on-air assignment would be on that program the following Saturday. I asked what my radio role would be. His answer? "You will be the dead body found in the first act!"

In time, Jack would go on to become a nationally famous and handsome TV quizmaster. His ordinary looks transformed by plastic surgery. Ernie would leave WTTM to become involved with the experimental Philco TV station in Philadelphia that would become KYW-TV. I followed Ernie to Philadelphia as an announcer at WIP. He went on to Hollywood where his comedic talents catapulted him to show business prominence.

Tragically, Ernie died in an automobile accident on the West Coast in January of 1962. Jack's life was cut short (in 1984) when he was fatally stricken while jogging in New York's Central Park.

Jack Barry was cocky, manipulative and self-assured. Ernie Kovacs was as neat a guy and as clever a comic as I've ever known.
A LITTLE BIT OF HISTORY!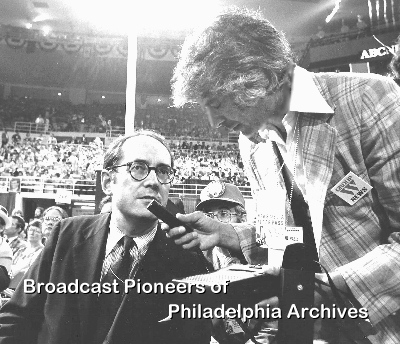 (left to right) Pennsylvania Governor Dick Thornburgh and Broadcast Pioneers member Jay Lloyd
Republican National Convention in Detroit, Michigan
July 1980
IN TOUCH WITH OUR MEMBERS:
Broadcast Pioneers member Bob Timms checked in with some interesting comments about the August newsletter. Here's the short version: "I feel like the August newsletter is a personal note…so many connections…I missed the Dean Tyler era at WIP (Al Herskovitz was PD) but friends I cherish worked with Dean and loved his tenure…Tommy Roberts launched Explorer post at WTMR and it was entry into broadcasting…Liz Matt and I were classmates at Temple…my wife and I are members of Tenth Presbyterian Church where Donald Barnhouse was pastor for 32 years, his sermons are still heard locally on WVCH and WCHE among others…I was Cecily Tynan's feature producer when she first arrived in Philly." Great memories, Bob!
Pioneers member (and regular advertiser in our publications) Pearl Polto has announced that her book "ARE WE DOOMED?" is now available for Kindle, iPad, and other e-readers at Amazon .com & Barnes and Noble. If you know Pearl - and even if you don't - this book is a must read. You will be amazed by the brilliance, insight and common sense Pearl offers.
Pearl, by the way, has moved her radio broadcast to the Internet. Broadcasting since 1990, "The Pearl Polto Show." can be watched in your living room. Her next Internet show is tomorrow (Wednesday) at 2 pm.
Broadcast Pioneers Board Member Bill Gellhaus read last month's "Did You Know" section, where we said:
"Convention Hall was less than 10 years old in 1940 and it could accommodate 15,000 people.
It had a brand new parking lot and a unique but weird idea in air conditioning (large blocks of ice and huge fans - not a joke)."

Well, Bill thought we all would find the following information interesting:

The Keswick Theatre in Glenside built in 1928 was also cooled the same way. Ice was slid in to an area under the house and fans above the organ chamber "sucked" the hot air out causing a draft that pulled the cool air up through "mushroom" shaped vents spaced under the seats (you can still see them when in the theatre and the fan exhaust areas on the outside of the building).
Member Brother Gerry Molyneaux at LaSalle University updated us on some of our previous scholarship winners. He said:
Jake Dylik, Broadcast Pioneers scholarship winner in 2010, is now with the Office of Communication at Ford Motors, Dearborn, MI. Jake was runner up in the National PR Student of the Year 2012.

Steve Jiwanmall, winner of the Broadcast Pioneers Scholarship in 2010 and 2011 will enroll this fall in Columbia University's master's degree program in broadcast journalism.

2005 Broadcast Pioneers scholarship winner, Matt Deluccia of Fox TV, Las Vegas won three regional Emmys for news writing and broadcasting.

Way back in 1998, the winners were John Gonzalez, now with Comcast Sports, and John Lohn who is the a senior editor for the online magazine, Swimmers World. He was in London covering the Olympics. Lohn is also author of "The Historical Dictionary of Swimming." He wrote a special piece for the Delaware Country Daily Times, where he once worked. He is also a media specialist in the Newark, NJ school system. Funny thing, when they won, both guys said they were going into print journalism, which they did for a few years.

Just as a heads-up: I will be on sabbatical this fall and spending most of it doing research on the Peace Corps, how it got started and how it promoted itself.
Broadcast Pioneers member Bunny Gibson, an American Bandstand regular, was a Guest Speaker at the 55th American Bandstand Anniversary & Plaque Unveiling on Sunday, August 5th. Many regulars attended, along with two Los Angeles regulars, Linda Gonzales and Hal Laws-Landau. All were there to honor Dick Clark and the Philly "home" of American Bandstand's "Studio B" at the Enterprise Center. Dee Dee Sharp (Mashed Potato Time), who grew up only a dozen or so blocks from the WFIL-TV studios, was a special guest at the event.. Bunny said, "Little did I realize when I was dancing that I would be living history."
Broadcast Pioneers member Terry Ruggles announced last month that he will be retiring at the end of this year after nearly four decades with NBC 10, WCAU-TV. His role at the station will be gradually reduced during the next few months. Ruggles has been an anchor, reporter and weather man. He has covered almost every type of local story there is. Well, Terry, we hope to see you more often at our luncheons.
WE REMEMBER: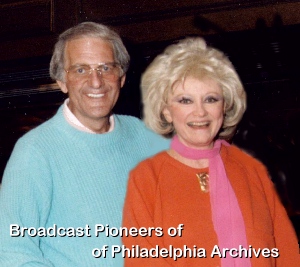 Sid Mark and Phyllis Diller
after a live Sinatra broadcast on WWDB
circa 1977
On Monday, August 20th, we lost humorist Phyllis Diller. She was 95 years old. She often appeared at the Latin Casino in the early days of her career and afterwards at some of the casinos at the shore.
Broadcast Pioneers member Ed Harvey was one of the first telephone talk radio hosts in Philadelphia. He had a show on WCAU Radio on weekday afternoons called "The Talk of Philadelphia." During the week of January 6th through the 10th of 1964, Ed was on vacation and Broadcast Pioneers member Bill Campbell filled in for him.

In our archive, we have the 3 pm hour of Friday, January 10, 1964. Bill Campbell speaks with comic Phyllis Diller. This is a really interesting program because we all know Bill as the Dean of Philadelphia Broadcast Sports, but here, we see an entirely different side of him.

Ed also had the habit of asking the WCAU engineer to take the original reel-to-reel aircheck and dub it off, removing the commercials. That seems to be what happened on this recording. There are no spots but the running time of this 3 to 4 pm hour was within the ball park of what it should run with the commercials removed and minus the national and local news before the segment. Therefore, we feel that this is what happened here. That's why this recording is 36:22 and has no breaks. It is one continuous segment, exactly as we found it on the reel-to-reel tape that was donated to us by the Ed Harvey estate (along with about 400 other Ed Harvey broadcasts).

With all this said, let's now go back to Friday, January 10, 1964 and the Talk of Philadelphia hosted by Bill Campbell as he speaks with Phyllis Diller.
ON THE HEALTH FRONT:
Broadcast Pioneers member Fred Ruggieri is in a long-term care facility in New Jersey. Fred is recovering from some medical problems. He'd appreciate any notes. Send them to his home address, which is listed in the membership directory. He'll be delighted to hear from you.

Did you know...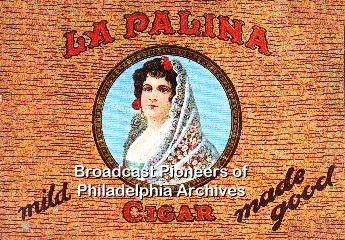 La Palina "Senators" Cigar Tin
1922
Scan originally donated by member Rod "Storm" Phillips
from the original tin in Phillips' personal collection
"La Palina" cigars were manufactured by the Congress Cigar Company here in Philadelphia. The "Senators" cigars were to be sold for more than eight cents but less than 16 cents and were so taxed. Now, you may wonder why a cigar tin would end up in the Broadcast Pioneers newsletter. The answer is that the company was owned by Samuel Paley. His son Bill joined the company as Vice-President of Advertising after his graduation from the University of Pennsylvania.
Bill took a bold move and purchased time on WCAU Radio, owned by Ike Levy and brother Leon, Bill's brother-in-law. The program was called "The La Palina Hour." La Palina, by the way, is the feminine Spanish version of Paley. Well, the broadcast increased the sales of the cigars and the family discovered the power of broadcasting.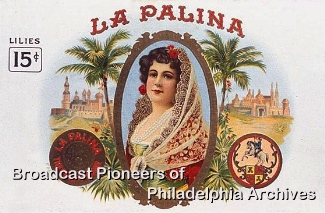 La Palina "Lilies" Cigar Box
1922
Scan originally donated by member Rod "Storm" Phillips
from the original cigar box in Phillips' personal collection
Bill Paley was, of course, the life blood of CBS Radio and Television for decades. The pretty senorita featured on the tin was Sam's wife, Goldie (Bill's mother). Now you know its connection to Philadelphia broadcasting.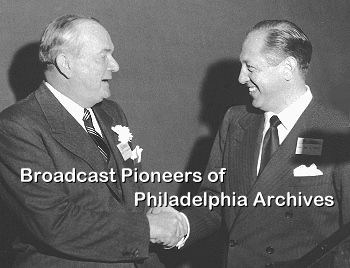 WCAU President Donald Thornburgh and CBS Chairman Bill Paley
May 27, 1952
Here are the remarks of William S. Paley, Chairman of the Board of the Columbia Broadcasting System on Tuesday, May 27, 1952 at the dedication of the "new" WCAU Building on City Line Avenue.
My relationship with WCAU started with my introduction to the business of broadcasting.

It was just 25 years ago, in 1927, when a WCAU salesman came to call on me at the Congress Cigar Company here in Philadelphia. The station was then located in a hotel in West Philadelphia. It had one studio, not a very large one, and its organization was housed in a few small rooms. I didn't learn about this until I became a customer, for, to continue the story, the salesman sold me a "bill of goods." The "goods" consisted of a 24-piece orchestra, a choral group, a male singer, a girl singer, a master of ceremonies, a guest artist, plus the time period, one hour once a week, and the bill for the whole package came to exactly $50. They didn't give discounts in those days.

Before the opening show, I wired our LaPalina distributors telling them of our new radio campaign. I gave them the wavelength and invited them to send their comments and criticisms as soon as possible. As a result, I became WCAU's first dissatisfied customer. That poor salesman. It took him a long time to make me understand why distributors in such places as Denver, Salt Lake City and Seattle weren't able to hear our program.

Well, one thing lead to another and about a year and a half later, the world lost a pretty good cigar-maker, and gained a very frightened broadcasting man.
This regular monthly column is written and researched by Gerry Wilkinson

MORE DIGITAL ARCHIVAL PROJECT NEWS: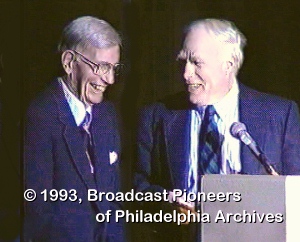 (left to right) By Saam and Richie Ashburn
Broadcast Pioneers of Philadelphia's Hall of Fame Induction Ceremonies
The Hotel Bellevue
Broad and Walnut Streets, Philadelphia
Tuesday afternoon, June 22, 1993
In 1993, the Broadcast Pioneers of Philadelphia inducted the second group of honorees into our "Hall of Fame." There were eight of them that year. The "Hall of Fame" was instituted a year earlier (in 1992) and we inducted 14 people.
The event was an afternoon luncheon at the Bellevue. Dorie Lenz, who was Chairman of the Board (our 29th, 1992-1994), presented the awards. During this era, our "Hall of Fame" luncheon and our "Person of the Year" banquet were two different events. Now, they are one. We are lucky to have this wonderful recording, which has survived in near perfect condition.

The last person to be inducted that afternoon was By Saam. After By finishes speaking, Richie Ashburn (who would be inducted into this very same "Hall of Fame" in 1997) speaks about working with him. Here's two legendary Phillies broadcasters together at one time. It would be one of their last (possibly their last) public appearances together.

By the way, Saam's prediction about the 1993 pennant race was correct. He picked the Phillies versus Toronto. Remember that this is more than a quarter of a year before the end of the season.
On Saturday, August 25th, Neil Armstrong, the first man to walk on the moon, passed away. He was 82 years old. He was personal friends with NBC Newsman Roy Neal, who worked here in Philadelphia at WIBG and WPTZ before moving on to the network.
In our audio archive, we have several hundred 5-minute radio programs produced by the National Aeronautics and Space Administration. The broadcasts were made back as far as 1963. The show is called "The Space Story." The narrator on these is a then little-known guy by the name of Willard Scott (who later did the weather on the NBC broadcast of "The Today Show"). This particular program is number 307 and was sent to stations to be aired during the week of August 6th, 1969. It's all about the historic Apollo 11 moon landing and is mastered off the original NASA tape.
Listen in Windows Media Format!
On Thursday, July 24, 1969, the Apollo 11 astronauts were returning from the first manned moon landing and they were getting ready to land in the Pacific Ocean. KYW Newsradio had been "All News" for a little less than four years.
Cut one is about a minute long and takes us from one anchor to the other. Bob Conville, formerly at WPBS, takes over from Don Budd, one of the station's original news anchors. It's 11 am.

Listen in Real Audio!
Listen in Windows Media!

Cut two is 55 and a half minutes long. It starts about 30 seconds before 11:30 am and continues to about 12:25 pm. Art Lane is the station's news anchor. Normally, anchors change every half-hour. However, on this cut, the anchors don't switch until 12:18 pm, after the sports. At that point, Bill Gregory takes over.

Listen in Real Audio!
Listen in Windows Media!

Cut three is 38 and a half minutes long and starts at 12:26 pm. Why is there one minute missing between the end of cut two and the beginning of cut three? That's the point when the tape was flipped over to the other side to continue recording and thus that minute wasn't recorded. This cut features a report by KYW Newsradio's Andrea Mitchell.

Listen in Real Audio!
Listen in Windows Media!

These cuts were mastered off our original tape recorded in 1969. This is the best quality tape (actually the only one known to exist) of this broadcast material. This is why our DAP, Digital Archival Project is so important!
We also thought that this would be a good time to upload a documentary called "Man on the Moon." It was narrated by Broadcast Pioneers President Jerry Klein and written and produced by Broadcast Pioneers Chairman of the Board Gerry Wilkinson. What's REALLY interesting is that this program aired 45 years ago. It was part of a series of documentaries called "Retrospect" that aired over WRTI-FM. The year was 1967.
Listen in Windows Media Format!
Remember, History is ONLY What Gets Saved!
(If there were no portraits of George Washington, how would we know what he looked like?)
MORE IN TOUCH WITH OUR MEMBERS:
Congratulations go out to Broadcast Pioneers member Steve Lubetkin, the managing partner of Lubetkin Global Communications. Steve won an Astra Award from the New Jersey Communications, Advertising and Marketing Association for his multi-media productions.
Congratulations also go out to member Larry Litwin, Associate Professor of Public Relations/Advertising at Rowan University. Larry was named the recipient of several awards from Rowan University, including the "Gary Hunter Excellence in Mentoring Award" for demonstrating exceptional abilities in supporting, encouraging and promoting the development of students' academic, personal and professional growth. Larry was also named "Rowan's Advisor of the Year Leadership Award" for outstanding advising of a student organization sanctioned by the Student Government Association and also was named to the Rowan University Faculty "Wall of Fame" for Academic Advising.
Broadcast Pioneers member John Primerano will be appearing at the Bristol Lions Club Annual Italian Festival on Saturday September 8th from 2:30 pm to 6:30. The festival takes place on Mill Street in the heart of Bristol, PA. John will be located in the gazebo behind the Bristol Riverside Theater.
Members Henry and Bobbie Shaffner are the husband and wife songwriting team behind the annual Van Johnson Day celebrations in the City of Newport, Rhode Island, where Johnson was born. He was honored on Saturday, August 25, with the showing of the 1948 film "State of the Union," co-starring Johnson and Katherine Hepburn. The Shaffners came up with the idea of Van Johnson Day to draw attention to their campaign for a Van Johnson postage stamp.
We received a special thank you from member Kenny Jeremiah: "I would like to thank everyone for the enthusiastic support of my recording of the Gamble & Huff song "Only You." It has only been a short time that the song was released on iTunes, CD Baby and a host of other music sites but the response has been overwhelming. A big factor in this response is Cruisin'92, WVLT who put the song in play rotation. It just goes to prove that New Music done Old School style has a relevant place on the radio."
Member Judy Sciaky (widow of member Ed Sciaky) ran into our Chairman of the Board this past Friday at Trader Joe's in Ardmore. Literally! She was buying a bunch of red peppers and turned around and bumped right into Gerry's shopping cart, which was filled with romaine lettuce, cucumbers, mushrooms, etc. Together, it would have made an interesting tossed salad. We just won't mention the chocolate covered orange candy hidden in Wilkinson's basket!
We don't usually do birthday greetings, but we can't pass up the opportunity to say "Happy Birthday" to Edna Whittington Cathcart who turns 104 years old on September 13th. (When you turn 104, we'll say "Happy Birthday" to you, too!) Last October, Broadcast Pioneers member Liz Matt sat down with Edna and talked about John Facenda, By Saam and Edna's career at WIP Radio. Edna is the oldest member of this organization in our 50 plus years in existence. Watch the interview here!
A LITTLE BIT OF HISTORY!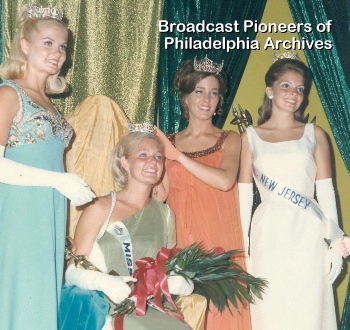 Diane Allen (then known as Diane Betzendahl)
Miss Burlington Pageant
1969
THANK YOU:
As we do every month, we want to thank Broadcast Pioneers member Johnny B. Hall for his monthly cash donation to our DAP, Digital Archival Project. Johnny donates $200 every month. The amount totals $2,400 yearly and really helps us to underwrite this much needed but expensive project. And again, we wish to thank member Jerry Del Colliano for his $1,000 contribution to our DAP fund. We welcome other gifts for this project in the form of money and/or donated items like video tapes, audio transcriptions and photos.
Special thanks to member Sheree Goldflies who has donated 16 reels of audio broadcasts to our DAP project. Also thanks to member Charlie Mills who sent us a bunch of stuff mainly dealing with WPEN. R. Alan Campbell sent some old WFLN material. The following members sent an extra contribution with their memberships: Marlin Taylor, R. Alan Campbell and Carol Leebron.
Member Bill Baldini has donated two more boxes of video tapes from his days at Channel 10, WCAU-TV. What wonderful material to add to our video archive.
We currently have eleven $1,000 scholarships being underwritten for 2013. The scholarship competition will start at the end of next month. We have six from Johnny Hall, one from the Adelman family and Leon Love, one from Esther Kurtz, Roy Shapiro, Sylvia Kauders and one from the Harry Hurley Golf Tournament. If anyone else would like to join this list, act now. The deadline is fast approaching.
If you forgot to make an extra contribution (cash or memorabilia) and would like to do so now, it's never too late. We would be thrilled to hear from you at: PO Box 2886, Bala Cynwyd, PA 19004 or call us at (856) 365-5600. IT WOULD REALLY HELP US!
A LITTLE BIT OF HISTORY!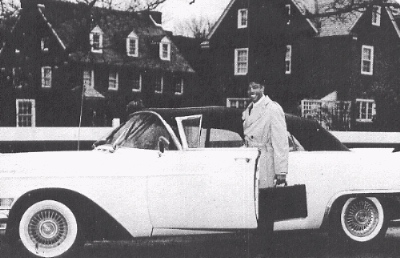 Jocko Henderson getting into his new Caddy
in front of his Philadelphia home
in the late fifties
IN TOUCH WITH THE INDUSTRY:
And the big news is ... beginning Saturday, September 15th, the ten o'clock report on WPHL-TV becomes Action News, powered by 6ABC, WPVI-TV. Broadcast Pioneers member Rob Jennings will anchor the weekend newscasts with meteorologist Melissa Magee and sports guy Jeff Skversky. The daily cast will be anchored by Brian Taff and Shirleen Allicot with meteorologist Adam Joseph and Ducis Rodgers doing the sports. Previously, the WPHL-TV prime-time newscast was powered by the NBC 10 news organization. Broadcast Pioneers member Bernie Prazenica (President and GM of WPVI-TV) said,"We are thrilled to bring Action News to the primetime audience."
At the end of last month, Action News anchor Brian Taff married the station's executive producer for Creative Services, Mara Webb. Mara attended our 2002 symposium at NBC 10. She asked about an internship at WCAU-TV but their deadline had passed. However, Broadcast Pioneers member Linda Munich's deadline across the street at WPVI-TV hadn't passed yet. Mara was told to apply there. Linda accepted her and after her internship, she worked for the station part-time and was given a full-time position a few weeks before her graduation from Villanova. She has been there ever since. See photos of the wedding.
Jenn Bernstein was named general assignment reporter at CBS 3 and The CW Philly. Most recently, she was reporting for FOX CT in Hartford, Ct.
Keith Jones has joined NBC10 as an Anchor/reporter. He co-anchors NBC10 News Today daily from 4:30 am to seven in the morning. Previously, he worked at WTAE, the ABC affiliate in Pittsburgh. And Anzio Williams has joined NBC10 as vice president of news. Most recently he was news director for KCRA in Sacramento, CA for the past five years and previously at WDSU in New Orleans as assistant news director.
WOGL 98.1 has announced the addition of Nicky G to their on air staff on Sundays 5pm-9pm. Previously, Nicky worked at Atlantic City's Boss 97.1, WBSS from 1981-1995 and at Shark 103.7 from 1995-2008, and most recently at WAYV in Atlantic City. Nick said: "For 25 years, it's been a professional dream of mine to work at 98.1 WOGL and on the air in Philly. To be able to have your dream come true while doing something your passionate about feels amazing and unreal at the same time. I'm very gracious and thankful for the opportunity." WOGL Program Director Anne Gress said, "After sifting through literally hundreds of applicants, Nicky G's experience, credentials and personality made him rise to the top."
WWFM-FM, 89.1, headquartered at Mercer County Community College, a new program on Augsut 4th, "Curtis Calls!" It's one hour of classical music performed and produced by The Curtis Institute of Music. The station's goal is to place classical music of all forms front and center and not as background music, but as an art form.
The American Forces Network (AFN), provider of programming to American service men and women, civilians and their families serving overseas, has chosen a CBS 3 special commemorating the 225th anniversary of the signing of the U.S. Constitution for broadcast on its network airing worldwide beginning later this month. "We The People: The Constitution's 225th," produced in partnership with the National Constitution Center, has been airing on CBS stations across the country since its July 4th weekend debut in Philadelphia. As part of the AFN agreement, the show will now air in 175 countries and U.S. Territories from Afghanistan to Kazakhstan, Turkey to Tunisia, beginning August 26th through the end of the year. The program is hosted by CBS 3 Anchors Chris May and Susan Barnett.
South Jersey's powerhouse alternative/active rock station WJSE, 106.3 FM, has returned as of this past Friday. The station says it will play the best rock music from today's legendary bands and artists. The new and improved FM signal will provide complete coverage for Cape May, Atlantic and Cumberland Counties, along with coastal Delaware and Maryland. WJSE is a station of Coastal Broadcasting Systems, Inc.
Katie Couric was in town last week to talk about talk. On Monday, September 10th, she will start her new syndicated talk show, "Katie," which will be seen locally at 3 pm on 6ABC, WPVI-TV. General Hospital moves an hour earlier at 2 pm.
NBC10 is adding two new daytime programs featuring well-known TV personalities Steve Harvey and Jeff Probst. "Steve Harvey" debuts today (September 4th) at 2 pm. "The Jeff Probst Show" debuts Monday, September 10th at 12 noon.
Kacie McDonnell joined Fox 29 last month as the "Good Day" Traffic Reporter. She's a May graduate of Villanova University. Previously, she had been seen in commercial work for Maple Shade Fiat and QVC.
Also, at Fox 29, Broadcast Pioneers member Howard Eskin returns today to the station as their sports anchor of their 5, 6 and 10 pm newscasts. He was with Channel 29 in 1986 when the station started its Ten O'Clock News.
Just added to the lineup of channels for Comcast in the Philadelphia/South Jersey area is JLTV. It's on Channel 288 and some of the interesting classic shows they're offering include Soupy Sales, Candid Camera, The Goldbergs and the Dinah Shore Chevy Show.
The CW Philly 57 is airing the new Ricki Lake show daily at 5 pm. Also on the schedule is Trisha at 2 pm and Justice for All with Christina Perez at 10 am and 10:30. The CBS 3 daily lineup seems to remain intact.
Regional sports cable leader Comcast SportsNet has promoted Bo Koelle to the position of Vice-President of Advertising Sales. Previously, he was their Senior Director. He has been with the company for the last thirteen years.
ON THE SCENE: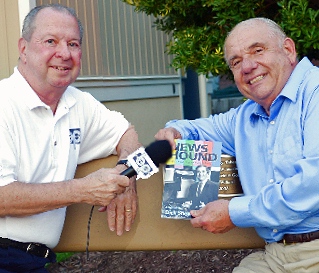 (left to right) Broadcast Pioneers members Frank Stone & Dick Sheeran
Photo by Barbara Farley-Stone
It was a beautiful August evening when "On the Scene" met with Broadcast Pioneers member Dick Sheeran in the beautiful gardens of the Ocean City Tabernacle, the site designated as the founding location of Ocean City New Jersey, to talk about his new book "NEWS HOUND From Halfball in South Philly to TV News."
The ever smiling Sheeran was contagiously enthusiastic describing the details of his memoir and the fascinating life experiences that he describes in a wide variety of short stories and personal insights he shares throughout the book. During our time together, we asked Dick a variety of questions about the book. What follows are his responses.
"I started out wanting to put on paper some of my memories of growing up in South Philly during the late 40's and early 50's. It was the era of radio. Not everybody had a phone, not everybody had a car. It was a simpler time and I wanted to share with my grandchildren what it was like. Then I decided to add some info about how I got started in the business, at the Daily News and the move to KYW radio. The paper people were telling me, why would you want to go to a radio station that doesn't play music. It will never make it! And then, on to my days at Channel 3 and some very memorable assignments, like the canonization of Saint John Neumann, meeting with the Pope and covering the funeral of Grace Kelly.
"Then there was 'Three Blocks Squared' where Broadcast Pioneers member Liz Matt was my producer. (Liz will be inducted into our Hall of Fame on November 16th). We would go into the neighborhoods of Philadelphia and literally walk three square blocks, visiting stores, listening to people of the neighborhood tell stories and we would show and tell all about the neighborhood on TV. We told stories that were never told before that were down to earth, straight forward snapshots of a neighborhood and how each was different and special. Liz was a really big part of it, and as you know went on to become a highly respected channel 6 celebrity.
I called Liz and congratulated her on her induction into the 2012 Hall of Fame, couldn't have been happier for her. When you look at Broadcast Pioneers and the line-up of this year's inductees and the growth of the organization, it's remarkable. It's great to see old friends; the programs are interesting and meaningful. (Dick will be part of our panel during our October luncheon).
The book was not an effort to make money, however the most exciting thing so far was when I took a few copies to the bookstore in Ocean City and they agreed to carry it. My wife and I went for a bite to eat and when we walked back past the store, the book was on display in the window. I was so excited and thrilled like a whole new era of my life was beginning.
"We're living (Katherine is Dick's wife of 50 years) in Atlantic City and loving every minute of it. We're living our dream. As kids, we all went to Atlantic City for vacation or a long weekend. We were living in Delran, New Jersey when Katherine found the condo on the boardwalk, looking out over the ocean. We knew instantly this was where we wanted to be. I'm keeping active teaching at Temple University, involved with our church, and quite frankly, it doesn't get any better than this!"
NEWS HOUND can be ordered from the COMTEQ Publishing website. It's also available at:
Sun Rose Books and Music,
8th & Asbury Avenue,
Ocean City, NJ

Bogart's Books,
210 North High Street,
Millville, NJ
Editor's note: Our forty-five minute conversation with Dick was fascinating. His animated delivery, the stories he told and his unassuming manner made for a very memorable experience. The book is a great read, full of history, humor and heart. If you see Dick, be sure to ask him about Kensington and Babe Ruth!
A FINAL THOUGHT....
29 Years ago this month, Philadelphia lost a legend: Jim O'Brien. In 1997, this organization inducted him posthumously into our Broadcast Pioneers' Hall of Fame.
"Jim O'Brien gave one hundred percent, one hundred percent of the time."
Broadcast Pioneers member Marc Howard
on a WPVI Tribute to Jim O'Brien
September 26, 1983
Please contact us by e-mail at pioneers@broadcastpioneers.comor by mail at Broadcast Pioneers of Philadelphia, PO Box 2886, Bala Cynwyd, PA 19004. (856) 365-5600. Your stories are important, to you, to us, and your colleagues. Contact us today and we'll include your story in the next newsletter!

Photo Editor & Archival Historian - Gerry Wilkinson
© 2012, Broadcast Pioneers of Philadelphia
All Rights Reserved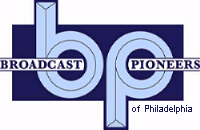 The e-mail address of the Broadcast Pioneers of Philadelphia is pioneers@broadcastpioneers.com
For luncheon reservations call (856) 365-5600 or e-mail us at: rsvp@broadcastpioneers.com