| | |
| --- | --- |
| | Broadcast Pioneers of Philadelphia is a federally recognized, state chartered 501(c)(3) non-profit organization serving the Philadelphia Broadcast Community since January of 1962. |
September Luncheon
The Bala Golf Club
Wednesday, September 21, 2016

Meet & Greet at 12 noon!
Lunch at 12:30 pm
Ratecard: $28 per person!

PLEASE RESERVE NOW!
CALL (856) 365-5600!
rsvp@broadcastpioneers.com
A New Season of
Third Wednesday Luncheons!
Good Food - Great Programs - Interesting Times
Wednesday, September 21, 2016
How the media covered 9-11




(Left to right) Broadcast Pioneers member Tom Moran with Joe Hayes
Picture taken from Jersey City, NJ
Sunday, October 8, 2000
We start off our new season of "Third Wednesday" luncheons with a very interesting one. It's all about how the media covered the most horrible terrorist attack on our shores, 9-11.
It's been 15 years since the 411 police, fire fighters and paramedics gave their lives trying to protect those they were serving, the people. It's been a decade and a half since the almost three thousand people lost their lives because of these attacks.
Our MC for the afternoon is Broadcast Pioneers member Dom Giordano, heard mornings from 9 am until 12 noon on Talk Radio 1210, WPHT.
Our panel will include:
Natasha Brown, CBS 3 Reporter and Weekend News Anchor
Karen Curry, Executive Director of the Rudman Institute at Drexel
Harry Donahue, former KYW Newsradio Morning News Co-Anchor
Tony Hanson, former 1060, KYW Newsradio Street Reporter
Tim Lambert, Multimedia News Director for WITF in Harrisburg, PA
Robin Mackintosh, former KYW-TV, CBS 3 News Reporter
MORE ABOUT OUR PANELISTS:
Natasha Brown in 2001 was a reporter/anchor for WPXI, Pittsburgh. She was on the ground in Somerset County, the site of the plane crash in Western Pennsylvania. The aircraft was brought down by passengers to prevent terrorists from flying it to Washington. While the target has never been announced, it is believed to have been either the White House or the Capitol.
Karen Curry in 2001 was Executive Producer for the CNN News Network's coverage of 9-11 and its aftermath. She was Vice-President and New York Bureau Chief. Previously, she was NBC News' London Bureau Chief. There, she managed the largest bureau outside the U.S. and directed coverage of the United Kingdom and elsewhere including the death of Princess Diana.
Harry Donahue is well-known throughout the Delaware Valley as the former morning news anchor on 1060, KYW Newsradio, the all-news radio voice of the Delaware Valley. Harry held that position for a quarter of a century and it was Harry who was on the air at the time of the terrorists attacks. It was he who first brought us the information on KYW Newsradio.
Tony Hanson is a highly regarded former street reporter for 1060, KYW Newsradio. When the big story broke, there's a good chance that Tony was there with a microphone in his hand. As far as 9-11, he was on the ground throughout the City of New York and Northern New Jersey with many news stories about the terrible situation in the Big Apple and at ground zero.
Tim Lambert was, in 2001, a reporter/anchor for WGET Radio, Gettysburg. Two years later, he moved to WITF, Harrisburg. In 2007, he was the only Pennsylvania broadcast journalist honored with a national Murrow Award for his report on the 5th anniversary of the crash of Flight 93. The story was a personal one for Tim; his family owned a portion of the crash site.
Robin Mackintosh is known as "a reporter's reporter" covering news in the Delaware Valley for over a third of a century for KYW-TV. Robin was one of the local television reporters on the ground during the station's live 9-11 coverage. Robin Mackintosh was also involved in numerous KYW-TV, CBS 3 broadcasts about 9-11 memorials and the aftermath of the attack.
This is a serious topic and our panelists will try to tell you how it looked from their perspective. If you want to learn, please come to this luncheon. Call your friends and bring people with you. You will be educated.
It all takes place at the beautiful and historic Bala Golf Club, 2200 Belmont Avenue (across the street from the state police) in the Wynnefield section of Philadelphia. Only minutes away from Channels 6, 10 and 17 and the radio stations in Bala Cynwyd. Call now for reservations. (856) 365-5600! Don't miss this one! THIS EVENT IS OPEN TO THE PUBLIC!
Plenty of FREE parking. Our luncheons are open to all our members, their guests and any person in the industry or associated fields, whether active or retired. You do NOT have to be a member to attend. There is no reserved seating at our luncheons. Feel free to sit anywhere. Well, okay--the three people on the camera crew sit near the cameras, but that's in the back of the room.
The cost is only a donation of $28 (or more) per person! In order to speed up check-in at the luncheon, it would help if you had exact change or your check written in advance. Checks should be made payable to the Broadcast Pioneers of Philadelphia.
If you would like to add a few dollars extra, we would appreciate it. It would help us with all the important work we are doing. Thanks!
WE'LL BE PROUD TO SEE YOU IN THE CROWD!

Announcing Our 2016 Honorees
for Hall of Fame and Person of the Year

JERRY BLAVAT!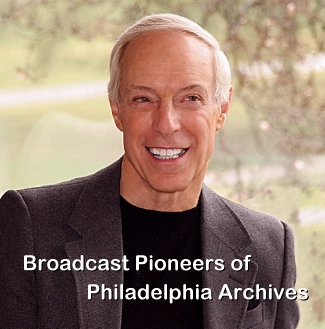 2016 PERSON OF THE YEAR!
Watch our "Pioneers of Philadelphia Broadcasting" episode shot at the office of Broadcast Pioneers member Jerry Blavat. Member Mike Strug spoke with him for this fantastic half-hour personal one-on-one interview where "The Boss with the Hot Sauce" talks about his life and how he became "The Geator with the Heater."
(Video courtesy of Broadcast Pioneers VP Brad Seecof and Metramedia Broadcasting and Studios)


"HALL OF FAME" LIVING HONOREES!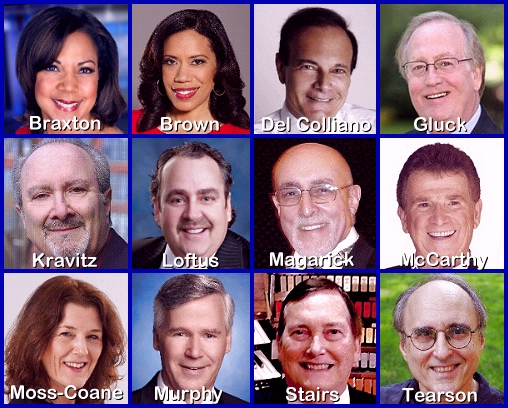 Monique Braxton, NBC 10 News Journalist/Reporter for sixteen years
Natasha Brown, CBS 3 News Anchor for "Eyewitness News" on weekends
Jerry Del Colliano, nationally known expert on broadcasting/interactive media
Paul Gluck, TUTV manager, former executive at several Philadelphia stations
Bob Kravitz, photo journalist at most every television station in our marketplace
Jim Loftus, President and CEO at More FM, number one station in the city
Barry Magarick, founder and president of Magarick Advertising
Tommy McCarthy, former music director at CBS Radio's WOGL-FM, 98.1
Marty Moss-Coane, longtime WHYY "Radio Times" host/executive producer
David Murphy, weekday meteorologist for morning & noon "Action News"
Michael Stairs, well-known organist for the famed Philadelphia Orchestra
Michael Tearson, air personality for as long as Rock Music has been on FM
"HALL OF FAME" POSTHUMOUS HONOREES!
Barry Cassell, well-known radio and television announcer in the 50s and 60s
Fred Ficke, WHYY-TV stage manager coaching US Presidents to TV 12 staff
Steve Fredericks, famed radio sports host and commentator for WCAU & WIP
Bill Kimble, who "kimblized" you as you listened on WPEN, Station of the Stars
Pinky Kravitz, "Mr. Atlantic City" and host of "Pinky's Corner" for 57 years
David Miller, worked for W3XE (Philco) and put Channel 6 on the air in 1947
Marie Pantarelli, former assistant for George Koehler & Lew Klein for 50 years
Jess Schooley, former WCAU-TV stage manager for most Channel 10 shows
Joan Stack, well-known celebrity interviewer and Bucks County radio host
Ron Tindiglia, credited with developing the Action News format here in Philly
TICKETS NOW ON SALE!
Prices are $88 for members (each member can buy ONLY one ticket at the member price) and $98 for everyone else (including spouses, friends and guests). Our MCs for the event will again be members Larry Kane and Dom Giordano.
The event will once again take place at the Hilton City Avenue, 4200 City Avenue, Philadelphia. The date is Friday, November 18th. The reception is at 6 pm and dinner is served at 7 pm. Doors open at 5:45 pm. Cash bar all night long. Valet parking is $10. Event lot parking is $5. THIS EVENT IS OPEN TO THE PUBLIC!
Make plans to be there! A major portion of the ticket price may be deductible on your federal income tax. Ask your tax advisor for details! Tickets must be purchased in advance. Absolutely no tickets available at the door.

WE'LL BE PROUD TO SEE YOU IN THE CROWD!

Visit Our Website Often - http://www.broadcastpioneers.com
You should check our website often on the front page (above) for important information!
Tune in to our YouTube Channel - http://www.broadcastpioneers.com/youtube
Our YouTube Channel has all our luncheons, exclusive interviews and archival material!
Check out our Facebook Page - http://www.broadcastpioneers.com/facebook
There are things on our Facebook Page that are NOT on our website (like our vintage photo of the week)
Go to our Twitter Account - http://www.broadcastpioneers.com/twitter
The Broadcast Pioneers Twitter Account has info and stuff not available elsewhere!
Go to our Instragram Section - http://www.broadcastpioneers.com/instagram
Here's another one of our social media sections. Visit it as often as you wish!

You Can Help Us!



When you log into Amazon via http://smile.amazon.com, all eligible purchases earn Broadcast Pioneers a donation of 0.5% from Amazon. However, you must log in to Amazon through http://smile.amazon.com. We have made it simple. You can also log into them using http://www.broadcastpioneers.com/amazon. It's easy to remember and takes you to the same place.
AmazonSmile is the same Amazon you know. Same products, same prices and the same service. The only difference is that they donate 0.5% of your eligible purchases to Broadcast Pioneers. IT DOESN'T COST YOU ANY MORE TO DO THIS! Same price to you and we get a donation to help us continue with all our great educational projects! IT'S WIN - WIN!

REMINDER!
IF YOU HAVEN'T PAID YOUR DUES BY NOW...
YOU ARE TWO MONTHS LATE!!!
Please note that almost three months ago, we snail-mailed your membership renewals. If you haven't paid by now, you are late. 12% of our members haven't sent their renewals in yet! Are you one of them? If you believe that you didn't get a renewal, please let us know and we'll send you another one (this time by e-mail).
WE DO NOT SEND YOU MULTIPLE NOTICES BY SNAIL-MAIL! THAT WAS THE ONLY NOTICE FOR RENEWAL THAT YOU WILL RECEIVE.
IMPORTANT!
If you haven't already done so, kindly return your form and check at your earliest convenience. Please also note that on the form is an important little box that you can check if you would like to make an extra contribution. Our archival project is becoming an expensive thing to do. It costs us over $8,000 a year just to store all our archival material. That averages out to about $16 per member. If you can can afford it and wish to do so, please help us in this important project. Any additional amount will be greatly appreciated! Large or small!
If you are not sure whether you paid the 2016 - 2017 dues, e-mail us and we'll let you know whether you are up to date. We thank you for your continued support!

NEW MEMBERS TO BROADCAST PIONEERS:
FULL MEMBERS:
Jack Taddeo has been in our business since 1976. He is currently the General Manager of NRG Media (and their four broadcast properties in the market) in Waterloo, Iowa. Born in Havertown, he worked here in Philly for seven years before heading to the windy city, Chicago. Previously, he owned WLKN-FM serving the Sherboygan-Manitowoc area of Wisconsin. While here in the Delaware Valley, he was on air talent at WEEZ and then moved to WRCP (AM) and WSNI-FM as PD/Ops Manager and then to Kiss 100.3 as Music Director and midday air talent.
Frank Lafaro is a native Philadelphian who has been singing professionally since 1957. He has performed throughout the east coast with the local Doo-Wop group, Frankie & the Fashions and is presently devoting more time to solo performances, singing and playing his guitar. He bills himself as "The Frank Sinatra of Doo-Wop."
We are thrilled to have these new members. Over 500 Members. More than ever. We hope to see as many of our members as possible at our September luncheon.
DIGITAL ARCHIVAL PROJECT NEWS:
VIDEO:
Member Jim Loftus
at the studios of More FM
Pioneers of Philadelphia Broadcasting
Wednesday, June 15, 2016

Member Mike Strug
at the studios of More FM
Pioneers of Philadelphia Broadcasting
Wednesday, June 15, 2016
Watch our latest "Pioneers of Philadelphia Broadcasting" episode shot at the studios of More FM. Member Mike Strug spoke with the President and CEO of More FM, member Jim Loftus. Watch this fantastic half-hour personal one-on-one interview where you find out more about Jim Loftus who will be inducted into our Hall of Fame this November.
(video courtesy of Broadcast Pioneers VP Brad Seecof and Metramedia Broadcasting & Studios)
AUDIO:
On Friday, May 22, 1964, on his "Talk of Philadelphia" broadcast, Broadcast Pioneers member Ed Harvey had a panel discussion about the Broadway Play called, "The Deputy."
Described as a Christian tragedy, The Deputy was written by Rolf Hochhuth in Germany. The English translation of the play was by Richard and Clara Winston. It opened on Broadway on Wednesday, February 26, 1964. In the production, it portrayed Pope Pius XII as a man who remained silent about the Holocaust.
The guest panelists on the program were a Catholic Priest, a Jewish Rabbi and a Lutheran minister. While this would be an interesting show, no matter what, it is even more interesting that the minister was Broadcast Pioneers member W. Carter Merbreier. You may know Carter better as TV's "Captain Noah." However, this program predates the television show.
Merbreier, at this time, however, was no stranger to broadcasting. He was seen often on TV delivering the short sermons that the stations used to air at sign on and sign off. He was also a radio guest on "The Talk of Philadelphia" and other programs. This is an extremely rare piece of audio featuring Carter in his pre-Captain days.
Ed Harvey often had the station air check his program. Our file is made directly off the WCAU recording. During this broadcast, Ed talks about there being a second hour where the guests took phone calls from the WCAU Radio listeners. The second hour tape has yet to be located.
Ed Harvey often asked the engineers to stop and start the tape so that the commercials would not be on the tape. This is one of those. We have placed a second of dead air between segments. Once you have the audio playing, it will track automatically from segment to segment.
Listen with Real Audio!
Listen with Windows Media!
In the spring of 1988, Dr. Brian McDonough, a member of this organization, was doing an hour-long program on WRTI-FM called, "On the Line." It was live and he took listener's phone calls. One of these shows featured Dr. Robert Buckman, who was, at the time of this broadcast, the director of the trauma center at Temple University Hospital. He was also a full professor of surgery at the Temple University School of Medicine.
The other two guests were Brian and Kevin Sullivan. Just a few years before this program, Brian donated one of his kidneys to his older brother Kevin. Brian decided to walk from Chicago to the East Coast. They talked about the need for organs for transplant.
We asked Dr. McDonough to think back about that show and here's what he said:
The late 1980s, I was working hard to help raise awareness of organ donation and the importance of people becoming organ donors. Having Kevin and Brian as guests helped highlight the importance of this. As for the trauma surgeon, Temple was always very supportive providing guests for the program since it was for WRTI. I had lots of fun doing those shows. No commercials--just one hour of conversation and call in guests. The best part was that for about twenty years, I was able to work with Temple students who served as producers of the show. I had just joined KYW in December of 1987 and it was a year before I joined Channel 29.
Listen in Real Audio!
Listen in Windows Media Format!
Today's News Becomes Tomorrow's History!
(This is what our Digital Archival Project, DAP, is all about!)
A LITTLE BIT OF BROADCAST HISTORY!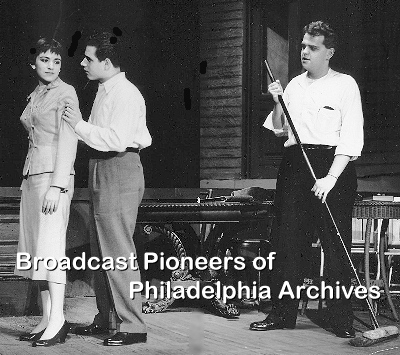 Broadcast Pioneers member Jane Norman (at extreme left)
Temple University
circa mid-fifties
This is a photo from a Temple University production of "Inherit the Wind," a college version of the popular Broadway Show. The performers were called "The Templayers." The university theater was under the direction of Paul Randall, fondly called "Pops" by those who knew him. If you are wondering why the name Jane Norman sounds so familiar, wonder no more. You'll remember her as WCAU-TV's "Pixanne." Today, she still performing. Now, she is showing off her singing talents.
IN TOUCH WITH OUR MEMBERS:
Member Ray Didinger has a 75 minute play called "Tommy and Me." It's an autobiographical story of Ray's friendship with Hall of Fame Eagles player Tommy McDonald. The play deals with football from 1954 until almost the end of the nineties. Young Ray is played by Simon Kiley Canuso and McDonald is portrayed by Ned Pryce. It was at the Theater Exile last month.
Member Lew Klein (a former President and Chairman of the Board of this organization) reminds us about the upcoming awards in October, 2016 at Temple University.
Tina Fey, known internationally for her Emmy Award-winning work on Saturday Night Live and 30 Rock, will receive the Lew Klein Excellence in the Media Award this fall. The acclaimed actor, writer and producer will be the sixteenth recipient of the honor at a ceremony hosted annually by Temple University's School of Media and Communication to honor successful alumni and media figures.

The Lew Klein Awards ceremony, to be held in Mitten Hall on October 7, will also honor the professional achievements of six alumni working in the media and communication industries. This year's Alumni in the Media honorees are:

• Michael Grossman (SMC '81), director and executive producer
• Solomon Jones (SMC '97), columnist, Philadelphia Daily News, and host, WURD
• Rich Lerner (SMC '83), anchor, analyst, host, reporter, producer, The Golf Channel
• Rich Levy (SMC '79), chief creative officer, FCB Health
• Laurie Seidman (SMC '98), director, daytime programming, CBS Entertainment

Additionally, there is a Rising Star Award, given this year to Chanteé Lans (SMC '06), a reporter at CBS 4 Boston.
We heard from member Barry Magarick about his recent vacation. Barry will be inducted into our Hall of Fame at our annual fundraising banquet on Friday, November 18th. Magarick wrote:
My wife and I love to cruise and we have taken about 86 Ocean Adventures in are almost 40 years together. Our most recent was also the most luxurious. We traveled on the Queen Mary 2, a real ocean liner with first class, 2nd class, and general passengers. We always wanted to do an ocean crossing 1st Class and found a rate that was dramatically reduced for a first-class cabin in the Queen's Grill Restaurant category. The Mary is a Cunard ocean liner and probably the only true ocean liner sailing today. It is utter luxury and 151 gross tons. That's more than three times the size of the Titanic. We had a sensational time on the crossing and the food lived up to our expectations. In fact if something was not on the menu we could order it and they would special make it tableside for us.
Broadcast Pioneers CEO Gerry Wilkinson and his wife, Michele spent a week in Virginia visiting all the different presidential homes in the area including Washington, Jefferson, Madison and Monroe. You could tell Gerry had an interest in history if you ever listened to his ten hour documentary on the Second World War. It aired a half century ago on Temple's campus radio station, WRTI-FM. By the way, he took a laptop computer with him to Virginia so he could still deal with Broadcast Pioneers business while away from home. Some vacation.
Broadcast Pioneers Member Michael Stairs and his new wife, Margaret, spent a wonderful eleven days on their Maine honeymoon recently. They said that it was great to spend time with relatives in Milo and Penobscot, enjoying perfect weather and delicious lobster. Michael will be inducted into our Hall of Fame this coming November 18th.
0n September 9th, Member Maura McKinney Mastro will once again step into the Irish boxing ring at Cannstatters in Philadelphia to perform The Irish and American National Anthems. A yearly tradition in honor of her dad, telephone talk host Jack McKinney.
Three Irish festivals will feature Maura in their line-up in the next several weeks: The annual Ship Bottom Irish Festival on September 11th, The North Wildwood Irish Festival main stage on September 23rd and 24th and The Smithville Irish Festival on October 8th.
Irish TV and Character Driven Productions have extended their content partnership and are developing a new series to air on Ireland's first international TV station, sharing stories from the spirited Irish American communities in Pennsylvania with local and international audiences.
The partnership, formed last year to coincide with the historic visit of Pope Francis's to Philadelphia, has already proven a great success with documentaries and programming produced garnering great feedback on both sides of the Atlantic. Broadcast Pioneers member Shawn Swords is their Director of Operations.
Broadcast Pioneers member Merrill Reese will be inducted into the Philadelphia Eagles Hall of Fame. The event takes place when the Eagles play the Green Bay Packers here in Philadelphia. It's Monday Night Football that evening, November 28th. Merrill was our "Person of the Year" in 2005 and was inducted into our Hall of Fame at that time.
Did you know (written 12 years ago by W. Carter Merbreier, TV's Captain Noah)...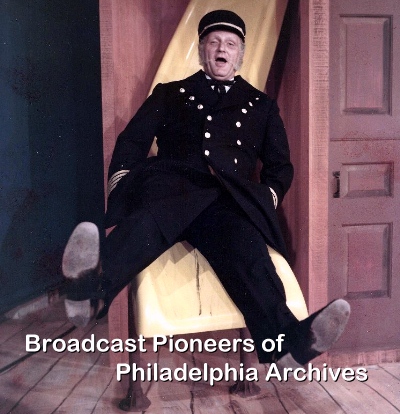 Of the 3600 broadcasts of Captain Noah, ranging from 30 minutes to 1 1/2 hours over a period of 27 years, 2640 were live every morning. Live means that whatever happens, happens on-the-air. There are no cuts or retakes. Our kiddie show was not rehearsed or scripted. It involved science experiments, a great many untamed animals and people who did specialty acts that could, and did, go wrong. Yet, in all those shows, I don't remember anyone ever uttering a "dirty" word on the air.
The closest we came to any such impropriety involved Ding-a-Ling the Bell. An actual bell with goggle-eyes on springs and a large red tongue, activated by Mrs. Noah pulling a string and ringing a handbell behind the set. One morning the bell had taken ill, and when I examined it with a stethoscope, I diagnosed it as suffering from what I believed to be quite a witty malady for a bell: "Clapperitus." For the crew, that was close enough to the slang for a venereal disease. They and the control room went bonkers. I segued into a Porky Pig cartoon.
I was confident that it being so early in the morning, no one in management would be watching the show. Wrong. Almost immediately the large doors of the studio opened and the program director, George Walsh, walked in to loudly opinion, "Thank God, the bell didn't have Gongeria!"
Thank goodness for the shelter of cartoons. We loved cartoons because they were a 4:30 minute break to regroup and recover. When metal sculptor, Pete Renzetti's acetylene tank nozzles caught fire and we were about to be blown across the street onto WCAU's lawn—we went to a cartoon. When the female snake handler was bitten and bleeding—we went to a cartoon. When the "petting zoo" ostrich went berserk amid a cloud of blood and feathers—we went to a cartoon.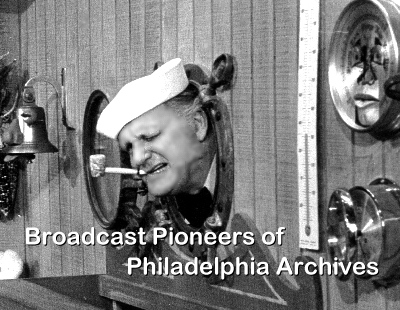 Carter Merbreier
Captain Noah and His Magical Ark
WPVI-TV
unknown date
I introduced some cartoons using Chroma-key: a special color backdrop that electronically displays most often the maps and clouds behind TV weathercasters. I attached a piece of chroma-key material to the back of my guitar, on the inside of a trunk lid, and on a window shade to "pull up" the opening "roll" of cartoons on the TV screen. Great effect.
Quite creatively, I thought, I cut out a piece of the special material in the shape of a pair of shorts and tucked it into the waistband of my pants. Announcing a cartoon, I would fling open my coat and the cartoon would appear to start playing on my undershorts.
The crew loved it. Next to guests with food, the crew loved anything silly and innovative. Then came the letter. It was from an indignant mother castigating me for encouraging her little girl to run around the neighborhood, pulling up her dress and shouting, "Here' s Popeye!"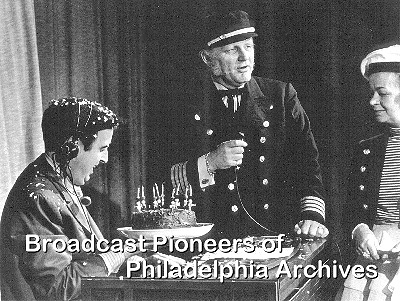 (left to right) Members Larry Ferrari, Carter Merbreier and Pat Merbreier
Captain Noah and His Magical Ark
(on the occasion of Larry's 39th birthday)
WFIL-TV (it became WPVI a month later)
Thursday morning, March 4, 1971
"Captain Noah and His Magical Ark" was more than our duet. If you included, as you must, our music maestro and friend Larry Ferrari, we were a troika. For almost three decades the Ark sailed to Larry's live spontaneous background music. Always apropos, his music would flow in perfect harmony with the action of the show.
Occasionally and apprehensively, Larry would allow himself to be dragged into some Ark dering-do. Like the "tracing incident." I figured that if you could trace the outstretched fingers of the hand to make the outline of a Thanksgiving turkey, how much more fun it would be to outline the entire human body. There was Larry sitting over there, off set, playing the organ, the perfect specimen. So, live, on-the-air, I laid Larry out on a huge piece of butcher's paper and began to trace around him with a felt-tip pen. By the time I reached his armpit, I realized how ticklish he was. By the time I had circled his heel and was proceeding up his inseam, he realized that I was headed for his crotch. "No - No," Larry screamed and shot up from the floor, retreating out-of-camera range to the safety of his organ "loft." I finished my tracery without the benefit of such a sensitive model.
Some purported Indian Council in New Jersey once took strong exception to our dressing Larry up with a feather stuck in a decorated paper head-band, as we sang, "Ten Little, Nine Little, Eight Little Indians." "Larry Ferrari is not an Indian brave and has no right to wear a feather! And tell him to stop whooping, Indians don't whoop!" In those days, even Native Americans called themselves Indians.
The positive parameters of Captain Noah were framed at a meeting at the oyster bar at the Union League, with the then program director of Channel 6, Lew Klein. "Don't worry about being too goody-goody. We (the "we" included George Koehler, then station manager) want this show to be the best thing around for kids on television," advised this future CEO of the Gateway Stations and today's Chairman of the NATPE's Education Foundation.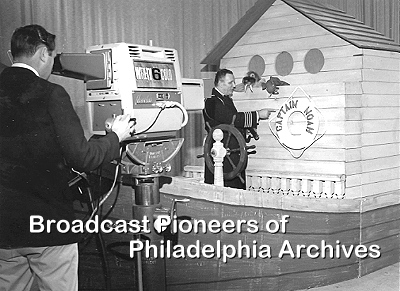 (left to right) WPVI Camera Operator Bill Friel and Carter Merbreier with puppets
Captain Noah and His Magical Ark
WFIL-TV, Philadelphia
(original "cardboard" ark from the religious era)
circa 1967
(Previously unreleased)
Captain Noah had really begun three years prior to this meeting, in 1967, as a weekly public service religious program under the auspices of air-time released to the now defunct Philadelphia Council of Churches. My wife and I produced, hosted and paid for the show out of our own pockets. The original Captain's uniform was the dress-overcoat of Philadelphia Police Inspector Harry Fox, to which we added some gold braid and epaulets. The Ark set was cut out of cardboard and painted in the basement of the urban Lutheran Church of which I was then pastor.
Almost overnight, even with its strong moral and religious overtone, this bare-bones public service children's show became syndicated in 22 markets. Then in August 1970, we were asked to fill the morning time slot of the canceled "The World Around Us" show and become one of the station's regular daily morning programs.
The incomparable scenic artist, Nat Elkatz, created for us the most colorful, workable Children's show set in the world. He built in a projection screen, a puppet stage, wonderful nooks and crannies, a sliding board, all kinds of nautical accoutrements and, at the last minute, as a joke, a complete, non-functioning cardboard toilet or "head" in the back of the set. Which, we were to soon discover, proved to be so realistic that it was used during one of the station's children's tours.
Local legends would pop up with sometimes interesting consequences. Following a piece on W.C. Fields, his girlfriend at the time of his death, in town pushing a book on him, was staying across the street at the Marriott. Before we were off the air, she was at the station not just to plug her hook but to adopt a small shaggy dog from the SPCA segment. She sent us a picture of that dog beside a pool in Hollywood.
This article will continue next month!
Written by W. Carter Merbreier (Captain Noah) about 12 years ago, it is abridged
The original (& much longer) version resides with us as part of our ongoing Archival Project!
Our special thanks go to TUTV - Temple University Television and The Kal & Lucille Rudman Media Production Center.

They have underwritten a grant to be used to fund an entire year of all our newsletters for calendar year 2016. We thank them so much for their support!

VCRs and VHS Tapes!
We can use your assistance. We use VCRs (that play VHS tape) in our Archival Project. If you have a working VCR that you no longer want, we would love to have it donated to us. We can use it. It would be even better if you had the remote too.
We can also use blank and/or pre-recorded VHS tapes. Have movies, exercise programs, etc. on VHS and you don't want them? We can use them. Also other VHS tapes. When we work with and/or repair VCRs, we need test tapes. Something that has video recorded on it but would not create a problem for our archives if it was damaged. During the last month alone, we had three tapes chewed up by VCRs. Fortunately, they were just test tapes and not ones from our archival project. We can use what you no longer want. If in doubt, please ask us. We need your help.

MORE DIGITAL ARCHIVAL PROJECT NEWS:
VIDEO: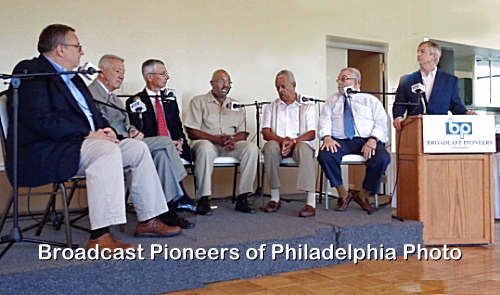 (Left to right) Tom Kranz, Bill Baldini, Michael Archer
Pete Kane, Harvey Clark, Frank Goldstein and Steve Levy
Broadcast Pioneers Luncheon
Bala Golf Club, Philadelphia
Wednesday, June 15, 2016
At our Wednesday, June 15, 2016 luncheon, we had a panel discussion on how WCAU-TV covered the MOVE situation on Osage Avenue in 1985. Our MC was member Steve Levy and our panelists included Tom Kranz, Bill Baldini, Michael Archer, Pete Kane, Harvey Clark and Frank Goldstein.
You heard what it was like to be on the ground in 1985 on Osage Avenue in West Philly covering one of the biggest tragedies in our city's history.
This luncheon's topic was "MOVE: VIEWPOINT FROM BEHIND THE SCENES." This is all about how one station (WCAU-TV, Channel 10) did what they had to in order to get the word out to the people of Philadelphia and the Delaware Valley. This was a serious topic. It made you think.
It has been 31 years (almost a third of a century) after the one of the worst tragedies in Philadelphia history where eleven people died (including five children) and several hundreds more watched their homes and family histories destroyed by a group of police, firefighters and other city officials. Police bombed the MOVE house and the building caught fire. Firefighters were ordered to let the fire burn. 65 homes were destroyed and 250 West Philadelphians were left homeless.
(video courtesy of Broadcast Pioneers VP Brad Seecof and Metramedia Broadcasting & Studios)

AUDIO:
Twenty-three years ago, Pinky Kravitz, a mainstay of Atlantic City radio for a half-century spoke on the air with Broadcast Pioneers member Michael Muderick. Michael said:
I knew Pinky Kravitz for many years. Over time, as I proceeded through my communications career, we had many conversations about "the biz." In June, 1983, Ann (Michael's wife) and I went to Atlantic City for a day. We passed "The Trop" and saw that Pinky was doing his daily show on WOND. He waved us in, and did a totally spontaneous interview with me.
Pinky Kravitz will be inducted posthumously into the Broadcast Pioneers of Philadelphia Hall of Fame on Friday evening, November 18th.
Listen in Real Audio!
Listen in Windows Media!
Our last audio clip from our digital audio archive dates from Nobember 18, 1978. Ed Sciaky has been on WIOQ for a year now and his friend Al Stewart drops by for a chat.
Listen in Real Audio!
Listen in Windows Media Format!
Remember, History is ONLY What Gets Saved!
(If there were no portraits of George Washington, how would we know what he looked like?)
A LITTLE BIT OF BROADCAST HISTORY!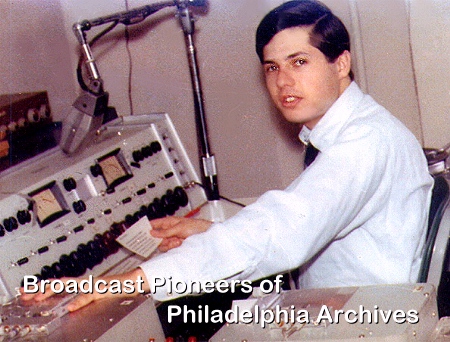 Broadcast Pioneers member Dave Shayer
WDVR Radio
1971
IN TOUCH WITH THE INDUSTRY:
Just moments (literally) before the newsletter went out, we heard from member Bernie Prazenica, President and General Manager of WPVI that Jim Gardner will return tonight (Tuesday, September 6th) on both the 6 pm and 11 pm Action News programs. Jim was on medical leave for the last month. He had surgery to repair a biceps tendon.
SportsRadio 94WIP has reached a new agreement with Veteran Broadcaster, Pro Football Hall of Fame writer and Broadcast Pioneers member Ray Didinger, it was announced by Broadcast Pioneers member David Yadgaroff, Senior Vice President and Market Manager, CBS RADIO Philadelphia. Didinger has signed a multi-year deal in which he will continue his role on WIP in addition to expanding his duties on Talk Radio 1210 WPHT and KYW Newsradio.
"I'm delighted to continue my relationship with WIP," said Didinger. "I've had a great time working with so many good friends, in particular Glen Macnow, my weekend partner for many years. I enjoy talking sports with the Philadelphia fans and I'm grateful to CBS RADIO Philadelphia for giving me that opportunity."

On Didinger's expanded role, Yadgaroff commented, "Ray is one of the most respected and revered authorities in Philly sports. The CBS RADIO cluster benefits from Ray's presence on our airwaves. We're thrilled to continue the partnership with him."
Member Mel Klawansky reminds us that the next WFIL Family Reunion will be on Saturday, October 8th from 7 pm until ??? It will be held at the Manayunk Brewery and Restaurant, 4120 Main Street in Manayunk. It's a celebration of the 50th anniversary of the birth of the Famous 56 format. Mel says that this is the last reunion that he's putting together. Updates are always available with your friend Ron Turner's Famous 56.com.
NBC10 (WCAU-TV) and Telemundo62 (WWSI) tells us about the deployment of StormRanger10, a new and first-of-its-kind mobile Doppler weather radar truck. StormRanger10's game-changing technology will gather, in real-time, weather and meteorological information that fixed radars can miss. "StormRanger10 gives us a clearer picture of what's inside each storm so we can share the most accurate and reliable storm forecasts in real time," said Member Glenn "Hurricane" Schwartz, NBC10's First Alert Weather Chief Meteorologist.
Telemundo62 (WWSI) announced the launch of a new consumer investigative unit, "Telemundo62 Responde." Charged with standing up for consumers' rights, Telemundo62's new Telemundo62 Responde consumer investigative unit will answer inquiries from local viewers who fear they may have been wronged. Ines Ferre, an award-winning journalist, is Telemundo62's new Consumer Investigative Reporter. Telemundo62 is the sister station to NBC10.
Praise 103.9 FM has began broadcasting "The Sound of Praise." The show spotlights Gospel singer Maurette Brown Clark, a well-known gospel artist and musician. She's heard middays from 10 am to 3 pm. Praise 103.9 is WPPZ-FM, licensed to Jenkintown and is owned by Radio One. The station was originally WIBF-FM.
Later this month, WPPM is set to start broadcasting. It's a low powered station of 90 watts. The same people that run this also run a cable TV station, PhillyCAM available on many cable systems in our area. It will cover basically Center City Philadelphia, large parts of North Philly, University City, South Philadelphia and parts of New Jersey. They will broadcast at 106.5 on the FM dial.
KYW Newsradio here in Philly teams up with Philadelphia Style magazine for a new website that has exclusive material from the magazine. It's called "CBS Philly Style." It's already running online at http://cbsphillystyle.com. The magazine deals with home decor, entertainment, architecture and beauty among other topics. Philadelphia Style has been around since 1997.
Bonnie Keller is a now creative writer for QVC Corporate Communications. Bonnie was at Channel 10, WCAU-TV from 1987 to 1991 as a reporter and news anchor.
In its continuing efforts to provide unique, local perspectives on major news stories, NBC10 Philadelphia/WCAU sent Social Media Editor Sara Smith to Louisiana where record flooding has damaged an estimated 60,000 homes and forced thousands to seek temporary housing. Smith, who joined NBC10 in 2015, is a former American Red Cross spokesperson. Her updates and reports were seen on NBC10.com and on NBC 10's 5 pm news report.
Talk Radio 1210 WPHT announced an agreement with morning drive radio personality, Chris Stigall, to renew and extend his relationship with the station, continuing the "Chris Stigall Show" weekday mornings on 1210 WPHT. Under the multiple-year agreement, Stigall will continue in his current role, as well as being the face of Talk Radio 1210 WPHT with charitable endeavors, events, and digital content creation.
"We are thrilled to extend our partnership with Chris. He's intelligent, entertaining, genuine and his ability to connect with listeners across multiple platforms has been unrivaled," said Broadcast Pioneers member David Yadgaroff, Senior Vice President/Market Manager for CBS RADIO Philadelphia. "We're thrilled to keep Chris as the keystone of the WPHT lineup for many years to come."
Last Wednesday, in commemoration of International Overdose Awareness Day, NBC10 re-aired its digital exclusive "Generation Addicted." The Emmy-nominated half-hour documentary explored the tragic world of heroin and opioid addiction in the Delaware Valley. Following the program, NBC10's Vince Lattanzio hosted a Facebook Live conversation on the station's Facebook page to further discuss the issue and answer questions.
Telemundo62 / WWSI will once again sponsor the 2016 Annual Feria del Barrio on Sunday, September 11, from 12 noon to 5 p.m. in North Philadelphia. Telemundo62 anchor Ramón Zayas and reporter Iris Delgado will serve as emcees for the event.
"Feria del Barrio has become a popular tradition for hundreds of families in the heart of Philadelphia's Latino community," said Ric Harris, President and General Manager of NBC10 and Telemundo62. "Telemundo62 is proud to be part of this beloved neighborhood festival that celebrates Latino culture throughout our region."

Now in its 32nd year, the family-friendly outdoor festival brings together thousands of people for a day of live music and dancing, delicious food, arts and crafts and more. Feria del Barrio takes place along the 2700 and 2800 blocks of North 5th Street between Lehigh Avenue and Cambria Street, known in the Latino community as El Centro de Oro (The Golden Center)..
We have gotten word that the Federal Communications Commission will be closing several field offices at the beginning of next year. The Philadelphia office is one of the ones that the government plans to close. They believe that in doing so, they can save about ten million dollars across the country by eliminating 44 jobs.
Nicky G has been named Music Director of 98.1 WOGL, it was announced by Broadcast Pioneers member David Yadgaroff, Senior Vice President and Market Manager, CBS RADIO Philadelphia. Nicky joined WOGL in 2012 and has been a weekend air personality hosting "I Love the 70's Sunday" along with doing fill-in shifts throughout the week. Nicky G replaces Broadcast Pioneers member Tommy McCarthy who retired from WOGL earlier this year. By the way, Tommy will be inducted into our Hall of Fame this November 18th.
WE REMEMBER:
Member Ed Kasuba's wife, Donna, passed away on the last day of July from ovarian cancer. Ed was the South Jersey Bureau Chief at KYW Newsradio, and retired eight years ago. Donna and Ed were married for 46. Donna held a bachelor's degree in history from the University of Illinois, Chicago campus and was an instructor at their church for middle grade students preparing for the confirmation sacraments. Donna was 70 years old.
George Sosson, 70, passed away late in July. George was Sales Manager for WCAU Radio during the seventies. In 1992, he started Radio Equity Partners and purchased 19 stations in 8 different markets. Four years later, he sold the group to Clear Channel. At that time, he became Senior Vice-President for Eastern Operations for the entire Clear Channel Chain. Later he became Vice President of CBS Radio's FM station group.
Last month, we were all sorry to hear the sad news about the passing of W. Carter Merbreier, aka Captain Noah. He was 90 years old. His program aired on WPVI for 27 years. His wife, Pat, passed away in 2011. The Merbreiers' daughter Pam, donated last month three containers of video tapes which are in the process of being digitized now. We also received thousands of the Captain Noah's photos. The first several hundred of these have already been scanned and the rest will be done in the next couple of months.
In December of 2013, Broadcast Pioneers recorded a wonderful half-hour interview with W. Carter Merbreier, conducted by member Mike Strug. It is available here in its entirety from the Broadcast Pioneers' YouTube Channel. It was his last on camera interview.
(video courtesy of Broadcast Pioneers VP Brad Seecof and Metramedia Broadcasting & Studios)
ON THE HEALTH FRONT :
Broadcast Pioneers Board Member Bob Kravitz is in Hahnamann Hospital. He tells us yesterday evening that he's being given Heparin to thicken his blood as he was on two different blood thinning medicines. He said that "sometime today (Tuesday, September 6th), a Cath will given to me. If something is found, I will be treated for it. If not, it takes two to three days to bring my blood back to normal. In June, I had a stent placed in an artery that was 95% blocked. I am in my positive thought mode."
THIS AND THAT! Little Bits of Information....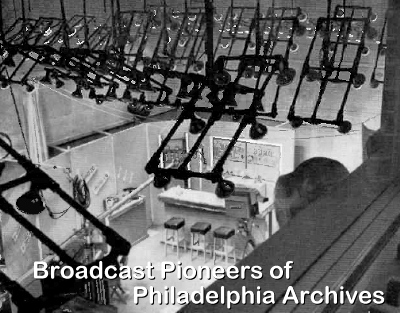 The WFIL-TV Studio (they only had one at this time)
as seen from the second floor advertiser's viewing room
(located directly above the TV control room)
46th and Market Streets, Philadelphia
circa 1948
The set in the above photo shows it ready for the program, "Phil and the Three Cheers." The boom shown is an RCA MI-2657A Perambulator Boom with an RCA 77-B mike mounted on it. The camera is a TK30A (also RCA).
Nelson Eddy appeared on most of the radio stations in Philly while he lived here. In the mid-thirties, he was on "The Newton Coal Hour" on WFI Radio (later merged with WLIT and became WFIL). He got $25 per appearance. That's about $460 in 2016 money. He stayed on the show for two years.
In 1950, Singer Kitty Kallen was asked what kind of music she liked. She replied, "I like every kind of music except bop. Maybe that's because I don't understand that bop business. To me, it sounds artificial and contrived." At the time of this interview, she was starring in "Finian's Rainbow" on Broadway. She started her singing career on Philly's "Horn and Hardart's Children's Hour" on WCAU Radio.
Kitty Kallen sang in a dance band in 1939 that was led by Norman Benson. We knew him better as "Red Benson." Did you know that Benson worked as a professional hypnotist, but did you know that he sang with the Philadelphia Light Opera Company (he had a three octave range) and was a Shakespearean actor in a local stock company? Well, it's true.
At the end of 1939, Gunnar Back left his PD job at WJNO in West Palm Beach, Florida and moved to the nation's capitol. He joined the announcing staff of WJSV. Four years later, the station would have new call letters, WTOP. He would eventually become Chief Announcer for the station. By the end of the Second World War, he was reassigned from the CBS O&O station to the network itself. He came to Channel 6 on February 6, 1956 to anchor the RCA Newsreel.
In the Spring of 1937, WCAU Radio announcer Claude Haring resigned from the air position and joined N. W. Ayer and Son, here in Philly. In 1944, he would become one of the play-by-play announcers for the Philadelphia Phillies. He stayed for three seasons and then returned in 1952 for only one season. However, he came back to the Phils mike in 1955 and stayed until 1962.
During the summer of 1932, Stan Lee Broza (this organization's first president) had a week's appearance at the Steel Pier in Atlantic City. He was there with 20 members of "The Horn and Hardart Children's Hour" program including the Stewart Sisters. The original name of the broadcast was "The WCAU Kiddies Hour." Besides being the host of the show, he was also WCAU Radio's PD.
In 1953, WPTZ claimed that its Saturday morning program, "C'mon to Uncle Pete's" (11 am to 11:30 am) had over a quarter million children watching the telecast. They also said that with that volume, an advertiser got 20 viewers (and that's 20 possible customers) for a single penny.
Well-known announcer from sixty years ago, Stu Wayne, got his first radio job because his mother answered an advertisement for an announcer in Stu's name. She made him go to the audition and he was hired.
WIP Radio has been a fixture in Philadelphia for 94 years. Originally owned by the Gimbels Department Store (and run by Ben Gimbel), the station said during its first decade on the air that the call letters stood for "Wireless In Philadelphia." However, the motto came about after they already had the WIP call letters. In reality, the call letters were picked out of a hat. History doesn't record that other choices were in that hat. It would be interesting to know. Like we say, "History is only what gets saved."
We heard from Bob Foy, a visitor to our website who e-mailed:
In 1944, when I was a boy of twelve years of age I was invited to read my prize winning essay (on the Magic Lady Program). I met Skipper Dawes, and "Sunny Edwards." I recall the studio at WFIL. Skipper Dawes on my right, and Sunny Edwards on my left. I was standing between them at the lectern.

Sunny asked me if I was nervous; I said "yes, this is my first experience speaking on radio." Sunny said, "I was too, but as you begin reading, that fear will fade, and it's the apprehension beforehand that causes that." Sunny was a really nice guy, and he helped me a lot. Well, Sunny Edwards became Eddie Fisher and was a great vocalist. I too, sang as an altar boy with a similar vocal range as Eddie, albeit not the same quality.

After working at a number of jobs, I became a letter carrier and on a route that I was serving I met his Mom at Fifth and Ritner, the home where Eddie Fisher grew up. I mourned his passing.
A LITTLE BIT OF BROADCAST HISTORY!
(Left to right) Gunnar Back with Jimmy Durante
WFIL-TV
circa 1964
THANKS FOR THE MEMORIES:
Ed Eisen meets Mother Teresa!
Two Days ago, Anjezë Gonxhe Bojaxhiu, otherwise known throughout the world as Mother Teresa, was formally recognized as a Saint of the Roman Catholic Church. Forty years ago, she was in the Delaware Valley. She was in the City, the suburbs and Camden. She was interviewed by member Connie Roussin Spann on WPVI and met Broadcast Pioneers Board Member Ed Eisen. We asked Ed to write for us about his experience. Here's his story. He e-mailed us:
It was April 1975. The diminutive figure in the white and blue sari was bent and fragile, yet the hand extended was firm and warm. The private meeting on the upper floors of the Archdiocese of Philadelphia will be forever etched in my memory. Mother Teresa, the beloved Roman Catholic nun from the streets of Calcutta was having lunch with this Jewish kid from Brooklyn.

What an improbable union, a rare moment, a flash in my life that lasted but 30 minutes but dramatically changed me from the inside out.

Moments later we were sitting in this wood paneled room with its long table, chatting quietly over a bowl of steaming chicken soup. Mother Teresa had offered grace and now the world renowned minister to the unwanted, unloved, uncared for was telling me about her visit to Philadelphia to raise funds for the Missionary Sisters of Charity. She looked tired but as she spoke of the work, of the needs of the poor all over the world, I sensed her passion, her singular mission, the earnestness of her appeal.

I could see my father, a Jewish cantor, begging the question: "But son, what were you doing there? Didn't you feel out of place? Didn't you sense that perhaps this was a job better left for another?"

Pop was from the old school. As a child he had grown up in Poland, emigrated to America as a boy of 11, almost two decades before the Holocaust and the invasion of his country by the Nazis. But he had known persecution. He had tasted of anti-semitism in this country. Yet the irony was that when he was hungry and alone on the streets of Detroit, it was a Roman Catholic priest standing at the door of his parish who took him in, fed him and gave him a warm bed for the night. Pop should have understood.

"But son, what were you doing in such a place?" he asked again. "How did you come to meet such a person?" The story is simple. It happened 41 years ago. But the memory has never faded. What brought Mother Teresa and me together was an odd convergence of circumstances or perhaps something else.

For many years I had been a reporter with The Philadelphia Inquirer and a broadcaster with radio stations up and down the East Coast. In 1975 I left the news business to join one of the city's largest advertising and public relations agencies, Gray & Rogers. The firm was in a national competition to win the Vatican as a client to promote an event called the 41st International Eucharistic Congress. It was held in the Quaker City from August 1 to August 8, 1976.

Among those attending were President Ford, the papal legate who became Pope John Paul VI, Grace Kelly of Monaco, some of the church's most outspoken voices against communism and Mother Teresa.

My mission: bring tens of thousands of pilgrims to Philadelphia during the Bicentennial year. The print and broadcast publicity we generated in six languages delivered a million. And all of that in the face of a terrifying disease outbreak:

American Legionnaire's Disease hit the city on our opening day. Twenty-nine people died and 182 were hospitalized. A hotel was shuttered.

No, I didn't get to kiss the future pope's ring. But I did shake hands that afternoon with Mother Teresa. She had known I was Jewish. "That's wonderful," she smiled. "The founder of our faith was also a Jew. As Christians we have much with which to thank our Jewish brothers and sisters."

It was still in the room after that. For me, it was a life defining moment to hear the nun from Calcutta speak so. And for a moment in time, I imagined a halo about the sun-wrinkled brow. Before she left, Mother Teresa left me these words, words that take on even deeper meaning as she was canonized this month: "There are thousands of people in Philadelphia who are forgotten, unwanted. hungry for love. We pass them by. Love them. Loneliness is the greatest poverty."
A 15 YEAR-OLD AT WASHINGTON PRESS CONFERENCES!
Dennis Wilen is the founder and editor of Pocho.com in Los Angeles, an online news and satirical publication. He is a reformed journalist and veteran radio and records executive, music producer, webmaster and web editor with credits that include Rolling Stone, LACMA, The L.A. Jewish Journal, the Milken Family Foundation, Brentwood Patch, Yahoo! Geocities, Harry Shearer and Spinal Tap. He is a native Philadelphian, and wrote for the Philadelphia Inquirer, and served a stint as music director and concert director of WMMR. He is a graduate of the University of Pennsylvania. His sister is member Amy Buckman. We asked him to tell us about his experience of going to Washington to cover national press conferences as a high-school journalist. He wrote:
How do I tell this story? I could start out by saying "I've always been a troublemaker," or, perhaps, "It's better to apologize later than ask permission first."

Either way, my White House adventure began in the spring of 1963, when I was a 15-year-old junior at Haverford High and News Director at WHHS, our school's 10-watt FM station. I did a quarter-hour "News of the Week in Review" show every Monday, in the optimistic belief that a 15-year-old could talk meaningfully about world events.

I was also what we would call now a "JFK fan boy." I loved President John F. Kennedy and remember his campaign appearance in Upper Darby near 69th Street, how his hair seemed extra red in person and the way he smiled.

I followed the news diligently - "The Evening Bulletin" at home every day (my family disliked "The Inquirer," aka the "Republican Bible of Pennsylvania"), CBS' Walter Cronkite every night and the talk shows and "The New York Times" every Sunday.

One day I sat down at the WHHS typewriter and tapped out a letter to Pierre Salinger, the president's press secretary, on the official WHHS letterhead. I asked if were possible for me to get on the press release mailing list, and, by the way, to attend one of Kennedy's regularly-scheduled morning press conferences at the State Department and the afternoon briefing in the White House. I got my answer soon after.

I was in class when the PA system summoned me to the principal's office. "You've got mail," they said, and handed me an envelope with a return address that read "The White House."

My new pal Pierre had said, "OK!" I found out when the next press conference was, and got permission from my parents and the school to make the trip. My budget allowed for the train down to D.C., a cab ride to the State Department from Union Station (I remember being informed that cabs in Washington stopped to pick up passengers), a ride to go get lunch ("Tell the driver to take you to the nearest Peoples' Drug Store where they have a lunch counter," my mom said), and a ride to and from 1600 Pennsylvania Avenue.

On the train down I read the day's "N.Y. Times" and wrote down some questions in case the president called on me when I raised my hand (as if). I got to D.C., took a cab to the State Department, presented my year-old Social Security Card as ID and was ushered into the State Department auditorium for the press conference.

It's lucky JFK didn't call on me! I can now reveal - for the first time - I totally botched the name of someone in the news - a guy named Huntington Richardson or Wentworth Harrington or some indeterminate WASP-y combination like that and wrote his name down backwards. Whew! Thank you, Fate!

After an uneventful cab ride (no extra passengers) and a cheeseburger at the lunch counter of People's Drug, I hailed a cab and directed the driver to the White House. As skeptical as the cab driver was when I told him my destination, the gate guard at the White House, thankfully, was even more skeptical. He double checked my Social Security Card, phoned back inside, and, after what seemed like an eternity, opened the gate and told me how to get the the press room.

A Marine Guard let me in, and there I sat, a kid among the wire service and syndicate and newspaper and broadcast White House correspondents, waiting to be ushered into the press secretary's office. I don't remember which reporters were there, but I do remember recognizing some of them. Pierre Salinger, sadly, was on vacation, so we got the briefing from Andrew Hatcher, his assistant, who was the first African American to serve in the White House Press Office. Hatcher, unsurprisingly, didn't call on me either.

Back in Ardmore I was a celebrity of sorts, enough to get "The Bulletin" interested in writing up the episode as a human interest story.The story reached WPEN radio talk show host Red Benson who asked me to do a guest spot on his show, which was broadcast live from a coffee shop on Walnut Street downtown.

I told my story, read a commercial, took phone calls, and had a blast. Back at the White House, things were not so copacetic. My BFF Pierre - or one of his minions - sent a second letter to me, care of HHS, and scolded me for not noting I was a student broadcaster in my initial inquiry. It's better to apologize later than ask permission first.
Three Mile Island!
We have in our audio archive, a 1979 KYW Newsradio special about Three Mile Island (TMI). It was written, produced and narrated by Broadcast Pioneers member Richard Maloney. We plan to include that audio in an upcoming Broadcast Pioneers newsletter. We asked Richard to share some of his recollections about the incident with us. Here's what he wrote:
The accident at TMI (Three Mile Island) began on the morning of March 28, 1979. I was one of four KYW Newsradio reporters who covered the story on the scene around the clock for the seven consecutive days of the battle to bring the nuclear reactor under control. The other reporters were the late-great Sandy Starobin, the late Joe Donovan and the immortal Jay Lloyd (a member of Broadcast Pioneers). The coverage of the story entailed the combined talents of the entire staff of KYW Newsradio who were providing live feeds to the other Group W Westinghouse stations around the United States.

The program (Seven Days of Fear) was a compilation of the station's coverage, and aired about a week after the situation at the nuclear plant had been brought under control. I don't have a specific air date, but I wrote, edited and narrated the program immediately upon my return from TMI, during the second week of April 1979. The program was engineered by the great Bud Galow (a member of this organization).

The program was the recipient of numerous local, state and national journalism awards, including The DuPont/Columbia Award - the Pulitzer Prize of broadcast journalism.

Looking back 37 years, here are a couple of reflections:

The story occurred at the very height of the power and influence of KYW Newsradio. This was before the cell phones, Internet, social media, and satellite TV was in its infancy. For southeast and south central Pennsylvania, which were the immediate danger zone of the accident, KYW Newsradio was the direct link to the developing story, hour by hour, day by day for millions of very anxious citizens.

In an irony that is unknown to most, KYW Newradio was owned at the time by Westinghouse Electric, which manufactured the nuclear reactor at TMI. "Mother Westinghouse" as we called the company's headquarters, advised KYW management to limit the number of employees on the scene of the disaster because of the potential danger to their lives!

Thus we four reporters on the scene worked without the assistance of an on-scene radio engineer. Most feeds were through alligator clips attached to the unscrewed mouthpiece of public telephones. ( Remember public telephones?) But I can now admit that a couple of us paid a courtesy visit to a Harrisburg radio station, and we ran out the back door with a radio mixer, microphones and as much cable as we could carry and we set up our own remote radio studio in the kitchen of a private home near TMI.

Fate plays a large role in many events in history. At the time of the accident at TMI, very few people (including the media) had any knowledge of the technical workings of a nuclear reactor. Most of what they did know involved the two nuclear bombs dropped on Japan at the end of World War II and this was not comforting knowledge.

Prior to my career at KYW Newsradio, I had served as an engineer aboard the nuclear powered fleet ballistic missile submarine, USS Benjamin Franklin SSBN 640. I knew how nuclear power plants worked. Therefore, on the first day of the accident at TMI, by fate, I happened to cover the first news conference by a vice president of the plant, and I immediately realized the information he was providing was untrue. He lied. The credibility of the company was destroyed, never to be regained.

KYW Newradio owned the story for the duration of the incident. The plant was finally brought to a safe state by the cool professional work of the Nuclear Regulatory Commission, whose Harold Denton became the hero of the day. Plus the cool, measured and wise leadership of Pennsylvania Governor Dick Thornburg, who had been in office only a few weeks which the accident occurred.
A LITTLE BIT OF BROADCAST HISTORY!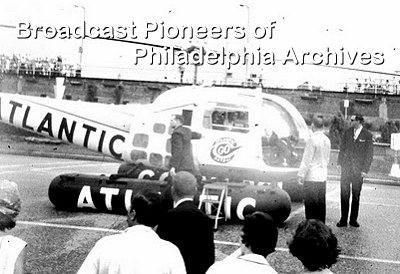 Atlantic Go Patrol helicopter
(on board was First Lady Lady Bird Johnson)
Atlantic City, NJ
August 1964
OUR HATS OFF TO YOU FOR GIVING:
We are a federally recognized, state chartered charity with a 501(c)(3) status. Contact us at (856) 365-5600 or e-mail pioneers@broadcastpioneers.com for more details. Your gift to Broadcast Pioneers will help us and may lower your federal income tax. That's win-win, isn't it?
Special Thanks (in alphabetical order) for the gift of Appreciated Stock: (a federal tax advantage for the giver)
Member Marc Howard - $3,600 (put into our general fund to be used where needed)
Member Sylvia Kauders - $5,159.45 (used for the scholarships listed below)
Member Dan Lerner - $5,217.80 (used for the scholarships listed below)
Special Thanks (in alphabetical order) for contribution of $1,000 or more to our DAP, Digital Archival Project:
Member Elliot Abrams - $1,000
Member Jerry Del Colliano - $1,000
Member Johnny B. Hall and wife Ginny - $3,000 (plus an extra $250 donated in August of 2016)
Member Harry Hurley's Golf Tournament - $1,000
Member Marlin Taylor - $1,000
Special Thanks (in alphabetical order) for April 2017 Scholarships:
Member Johnny B. Hall and his wife, Ginny - 6 scholarships
Member Harry Hurley's Golf Tournament - 1 scholarship (for a Stockton University student)
Member Sylvia Kauders - 1 scholarship (from a grant for 5 yearly scholarships running until 2019)
Member Kal Rudman - 5 scholarships (for Temple University students)
Member Marlin Taylor - 1 scholarship
Special Thanks (in alphabetical order) for a contribution of $500 or more to our DAP, Digital Archival Project:
Member Esther Kurtz - $500
Member Art Moore - $500
Bequests in their Will:
Member Sylvia Kauders passed away earlier this year. In her will, she bequest to the Broadcast Pioneers of Philadelphia, the amount of $5,000. This funding is to be used to underwrite one scholarship per year until gone. These scholarships will start in the year 2020 and continue until 2024. From a previous gift, Sylvia has underwritten one scholarship a year starting in 2015 and continuing until 2019.
W. Carter Merbreier Scholarship Fund:
The family of Captain Noah had asked (in the Philadelphia Inquirer) that donations for scholarships in the memory of W. Carter Merbreier can been made to The Broadcast Pioneers of Philadelphia Scholarship Fund. We would like to thank those you have donated: Joyce Haas (Mrs. Harry Haas), Karen Strauss and Mushinski family, Steve, Hank and member Liz Matt.
Extra Gifts included with Membership Renewals:
We would like to thank those who included an extra gift with their membership renewal. The latest gifts came from the following members: Gene Crane, Liz Matt, Corky Warren, Laurie Warren, Jim Glogowski and Allen Murphy.
Underwrite a complete scholarship and we'll give you credit in the electronic newsletter until the scholarship is awarded in April of 2017. Give us a donation of appreciated stock of $2,000 or more) and we'll list you in our "Thank You" column for two years. Give us a donation of $1,000 or more and we'll list you in our "Thank You" column for a year. Give us a donation of $500 or more and we'll list you in our "Thank You" column for six months. You can select how we use the money: for our archival project, for scholarships or for our general fund to be used as needed.
More Thanks:
A growing portion of the revenues that fund the different activities of the Broadcast Pioneers comes from donations. This includes our archival project and our scholarship program. Now, we are making it even more beneficial for our donors. Broadcast Pioneers is now able to accept gifts of appreciated stock, which provides a significant tax benefit to you. By giving appreciated stock (stock which is worth more now than what it cost when it was purchased), you can get a charitable contribution tax deduction based on the current market value of your stock. At the same time, you avoid the capital gains
tax that would arise if you simply sell the stock. So if you'd like to support our educational mission or our archival project and save money on taxes too, please consider making a gift of appreciated stock. We are a federally recognized, state chartered charity with a 501(c)(3) status. Contact us at (856) 365-5600 or e-mail pioneers@broadcastpioneers.com for more details.
Don't be left out. You too can make a pledge. It's never too late. You can earmark it for scholarships, our Digital Archival Project or our general fund. Thanks so much for your support. If you forgot to make an extra contribution (cash or memorabilia) and would like to do so now, you can do so. We would be thrilled to hear from you at: PO Box 2886, Bala Cynwyd, PA 19004, call us at (856) 365-5600 or e-mail us at: pioneers@broadcastpioneers.com.

A FINAL THOUGHT....
A local boy who went on to be a national star told this to newspaper TV critic Harry Harris. He proclaimed that he has become a celebrity. How did he know?
"You know the old joke: Two guys passed me on the street the other day and I knew I had made the Big Time because I heard one say to the other, "There goes what's-his-name."
Joey Bishop
as quoted in the unpublished manuscript
of member Harry Harris called
"TV Star Secrets"
(The only copy of this 210-page manuscript resides in our paper archive)

Please contact us by e-mail at newsletter@broadcastpioneers.com or by mail to: Broadcast Pioneers of Philadelphia, PO Box 2886, Bala Cynwyd, PA 19004. Your stories are important, to you, to us, and your colleagues. Contact us today and we'll include your story in the next newsletter!

© 2016, Broadcast Pioneers of Philadelphia
All Rights Reserved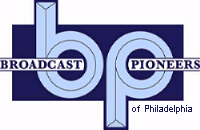 The e-mail address of the Broadcast Pioneers of Philadelphia is pioneers@broadcastpioneers.com
For luncheon reservations call (856) 365-5600 or e-mail us at: rsvp@broadcastpioneers.com