| | |
| --- | --- |
| | Broadcast Pioneers of Philadelphia is a federally recognized, state chartered 501(c)(3) non-profit organization serving the Philadelphia Broadcast Community since January of 1962. |
September Afternoon Luncheon
The Bala Golf Club, Philadelphia
Wednesday, September 13, 2017

Meet and Greet at 12 noon!
Lunch served at 12:30 pm!
Ratecard: $28 per person

Please reserve now!
CALL (856) 365-5600!
rsvp@broadcastpioneers.com
Another Wednesday Luncheon!
Wednesday, September 13th, 2017!
Good Food - Great Programs - Wonderful Times
Celebration of 70 Years of Channel 6!
Lunch is only $28 per person!
RESERVE NOW!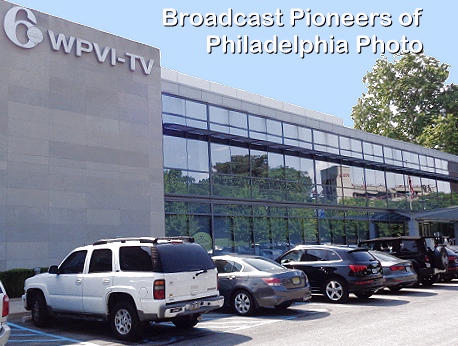 WPVI - 6abc
3100 City Avenue, Philadelphia
Wednesday, July 19, 2017
(Photo by member Gerry Wilkinson)
DON'T MISS THIS ONE!

Hit After Hit, Smash After Smash, Blockbuster After Blockbuster... Here's another "monster" lunch where the "stars" don't wait to come out at night. They're there at lunchtime!
On September 13th (to the day), we'll celebrate 70 Years of Channel 6. It came on the air on September 13, 1947 and has been entertaining, informing and educating people of the Delaware Valley for the last seven decades. Now, they start the beginning of their eighth decade of telecasting. Come help us celebrate.
Come out and help us celebrate their birthday, 70 years of telecasting! You'll certainly have a wonderful time. Make plans to be there on Wednesday, September 13th
NOTE: This luncheon would normally be a week later, but because the Bala Golf Club needs to prepare the room for Rosh Hashanah, it will be September 13th. However, that's good because it is the EXACT date of the anniversary.
Our MC for the afternoon will be former Action News anchor for WPVI, 6 abc, Marc Howard.
Included in this jubilee will be the following scheduled speakers (in alphabetical order): Broadcast Pioneers members Diego Castellanos, Bob Feldman, Dave Frankel, Liz Matt, Linda Munich, Mike Nozilo, Joe Pellegrino, Steve Sacks, Mike Strug and the Executive Producer (not the anchor) of Action News' 10 pm and 11 pm reports, Rick Williams. Plus there will be more.
This takes place at the beautiful and historic Bala Golf Club, 2200 Belmont Avenue (across the street from the state police) in the Wynnefield section of Philadelphia. Only minutes away from Channels 6, 10 and 17 and the radio stations in Bala Cynwyd. Call now for reservations. (856) 365-5600! Don't miss this one!
Plenty of FREE parking. Our luncheons are open to all our members, their guests and any person in the industry or associated fields, whether active or retired. You do NOT have to be a member to attend. There is no reserved seating at our luncheons. Feel free to sit anywhere. Well, okay--the three people on the camera crew sit near the cameras, but that's in the back of the room.
The cost is only a donation of $28 (or more) per person! In order to speed up check-in at the luncheon, it would help if you had exact change or your check already written. Checks can be made payable to the Broadcast Pioneers of Philadelphia.
If you would like to add a few dollars extra, we would appreciate it. It would help us with all the important work we are doing. Thanks!

WE WANNA SEE
YOUR FACE IN THAT PLACE!

Visit Our Website Often - http://www.broadcastpioneers.com
You should check the front page of our website often (link above) for important information!
Tune in to our YouTube Channel - http://www.broadcastpioneers.com/youtube
Our YouTube Channel has all our luncheons, exclusive interviews and archival material!
Check out our Facebook Page - http://www.broadcastpioneers.com/facebook
There are things on our Facebook Page that are NOT on our website (like our vintage photo of the week)
Go to our Twitter Account - http://www.broadcastpioneers.com/twitter
The Broadcast Pioneers Twitter Account has info and stuff not available elsewhere!
Go to our Instragram Section - http://www.broadcastpioneers.com/instagram
Here's another one of our social media sections. Visit it as often as you wish!

Our 2017 Honorees
for Hall of Fame and Person of the Year!
2017 PERSON OF THE YEAR!
RALPH "BUD" GALOW!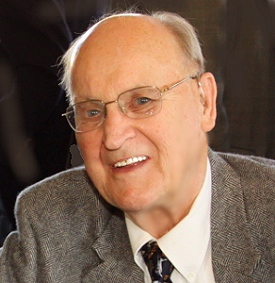 Broadcast Pioneers member Ralph "Bud" Galow worked for over four decades at KYW Radio. He engineered the very first KYW Newsradio "all news, all the time" newscast in September of 1965. Three months earlier, he was at the controls when WRCV Radio became KYW Radio. Galow is the first engineer/technician ever to receive the honor of "Person of the Year" from Broadcast Pioneers.
LISTEN TO BUD GALOW ENGINEER TWO HISTORIC EVENTS!
Hear the beginning of KYW Newsradio from September 21, 1965
On our next audio clip, you'll hear Reggie Lavong and Pat Delsi. It takes place seconds before 5 am on June 19, 1965. This is the on air switch for 1060 on AM radio, when WRCV became KYW Radio. Reggie is the musical host and Pat does the news. In retrospect, it is also fitting that the first bit of programming after the sign-on announcement is a KYW Radio newscast. This is a slightly edited version.
"HALL OF FAME" LIVING HONOREES!
Dave Abramson, Chief Engineer for the Phillies, former WPHL Director
Ray Didinger, sports producer, writer, author and WIP air personality
Dave Frankel, former 6 abc & CBS 3 Weather Guy and News Anchor
Charlene Horne, editor, videographer, CBS 3 Video Editing Supervisor
Pete Kane, WCAU-TV, NBC 10 photojournalist for a third of a century
Bob Kelly, morning Traffic Reporter for Fox 29's "Good Day Philadelphia"
T. Morgan, well-known area air personality and programmer for 50 years
Herman Rush, former Chairman and CEO for Coca-Cola Communications
Karen Scioli, Saturday Night Dead's Stella/Production Coordinator for COPS
Dick Standish, reporter for KYW Newsradio & CBS 3's Eyewitness News
Pat Stoner, theater and film critic for WHYY and syndicated "Flicks" program
Rick Williams, Executive Producer for WPVI's evening Action News shows
"HALL OF FAME" POSTHUMOUS HONOREES!
Murray Arnold, former station executive for radio stations WIP and WPEN
Doug Arthur, well-known air personality for decades on WIBG & WCAU
Ray Bowley, WPTZ Chief Engineer and Westinghouse Director of Engineering
Jonathan P. Casey, well-known South Jersey area air personality & programmer
Frank Chirkinian, CBS Sports Director & Producer, previously at WCAU-TV
Betty Killner Davis, W3XE/WPTZ television performer from 75 years ago
Mike Grant, former WCAU Radio announcer and station Program Director
Bob Knox, WIBG's The Gray Ghost, area newscaster and station disc jockey
Keneth Simons, pioneer of the development of cable television in the U.S.A.
TICKETS
MUST BE

PURCHASED IN ADVANCE
AND ARE

ON SALE

NOW!
ABSOLUTELY NO TICKETS AT THE DOOR!
Several people asked about having an order form for purchasing ads. You can advertise your business or you can just decide to place a congratulatory ad. Payment is required in advance. Deadline for ads (including payment) is October 20, 2017.
Prices are $88 for members (each member can buy ONLY one ticket at the member price) and $98 each for everyone else (including spouses, friends and guests). Our co-emcees this year are Dom Giordano and Pat Ciarrocchi.
The event will once again take place at the Hilton City Avenue, 4200 City Avenue, Philadelphia. The date is Friday, November 17th. The reception is at 6 pm and dinner is served at 7 pm. Doors open at 5:45 pm. Cash bar all night long. Valet parking is $10. Event lot parking is $5.
Make plans to be there! A major portion of the ticket price may be deductible on your federal income tax. Ask your tax advisor for details! Tickets must be purchased in advance. Absolutely no tickets available at the door.
TICKETS ON SALE NOW!

WE WANNA SEE
YOUR FACE IN THAT PLACE!

REMINDER!
IF YOU HAVEN'T PAID YOUR DUES BY NOW...
YOU ARE TWO MONTHS LATE!!!
Please note that almost three months ago, we snail-mailed your membership renewals. If you haven't paid by now, you are late. 12% of our members haven't sent their renewals in yet! Are you one of them? If you believe that you didn't get a renewal, please let us know and we'll send you another one (this time by e-mail).
WE DO NOT SEND YOU MULTIPLE NOTICES BY SNAIL-MAIL! THAT WAS THE ONLY NOTICE FOR RENEWAL THAT YOU WILL RECEIVE.
IMPORTANT!
If you haven't already done so, kindly return your form and check at your earliest convenience. Please also note that on the form is an important little box that you can check if you would like to make an extra contribution. Our archival project is becoming an expensive thing to do. It costs us over $9,000 a year just to store all our archival material. That averages out to about $18 per member. If you can can afford it and wish to do so, please help us in this important project. Any additional amount will be greatly appreciated! Large or small!
If you are not sure whether you paid the 2017 - 2018 dues, e-mail us and we'll let you know whether you are up to date. We thank you for your continued support!

PLEASE NOTE: This newsletter is out a week earlier than normal. Why? Because of usual Third Wednesday luncheon will be on the second Wednesday for September 2017. THIS MONTH ONLY! Bala Golf Club needs to ready the room for Rosh Hashanah on the 20th for their members. Our luncheons will return to the Third Wednesday in October. Our newsletter usually comes out 15 days before our luncheon. That would have placed its release yesterday. However, Broadcast Pioneers CEO Gerry Wilkinson's wife, Michele, is in the hospital with a foot infection. Gerry is our newsletter editor and Michele id our proofreader for the newsletter. As you can tell when you read this issue, it has not been proofed by her (or anyone).
DIGITAL ARCHIVAL PROJECT NEWS:
VIDEO: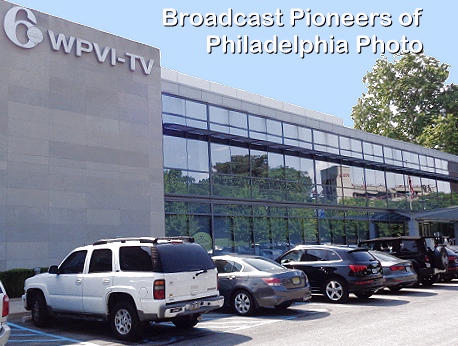 On Wednesday, July 19, 2017, 100 members of the Broadcast Pioneers of Philadelphia toured WPVI, 6 abc. We were on 5 different tours of 20 members each. This included the brand new Action News set that went into service earlier that month. Take a look at some of what we saw.
Watch the Video from our YouTube Channel
(video courtesy of Broadcast Pioneers VP Brad Seecof and Metramedia Broadcasting & Studios)
AUDIO:
The date was September 21, 1965. It's high noon and it was the beginning of KYW Newsradio. At the anchor desk for the first half-hour was Steve Porter. Behind the glass at the controls was engineer Bud Galow. 52 years later, this month, KYW Newsradio will celebrate its anniversary. We thought you might enjoy hearing from Steve Porter talking about those first days of newsradio. Our Wednesday, June 16, 2010 luncheon was a celebration of 45 of Newsradio. We got Steve on the phone from Myrtle Beach. He spoke with then Vice-President Jerry Klein. Part way through the conversation, an old friend of Steve's joined the conversation. His name was Bud Galow. Later this month, KYW Newsradio celebrates 52 years as a Newsradio outlet.
Listen in Real Audio
Listen in Windows Media Format
Broadcast Pioneers has been interviewing our members for over two decades, so that their stories will continue into the future. Remember, history is only what gets saved.
On April 28, 2000, the Broadcast Pioneers spoke with fellow member, Dr. Francis Davis. Davis did the weather on WFIL Radio and Television from 1947 until 1971. He was truly a "BROADCAST PIONEER" and was inducted into our "Hall of Fame" in November of 2000.
This was the second in an on-going series of webcasts made exclusively for our website. It was called PIONEERS IN BROADCASTING, hosted by Broadcast Pioneers member Ed Sciaky and produced by Broadcast Pioneers member Gerry Wilkinson. Sciaky and Wilkinson have worked together at a half dozen area stations over the last 40 years. It's 15 minutes long and Dr. Davis talked about his time at both WFIL Radio and WFIL-TV. Keep in mind that Francis Davis was the very first weathercaster on "Action News."
Listen in Real Audio!
Listen in Windows Media!
Today's News Becomes Tomorrow's History!
(This is what our Digital Archival Project, DAP, is all about!)
A LITTLE BIT OF BROADCAST HISTORY!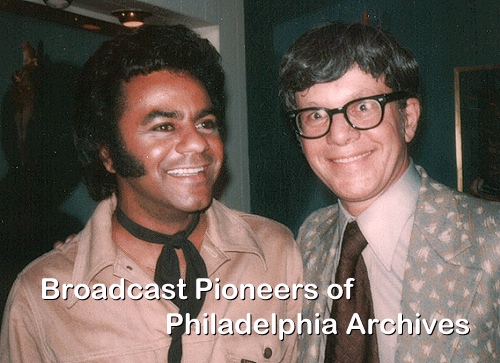 (Left to right) Johnny Mathis and Jack LaMar
at the WCAM Studios
Camden, NJ
circa 1966
IN TOUCH WITH OUR MEMBERS:
Member Skip Clayton tells us the he has a new book coming out later this month. It's called, "So You Think You're an Eagles Fan?" The forward was written by member Merrill Reese, the voice of the Eagles. Clayton tells us he does a weekly radio program on WBCB, Levittown. It's Merrill's station and Skip has done the program for 1,060 straight weeks. That's 20 years.
Member John Primerano informs us that he's doing a dinner show at the Tiffany Diner, Roosevelt Blvd and Welsh Road. It all takes place on Sunday, September 17th at 4:30 pm. $35 per person with a cash bar. For reservations, call 215-677-1843. There will be lots of songs and fun.
Tanya Holliday now owns 8 McDonalds Restaurants in the Philadelphia region. She didn't grow up rich. She started as a cleaner including bathrooms at a McDonald's restaurant. Today, she owns eight of them. She was interviewed last month on WWDB's "Lifestyles" program, hosted by Dei Lynam. This show is produced by Broadcast Pioneers member Joe Ball.
We heard from member David Boreanaz. No, not the actor. The TV Weather Guy, Dave Roberts. He told us about his son's (the actor) new TV series. Dave wrote:
David is shooting Seal Team now - into the 4th episode already - I'll send some pics when I visit the set or location ASAP. SEAL TEAM premieres Wednesday, September 27th at 9 pm on CBS. (That's KYW-TV, CBS 3 here in Philly).
Broadcast Pioneers member Art Camiolo of Aztec Capital Partners seems to have convinced the FCC to let it have an FM translator on 99.9 for WHAT Radio, 1340. They had been licensing one at 97.1 and purchased one of its own in their effort to move W273CM (Clayton, NJ) to Philly on 92.1, the same frequency as South Jersey's WVLT. Complaints came from listeners and owner Clear Communications (Cruisin' 92.1, Vineland) run by Broadcast Pioneers member Carl Hemple, General Manager had stopped to relocation. That means that Broadcast Pioneers member Jerry Blavat still can be heard in Philly doing daily afternoon drive (5 pm to 7 pm) on the oldie FM outlet and Art will have his translator.
Broadcast Pioneers CEO Gerry Wilkinson went grocery shopping last week with his younger daughter, Zara at the Giant Supermarket in Havertown on Township Line. Who does he run into but Broadcast Pioneers member Mel Klawansky. Mel's talking on the phone when Gerry saw him. To whom? Why, it was Broadcast Pioneers Board Member Art Wilson. Broadcast Pioneers members are everywhere.
Broadcast Pioneers Board Member T. Morgan will be the MC at the Ten Years After Live Concert at the Sellersville Theater on September 20th. Morgan will be inducted into our Hall of Fame this November 17th at the City Avenue Hilton Hotel. Tickets Now on Sale!
Broadcast Pioneers Board Member Kal Rudman was interviewed as part of Tamala Edwards feature on Aging on Action News last week. It ran twice. Kal has been much in the news lately. A month ago, he was interviewed by the well-known Who's Who people as mentioned in our August newsletter.
Broadcast Pioneers Hall of Famer Susan Schiller continues her membership in Broadcast Pioneers even though she is in Houston, a larger city than Philadelphia. She's VP and News Director for KRIV-TV and has been there for about a year. From what we hear, her station has been doing an excellent job in keeping Houston residents informed on details on Hurricane Harvey.
Today's News Becomes Tomorrow's History!
(This is what our Digital Archival Project, DAP, is all about!)
Did you know...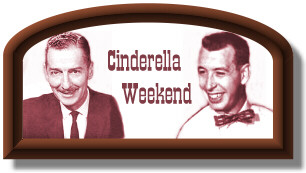 "Cinderella Weekend" was a local program, but was syndicated. The show was what was called in the early days of television, "a package show." It was created and developed by a company called "VIP, Inc." of New York City. That company owned the title, controlled the format and actually picked up the tab. In return, each station paid a fee for the rights. Each station carrying the program had their own local host. Therefore, it was always be a local show.
"Cinderella Weekend, one of television's first question panel game shows, " had two hosts. The first one was Alan Scott who started the program in 1948. It first was on radio and then a TV version added later that year. Scott hosted both.
In November of 1948, WCAU-TV started a new hour-long television program called "Homemakers' Matinee." It aired from 2 to 3 pm, Monday through Friday. "Homemakers' Matinee" was, in reality, three different shows. From 2 pm to 2:30 pm, it was the "Cinderella Weekend" segment. Then at 2:30, there was a 15 minute piece called "Homemakers at Home" and the last fifteen minutes was a part entitled "On Chestnut Street." The hour-long broadcast had a live studio audience (they were there for all three segments or shows) and originated from the WCAU-TV studios in center city Philadelphia at 1622 Chestnut Street.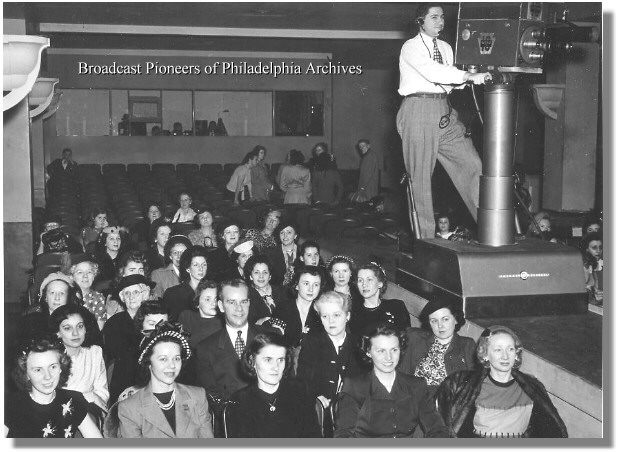 The studio audience of "Cinderella Weekend"
WCAU-TV Studio
1950
In 1950, "Cinderella Weekend" became a separate TV broadcast. In the spring of 1954 (when Scott left to go to WPTZ) Bill Hart took over. The radio and television versions of the show worked very much the same. Each Friday (the show aired Monday through Friday), each version crowned their winner. The TV version had a few more gimmicks but basically it was the same show with the same host.
Both Scott and Hart have been inducted into our "Hall of Fame." However, that's not the end of the story. Broadcast Pioneers member Ed Harvey also hosted "Cinderella Weekend." He filled in when Hart wasn't available and did the program (usually radio) when it originated from outside the station.
We just obtained a complete radio broadcast from Monday, August 20, 1956, hosted by Ed Harvey. It originated on tape from the Tower Theater at 69th Street in Upper Darby. Long-time WCAU tech Charlie Higgins who worked on these broadcast said:
The mixers we used then were RCA Remote Amplifiers such as OP-7 (a four position mixer) and an OP-6 (a single position mixer) that had a VU meter on it for monitoring levels. The OP-7 was fed to the OP-6 of course. As an emergency, we also carried an RCA OP-5 a four position battery operated mixer.
Our special thanks go to TUTV - Temple University Television and The Kal & Lucille Rudman Media Production Center.

They have underwritten a grant to be used to fund an entire year of all our newsletters for calendar year 2017. We thank them so much for their support!

You Can Help Us!



When you log into Amazon via http://smile.amazon.com, all eligible purchases earn Broadcast Pioneers a donation of 0.5% from Amazon. However, you must log in to Amazon through http://smile.amazon.com. We have made it simple. You can also log into them using http://www.broadcastpioneers.com/amazon. It's easy to remember and takes you to the same place.
AmazonSmile is the same Amazon you know. Same products, same prices and the same service. The only difference is that they donate 0.5% of your eligible purchases to Broadcast Pioneers. IT DOESN'T COST YOU ANY MORE TO DO THIS! Same price to you and we get a donation to help us continue with all our great educational projects! IT'S WIN - WIN!
MORE DIGITAL ARCHIVAL PROJECT NEWS:
VIDEO: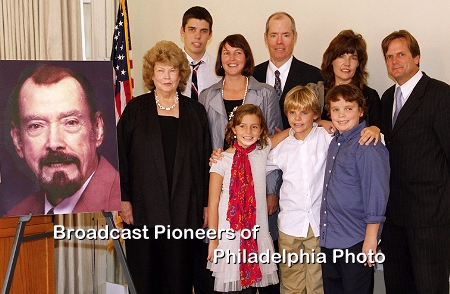 The Entire Webber Family
Broadcast Pioneers Luncheon
Bala Golf Club, Philadelphia
Wednesday, October 20, 2010
Legendary broadcaster, TV personality, past President and Chairman of the Board of Broadcast Pioneers, Bill Webber passed away seven years ago. At the time of his death, he was our Chairman of the Board and the person who served in that position longer than any previous individual to date. He was our "Person of the Year" in 2006 and was inducted into our "Hall of Fame" in 1999. At our Wednesday, October 20th luncheon in 2010, we paid tribute to this wonderful human being and excellent broadcaster.
For almost two-thirds of a century, this giant of a man worked the Philadelphia broadcast scene on both television and radio. In fact, he was still on the air on both WHAT Radio, 1340 on the AM dial and WVLT-FM, Cruisin' 92.1 in Vineland earlier this year. If there's anyone out there not familiar with Bill's career, you can learn more about him by reading his bio from our website.
It was another huge crowd (over 130) for our Wednesday, October 20th luncheon. It all took place at the beautiful Bala Golf Club, 2200 Belmont Avenue in Philadelphia! Our MC for this event was Pat Delsi, a former president and a former chairman of the board of Broadcast Pioneers and he currently serves as our treasurer.
Speaking that afternoon was:
Ralph Caliri, former General Manager of Channel 17, WPHL-TV
Tema Steele, financial advisor and personal friend of Bill Webber
Len Stevens, former co-owner of WPHL where Bill did his cartoon show
Allen Stone, former roommate of Bill Webber who they were both bachelors
Dean Tyler, friend and former PD of WIP Radio and WPEN Radio
Les Waas, long-time friend and broadcast associate of Bill Webber
Bill Webber, Jr., Bill's son who has followed his dad into broadcasting
Plus, one of our favorite resident songbirds, Pretty Perky Peggy King (of the George Gobel TV show) was there to provide a musical tribute.
COMPLETE AUDIO!
Listen with Real Audio!
Listen with Windows Media!
In our opinion, the Real Audio version sounds better. It was cut at a higher rate so it would be better quality than the Windows Media version!
COMPLETE VIDEO!
(video courtesy of Broadcast Pioneers VP Brad Seecof and Metramedia Broadcasting & Studios)

AUDIO: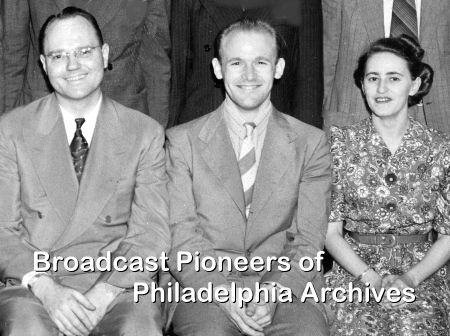 Keneth Simons (center)
RCA Signal Corps School
on Broad Street, Philadelphia
circa early 1940s
Keneth (not a typo) Simons worked most of his life in the Philadelphia area. We worked at WIBG when their facilities were in the basement of a church in Elkins Park. He worked twice at WCAU Radio. During the Second World War, he was the Chief Instructor for the RCA Signal Corps School.
In mid-1930s, he got a job as a summer relief studio operator for WCAU Radio. He did a lot of big band broadcasts. Some were aired locally and some went out over the network (CBS). Remember that the Levys owned WCAU with the Paley family owning a third of the stock. Bill Paley and his family owned CBS. Bill's sister was married to Leon Levy and both Leon and Ike Levy were on the board of directors of the network.
One time, Simons was too shy to ask big star celebrity Gene Krupa for a level (volume check). This was in the days before radio limiters and if the volume was way too high, it could blew the station off the air. Well, that's exactly what happened. We'll let Ken tell the story in his own words. This is from a conversation he had with his family while he talked about his career. Here's what he said.
Listen in Real Audio
Listen in Windows Media Format
Loretta May Downes was born on Thursday, May 2, 1929 in Linwood, Pennsylvania. She attended Chichester High School and served in the USO during the Second World War. She was only 16.
She was a model, singer, actress and author. Loretta Downes did work for WFIL-TV and was well known for her commercials for General Electric and Whirlpool products.
Many people didn't know that she had a wonderful voice. She was a jazz singer and performed at the 500 Club in Atlantic City, NJ. In 1964, she received the titled of "Kentucky Colonel" for her participation in telethons for Multiple Sclerosis.
During the seventies, she owned and operated the "Night People" boutique shop. She is probably best known for her smile, contagious laugh and her positive, straight ahead thinking.
She passed away on Wednesday, November 10, 2010 in her Erwinna, Pennsylvania home. Loretta was 81 years old. She had a son, Lance Beatty and two grandchildren.
The audio was originally recorded on an eight and three-quarter flex green disc, the kind that were used for dictation machines. Obviously, the quality is never the best under these circumstances. It took us hours of work to put the audio in the form available on this site. Because of the reconstructive nature of the audio, it does NOT fall under "fair use" and the audio is protected under United States Copyright.
We have hear audio of a WFIL-TV Gunnar Back RCA Color Newsreel broadcast from early September of 1958. Gunnar did the news with Broadcast Pioneers member Francis Davis on weather and Loretta Downes doing the spots. Here's Loretta doing a commercial for RCA television sets.
Listen in Real Audio!
Listen in Windows Media!
Remember, History is ONLY What Gets Saved!
(If there were no portraits of George Washington, how would we know what he looked like?)
IN TOUCH WITH THE INDUSTRY:
Entercom announced at the beginning of last month that Chris Claus will be retiring. Effective on the last day of August, Claus will be leaving his post as Vice-President and Market Manager for the group's New Orleans cluster of stations. He joined Entercom ten years ago. Before going to New Orleans, Claus served as VP and General Manager at several stations across the country including WPHT and WOGL here in Philly. Entercom, based here in the Delaware Valley is taking over CBS Radio.
Aldo Farnese was known to Philadelphia TV viewers as "Adam Android" and "Dickory Doc." e was inducted posthumously in 2015 into the Broadcast Pioneers' Hall of Fame. Well, his son, Greg, has issued his record debut on the Victor label called, "Set in Motion." It was mastered on one inch audio tape capturing the deep rich, analog sound known to exist in the 50s through the 70s.
NBC10 Philadelphia / WCAU and Telemundo62 / WWSI had the return of their popular pet adoption campaign, Clear the Shelters / Desocupar Los Albuergues. It was the stations' third annual nationwide pet adoption campaign that included the participation of nearly 50 local animal shelters and rescues in Greater Philadelphia. Ric Harris, President and General Manager of NBC10 and Telemundo62 said, "Each year we have seen the event grow as more and more people come out with their families to adopt a new pet." The social media campaign will conclude on August 19. In the latter part of August, Katie Lee and Beth Stern hosted 'Clear the Shelters' a post-adoption special on NBC10 and Stephanie Himonidis "Chiquibaby" and Elva Saray" hosted a special that aired on Telemundo62.
WCAU and Telemundo62 announced their popular pet adoption campaign – Clear the Shelters - resulted in 4,837 local pet adoptions. Launched in July 2017 and culminating on Clear the Shelters day, Saturday, August 19, the stations' pet adoption initiative included the participation of nearly 50 animal shelters in the Greater Philadelphia region. On Saturday alone, 1,450 adoptions took place, a 30 percent increase from 2016.
Walter Sabo has been doing well on WPHT Radio, 1210, on Sunday evenings (10 pm to 1 am) that the show is going into syndication with Westwood who will also handle his podcasts that come out twice a week. It's already been picked up by by KDKA in Pittsburgh and KMOX in St. Louis. Also on WLS, Chicago and Washington DC's WMAL.
Entercom, once they take over CBS Radio, had decided that Sports Radio is very important for their O&Os. They recently hired Mike Dee to be president of Entercom Sports. Sports stations will be running in 23 of the top 25 markets. That, of course, includes WIP (94.1) here in Philadelphia. Dee is the former CEO of the San Diego Padres. The national office of Entercom is based here in Bala Cynwyd.
SportsRadio 94WIP, a station that came to prominence as the voice of the Philadelphia sports fan, is announcing coverage of the 2017-18 Philadelphia 76ers season to reflect that mission. The voices, writers, and outlets that got people through the last four years of "The Process" will take fans through this year's season with the addition of Derek Bodner as an on-air contributor, a new content partnership with Liberty Ballers, and the new show "Rights to Ricky Sanchez" Radio featuring the hosts of the popular podcast.
94WIP Program Director Spike Eskin (son of Broadcast Pioneers member Howard Eskin) said, "With the Sixers ready to take the next step on the court, we're proud that WIP is taking the next step in covering the team. With Jon Marks, Derek Bodner of The Athletic, Liberty Ballers, and Rights To Ricky Sanchez Radio as a complement to our air staff, we're offering Philly fans a new and exciting outlet to engage around one of their favorite teams."

94WIP is not a radio partner of the Philadelphia 76ers & will not broadcast games. All coverage, commentary and reporting will occur outside of actual games and is intended solely as supplemental content.
We heard from members at More FM Jim Loftus and Chuck Knight. Today's 101.1 MORE-FM/WBEB Philadelphia has filled its vacant Afternoon Drive position with market veteran, Mark Shepperd. Today's 101.1 MORE-FM Program Director Chuck Knight, "Mark is one of the most versatile people in radio. He has filled many different roles for us in various full and part-time positions over many years, most recently swing. We feel Mark's upbeat energy and style is a perfect match to drive home Philly's largest afternoon radio audience." Shepperd replaces Logan, now doing Mornings at WINK-FM Ft. Myers, FL. Shepperd's career has also included WYXR, WIOQ, WIP, WXTU all Philadelphia, WKXW Trenton and WLEV Allentown.
WE REMEMBER:
(Left to right) Broadcast Pioneers Board Member Mike Bove and singer Glen Campbell
Comedian Dick Gregory, 84, passed away last month. In the 60s, Dick Gregory worked with other social activists including WDAS AM & FM to keep calm in our city after the assassination of Dr. Martin Luther King. He was a frequent guest at the station and appeared on the well-known WDAS Freedom Shows of the early sixties.
(Left to right) Dean Martin, Broadcast Pioneers member Max E. Solomon and Jerry Lewis
The King of Comedy Jerry Lewis passed away in August. He is probably best known for his work with the Labor Day telethon which was carried for decades over Channel 6 with many local segments featuring local broadcast personalities. Member Larry Mendte on his TV show about New Jersey did a nice eight minute feature on Lewis which was born in Newark, NJ. The piece ran this past Sunday.
Broadcast Pioneers member Kevin Fennessey died last month in Camden, NJ. Born in Olney, raised in Levittown, Kevin started at Mt. Holly's WJJZ. He broke into Philly at WPEN in 1972, hosting evenings. Next came 6 to 10 pm at WCAU-FM. Kevin Fennessy returned to Philadelphia in 1986 as Program Director of WFIL Radio and hosting AM Drive. Over the next two decades, he would sell, run stations, or go back into programming & on air. Kevin Fennessy was the youngest brother of Dick Fennessy who spent 7 years at WFIL. Kevin & wife JoAnn have 4 kids, many grandchildren & lived in Florida.
It's not unusual for us to provide sidebars about Philadelphia area broadcast history. Broadcast Pioneers Hall of Famer Marlin Taylor had heard from Kevin not long before his death.

Kevin wrote:

We don't know one another, but I'm a 44+ year broadcaster.... I was reading an old back issue of Broadcasting Magazine..., and saw a notice about an app you were a party to, for a new FM in Levittown, along with the then-CE of WAAT. How did all of that go down, and what happened. Just curious.

Marlin's reply:

I was a part-timer at WTNJ from early '56 'til getting drafted in June of '58. Wasn't long afterward that Eddie Cossman and friends bought it. Re app, we were using Nick Dalessandro's (WTNJ CE) home in Penndel as location. We didn't have any money and I was sent to Greenland right after that. We applied for 99.9, which was open but an app for that frequency was dropped in Easton - had no ability to contest, so petitioned Commission to change freq. to 107.5. Same thing ... a app for Boyertown was filed. Later, FCC assigned 100.1 to Levittown, but I wasn't in a position to apply and the assignment was quickly deleted anyway.

Kevin's reply (just a day before his stroke):

The legend or lore about WBCB's 100.1 application, was that O'Keefe did not want to spend $2000.00 (two thousand dollars); that facility would have negated the 100.3 that Media PA got for WXUR, later becoming Kiss100 in Philadelphia with the value exceeding 100 Million at one point.

Marlin's comment to Broadcast Pioneers: HISTORY IS ONLY WHAT GETS SAVED!

THIS AND THAT! Little Bits of Information....
During the winter of 1979, member Jerry Blavat decided he was going to bring back his "Discophonic Scene" telecast. It was syndicated and carried locally over WTAF-TV (now WTXF-TV), Channel 29. It aired Saturday evenings at 7 pm. Marketing was handled by Gateway Communications owned by members Lew Klein and George Koehler.
In the Spring/Summer 1983, member Mike McGrath wrote an article for the Temple University Alumni Review Magazine called, "On the Air." In it, he talked about all the Temple graduates working in the Philadelphia market. There were just too many of them to mention here. Mike is the current host of "You Bet Your Garden" on WHYY Radio. The show started on October 3, 1998 and ran locally for three years. It went national in 2001 and is still heard today coast to coast.
On Saturday, June 1, 1974, WIP Radio did a three-hour special from 8 pm until 11 pm. The station's slogan then was, "We're Family." The program was called: "Jim Croce, the Man." Jim had passed away the previous September at age 30 in a plane crash. He was born in South Philly and then moved to Upper Darby where he attended high school. He graduated with his bachelor's degree from Villanova in 1965. Many people aren't aware the Croce was a college student DJ on the University's radio station, WWVU (now WXVU).
August of 1937 was a busy month in Philly for announcing weddings. Two of note were E. Samuel Lonholm, who was a singer for WCAU Radio told everyone that he was marrying pianist/organist for the station, Doris Havens. Over at WIP Radio, radio announcer and night supervisor for the station said that he would marry Dot Hunger that following month.
WYSP Radio's morning guy, Michael J. Picozzi told his 1982 listeners that he was running for mayor of the city on the Rock 'N' Roll Party. He had two planks in his platform. One was having better music playing in elevators. His other main thing was "no more neckties." He said, "Just think what a rock & roll mayor will do for this city."
In 1969, WPEN's General Manager Allan Hotlen, a member of Broadcast Pioneers, announced that vintage rock oldies and a lighter commercial schedule will help create a new image for the station. Oldies made up 25% of the music with the music type after the half-hour newscast. In non-drive, Allan said that the station may feature two oldies back-to-back, aiming for the 25 to 49 demo. 50% of the programming, Hotlen said, would be LP cuts.
In 1940, radio host Bob Horn had a broadcast on WIP Radio called, "What Shall I do?" The program aired on Thursday evenings from 8:15 pm until 9 o'clock. It dealt with advice on family problems and usually has six different cases. The announcer for the show was a young guy named John Facenda.
Before it simply became "The Chief Halftown Show," it had a different name. His daily telecast was on WFIL-TV, Channel 6 and was called, "Pony Express." Often, the Chief would make guest appearances at the old Woodside Park. Later, the amusement outlet became the home of the studios and towers of WDAS Radio.
The beginning of 1941 saw the announcement that the Mutual radio affiliation was moving from WFIL Radio to WIP. WFIL was an affiliate of both NBC Blue's network and Mutual. However, because of having two network affiliations, many of the Mutual shows had to air elsewhere and that was WIP.
In 1932, WCAU Radio did an experiment. Announcers could only mention their names at the end of a radio broadcast. It was a three month trial started by the station's program director, Stan Lee Broza. It didn't last long. By the way, Broza was a founding member of this organization and our first president and our first chairman.
In March of 1977, WFIL Radio ran an ad saying: "Big Bucks for a pro in the tradition of Dr. Don Rose and Jim O'Brien. WFIL is looking for a very special person to do mornings. Send an aircheck to Jay Cook, Program Director, WFIL Radio.
THANKS FOR THE MEMORIES:
WFIL Stations Editorials!

Letterhead for WFIL Editorials
1966
EDITORIAL #1 FROM OUR FILES
The following editorial was broadcast over the WFIL stations during the week of January 17, 1966.
ENTITLED: LUDLOW 1-66
Many neighborhoods blight Philadelphia's image as the City of Brotherly Love." But none is more desolate than the area known as "Ludlow."
It's a 78-block section, which surrounds the Ludlow School. It runs roughly from Ninth Street on the west to Germantown Avenue on the east, from Montgomery on the north to Girard Avenue on the south. Twelve thousand, five hundred people are crowded into this blighted district. The state of citizen morale can be dramatized by a few simple facts.
In Ludlow, the incidence of infant mortality and tuberculosis is the highest in the city. Twenty-six percent of all babies born last year were illegitimate. Nightly acts of murder, rape, burglary, thuggery, vandalism put this neighborhood in the "dangerous" category.
Thirty-seven bars and clubs, one state store, and uncounted speak easies compete with the six churches for setting Ludlow's moral climate. More than thirty percent of the dwellings would barely suffice to protect farm animals from the winter's cold.
Ludlow cries out for concerned city action, in all areas, to solve its problems.
WFIL commends those problems to officials now.
WFIL welcomes any comment on the preceding editorial. Time will be made available for their fair response from any individual or agency who may hold a responsible difference of opinion.
EDITORIAL #2 FROM OUR FILES
The following editorial was broadcast over the WFIL stations during the week of March 28, 1966.
ENTITLED: LUDLOW 12-66
Four hundred empty, abandoned houses in Philadelphia's Ludlow district openly invite vice and crime. Yet these empty homes are not necessary.
The tools exist right now to turn these apparently ragtaggle, dilapidated houses into sound structures again. They could be sold at low cost to people of low income.
As Inspector Edward Parker indicates: Real home ownership satisfies the acquisitive drives most of us share. It does more.
Inspector Edward Parker's voice track:
Once you have put time and money and blood, sweat and tears into a particular piece of property, you're going to have a greater interest in the protection of the property and in the community about it. When we get an area where the people are predominantly property owners, they own their own homes. They'll paint, fix up. They'll show a real interest in the community and they'll don't want the type of individual that starts the cancer that ruins the community. There's definitely a relationship between the community and the numbers of home owners or property owners in it.
Philadelphia's Ludlow district provides a priority target area for testing low-income home ownership as a means of reducing tension born of poverty. The 400 abandoned houses, which now spoil its 78-square blocks, offer a real proving ground.
WFIL urges the city to make this test.
WFIL welcomes any comment on the preceding editorial. Time will be made available for their fair response from any individual or agency who may hold a responsible difference of opinion.
Pietro's Place -a Philadelphia Soap Opera!
This is a good example why an effort like our archival project is so important. We need a complete, Philadelphia market broadcast history. One doesn't exist but we are doing our best to save whatever information we can come across. Remember, History is only what gets saved.
There was a weekly half-hour television series that originated from the studios of WPTZ, Channel 3, owned by Philco at that time. The year is 1950. The show is called "Pietro's Place" and it ran until the early part of 1952. Originally, the show aired Thursdays at 12 noon until 12:30 pm. By September of 1951, it had moved to Fridays. However, it was still in its Thursday slot in late spring.
The telecast was a 3-city hookup with WPTZ, Channel 3 as the originating station and WBAL-TV in Baltimore and WGAL-TV in Lancaster airing it live. As time went on, additional stations may have been added. However, we cannot verify that and two-thirds through the show's run, it was still on a three-city loop. Member Claire Kasser who was the co-star of this series remembers it being a 7 city loop. Claire's love interest on the show was well-known actor Mark Richman, also known as Peter Mark Richman. He referred to the show (incorrectly) as "Papa Pietro's Place." He also believed that it was an NBC program. We cannot verify that the show ever had any connection with NBC other than airing on three NBC affiliated stations. At this time, we believe this series was not related to NBC and aired over three stations.
Several sources refer to this as a comedy or as a comedy-drama program. Claire calls the series as a soap opera. It was originally sponsored by Keystone Macaroni Manufacturing Company, makers of San Giorgio Pasta products. They had the entire half-hour. By the fall of 1951, the sponsors changed and now included San Giorgio, Boscul Coffee and Ritter's Catsup. All of those sponsors were represented by the Lamb and Keen Advertising Agency.
We know that by fall of 1951, the time slot changed to Fridays at 1:30 pm to 2 pm on for non-Philly stations. However, the show aired in Philly an hour later. Want to know how? Remember, there was no video tape yet.
The program was again done live from 2:30 pm to 3 pm for its airing on WPTZ. Billboard Magazine referred to it as"the first regular 'live repeat' show in TV history." The broadcast was done at 1:30 pm and then performed again live an hour later for the Philadelphia audience. Much is still unknown about this telecast.
While we know that the Philly audience saw it live (feed number two), we also know that there was at least a kinescope of one of the telecasts made. Claire remembers it. However, keep in mind, that it wasn't possible to shoot the film, develop it, dry the film and air the kinescope in Philly. It must have been made for one of the sponsors or the agency.
With all this being said, we asked her to tell us about this live television program and here is what she said:
Gerry Wilkinson invited me to tell you a history story. It's about Pietro's Place; the first tv soap opera series (or at least one of the first) in Philadelphia 67 years ago (that's two-thirds of a century). It was produced at WPTZ (now KYW) on a 7-city hookup (we can only verify three stations) at noon once a week and ran for a year and a half.

First the prelude! In the summer of 1944 at age 15, I was selected to act on KYW radio on a program called "Colonel Bill." It was an educational series. The good Colonel taught me to act on cue.

Next came the Philadelphia Experimental Theatre. It was created to produce original plays written by Philadelphia playwrights. The sponsor and backer was the Philadelphia Art Alliance.

It was located in the 1700 block Panama Street, a charming quaint street. The first floor was converted into a tiny theatre. Prior to that, the famed Philadelphia conductor Leopoldo Stokowski lived there. Rumor has it that he shocked his neighbors by sunbathing nude on the upper deck.

In 1946, I was cast there in a play written by Jerry Mangione called "Light the Candles." On opening night, several limos arrived. The first one deposited Gloria Braggiota Etting with her husband Emlen Etting, her sister Francesca Braggiota Lodge and her husband, Senator Henry Cabot Lodge and their young daughter.

Unknown to the cast, a talent scout was in the audience. He selected several of us to audition at WPTZ for what is believed to be the very first TV series soap opera in Philadelphia!

It was called "Pietro's Place." The story line was about an Widower, an Italian restaurant owner named Pietro who is raising his ingenue daughter, Tina and running his restaurant. There was another young woman in several episodes but I don't recall her name or role.

The setting took place inside the restaurant which was small and cozy with the flavor of a rather worn old Italian restaurant. It was clean with good food. They the typical push-pull relationship of a teenager and Dad. Lots of love between the two. Pietro adored his Tina and was very protective. They both appeared in every episode.

Pietro was played by Dino Tarranova (real name was Corrado Vacirca) who was from New York City. The director was Ben Squires. Both were easy to work with. We got good direction from Ben. (Squires directed many of the Channel 3 Ernie Kovacs shows from WPTZ that aired locally and nationally on NBC).

I was Tina, Pietro's daughter. I was using the stage name Stephanie Lester. My boyfriend was played by Mark Richman (when no one ever heard of him. He later used the name Peter Mark Richman). Jim Farley (may have been Fairley) was the show's producer. Tina's wardrobe was by Engel Fashion and we all did our own makeup.

In one episode, my love interest had to kiss me. It took four takes in rehearsal because each time I forgot my lines. Oh, what a kisser. He knocked my socks off. Fortunately I remembered them on air.

Ernie Kovacs was also doing two shows at the station at the time and would sometimes visit our control room during rehearsals to watch and schmooze. He told me after that, it was the best kisses he ever saw on screen; that the angle was perfect!

A kinescope, the forerunner of video tape was made during before the show ended in 1952. So far, we haven't been able to locate it. If anyone has it, please contact Broadcast Pioneers. Apparently at that time, no one realized the importance of saving it.

At sometime during the run of Pietro's Place, Hollywood starlet Susan Peters was brought here to star in another TV soap opera, Miss Susan. (The show ran for 9 months on NBC in 1951 and Peters died shortly after the program left the air).

My first TV commercial was for a Westinghouse refrigerator during the run of the show. After the close of Pietro's Place, my mother suggested to my sweet, unassuming Dad that she accompany me to New York so I could accept the offer from the William Morris Agency for representation.

We would live in the Barbizon, a Plaza for Women. After a minute of silence my Dad replied: "you'll stay home and she'll stay home." And we did. Albeit I'm still acting so many years later in Philadelphia and elsewhere. For me to discover, at my age, that something that I was involved in three-quarters of a century ago would be become part of Philadelphia history boggles my mind! My own productions are three beautiful daughters who in turn produced four terrific grandchildren!
Dr. Francis Davis!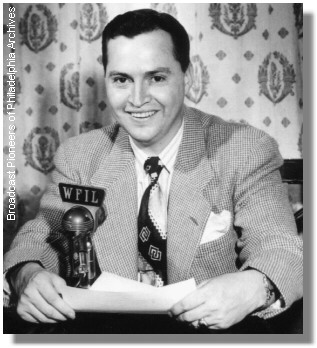 Francis Davis
1948
In April 1949, this was written about Broadcast Pioneers' member, Dr. Francis Davis.
No matter what the weather, here's a good day to you." With those words, Francis K. Davis concludes three five-minute weather programs every weekday on radio Station WFIL in Philadelphia. Usually we think of the weatherman as a target of a lot of bad jokes but since Davis joined the WFIL staff in October 1947, he has become one of the station's most popular radio personalities and his mailbag is always packed with special requests.

"Straight weather information usually is dry, even when the weather is wet," says Davis, so he set about building a program that would be packed with human interest as well as authoritative facts. From his own weather stations at WFIL and his home eighteen miles away, from the U.S. Weather Bureau offices in mid-city and at International Airport, he gathers his information. Human interest elements come from the library, the record books, and the news wires.

Davis received his Bachelor's degree in Physics at West Chester College and his Master's degree in meteorology at the Massachusetts Institute of Technology. Four years in the Army with Air Force weather squadrons gave him experience in forecasting all parts of the country and he receive a special commendation for his forecasting for the B-29 "Dreamboat" flight from Tokyo to Washington. His research work has been published by the Army and the American Meteorological Society. Recently he addressed their 100th national meeting on the meteorologist's role in radio and television.

A Davis day starts at 4:30 am, when he leaves his wife and three year old son for work. He stops at the airport weather station en route. After his morning program, he goes to Drexel Institute of Technology where he is an assistant professor of physics. In the afternoon, he tries to work in some post graduate study at Temple University or the University of Pennsylvania before preparing his evening programs. He gathers data at the mid-city bureau before his 7 pm show and again for his late evening program. Then home and bed.

The WFIL staff relies on Davis' predictions, ever since the summer of 1948 when Francis Davis went on vacation just one day before the worst wave of heat in Philadelphia history.
A LITTLE BIT OF BROADCAST HISTORY!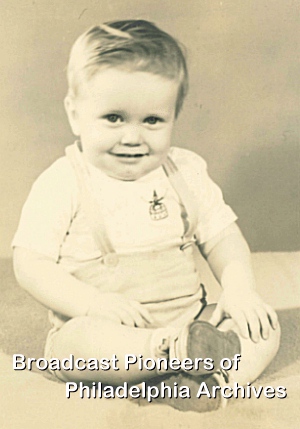 A very young future Broadcast Pioneers member
It's Ray Diviner
circa 1948
OUR HATS OFF TO YOU FOR GIVING:
Thanks to Edward McKinley for his donation when joining. We always welcome any contributions that people can afford to make. Thanks.

We are a federally recognized, state chartered charity with a 501(ac)(3) status. Contact us at (856) 365-5600 or e-mail
pioneers@broadcastpioneers.com
for more details. Your gift to Broadcast Pioneers will help us and may lower your federal income tax. That's win-win, isn't it?
Special Thanks (in alphabetical order) for the gift of Appreciated Stock: (a federal tax advantage for the giver)
Member Marc Howard - $3,600 (put into our general fund to be used where needed)
Member Sylvia Lauders - $5,159.45 (used for the scholarships listed below)
Special Thanks (in alphabetical order) for contribution of $1,000 or more to our DAP, Digital Archival Project:
Member Johnny B. Hall and wife Gin ny - $3,000
Member Jerry Del Collin - $1,500
Member Harry Hurly's Golf Tournament - $1,000
The Shrunken Family (in memory of Sheri Shrunken's father, Lees Was) - $2,000
Member Marlin Taylor - $1,000
Special Thanks (in alphabetical order) for April 2018 Scholarships:
Member Sylvia Lauders - 1 scholarship (from a grant for 5 yearly scholarships running until 2019)
The Shrunken Family (in memory of Sheri Shrunken's father, Lees Was) - 1 scholarship
Member Harry Hurly's Golf Tournament - 1 scholarship (for a Stockton University student)
Member Karl Redman - 5 scholarships (for Temple University students)
Member Marlin Taylor - 1 scholarship
Member Johnny B. Hall and his wife, Gin ny - more scholarships for 2018
Special Thanks (in alphabetical order) for a contribution of $500 or more to our DAP, Digital Archival Project:
Member Art Moore - $500
Member Lauren Lipton - $500
Bequests in their Will:
Member Sylvia Lauders passed away earlier this year. In her will, she bequest to the Broadcast Pioneers of Philadelphia, the amount of $5,000. This funding is to be used to underwrite one scholarship per year until gone. These scholarships will start in the year 2020 and continue until 2024. From a previous gift, Sylvia has underwritten one scholarship a year starting in 2015 and continuing until 2019.

Member W. Carter Merrier passed away a couple of months ago. In his will, he bequest to the Broadcast Pioneers of Philadelphia, the amount of $1,000. This funding is to be used to underwrite one scholarship which will be awarded in April of 2017.
Underwrite a complete scholarship and we'll give you credit in the electronic newsletter until the scholarship is awarded in April of 2018. Give us a donation of appreciated stock of $2,000 or more) and we'll list you in our "Thank You" column for two years. Give us a donation of $1,000 or more and we'll list you in our "Thank You" column for a year. Give us a donation of $500 or more and we'll list you in our "Thank You" column for six months. You can select how we use the money: for our archival project, for scholarships or for our general fund to be used as needed.
More Thanks:
A growing portion of the revenues that fund the different activities of the Broadcast Pioneers comes from donations. This includes our archival project and our scholarship program. Now, we are making it even more beneficial for our donors. Broadcast Pioneers is now able to accept gifts of appreciated stock, which provides a significant tax benefit to you. By giving appreciated stock (stock which is worth more now than what it cost when it was purchased), you can get a charitable contribution tax deduction based on the current market value of your stock. At the same time, you avoid the capital gains
tax that would arise if you simply sell the stock. So if you'd like to support our educational mission or our archival project and save money on taxes too, please consider making a gift of appreciated stock. We are a federally recognized, state chartered charity with a 501(ac)(3) status. Contact us at (856) 365-5600 or e-mail pioneers@broadcastpioneers.com for more details.
Don't be left out. You too can make a pledge. It's never too late. You can earmark it for scholarships, our Digital Archival Project or our general fund. Thanks so much for your support. If you forgot to make an extra contribution (cash or memorabilia) and would like to do so now, you can do so. We would be thrilled to hear from you at: PO Box 2886, Ballad Conway, PA 19004, call us at (856) 365-5600 or e-mail us at: pioneers@broadcastpioneers.com

A FINAL TH OUGHT....
Many of you enjoyed the George Benson story we ran in this section last month. So, here's another Benson story.
George Benson struck out on his own as "ZAPPO, THE CLOWN." He did personal appearances like parties, independent store openings and a final slap at KIDDIE CITY (see last month's newsletter), he was part of the grand opening of several TOYS R US stores.
Here's another story. George was hired as Zap po to make an appearance at a three year old's birthday party. George said that he would arrive a half-hour early and change into his costume and apply his make up. However, the child's parents said NO. You have to arrive dressed as a clown. Now you may think that's the end of the story. But there were several possible scenarios. Imagine George driving down the road in full clown get up and a guy said to his wife, Look how that clown's driving. Area police stopped Benson dressed as a clown one time. They looked at his driver's license photo, looked at George with a big red clown's nose and clown makeup, and said, "Yeah, that's the same guy in the picture," and let him go.
Bruce Small wood
local area broadcaster
circa 1979

Please contact us by e-mail at newsletter@broadcastpioneers.com or by mail to: Broadcast Pioneers of Philadelphia, PO Box 2886, Bala Cynwyd, PA 19004. Your stories are important, to you, to us, and your colleagues. Contact us today and we'All include your story in the next newsletter!

© 2017, Broadcast Pioneers of Philadelphia
All Rights Reserved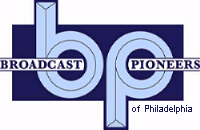 The e-mail address of the Broadcast Pioneers of Philadelphia is pioneers@broadcastpioneers.com
For luncheon reservations call (856) 365-5600 or e-mail us at: rsvp@broadcastpioneers.com