Visit Our Website Often - http://www.broadcastpioneers.com

Well, we got off to a great start! The September luncheon and weathercaster panel was a perfect way to begin our new season with weathercasters Elliot Abrams, Herb Clarke, Tom Lamaine, Kathy Orr, Sue Serio and Glenn "Hurricane" Schwartz and a special surprise "call-in" from Broadcast Pioneers member Dr. Francis Davis, Philadelphia's first meteorologist, who began broadcasting the weather on radio and TV in 1947. Each one made this a very special event.
The panel shared humorous facts, tidbits, personal insights and life experiences about weathercasting, on-air timing and how the weather and humidity affects persons with arthritis and other ailments. Elliot Abrams took credit for the beautiful weather for the luncheon. Les Waas was moderator and also did one of his comedy routines about how stations could do weather cheaper (like doing the 5 day forecast but only once every 5 days). Special thanks to member Paul Big Bear for an excellent song. The house was full, and the audience was most appreciative of all who participated in this memorable event. If you missed this luncheon, you really missed a good time.
Attention Board Members:
There will be a Board Meeting on October 15th at 10:15 am at the Bala Golf Club prior to our lunch. It's important for all Board Members to call and confirm your attendance for the Board Meeting and/or luncheon. Call: (856) 365-5600 or email: rsvp@broadcastpioneers.com.
TICKETS ARE ON SALE NOW!
Be sure to mark your calendar for our annual banquet on Friday, November 21st at the Bala Golf Club. Reception is at 6 pm. Dinner at 7 pm. This spectacular event that supports our scholarship program is always a fun filled, delightful evening. We will welcome our new inductees into the Broadcast Pioneers Hall of Fame:
Cathy Gandolfo, General Assignment Reporter for WPVI-TV, 6ABC
George Michael, former WFIL Boss Jock & NBC-TV's "Sports Machine" host
Bob Pantano, host of WOGL's "Saturday Night Dance Party" for 30 Years
Dave Schratwieser, Investigative Reporter for WTXF-TV, Fox 29
Mike Strug, long-time news reporter for WCAU-TV, NBC10
Ukee Washington, News Co-Anchor for KYW-TV, CBS3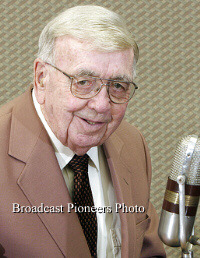 Bill Campbell
Summer 2008
Photo by Broadcast Pioneers Vice-President Jerry Klein
Plus, the main honor this year goes to Bill Campbell as "Person of The Year." Tickets are $70 for members and $90 for non-members. The on-going protocol is that members only pay the member ticket price. Any guests attending (including spouses) who are not members pay the non-member price. Make your reservation now. How? The only way to make reservations is to send in your reservation form and check. Also, watch your mail for the banquet invitation, which will contain ticket ordering information and details of the evening. All members should have received it by now. Ticket ordering can also be seen on our website at: www.broadcastpioneers.com.
Attention students and Pioneers who know college students:
Spread the word! Our Seventh Annual Broadcast College Student Symposium will take place on Saturday, October 11th, from 9:30 am to12:30 pm. The event is presented by Broadcast Pioneers of Philadelphia and NBC 10, WCAU. The symposium will take place at NBC 10. For registration information go to our website: www.broadcastpioneers.com. Special thanks to Broadcast Pioneers member Jo Anne Wilder, Director of Press and Community Relations at NBC 10 for doing such a wonderful job in putting this event together.

We welcome new Broadcast Pioneers member Cathy Gandolfo of 6ABC, WPVI. Gandolfo grew up in South Philadelphia and in 1971, she was graduated from Temple University with a Bachelor of Science degree in Radio-TV-Film from the School of Communications and Theater. We are happy to note that Cathy is one of our 2008 Hall of Fame inductees.
Welcome to to new member Frank Gerace who began his broadcasting career in 1977. Frank was then heard daily on WVLT, Cruisin' 92.1. He moved his career along at several other stations in South Jersey, Frank is now a newscaster with WDEL in Wilmington. Glad to have you with us Frank!
Frank Marciante has joined Broadcast Pioneers. Frank started at WAYV-FM in Atlantic City then went to WCHE Radio in West Chester. 1978 to 1981 saw Marciante at WHAT and WWDB and then on to WPHL-TV. In 1988, Frank joined Fox 29 where he is today. Thanks for joining us Frank! We were also delighted to see Gerace and Marciante at our September luncheon.
In Touch:
Bob Pantano, host of WOGL's Saturday Night Dance Party, and a 2008 Hall of Fame inductee, had his show picked up by two shore simulcast outlets. He can be heard 7 pm to 2 am from Long Beach Island to Cape May on Atlantic City's WTTH-FM 96.1 and Wildwood's WEZW 93.1. Way to go Bob!
We were delighted to read the wonderful story in Philadelphia City Paper (September 11, 2008) written by Shaun Brady, about Captain and Mrs. Noah, a.k.a. Carter and Pat Merbreier, Broadcast Pioneers Members and past "Persons of the Year." Carter and Pat spoke about their 27 years on television and the positive impact they had on children. Their outreach efforts covered the region through personal appearances at store openings, parades, museum visits, and charity events. Together they produced roughly 3600 shows! Today, Carter says, "I'm held together with chewing gum, bailing wire, batteries, my own blood vessels, and pieces left over from pigs and calves," referring to his heart surgery. Carter and Pat are tremendously proud that the new Please Touch Museum will be displaying the original Captain Noah and His Magical Ark set in the new museum at Memorial Hall in Fairmount Park. In closing the interview Carter said, in a hushed tone, "reaching for the stars," and with that Captain Noah twinkle in his eye, "that's what it was all about."
Editors note: For many years I had the privilege to be a guest on the show and experience the effects of the Magical Ark through the skilled work of Captain and Mrs. Noah. My friends, you reached the stars!
More In Touch:
As reported in The Philadelphia Inquirer, we noted that Kal Rudman, Pioneers Vice-President and our 2007 "Person of the Year," presented Police Commissioner Charles H. Ramsey a check for $10,584 for tuition grants for 27 police officers. Since 2002, the Kal and Lucille Rudman Foundation has helped 238 Philadelphia police officers enroll in the justice curriculum at Community College of Philadelphia, handing out grants of more that $82,000. During the presentation Kal said, "I do everything I can personally. I want the Philadelphia Police Department to be the smartest, best trained and best-educated police force in the country." Way to go Kal. Well done!
Congratulations go out to Joe Pellegrino on becoming a grandfather for the third time. Daughter Lindy, who lives in Phoenix had Joe's first grandchild, Adam, two years ago, in August delivered Ryan Joseph. Daughter Shanna, who lives in Rockville, Maryland delivered her first daughter Scarlet in July. Joe tells us he's feeling great and "enjoys playing lots of golf." Thanks for sharing the good news Joe!
Many of you heard Paul Big Bear at the September luncheon singing. It was a great foot and finger-tapping tune that turned into a sing-a-long. Well, there's more to know about Paul. He's been entertaining for 42 years. He was with "The Capps" in 1966, a Rock and Roll band who performed for the openings of WIBG and WFIL. Along the way, he performed in 16 different plays on stage, 20 motion pictures, hosted three of his own radio shows and did comedy and impressions on WFIL for the Joey Reynolds show. He spent 12 years as the Concrete Cowboy in the squared circle of wrestling, but singing is his favorite. He keeps busy singing at private parties, holiday events, local hotels and restaurants. He has released his first CD, "Paul Big Bear: After All These Years." His first book is being published, "A Father's Reflections." It's about being a father and raising an eight-year old son while trying to remember what life was like at that age. Paul, we always enjoy having you with us!
We are pleased and proud to note that several Broadcast Pioneers are also members of the Navy League. They are: Dick Kearney, Vice President; Herb Clarke, Tom Lamaine, "Bud" Galow, and Ken Williams. The Navy League's motto is "Support Our Troops and Remember Our Veterans." They provide considerable support to ROTC programs at local schools and colleges; Navy and Marine recruiting, and continuing education about the Navy, Marine Corps and Coast Guard and their programs. They annually present the Commodore John Barry Distinguished Citizen Award, most recently, presented to Donald C. Winter, Secretary of the Navy. Outstanding gentlemen. The Broadcast Pioneers of Philadelphia salutes you!
Congratulations to Broadcast Pioneer Bill McCloskey, WIP News 1961-66. Bill is the 2008 recipient of the prestigious Society of Professional Journalists Wells Memorial Key. The Wells Key was first presented in1913. The award was named in honor of Chester B. Wells, Sigma Delta Chi's second national president. It's given to a member for outstanding service to the Society. Bill worked for 11 years with The Associated Press before joining BellSouth Corporation as Director of Media Relations in 1987. His professional career started in 1961, when, as a high school junior, he took a summer newsroom job at Metromedia's WIP. After being graduating from Villanova University, he was drafted into the Army. Following his tour of duty, Metromedia assigned him to set up a news department for WASH-FM in Washington, DC. From 1968 until 1975, he worked as news director, network correspondent, and TV news producer and writer for Metromedia. Nice going Bill!

We've heard from Broadcast Pioneers member Steve Ross who tells us he's been co-hosting a half-hour horse racing show on Comcast Sportsnet. The program airs on Saturday afternoons, from 4 to 4:30 and originates from Harrah's Chester. Steve is delighted to be involved with the program and encourages fellow Pioneers, "it's never too late! Neva, say neva!" We'll be looking for you, Steve!
Ed Harvey's daughter Susan Rhoades has checked in to let us know that Ed's spirit continued to flourish at the Cadaver Open, on September 27th at the Glenhardie Country Club. Cadavers gathered on the porch for nibbles, beverages and to exchange pleasant memories of the Ed we knew. While there was no golf tournament, after noshing on the porch, the cadavers moved to the dining room for the main show, comprised of loud laughter and tributes to Ed. The plan is to meet annually to salute and raise a toast to our unforgettable buddy. Susan can be contacted at 484-467-6467. Well done. A fine tribute!
Pioneers Board Member, Bill Wright, Sr. reports, his appearance on the Steve Ross/Jimmy Murray show, "Remember When" on the Big Talker, 1210AM, "was quite an emotional experience." One caller, Hy Lit's young grandson called in and read tribute to his granddad and Uncle Billy. "It was a wonderful moment." Bill says, "Steve and Jimmy do a great job on "Remember When." Thanks for the memories, Bill!
We're pleased to note that Broadcast Pioneers member Al Primo's new book has just been released. Titled, "Eyewitness Newsman," the book is a history of the Eyewitness News Concept, which Al created on August 30, 1965 while News Director of KYW-TV. We'll have more to say about the book after Al returns from his successful nationwide tour promoting the release. The book is available at Amazon .com and at: www.eyewitnessnewsman.com. Any one who orders directly from the Al's website and mentions that they are a Broadcast Pioneers member, Al will personally autograph your copy. Congratulations Al!
Just in. On September 23, 2008, Pioneer "Bud" Galow underwent hip replacement surgery on his right hip. Early indicators are that Bud is doing well. He expects to be "off line" for about two weeks.
A final thought...
"We stay up all night to bring you the election returns. Meanwhile, you went to bed. Now, you're waking to hear them and we're too tired to read them."
Elliot Abrams
Broadcast Pioneers Luncheon
September 17, 2008

© 2008, Broadcast Pioneers of Philadelphia
All Rights Reserved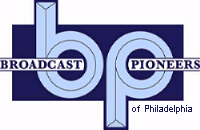 The e-mail address of the Broadcast Pioneers of Philadelphia is pioneers@broadcastpioneers.com
For luncheon reservations call (856) 365-5600 or e-mail us at: rsvp@broadcastpioneers.com