The Broadcast Pioneers of Philadelphia is a federally recognized, state chartered charity. We are a 501(c)(3) non-profit corporation serving Philadelphia since 1962.

Frank Stone
Newsletter Editor

October Luncheon
Bala Golf Club
Wednesday, October 20, 2010

Reception at 12 noon
Lunch at 12:30 pm
Ratecard: $25 per person
RESERVATIONS REQUIRED!
(856) 365-5600
rsvp@broadcastpioneers.com
Tribute to Bill Webber!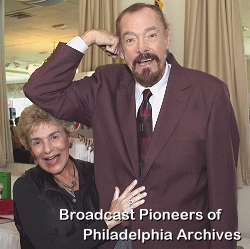 (Left to right) Jane "Pixanne" Norman & Bill Webber
Broadcast Pioneers Luncheon
Bala Golf Club, Philadelphia
Wednesday, June 17, 2009
Legendary broadcaster, TV personality, past President and Chairman of the Board of Broadcast Pioneers, Bill Webber passed away earlier this year. At the time of his death, he was our Chairman of the Board and the person who served in that position longer than any previous individual. He was our "Person of the Year" in 2006 and was inducted into our "Hall of Fame" in 1999. And now, it's time to pay tribute to this wonderful human being and excellent broadcaster.
For almost two-thirds of a century, this giant of a man worked the Philadelphia broadcast scene on both television and radio. In fact, he was still on the air on both WHAT Radio, 1340 on the AM dial and WVLT-FM, Cruisin' 92.1 in Vineland earlier this year.
We really miss him and this is a celebration of his life and a time to remember all the good things we shared. Make your reservation now so you can be with us for this very special afternoon. Call today (856) 365-5600.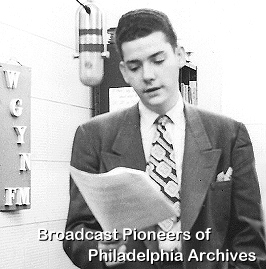 Bill Webber at his first broadcast job
WGYN-FM (now WSKQ-FM) in New York City
1948
Bill started at WGYN-FM in the mailroom and was quickly spotted as "on air talent." From there, as they say, the rest is history. If there's anyone out there not familiar with Bill's career, you can learn more about him by reading his bio from our website.
It's gonna be another huge crowd (we had 157 at the September luncheon) for our Wednesday, October 20th luncheon. It all takes place at the beautiful Bala Golf Club, 2200 Belmont Avenue in Philadelphia! Just minutes away from Channels 6, 10 and 17 plus the radio stations in Bala Cynwyd. Meet and greet is at noon with lunch served at 12:30 pm.
Our MC for this event is Pat Delsi, a former president and a former chairman of the board of Broadcast Pioneers and he currently serves as our treasurer.
Speaking that afternoon will be:
Ralph Caliri, former General Manager of Channel 17, WPHL-TV
Tema Steele, financial advisor and personal friend of Bill Webber
Len Stevens, former co-owner of WPHL where Bill did his cartoon show
Allen Stone, former roommate of Bill Webber who they were both bachelors
Dean Tyler, friend and former PD of WIP Radio and WPEN Radio
Les Waas, long-time friend and broadcast associate of Bill Webber
Bill Webber, Jr., Bill's son who has followed his dad into broadcasting
Plus, one of our favorite resident songbirds, Pretty Perky Peggy King (of the George Gobel TV show) will be there to provide a musical tribute.
Meet and greet (networking) starts at 12 noon with a full-course lunch including salad, coffee or tea and dessert being served at 12:30 pm. There's also a crudité and cheese table. The cost is still only $25 per person (over five years without a price increase) and is open to all our members, any person in the industry or associated fields; both people now active and retirees. You do NOT have to be a member to attend. OPEN TO THE GENERAL PUBLIC!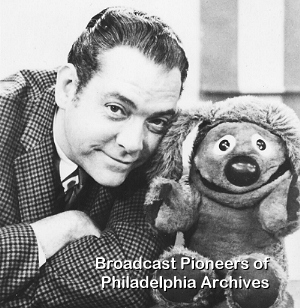 Bill Webber and his sidekick Ralph
WPHL-TV, Channel 17
1966
It's the official unofficial memorial for this long time member of our industry, "Wee Willie." The entire Webber family will be there. You should too. Make plans to attend by calling (856) 365-5600!

Visit Our Website Often - http://www.broadcastpioneers.com

BANQUET REMINDER (VENUE HAS BEEN CHANGED):
Our 2010 Person of the Year is KELLY RIPA!
Plus a star-studded cast of inductees
for our Hall of Fame!
TICKETS AGAIN ON SALE!
NEW VENUE!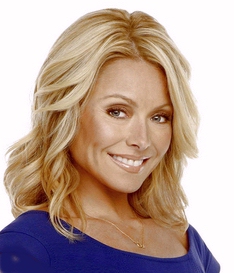 IMPORTANT NOTICE!
VENUE CHANGED TO HANDLE A LARGER CROWD!
HURRY! SPACE IS LIMITED!
With record-breaking reservations on the books, the 2010 Person of the Year/Hall of Fame banquet sold completely out in just 20 days. The unprecedented demand for tickets, even before the invitations were in the mail has been overwhelming. Broadcast Pioneers Chairman of the Board Gerry Wilkinson said, "This has been an incredible experience. The banquet has always been a popular event, but this year the demand for tickets was extraordinary. The wonderful growth in membership, coupled with outstanding luncheon programs all contributed to this milestone. We're both thrilled with the success and saddened for the folks who couldn't get tickets."
GOOD NEWS!
We moved the location of the banquet to the Hilton Hotel on City Avenue just a block from Channels 6 and 10 and the radio stations in Bala Cynwyd. We'll be in the Grand Garden Ballroom. It's simply pure luxury. If you liked Bala, you're going to love the Hilton. It's wonderful.
A word to the wise. We sold 250 tickets in 20 days and 91 in just one incredible day. We have added an additional 150 tickets. 20% of those are already gone as they went to people on the waiting list. So hurry! The only way to reserve your seat(s) is to send in for your tickets. Snooze and you lose! What an evening this is going to be! It's a who's who of broadcasting. Anyone who is anyone will be there.
Our Person of the Year for 2010 is Kelly Ripa who started her TV career right here in Philly by being a regular dancer on "Dancin' on The Air" on Channel 17 and "Dance Party USA." Both shows were produced by Broadcast Pioneers members Frank Nise and his son Michael. Mike currently serves on our Board of Directors.
Our 42nd Annual "Person of the Year/Hall of Fame" banquet takes place on Friday, November 19th at the beautiful Hilton Hotel, 4200 City Avenue, Philadelphia. Reception is at 6 pm with a tasty dinner being served at 7 pm. There's plenty of free parking ($10 valet parking is also available). CASH BAR ALL NIGHT LONG! Ticket prices are $80 for our members and $95 for everyone else. Price includes salad, a delicious three course dinner, dessert and your choice of coffee or tea. There's also a crudité table.
Our Hall of Fame inductees for 2010 are:
Carol Erickson, meteorologist and news reporter for CBS 3, KYW-TV
Peggy King, former girl singer on "The George Gobel Show" on TV
Linda Munich, Vice-President of Public Affairs for 6ABC, WPVI-TV
Dave Neal (Dave Gomberg), news producer at Channels 3,6 and 10
Joe Pellegrino, all round sports guy at Channel 6 and WCAU-TV
Glenn Schwartz, the chief meteorologist for WCAU-TV, NBC 10
Dick Sheeran, former reporter and anchor for KYW-TV, CBS 3
Rick Williams, co-anchor of the noon and 5 pm for Action News, 6ABC
John Zacherle, the cool ghoul, host "Roland" of WCAU-TV's "Shock Theater"
We will also induct the following people posthumously in our Hall of Fame. They are:
Al Alberts, star of the "Al Alberts Showcase" for three decades on 6ABC
Herb Denenberg, consumer reporter and former PA insurance commissioner
Jack Downey, former VP/GM for WCAU Radio, now WPHT Radio
Joe Earley, who was Mr. Rivets on Channel 3 & the postman on "Gene London"
Ed Elias, former Engineering Supervisor for WPVI-TV for a half-century
Steve (Mr. Movie) Friedman, former movie expert and telephone-talk host
Paul Harron, Jr., head of Harron Communications for decades
Paul Harron, Sr., pioneer radio and TV owner including WIBG and Channel 12
Irv Homer, well-known tv personality and radio telephone-talk show host
Sarajane "Cissie" Hurst, TV producer at Channels 3, 6, 10; WPEN PR Director
Bob Klein, innovator of "Urban Contemporary Radio;" GM at WDAS AM & FM
Ed McMahon, sidekick to Johnny Carson, host of several local 50s TV shows
Bob Menefee, former longtime Philadelphia radio host and air personality
Jim Nettleton, one of the original Philadelphia WFIL, Famous 56 "Boss Jocks"
Frank Nise, innovator of modern-day broadcasting lines and TV producer
Nat Wright, the All-Night Rat, host of the Dawn Patrol/WIP Radio for 20 years
Proceeds benefit the Broadcast Pioneers Scholarship Fund and other educational activities. We are a federally recognized, state chartered charity with 501(c)(3) status for federal income tax purposes. Monies raised from last year's banquet plus extra gifts and grants allowed us this past April to give away thirteen $1,000 scholarships to area college students!
A WORD ABOUT PARKING FOR THE BANQUET: We have arranged for free parking for those attending our banquet. On the opposite side of the street from the entrance to the hotel is a lot (not the parking garage) saying "Hilton Event Parking." The fee is normally $5. However, bring your parking receipt with you and we can validate it so there will be no charge to you. For those wishing valet parking, simply pull right into the front of the hotel. The fee is $10. Sorry, no validation for valet service.
ATTENTION ARCHIVE COMMITTEE MEMBERS:
The Archive Committee will meet before the luncheon on Wednesday, October 20th from 10:30 am to 11:30 am at Bala. If you are not on this committee and would like to serve, please call us at (856) 365-5600.
BRIEF MEETING OF OUR BOARD OF DIRECTORS:
There will be a brief 10 minute board meeting on Wednesday, October 20th from 11:30 am to 11:40 am. Board members and officers should make plans to attend. We will start at 11:30 am sharp.
SEPTEMBER LUNCHEON REVIEW :
45 YEARS OF "EYEWITNESS NEWS"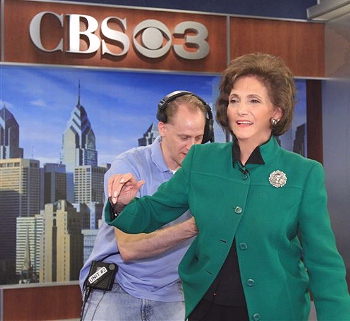 Marciarose Shestack being prepared for the 12 noon broadcast
KYW-TV, CBS 3
Wednesday, September 15, 2010
(Photo courtesy of KYW-TV, CBS 3)
Another history making luncheon occurred on September 15, 2010 at the beautiful Bala Golf Club. The room was filled with former and present KYW-TV personalities, plus management, friends and Broadcast Pioneers from up and down the east coast! The attendance was the same as our June luncheon and we had over 150 people there.
Our moderator was Broadcast Pioneers member Dick Sheeran.
On the panel, we had:
Carol Erickson. KYW-TV, CBS 3 Meteorologist and Reporter
Trudy Haynes, former KYW-TV, Eyewitness News reporter
Larry Kane, Former CBS 3 News Anchor & the Dean of Philly News
Al Primo, the Creator of the Eyewitness News & former News Director
Marciarose Shestack, former Eyewitness News, Channel 3 News Anchor
Ukee Washington, CBS 3 News Anchor for "Eyewitness News"
Introductory remarks by Jon Hitchcock, President and General Manager of CBS 3 and the CW Philly 57 and Jon was introduced by Broadcast Pioneers member Steve Levy.
Plus, we had Broadcast Pioneers member "Big Al" Meltzer speaking live on the telephone with former Eyewitness News Anchors Vince Leonard and Mort Crim, both members of the Broadcast Pioneers.
PHOTOS
These copyrighted pictures are protected under US Copyright.
Any usage without the express, written permission of
the copyright holder is strictly prohibited!
Usage does NOT fall under "Fair Use" of copyright laws!
----------
AUDIO
----------
VIDEO (in Windows Media Format Only)
HEARD AFTER THE LUNCHEON:
"This is a blessing. To see people you haven't seen for a long time, this is awesome. I'm grateful to be here to be a part of it." Trudy Haynes
"It's an honor to recognize 45 years of KYW Eyewitness News. It's an incredible milestone." Jon Hitchcock
"It's so wonderful to be here and to be able to connect with so many who have created a relationship with the people of Philadelphia." Pat Ciarrocchi
A great way to cap off a phenomenal day at Channel 3. We're grateful to Broadcast Pioneers for generating this celebration. What a wonderful reunion." Joanne Calabria
"Inspired, humbled, almost tearful. An amazing afternoon…45 years of history in this room." Carol Erickson
"Wow! What a wonderful, wonderful afternoon. To see so many old friends is terrific!" Marciarose Shestack
"This was absolutely a dream. I grew up with a lot of the faces in this room, and those faces set the standard for what I strive to be. I couldn't be more proud today to be in a room with all my heroes." Ukee Washington
"It was a marvelous turnout. The enthusiasm of the people was so touching. To be part of the legacy and history of Eyewitness News is really an honor. It's an event I'll never forget." Al Primo
HEARD IN THE PARKING LOT… (a conversation between three KYW alum)
"Fantastic…everything that was said about our relationships working together was 100% true." Dick Standish
"For me this was like this is your life. I saw so many people I worked with over the years." Dick Sheeran
"Eyewitness News was 38 years of my life. This was a great day! Robin Mackintosh
WELCOME NEW MEMBERS:
Full Members:
Richard L. Evans, started in the broadcasting business twenty years ago in 1990 at WMUH (Allentown). He then moved on to WLVR (the Lehigh Valley), WDIY (also in the Lehigh Valley), WXLV (in the Carolinas) and currently is the Program Director at the current WDVR which is in Sergeantsville, NJ.
Harvey Sheldon was the co-creator of the Bunny Hop dance, worked on the Red Buttons TV Show, did all nights on WHAT, owned radio stations and pioneered sports & talk shows in Philadelphia and elsewhere. He has authored books and underwrote to the tune of 3 and a half million dollars, the Harvey Sheldon Research Library at the University of Pennsylvania.
Fred Ruggieri worked for WRNJ, 1510 on your AM radio dial in Atlantic City and was there at the beginning of WDVR Radio here in Philadelphia when it was founded by Broadcast Pioneers member David Kurtz. The station later became Eazy 101 and today is known as B-101, one of the top stations in our market.
Paul Moriarty was a producer with WCAU-TV from 1981 until 1987. Then he moved to KYW -TV as a reporter. He was there from 1987 until 2004. Four years ago, Paul became a New Jersey State Assemblyman (district 4) . Previously, he was the Mayor of Washington Township, Gloucester County, NJ.
For decades, Judy Sciaky has owned Judy Sciaky Associates, a leading advertising agency here in the Delaware Valley. She holds a Bachelor's degree from Temple University and is the widow of legendary rock disc jockey and Broadcast Pioneers member Ed Sciaky.
Bobby Beato was with the singing group, "Anthony and the Sophomores." He is currently with BB productions and Purple Reign, another area vocal group. Bobby is a radio host for WVLT, Cruisin' 92.1 out of Vineland (serving Philadelphia) and also does weddings and entertainment shows.
Donald Bustard worked in community theater at the Germantown Theater Guild, and the Fort Lewis Little Theater. He has worked for WRCV-TV doing camera work, painting scenery and stage managing. He was with WGLV in Easton as a technician. Donald also did many projects for independent film companies.
Annette DiMedio has a Ph.d in musicology from Bryn Mawr College and is an internationally acclaimed pianist. She was a producer for WPVI-TV and is currently a full professor and chief advisor for the School of Music at the University of the Arts. She is an author and recording artist.
Paula Iacovelli Wholey is a certified radio marketing consultant for WNTP Radio (formerly WIBG, Radio 99). She has also done sales for WHAT Radio, WPHT Radio, WYBE-TV and WPEN Radio. She also worked at Unisys for 2 years and Focus Magazine for seven years.
Associate Members:
Jackie Strauss started as Neighborhood Correspondent on WPHT's "Remember When" & is now part of the conversational dialogue between members Steve Ross and Jim Murray. She is the PR and promotions specialist for the program and has done PR and corporate communications for Omni 2000, Inc., owned by Board Member Michael Nise.
Bonnie Silvestri's broadcast TV experience is as a dance performer. She danced on "American Bandstand" in the early sixties when the show was still based in Philly. Bonnie is still active as a dance performer on the current television broadcast, "The Berks Community Television Dance Party" out of Reading.
We are thrilled to have these new members and we hope to see as many of you as possible at our October luncheon. Again, we have set another record in membership.
ADVERTISE IN OUR BANQUET BOOKLET:
Well, We're putting together our 2010 banquet booklet which will be distributed at our Person of the Year/Hall of Fame Dinner. It's a great source of getting the word out about your business to all our members and the cost is LOW! Rates start as low as $175. Contact Vice-President Frank Stone. Hurry! Deadline is later this month.
NEW MEMBERSHIP CATEGORY:
Over the past few years we have received numerous requests from folks "in the business" to become members. After careful consideration and discussion, the Board of Directors during the September board meeting unanimously approved the creation of a new membership category - Associate Member. The new category is open to all persons who have served at least one year, but less than ten years in the broadcast industry or related fields. Dues for Associate Members are the same as dues for "Regular" members, however Associate members have no voting rights in the organization.
A LITTLE BIT OF HISTORY!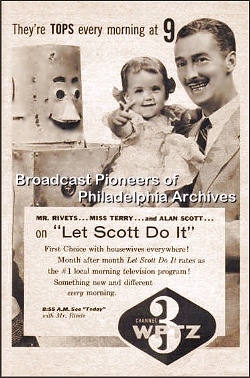 Print Ad for "Let Scott Do It"
(Left to Right) Joe Earley as Mr. Rivets, Miss Terry and Alan Scott
WPTZ, Channel 3
circa 1954
IN TOUCH:
Our 2010-2011 Membership Directory is scheduled to be mailed to each current member later this month. If you are not planning to save your old issue, please shred it as it contains the personal contact information of our members. This info shouldn't go outside the club. So remember, use your head and shred. As Broadcast Pioneers member Hy Lit would have mentioned: "Solid, Ted. "Nuff Said."
We heard from Broadcast Pioneers member Dave Roberts who seems to be enjoying his retirement.
He's been out on the coast alot. Dave wanted us all to know that his son's (David Boreanaz) show "Bones," has returned to Fox for a sixth season. It's on Thursdays at 8 pm on Fox 29, WTXF. In season 5, (if you blinked you missed it) Dave Roberts was on the show twice (well sort of).

On the show's 100th episode, Roberts was visible for all of four seconds in a cameo. Called "The Parts in the Sum of the Whole," it had a lot of flashbacks. About 22 minutes into the program, in one of the flashbacks Booth and Bones were inside the FBI Headquarters. A man placed a document on a copier machine and then walked in front of both. That was Dave Roberts. (If you froze the video, there's about 5 frames where you can actually make out that it's Dave.) Please, don't blink!

Dave told us, "See, I'm still working, just not much." But if you saw the January 14, 2010 episode called "The X in the File," there was sort of an inside joke. Booth and Bones were inside a diner/museum in Roswell, New Mexico when Boreanaz (wearing a Flyers jersey) said something like, "Wow. They have a photo of Rocketship 7." He identified all the characters in the picture and then said "I grew up watching that show and Dave Thomas." Well, before Roberts came to Philadelphia, he hosted a children's program in Buffalo called "Rocketship 7." The show ran for 16 years. Boreanaz was an elementary school student when the family came to Philly, so we are sure that he did grow up watching the program.

A little bit of trivia:

1. What Broadcast Pioneers member grew up in Roswell?
2. What is Booth's first name in the show?
3. Roberts' real name is David Boreanaz, but father & son have different middle names. What are they? Answers are given in the MORE IN TOUCH segment below. (No fair looking on the Internet!)
Broadcast Pioneers Hall of Famer and board member, W. Carter Merbreier and wife Pat, (aka Captain and Mrs. Noah) have relocated their residence to Valley Forge. Carter told us; "Next to the seashore, this is the nicest place to be." Legend has it that when Captain and Mrs. Noah sailed away with all the pairs of animals during the dawn of time, the two unicorns standing on the shore seeing the ark sailing away in the distance said, "I thought they weren't leaving until 2 o'clock?"
A LITTLE BIT OF HISTORY!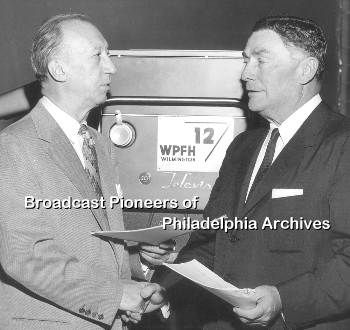 (Left to right) Clair McCullough, president of the Steinman Stations Group
and Paul F. Harron, Sr.
WPFH-TV, Channel 12, Wilmington
Official Photo of the station being sold to Harron
1955
Broadcast Pioneers oldest member Edna Whittington Cathcart will celebrate her 102nd birthday later this month on October 13th. Edna was working at WIP (her boss was Ben Gimbel) on December 7, 1941 when the Japanese attacked Pearl Harbor. It was also the end of the ASCAP strike, which lasted over a year. Edna told us: "It was a bright sunny day. I was taking tape off the ASCAP sides of the records so we could play them again." We asked Edna about her secret to longevity, she said:"Think healthy! Think happy! I want to dance out!" Happy Birthday Edna! Many more!
Broadcast Pioneers member "Big Al" Meltzer was scheduled to receive the Board of Governors' Award at the Mid-Atlantic Emmys on Saturday, September 25th during an event at the Loews Hotel in center city. Unfortunately, during the cocktail reception, he became ill from standing for too long. We spoke to "Big Al" who told us; "I was the man who didn't come to dinner, but I was there for awhile. I use one crutch now due to a back problem and just stood too long. I was excited about the event, wanted to see everyone and got too excited." Al was transported to Penn Hospital where the docs diagnosed him with a blood pressure problem. Al's good friend Bill Baldini accepted the award for Al, who will see the entire event and tribute on a video he will soon be receiving. Al is home and doing well. Congratulations Al! Take care.
We heard from Burt Sherwood, who was for a short time VP and GM of WIBG. After leaving Philadelphia, he was VP and GM of WMAQ radio in Chicago, where one day he met Al Meltzer who had been there for a few months doing sports on WMAQ-TV. Al mentioned to Burt that he was not happy in Chicago and thought he had a chance to return to Philly. Burt said to Al; "Any man who could address a crowd of basketball lovers and say, "put your rectum in the Spectrum" ought to go home and enjoy life. The next thing I knew, he was back." Great story Burt. Thanks!
We have a new president of our student group, the Future Broadcast Pioneers. She's Jennifer Gaus, a student at LaSalle University. Jennifer grew up in Philadelphia and is a junior Communication Major and Film Minor with a concentration in the Mass Media track of Communication. She is a producer and host of the game show "Q&A" on LaSalle's cable station, seen on Comcast at Channel 56. She is also president of the LaSalle University Young Broadcasters and a Big E in the University's New Explorers Program where she mentors first year students. When school is not in session, she works at a day care and summer camp as a lifeguard. Welcome aboard, Jennifer.
And speaking of young people, our 9th college student symposium is completely filled up. It took only nine days to do it. The event takes place at 6ABC on Saturday morning, October 23rd. President Jerry Klein is the moderator and panelists include:
Marc Bress, Engineer and camera operator for 6ABC
Maxine Crooks, executive producer for WPVI's Action News
Pat Delsi, former station owner of WSSJ Radio in Camden, NJ
Porsha Grant, Action News Producer for 6ABC, WPVI-TV
Melissa Magee, meteorologist for WPVI-TV, 6 ABC
Linda Munich, Vice-President of Public Affairs for WPVI-TV
Walter Perez, anchor for Action News, WPVI-TV, 6 ABC
Congratulations to George Scott, retired Channel 3 TV television technician. George recently earned 17 medals, including 15 golds at the 2010 Keystone State Games and Senior Games. He entered eight events in the 90-94 division! George said; " I tell everyone to stay active so you can stay fit. Do a lot of walking, but most importantly do something you enjoy. You have time to do anything you really want to do." Nice going George!
Did you know...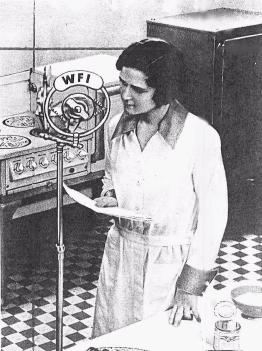 Aunt Sammy
WFI Radio
1926
Aunt Sammy was the brainchild of the Federal Government and the Bureau of Home Economics of the Department of Agriculture. "Aunt Sammy" was supposed to be the wife of "Uncle Sam." There were daily 15-minute programs broadcast by over one hundred stations nationally. The broadcasts started on "Housekeeper's Chat" on NBC Radio on October 4, 1926. Some broadcasts were local and some national. There were 150 women who played the role of "Aunt Sammy" at radio stations across the country but all read from the same script prepared by the government. Aunt Sammy gave the fictional Betty Crocker (also an early radio cook on "The Betty Crocker School of the Air") a real run for her money. However, Aunt Sammy never promoted specific brand names while Betty was pushing things like "Gold Medal" flour.
Remember that at this time, most food in the home was prepared from scratch. Aunt Sammy offered a full range of nutritional dinners and publicized menus that could be prepared in as little time as 30 minutes. Remember at this time, 85% of Americans did NOT have electrical service and there was little in the way of kitchen conveniences. She once said "I arrange my work so as to spend as little time as possible in the kitchen. There are more important things to do." Aunt Sammy's cooking ideas were so popular that her recipes were offered to radio listeners. There was even a braille version.
Aunt Sammy also talked about furniture, appliances, clothing and other household matters. She commented on world affairs, reported the latest fads and told some jokes. It was everything from how to cook a meatloaf to cleaning the kitchen floor. By 1934, the stations no longer used the name "Aunt Sammy" and by 1946, the program was completely gone.
The above photo comes from an old WFI Radio document dating from the twenties printed on newspaper stock. If you look at the picture really close, it looks like parts of it are hand drawn. Look at the microphone. It looks more like a drawing than a photograph. WFI was part of Strawbridge and Clothier at this time. WFI Radio later merged with WLIT (The Lit Brothers Department Store station) to form to WFIL Radio.
Here's an "Aunt Sammy" recipe from the twenties for "Baked Cheese and Macaroni."
2 cups of macaroni
4 tablespoons of flour
4 tablespoons of butter
2 cups of milk

3/4 pound of American Cheese
1 teaspoon of salt
soft bread crumbs
more butter for the bread
Cook the macaroni in 2 quarts of boiling, salted water until tender. Drain. Make a sauce with flour, butter, milk and salt. Grate or cut the cheese into the sauce, reserving a little to grate over the top of the dish. Place the macaroni in a buttered baking dish, in alternate layers with the cheese sauce. Scatter the extra grated cheese over the top with buttered bread crumbs. Bake in a moderate oven at 350 until the sauce and macaroni are hot through and the crumbs are brown.
Need soup to go with it. Well, here's another 1920's recipe for "Onion Soup Au Gratin."
3 cups of meat broth
6 medium sized onions, chopped
1/2 teaspoon of salt
4 tablespoons of flour

2 tablespoons of cold water
pepper
toast
parmesan cheese
Cook the chopped onions in a small amount of water under tender. Add 2 tablespoons of fat from the meat broth or the same quantity of butter and let the onions cook down in this until they are yellow. Mix them with the meat broth and salt and thicken with the flour and cold water which have been blended. Cook for a few minutes. Season with (black) pepper as desired. Pour the soup into bowls or soup plates, place on top a round or slice of toasted bread, and sprinkle grated cheese over the bread and soup. Serve at once.
Here's a dessert that I remember seeing in central Pennsylvania at church picnics in the late 50s. This also comes from Aunt Sammy in the twenties. It's called "Fried Apples and Bacon." Sometimes in the fifties, it was made with ham, chicken or turkey, as I recall.
Select about six good tart apples. Peel them. Cut them in 1-inch cubes. Fry the bacon in a heavy skillet. As soon as the slices of bacon are crisp, remove and drain them on clean brown paper and keep them in a warm place. Leave about one-fourth cup bacon fat in the skillet and fill it with the apples. Sprinkle on 3 tablespoons of sugar. Apples fried this way require a little more sugar than ordinary fried apples. Cover the apples. Cook slowly until tender. Then remove the cover and turn apples gently, so the pieces keep their shape. Let them brown lightly. They are then almost transparent. Place them on a hot platter, and surround them with the crisp bacon.
FYI... There were many similar programs on the air in the twenties and early thirties. One such program was called "The National Radio Home-Makers Club" with Ida Bailey Allen which was carried over CBS Radio and WCAU in Philadelphia for two hours daily. We have in our archives, an original newsletter from them dated November 3, 1930, donated by Don Rutherford, Jr. of Philadelphia. On Fridays, they had a feature called "The Cake Lady" and of course, the cake was made with Crisco, who sponsored the segment. Thursdays featured "Ocean Spray Cranberry Sauce" which came in a jar, not a can. Wednesdays it was Hormel's turn. Part of the newsletter said:
Philosophers may talk about the wisdom of simpler living. Physicians about the necessity for relaxation. Let them say what they will, we like speed.
Looking at the rest of the piece, they are talking about making quick meals like one in five minutes, Hormel Baked Ham. While there are many recipes including one for a mouth-watering Orange-Cocoanut Cake, most of the newsletter was filled with really great household hints like:
Blankets should be gone over with a vacuum, or shaken and hung in the open air. The soiled edges can be cleaned by using a grease solvent, such as carbon-tetrachloride (banned in consumer products in the United States in 1970).
KYW Radio, which was in Chicago until 1934, had a similar local program hosted by Anna J. Peterson and sponsored by the People's Gas Light and Coke Company. The show started in 1923 (before Betty Crocker or Aunt Sammy) and was aired at 11:30 am for fifteen minutes. Shortly after the program started, in an effort to judge the size of the audience, she offered all her "radio pals," a chance to attend a "radio tea" and 1,500 people showed up and that was in the infancy of radio.
This regular monthly column is written and researched by Gerry Wilkinson
WE REMEMBER :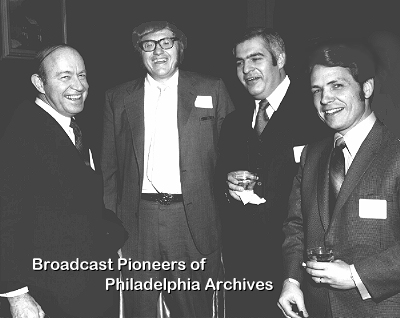 (From left to right) John Kluge, head of Metromedia
Claude Hall, Radio-TV Editor for Billboard magazine
WIP's General Manager Dick Carr
WIP's Program Director Dean Tyler
1973
John Kluge, the billionaire pioneer of independent television station ownership whose Metromedia Inc. stations formed the basis for the Fox network passed away at age 95. By rerunning situation comedies like "M*A*S*H" and low-budget movies he turned Metromedia into the largest independent television business in the U.S. Broadcast pioneer member and legend Dean Tyler worked for Kluge. Dean told us:
He was an interesting man. Very quiet, very smart and he loved Philadelphia, particularly WIP where we all worked. He had so many employees across the country, but he knew us all by name. He had a lot of loyalty from the people who worked for him. A leader in a quiet way.
Tom Primavera, age 78 passed away on September 14th from liver cancer. Tom was General Sales Manager at WCAU Radio working for Jack Downey (who we induct into our Hall of Fame next month). In the 80's, Primavera was Account Executive at WDVR and WEAZ as well as other stations and was most recently a marketing specialist for AM1340, WHAT Radio.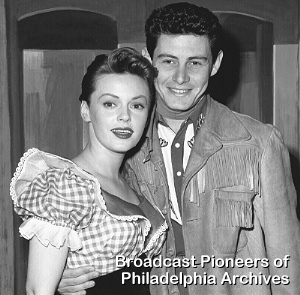 (Left to right) Broadcast Pioneers member Peggy King and Eddie Fisher
1955
Former Philadelphian Eddie Fisher died on September 23th at age 82, of complications from hip surgery. Eddie got his start at WFIL Radio on the "Magic Lady Supper Club." Fisher's family said in a statement; "One of the greatest voices of the century passed away. He was an extraordinary talent and a true mensch." Broadcast Pioneers member and 2010 Hall of Fame inductee, Peggy King is a personal friend of Debbie Reynolds and knew Eddie Fisher well. She said:
I'm truly sorry about his passing. Eddie was someone who became famous so quickly. I don't know that he ever caught up with his fame. Life just carried him away.
ON THE HEALTH FRONT:
Broadcast Pioneers member John Brown is back on the air! After having emergency back surgery for a ruptured disc on June 23rd of this year, John is back on the air doing traffic as of September 14th. Westwood One /Metro Networks built an in-home studio for him. Recovery will take at least till the end of the year as he undergoes physical therapy twice a week. On September 1st John celebrated 31 years doing traffic and a couple days ago, he entered the beginning of his 42nd year in broadcasting. In fact, our Chairman of the Board, Gerry Wilkinson can testify that John is back on the air. Gerry heard John Brown on KYW Newsradio and WPHT Radio at the same time doing different reports. Rumors were that while John was out of the service, they simply re-ran old reports. "The expressway is bumper to bumper with roving Penn Dot crews forcing traffic into one lane." Who would know? By the way, those rumors have been denied.
Broadcast Pioneers member, renown aerial photographer and singer about town, Bob Kravitz will undergo surgery on October 19th for bladder and prostate removal at Hahnemann. He'll be hospitalized for five days with a four week recovery. Bob said: "I have had no sleep for the past two years due to the pain and bathroom calls every ten minutes. I will get my life back." Good luck, Bob. Our good thoughts are with you!
Here's a Tom Dooley update. A recent MRI showed some improvement in the size of the tumor and damaged area as well as the swelling on his brain. The doctors complimented the family on the wonderful care Tom is receiving and recommended that hospice care now be included in his overall care. Melanie tells us:"Tom still loves hearing from you." Let's be sure to stay in touch with Tom!
THANK YOU:
Special thanks go out to member Johnny B. Hall for his personal donation to Broadcast Pioneers this past month for our DAP, Digital Archival Project. Also thanks to new member Donald Bustard for his contribution upon joining our organization.
What a nice guy! Broadcast Pioneers member Al Primo who authored the book, "Eyewitness Newsman," donated a stack of his books to the Broadcast Pioneers at our September 15th luncheon. They were distributed at the luncheon for a donation and we ran out in five minutes. Al personally autographed all of them. We added several hundred dollars to our treasury thanks to the generosity of Al Primo and those members who made a donation for the book.
And speaking of books, we wish to thank new member Harvey Sheldon for donating a copy of each of his ten books for our archives. They are all show business oriented and his eleventh book (soon to be published) is all about Philly Music.
Our thanks go to those who sent an extra contribution when sending in for banquet tickets. They are: Robin and Ira Adelman, Sally Berlin, Peggy King and Les Waas.
If you forgot to made an extra contribution and would like to do so now, it's never too late. We would be thrilled to hear from you at: PO Box 2886, Bala Cynwyd, PA 19004.
MORE IN TOUCH:
From Jay Meyers:
Could you pass on my regards to Charlie Tomlinson, whose name I haven't heard in more than 35 years. We worked together for a short while for the legendary Willie Gehlert at WCHE in 1973. Willie was part of the WAMS fifties line-up (with Dean Tyler who did mid-days) and the long time owner (from the mid-sixties to the early eighties) of WCHE. My most memorable moment from that time was clearing the wire copy and announcing the death of Jim Croce in a plane crash in Louisiana (I was in San Diego during the first week of August (2010) and ate at Croce's, the legendary restaurant opened by his wife after his death).
We were watching some old TV shows including "Space 1999." It was a British Science Fiction show done in the mid-seventies. It lasted a couple of seasons and during the first year, the medics carried a special medical case which was, in reality, an empty plastic container of two inch video tape spray painted white. Our guess is they figured, "who would know?" Of course, the answer is "we do."
There's a 20 minute film about the "new" round building of Channel 6. It was made in 1964 and narrated by Joe Novenson. If you look quickly, you may see some faces that you know (like Broadcast Pioneers member) Allan Stone. Watch it here from the WPVI website!
Broadcast Pioneers member Richard Heist tells us WNPV-AM will celebrate it's 50th anniversary on the 17th of this month. In 1959 Richard was at WPAZ radio, Pottstown and was hired by the owners of Equitable Publishing (North Penn Reporter, Lansdale) to get the station on the air. Tom tells us: " It was a hectic time getting FCC approval, sponsors, etc). Shortly before signing on, they did a "test-run" for the engineering department (W. Leroy Nuss was chief engineer). On October 17, 1960 WNPV, 1440 went into full operation. Thanks for sharing Dick!
From Roger Hendler:
I look forward to each newsletter. I love the story of Eyewitness News in this month's (September 2010) edition. I met Dick Goddard at a Cleveland Browns game. He works with the broadcast crew and is the Chief Meteorologist for the Fox station in Cleveland. He and I spoke of his short tenure in Phila. and he stated that he liked Philadelphia but he and his wife had Cleveland roots. I use the (Broadcast Pioneers) website for my sub teaching classes and many of the regular teachers have bookmarked the site for use. This is here in GA.
Broadcast Pioneers member Valerie Morrison is a regular guest on Steve Tatz's radio show, "Get Over It" airing every Monday from 7 to 8 pm on WVLT, Cruisin' 92.1 FM. Valerie also was a part of the annual "Salute to Our Veterans Car Cruise" held at the Vineland, New Jersey Veterans Memorial Home, sponsored by Broadcast Pioneers member Steve Tatz and Carl Hemple, General Manager of WVLT. Valerie said:"It was our way of paying tribute to our veterans who have sacrificed so much preserving, protecting and defending our freedom…" Great work Valerie!
The answers to the trivia questions above are:
Which Broadcast Pioneers member grew up in Roswell? It was Tom Brookshier!
What is the character Booth's first name on the show "Bones?" It's Seeley (of older French origin)
What are the middle names of David (the oldest) and David (the younger)? It's Thomas & Paul (in that order)
We're happy to note that Bill Wright Sr.'s son Paul is one of ten finalists for Pennsylvania Teacher of the Year. It is a statewide competition. Paul is a Social Studies teacher and sports coach at Radnor High School. The event was today and we just heard from Bill. Unfortunately, Paul didn't win. Another wonderful teacher in the area did so, at least, we kept it in the Delaware Valley. Hey, Uncle Bill. Being one of the Top 10 teachers in the entire state isn't too shabby.
Broadcast Pioneer member, 2002 Hall of Fame inductee and Board member Diego Castellanos, was recently honored by the 6ABC Community Advisory Board at a reception held in the Barrio (in the heart of the community) at Concilio (The Council of Spanish Speaking Organizations) at 7th & Fairmount commemorating 40 years of "Puerto Rican Panorama." Attended by over 200 guests, the event recognized "the world's longest running TV show of its type, dedicated to Hispanic issues and Latin culture, presented in English." Diego told us; " It was a wonderful event and I am so grateful for the support of the community and the 6abc Community Advisory Board. I have received hundreds of congratulatory messages from as far as Puerto Rico!" Well deserved, Diego. Congratulations!
Remember Stephen Gary has checked in to say how much he enjoyed the "45 Years of Eyewitness News" luncheon. He was a reporter at KYW Newsradio from 1968-71 and reporter, producer and fill-in sports anchor at Eyewitness News from 1971-79. When he saw Broadcast Pioneers member Marciarose Shestack, he recalled how the late columnist Tom Fox, who wrote for the Daily News and Philadelphia Inquirer, giving her the sobriquet "Limousine Legs!" Thanks for sharing Stephen!
DIGITAL ARCHIVAL PROJECT NEWS: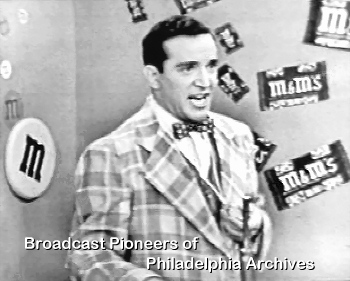 Gene Crane on "Candy Carnival"
WCAU-TV
April 12, 1953
We have in our video archive, a complete Candy Carnival Show. Well, almost. It's 25 minutes and 8 seconds long and missing the show's opening and the first four minutes of the program. The broadcast dates from April 12, 1953. It starred our very own Gene Crane, a long-time member of the Broadcast Pioneers of Philadelphia. It was sponsored by M&M candy. Later, it was retitled "Contest Carnival" and brought to you by Quaker Cereals.
Carney C. Carney (we always wondered what the middle initial C stood for) played by Harry Levan was one of the clowns on the broadcast. Carney would later be part of the Gene Crane morning program with Willie the Worm. Carney would also have his own show on Saturday mornings. The other clown on the show was called Candy and was portrayed by Phil Sheridan. Phil was also the WFIL radio morning man and the Weathercaster on Channel 10. We have here a 5 minute excerpt of that 1953 broadcast. It features a comedy routine and leads right into the commercial for M&Ms.
Watch in Real Video!
Watch in Windows Media!
See 13 photos from the show (donated by member Michael Muderick)
A LITTLE BIT OF HISTORY!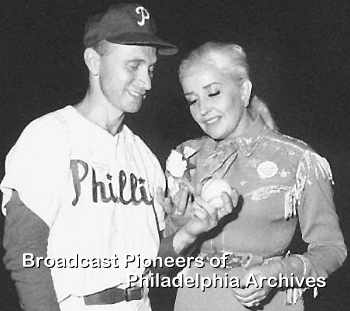 Sally Starr with Baseball player Bobby Shantz
"Bobby Shantz Night" at Connie Mack Stadium
Summer 1965
We have a rare treat. In 1992, Broadcast Pioneers member Ed Cunningham was working on his first documentary for WHYY-TV entitled, "Things That Aren't There Anymore" narrated by Broadcast Pioneers member Bill Campbell. The premise of this program was to revisit through pictures and stories things that are now gone. One such place discussed is Connie Mack Stadium where Richie Ashburn played his first game for the Phillies. Channel 12 sent a video camera and Ed Cunningham down to Veterans Stadium where they caught up with Richie Ashburn, then a broadcaster for the Philadelphia Phillies Baseball Club. While during the broadcast, we only saw Richie for about 30 seconds, the actual interview lasted about 20 minutes. Since Ed was looking just for Richie's answers, Ed Cunningham was not seen on camera but you can hear him speaking "out of the frame."
Watch in Real Video!
Watch in Windows Media!
We heard from Jonathan Brush, son of the former WCAU announcer Joe Brush who worked at the station from 1951 to 1962. Previously, he was with WIP Radio. Jonathan tells us that his dad was a co-worker of Broadcast Pioneers member John Facenda at both WCAU and WIP. Jonathan also mentioned that after leaving Philadelphia, his dad went on to be the 11 o'clock news anchor for WGR-TV. We have in our audio archive, a complete Joe Brush radio newscast from Monday evening, September 15, 1958. It was recorded on a flexible, green nine inch transcription disc. The quality wasn't the best, but we cleaned it up the best we could. We thought you might enjoy hearing part of that broadcast where they talked about the Phillies, Robin Roberts and Richie Ashburn.
Listen with Real Audio!
Listen with Windows Media!
Remember, History is ONLY What Gets Saved!
(If there were no portraits of George Washington, how would we know what he looked like?)
ON THE SCENE: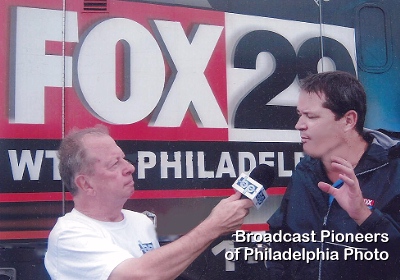 The Broadcast Pioneers Newsletter was "On the Scene" on September 2nd in Avalon with Fox 29's Sean Tobin reporting on hurricane Earl's impact to the Jersey shore. Sean told us:"It's just great to be out in this capacity and the elements as a TV reporter. I was a lifeguard in Wildwood Crest for twelve years early in my life. I love being down the shore."
The newsletter was also "On the Scene" to hear world famous "The Rip Chords" perform a concert under the stars in North Wildwood, New Jersey. Original members Richie Rotkin and Arnie Marcus along with a talented group of musicians provided a memorable performance, particularly their million seller, "Hey Little Cobra" that dominated juke boxes in 1964. Richie said:" This is a legendary place to perform…so close to Philadelphia and some of my best friends, Bobby Rydell, Frankie Avalon and James Darren."
A FINAL THOUGHT....
"I never cursed the alarm clock. Being a broadcaster is something I love. I love the people. I love the audience. I love everything about it. I have always felt blessed to work in this industry."
Bill "Wee Willie" Webber
at a Broadcast Pioneers College Symposium
We welcome your input regarding content, future stories, suggestions, etc. Please contact newsletter@broadcastpioneers.com. Your stories are important, to you, to us, and your colleagues. Contact us today and we'll include your story in the next newsletter!

Photo Editor & Archival Historian - Gerry Wilkinson
© 2010, Broadcast Pioneers of Philadelphia
All Rights Reserved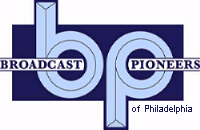 The e-mail address of the Broadcast Pioneers of Philadelphia is pioneers@broadcastpioneers.com
For luncheon reservations call (856) 365-5600 or e-mail us at: rsvp@broadcastpioneers.com