The Broadcast Pioneers of Philadelphia is a federally recognized, state chartered charity. We are a 501(c)(3) non-profit corporation serving Philadelphia since 1962.

Frank Stone
Newsletter Editor

October Luncheon
The Bala Golf Club
Wednesday, October 19, 2011

Reception at 12 noon
Lunch at 12:30 pm
Ratecard: $25 per person

PLEASE RESERVE NOW!
(856) 365-5600
rsvp@broadcastpioneers.com
Another Luncheon
Bigger Than the Last One!
It's Member Appreciation Month!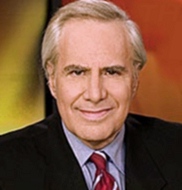 Broadcast Pioneer member Larry Kane, the Dean of Philadelphia News Anchors, will be one of the speakers for our Wednesday, October 19th luncheon. He'll be talking about his brand new novel, "Death by Deadline."
GET A FREE COPY OF LARRY'S BOOK!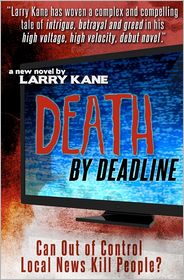 Want to read Larry's book? Well, h ere's your chance to get a totally free copy. Just be one of the first 100 paying members at the door at the luncheon and you'll get a free copy. This is a $10.99 value!
All this season (now 'til June),
we will be celebrating our 50th Anniversary!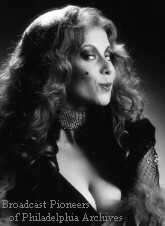 Also on the big show is member Karen Scioli. You might know her as "Re Re DeNucci" from WOGL's "Breakfast Club" with Ross Brittain. However, even more of you will know her as Stella from Channel 3's "Saturday Night Dead" broadcasts from the 80s. Her favorite holiday, of course, is in October (Halloween).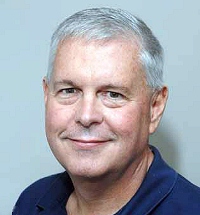 Member Dave Coskey is the new president of Longport Media who just purchased 5 bankrupt radio stations in the Atlantic City area (WOND, WBSS, WTKU-FM, WWAC-FM and WMGM-FM). He'll be talking about where he plans to take the group of stations. Longport just partnered with Sportsradio 94, WIP. WBSS, 1490 is now carrying WIP's programming on the station 24 hours a day. They're calling it "WIP at the Beach." Dave is also dumping the rhythmic "Wild 102.7" and replacing it with a Hot AC format. There have been several articles about Dave and the stations in the last month in the press of Atlantic City. Come to the lunch and find out all the exciting news.
The cost is still only $25 per person. This is our 7th year without a price increase! You'll be served a full-course lunch including salad, entrée, coffee or tea and dessert at 12:30 pm. There's also crudités and a cheese table. Cash bar available all afternoon. Plenty of FREE parking or valet service. The luncheon is open to all our members, their guests and any person in the industry or associated fields, whether active or retired. You do NOT have to be a member to attend. Call NOW with your reservation(s), (856) 365-5600!
Come on out, meet some old friends and make some new ones. Every luncheon is full of special memories that will never happen again. Be there to re-live and share old memories while creating new ones!

Visit Our Website Often - http://www.broadcastpioneers.com

PERSON OF THE YEAR!
HALL OF FAME DINNER!
TICKETS NOW ON SALE!
AND THEY'RE GOING FAST!
145 TICKETS ALREADY SOLD!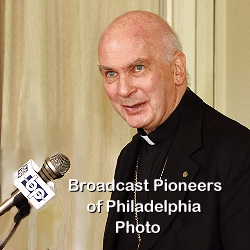 Cardinal John Foley
Broadcast Pioneers Luncheon
Bala Golf Club, Philadelphia
Wednesday, June 15, 2011
(Photo by Broadcast Pioneers' President Jerry Klein)
This is going to be as big as last year!
Our 2011 Person of the Year is His Eminence Cardinal John P. Foley, Broadcast Pioneers of Philadelphia member and a native to this area.
When the Roman Catholic Church needed to tell the world that the cardinals had chosen a new pope, they relied on the traditional plume of white smoke. For more sophisticated communications efforts over the past 20 years, the Vatican turned to Cardinal John Foley. It was he who told the world that Pope Benedict was elected. He began his broadcasting career as a teenager as a WJMJ Radio announcer. He was co-producer and co-host of the Philadelphia Catholic Hour on WFIL Radio. He co-produced 20 television episodes of "The Making of a Priest," for Group W.

In 1984, he was named by Pope John Paul II as President of the Pontifical Commission. It's the office responsible for all the Vatican's print and electronic communications and ministries. He held that post for more than 20 years and was responsible for the Today Show's week-long broadcast from the Vatican. He also was commentator for NBC broadcasts of the Christmas Midnight Mass from the Vatican for 25 years. In 2007, Foley was elevated to Cardinal.
The inductees for our "Hall of Fame" for 2011 (in alphabetical order):
Cherie Bank, former WCAU-TV medical reporter & TV host
Dann Cuellar, reporter for 6ABC, WPVI-TV's ACTION NEWS
Howard Eskin, WIP sports talk host & sportscaster on NBC 10
Steve Highsmith, PHL 17 & NBC 10 host and political reporter
Wally Kennedy, KYW Newsradio anchor/former TV/radio talk host
Tim Lake, anchor of 4 pm, 6 pm & 11 pm news on NBC 10, WCAU
Steve Levy, former anchor/reporter/sportscaster at Channels 3, 6 & 10
Andy Musser, Phillies/Eagles/Sixers sportscaster for 25 years!
Barry Reisman, Philly's Jewish-American radio host since 1965
Stephanie Stahl, CBS 3's medical specialist/reporter and TV host
We will also be inducting 15 people posthumously into our Hall of Fame. All posthumous honorees will be honored in one short video that evening. They are:
Larry Brown, former WPEN Radio air personality/TV pitchman
Dick Covington, former KYW Newsradio anchor/ID announcer
Jack Creamer, "The Handyman Show" host on WIP & Channel 3
Tommy DeNoble, Bandstand regular & TV host/singer/engineer
Bob Dome, former broadcast advertising executive extraordinaire
Randy Kraft, former TV news anchor and actor on "General Hospital"
Jack Lamar, all round Philadelphia area broadcaster & announcer
Don Lancer, former KYW Newsradio anchor known as "The Dean"
Norman Leebron, producer, sales manager and all-round broadcast guy
Helen Lipkin, former 30s/40s WDAS kids show host & WPTZ personality
Mac McGuire, DJ and singer on WPEN, WIP, KYW and WCAU Radio
Tom Moorehead, former WFIL-TV sports director and TV personality
Roy Neal, former WIBG announcer, WPTZ personality & NBC newsman
Charlie O'Donnell, Bandstand announcer, movie host/network announcer
Joel A. Spivak, former WCAU Philadelphia TV & radio air personality
Opening the program will be Bill Roswell of KYW Newsradio singing our National Anthem and thenW. Carter Merbreier, also known as Captain Noah, giving the invocation. Then we'll show some video clips from our archives.. We would tell you more but we don't want to would ruin the surprises.
Tickets are now on sale. Prices are $80 for the member (each member can buy ONLY one ticket at the member price) and $95 for everyone else (including spouses, friends and guests). The event will once again take place at the beautiful City Avenue Hilton, 4200 City Avenue, Philadelphia. The date is Friday, November 18th. Reception is at 6 pm and dinner will be served at 7 pm. Doors open at 5:45 pm. Cash Bar all night long. Valet parking is $10. Event lot parking is $5. Make plans to be there! Just click here for our reservation form. Just print, fill in and mail. Don't forget to include your check.
WELCOME NEW MEMBERS:
FULL MEMBERS:
Bill Webber, Jr. has been in the business since 1976. He's the son of legendary broadcaster Bill Webber, our beloved former president and chairman of the board. Bill, Jr. was an air personality and music director for WIOQ. He's currently the Director of Development for RCS owned by Clear Channel. Bill, Jr. made his first TV appearance in 1964 with his dad. The spot was for the old Penn Fruit supermarket chain.
Pamela D.Tuckey started in the business in 1994. Pam is Vice-President of TNT Amusements and is married to member Todd Tuckey. Pam worked on the original TNT Amusements Infomercial back in 1995 and also one in 2002. She is one of the people in charge of maintaining the 16 mm film library for TNT Amusements in Southampton, Pennsylvania.
Bev Aaron worked at WFIL-TV/WPVI-TV from 1966 to 2009 as a news editor, news cameraman, and documentary producer. He produced the show "Prime Time" with Jim O'Brien and later with Gary Papa. He is now the president of Bevu Productions in Cherry Hill. Look near the bottom of this newsletter for a photo of Bev and Jim O'Brien taken right after Jim's first skydiving jump.
Jeff Benton has been in our business since 1966. He is currently an adjunct professor at Widener University in Chester, PA. Early on, he was a DJ at WGET in Gettysburg and then at WHVR in Hanover, Pennsylvania. He was also a producer for the US Army Mobile TV unit and has done lots of freelance work as a videographer and master control operator.
Stan Elkman (you should all remember Elkman Advertising) has rejoined our organization. He was one of our founding members. He now lives in Delray Beach, Florida from October to May and returns to Philly for June through September. Stan and member Don Rosenblit started Elkman Advertising here in the Delaware Valley during 1955. Stan was very active in our organization throughout the years. Welcome home, Stan!
Sandee (Clark) Bengel has been in this business since the year 1976. You may remember her voice from the "Big Blue Marble" children's television series. She's done films, commercial work, print projects, TV shows, performed in cabarets and sang at the Miss New Jersey Pageant. She's also a member of SAG and AFRTA. Needless to say, Sandee is a very talented person.
ASSOCIATE MEMBER:
Julia Wierski started in the business in 2002. She was an on-air host and engineer at WPRB in Princeton and has worked at WFMU in Jersey City. She's currently at WHYY-FM as associate producer for "You Bet Your Garden" (hosted by Broadcast Pioneers member Mike McGrath) and is also with the Prometheus Radio Project.
We are thrilled to have these new members. They've helped to bring our total membership up to 443 (an all-time record). We hope to see as many of you as possible at the October luncheon and at our banquet in November.
DIGITAL ARCHIVAL PROJECT NEWS: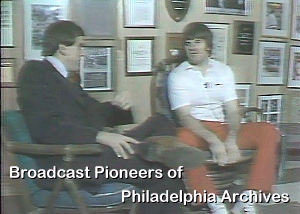 (Left to right) Don Tollefson and Pete Rose
Rose's home in Cincinnati
1979
Here's a piece that WPVI-TV called "Philadelphia Pete." The station sent Don Tollefson to Cincinnati to interview Pete Rose who was coming to Philadelphia. Our transfer comes direct from a WPVI-TV 3/4" video tape. However, it is a generation down. Why? Well, this 3/4" recording consisted of various reports. This was taken from an aircheck and then dubbed onto the final 3/4" tape. In our opinion, the Real Video version is slightly clearer and cleaner.
Watch in Real Video!
Watch in Windows Media!
We have in our audio archive a 7 minute cut of Jack Pyle doing the morning show on WRCV Radio, now KYW Radio. At this time, the station was owned by NBC. Jack tells a story about Robin Roberts, a famous baseball pitcher for the Philadelphia Phillies. He also talked about John Franklin (a WRCV air personality), Skip Clayton (a WRCV newsman) and Tom Pettit (who was a WRCV newsman until he left to head up the Washington Bureau of NBC News). The date is August 6, 1962. The day after Roberts pitched for the Orioles. Even though this dates from 1962, the original recording was on transcription disc. We were able to clean it up pretty well. Be advised that the tonal quality is not high fidelity. However, that's how it was on the original recording.
Listen with Real Audio!
Listen with Windows Media!
IN TOUCH WITH OUR MEMBERS:
Member Bunny Gibson just filmed a new music video with Ronnie Radke. Bunny, who danced her way to fame on American Bandstand, told us that she played Mindy Parsegian, a Philly showgirl, on "The Protector." If you haven't seen it, it's a drama series about a divorced homicide detective on Lifetime Cable. The episode aired Monday, September 12th, at 11 pm. The series premiered in June of this year. Bunny says:
The show has a Philly storyline!!! My scenes were with Miguel Ferrer and Peter Henry played my husband.
If you've missed the fact that members Frank Maffei and Joe Terry, founding members of "Danny and the Juniors," are huge Philadelphia Phillies fans, you must have been living in a cave with no radio, TV or Internet. They were so thrilled with the Phillies and their success this year that they gave away downloads of their new song, "Baseball's Four Aces." 200 lucky people got the song free. Joe Terry said:
We wrote the final stanza that salutes the bullpen, power, speed, coaching and management so the Phillies and the fans would know we are respectful of their entire game.
Member Peggy King, former girl singer from the George Gobel TV Show, has her on own Internet radio show on WYYR.com, Yesteryear's Radio's Big Band Live Internet station. It's on during the fourth Sunday of every month. The next one will be at 7 pm on Sunday, October 30th. It's called "Off the Cuff" and is two hours long. The show has been running since June. All the old broadcasts are archived here for your listening pleasure!
Member Al Meltzer, known to most as "Big Al," has a new 208-page book. It's entitled "Big Al: Fifty Years of Sports Broadcasting." It will be in stores on October 20th and can be pre-ordered from Amazon at a discounted price. In the book, Meltzer discusses many of the personalities that he has known over the years. The foreward is by member Jack Whitaker. It's also available as an e-book.
Gerry Wilkinson, our Chairman of the Board, has two daughters: Maya, 33, and Zara, 26. The younger daughter works at Temple University as a librarian. A few days ago, a communications student came up to her and said, "I know you. Your dad is one of the Broadcast Pioneers." She met Gerry and Zara at our Career Night at Temple this past March. The student said that she had a great time and learned a lot. She also mentioned that she has a photo of her with Pat Delsi (one of our Career Night panelists) on her refrigerator.
WE REMEMBER:
Member Nessa Forman, 68, died in mid-September from pancreatic cancer. She worked for almost two decades at the Evening Bulletin, ending up as "The Arts and Leisure Editor." In 1983, she joined WHYY and stayed almost a quarter of a century as a station VP. She was the interim executive director of the Gershman Y in downtown Philly and was a consultant for the Christ Church Preservation Fund. Bill Marrazzo, President and CEO of WHYY, Inc. said:
She wished to be remembered as vibrant and fully engaged in her community and she was! Few professionals reach the levels of accomplishment that Nessa did. Rarer still is a colleague who touched many of us so personally. While we will miss her company, we still have the presence of her values to comfort us!
Karin Phillips, 53, who has been with KYW Newsradio since 1979 passed away in mid-September from a brief illness. She started there as a production assistant and worked her way up to reporter, writer and daytime editor. In 2009, Karin received the Human Rights Award for Arts and Culture from the Philadelphia Commission on Human Rights. Karin's voice may have been silenced, but it will never be forgotten.
We heard from member Sheree Goldflies who told us that Betty McGuigon, a 30 year veteran of NBC 10's sales department, passed away on August 29th. Betty had been ill for some time. McGuigon loved her summers in Wildwood and took alot of pride in the Philadelphia Mummers tradition. Watch a tribute to her on NBC 10!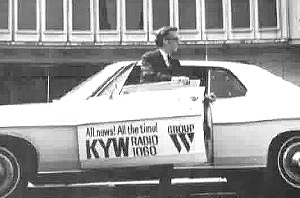 Jack O'Rourke, 80, passed away a few weeks ago, immediately after Phillies game updates that evening for KYW Newsradio. In the early days of the all news format, Jack was a news anchor. He then went to NBC and then returned to 1060. Member David Madden, a news anchor for the station, said:
Jack had a joy for life that was absolutely infectious to everyone he touched. He looked forward to spring training and covering every game and it's just not going to be the same without him.
Imogene Gluck, 89, worked in public relations and with radio station WCMC (Wildwood, New Jersey). She was part of a morning show entitled "Jean and George." She was a teacher of gunnery to World War II aviators at Naval Air Station Wildwood. She primarily trained crews for the "Hell-Diver" SB2C dive bomber, also known as "The Beast." Imogene passed away last month.
ON THE HEALTH FRONT:
Member Michael Yip e-mailed us to say that member Sally Starr fell and broke a femur last month. Sally was in the hospital and then transferred to rehab and then sent back to the hospital. They are trying to get her to put on weight. Michael tells us that Sally is down to only 80 pounds. Sally's brother-in-law is taking care of her two cats. Get well soon, our gal Sal!
Andrea Mitchell has breast cancer. She told the world early last month. Andrea has been with NBC News for decades. Prior to that, she was a staff news reporter for KYW Newsradio. She says that the cancer was caught early and it had not spread. Mitchell is already back on the air. You can listen to Andrea on KYW Newsradio in 1972 right here on our website.
Gerry Wilkinson, our Chairman of the Board, was diagnosed with Meniere's Disease on September 12th. Meniere's is an inner ear disorder that can affect balance and hearing. It is not life threatening. Gerry has been put on a low sodium diet. There is some good news in all of this. His September hearing test shows an increase in hearing level by 15db after being on the low salt food for about four weeks. Right now, his hearing is clear with no distortion. Doctors say that the improved hearing could be temporary. Only time will tell.
Member Bobby Kravitz has been in and out of the hospital all summer. Bob spent several days in the hospital in September for surgical repair to his Ureter. Bob said, " Because of my bladder and prostate removal, I am cancer free, but the chemo has given me afterlife havoc." We note that Bob has become an advocate, helping others cope with colostomys and urostomys and teaching patients how to care for themselves.
Almost a month ago, Broadcast Pioneers member Sam Lit, son of Hy Lit, suffered a traumatic car accident. Sam is recovering at the University of Pennsylvania Hospital and would be happy to receive wishes for a speedy recovery. If you have any questions, please contact Sam's sister Benna Lit (also a member of the Broadcast Pioneers). Benna's e-mail and phone number are listed in our membership directory. Get well Sam!
In 2009, Sam interviewed Charlie O'Donnell for the Broadcast Pioneers. Charlie will be inducted into our Hall of Fame next month. Listen to the interview.
WE REALLY DON'T LIKE TO KEEP MENTIONING THIS BUT:
Four and a half months ago, you should have received your membership renewal form. Current membership expired at the end of June (unless you've already renewed). Memberships of those who joined in the early part of this year will expire in 2012. Remember that Broadcast Pioneers is a mainly dues-supported non-profit organization that is federally recognized and state chartered. We have charitable status for federal income tax purposes. For those of you who wish to do so, there is a place on your renewal form to make an extra contribution to this organization. If you can do so and want to help out, an extra contribution would be appreciated. It will help keep Broadcast Pioneers strong. Check with your tax advisor, because membership dues and donations may be deductible on your federal income tax. Send in your renewal now if you haven't already done so. Why? Your membership expired about 14 weeks ago. Please take a minute and mail it back today. Broadcast Pioneers thanks you for your continued support.
ADVERTISE IN OUR BANQUET BOOKLET:
The t ime has come to start thinking about whether you wish to purchase an ad in the banquet booklet for our November 18th Person of the Year/Hall of Fame Dinner. The cost per ad has NOT increased in the last five years. Last year, we had 376 people attending the banquet. We're giving you a chance to reach more people for the same cost. Ads start at $175 and profits help fund all the activities of our organization. Call or e-mail us. Contact Vice-President Frank Stone. His e-mail and/or phone number is at the bottom of this newsletter. Consider running a congratulatory ad for one or all of our honorees. Thanks for your support. You help keep Broadcast Pioneers strong! Thank you!

Did you know...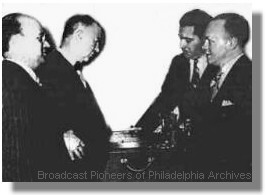 At the WRTI Dedication Ceremonies on January 22, 1948
Grouped around a recording instrument at WRTI are (left to right) Joseph First, Vice-President of Triangle Publications; Dr. Robert Johnson, President of Temple University; Walter Annenberg, owner of The Philadelphia Inquirer & the WFIL stations; and Roger Clipp, General Manager of the WFIL stations.
While we are aware that there is at least one error (or more) in this historical document, we are presenting it exactly as written by Roger Clipp in October of 1964.
The Early History of WFIL
By Roger W. Clipp
General Manager of the WFIL Stations
On St. Patrick's Day 1922, Strawbridge & Clothier - one of the "big five" department stores in Philadelphia started broadcasting from its store with the call letters WFI.

In 1923, another of the "big five," Lit Brothers, started similar operations from their store, using WLIT call letters and sharing time with WFI.

In 1926, the stations began network service from NBC.

The "rug department" broadcasting operations prospered to the point where in 1935, the two stores merged the two stations - chose WFIL for the call letters - and formed a corporation, WFIL Broadcasting Company. They brought key men from NBC - among them the writer - to Philadelphia to run the newly-merged station. And WFIL was now a full-fledged, independent business operation - completely divorced from the status of a promotion device of a department store operation.

Before long, success made it imperative to move the operations out of the "rug departments" of the two stores and in the fall of 1937, WFIL moved into new quarters including studios and offices atop the Widener Building, a well-known, centrally-located office building.

The station settled down to real business in its new home and began racking up firsts that were simply predecessors of a very long list. To name a very few:
WFIL-FM began operation in 1941, the first commercial FM station in the United States with a completely separate program schedule.

In 1943, WFIL introduced the "Studio Schoolhouse" series which was the first in-school listening program in the nation and which has continued, uninterrupted throughout the school year, ever since.

In 1944 the station launched "Within Our Gates," an award winning series of radio dramas presented in cooperation with the Philadelphia Fellowship Commission which ran for more than ten years.
Close attention to public service and to advertisers' needs engendered a healthy operation and in 1946 Triangle Publications purchased the WFIL stations.

A new building was designed and built at 46th & Market Streets in Philadelphia to house the television operations. This building, incidentally, was the first one in the world to be designed and built expressly and exclusively for telecasting operations. From the first day of televising - September 13, 1947 - WFIL-TV has had a DAILY television newsreel program - again the first station in the United States - which won a National Headliner's Award in 1948, the first television station so honored.

1947 saw WFIL begin the "Triple X Campaign" to combat tuberculosis which brought the station the Du Pont Award in March 1948.

Realizing that broadcasting had come of age and should be considered a career to be prepared for by young people, WFIL helped establish a communications school at Temple University, Philadelphia, to provide collegiate facilities and training for young people desirous of obtaining a Bachelor's degree in the field.

By now, color was ready to be introduced as the youngest of the broadcasting family and again, in 1947, WFIL-TV was the first station in Philadelphia to telecast color programs on a regular basis.

Just before the year ended - on December 30, 1947, WFIL added facsimile, thereby becoming the first station with all four methods of transmission - AM, FM, TV, and facsimile.

WFIL-TV early in 1948 moved into its brand new broadcast building at 46th and Market Streets and during the same year, became the first affiliate of the ABC-TV network, and the first programs broadcast over the ABC-TV network facilities were originated at this location by WFIL-TV.

WFIL management's presentation, through the city's committee, of the broadcasting advantages of selecting Philadelphia for the site of both large political conventions in 1948 was an important factor in the Site Committees' selecting Philadelphia for their 1948 conventions. (It should be remembered that in 1948 the coaxial cable ran only from Boston to Washington with a spur to Chicago). WFIL personnel therefore were in with "both feet" during these 1948 political conventions.

But regular day-by-day operations continued including of course public service programming and in 1949 WFIL was presented with the Alfred P. Sloan Highway Safety Award for its "Silly Willie" traffic safety campaign.

1950 saw the inauguration of more public service efforts: the "University Of The Air" Monday through Friday programs, produced in cooperation with some twenty colleges and universities in the area were introduced which series, incidentally, won a second Du Pont award making WFIL the only station to have won two Du Pont awards and this program, like the "Studio Schoolhouse" program started in 1943, continues uninterrupted during the collegiate semesters. WFIL-TV therefore was the first station to telecast educational courses at college level five days a week.
OUR NEXT COLLEGE STUDENT SYMPOSIUM:
The next Broadcast Pioneers Symposium for area college students will be on Saturday, October 29th, from 9 am to 12 noon at the facilities of NBC 10. Details about the symposium are on our website. As of press time, there is still space available. Next year (2012) the symposium will be at CBS 3 and The CW Philly 57. Last year's event was at 6ABC, WPVI.
MORE DIGITAL ARCHIVAL PROJECT NEWS:
For more than two decades, Broadcast Pioneers of Philadelphia has been recording oral histories of Philadelphia broadcasters. Number 33, recorded last month (September 19, 2011), is an interview with with Lee Morgan, a torch singer on local radio including KYW. Broadcast Pioneers member Liz Matt conducted the interview with board member Brad Seecof and member Steve Sacks running camera. We have it in two versions: one for DSL connections and the other for faster cable and Fios connections.
Watch with Windows Media (DSL)
Watch with Windows Media (Cable and Fios)
Broadcast Pioneers member Ed Harvey did a telephone-talk show on WCAU Radio for years. On during the early afternoon, it was one of the most popular programs of its type. He had many well-known celebrities on the broadcast. On October 28, 1965, his guest was Jean Dixon, popular psychic of the era.
Listen with Real Audio!
Listen with Windows Media!
Remember, History is ONLY What Gets Saved!
(If there were no portraits of George Washington, how would we know what he looked like?)
MORE IN TOUCH WITH OUR MEMBERS:
Member Valerie Morrison is proud to be back with WWDB and can be heard at 860 AM, 12:30 to 1 pm every Monday. Member Pearl Polto can be heard on the same station just before Valerie's show. Catch Pearl from 12 noon to 12:30 pm.
Member Charlie Gracie has a new CD being released on ABKCO called "For the Love of Charlie." It's produced by Al Kooper. Appearing on the CD with Charlie are Graham Nash, Peter Noone, Lenny Kravitz and many others. This month Charlie is touring England, Wales and Italy.
Last month, member Pat Ciarrocchi was the keynote speaker at the 12th annual Camden County Women's Health Conference in Voorhees Township in New Jersey. It was an all-day affair and included workshops ranging from yoga to zumba dancing to wellness, financial planning and legal issues.
On September 22nd, member Maura McKinney Mastro had the honor of singing the national anthems of the USA and Ireland at a major American/Irish boxing match which took place in North Wildwood at the Irsh Festival. She performed at the outdoor stage at 2nd & Olde New Jersey Avenue two days after.
Member Charlie Gracie will receive a Lifetime Achievement Award from Philadelphia Row Home Magazine on November 3rd. It's a black tie affair at "Vie" located at 600 North Broad (off Green). Bill Conlin is also receiving an award that evening. Charlie and Bill will adorn the cover of their November issue.
Member Kenny Jeremiah is back at LaPiazza Restaurant and Lounge in Wildwood, NJ. He's there this Thursday, October 6th, and the following Thursday. Kenny will also be there along with Bittersweet this Saturday, October 8th.
More congrats go to member Jerry Lee. Jerry was this organization's 16th president and our 16th chairman of the board. His "baby" is B-101 and that station won the Marconi Radio Award for "Major Market Station of the Year" given by the National Association of Broadcasters.
Member Jane Norman, better known to most as TV's Pixanne, was featured in a Philadelphia Inquirer article this past Friday. The article was called "From Woodland to Skyrise" and was written by Sally Friedman. Click here to read the article and see three photos.
Broadcast Pioneers member Liz Matt has told us that she and member Dave Coskey (one of our speakers at this month's luncheon) go way back. Seems that they both worked at a local grocery store in Avalon, NJ, in the late sixties. Dave was a stock boy and Liz was a cashier. We're sure they're not the first broadcasters to get their early work experience in a grocery store.
Broadcast Pioneers member Eleanor Faragalli recently celebrated her 80th birthday with a bash at the famed Yangming Restaurant in Bryn Mawr. Ellie worked for many years at WFIL until Mike Douglas came along and took her to Hollywood to work for him as secretary, assistant planner, scheduler and everything else the job required. Yangming was selected earlier this year as the Best Chinese Restaurant in America by an association of Chinese restaurant owners. It is a favorite of several of our members including Herb Clarke, Les Waas and Gerry Wilkinson.
THANK YOU:
As we do every month, we want to thank Broadcast Pioneers member Johnny B. Hall for his monthly cash donation to our DAP, Digital Archival Project. However, Johnny has hit a home run! When we opened up his July contribution, imagine our surprise when we noticed that Johnny had increased his contribution by 50%. August's contribution was the same amount. Thanks, Johnny! Our Digital Archival Project keeps on moving along.
Johnny surprised us with a $500 check at our September luncheon. This money is going to go towards our scholarship fund. Hall says that he's planning to contribute to our fund every month. Thanks, Johnny. It will go a long way to help out some deserving college students.
Thanks to Stan Elkman for his generous contribution to our scholarship fund. Unlike a lot of other organizations, we use every penny donated for scholarships for that purpose. We do not deduct any administrative costs at all, so the entire contribution goes to aid college students.
Also member Bob Backman added a contribution when he sent in his membership dues renewal. We thank every one of you who has elected to keep us help our archives going, the organization strong and educate the Delaware Valley about the great Philadelphia broadcast market.
If you forgot to make an extra contribution (cash or memorabilia) and would like to do so now, it's never too late. We would be thrilled to hear from you at: PO Box 2886, Bala Cynwyd, PA 19004.
A LITTLE BIT OF HISTORY
!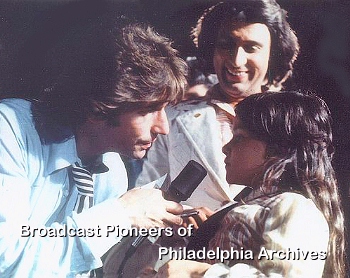 (Left to right) Henry Winkler (the Fonze), member Ron Joseph (RJ) and unidentified girl
from RJ's TV Show recorded in Hollywood
1974
IN TOUCH WITH THE INDUSTRY:
The NEW Talk Radio 1210's Michael Smerconish put 400 listeners on 8 buses on Saturday morning, September 10th, and they all took part in the dedication of the first phase of the Flight 93 National Memorial in Shanksville, PA.
The 98.1 WOGL Loves Our Kids Radiothon benefiting Children's Miracle Network (CMN) at The Children's Hospital of Philadelphia was held on September 9th and 10th. Pledges and donations raised during the two-day event benefit patient care programs at Children's Hospital. Over the past ten years, 98.1 WOGL has raised more than $4.8 million for The Children's Hospital of Philadelphia. Harvey Holiday extended the fundraising as he hosted a very special edition of his "Streetcorner Sunday" show on Sunday, September 11th. It was a mini-Radiothon asking listeners to donate and become a "Holiday's Hero." Harvey's total last year was over $12,000 in this one special night with a total of almost 68 grand to date.
On September 27th, NBC 10 hosted a live one-hour town hall meeting with Philadelphia Mayor Michael Nutter. They referred to it as a "social media-driven" event. The first half-hour was carried live from 7 to 7:30 pm on NBC 10 with the entire hour (7 to 8 pm) carried on NBC Non-Stop, Channel 10.2. It was also streamed live on the station's website. The Mayor answered questions submitted through Twitter.
The last part of September saw the Rachael Ray Show (seen locally on 6ABC) deal with "Philly Eats." Monday, September 26th was the great Philly Grill-Off which was recorded at 10th and Wharton Streets in South Philly. The three local contestants were judged by Philly's own Patti LaBelle. Also, we saw Rachael and "friends' transform a vacant lot into a Community Garden area. Nice job!
Patrick Paolini started yesterday as senior vice-president of Fox station sales. He's responsible for overseeing sales at the 27 Fox O&O stations including Channel 29 here in Philadelphia. Previous to his new gig, he was vice-president and general manager at WTXF, Fox 29. And speaking of 29, they have a new reporter, David Kinchen. He comes to the station from WEYI in Saginaw, Michigan.
Sarah O'Connor has been bumped into the PD job at "Hot 107.9," WPHI Radio. She was previously assistant program director. Before that she was the marketing director for WWPR Power, 105.1, Clear Channel's outlet in the Big Apple.
Tony Bruno returns to Philadelphia and WPEN Radio this month after leaving town earlier this year. He rejoins his ex-partner, Harry Mayes.
In the October 2011 issue of Philadelphia Magazine, Michael Colleran, former president and general manager at CBS 3 and the CW Philly 57, wrote an article about the old days of TV comparing it to today. He mentioned some of our members. You can read the article here!
Within hours of our last luncheon, CBS 3 news anchor Susan Barnett gave birth to her third child. Cruise Theresa Persichetti was born on Wednesday, September 21st at 6:03 pm. She weighed 6 lbs, 4 ozs and is 19.5 inches long. Susan is married to Dr. Greg Persichetti. The couple has two other children. Steele is 14 months old and Blase is almost 5 years old. Congrats.
Lights for the Cure, the area's first public service campaign that used the lighting of buildings and landmarks to promote a cause, is lighting up the skyline pink for the 10th year in a row this month in an effort to encourage women to schedule a mammogram. Launched in 2002 by CBS 3 and the Philadelphia Affiliate of Susan G. Komen for the Cure, the campaign started with just 19 buildings and now includes more than 100 participating buildings and landmarks. By the way, we heard member Pat Ciarrocchi speaking about this on "Reporters Roundup" on KYW Newsradio yesterday afternoon.
Cape May County's first Catholic radio station will begin broadcasting in November. Located at 91.9 on the FM dial, WSMJ (licensed to North Wildwood and offices in Cape May) will feature programming from EWTN (Eternal Word Television Network) Radio 24 hours per day. The low-power station will cover an area from Cape May to Ocean City, New Jersey. The frequency is new for the area. Their tower is located in Burleigh.
Usage of broadcast websites seem to have increased in the last year. While we are pretty sure that most broadcasters are seeing this, here's some proof. NBC 10 announced today that during August of this year, the NBC 10 website and the other nine network O&O's saw an increase of "unique visitors." Shawn Feddeman Cronin of NBC 10 said that website usage had increased by 33% over last year. It just goes to show how important the web has become as a communication tool.
For those of you who enjoy classic TV shows, Antenna TV (on Channel 17's sub-channel 2) carried on Comcast on Channel 252 has just added to their schedule some shows we haven't seen around recently. Some of these are Alfred Hitchcock Presents (the old 30 minute shows), Adam 12, Dragnet, McHale's Navy, Jack Benny, It Takes a Thief, SWAT, Bachelor Father and Kraft's Suspense Theater. These join Burns & Allen, Father Knows Best, Dennis the Menace, Rin Tin Tin and Gidget on the fall schedule.
ON THE SCENE:
On the Scene was in North Wildwood, New Jersey, a little while ago for the annual Mummers Strut, where most of the top ten winning bands from the New Year's Day parade perform their routines. We had a chance to speak with several participants.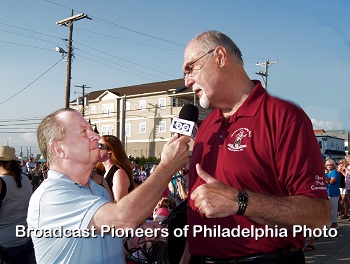 "Big" Bob Shannon, President of the Philadelphia Mummers Association, was on hand for the festivities. Bob told us, " We love being here…it's a lot of Philadelphia people. We have nine bands here today. It's just a beautiful day. Some people don't recognize you, but I do. You were the son-in-law of the greatest musical director ever to walk in front of the Quaker City String Band, Johnny Mayer! And, oh, by the way I'll be at the banquet in November." (Thank you, Bob!)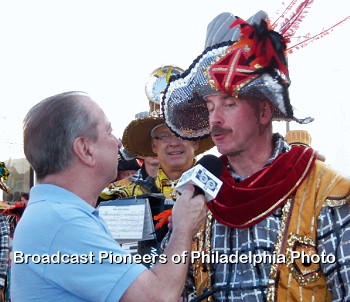 Michael Fischetti, President of Ferko String Band, was out in front of the band and said, "It's awesome to be here today. What's not to like about being in Wildwood this time of year."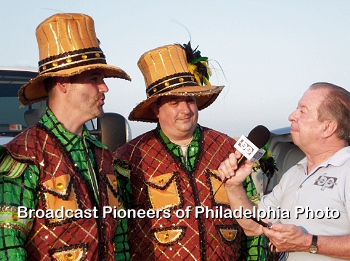 We also spoke with Jay Nestor (Costume Chairman) and Eric Leso (Presentation Director) for Ferko String Band. This New Year's day will be Jay's 12th year up Broad Street. He works with other committee members to create the costumes and put the show together. Eric Leso said, "Every job we do is important to the band. The more we can do, the more it helps in defraying the costs of tens of thousands of dollars in expenses we experience every year. It's just great to be here!."
Editor's note: Because Steve Highsmith is being inducted into the Broadcast Pioneers Hall of Fame in November, we've been seeing significant support from the mummers.
A REVIEW OF THE SEPTEMBER LUNCHEON: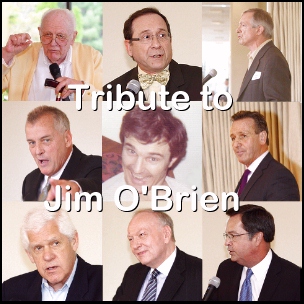 Our September luncheon was a compelling remembrance of one of Philly's favorite broadcasters and celebrities, Jim O'Brien. Filled with fond memories and humorous stories, the speakers made you laugh as well as shed a tear. Our MC for this afternoon was member Steve Levy. Our speakers were:
Tom Burton, formerly of the WFIL Radio, Famous 56, Prize Patrol
Jim Gardner, Action News anchor for a third of a century at WPVI-TV
Marc Howard. former co-anchor with Jim O'Brien on Action News
Lisa Thomas-Laury, anchor and reporter for "Action News' on 6ABC
Carter Merbreier, that rascally ol' Captain himself, Captain Noah
Art Moore, Program VP for WABC-TV/producer of "Regis & Kelly"
Scott Palmer, PR Director for the Phils and former sports guy at WPVI
Glenn Schwartz, NBC 10 Chief Meteorologist & O'Brien Intern
Plus, live on the telephone was one of Jim's co-hosts from "Dialing for Dollars," member Connie Roussin Spann.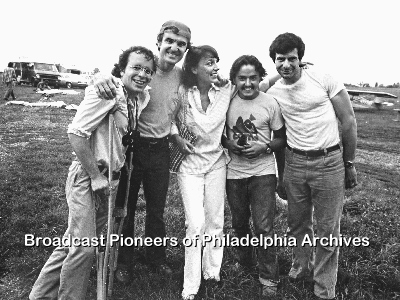 (left to right) Bev Aaron, Jim O'Brien, Monica Weaver, Vincente Juarbe and Ken Basmajian
Five minutes after Jim O'Brien's first skydiving jump
New Hanover Airport, just off of Route 663
1978
ABOUT THE PHOTO: Broadcast Pioneers member Bev Aaron e-mailed us:
The date of the photo was Saturday, August 12, 1978, about 3pm. I was on crutches because a month before, I had jumped from the same plane that Jim used, with the same jump instructor, Bob Young, of the United Parachute Club, at the same place, New Hanover Airport (owned by Duke Henley) in Montgomery County. Because I landed incorrectly, I broke my right ankle and tore the ligament in my right leg.I felt the jump was necessary in order to understand what Jim would be experiencing. This helped me film and write the first Prime Time Show (aired 7:30 pm, 9/16/1978), that featured Jim's first jump. In terms of filming, cameraman Ken Basmajian was in the plane with Jim, who was wearing a small helmet-mounted "gun camera," as well as a small Nagra SN tape recorder. Additionally, we had a camera mounted on the wing. It faced Jim as he exited the aircraft. Vincente Juarbe and myself each had cameras shooting Jim from the ground. Being acrophobic, I never jumped with Jim. Most weekends when he was sky-diving at New Hanover, I was scuba diving off Tom's River.

Monica was Prime Time's first editor. That day she was running sound -- she carried the Sennheiser shotgun wired into a Nagra IV tape deck that was umbilicled to the Arriflex BL. Glad you're running the picture. For decades people have connected Jim with the tragedy of his last sky-dive. Nobody remembers the great joy he took in the sport.
Here is some of what they had to say…
Steve Levy… "He was highly competitive, very intense and a perfectionist. One of the most popular people to ever be behind a microphone in this town."
On the telephone from Florida was Connie Roussin Spann, Jim's co-host on Dialing for Dollars. Connie said, "When he first arrived on the set, he kept calling me Ma'am all the time. I didn't realize that he was so polite until I moved to the south and was called this all the time. He was a good ol boy…who always wore his boots on the set."
Don Tollefson… "The single most focused broadcaster I ever met. He constantly strove to get better. His motto, respect the viewer and the listener. The most important thing I learned from him, Jim said, live in the moment, because we're never sure about the next moment."
Glenn Schwartz… " I was an intern for Jim O'Brien. I was in awe of this guy…he had the look, the voice, and the humor. I would give him the forecast and an explanation. He always changed the words, but explained the weather the way it should be done. That was almost 40 years ago andI didn't believe I could do it. Now 30+ years later, I'm still in awe of Jim O'Brien."
Carter Merbreier… "He was a young fella, super guy and friend. Mrs. Noah would sew buttons on for him! He also could down her chili and bread with a little wine. He was an extraordinary personality and a reflection of the people who surrounded him like Art Moore."
Marc Howard… "Jim was a tough guy, every broadcast was like a football game…it was life or death, win or lose."
Scott Palmer… " I had a great insurance policy when I first went to channel 6; it was Jim 'O Brien. On my first day he took me aside and said, don't worry there's nothing you can get us into that I can't get us out of. Jim was a little bit like magic every day!"
Tom Burton ""His attitude, drive, and intensity, regardless of the situation, always saved the day. For all we went through. To this day, I feel Jim is still with me."
Art Moore… " We wound up having an incredible friendship. He wanted change and to try new things. There was only black and white with Jim O'Brien; there were never any gray areas. You always knew where you stood with Jim. Often on weekends he would fly a plane. One weekend he asked me to fly to Buffalo. We landed at the airport, and he wanted to turn around and come right back. I convinced him to have a hamburger at the airport…he just wanted to go to Buffalo and come back! The viewers saw an incredibly unique person who could communicate in some of the best ways I ever heard. There's not a day goes by, I don't miss him."
HEARD AFTER THE LUNCHEON:
Kal Rudman… "Jim O'Brien was a Top 40 disc jockey. I dealt with him to plan what he played on-air. That was long before his TV days. On television he did weather like a fast talking DJ…he had fire in his belly and high energy…he was perfecting projecting off the tube."
Tom Burton… "Jim was a professional colleague, he was a friend…he always had your back…he was one of the best."
Paul Big Bear… "As always Broadcast Pioneers has brought out the best. Today these folks remembered that Philly has the best talent and always will."
Mike Nise… "I knew him. He actually recorded a song for me. I didn't realize the depth to which Jim took his work so seriously. He was a gentle man."
Steve Levy… "I think people here who didn't know Jim have a pretty good idea who he was. We were like brothers, he was my daughter's god father and a family member."
Art Moore… " I thought today was terrific. There was so much from the heart and so genuine. I wish he was here today and every day because I so valued his candor."
A FINAL THOUGHT....
When someone complained that the weather didn't turn out as predicted, Jim O'Brien said:
"Look, lady, I just report the weather. I don't make it."
Jim O'Brien
(as told by Broadcast Pioneers member Marc Howard)
Please contact us by e-mail at newsletter@broadcastpioneers.com. Your stories are important, to you, to us, and your colleagues. Contact us today and we'll include your story in the next newsletter!

Photo Editor & Archival Historian - Gerry Wilkinson
© 2011, Broadcast Pioneers of Philadelphia
All Rights Reserved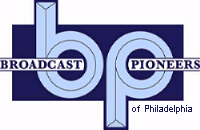 The e-mail address of the Broadcast Pioneers of Philadelphia is pioneers@broadcastpioneers.com
For luncheon reservations call (856) 365-5600 or e-mail us at: rsvp@broadcastpioneers.com