The Broadcast Pioneers of Philadelphia is a federally recognized, state chartered 501(c)(3) non-profit corporation serving Philadelphia since 1962.

Ed Eisen
Guest News Editor

October Luncheon
The Bala Golf Club
Wednesday, October 17th, 2012

Reception at 12 noon
Lunch at 12:30 pm
Ratecard: $28 per person

PLEASE RESERVE NOW!
(856) 365-5600
rsvp@broadcastpioneers.com
Another "Third Wednesday" Spectacular
Wednesday, October 17th
How Broadcasting Covers the Elections!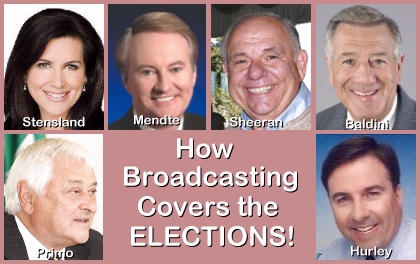 The new season of luncheons marches on! Our next one will be on Wednesday, October 17th. Our luncheons are ALWAYS on the third Wednesday, hence the name, "Third Wednesday." Hopefully, this will help people remember when they are.
Well, our October "Third Wednesday" luncheon topic is one that is as current as today's news: how broadcasting covers the elections. It's not about the candidates but about the journalists who cover them.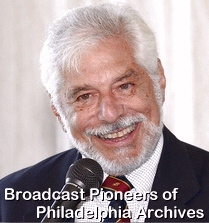 Broadcast Pioneers member Jay Lloyd
Our moderator for the luncheon is Broadcast Pioneers member Jay Lloyd of KYW Newsradio. (By the way, Jay will be inducted into our Hall of Fame in November). Our panelists include these six Broadcast Pioneers members (in alphabetical order):
Bill Baldini, former WCAU-TV, Channel 10 news reporter
Harry Hurley, host of "Hurley in the Morning" on ESPN 1450 AM
Larry Mendte, former TV anchor, now morning drive on WWIQ
Al Primo, the creator of the KYW-TV Eyewitness News format
Dick Sheeran, former CBS 3, KYW-TV anchor and reporter
Dawn Stensland, former Fox 29 anchor, new host of "A New View"

At the October luncheon, we'll again have the brand new gold-colored Broadcast Pioneers Lapel Pins. They are brand new and can be obtained with a donation of $7 or two pins for a donation of $10 or more. Last month, over 60 people got them. Don't be left out.
SPECIAL ADDED ATTRACTION!
At this luncheon, we will be awarding to two members, our Distinguished Service Award. This time, the honors go to Bob "Chopper Bobby" Kravitz who worked for Channel 3, 6 and 10. Bob is known for hanging out of the helicopter to get the shot. Our other honoree is Anne Amico-Mirkin, who formerly an Editor/Supervisor at CBS 3. She's also the original female First Class FCC License (now called General License) holder in Philadelphia.
It all takes place at the beautiful and historic Bala Golf Club, 2200 Belmont Avenue (across the street from the State Police) in the Wynnefield section of Philadelphia. Only minutes away from Channels 6, 10 and 17 and the radio stations in Bala Cynwyd. Call now for reservations. (856) 365-5600! Don't miss this one!
Meet and greet (networking) starts at 12 noon, and a full-course lunch including salad, coffee or tea and dessert will be served at 12:30 pm. There will also be a crudité and cheese table. Cash bar available all afternoon!
Plenty of FREE parking. The luncheon is open to all our members, their guests and any person in the industry or associated fields, whether active or retired. You do NOT have to be a member to attend. Call NOW with your reservation(s), (856) 365-5600!
"Third Wednesday"
Good food, great programs & a wonderful time!

Visit Our Website Often - http://www.broadcastpioneers.com

2012

"Person of the Year"
& Hall of Fame Inductees
Tickets On Sale Now!
Already 175 tickets sold!
Send in for yours today!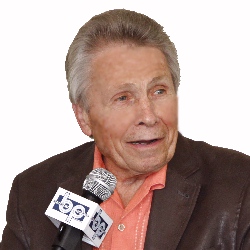 The date is Friday evening, November 16th!
PERSON OF THE YEAR
Dean Tyler, former WIBG Good Guy, former WIP PD and former WPEN & WMGK General Manager
HALL OF FAME (LIVING INDUCTEES) (in alphabetical order):
Donald Barnhouse, commentator for WCAU-TV, now seen on WFMZ-TV
Lu Ann Cahn, co-host of "The 10 Show" on NBC 10, eight-time Emmy winner
Angelo Cataldi, morning sports talk show host on WIP-AM/94, WIP Radio
Charlie Gracie, rock singer, big hits were "Butterfly" (1957) & "Baby Doll" (2012)
Stan Hochman, veteran sports reporter/commentator, Daily News columnist
Sylvia Kauders, veteran TV, stage/movie actress, & public relations consultant
Jay Lloyd, long-time Suburban Bureau Chief for KYW Newsradio, 1060
Robin Mackintosh, veteran "Eyewitness News" journalist for KYW-TV/CBS 3
Liz Matt, long-time co-host of 6ABC's "AM Philadelphia"/reporter for Fox 29
Beasley Reece, former football player/sports anchor for KYW-TV, CBS 3
Tommy Roberts, former owner of WTMR Radio, 800 on AM in Camden, NJ
Cecily Tynan, WPVI-TV, 6 ABC "Action News" prime-time meteorologist
HALL OF FAME (POSTHUMOUS)
Frank Beazley, WCAU-TV Sales Director, head of Center City Film & Video
Red Benson, former WPEN late night telephone talk host, also with WCAU
Bud Brees, best known as the "singing disc jockey" on WPEN Radio
Tom Donahue, pioneer disc jockey at WIBG, father of progressive rock radio
Christopher Graham, long-time "Uncle WIP" kids host in the twenties & thirties
Judy Lee, former Channel 3 & NBC-TV weathercaster/news anchor/weather girl
Al Martino, popular South Philly singer who appeared in "The Godfather"
Joe Pyne, radio/tv talk show host who pioneered debate type programming
Charles Shaw, CBS Radio journalist & News Director at WCAU Radio & TV
Ed Yates, former director for "Bandstand" and "American Bandstand"
Tickets are now on sale. Prices are $85 for members (each member can buy ONLY one ticket at the member price) and $95 for everyone else (including spouses, friends and guests). The event will once again take place at the City Avenue Hilton, 4200 City Avenue, Philadelphia. The date is Friday, November 16th. Reception is at 6 pm with dinner being served at 7 pm. Doors open at 5:45 pm. Cash Bar all night long. Valet parking is $10. Event lot parking is $5. Make plans to be there! TICKETS NOW ON SALE! Just click here for our reservation form! Just print, fill in and mail. Don't forget to include your check.
Remember, we are a 501(c)(3) non-profit organization. That means a majority portion of the ticket may be tax deductible on your federal income taxes. All donations may be 100% deductible. Ask your tax advisor how this may apply to you.
11th ANNUAL BROADCAST PIONEERS COLLEGE STUDENT SYMPOSIUM:
This is the event that college students wait for all year! Once again, it's time for our annual Broadcast Pioneers Symposium. Area college students will see first hand a major market television station and will listen to advice from its staff. This year, our 11th annual event will be held at the studios of CBS 3, KYW-TV and the CW Philly 57. The date is Saturday morning, November 3, 2012 from 9 am to 12 noon. Get all the details!
WELCOME NEW MEMBERS:
FULL MEMBERS:
Jim McKairnes is a 23-year veteran of the TV industry. He's currently a TV consultant and writer as well as an adjunct faculty member at De Paul University. He was born and raised right here in Philly and was graduated from Temple with a B.A. in Journalism. He spent 13 years as a Senior VP with CBS. He created and produced the on-air prime-time series called, CBS Moments."
Ron Corbin has been in the broadcasting business for 42 years. He's a sports/news anchor for KYW Newsradio, where he has been since 1989. Previously, he was with the Pennsylvania Radio Network and Susquehanna Broadcasting Company, WSBA in York, PA. Corbin attended Murray State University in Kentucky, where he obtained his B.S. degree in communications.
We are thrilled to have these new members. More members than ever. We hope to see as many of our members as possible at the October luncheon and/or at the banquet in November.
DIGITAL ARCHIVAL PROJECT NEWS:
(Left to right) Chris Wagner & Jim Gardner
WPVI-TV, Action News
September 1985

Broadcast Pioneers member Dave Roberts
WPVI-TV, Action News
September 1985
More than a quarter of a century ago, Hurricane Gloria roared up the east coast. It did 900 million dollars of damage and caused much damage to many of the shore points on the Eastern seaboard. Winds reached 145 miles per hour. TV stations added special reports to keep their viewers informed. We have a clip of a special that aired mid-day on WPVI-TV. Most of this video is of Broadcast Pioneers member Dave Roberts trying to keep both feet on the ground outside of the station. We're not sure why viewers always like to see reporters get soaked with rain and fight strong winds!
Watch with Real Video!
Watch with Windows Media!
Broadcast Pioneers member Rod Phillips is a meteorologist and owns Stormfax. About Hurricane Gloria, Rod tells us:
I was News Director of EAZY-101 (now B-101) and went down to Atlantic City to cover the approach of Gloria for the station. Getting stuck at the casinos was one of those job perks. Gloria's life-span was from September 16th to October 2nd. Because Gloria came quickly sweeping by NJ at low tide on September 27th and her eye stayed off-shore, her effects were lessened somewhat. The western side of a hurricane is the weaker side. The full force of Gloria was felt by New York and New England as she made landfall crossing Long Island. She had already hit the Outer Banks twelve hours earlier. Gloria cost the AC casinos a ton of money by being closed. It was dubbed "The Storm of the Century" back then and still holds the record as the most powerful hurricane to hit the East Coast north of 40-degrees latitude.
Here's the beginning of a classical music operatic program broadcast over WFIL radio early in 1948. It was presented by the Philadelphia Inquirer Charities. Music by Norman Black and the WFIL Concert Orchestra. This excerpt comes from the third and final broadcast entitled "The Voice of Tomorrow." We are not sure who the announcer was. Broadcast Pioneers Hall of Fame Inductee Shelly Gross (a former President and Chairman of the Broadcast Pioneers of Philadelphia) worked at WFIL. Shelly said, "I joined WFIL late in 1948 to the best of my recollection. I believe that was the voice of Don Brown who left the station soon thereafter but I cannot be sure."
Listen in Real Audio!
Listen in Windows Media!
Broadcast Pioneers member Paul Norton had been in radio and television for a half century. He had done it all, both in broadcasting and with Broadcast Pioneers. He was a past president and past chairman of the board of our organization, an inductee into our "Hall of Fame" and our newsletter's editor for over two decades. He was also on our Board of Directors (previously called our Board of Governors) for decades.
On Wednesday, May 21, 2008, we sat down and spoke to Paul for 45 minutes about his career in broadcasting. Six weeks after this interview, Paul Norton would be dead. In the early hours of Wednesday, August 6, 2008, Paul Norton suffered a massive, life-threatening stroke and passed away early the next morning.

In the summer of 2012, we re-encoded the audio. It is now one file (instead of being divided in half). It is also now available in two formats, Real Audio and the Windows Media format.
A LITTLE BIT OF HISTORY!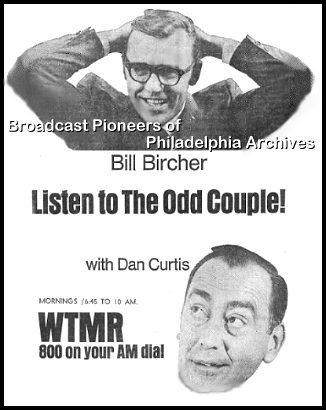 Newsletter advertisement for WTMR Radio
WTMR Radio was owned, at that time, by Tommy Roberts
circa 1971
IN TOUCH WITH OUR MEMBERS:
Broadcast Pioneers' Vice-President Kal Rudman and his wife Lucille are giving a new crop of local artists at Community College of Philadelphia a chance to showcase their compositions. The innovative music series is being produced by the school's cable TV station and shown throughout the academic year on Comcast Channel 53 and Verizon FiOS Channel 21. The series is part of the Kal and Lucille Rudman Multimedia Project that allows the award-winning station CCPTV to provide students an opportunity to develop skills with up-to-date technology. The Rudmans were honored for their $50,000 contribution to the Multimedia Project at a school reception last month. The Rudmans are longtime contributors to the college, supporting scholarships for city police officers and nurse aide students.
You'll be seeing more of Broadcast Pioneers member Dawn Stensland, one of our panelists this month. She's returning to the airwaves here with a new show on WMCN, wmcn44, an independent Lenfest television station licensed in Atlantic City and serving the Philadelphia DMA. According to a story in The Philadelphia Inquirer, the former WTXF anchor will appear in "A New View," working title for a program focusing on health, social issues and education. Dawn left Fox29 in 2009, facing a series of challenges both personal and professional. The vivacious TV personality is married to former Philadelphia anchor and current WPIX contributor Larry Mendte, also a member of this organization and also one of our panelists this month.
Broadcast Pioneers member and Hall of Famer Bill Campbell is among 15 Catholics in the Diocese of Camden who will receive papal honors next month for outstanding service to the Church. The honors will be presented by Bishop Joseph Galante at a 3 p.m. Vespers Prayer Service on Sunday, November 4th at St. Agnes Church, part of Our Lady of Hope Parish in Blackwood. Bill was a former play-by-play announcer for the Philadelphia Warriors, 76ers, Phillies, Eagles and is a good friend of the Broadcast Pioneers.
Broadcast Pioneers member Jim Loftus is Vice President and General Manager of WOGL-FM, the CBS radio station that raised $658,272 for The Children's Hospital of Philadelphia last month during a two-day Radiothon. Among the high points were pledges totaling $14,480 raised on Harvey Holiday's Street Corner show. By the way, last Wednesday the oldies station was named "The Oldies Station of the Year" by the National Association of Broadcasters.
The WIP/Eagles Radiothon raised $223,150 in two days. All donations raised are split equally between Eagles Youth Partnership and City Year Greater Philadelphia. This was the 12th year of the Eagles Radiothon.
"We get to see first-hand the impact our radio stations have on the community," said Broadcast Pioneers member Marc Rayfield, Senior Vice President/Market Manager of CBS Radio-Philadelphia. "We are local business operators who feel it's our duty to support fine organizations like CHOP and the Eagles Youth Partnership. Like many, our families have been the beneficiaries of the services they provide, and we are very fortunate to have them in our back yard."
Broadcast Pioneers President Jerry Klein is one of 17 honorees at Temple University. Alumni from each of the University's 17 schools are honored and showcased in the lower level of Mitten Hall in the university's "Gallery of Success." The display is there for an entire year and then all the winners' names go onto permanent display. The luncheon in honor of these 17 winners is this Friday at 12 noon at Temple University.
Broadcast Pioneers member Peggy King will be the Grand Marshall of the 2013 Doo Dah Parade in Ocean City,. New Jersey. It's world famous. She'll also be given a "Lifetime Achievement Award" by the town. Congrats to Peggy.
WE REMEMBER:
Member Michael Tearson tells us the Stu Green has passed away from lung cancer. Stu and brother Rick Green were Midnight Sun, who made the Tower Theater a concert venue. They were co-operators of that show-promoting and artist-management company. He was 67.
On Wednesday, September 12th, we lost Nancy McCurdy, widow of Gene McCurdy, former President and former Chairman of the Board of this organization. She had been suffering from the effects of C-diff for months, but she just couldn't overcome it. Nancy's daughter, Lynne Wettig, told us,"Mom never lost her spirit and her quick mind. At various times, she would mention or talk with great fondness about virtually all of you."
Steve Sabol passed away on September 18th. He was the creative force behind of the company we all know as "NFL Films." He suffered from brain cancer. Steve's Dad, Ed, founded the firm, but it was Steve who created the pictures and audio that it is well known for. Both Ed and Steve Sabol were inducted into the Broadcast Pioneers' Hall of Fame in 1996.
ON THE HEALTH FRONT:
Agnes Roberts, widow of former president and former chairman of the board John Roberts, hurt her leg mid-September and must keep off her feet. We all signed a get-well card at our September luncheon and sent it to her. We hope she'll be up and around soon.

Did you know... About something called "Three Blocks Square?"
Well, here's two memories of KYW-TV's "Three Blocks Square," as told by the reporter and the producer in 2012, 30 years after the fact.
Broadcast Pioneers member Dick Sheeran (the reporter) writes this exclusively for us:
It was called "3 Blocks Square." It was one of my very favorite series projects in 30 years of reporting on KYW-TV3.

The Philadelphia area is a cluster of distinct neighborhoods. The series focused on three square blocks of a given neighborhood and told stories that had never before been on TV news. It was the opposite of the usual fires, shootings and car crashes that unfortunately fill TV newscasts.

Besides the challenge and excitement of doing the series, the best part was working with Liz Matt. I called her "Lizzard," a term of endearment to be sure. We worked as a team producing the stories. Liz was so bright, so imaginative, such a pleasure to work with.

Lizzard and I literally walked every one of the three square blocks in each neighborhood knocking on doors trolling for interesting yarns. We researched the neighborhood spending lot of time at the Free Library, including the historical picture section.

We usually did 8 to 10 pieces on each neighborhood. The first piece always looked at the history of the section, how it started and how it evolved. We told personal stories of the folks who lived there, including any celebrities who grew up down the block.

We used old photos and film and special effects available at the time in TV news technology. But mostly the stories were told by the neighbors themselves.

My personal favorite story was told by an older man sitting on the porch of his home on Front Street in Kensington. He told about the day the legendary Babe Ruth came to the neighborhood for a charity baseball game. He related with a chuckle how the Babe hit the longest home run in history. He said the Babe whacked the ball way over the fence of the nearby ballfield. The ball sailed high and far and landed on a passing freight train headed to Chicago. Now that is a long home run.

Another Kensington story involved something called a Tom Thumb Wedding. A neighborhood historian told us about a Protestant church which held one of these pageants in which little children played parts in a wedding ceremony. Tom Thumb Weddings were popular in the 1920s. They were used as fund raisers for the church. The tradition comes from the wedding of General Tom Thumb, who married another little person. The general was promoted by P.T. Barnum way back when.

We showed neighborhood institutions, places like Salers Dairy Store in Oxford Circle. Salers was a kosher establishment in the primarily Jewish neighborhood. It's a place where one never mixes dairy products with meat. I jokingly asked Mr. Saler what he would do if anyone tried to mix the two. He replied with a smile that he tells them to "go stand in the corner."

In our Chinatown segment, we told the story that before the restaurants, the earliest businesses were laundries. The chow mein followed the wash.

I discovered the delicious Depression Era dish called Bread Pudding in our 3 blocks segment on Upper Darby. I had no idea you could make a great dessert out of day old bread. People came from miles around to taste it in a restaurant on Market Street just off 69th.

Before the series ended we also visited Fairmount, Lawnside, NJ, West and South Philadelphia among others.

We won an award for the 10-part South Philly stories. We focused on the legendary Palumbo's Restaurant which started as a boardinghouse for Italian immigrants who walked there after getting off the boat on the Delaware River at Washington Avenue. We talked with Frank Palumbo whose parents started the place. The parents became the welcoming committee for those immigrants who helped build the city. Their son Frank, a most generous man, went on to become one of the city biggest benefactors. He ran Palumbo's for years. It was THE institution for weddings, anniversaries, birthdays, political gatherings, and the place to see every entertainer who ever came to Philly from Sinatra to Bennett to Jimmy Durante. (My mom and dad's wedding reception was held there in 1937.)

While I fronted the pieces on TV, the real star was Liz Matt who guided the stories from beginning to end.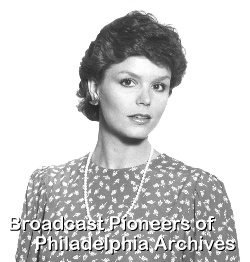 Broadcast Pioneers member Liz Matt (the series writer and producer) writes this exclusively for us:
I suppose it's within the realm of possibility that I would have enjoyed writing and producing "Three Blocks Square" as much if I had been assigned to work with any reporter other than the brilliant Dick Sheeran. But I doubt it. We were a well-matched team.

Dick's deep local reporting experience quickly helped define the neighborhoods with high-key identities that would hold interest for viewers all across the Delaware Valley: "K&A" in Kensington, Fairmount, Oxford Circle, South Philly, 52nd and Market, Chinatown, and beyond. My job began with going to each one and directly ferreting out the stories, making sure there was enough meat and visual substance to make each piece fun to watch.

Picture me knocking on doors of churches, sitting in diner booths and talking to old guys in taprooms at 11 a.m. (you read that right), asking neighborhood folks what were the "gee whiz" stories THEY talked about within their 3-square blocks. Imagine being paid to dig through the microfilm of the backdated newspapers at the Main branch of the Free Library to find the "aha!" news clipping that proved they weren't making this stuff up. Absolute joy, for $18,000 a year… enough for me to live in a studio apartment in a marginal neighborhood of Center City and a get a monthly SEPTA Transpass to anywhere!

Then I got to bring my prize info back to Dick, a "downtown" guy who could smell high-concept BS from five blocks away yet treasured the truthful stories of Philadelphia's neighborhoods. (You can't fool a guy who knows that, in South Philly, red spaghetti sauce is properly called "gravy.") I'd present the findings to Dick with the air of a cat proudly dropping a dying mouse on the front mat and purring with satisfaction. Dick always brought these morsels to life. For example,

Two guys in Kensington getting drunk and renting a plane and buzzing their neighborhood in the summer of '57, stalling out and diving the plane nose down between the row houses within blocks of their houses. They did not survive, but not one other soul was even hurt….just a few bricks knocked off a chimney.

Discovering that Fayette Pinkney, a member of the musical girl-group "The Three Degrees," a gigantic soul hit machine with "When Will I See You Again," had returned to West Philly and had become a psychologist… this, after previously being a huge headliner in London and an opening act for the likes of Ringo Starr.

The heartbreaking day we sat on the steps in Chinatown with an old man who had made peace with leaving his young his wife and baby son back in China when he came here as a young man to work, and not seeing her again till their son was an adult because of punishing immigration laws. I'll never forget Dick interviewing him about his shock at seeing his wife when they were reunited decades later … and the recognition that they were both now old.

Whew.

My personal favorite experience was in the Fairmount stories, which included retelling the infamous prison break in 1945 when the robber Willie Sutton broke out by tunneling under the wall of Eastern State Penitentiary with twelve other inmates. OK… anybody could look up the old stories about that, because it was huge news. Dick and I found the wife of a guy who was captured by the escapees!

Better yet, the wife was Maxine Koswoska, a plain lady but a legend in Fairmount for the essential corner store she ran on Parrish Street. Maxine was always busy selling milkshakes, party favors, loose leaf, Bic Pens… in short, Maxine sold EVERYTHING a kid in Fairmount needed to succeed.

Maxine was a fixture in that store for 47 years but she was a young bride when her husband Joseph was abducted by the prison escapees on his way to work on that morning in April 3,1945.

Here's what I loved about Dick's interview with her… a lesson in interviewing I have never forgotten. At some point in the morning of the abduction, Maxine found out her husband was taken. Dick asked Maxine, "What did you pack him for lunch?" Said Maxine, "Kielbasa, of course."

EVERYTHING was revealed in both the question and the answer. If you thought you'd never see your husband again, wouldn't you remember your last touch point, in this case handing him his lunch? If he carried his lunch every day, which Dick intrinsically understood, didn't it characterize lunch-pail America and how that was daily life in Fairmount? And the fact that it was "kielbasa, of course," captured the Polish heritage of Fairmount. The trifecta of a neighborhood interview! By the way, Joseph Koswoski survived that and lived till 1960 and Maxine lived about six years more after our interview, died in a car accident and was such a local legend, she earned an obit in the Daily News on October 26, 1986. But the obit never mentioned her husband and Willie Sutton… only her milkshakes. Dick made her famous on KYW's "Three Blocks Square" for the worst/best day of her married life!

Thanks, Dick, for that unforgettable moment in interviewing that instructed and guided me for the remaining 15 years of my interviewing career. You were one great teacher. Thanks to Tom Battista, KYW GM, for the shot at the most fun I ever had in broadcasting.

MORE DIGITAL ARCHIVAL PROJECT NEWS:
Anchor Barney Morris
WCAU-TV, Channel 10
circa 1970's
In the seventies, Broadcast Pioneers member Bill Baldini was doing a series entitled, "On Your Side." In this particular episode, Bill talked about the two-year old Town Watch in Drexel Hill. While the quality of the video is not the best, it is the best (that we know of) that has survived into the 21st century.
Watch in Real Video!
Watch in Windows Media!
It was the summer of 1950 and the big news was the Korean War. It was June 25th of 1950 when the North Koreans with tacit approval from the Soviet Union, crossed the 38th parallel in a carefully thought out attack on the south. The UN Security Council voted for all UN members to assist the South Koreans to halt the North's aggression. The Soviets were not present because they had stomped out over the UN's failure to admit Communist China. Two days later, on June 27th, President Harry S Truman ordered United States troops to come to the aid of the South Koreans as part of the United Nations Police Action. It was done totally without the approval of Congress. The war would end without a real conclusion four years later.

What we have in our archives are three excerpts of local Philadelphia broadcasts. The first one dates from early in July of 1950. The date was most likely July 6, 1950. We do not know which station it was nor who the announcer was. Can anyone identify either or both?
Listen in Real Audio!
Listen in Windows Media!
Our second clip dates from late in July or early August 1950. We believe that the date is most likely August 1, 1950 . Again, we do not know the station nor the announcer's name. Can you help?
Listen in Real Audio!
Listen in Windows Media!
Our third clip dates from Sunday, August 6, 1950. It is the same announcer. Joe Nadler of Charlotte, NC, a visitor to our website e-mailed the exact date of clip #3. He was able to make that determination from the baseball scores.

Charlie Higgins, former tech at WCAU for many years, listened to all three clips. Here's what he thinks...
I have listened to the three newscasts and I cannot identify the announcer. It might be one of the announcers that left WCAU before I arrived, such as Al Taylor, Fred McManus, etc.
Listen in Real Audio!
Listen in Windows Media!
Remember, History is ONLY What Gets Saved!
(If there were no portraits of George Washington, how would we know what he looked like?)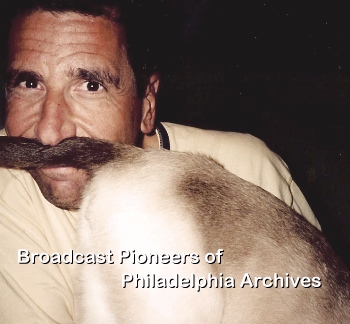 Angelo Cataldi
August 13, 2000
MORE IN TOUCH WITH OUR MEMBERS:
Broadcast Pioneers member Harvey Sheldon's newest book, "The Golden Age of Television," is due out in the next few weeks. It's an 800 page well-documented work with just about all the network shows from the early days of TV included. The preface, by the way, was written by our Broadcast Pioneers historian (who also is our Chairman of the Board) Gerry Wilkinson.
Joanne Calabria at CBS 3 tells us: "There are now two Ciarrocchis on the air in the Philadelphia market. Veteran Anchor Pat Ciarrocchi's niece, Carly, recently debuted on Sprout hosting a national morning show for preschoolers." See if you notice the family resemblance.
Member Eddie Collins (Mr. Ed) tells us: "On Sunday, October 14th, Broadcast Pioneers member Kenny Jeremiah will join the Keystone Record Collectors for a meet/greet and an autograph session at the Pennsylvania Music Expo in Lancaster. It's a great time and as always, music, memories & more!"
Broadcast Pioneers member Bonnie Nadley Silvestri (sometimes called "Bristol Stompin' Bonnie) was down in Lake Junaluska, North Carolina in mid-September. She was showing everyone how to do the Bristol Stomp at the Alan Price Golden Oldies Sock Hop Extravaganza featuring Philly's own "The Dovells" and 50's rocker Jimmy Clanton. Here's a photo of Bonnie and Jimmy.
The 2012 Radio Wayne winners were announced by Radio Ink Publisher Eric Rhoads on September 19th at the Radio Show in Dallas. Adelante Media Group Chief Executive Officer Jay Meyers took honors as America's Best Broadcaster. Jay is a long-time member of the Broadcast Pioneers of Philadelphia. Congrats to Jay.
An update on a story from last month's newsletter. Members Bobbie and Henry Shaffner got some big-time support recently for their campaign to get movie actor Van Johnson on an United States postage stamp. The U.S. Postmaster General Patrick Donahoe himself signed their petition to get the veteran actor on a commemorative postage stamp. Donahoe has the final say in the process. Here's their website! By the way, at our last luncheon, Henry Shaffner was sporting bright red socks. That was a trademark of Van Johnson.
Congrats go out to member Jerry Lee (former President and former Chairman of the Board of this organization). Jerry owns B-101. They were named the the AC (Adult Contemporary) Station of the Year by the NAB at the end of last month. Way to go, Jerry Lee!
THANK YOU:
As we do every month, we want to thank Broadcast Pioneers member Johnny B. Hall for his monthly cash donation to our DAP, Digital Archival Project. Johnny donates $200 every month. The amount totals $2,400 yearly and really helps us to underwrite this much needed but expensive project.
And again, we wish to thank member Jerry Del Colliano for his $1,000 contribution to our DAP fund. And just last month, we received a $1,000 contribution to our archives from long-time Broadcast Pioneers member Len Stevens.
We welcome other gifts for this project in the form of money and/or donated items like video tapes, audio transcriptions and photos.
We currently have thirteen $1,000 scholarships being underwritten for 2013. The scholarship competition will start at the beginning of next month. We have six from Johnny Hall, one from the Adelman family and Leon Love, one from Esther Kurtz, Roy Shapiro, Sylvia Kauders and one from the Harry Hurley Golf Tournament. Just this past month, Broadcast Pioneers board member Kal Rudman announced that he would underwriting two scholarships. If anyone else would like to join this list, act now. The deadline is fast approaching.
We would also like to thank Board Member Carter Merbreier (aka Captain Noah) for his contribution in the memory of Mrs. Noah, who he said loved Broadcast Pioneers. Other contributions this past month from Sylvia Kauders, Robin and Ira Adelman, Joe Tarsia, Ed Gannon and Les Waas.
If you forgot to make an extra contribution (cash or memorabilia) and would like to do so now, it's never too late. We would be thrilled to hear from you at: PO Box 2886, Bala Cynwyd, PA 19004 or call us at (856) 365-5600.
IN TOUCH WITH THE INDUSTRY:
Caroline Welch tells the Broadcast Pioneers about her new job: "I absolutely love it." Over the summer, Caroline was named President and General Manager of WTVD, the ABC O&O station in North Carolina. We wish her lots of luck.
Rob Ellis, SportsRadio 94 WIP and 610 WIP host, has joined CBS 3 and The CW Philly as a sports reporter/anchor last month. Ellis reports for the station's newscasts and sports specials. He will also fill in for Sports Director Beasley Reece and Weekend Sports Anchor Lesley Van Arsdall in addition to continuing his WIP hosting duties.
KYW Newsradio's call letters are now a permanent addition to Philly's skyline. The illuminated sign now hangs fourteen stories above the city skyline at 400 Market Street. The sign features both the KYW logo and the iconic CBS "Eye," making it visible from Camden, N.J., I-95 and the Ben Franklin Bridge. The task took five years. Reason: Requirement for approval by the city zoning board and art commission. Here's a photo from Monday, September 24th.
This last Sunday, Broadcast Pioneers member Diego Castellanos was seen co-hosting the Annual Puerto Rican Day Parade. This coming Sunday is the Columbus Day Parade and the following Sunday, October 14th, is the Pulaski Day Parade. All are carried on WPVI, 6 ABC and all start times are 1 pm.
Last month WIP Radio celebrated a quarter of a century of Sports Talk radio. Broadcast Pioneers member Howard Eskin was the station's first sports talker. Howard was inducted into our Hall of Fame last year. Today, Angelo Cataldi does a wonderful job doing morning drive. Next month, Angelo will be inducted into our Hall of Fame. And speaking of Howard Eskin, he took over as the Sports Anchor on the Fox 29 News at 5 pm, 6 pm and 10 pm. If it seems like Eskin was there before, he was. Doesn't seem like it was two decades ago, but it was. Good Luck, Howard.
Here's another anniversary for broadcast sports fans. Yesterday, Comcast SportsNet celebrated 15 years of broadcasting here in the Philadelphia television market. To honor this, the station did a half-hour celebration of Philly Sports last evening at 10:30 pm.
We heard from Bob Russo who has spoken at several of our luncheons over the years. Bob was a main player here in Philly for decades working at WIP, WSNI and WRDR. Well, Bob has written a book about his life entitled "Waiting for the 32." It's an interesting read. One story he tells is that Ron Howard and Ron's wife Cheryl came to Philly with Donny Most (you remember Ron and Donny from "Happy Days"). They wanted to get a bite to eat and Bob took them to Shanks in South Philly with a stop around the corner at Isgro's Italian Bakery. He writes that, "As if on cue, a twenty something kid with black hair in a pompadour, wearing a leather jacket, came in and greeted everyone with, 'Yo.'" It was a real life Fonz.
Ken Trujillo, owner of WHAT Radio, which is currently broadcasting Spanish programming to the Delaware Valley, has been nominated by Pennsylvania's Governor Tom Corbett to be a board member of the Pennsylvania Liquor Control Board. Ken is a former Philadelphia City Solicitor. Two members of Broadcast Pioneers are affiliated with the station. Art Camiolo has served as the station's consultant and Uriel Rendon is the Vice-President and General Manager of WHAT.
Stan Priest has been named Digital Program Director for Clear Channel's six stations in this market. He also becomes PD for WIOQ. Stan comes to Philly from Hartford, CT, where was was the PD for WKCI and sister station WKSS.
Benito Cachinero-Sánchez has been elected to WHYY's Board of Directors. The announcement was made by Bill Marrazzo, president and chief executive officer of the public TV and radio operation. Cachinero-Sánchez is senior vice president of human resources at DuPont in Wilmington, DE."Lights for the Cure," a joint effort of CBS 3 and the Philadelphia affiliate of Susan G. Komen for the Cure, has once again joined local businesses and landmarks to turn the area skyline pink during October. October is Breast Cancer Awareness Month and this project acts as a reminder to stay vigilant in the fight against breast cancer. Launched in 2002, "Lights for the Cure" was the area's first public service campaign to use the lighting of buildings and landmarks to promote a cause. The campaign now includes more nearly 100 participating buildings and landmarks in the Philadelphia area and South Jersey. More than half a million dollars in donated and sponsored television time has been dedicated to the campaign since it began to promote early detection.
NBC10 announced yesterday that Chris Cato will be joining the station as weekend anchor at the end of the month. Cato will anchor NBC10 News at 6 and 11 pm on weekends with co-anchor Denise Nakano. In addition, he will contribute reports to NBC10's weekday newscasts. Cato joins NBC10 from CBS affiliate WSPA in Greenville-Spartanburg,
South Carolina, where he has worked since 2005. Cato was named 2012 Reporter of the Year by the South Carolina
Broadcasters Association.
A LITTLE BIT OF HISTORY!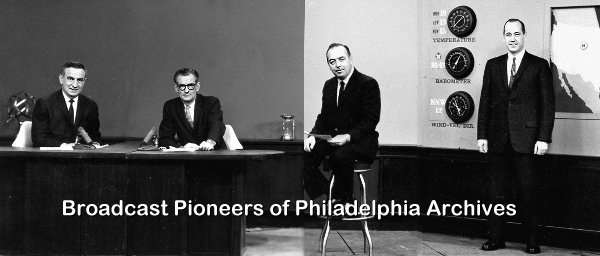 (left to right) John Facenda, Charles Shaw, Bill Campbell and Herb Clarke
WCAU-TV News
circa 1958
THANKS FOR THE MEMORIES:
Mike Quinn Remembers Charles Shaw!
Broadcast Pioneers member Mike Quinn shares with us his memories of working with the legendary broadcaster Charles Shaw, who we will induct posthumously into our Hall of Fame next month. Quinn says:
Charlie Shaw was my first news director. I began my TV news career in 1961 at Channel 10, while attending LaSalle College.

I was a very junior member of the staff, working part time as a copy boy, teleprompter typist for John Facenda's newscasts and, for a short time on weekends, giving guided tours of the station.

Anything to get experience and earn a few bucks at the same time. It was my childhood dream come true. I wanted to work in broadcast news since I was nine years old, watching the 1952 political conventions on CBS and my first goal was getting a job at Channel 10, the CBS station in this market at that time. I remember seeing Charlie doing news commentary.

In those days when he was news director, the newsroom was located in the middle of the building on the main floor, and was shared by TV and WCAU Radio, but with separate staffs. It was almost exclusively male, except for Charlie's secretary. She was an efficient and very pleasant person who put up with a lot, including the profane language which for some reason was, and still is, an integral part of any newsroom. When she decided to leave, Charlie made sure everyone contributed something toward a gift for her.

At the point when I arrived, Charlie had been news director there for almost 20 years, briefly in radio, then TV. He arrived there immediately after World War II, during which he was one of the legendary "Murrow Boys."He told me he was hired by Ed Murrow and brought to London. That conversation happened the day Charlie saw me standing outside his office, looking at photographs he had on one or two walls. They showed him during the war, posing with some of the other Murrow Boys: Larry LeSeuer, Richard C. Hottelet, Bill Downs etc.

It was either then or later that I asked Charlie about some of his experiences. One of the stories he told me stands out in my memory. After broadcasting from London for a time, Charlie went to France not long after D-Day, to help cover the war first hand. He described in detail the day he was riding in a jeep with Tom Traynor, a newspaper reporter who also worked for NBC radio and their Army driver.

Charlie said it was hot and dry that summer of 1944 in France, and military vehicles kicked up huge clouds of thick dust, sometimes obliterating the driver's view, combined with all the engine noises and confusion. As they went around a bend in the road, suddenly out of the thick wall of dust appeared a tank in a convoy moving in the opposite direction. The tank collided with the jeep, partially crushing it and killing the Army driver and Tom Traynor. Charlie survived but with extremely serious injuries. He spent months in hospitals and rehab, before he could return to work in London.I recall that as a news director, Charlie was strict and didn't put up with careless mistakes or sloppiness.

Most of the time he called me Mike like everyone else and we got along fine. But I always knew when he was displeased with something I did (or didn't do) because he would look over the top of his glasses and address me in an ominous tone of voice as "young man."

I've lost count of the number of news directors (and station managers) I worked with during my 47-year career. But probably because he was my first boss, I always vividly remember Charlie Shaw.

Another Memory!
This is a photo of the "Banana Car" that belonged to WFIL, Famous 56 in the mid-seventies. One night, the banana went missing. Get the story here
Marlin Taylor remembers Ernie Kovacs!
New member Marlin Taylor saw the article about Ernie Kovacs at WTTM in last month's newsletter. That reminded him of these stories:
I was interested to see the WTTM call letters and the name Ernie Kovacs. WTTM always had a broadcast booth at the New Jersey State Fair and I became a great fan of Ernie's when, I believe was the Fall of 1950 (it was 1949 actually), he allegedly did eight straight days of broadcasting without sleeping, Sunday through Sunday. While many hours were filled with DJ time, WTTM was an NBC affiliate which allowed him breaks during daytime and evening hours (during which engineer friends said he took catnaps). I believe this stunt was what led to his opportunity to be hired to open up the early morning hours of 7:30 to 9 on WPTZ (that actually came later into his time at WPTZ. His first show was a cooking program, Deadline for Dinner).

During the mid-50's, I'd drop in occasionally on weekend evening announcer, Jack Allen (Potts). As stations did in those days before operating 24 hours became common, WTTM would sign off at midnight with the National Anthem. The station always used a transcription recorded by the Trenton Symphony, which Jack found to be a rather slow, draggy performance. So, he'd play the 33-1/3 recording at 45 RPM instead, which delivered a majestic and upbeat performance that the Star Spangled Banner deserves.
In 1957, Les Waas was there when "Butterfly" was recorded!
What a thrill!-- watching superstar Charlie Gracie perform, 76 years of age, singing and playing with the enthusiasm displayed when originally recording his mega hit, Butterfly, in 1957.

I have memories of that day. When talking to Emil Corson, owner/engineer of the Reco-Art Recording Studios, I arranged to pick up copies of commercials I'd produced there, to be distributed to radio stations. They'd be ready for me first thing Monday morning, Emil told me, but if I'd prefer, I could get them on Sunday, because the studio would be open. He had a music session scheduled.

Reco Art was
the
place to record commercials in
Philadelphia
.
I had John Facenda read a spot there, for Esslinger Beer.
It was located on Market Street, across from Wanamaker's, on the second floor, next door to Dr. Algaze, Philly's big advertising dentist. As I ascended the stairs, I had to maneuver around a giant speaker that was blasting a vocal being fed back into the studio, for reverberation (improvised echo).
As I got my package, I was introduced to a young kid named Charlie Gracie, and a producer named Bernie Lowe. Butterfly sold a mere 3,000,000, became a mega hit, and established Cameo Records as a powerhouse label (Bobby Rydell, Chubby Checkers, The Dovells, etc.)
On November 16th, Charlie Gracie will be inducted into the Broadcast Pioneers Hall of Fame, an honor inarguably deserved. As one of his staunchest fans, I'll be there.
Broadcast Pioneers are Everywhere!
No matter where you go in the world, you keep running into Broadcast Pioneers members. Here's a story that took place in 2004. Two of those members will be inducted into our Hall of Fame next month. Get the lowdown!
Cinderella Weekend!
Just before press time, we received an e-mail from Ethel Goldberg, a visitor to our website who told us about her mom being on WCAU-TV, here in Philadelphia. She writes:
My mother, then Selma Goldberg, won "Cinderella Weekend" on TV. I am guessing 1955. Mom is almost 92 now, still as sharp as she was back then! We all remember a lot. My sister and I were in the audience. Mother says she got on the show because she was from Texas and they thought that would make her an interesting contestant. She remembers that she and my father went to a very fancy hotel for dinner and a dance. They danced to George Gershwin and I assume his band. Probably the neighbors knew and watched. She remembers calling my father at work (unheard of in those days) after winning. She was so thrilled!
A LITTLE BIT OF HISTORY!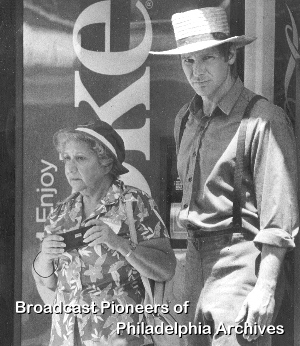 (Left to right) Sylvia Kauders and Harrison Ford
Publicity Still from the movie "The Witness"
1985
A COUPLE OF CHANGES: With extreme sorrow, we announce the resignation of one of our Vice-Presidents, Frank Stone. Frank became our newsletter editor in September of 2008. He has produced four full years of wonderful publications. He also has headed our Development Department, which sells the ads in our membership directory and banquet booklet. That department also handled obtaining our Broadcast Pioneers mugs and lapel pins. We thank him for his service and a job very well done.
Our new newsletter editor will be Ed Eisen, who is the guest editor for this issue. Les Waas takes over, on a temporary basis, running Development and Kal Rudman will fill the remaining term as Vice-President.
A FINAL THOUGHT...."Leadership isn't about position, but action."
Broadcast Pioneers member Vince Papale

© 2012, Broadcast Pioneers of Philadelphia
All Rights Reserved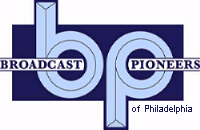 The e-mail address of the Broadcast Pioneers of Philadelphia is pioneers@broadcastpioneers.com
For luncheon reservations call (856) 365-5600 or e-mail us at: rsvp@broadcastpioneers.com