| | |
| --- | --- |
| | Broadcast Pioneers of Philadelphia is a federally recognized, state chartered 501(c)(3) non-profit organization serving the Philadelphia Broadcast Community since January of 1962. |
September Luncheon
The Bala Golf Club
Wednesday, October 21, 2015

Meet & Greet at 12 noon!
Lunch at 12:30 pm
Ratecard: $28 per person!

PLEASE RESERVE NOW!
CALL (856) 365-5600!
rsvp@broadcastpioneers.com
Another "Third Wednesday" Luncheon!
Wednesday, October 21st!
Extra Special Luncheon!
The Latest Shake-up at More FM, WBEB-FM!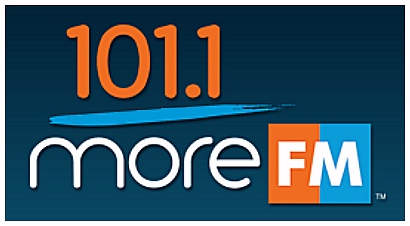 The only constant is change, especially in our business. This luncheon is right from industry headlines. Find out everything that's going on at More FM, WBEB-FM. Early in November, the radio station, one of the few independent major market operations in the country, will have a new president and CEO, Jim Loftus, who will report directly to the station's board of directors.
This luncheon is so today that we postponed our originally scheduled luncheon to bring everyone up-to-date and give you a chance to meet some of the true movers and shakers in radio broadcasting.
Our speakers will include (in alphabetical order):
Chuck Knight, the Program Director for More FM, WBEB-FM
Jerry Lee, the Chairman of the Board of the station, More FM
Jim Loftus, President & CEO OF More FM (effective 11-2-15)
Jay Meyers, the newest member of the station's board of directors
Jenn Ryan, longtime WBEB Personality & one half of the morning show
It all takes place on Wednesday, October 21st at the beautiful Bala Golf Club, 2200 Belmont Avenue in Philadelphia! Just minutes away from Channels 6, 10 and 17 plus the radio stations in Bala Cynwyd. Tons of free parking.
Meet and greet (networking) starts at 12 noon with a full-course lunch including salad, coffee or tea and dessert being served at 12:30 pm. There's also a snack table. Cash bar available! The cost is still only $28 per person and is open to all our members, any person in the industry or associated fields; both people now active and retirees. You do NOT have to be a member to attend. Make your reservations early by calling (856) 365-5600. It's going to be a great turn out. Attending this luncheon is the biggest "no-brainer" on the planet! Be there and say hi to old friends (and make some new ones).
If you miss this one, you will have missed an extraordinary experience and a good time! But don't worry. Your friends and colleagues will tell you about it. RESERVATIONS ARE CRUCIAL! Don't wait until the last minute, reserve now! This is sure to be another blockbuster turn out. Make your reservation now by calling (856) 365-5600. This is THE place to be on Wednesday, October 21st!
Plenty of FREE parking. Our luncheons are open to all our members, their guests and any person in the industry or associated fields, whether active or retired. You do NOT have to be a member to attend.
The cost is only a donation of $28 (or more) per person! In order to speed up check-in at the luncheon, it would help if you had exact change or your check already written. Checks can be made payable to the Broadcast Pioneers of Philadelphia.
If you would like to add a few dollars extra, we would appreciate it. It would help us with all the important work we are doing. Thanks!
WE'LL BE PROUD TO SEE YOU IN THE CROWD!

Visit Our Website Often - http://www.broadcastpioneers.com
You should check our website often on the front page (above) for important information!
Check out our Facebook Page - http://www.broadcastpioneers.com/facebook
There are things on our Facebook Page that are NOT on our website (like our vintage photo of the week)
Tune in to our YouTube Channel - http://www.broadcastpioneers.com/youtube
Our YouTube Channel has all our luncheons, exclusive interviews and archival material

DIGITAL ARCHIVAL PROJECT NEWS:
VIDEO: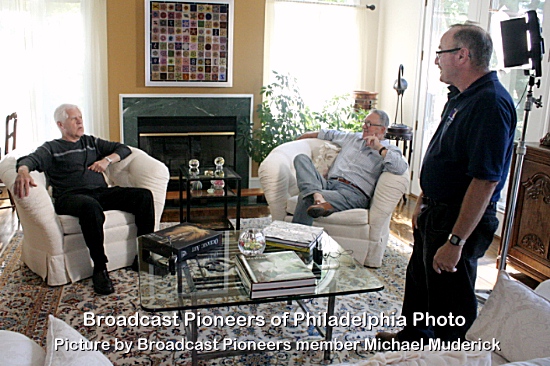 (Left to right) Members Marc Howard, Mike Strug & Brad Seecof
at Marc Howard's Main Line Home
Wednesday, September 16, 2015
Watch our latest "Pioneers of Philadelphia Broadcasting" episode shot at Broadcast Pioneers member Marc Howard's home. Member Mike Strug asks the questions to get Marc to tell us all about his career. It's a wonderful half-hour shot with two HD air quality television cameras.
(Video courtesy of Broadcast Pioneers VP Brad Seecof and Metramedia Broadcasting and Studios)
AUDIO:
During October 3rd and 4th of 1979, Pope John Paul II visited Philadelphia. He was the first pontiff ever to do so. While he was here in Philadelphia for about 21 hours, his time here was monumental. As many of you know, Broadcast Pioneers has in its archives, hundreds of audio cassettes and hundreds of video tapes originally donated by Gene Dillard. Gene worked at WFIL, WPEN and other places. However, he is probably best known for his years at Famous 56. We have seven cuts of Dillard's work on the fateful day of October 4, 1979 when the Pope was at the airport ready to depart. Some of this material is exactly as aired on WFIL. Others are the original, uncut interviews that Gene Dillard put together for excerpts to be used on Famous 56 newscasts.
Our first cut actually consists of three different excerpts from WFIL Newscasts where Gene was talking live with Broadcast Pioneers member Allen Stone. The three are separated by a second of dead air between excerpts.
Listen in the Windows Media Format!
Next is a 2 minute and 12 second cut. Gene Dillard is describing for member Allen Stone what is happening at Philadelphia International Airport. This seems to be a live feed.
Listen in the Windows Media Format!
Here's an uncut interview between Gene Dillard and the Mayor of Philadelphia at that time, Frank Rizzo. It runs a few seconds under three minutes in length.
Listen in the Windows Media Format!
Here's Gene Dillard speaking with the Police Commissioner of Philadelphia Joseph O'Neill. It is 75 seconds in length.
Listen in the WIndows Media Format!
Elsewhere in this newspaper, we have three more excerpts from this same day. They include interviews with some of the 2,000 girls from Little Flower High School who were there for the Pope's sendoff.
Today's News Becomes Tomorrow's History!
(This is what our Digital Archival Project, DAP, is all about!)
A LITTLE BIT OF BROADCAST HISTORY!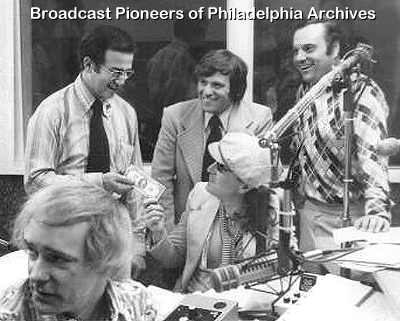 (left to right - standing) Jim Decaro, Jay Cook and Gene Vassall
(seated) Dan Donovan and John Lennon
WFIL Radio, 4100 City Avenue, Philadelphia
During the WFIL Helping Hand Marathon
Friday, May 16, 1975
IN TOUCH WITH OUR MEMBERS:
Member Billy V. (Bill Vargus) has a new sports podcast. It's about ten minutes long. Bill is married to Broadcast Pioneers member Sue Serio. She's the morning weather anchor on Fox 29. People are viewing Bill's new venture. Watch the podcast here!
Member Paul Gluck was honored last month by the National Academy of Television Arts and Sciences, Mid-Atlantic Chapter, when he received the Silver Circle Award. It is described as an honor society within the chapter for members who have spent a quarter of a century working in pursuit of the profession's "highest and most noble goals."
Broadcast Pioneers member and Hall of Famer Harry Hurley has inked a multiple year contract with Townsquare Media. He does a daily talk show on WPGG, 1450. It's called, "Hurley in the Morning." Harry said that he feels like the shortstop for the Yankees. He loves working with the station's founder Steven Price, their president Michael Ruble and PD Chris Coleman.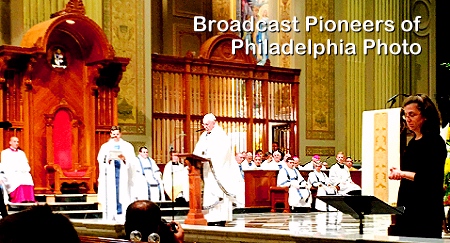 Pope Francis speaking
the Cathedral Basilica of Saints Peter and Paul
Center City Philadelphia
Saturday,September 26, 2015
(Photo taken by Broadcast Pioneers Vice-President Bill Kelley)
On Saturday, September 26th, Broadcast Pioneers Board Member Bill Wright, Sr. and Broadcast Pioneers Vice-President Bill Kelley were present for the celebration by Pope Francis in the Cathedral Basilica of Saints Peter and Paul. They were awarded seats in the first row by way of a lottery drawing in "Uncle" Bill Wright's prayer group. "A magnificent experience that was both spiritual and historic," says Kelley.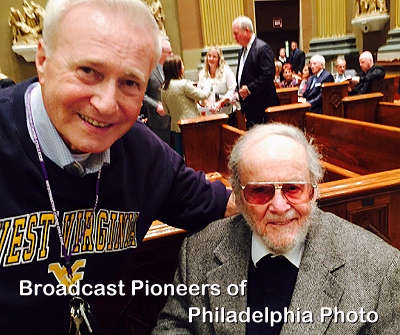 (left to right) Members Bill Kelley and Bill Wright, Sr.
the Cathedral Basilica of Saints Peter and Paul
Center City Philadelphia
Saturday,September 26, 2015
(Photo taken by someone in the security detail)
Our own Broadcast Pioneers member Michael Stairs, Organist for the Philadelphia Orchestra, prepared and conducted the choir that performed for the Pope in St. Martin's Chapel at St. Charles Seminary in Wynnewood, PA. Michael also played the organ for the procession as the Pope arrived and his choir greeted the Holy Father in spoken word and Songs of Praise.

Did you know...

Tower of W3XE
On top of the Philco Plant
C & Tioga Streets in Philadelphia
circa 1940 or early 1941
W3XE, was the forerunner of WPTZ (WRCV and KYW-TV), Channel 3 in Philadelphia. Started in 1932 by Philo Farnsworth for the Philco Manufacturing Plant at C and Tioga Streets in Philadelphia, it developed much of its own equipment. The experimental television station first went on the air on Tuesday, June 28, 1932. By 1939, the area had three experimental television facilities.
On June 18, 1940, the Federal Communications Commission granted allocations for Philadelphia TV. The Channel 3 frequency was given to Philco while Channel 5 was granted to WCAU Broadcasting. Remember, the Levy Brothers (owners of WCAU) were also part owners of CBS and very powerful men in the industry. However, RCA in Camden was given temporary use of Channel 5 on a "laboratory basis." On June 23, 1940, WCAU had announced "immediate acceleration of plans to begin... television broadcasting experiments." This was because of the tentative approval of WCAU's application for a television station.
WCAU said that they were "the only Philadelphia broadcasting station to receive such a license." The others approved were Philco and RCA, neither who operated a radio station in Philadelphia. WCAU announced that "WCAU intends to swing into action on experimental work just as quickly as authorization is received from Washington." A press report stated that "television studios are being readied in the WCAU Building at 1622 Chestnut Street and plans are going forward for the construction of a mobile unit for picking up sporting events and other outside program." However, the station never did get on the air and eventually handed back the construction permit to the government.
Sometimes people are confused about the operation of a WCAU station called W3XAU. Some believed this to be an experimental television station. However, it was in reality WCAU's commercial shortwave station which ceased operations during World War II and never restarted afterwards. Charlie Higgins, a long-time tech at WCAU, said, "I know of no attempt by WCAU to (actually) operate an experimental TV station." Jack Jones (not the anchor), Chief Engineer of WCAU AM & FM and Assistant Chief of WCAU-TV and Harry Harris, well known columnist for the Evening Bulletin and the Philadelphia Inquirer worked at WCAU Radio in the late thirties agreed with Higgins. We had conducted these interviews years ago.
Seems the confusion comes from the WCAU shortwave commercial station, WCAB. Before getting those call letters, they operated as W3XAU. All call letters for experimental television stations in Philadelphia began with W3X. So somewhere along the line, someone assumed it to be an experimental television station. It was not. W3XAU was even listed as a future television station for Philadelphia in a summer 1941 issue of FM Magazine. However, that information was also incorrect. That article may have been the original source of the confusion. The confusion may have been compiled by the approval of WCAU's application for a television station in 1940 (a station that never went on the air).
WCAU-TV was the last of the "big three" on the air in Philadelphia in March of 1948. Until January of that year, the station's construction permit operated under the call letters of WPEN-TV. Seems that the Philadelphia Record agreed to purchase the WCAU stations in November of 1946. However, by February of 1947, the newspaper ceased operations and its rights to purchase the WCAU stations went to the Philadelphia Evening Bulletin newspaper, which at that time owned WPEN AM & FM and the construction permit for WPEN-TV, Channel 10.
The Bulletin purchased WCAU AM & FM, sold off the less powerful WPEN AM & FM (WCAU-FM and WPEN-FM flipped frequencies) to Sun Ray Drugs and transferred WPEN-TV's construction permit to WCAU, becoming WCAU-TV. So the WCAU stations did no actual experimental television broadcasting in the thirties or early forties.
However, we are getting ahead of our story. In 1946, WPTZ (Philco) was already on the air as a commercial station operating on Channel 3 in Philadelphia. In that year, there were two CP's (construction permits) issued for Philadelphia television. One was to WPEN for a CP to build a television station on Channel 10. The other was a CP for Channel 6 issued to CBS Radio affiliate, WCAU, owned by the Levy Brothers. The Channel 6 CP was a reassignment of the 1940 WCAU allocation of Channel 5.
Charlie Higgins also said:
When WCAU applied for a CP to build a VHF TV station, the FCC assigned them Channel 6. However, the head of CBS Laboratories (Peter Goldmark), convinced someone (at WCAU and other CBS affiliates) that the frequency they wanted was on the UHF band as that was where all the activity was going to be. Hence WCAU turned in their CP for VHF Channel 6.... Needless to say, just like many other predictions by Peter Goldmark, the President of CBS Laboratories, he was wrong. Thus WCAU was left without a VHF TV CP.

The Philadelphia Inquirer publisher Walter Annenberg, owner of the WFIL radio stations, quickly applied for the turned in frequency of Channel 6. He received it and on September 13, 1947 put WFIL-TV on the air as Philadelphia's second commercial television station.You might wonder why WCAU would listen to CBS since the station wasn't owned by the network but by Isaac and Leon Levy. Well, one reason was that William Paley, founder of CBS was a relative. Leon married Bill Paley's sister. Another reason was that the Levy Brothers were big stockholders of the Columbia Broadcasting System. Bill Paley, his father and uncle also owned minority stock in WCAU. They would, of course, think that their experts would know what they were talking about.
Jack Jones e-mailed:
Not only did Peter Goldmark convince WCAU to turn in their CP for Television, but ALL of the CBS O & O stations (except New York City) turned back their CPs. CBS-TV was the last network to get started. CBS had to purchase Los Angeles, St. Louis and Chicago TV stations. For some time WCAU-TV was also a Dumont TV network station. I can recall that when I first went there in 1949 we carried almost all of Dumont network on Saturday evenings...

I can recall a visit to PSFS and the call was listed on the building directory as WPEN-TV. Jack also said: Since there once was a Channel 1. I am not certain about the frequencies but I am aware that Channel 2 in New York was originally called channel 1 and there was a reassignment of channels after the war. I did see paper work which had WCAU (assigned) on Channel 6 (post war) and they (and other CBS o & o and affiliates) turned back VHF assignments, since Dr. Goldmark thought that CBS color would be the operating system (and not being compatible with Black & White TV) would be on UHF.

Originally, Philadelphia had four allocations for TV. They were Channels 3, 6, 10 and 12. WDEL-TV was licensed to Wilmington and operated on Channel 7. Eventually, the FCC would move it to Channel 12. The station would go through several call letter changes. From WDEL-TV to WPFH to WVUE to WHYY-TV.
Richard C. Grosser, a visitor to our website e-mailed:
I do indeed remember W3XE and my early TV experiences quite well. My father, Albert J. Grosser was a serious technophile (as am I) and always had to have the latest gadgets. He was in the Industrial Real Estate business and counted among his clients, Philco, RCA and Atwater Kent (and later, UNIVAC). Through his connections, we obtained a television set in late 1944 or early 1945.

I'm not sure of the date, but I know that it was before the end of the war. I was 8 years old at the time. The set, a RCA (620 or 630) came in two crates (one for the CRT) and was assembled on-site by a RCA technician. An antenna was installed on the roof, and we had television! Channels 1 to 12 of which only channel 3 worked.

Of course, most of the time, all there was to see was the ubiquitous test pattern. There was, as I recall, programming in the evenings and on the weekends. Baseball, boxing and basketball stick in my mind. There was a quiz show called, "The Sears Viz-A-Quiz" on which the announcer read a question and the viewer, if they knew the answer would dial a phone number on the screen and tell the announcer the answer. We won a set of tires, which were very hard to get at that time (because of the war), and several other items from that show. I wonder if anybody else remembers that program.

I actually charged neighborhood kids 25 cents to see the TV! I went on to become somewhat of a pioneer in my own right, in the computer field. I worked on the early UNIVAC (vacuum tube) computers at the University of Pennsylvania and then went on to start one of the first computer data processing organizations in the world, IDR company.
Stuart Kravitz, a visitor to our website e-mailed:
I'm in the TV broadcasting field now (on the digital distribution end), but started out in "the business" after getting my engineering degree from Penn State, and working for Philco-Ford at C & Tioga in the early 70's as a color TV design engineer. Of interest, I also worked in close proximity to George (Spanky) McFarland from the "Our Gang" movie series. I believe he was a customer service technician at Philco at the time. I also remember seeing one of the sets from the former Philco experimental TV broadcast studio on the 4th floor of Plant 2. Wow!
Paul W Zehner Sr., a visitor to our website e-mailed:
Remember the Sears Visiquiz TV show? Well, I do. I was 18 years old and working as a microphone boom operator at W3XE. As I recall, this was probably the first commercially sponsored show on Channel 3. I am 80 years old now and some of my memories are a little faded. Probably the station call sign had changed from W3XE to WPTZ by then. This was in 1946.

I also recall a show called "Stop the Clock." I also helped to arrange lighting for many other shows. Eventually, I became a sound operator, and did a program called "The Monkeys Paw," a real spooky show. I was scared to death because I thought that if I goofed up it would be the end of my job as a sound operator. As it turned out the show was a big success.
This regular monthly column is written and researched by Gerry Wilkinson

MORE DIGITAL ARCHIVAL PROJECT NEWS:
VIDEO: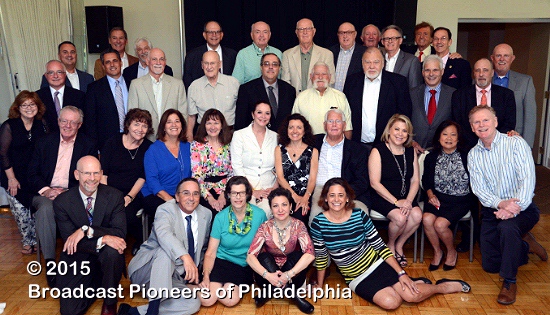 Former and current KYW Newsradio staff
Broadcast Pioneers Luncheon
Bala Golf Club, Philadelphia
Wednesday, September 16, 2015
Spectacular, sensational, informative, magnificent, dramatic, impressive…these are just a few of the words that were used to describe our September luncheon. This September gathering was certainly right up there where the air is rare! 50 Years of KYW Newsradio was full of great stories, memories and tales of this legendary radio station. You could almost hear the teletype in the background!
Our moderator was Jay Lloyd, long-time KYW Newsman. Our speakers included (in alphabetical order): Steve Butler, Harry Donahue, Bud Galow, David Madden, Warren Maurer, Bill Roswell, Bob Witten and David Yadgaroff. Plus, we had a live phoner with Andrea Mitchell who used to work at KYW Newsradio. She was in her Washington, DC Office.
Complete video of the luncheon!
(Video courtesy of Broadcast Pioneers VP Brad Seecof and Metramedia Broadcasting and Studios)
AUDIO:
Here's the other three WFIL, Famous 56 audio cuts we have talked about elsewhere in this newsletter. They are from the hundreds of Gene Dillard audio cassettes and video tapes we have in our archives. Next up, Gene Dillard speaks with one of the stewardesses (now called flight attendants) that served on "Shepherd One," the Pope's aircraft. While she lived in Boston, she was originally from Northeast Philadelphia. It's 4 minutes and 24 seconds in length. This interview was never aired in its entirety. This is the entire interview exactly as transferred from the original recording.
Listen in the Windows Media Format!
Next up is Gene speaking with Monsignor Glenn Bennett, who was Principal of Little Flower High School in Kensington (a section of Philadelphia). He was there from 1972 until 1981. This cut actually has two interviews. One was done just before the Pope arrived at the airport for departure. The other was recorded after the Pontiff's flight left.
Listen in the Windows Media Format!
The last audio for this month is Gene Dillard interviewing some of the girl high school students from Little Flower High School.
Listen in the Windows Media Format!
Remember, History is ONLY What Gets Saved!
(If there were no portraits of George Washington, how would we know what he looked like?)
IN TOUCH WITH THE INDUSTRY:
CBS O&O Amp 96.5 announced a new lineup of air personalities last month. Since April (when the station was rebranded) they have been running without hosts. PD Bobby Smith said that the ratings have gone up. Smith is a native of South Jersey. They new personalities are Jilly Osterman and Mike Adam, who previously was at WIOQ. Bennett (yes, only one name) is the station's music director and does evenings. Bex does morning drive. The station was acquired by CBS Radio last October.
Rahel Solomon has joined CBS 3's Eyewitness News team as a general assignment reporter. Solomon comes home to Philadelphia from KCNC-TV, the CBS-owned station in Denver where she has been a reporter and fill-in anchor since January, 2014. She was recently named the Colorado Association of Black Journalists' 2015 Broadcast Journalist of the Year. She began her career at WCAU-TV in Philadelphia as a production assistant. Solomon was raised in Delaware County and West Philadelphia and is a graduate of Archbishop Prendergast High School in Drexel Hill.
Jill Pasternak, on air WRTI-FM host, retired last month. Pasternak, 81, began her work at the station in 1997 and her last air shift was in June. The station is currently running a nationwide search to find Jill's replacement. Kile Smith is presently holding down the fort by doing Pasternak's shift.
Veteran local news and communications executive Margaret Cronan has been named Vice President and News Director of CBS 3 and The CW Philly, President and General Manager Brien Kennedy has announced.
Cronan, who grew up in the Philadelphia area and worked at CBS 3 as an executive producer in the late '90s, will rejoin the station in her new role on September 22. She has previously served as a news director at WBAL-TV, the NBC affiliate in Baltimore, and WPBF-TV, the ABC affiliate in West Palm Beach, where she oversaw the station's news department during the 2000 presidential election and historic Florida ballot recount.

Her background in news also includes serving as a senior producer at WNBC-TV in New York, and as a news producer at KCAL-TV in Los Angeles and WJZ-TV in Baltimore. Cronan is a 1986 graduate of the University of Pennsylvania where she earned a Bachelor of Arts degree in English.
Emmy-Award winner Don Bell, whose first major market sportscasting job was at CBS 3 in Philadelphia a decade ago, has come home to take the top job of Sports Director.
Bell served as CBS 3's weekend sports anchor and sports reporter from 2005 until 2010. He rejoins CBS 3 from FOX Sports 1 in Los Angeles where he has been anchor of FOX Sports Live and in-studio anchor for FOX College Hoops along with other productions. He has also been co-host of the nationally-syndicated Don Bell & Ryan Field Show on FOX Sports Radio. Previously, he was studio host for SportsCenter on ESPN News for three years..

Bell began his career in 2002 at WWSB-TV in Sarasota, Florida, later anchoring sports for KPLR-TV in St. Louis while hosting the post-game shows for the St. Louis Cardinals. A New Jersey native, Bell is a 2000 graduate of Boston University where he graduated with dual degrees -- a Bachelor of Science degree in Broadcast Journalism and a Bachelor of Arts degree in Political Science. He received a Master of Science degree in Journalism in 2002 from Northwestern University's prestigious Medill School of Journalism.
The Philadelphia Eagles and SportsRadio 94WIP are excited to announce that the 2015 Eagles Radiothon raised $200,000 over a two-day auction that ran early in September. As part of the annual Radiothon, Eagles fans and 94WIP callers were provided the opportunity to bid on exclusive experiences involving their favorite Eagles players and 94WIP radio personalities. All proceeds will benefit Eagles Youth Partnership (EYP) and its vital health and education programs that serve more than 50,000 children who lack access in our community every year.
Last month t he 98.1 WOGL Loves Our Kids Radiothon raised $688,856 for The Children's Miracle Network (CMN) at The Children's Hospital of Philadelphia. In the past fourteen years, 98.1 WOGL has raised over seven and a half million dollars for Children's Hospital.
In addition to the two day Radiothon, donations were collected during special weekend programming with WOGL DJ's Harvey Holiday and Bob Pantano. On Saturday night during Bob Pantano's Saturday Night Dance Party, and during the three hours on Harvey Holiday's Street Corner Sunday program on Sunday evening, $150,936 were raised for CHOP. Note that next month, Broadcast Pioneers will honor Bob Pantano as our "Person of the Year" and we will induct Harvey Holiday into the Broadcast Pioneers' Hall of Fame.
WE REMEMBER:
Actor John P. Connell passed away last month at the age of 91. Connell was best known for starring in the live television soap opera "Young Dr. Malone" that ran for 5 years. He also did some writing for the soap, "The Secret Storm". Connell was originally from Philadelphia.
Broadcast Pioneers member Dr. Bucky Clark passed away last Tuesday evening from cancer. Bucky began his career at the age of three on WCAU radio. He was a regular on the "Uncle WIP" radio program for seven years. Clark also performed on "The Ted Mack Original Amateur Hour" in New York City. He was a performer on "All Eyes on Gimbels" in 1946. Clark was also a performer on "Paul Whiteman's TV Teen Club." Bucky worked with Merrill Reese at WBCB in Levittown as a disc jockey and newsman. He was also a writer for KYW Newsradio and filled in for Larry Ferrari on the Captain Noah Show. Bucky played the piano at our annual banquet for the last 17 years.
A LITTLE BIT OF BROADCAST HISTORY!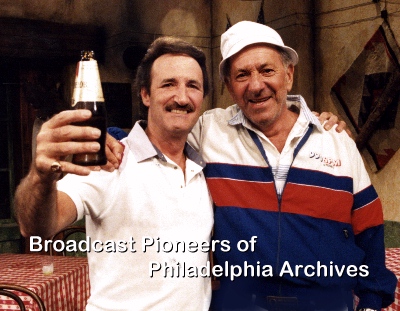 (Left to right) Aldo Farnese has a drink with native Philadelphian Jack Klugman
(Aldo was Dickory Doc & Adam Android)
WCAU-TV, Bala Cynwyd
on the set of the live drama, "The Petrified Forest
(Aldo was on the crew and Jack was the star)
September 1988
ON THE HEALTH FRONT:
Our CEO Gerry Wilkinson surprised everyone including himself by having laser surgery on each eye, a week apart last month. He went for an eye exam and shortly thereafter, found out that the treatment was needed. Gerry said that it was a very minor procedure. However, he added that his mother used to say that minor surgery is something that happens to other people. Anything, she said, that happens to you is major. Wilkinson was back working on Broadcast Pioneers items within hours of each procedure.
THIS AND THAT! Little Bits of Information....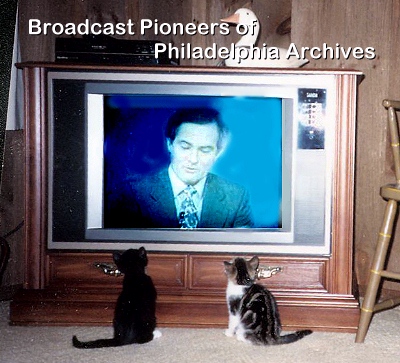 The "Cool Cats" Watch Member Rob Jennings
Action News, WPVI-TV, Philadelphia
At the beginning of December in 1950, this article was published about the return of Powers Gouraud, the Ol' Night Owl. He was a fixture on WCAU Radio (now WPHT) for decades. The article said:
Pick a color, any color. Find it in the title of a play. Then take the result to Powers Gouraud, the Old Night Owl.

Powers will astound you. He'll produce a list of 363 colorful play titles. Items such as "Black Chiffon," "Abie's Irish Rose," "The Corn is Green" and so on, ad infinitum.

This unusual and perhaps useful information came to Powers from a gentleman named Willard Richman, managing director of the Broadwood Hotel. Mr. Richman took top honors in a recent contest Powers conducted for his radio listeners.

The contest ran just about a week. It was announced only on Mr. Gouraud's five-nightly show for the Yellow Cab Company of Philadelphia over WCAU at 11:15 pm. Yet some 300 people did exhaustive research on the subject of color in plays. The winner was given two tickets to a stage show, courtesy of Mr. Gouraud.

Mr. Gouraud's series of new broadcasts for Yellow Cab began October 9th, 1950 after a long silence when the Night Owl was seriously ill. He got back into full stride, and neither Powers nor the number of listeners to his broadcasts show any ill effects from the interruption.
On April 11, 1959, the top ten records on WIBG were:
1. Come Softly to Me - The Fleetwoods
2. Venus - Frankie Avalon
3. Pink Shoelaces - Dodie Stevens
4. Just a Matter of Time - Brook Benton
5. Never Be Anyone Else But You - Ricky Nelson
6. Tragedy - Thomas Wayne
7. Charlie Brown - The Coasters
8. A Fool Such As I - Elvis Presley
9. Guitar Boogie Shuffle - The Virtues
10. It's Late - Ricky Nelson
The Jock lineup for that same time period on WIBG was:
5:30 am to 10 am - Bill Wright, Sr.
10 am to 12 noon - Tom Donahue
12 noon to 1 pm - Harold B. Robinson (yes, the car dealer)
1 pm to 3 pm - Tom Donahue
3 pm to 6 pm - Joe Niagara
6 pm to 7 pm - Tom Donahue
7 pm to 9 pm - Joe Niagara
9 pm to 1:30 am - Hy Lit
Broadcast Pioneers Hall of Famer Lee Dexter hosted a TV show on Channel 3 for a long time called, "Bertie the Bunyip." When asked "What's a Bunyip," Lee Dexter said:
"A bunyip is really an Aborigine good spirit. Bertie's got a gruff voice to show he's the protector of all good."
Did you know that comedian David Brenner was from Philadelphia and sold soft pretzels as a kid? He told us one time that he used to soak the stale, hard ones during the evening so that they would be soft by morning, thus allowing him to sell them as "fresh." Before turning to comedy for a living, Brenner was a documentary writer and producer for WRCV-TV, Channel 3.
It was Thursday, August 15, 1935. Our first president, Stan Lee Broza was program director of WCAU Radio. He found himself in a spot. He needed to send an announcer down to the old Public Ledger Building, ten blocks from the station. WCAU had a gentleman's agreement with the newspaper to use their facilities. Why did he need someone to be there? Wire service flashes were coming in from Alaska about the death of humorist Will Rogers who died in a plane crash. The only one around was a young 22 year old announcer with little to no experience. His name was Taylor Grant. Most of the veteran reporters thought that Grant was terrible. However, Leon Levy, president of WCAU Radio (and Bill Paley's brother-in-law) liked Taylor Grant and decided that from that point on, Grant would be one of their newscasters.
Many years after Broadcast Pioneers Hall of Famer Tom Snyder left KYW-TV and Eyewitness News, he talked about being there at the beginning of the format in 1965. Broadcast Pioneers member Al Primo created the format and will be inducted into our Hall of Fame next month. About Eyewitness News, Snyder said:
It was definitely a new wrinkle. As reporters, it was great for us. It allowed us the luxury of bringing the piece back to the station, where we could digest the material and write the script to fit the story.
THANKS FOR THE MEMORIES:
Pat Stanton and WJMJ!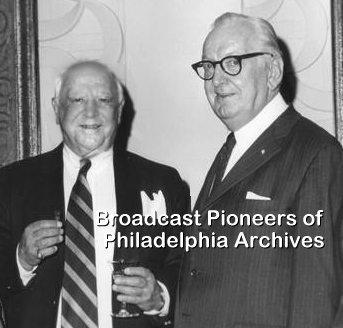 (Left to right) WDAS Time Salesman Louie Palens and Member Pat Stanton
Broadcast Pioneers "Person of the Year" banquet
Marriott Motor Inn, City Avenue & Monument Road, Bala Cynwyd, PA
Friday, April 14, 1972
(Photo originally donated by Mike Walsh, grandson of Pat Stanton)
(Previously unreleased photo from our archives)
Catholic Radio Update issue number 770 which came out on August 31, 2015 featured a story about WJMJ and its owner Pat Stanton. It is a weekly publication. For the last two years, historian Michael Dorner has been running stories about the history of radio. Michael has been kind enough to give us permission to reproduce the story in our newsletter. It will run in two parts. The first half is below with the conclusion next month.
We have for months been concentrating on the development of FM radio in the postwar period of American history. The reason is that it is a little known story; most contemporaries who know anything about radio presume that FM radio started with the hi-fi and stereo craze of the mid and late 1950s and the 1960s. Such was not the case.

We have not finished our story on postwar FM radio, although we are nearing the end of it in this series. But for the moment we need to take a look at the incredible blossoming of AM radio in the same period. Many entrepreneurs had seen in the superb technical quality of FM radio a dramatic improvement over the quality of AM radio in the standard broadcast 550-1600 kilocycle band. They had put their money into new FM stations, and those who did not already have or soon acquire an AM affiliate would lose their shirts.

Some entrepreneurs were, for whatever reason, investigation into the reality of the FM receiver market in terms of quality and availability, or just plain shrewd business acumen, not convinced that the future was with FM, at least not right away. Therefore they settled for AM stations, and sought out engineers who could find them a frequency, establish the power and if necessary, a directional pattern and, if so, what that pattern should be and whether a directional pattern was needed day and night and, again, if so, whether they could be the same.

Because multi-tower directional arrays are expensive, many applicants settled for a lower power that permitted them nondirectional patterns. In most cases, this meant using one of the "community channels"—1230, 1240, 1340, 1400, 1450, or 1490. These were the lucky ones. Those less lucky had to settle for daytime-only operations, from sunup to sundown, to protect distant co- and adjacent channel stations, particularly when these were one of the two-dozen jealously guarded clear channel 50,000-watt stations.

Amazingly, it was thus possible to place new stations in the nation's largest cities, with perhaps the exception of New York and Los Angeles. …It was necessary to locate the new station in one of the sprawling metropolitan area's suburbs and exurbs. Given the millions of returning GI's with money saved and a girl waiting back home, it was inevitable that to accommodate the new-found families, the suburbs and exurbs would expand even more.

If we take a look at the FCC Box Score table in the "For the Record" section in the weekly Broadcasting, September 20, 1948, issue, we see that there were 1,760 licensed AM stations and only 192 licensed FM stations. Given the new FM band, the necessity of producing new receivers and equipment, and the general newness of FM broadcasting, that figure is not surprising.

But if we look further at the table, we see that, while there were 325 outstanding construction permits for new AM stations, there were 721 outstanding construction permits for new FM stations, of which 403 were on the air and awaiting license issuance. Further, there were another 92 conditional grant stations, of which 24 were on the air.

These statistics would seem to belie my premise that the big growth was in AM radio, not FM. But if we look at the pending AM applications, there were 550 applications pending as of September 16, 1948, of which 313 were in competitive hearings. In the matter of FM applications for new stations, only 83 were pending, of which 39 were in hearing—the applications for new AM stations outnumbering applications for new FM stations by almost seven to one!

The flood of new AM stations would represent only a percentage of applications filed, of course, since many were conflicting and it was not possible to grant every application by a long shot.

One of the applicants was Patrick Joseph Stanton of Philadelphia. Born in 1907 Ireland and brought early to the United States, for some reason one of his aunts took him home with her to Philadelphia from New York when he was only five years old. At seventeen, he moved back to New York to work for a touring company. He also did some work for the old Edison movie studios. At nineteen he was back in Philadelphia and working for heritage radio station WIAD, now WDAS.

After the war, he persuaded a wealthy Irishman named James Duffy to finance a new radio station that he wanted to build. Stanton was still working at WDAS as announcer, and he wanted, as did so many radio announcers and managers in the postwar period, to be his own man. Stanton formed WJMJ, Inc. and, with James Duffy's backing, filed for 1530 kcs with a power of 10,000 watts, daytime only. He simultaneously filed for one of the many vacant Class B FM channels in the City of Brotherly Love.

It was with the filing of the AM application that Stanton's troubles began. The heritage powerhouse in Cincinnati was for over twenty years Crosley Radio's 50,000-watt clear-channel WLW 700 AM. A stalwart competitor, L.B. Wilson, Inc., owner of WCKY 1490 AM in Covington, Kentucky, across the Ohio River, wanting to match Crosley in power, filed for 1530 kcs with 50,000 watts on this clear-channel when the FCC opened the 1500-1600 kcs band after police stations had been moved into the VHF spectrum. He got it for his NBC-Blue affiliate station, and, like all clear-channel licensees, vociferously and legally defended the "clear" part of the channel against all would-be comers, even daytimers, in the postwar period.

Now, Philadelphia is 500 air miles from Cincinnati, and we are talking here daytime signals. As you know, in the daylight hours, AM band signals travel via ground waves; they do not reflect off the ionosphere in the daytime as they do at night. The FCC maintained that there would be no interference between Stanton's station and WCKY; WCKY did and, when protests to the FCC failed, went to court. The decision was in favor of WCKY and against Stanton's WJMJ.

Seeing that Mr Stanton was going to be further involved in legal proceedings likely to go to court, at this point investor Duffy decided to pull out. The FCC heard of it, and wanted to dismiss Mr Stanton's application on the basis that he could now not show any source of promised investment funds.

Defeated by WCKY, Mr Stanton then asked the Commission to grant him a construction permit on the adjacent 1540 kcs with a daytime power of 1,000-watts. That would solve the problem. The FCC agreed, and in January 1949, granted Mr Stanton a station on 1540 with that nondirectional, daytime power of 1,000 watts.

Mr Stanton thought it would solve the problem. It did not; better said, it created a new problem. What happened next was that opposition came from another licensee and from a new direction. If WCKY was satisfied that WJMJ would not operate on its 1530 AM frequency and no longer took interest, The New York Times, which owned WQXR 1540 AM in New York, did. It told the FCC in March 1949 that the construction permit sought by Mr Stanton should not be granted, that his proposed station on 1540 AM running 1,000-watts daytime only would interfere with its classical music WQXR 1560 AM, which ran 10,000 watts. New York was roughly 90 air miles from Philadelphia. While WCKY protested because the original grant for WJMJ was on the same frequency, in The New York Times case their WQXR New York and Stanton's WJMJ Philadelphia would be two frequencies apart.

Mr Stanton immediately asked the FCC to invoke a procedure mandated by the groundbreaking and incisive decision by federal appeals court in the WCKY decision—a hearing before the commission. In a March 1949 issue, Broadcasting reported, "Mr. Stanton claimed that WJMJ, operating under FCC's rules and standards, causes no interference to WQXR's present 10 kw operation and would not interfere with its proposed operation with 50 kw. His petition, filed by John H. Midlen of the Washington law office of George O. Sutton, therefore asked that the WQXR request be set down for oral argument on the question of its legal sufficiency. . . . After oral argument, WJMJ claimed, FCC should deny or dismiss WQXR's petition. WJMJ operates with 1 kw, daytime only."

The decision was not long in coming. On May 15, 1949, the Commission "adopted memorandum opinion and order denying petition asking reconsideration of Commission action on February 2, granting without hearing application of Patrick Joseph Stanton to change facilities of WJMJ Philadelphia." WQXR got hit with a double whammy; on the same day in a different memorandum opinion and order, WQXR's petition to deny a power increase of WPTR Albany, New York, to 50,000 watts was dismissed.

Messrs. Stanton and his backer Mr Duffy had prevailed. Heaven knows what the legal expenses must have been, with the WCKY fight going into the Federal Court of Appeals. He was on the air in early 1949 on 1540, after having been bumped off 1530. Why the call sign WJMJ? Was it for "Jesus, Mary, and Joseph" an invocation often used on students' paper headings in Catholic schools?

In those days, when Faith was not relegated to Sundays only, as is the case for the majority of Catholics these days, it is likely that Mr Stanton learned this invocation early on his childhood, if not from nuns in school, perhaps from his aunt. Gerry Wilkinson of the Broadcast Pioneers of Philadelphia says that attribution may be an urban legend, but I remember reading as a child—probably in the weekly Catholic Messengers—that Mr Stanton expressed his deep Catholic faith by naming his station WJMJ. There is further evidence.

Gerry Wilkinson of Broadcast Pioneers of Philadelphia in a follow-up letter told me that a teenager named John P. Foley began announcing over WJMJ at the tender age of 15. Not only did he announce, but he also wrote radio plays based on the lives of the saints. It was the start of a career in radio and television that led to a weekly college debate program over local Channel 3 and a 10-second sound bite on Edward R. Murrow's See It Now. John Foley would enter the seminary, be ordained, and eventually become a bishop and a cardinal.
Next month, the conclusion to this article. By the way, Pat Stanton was this organization's "Person of the Year" in 1972.
WCAU-TV Television Halloween Recipes!

Back in the early fifties, there was a TV program on WCAU-TV, Channel 10 here in Philadelphia called "Shop 'n' Save." It was on every Thursday afternoon at 1 pm and was sponsored by the Acme Supermarket chain. Gerry Wilkinson, our CEO used to be an "order boy" with his metal red wagon. Gerry said: "supermarkets were much smaller then. I grew up in West Philadelphia and there was an Acme Market every few blocks. They were only the length of a few row houses. There was one at 53rd Street, 56th Street and 60th Street. I took orders at the one on the 1500 block of North 56th Street."
Wilkinson's grandfather used to be an assistant manager of an American Store (when they were little corner stores). They were forerunners of the Acme. After a heart attack, Gerry's grandfather was a guard at WIP Radio (in the Gimbels Building downtown) during the late 40s and early 50s. Back to our main topic....
Television was different than today. Back in the fifties, a program may have been on only once a week during the daytime. Another good example of this was "Television Kitchen" with Broadcast Pioneers member Florence Hanford. The show was on every Wednesday afternoon and was sponsored by the Philadelphia Electric Company. Well, here's some recipes from Marian Kemp from 63 years ago.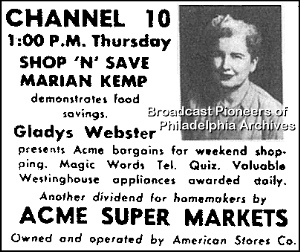 WCAU-TV Marian Kemp Advertisement
1953
HALLOWE'EN CANAPES
1/4 lb. Glendale Club Cheese Food
1 1/2 tbs. prepared horseradish
Devonsheer Melba Toast Rounds
Allow cheese to stand at room temperature until softened. Mash with a fork. Blend thoroughly with horseradish. Spread on Devonsheer Melba Toast Rounds and pass with chilled apple juice.
INDIVIDUAL CHICKEN PIES
1 lb. boneless veal
4 lb. stewing chicken
Cold water
1 1/2 tsp. salt
Pot herbs
1 8 oz. can Ideal (Acme house brand) peas
1 cup small white onions
1 cup Green Giant Mexicorn
4 tbs. Louella (Acme house brand) Butter
6 tbs. Gold Seal Flour
3 cups stock
3 cups prepared biscuit mix
Cut veal in bit-sized pieces, chicken in quarters. Put in deep saucepan; cover with cold water. Add salt and herbs. Simmer until tender, about 2 hours. Let cool in stock. Take veal and chicken out of stock; cut chicken in generous size pieces. Strain stock. Melt butter in saucepan, blend in flour, add stock gradually, stirring constantly and cook until thickened. Add veal, chicken and drained vegetables. Stir gently to mix in vegetables. This may be cooled, covered and placed in refrigerator until next day or used immediately. Ladle chicken pie into eight individual casseroles. Top each with 3 small biscuits made from biscuit mix. Bake 20 minutes at 425ºF.
AUTUMN SALAD
1 envelope plain gelatine
1 cup water
12 oz. can apricot nectar
2 tbs. lemon juice
1 cup seedless grapes
1 sliced banana
1 diced orange
Soften gelatine in water. Dissolve in apricot nectar which has been heated to just below boiling. Stir in lemon juice and chill until partially thickened. Then fold in grapes, banana and orange. Turn into individual molds and chill until firm.
ORANGE CHIFFON CAKE
2 1/4 cups Gold Seal Cake Flour
1 1/2 cups sugar
3 tsp. baking powder
1 tsp. salt
1/2 cup salad oil
5 Gold Seal egg yolks
3/4 cup cold water
2 tbs. grated orange rind
1/2 tsp. cream of tartar
1 cup Gold Seal egg whites (7 to 8)
You'll need a 10" tube pan; do not grease. Separate egg yolks and whites, measure whites and put in large bowl. Have all ingredients at room temperature. Sift flour, measure; add sugar, baking powder and salt; sift into another large bowl. Make well in flour mixture; add salad oil, egg yolks, water and orange rind. Stir until blended and smooth, or beat with electric mixer at medium speed for about 1 minute.
Add cream of tartar to egg whites and beat until whites form stiff peaks--this means very stiff. (If you use an electric mixer, beat egg whites first, set aside, then beat egg yolk mixture without washing beaters.) Pour egg-yolk mixture slowly over whites, folding with rubber scraper or spoon until completely blended Pour into pan. Bake in moderate oven, 325ºF. for 60 to 70 minutes until top springs back when lightly touched with finger tips.
Immediately turn pan upside down and let stand until cold. Loosen cake from sides and tube with spatula. If pan has a removable bottom lift out by tube; loosen cake from bottom, invert pan and hit edge sharply on table to remove cake.
FLUFFY FROSTING
1/4 tsp. salt
2 Gold Seal Egg Whites
1/2 cup sugar
3/4 cup corn syrup (light or dark)
1 tsp. Ideal (Acme house brand) Vanilla
1 1/2 tsp yellow food color
5 to 6 drops red food color
1/4 tsp. green food color
Add salt to egg whites and beat with hand or electric beater until stiff enough to form soft peaks. Add sugar a tablespoon at a time, beating until smooth and glassy after each addition. Add corn syrup a little at a time; beat thoroughly. Add vanilla, then the yellow and red colors. Continue beating until frosting stands in stiff firm peaks. Remove 1/4 cup frosting for stem; blend in green food color.
When ready to frost, place cake top side up on serving plate. With spatula, cover sides, top of cake and inside of center hole with a layer of pumpkin-colored frosting about 1/4 inch thick. Next spread upper half of sides and outer half of top surface generously with remaining frosting; then smooth frosting in curves toward bottom and in toward center of cake to give a rounded pumpkin shape.
Make grooves in pumpkin by pulling tip of spatula through frosting, starting at bottom and bring up to center. For the pumpkin stem, insert peeled banana in hole in center of cake. Use pieces of another banana as wedges to hold it firmly in place. Spread them with the green-tinted frosting. Serve the day it is frosted, removing banana for cutting. Makes 14 to 16 servings.
WKBS, Color Channel 48!
WKBS-TV Print Ad
Monday, August 29, 1983
WKBS-TV came on the air on Wednesday, September 1, 1965. For years, it was known as "Color Channel 48." The call letters were widely known to have stood for "a Kaiser Broadcasting Station." It was licensed to Burlington, New Jersey and Philadelphia with its studios and office in South Philly and transmitter and tower in Roxborough.
Kaiser Broadcasting was pretty much owned by Henry J. Kaiser who manufactured aluminum and for ten years (1945 to 1955) made automobiles. Two of their brands were "the Kaiser" and "the Henry J," sort of an early version of the Ford Maverick.
In 1958, Kaiser purchased KULA-TV (now KITV) in Honolulu. Then he applied for and received construction permits (CPs) for several new TV stations in major markets on the UHF dial. WKBD-TV, Detroit came on in January of 1965 with WKBS-TV here in Philadelphia, less than nine months later. Shortly thereafter, Kaiser Broadcasting sold the Hawaii station. The money raised from the sale helped Kaiser put more UHF's on the air.
There was WKBG-TV in Cambridge which was off the air for awhile under the ownership of the Boston Globe newspaper. WKBF-TV in Cleveland and San Francisco based KBHK-TV both came on during January of 1968. In 1971, KBSC-TV, licensed to Corona and serving Los Angeles was purchased. The next year, 1972, saw a swap of almost 23% of Kaiser Broadcasting to Field Communications, owners of Channel 32 in Chicago and the Marshall Field's Department Store. In return, Kaiser got majority amount of stock (over 75%) in WFLD-TV, Chicago, the country's second largest city. Now, Kaiser had a station in Chicago.
Three years later, there was another strange deal, this one with United Artists who at one time owned a construction permit for a commercial TV station on Channel 23 in Camden. That station was never built and when the channel became available, it went to the New Jersey Network (public television). United Artists owned WUAB, Channel 43 in Cleveland. Kaiser owned Channel 61, WKBF-TV in the same market.
The deal called for Kaiser to turn the Channel 61 license into the FCC so that the station could go dark. Once, Kaiser no longer had any TV holdings in Cleveland, it was legally allowed to buy a minority interest in WUAB-TV. Once dark, Channel 43 acquired rights to some of the best Channel 61 programs. You see, these two independent stations were going after the same market and neither made much profit. However, this deal allowed both to make money. In fact, it has been reported that Kaiser made more profit with its less than half ownership of WUAB-TV, then it did when it owned an entire station. That same year, Kaiser Broadcasting bought out the remaining interest in their Boston station from the Globe newspaper.
In 1977, a corporate decision was made by Kaiser Broadcasting to leave broadcasting. They could turn a nice profit by selling off their broadcast properties, most went to Field Communications for $42.6 million dollars.
Five years later, in 1982, the two Field brothers, Marshall and his half-brother Fred were at odds with each other, but they were the majority stock holders. They decided to liquidate the company and sold all the stations except the Philadelphia station. There were several offers.
However, the company could maximize their profits by liquidating the assets (writing off the loss for tax purposes) of the station, selling equipment and some programming rights to WPHL-TV (valued at $10 million dollars), run at the time by Broadcast Pioneers' 10th President Gene McCurdy.
When WKBS signed off the air, they were the number six television station in a six station market, but still making a profit for the owners. In June of 1983, a trade publication valued the broadcast property's value at between 40 and 50 millions dollars. In April of that year, Field sold the Chicago station for $140 million dollars to Metromedia. The Boston, San Francisco and Detroit stations in total raised another $140 million. They also sold off their other interests including the Chicago Sun-Times newspaper, the Independent Press Service, the Field Newspaper Syndicate, seven cable TV systems and real estate.
Almost to the day, after 18 years from the date it signed on the air, WKBS-TV, Channel 48 licensed to Burlington, New Jersey and Philadelphia went dark. The only other station in the market to go dark was WVUE-TV, Channel 12 in nearby Wilmington, Delaware, owned by Storer Broadcasting.
On Friday morning, July 15, 1983, Vice-President and General Manager of WKBS-TV, Vincent Barresi told his staff (at the same time the news was being released to the media) that all of the station's 82 employees would lose their employment as Fields Enterprises, Inc., owners of Channel 48 decided that the station would sign off the air permanently before their 18th anniversary.
During the spring of 1983, Field Enterprises of Chicago offered the station as a gift to the University of Pennsylvania's Annenberg School of Communications. The college said, "no thanks." Field Enterprises would have been able to write off the entire value of the facilities if the university took the deal.
On Monday night August 29th/Tuesday morning August 30th, WKBS-TV signed off the air for the last time. Earlier that evening, the station broadcast the Penn State-Nebraska football game.
When WKBS-TV went dark, other stations picked up some of the Channel 48 broadcasts. Many of the cartoon and kids programming went to WPHL-TV, Channel 17.
WKBS-TV, which had its studios and offices in South Philly ( 3201 South 26th Street), had its transmitter site in Roxborough on land leased from Channel 6. Their tower was just over 1100 feet tall and when the station went off the air, Cornerstone Television purchased the tower and transmitter, shipped it to Altoona and put Channel 47 on the air there as WKBS-TV. Now in the digital age, WKBS as a digital TV station is on the air as Channel 46. Once Channel 48 in Philadelphia went dark, the license again became available with 11 different applicants fighting it out.
Broadcast Pioneers member Roger Hendler e-mailed:
I worked there in 1966. You may want to add that Kaiser Channel 48 was the first Philadelphia TV station with a "10 o'clock News." The anchor was John Galbraith who Kaiser VP Richard Block brought from San Francisco, the late Stu Nahan did sports (along with being Captain Philadelphia) as he was also a friend of Block, and BP member Joe Earley was the weatherman. I still have Stu's business card authorizing me to pickup film at the airport. ...Gene Kelly was to be the sports anchor but had been injured and thus Stu came to Philadelphia. It was a great place to work. Dan Baker replaced me as the "mailboy, etc." I was at Temple and Dan was a student at Glassboro State.
Christopher Danelutti, a visitor to our website e-mailed:
When WKBS-TV 48 went off the air in Philadelphia, I cried. I was a kid then. In fact, the station went off the air on my 5th birthday. 48 was an awesome station that showed a ton of shows that mom would always let me watch as a kid. I distinctly remember that's the station I first saw Mighty Mouse on. 48 wasn't on long while I was growing up, but, it left a lasting impression. I remember when mom told me 48 was going off the air. It was my favorite station! It couldn't be going off the air! Mom even let me stay up late to watch it go off the air. When the station went dark, and that snow appeared on that television in the living room, I started crying and went to bed very sad.

Then, I don't even remember what year it was, but a good time later, 48 came back on and (I think I was a young teen or just about to be) I got all excited thinking it was the same television station I remembered from the early years. To my dismay, it was not.
TICKETS ON SALE NOW!
Our Annual Banquet!
Friday, November 20, 2015!
Our "Person of the Year" &
"Hall of Fame" Inductees!
212 Tickets Already Sold!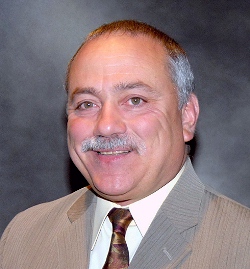 Bob Pantano
Broadcast Pioneers' 2015 "Person of the Year"
Broadcast Pioneers member Bob Pantano is the host of the Saturday Night Dance Party in Philadelphia on 98.1 WOGL. This is the first and longest running radio dance party in the nation, now celebrating 38 years.
Bob Pantano, a South Philadelphia native, started spinning at the record hops in the late 1960s and then the nightclubs in the 70s. His professional radio career began on WCAM in Camden, New Jersey in 1971. Bob pioneered the live-radio broadcast, The Saturday Night Dance Party, in 1977, which airs every Saturday night live from 7:00 p.m. to 2:00 a.m. and has enthralled and entertained Philadelphia audiences with its upbeat dance music.
"Hall of Fame" - Living Inductees
Lynne Barrett, TV personality & voice over announcer from the 40s to the 70s
Tracy Davidson, NBC 10 News Anchor & Reporter & 6-time Emmy Winner
Jim Donovan, CBS 3 Consumer Affairs Reporter & 13-time Emmy Winner
Harvey Holiday, 98.1, WOGL Air Personality for the last quarter century
Dick Kearney, former WCAU Cameraman Extraordinaire & Emmy winner
Lauren Lipton, currently, the KYW Newsradio Morning Drive News Editor
Marian Lockett-Egan, advertising guru & former leader of Broadcast Pioneers
Al Primo, the person who changed television news across the nation forever
Pierre Robert, long-time radio DJ & air personality on 93.3, WMMR Radio
Karen Rogers, morning Traffic/Weather Anchor for Action News, 6ABC
Joe Tarsia, founder/owner of Sigma Sound Studios with 100s of Gold Records
Marlin Taylor, father of the "beautiful music radio format & former PD at WDVR
"Hall of Fame" - Posthumous Inductees
Don Cannon, former radio air personality at several different stations in town
Mark Drucker, KYW Newsradio reporter, former newsman for John DeBella
Aldo Farnese, former TV Children's Air Personality on WKBS & Channel 29
Dick Heist, suburban station announcer/air personality for many decades
Helen Pulaski Innes, WIP's first female Program Director & that was in 1922
Lee McCarthy, former NBC correspondent & Channel 29 news anchor/reporter
Wynn Moore, former radio talk show host at several stations in Philadelphia
Cozy Morley, popular Southern New Jersey entertainer, musician and comedian
Karin Phillips, former KYW Newsradio, 1060, community affairs reporter
Art Szcykalski, former WPHL, Channel 17 Manager of Engineering & Operations
Tickets on SALE Now!
Prices are $88 for members (each member can buy ONLY one ticket at the member price) and $98 for everyone else (including spouses, friends and guests). The event will once again take place at the Hilton City Avenue, 4200 City Avenue, Philadelphia. The date is Friday, November 20th. The reception is at 6 pm and dinner is served at 7 pm. Doors open at 5:45 pm. Cash bar all night long. Valet parking is $10. Event lot parking is $5. Make plans to be there! A major portion of the ticket price may be deductible on your federal income tax. Ask your tax advisor for details! Tickets must be purchased in advance. Absolutely no tickets available at the door.
We Wanna See Your Face in That Place!

OUR HATS OFF TO YOU:
Special Thanks for April 2016 Scholarships:
Member Dan Lerner - 5 scholarships
Member Sylvia Kauders - 1 scholarship (from a grant for 5 yearly scholarships running until 2019)
Member Harry Hurley's Golf Tournament - 1 scholarship (for a South Jersey resident or student)
Member Johnny B. Hall and his wife, Ginny - 7 scholarships
Member Kal Rudman - 5 scholarships (for Temple University students)
Members Robin and Ira Adelaman and Robin's Dad, Leon Love - 1 scholarship
Special Thanks for contribution of $1,000 or more to our DAP, Digital Archival Project:
Member Johnny B. Hall and wife Ginny - $3,000
Member Marlin Taylor - $1,000
Member Harry Hurley's Golf Tournament - $1,000
Member Glenn "Hurricane" Schwartz - $1,000
Member Elliot Abrams - $1,000
Special Thanks for a contribution of $500 or more to our DAP, Digital Archival Project:
Member Esther Kurtz - $500
Member Art Moore - $500
Member Rod "Storm" Phillips - $500
Underwrite a complete scholarship and we'll give you credit in the electronic newsletter until the scholarship is awarded in April of 2016. Give us a donation of $1,000 or more and we'll list you in our "Thank You" column for a year. Give us a donation of $500 or more for our Digital Archival Project and we'll list you in our "Thank You" column for six months.
More Thanks:
Special kudos to those who gave an extra contribution when paying for their September luncheon. These people include: Rick Barringer, Paul Big Bear, Don Casey, Diego Castellanos, Harry Donahue, Steve Gary, Tony Hanson, Bob Hawkins, Bill Kelley, Tom Lamaine, Dorie Lenz, Jay Lloyd, David Madden, Tom Maloney, Chuck McGiven, Bill Roswell, Phil Shuman, Bill Shusta and Gerry Wilkinson. Also special thanks to those who sent in an extra contribution when getting their banquet tickets. Those people include: Steve Tatz, Art Moore and Anthony Scafide.
A growing portion of the revenues that fund the different activities of the Broadcast Pioneers comes from donations. This includes our archival project and our scholarship program. Now, we are making it even more beneficial for our donors. Broadcast Pioneers is now able to accept gifts of appreciated stock, which provides a significant tax benefit to you. By giving appreciated stock (stock which is worth more now than what it cost when it was purchased), you can get a charitable contribution tax deduction based on the current market value of your stock. At the same time, you avoid the capital gains
tax that would arise if you simply sell the stock. So if you'd like to support our educational mission or our archival project and save money on taxes too, please consider making a gift of appreciated stock. We are a federally recognized, state chartered charity with a 501(c)(3) status. Contact us at (856) 365-5600 or e-mail pioneers@broadcastpioneers.com for more details.
Don't be left out. You too can make a pledge. It's never too late. You can earmark it for scholarships, our Digital Archival Project or our general fund. Thanks so much for your support.
Our special thanks go to TUTV - Temple University Television and The Kal & Lucille Rudman Media Production Center.

They have underwritten a grant to be used to fund an entire year of all our newsletters for calendar year 2015. We thank them so much for their support!
If you forgot to make an extra contribution (cash or memorabilia) and would like to do so now, it's never too late. We would be thrilled to hear from you at: PO Box 2886, Bala Cynwyd, PA 19004 or call us at (856) 365-5600.
A FINAL THOUGHT....
While we ran this "Final Thought" four years ago in our December 2011 newsletter, just a couple weeks before the passing of Cardinal John Foley, we thought you might like to see it again.
His (Cardinal Foley) first religious post was at Sacred Heart Church in Havertown. One evening, there was a church dinner and Father Foley was standing in line waiting for dessert with a young elementary student in front of him. The two came to a plate of cupcakes, which had a sign saying, "Take one - God is watching!" The child looked at Father Foley for guidance. Father Foley said, "That's right, just one cupcake." Soon they came to a plate of chocolate chip cookies. Again the child looked for guidance and said, "Father Foley, what should I do?" Foley said, "Take as many cookies as you want. God is watching the cupcakes."

as told by Broadcast Pioneers member Bill Roswell
November 18, 2011
remarks celebrating Cardinal Foley being named our "Person of the Year"

Please contact us by e-mail at newsletter@broadcastpioneers.com or by mail to: Broadcast Pioneers of Philadelphia, PO Box 2886, Bala Cynwyd, PA 19004. Your stories are important, to you, to us, and your colleagues. Contact us today and we'll include your story in the next newsletter!

© 2015, Broadcast Pioneers of Philadelphia
All Rights Reserved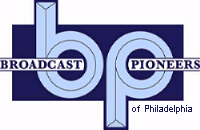 The e-mail address of the Broadcast Pioneers of Philadelphia is pioneers@broadcastpioneers.com
For luncheon reservations call (856) 365-5600 or e-mail us at: rsvp@broadcastpioneers.com