| | |
| --- | --- |
| | Broadcast Pioneers of Philadelphia is a federally recognized, state chartered 501(c)(3) non-profit organization serving the Philadelphia Broadcast Community since January of 1962. |
October Luncheon
The Bala Golf Club
Wednesday, October 19, 2016

Meet & Greet at 12 noon!
Lunch at 12:30 pm
Ratecard: $28 per person!

PLEASE RESERVE NOW!
CALL (856) 365-5600!
rsvp@broadcastpioneers.com


MAKE PLANS TO BE THERE!
THIS IS A MUST!
Wednesday, October 19th
He was our friend. Many of us knew him personally. We loved him and now, we miss him. However, Captain Noah will live on in the memories of his friends and his millions of viewers.
Come out and join us on Wednesday, October 19th. We'll be sharing stories and lots of memories about the rascally ol' Captain.
Captain Merbreier once said that he couldn't really decide if he was Carter Merbreier or Captain Noah. The answer is simple. He was both. Not sure if you can separate them. Why would you want to?
Our MC for the afternoon will be member Marc Howard, who was an anchor for many years at the same station as Carter Merbreier, WPVI.
Our speakers, in alphabetical order, will be (subject to change):
Lew Klein, the one guy responsible for getting Captain Noah on television
Dave Roberts, former weathercaster on WPVI. He shared an office with Carter
Elaine Skypala, former Associate Producer of the Captain Noah Program
Plus, live on the phone from New York City, Art Moore. Art worked at Channel 6 for quite awhile in Production and is now VP of Programming for WABC-TV (new York) and producer of "Live with Kelly," the Kelly Ripa Show. Plus, we'll have a memory mike for you to share your thoughts with us.
It all takes place at the beautiful and historic Bala Golf Club, 2200 Belmont Avenue (across the street from the state police) in the Wynnefield section of Philadelphia. Only minutes away from Channels 6, 10 and 17 and the radio stations in Bala Cynwyd. Call now for reservations. (856) 365-5600! E-mail: rsvp@broadcastpioneers.com. Don't miss this one! THIS EVENT IS OPEN TO THE PUBLIC! Make plans to be there.
Plenty of FREE parking. Our luncheons are open to all our members, their guests and any person in the industry or associated fields, whether active or retired. You do NOT have to be a member to attend. There is no reserved seating at our luncheons. Feel free to sit anywhere. Well, okay--the three people on the camera crew sit near the cameras, but that's in the back of the room.
The cost is only a donation of $28 (or more) per person! In order to speed up check-in at the luncheon, it would help if you had exact change or your check written in advance. Checks should be made payable to the Broadcast Pioneers of Philadelphia.
If you would like to add a few dollars extra, we would appreciate it. It would help us with all the important work we are doing. Thanks!
WE'LL BE PROUD TO SEE YOU IN THE CROWD!

Visit Our Website Often - http://www.broadcastpioneers.com
You should check the front page of our website often (link above) for important information!
Tune in to our YouTube Channel - http://www.broadcastpioneers.com/youtube
Our YouTube Channel has all our luncheons, exclusive interviews and archival material!
Check out our Facebook Page - http://www.broadcastpioneers.com/facebook
There are things on our Facebook Page that are NOT on our website (like our vintage photo of the week)
Go to our Twitter Account - http://www.broadcastpioneers.com/twitter
The Broadcast Pioneers Twitter Account has info and stuff not available elsewhere!
Go to our Instragram Section - http://www.broadcastpioneers.com/instagram
Here's another one of our social media sections. Visit it as often as you wish!

TICKETS ON SALE NOW!
Our Annual Banquet!
Friday, November 18, 2016!
Our "Person of the Year" &
"Hall of Fame" Inductees!
209 Tickets Already Sold!



JERRY BLAVAT!
OUR 2016 PERSON OF THE YEAR!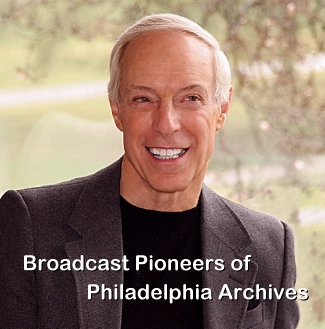 2016 PERSON OF THE YEAR!
Watch our "Pioneers of Philadelphia Broadcasting" episode shot at the office of Broadcast Pioneers member Jerry Blavat. Member Mike Strug spoke with him for this fantastic half-hour personal one-on-one interview where "The Boss with the Hot Sauce" talks about his life and how he became "The Geator with the Heater."
(Video courtesy of Broadcast Pioneers VP Brad Seecof and Metramedia Broadcasting and Studios)


"HALL OF FAME" LIVING HONOREES!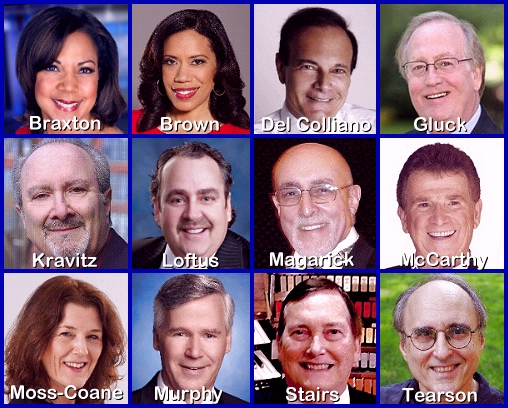 Monique Braxton, NBC 10 News Journalist/Reporter for sixteen years
Natasha Brown, CBS 3 News Anchor for "Eyewitness News" on weekends
Jerry Del Colliano, nationally known expert on broadcasting/interactive media
Paul Gluck, TUTV manager, former executive at several Philadelphia stations
Bob Kravitz, photo journalist at most every television station in our marketplace
Jim Loftus, President and CEO at More FM, number one station in the city
Barry Magarick, founder and president of Magarick Advertising
Tommy McCarthy, former music director at CBS Radio's WOGL-FM, 98.1
Marty Moss-Coane, longtime WHYY "Radio Times" host/executive producer
David Murphy, weekday meteorologist for morning & noon "Action News"
Michael Stairs, well-known organist for the famed Philadelphia Orchestra
Michael Tearson, air personality for as long as Rock Music has been on FM
"HALL OF FAME" POSTHUMOUS HONOREES!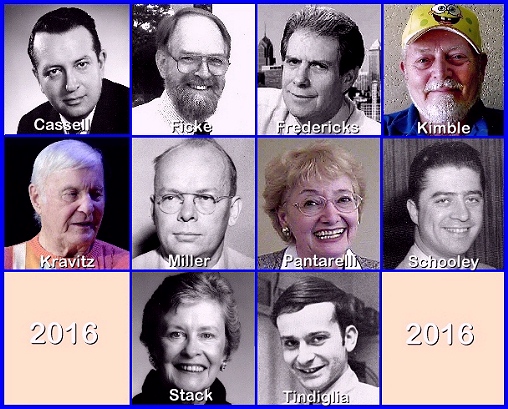 Barry Cassell, well-known radio and television announcer in the 50s and 60s
Fred Ficke, WHYY-TV stage manager coaching US Presidents to TV 12 staff
Steve Fredericks, famed radio sports host and commentator for WCAU & WIP
Bill Kimble, who "kimblized" you as you listened on WPEN, Station of the Stars
Pinky Kravitz, "Mr. Atlantic City" and host of "Pinky's Corner" for 57 years
David Miller, worked for W3XE (Philco) and put Channel 6 on the air in 1947
Marie Pantarelli, former assistant for George Koehler & Lew Klein for 50 years
Jess Schooley, former WCAU-TV stage manager for most Channel 10 shows
Joan Stack, well-known celebrity interviewer and Bucks County radio host
Ron Tindiglia, credited with developing the Action News format here in Philly
TICKETS NOW ON SALE!
Prices are $88 for members (each member can buy ONLY one ticket at the member price) and $98 for everyone else (including spouses, friends and guests). Our MCs for the event will again be members Larry Kane and Dom Giordano.
The event will once again take place at the Hilton City Avenue, 4200 City Avenue, Philadelphia. The date is Friday, November 18th. The reception is at 6 pm and dinner is served at 7 pm. Doors open at 5:45 pm. Cash bar all night long. Valet parking is $10. Event lot parking is $5. THIS EVENT IS OPEN TO THE PUBLIC!
Make plans to be there! A major portion of the ticket price may be deductible on your federal income tax. Ask your tax advisor for details! Tickets must be purchased in advance. Absolutely no tickets available at the door.

WE'LL BE PROUD TO SEE YOU IN THE CROWD!

NEW MEMBER:
Mary Jo Melone has been in our business since 1974. She was with KYW Newsradio from 1978 until 1983. She was the only person in the station's history to have held its two highest profile positions, morning drive anchor and City Hall reporter. She was the voice that broke the news about TMI to the Delaware Valley. Melone has also worked for WKCR-FM (New York), the New York Times, WQUIV-FM (NYC), WNLK (Norwalk, CT) and WEBR (Buffalo). She has been working in the Tampa Bay area as of late.
We are thrilled to have over 500 members. More than ever. We hope to see as many of our members as possible at our October 19th luncheon.

You Can Help Us!



When you log into Amazon via http://smile.amazon.com, all eligible purchases earn Broadcast Pioneers a donation of 0.5% from Amazon. However, you must log in to Amazon through http://smile.amazon.com. We have made it simple. You can also log into them using http://www.broadcastpioneers.com/amazon. It's easy to remember and takes you to the same place.
AmazonSmile is the same Amazon you know. Same products, same prices and the same service. The only difference is that they donate 0.5% of your eligible purchases to Broadcast Pioneers. IT DOESN'T COST YOU ANY MORE TO DO THIS! Same price to you and we get a donation to help us continue with all our great educational projects! IT'S WIN - WIN!

DIGITAL ARCHIVAL PROJECT NEWS:
VIDEO: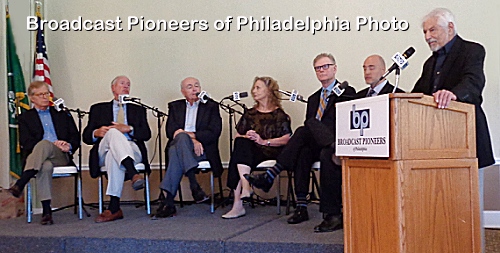 (Left to right) Terry Ruggles, Robin Mackintosh, Harry Donahue,
Karen Curry, Tony Hanson, Tim Lambert and Jay Lloyd
Broadcast Pioneers Luncheon
Bala Golf Club, Philadelphia
Wednesday, September 21, 2016
Everyone who lived through the horrors on the attacks on September 11, 2001 remembers watching the events of that sad day on TV and listening on the radio. Your thoughts of the day are forever embedded in your mind. But what about the thoughts and feelings of those who were assigned to cover the day for the various media outlet? What did they go through on that fateful day?
That was the subject of one of the most thought provoking luncheon panels ever held by the Broadcast Pioneers of Philadelphia. On Wednesday, September 21, 2016, a group of media people who actually covered 9-11 gathered to tell some of the fascinating tales of what occurred behind the scenes on that heartbreaking day. Each panelist offered some truly amazing insight on what it was like to cover the event that took place some 15 years ago.
MC Jay Lloyd of KYW (who was on the ground in Washington DC) did a masterful job of orchestrating a panel that included:
Karen Curry, former Executive Producer at CNN at the time
Harry Donahue, former KYW Newsradio Morning News Co-Anchor
Tony Hanson, former 1060, KYW Newsradio Street Reporter
Tim Lambert, Multimedia News Director for WITF in Harrisburg, PA
Robin Mackintosh, former KYW-TV, CBS 3 News Street Reporter
Terry Ruggles, former NBC 10, WCAU-TV Anchor and Street Reporter
For those who were unable to attend, you can still see this mesmerizing discussion of the day's events by watching the video of the panel.
(video courtesy of Broadcast Pioneers VP Brad Seecof and Metramedia Broadcasting & Studios)
AUDIO:
Member Phil Shuman worked at WCAU Radio in the late sixties. He was involved with a telephone talk presentation called, "CounterPart." Shuman told us: "It was Bill Hart on Morning Edition. I think we took a half hour or more, starting around 8:30 am with each "CounterPart" episode. One of the days, we broke format and ran through the 9am news because it was going so well. I got royally chewed out for letting that happen. My fondest memory was folks stopping in the halls at the station, standing under the ceiling speakers, to listen to these exchanges."
Phil said that some of the other CounterPart shows included the school superintendents from Philadelphia and San Francisco, the stadium project managers for new stadiums in Philly and Pittsburgh and the one we have for you today. This one had Philadelphia Police Commissioner Frank Rizzo with Boston's Police Commissioner Edmund "Leo" McNamara. This episode is 17 minutes long and ran without commercial breaks. It dates from about 1967.
Listen in Real Audio!
Listen in Windows Media Format!
Our next piece of audio is from 1989. Ed Hurst was on WPEN Radio and he was speaking with the legendary Bob Hope. Member Don Hurley is helping to preserve all the Ed Hurst material and donated this interview (along with hundreds of others) to our audio archive.
This particular broadcast dates from Memorial Day. Monday, May 29, 1989. It's was Bob Hope's 86th birthday. The TV special that they are talking about in this interview was "Bob Hope's Fun Birthday Spectacular from Paris". It aired five days before on Wednesday, May 24th. By the way, Hope would live to be 100 years old and his real first name was Leslie.
Listen in Real Audio!
Listen in Windows Media Format!
Today's News Becomes Tomorrow's History!
(This is what our Digital Archival Project, DAP, is all about!)
IN TOUCH WITH OUR MEMBERS:
In 2003, we inducted long-time member Bob Perkins into the Broadcast Pioneers' Hall of Fame. While many of us know Bob for his excellent jazz programs on WRTI, Bob also had a background in news. Gerry Wilkinson, our CEO, was Operations Manager of WDAS AM & FM in the seventies. He tells us that Perkins was News Director of those stations during that time.
Well, Bob Perkins will be honored later this month when he will be inducted into the "Walk of Fame" on the Avenues of the Arts here in Philly. Other inductees will include Jaco Pastorious, Benny Golson, Christian McBride, Joey DeFrancesco, Kenny Barron and Buddy DeFranco (posthumously). De Franco, by the way, was a performer on the Horn and Hardart's Children's Hour hosted by Stan Lee Broza, who was the very first president of the Broadcast Pioneers of Philadelphia.
Member Ben Notaro let us know that one of his pleasures in life was his hosting and being the announcer for the New Jersey Veterans Home wheelchair race. He said that they also hold a classic car event there. The event was August 28th at the New Jersey Veterans Memorial Home in Vineland, New Jersey. He told us: "I have been the announcer for these races for the past nine years."
Member Christopher Harper, a professor of Journalism at Temple University says that he was inducted into the Iowa Rock 'N' Roll Music Association's Hall of Fame over Labor Day weekend this year. He said: "I was the lead singer for The Trippers. We cut a few 45s and had one reach No. 99 on the Billboard 100. The band was based in Sioux Falls, S.D., and we were inducted into the South Dakota Music Association's Rock 'n' Roll Hall of Fame in 2010. I performed at the Iowa induction over Labor Day with a band of All Stars before 1,200 people."
"Great News!" "Great News" is the name of the Tina Fey comedy show in which member Bunny Gibson (of American Bandstand fame) has a recurring role playing a "Jersey girl." The program will air on NBC-TV (NBC 10, WCAU-TV here in Philadelphia) sometime in the future.
Member Mort Crim who has been hiding out in North Carolina writing a book. He tells us that it's all about his life. Crim said that a fair amount of the pages will deal with his time with us here in Philadelphia on "Eyewitness News." No details on when it will be finished or when it will be available. As we say in the business, "Stay Tuned."
Member Maura McKinney Mastro (Jack McKinney's daughter) has informed us that her appearance at the Smithville Irish Festival (The Gazebo Stage) is now on October 9th at 1 pm, 3 pm and 5 pm. It all takes place at the Village Green of Smithville, 615 East Moss Mill Road in Galloway, NJ.
Near the end of last month, the Top Marconi Awards were honored. The Major Market Station of the Year went to member Jerry Lee's More FM, WBEB. Jerry is the station's Chairman of the Board. Member Jim Loftus is the station's President and CEO. Loftus will be honored by the Broadcast Pioneers on Friday evening, November 18th when he will be inducted into our Hall of Fame. Details about the event are elsewhere in this newsletter.
Broadcast Pioneers member Walt Hunter has unretired. He's now with Bellevue Communications Group and is providing media training for law enforcement and fire fighters, emergency responders and other government agencies. Walt often covered stories that involved some of these areas so he's no stranger to these fields.
A LITTLE BIT OF BROADCAST HISTORY!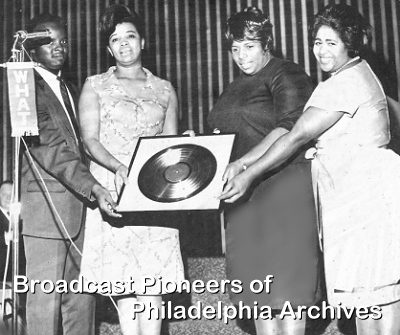 (Left to right) unidentified, Mary Mason, Rosie Wallace and Bonnie Dee
WHAT Radio
Summer 1965
Well known WHAT Radio personality Mary Mason presents a gold record (from Savoy Records) to Evangelist Rosie Wallace. It was for Rosie's million selling album, "God Cares." Assisting in the presentation was Bonnie Dee, a radio personality in her own right. Bonnie is the daughter of Mary Dee, who a beloved figure in Philadelphia gospel broadcasting.
The picture is from the collection of photos and other materials donated by the estate of Billy Banks to Broadcast Pioneers. Billy Banks and his sister, Dolly, owned WHAT Radio for decades. Both Dolly and Billy were founding members of this organization and they were inducted posthumously into our Hall of Fame in 2004.
Did you know (written 12 years ago by W. Carter Merbreier, TV's Captain Noah)...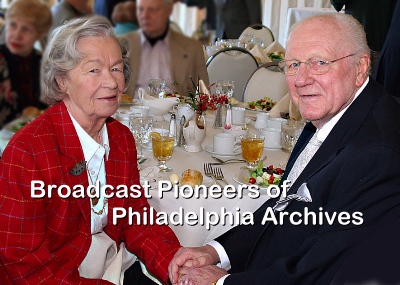 (left to right) Members Patricia Merbreier and W. Carter Merbreier
(Captain and Mrs. Noah)
Broadcast Pioneers Luncheon
Bala Golf Club, Philadelphia
Wednesday, January 17, 2007
(Picture taken by member Bob Kravitz)
(Continued from last month's issue) ...As we set up one of the word segments during a cartoon break, the bottom half of me hidden behind the special blue key panel, I slipped off my trousers. I thought it would be a funny in-house joke when I stepped out from behind the panel during the next commercial break. I was right, there was a huge guffaw from the studio and control room crew and from our director Susan Drake, the first female TV director in the country. In addition, there was the muffled sound of applause as if from a far distance. It was a group of Girl Scouts from Delaware County that someone had put in the upper sponsor's booth overlooking the studio. Somewhere today there are about 50 women in their late 30s who can honestly say that they caught Captain Noah with his pants down. The fact that my wife, Mrs. Noah, was in the same room at the time, albeit the studio, makes the story's retelling a little less shocking.
The most unusual "personality" to walk the decks of that TV Ark appeared on the morning of April 23, 1978 at the opening of the baseball season. It was the Phillie Phanatic, making his first public appearance. What a shocker. Delivered by the Phillies PR director, the late Frank Sullivan, this humongous, shaggy, green, bird-like creature in an ill-fitting Phillies shirt was kissing everybody in the studio with a party-popper that shot out of his reverse funnel nose.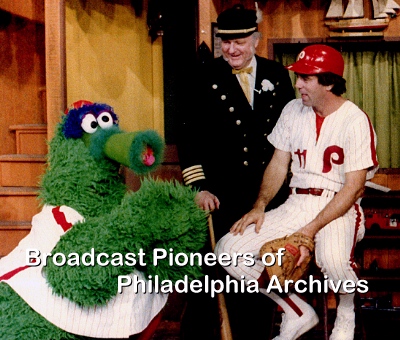 (left to right) The Phillie Phanatic, Carter Merbreier and Tim McCarver
Captain Noah and His Magical Ark
WPVI-TV, Philadelphia
April 1978
Brought to life by an energetic Dave Raymond, now president of Acme Mascots, stuffed inside, and assisted by the original "ballgirl," Mary Sue Styles, the Phillie Phanatic was "born." Chris (Legault) Long, now Entertainment Manager for the Phillies, was back at the Vet that morning fielding calls from incredulous fans who had just seen the new Phillies mascot for the first time.
Accompanying the Phanatic that day was catcher, Tim McCarver. Thanks to the interest of Phillies CEO Bill Giles, Tim was a regular guest on Captain Noah. Already a holder of two World Series rings, McCarver would come in fully suited up for a game or practice and go directly to the ball-park after the show. Tim McCarver was a wonderful show-and-tell sports celebrity guest for children.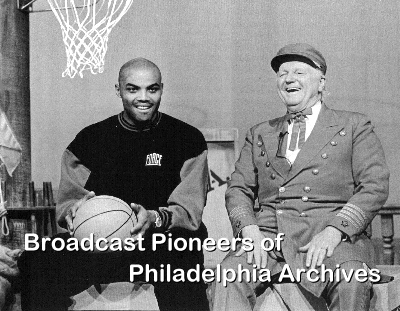 (left to right) Charles Barkley and Carter Merbreier
Captain Noah and His Magical Ark
WPVI-TV, Philadelphia
unknown date
And so, surprisingly to some, was basketball's Charles Barkley. His willingness to regularly appear on our children's show was due in part, I'm sure, to the fact that his wife grew up watching Captain Noah. He gave youngsters with baskets nailed to thousands of telephone poles some great playing tips. Charles was a pleasure to work with, and he got a kick out of Mrs. Noah powdering the top of his shiny shaved head before each show.
Like the original Biblical Noah, this TV Noah was charged with an Ark load of animals: sheep to be sheared, cows to be milked, penguins visiting from Sea World,, hawks, donkeys, trained pigs and dancing bears from the circus, seals that tooted "America the Beautiful" on a rack of shiny horns, and even three camels from the Shriners. All live! No wonder our intrepid and only staff member Elaine (Godshall) Skypala, "Miss Elaine" in a sailor suit on-the-air, would go on to become Director of the Philadelphia Branch of the Pennsylvania SPCA.
Naturally, the menagerie of the Philadelphia Zoo was an important part of our show from the outset. Every time some handler came in from the zoo with a pillowcase, we knew they were carrying a snake. For some strange reason, snakes don't seem to mind being lugged around in pillowcases, although there was a guy from the Academy of Natural Sciences who used to wrap them around his middle. Ferrari was terrified of snakes. Whenever he saw a pillowcase coming in he almost fainted.
And there were birds. An impeccably dressed Frank Purdue, the chicken tycoon, came in to show children the wonderment of a dozen eggs he brought in on Monday, hatching into peeps by Friday. But the most infamous bird, legendary at Channel 6, was the one that refused to come down from the lighting tracks high up in the studio rafters.
Evading nets on long extension poles and traps set around feeding trays for days, it came down briefly to perch first above the lens of a studio camera. Unfortunately, it was during a Pennsylvania Gubernatorial candidate's debate involving Dick Thornburgh, for one, who would go on to become Governor. Vernon Odom, a member of the Action News panel, had the wit to pause in the questioning and announce, "I think the audience should be made aware that any distraction on the part of the candidates is due to the fact that a bird is sitting on one of the studio cameras." (Camera #3 takes a shot of the bird on Camera # I.) Everybody laughs, except the director of the debate, Art Moore, now program director of WABC-TV in New York and executive producer of the "Regis and Kathie Lee Show,"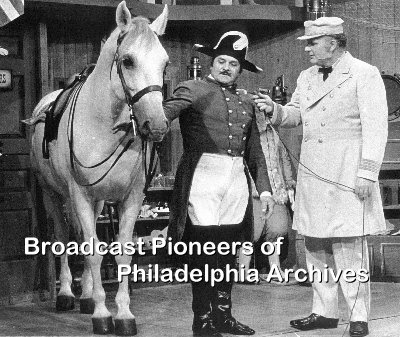 (left to right) one of the famous Lipizzaner Stallions, Colonel Alois Podhajsky and Carter Merbreier
Captain Noah and His Magical Ark
WPVI-TV, Philadelphia
October 1971
Not only did they (animals) produce exciting and educational high moments of spontaneous children's TV, they also left behind a great deal of manure, that in turn became a union problem. Bill Russell, ex-marine, studio crew chief and defender of the union faith, always enforced to the letter of the contract the stipulation that only union members could move guest props and property from the door of the studio to the Ark set and back. Well, how about the manure? The union capitulated. The question of excreta removal could be considered within the province of the animal handler - or Captain Noah.
I can remember the joy of putting Heinz ketchup bottles on all the sales desks, their labels in those days signifying the "57" share of the audience that Captain Noah then boasted. I do not believe that any show in that time slot has ever bested that rating in this local market. For whatever the reason, television stations have given up their commitment to daily local children's shows at their own peril. I respectfully suggest that in some measure, the fact that many Delaware Valleyans seem to have their TV dials frozen at Channel 6, can be credited to a loyalty begun with Happy the Clown, Chief Halftown, Sally Starr and Captain Noah. St. Paul wrote to the people of Corinth, "I have become all things to all people, in order that I might by all means win some."
Written by W. Carter Merbreier (Captain Noah) about 12 years ago, it is abridged
The original (much longer) version resides with us as part of our ongoing Archival Project!
Our special thanks go to TUTV - Temple University Television and The Kal & Lucille Rudman Media Production Center.

They have underwritten a grant to be used to fund an entire year of all our newsletters for calendar year 2016. We thank them so much for their support!
MORE DIGITAL ARCHIVAL PROJECT NEWS:
VIDEO: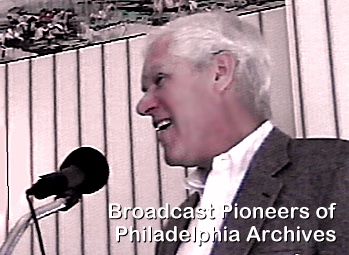 Member Marc Howard
Broadcast Pioneers Luncheon
Williamson's Restaurant, Bala Cynwyd, PA
Wednesday, January 15, 2003
Just nine days before this luncheon, member Marc Howard became the solo anchor for KYW-TV's 11 pm report of "Eyewitness News." The date is Wednesday, January 15, 2003. It's a Broadcast Pioneers luncheon that was held at Williamson's Restaurant in Bala Cynwyd. Also seen in this video are Bill "Wee Willie" Webber who was president of our organization at that time, and the late Paul Norton, personal friend of Marc Howard.
Watch the Video from Our YouTube Channel!
(video courtesy of Broadcast Pioneers VP Brad Seecof and Metramedia Broadcasting & Studios)

AUDIO:
On July 15, 1971, President Richard Nixon announced that he would be visiting China (then commonly called "Red China") in seven months. His plane arrived on Monday, February 21, 1972 for the beginning of an eight-day stay. Coverage was pretty much wall-to-wall with the three major television network picking up the bulk of the air time. However, it did, of course, get coverage on Philly's local newscasts. We have an excerpt from the 11 pm "Eyewitness News" newscast from that evening, Washington's Birthday. Remember that it was almost noon (February 22nd) in Peking (now called Beijing). Member Vince Leonard was the anchor.
The top story of the newscast was the hijacking of Lufthansa Flight 649 by a Palestinian group. All people aboard were eventually released unharmed after the government of what was then called West Germany paid ransom.
Listen in Real Audio!
Listen in Windows Media Format!
Member Joan Stack made it a point for decades to talk with the stars on her daily WBUX Radio program. "The Joan Stack Show" was like a who's who of entertainment. Why? Well, part of it is that she convinced the people at KYW-TV and the Mike Douglas Show to send her many of the stars that appeared on the program.
In June of 1983, she spoke with Pat Paulsen. He was best known for being a comedian, satirist and comedy writer. However, he ran for President of the United States six different times from 1968 to 1996. He also starred in his own ABC-TV program, "Pat Paulsen Half a Comedy Hour." It was 30 minutes long. On that series, he interviewed the cartoon figure, Daffy Duck. By the way, Joan Stack will be inducted posthumously into our Hall of Fame next month.
Listen in Real Audio!
Listen in Windows Media Format!
Remember, History is ONLY What Gets Saved!
(If there were no portraits of George Washington, how would we know what he looked like?)
IN TOUCH WITH THE INDUSTRY:
The Radio One stations in our market, WRNB-FM, WPPZ-FM and WPHI-FM, have a new Operations Manager. She's Karen Vaughn who came to Philly from Indianapolis. Karen is no stranger to Philadelphia and the Delaware Valley. She went to Temple University.
NBC10 tells us that they are going to provide exclusive programs featuring in-depth game analyses and one-on-one interviews with Eagles head Coach Doug Pederson and players all season long. Inside the Eagles airs Saturday nights at 7 pm. There will be game day pre-game show with John Clark and Mike Quick. Airing Sundays after the game will be Eagles Game day Final, again with John Clark.
SportsRadio 94WIP, the flagship radio station of the Philadelphia Eagles, will provide extensive coverage of the 2016 season. Every game will be aired on WIP with additional live pre and postgame shows. Once again, the radio broadcast team consists of Broadcast Pioneers member Merrill Reese, in his 40th year as the voice of the Eagles, and former Eagles wide receiver Mike Quick. Member Howard Eskin will do live in game sideline reports. During home game, member Ray Didinger will be involved in the pre-shows.
Monday nights throughout the entire season, WIP will be live from Chickie's and Pete's, 1526 Packer Ave, South Philadelphia, PA 19145. "The Locker Room" with Eagles center Jason Kelce and linebacker Jordan Hicks will be broadcast on WIP at 5PM. The show will feature hosts Merrill Reese and Howard Eskin. Immediately following at 6pm, The Chickie's and Pete's "Player's Lounge" will air with Ike Reese and Eagles defensive tackle Fletcher Cox.
Former WFIL and WIBG Jock Joey Reynolds worked the talk radio beat in the Big Apple on WOR for 15 years. Well, Joey is back on WABC on Sunday evenings. Eventually, the program will be carried on radio, television and the Internet. The show will be added to the schedule of KABC in LA later this month. The broadcast will also be syndicated nationally.
Telemundo62 / WWSI announced that it has launched a new half-hour weekday newscast last week. Iris Delgado anchors Noticiero Telemundo62 a las 5 PM, the market's only live and locally-produced Spanish-language newscast in the time period. It delivers viewers the latest breaking news and weather forecasts, first. The added newscast will also provide an additional 150 minutes of local breaking news coverage each week, more than any other Spanish-language station in the market.
Russ Whitnah has spent almost a quarter of a century running Salem Broadcasting's Media Group here in Philadelphia. He announced last month that he will retire at the end of the calendar year. He's been in charge ever since Salem entered the Philly market in October 1993 with the purchase of WFIL (AM). They renamed the station WPHY but returned to its original call letters eleven months later. WZZD (AM), the old WIBG, became part of the cluster during 1994. About a decade later, Salem renamed the station with new call letters, WNTP.
Radio One did some flipping in September. Classic Hip-Hop "Boom Philly" moved from 107.9 to 103.9, right in the middle of the FM dial. They also did some rebranding calling themselves "Boom 103.9" and changed to an Urban HOT AC format. The station is throwing in a couple of songs per hour from the classic rap genre. Gospel Praise went from their 103.9 position to the end of the dial and 107.9. Both stations are owned by Radio One.
NBC10 / WCAU, the NBCUniversal-owned television station serving the Greater Philadelphia region said that Erika Martin has joined the station as a meteorologist. She can be seen weekends on NBC10 News at 6 PM and 11 PM. Martin was born in New Jersey. She earned a Bachelor of Science degree in Meteorology from Mississippi State University and a Broadcast Journalism degree from Santa Monica College.
NBC10 / WCAU said that Erin Coleman has joined the station as an anchor/reporter. Coleman will co-anchor NBC 10 News at 5 PM alongside Keith Jones and will also report for the station's newscasts. Her first day on air will be next Monday.
Born in Philadelphia and raised in Voorhees, New Jersey, Coleman earned her bachelor's in English from Brown University. She also received a master's degree from Columbia University, Graduate School of Journalism. Coleman is a member of the National Association of Black Journalists. She currently resides in Montgomery County with her husband and two young children.
Lights, camera, go pink! For the 15th year, Lights for the Cure, a joint effort by CBS 3 and Susan G. Komen Philadelphia, will turn the area skyline pink, from the Avenue of the Arts in Philadelphia to the Battleship New Jersey docked in Camden to Lincoln Financial Field in South Philadelphia to the Bethlehem Steel Blast Furnaces in the Lehigh Valley and to the Dow Chemical Company in Newark, Delaware. The campaign recognizes National Breast Cancer Awareness Month, which runs now through the end of the month.
WE REMEMBER:
Agnes Nixon, who was inducted into our Hall of Fame a couple of years ago, passed away last week. She was 93 years old. She was the main force behind such television soap operas as "One Life to Live" and "All My Children". Before coming to ABC, she was the head writer for several soaps including "Search for Tomorrow," "The Guiding Light" and "Another World." She appeared on camera numerous times as Agnes Eckhardt. That was her birth name.
Member Sid Doherty, who was inducted into our Hall of Fame in 2013, passed away about 10 days ago. He started his broadcasting career in West Virginia. When he came to WCAU, he was involved in both news and sports. Doherty worked at WPHL-TV where he stayed for 15 years. He did booth announcing for the ABC Television Network for many years. He also was the co-host with member Ed Hurst of "Summertime on the Pier."
THIS AND THAT! Little Bits of Information....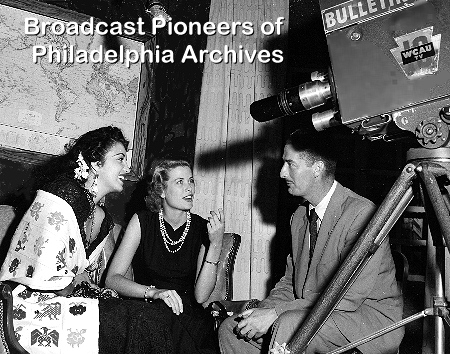 (Left to right) Katy Jurado, Grace Kelly and Alan Scott
WCAU-TV, Philadelphia
(the actresses were in town to promote their new movie, "High Noon")
1952
Early in 1941, Charlie Vanda, CBS Radio's Western Program Director, was temporarily assigned by the network to produce "Hollywood Premiere," a weekly 30 minute program. It was sponsored by Lever Brothers. A decade later Charlie would come to WCAU-TV. He would be responsible for producing such shows as "The Big Top," "Candy Carnival" and "Action in the Afternoon." These programs originated live from the facilities of WCAU and broadcast live over the CBS television network.
In the spring of 1946, one of the news items was that Pat Stanton, General Manager of WDAS Radio at that time was going to Ireland for a vacation. Also, Ben Larson, GM of WPEN went to the west coast to visit his wife, who had taken ill. During the same time period, Billy Banks, President of WHAT Radio, found himself in Jefferson Hospital. The press was told that it was for a rest and checkup.
In the fall of 1949, Billy Banks was still alive and kicking. As president of WHAT, he told everyone that the station was going to be totally modernized. He was buying a new transmitter, expanding the station's facilities and other improvements. Why? The FCC granted the station full-time status and they would begin broadcasting on 1340 on the AM dial. Previously, WHAT shared time and frequency with WTEL Radio. At that time, Billy and his sister, Dolly, also owned WINX Radio in Washington.
In the fall of 1953, Jack Pyle, well-known air personality at KYW Radio became a father of a baby boy named Randy. Also at that time, Ed McMahon finished his tour of duty with the US Marines. He returned to WCAU-TV to host a program called, "Fun and Fortune." Ed was a a neighbor of a young announcer for the WFIL stations. His name was Dick Clark.
We received an e-mail from Elizabeth V. Scott, a visitor to our website. She wrote about Ranger Joe. Of course, we know that Ranger Joe was portrayed by Jesse Rogers, husband to Broadcast Pioneers member Sally Starr. Sally got her Philadelphia show biz start on that program. Elizabeth wrote::
My dad was Dee Nahikian. He played a Native American on this show (Ranger Joe). As a kid he taught me the Ranger Joe cereal ad song: "Ranger Joe is on the go, it's red and white and blue. Its candy coated cereal is doggone good for you. The bees make the honey, the farmers grow the wheat. We all know that Ranger Joe is mighty good to eat!" Dad was on early CBS and NBC Radio after serving in WWII. By the late 1940's dad was called back to the family oriental rug business in Philadelphia. Acting remained a life passion for him and he was an accomplished Shakespearian actor. His stage name on the show was Don Southerson.
In January of 1952, the Dave Appell Trio was added to the regular mix of "Three to Get Ready" on WPTZ. The program featured the talents of Ernie Kovacs. The program had been running since November of 1950. It expanded to two hours in September of 1951. At the same time Appell was added, NBC-TV started a new two hour broadcast called, "Today." By the end of March, NBC has put enough pressure on WPTZ that the Kovacs vehicle was replaced by "The Today Show."
Early in 1949, Joe Niagara (still using his real name Nigro) was on WDAS Radio playing Rhumba music. In fact, he even started a Ross Raphael Rhumba Fan Club to honor the local dance king.
It was March of 1965 when a new television program premiered on WCAU-TV. It was called, "The Discophonic Scene." It was The Geator with the Heater's first TV show. Jerry Blavat's guests on that first telecast were The Ronettes and Philadelphia's own Chubby Checker.
In the spring of 1967, WHAT Radio hired away the ever popular (and now legendary) Georgie Woods. George had been on WDAS for many years. Woods took over the 6 pm to 9 pm daily time slot on WHAT. At 9 pm, it was Jerry Blavat for two hours. At the time, Woods had a TV dance show. Other WHAT Jocks at the time included Scott Taylor, Sonny Hobson, Billy Foxx and Eddie Castleberry.
Speaking of Georgie Woods' TV Show, it started out on WPHL-TV, Channel 17 and then moved to WIBF-TV, Channel 29. We received an e-mail from Robert Ringold, a visitor to our website. He wrote: "When I was 12 or 13, I used to go on his dance show in the Benson Hotel in Jenkintown, WIBF, Channel 29. If I remember, the sponsor was Mountain Dew and we would all have to shout 'YAH HOO, MOUNTAIN DEW!' One show, there was a band called the Poets. I can't find anything about them." Well, the Poets was an American vocal group. They had a top ten charted record on the Symbol label called, "She Blew a Good Thing."
In October of 1963, Doug Warren, the new GM at Camden's WCAM said that the station would no longer accept cigarette advertising. Air people at that time included Jack LaMar, Bill Deal and some guy named Pat Delsi. The station also carried Penn football.
In 1946, Pat Stanton was general manager of WDAS Radio. He decided that the station wouldn't play the song "Doin' What Comes Naturally" from the Broadway show, "Annie Get Your Gun." He thought that the words to the tune were just too risque for its school set listeners.
A LITTLE BIT OF BROADCAST HISTORY!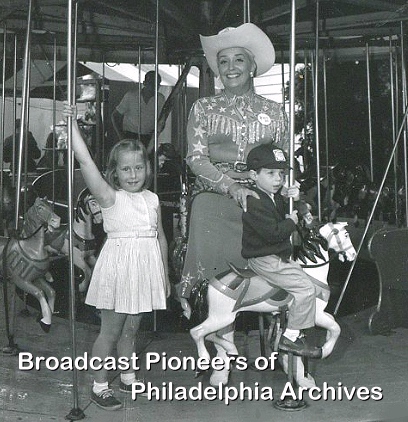 Member Sally Starr with two fans
Circa 1965
THANKS FOR THE MEMORIES:
A PENNY WITH HIS THOUGHTS!
We have found this text in the files of the Broadcast Pioneers of Philadelphia. It dates from June 6, 1951. We have not been able to determine what this was exactly. It seems like it was a speech or address that Harold "Penny" Pannepacker made. Anyone know more about this? Please let us know, if you do. Penny was quite a character. He was Station Manager for Channel 3 but really preferred sales so asked to go back into sales. He ran camera in the early days of WPTZ in the mid and late forties. He was our Person of the Year in 1992. This is a little long so we divided it into three parts. All are in this issue of our newsletter. Anyhow, here's what Penny said:
WPTZ, Philadelphia, first went on the air on June 28, 1932. It was then known as Station W3XE, the experimental television station of the Philco Corporation. It was housed and operated in the Philco plant at C & Tioga Streets, Philadelphia.

The station was granted its original commercial license in September, 1941 (9-16-41), when the FCC first began issuing such licenses to television stations. WPTZ was one of the first stations in America to receive a commercial license. Call letters were changed from W3XE to WPTZ when the commercial license was granted.

Regular program service was begun on WPTZ, or W3XE as it was then called, two years before the station was granted its commercial license. This was in 1939. In the same year, the station became the first affiliate of the NBC Television Network. WPTZ used to pick NBC television programs off the air at its transmitter and rebroadcast them throughout the Philadelphia area. The Philadelphia area at that time had approximately 150 television receivers in use. The majority of these sets were in the homes of television manufacturing company officials, station executives and a small number in public places for demonstration purposes. Films and local studio shows, usually of the dramatic or demonstration type, comprised the program schedule.

Although the WPTZ commercial license was granted in September, 1941 and it issued its first rate card immediately afterward, it was in May of 1946 that it carried its first commercial such as we know them today.

World War II broke across America only three months after WPTZ had been granted its first commercial license and the station, like the few others then in operation, was forced to curtail its plans for commercial television. Since television receiver expansion was impossible because no companies were producing sets, WPTZ moved its operations to its transmitter site in Wynmoor, Pa., and confined it programming activities to films, a few shows from New York, and remote programs like football, parades, and sporting events in Philadelphia.

The first WPTZ rate card was released co-incident with the station's getting its commercial license in September, 1941. It was not until February 1, 1942, that a formal printed rate card was released to advertising agencies. This, like the working draft preceding it, called for a time rate of $60.00 per hour, $30.00 per half-hour, and $15.00 per quarter hour. The card allowed for one hour of rehearsal time for each fifteen minutes of purchased program time. There were no time classes, charges being the same regardless of the hour of the day or night. Since most telecasting was confined to the 7:00 to 10:00 p.m. period, with the exception of football broadcasts and similar events, the lack of time brackets in 1941 was not the factor it would be under today's television. It is interesting to note that the original WPTZ rate card made no provisions for one minute, twenty second or ten-second commercial announcements. Presumably the $1.00 per minute charge would have been pro rated had some farsighted advertiser questioned about using such announcement spots. No one did.

As a matter of fact, because of the war and the scarcity of sets, there was practically no commercial activity in television, and very little experimentation in television on the part of advertisers in the Philadelphia area, with the exception of the Atlantic Refining Company.

WPTZ began televising the Penn home games in ...1940 (10-5-40), when it presented the Penn-Maryland game, the opening clash of that season. It has presented every Penn game played at home since that time, the oldest continuous sports event in television. Atlantic Refining Company, which then as now sponsored the radio broadcasts of the Penn games, joined forces with WPTZ in 1941. Atlantic Refining supplied the announcers, spotters and incidental expenses, while WPTZ furnished the installation, equipment, crews and facilities to telecast the Penn games. Slide and announcement commercials were used by the Atlantic Refining Company during the games. There were, remember, only about 200 sets throughout the area at that time.

WPTZ, through its parent company, the Philco Corporation, arranged to have television sets installed in places where the public and the advertising fraternity could see the telecasts of the Penn games. Receivers were placed in such Philadelphia locations as country clubs, popular restaurants and taverns, store windows and advertising clubs. There, each Saturday afternoon during the fall, the public could see the Penn game and become acquainted with television as an entertainment vehicle, while potential clients could learn about it as an advertising medium. WPTZ, despite the limited television audience, televised the Penn games right through the war years and continued its association with Atlantic.

The WPTZ-Atlantic Refining Company cooperative venture was one of the first cases in television where a recognized advertiser joined with a station for experimental commercial telecasting. While WPTZ received no direct revenue for the Atlantic football games, the oil company did encounter several charges which otherwise would have had to have been paid by the station. Furthermore, WPTZ learned many of the commercial techniques which have today become standard practices in the industry.

A PENNY WITH HIS THOUGHTS, PART TWO!

In September of 1946, the Atlantic Refining Company signed as formal sponsors of the Penn games on WPTZ and the company still continues to sponsor Penn football on WPTZ exclusively. In 1947, Atlantic, which also sponsored the radio broadcasts of the Philadelphia Athletics and Phillies games, added WPTZ's telecasts of the big league baseball games to its advertising schedule.

The WPTZ-Atlantic Refining Company association, by the way, is the longest unbroken station-client association in the television industry.

The first fully sponsored program on WPTZ was presented on May 29, 1946, by Gimbel Brothers Department Store, a client that still uses the station [at that time]. The show was called "All Eyes on Gimbels." It began at 8:01 pm and ended at 8:34. WPTZ's regular custom in those days was to have an announcer outline the evening programs from 8:00 to 8:01. The fact that the show ran four minutes over did not particularly concern anyone, since television in those days was not as conscious of the hour and half-hour station break or program termination as its radio brothers, today's telecasters.

"All Eyes on Gimbels" was a two-part program. Jane King, well-known local actress (and long-time member of the Broadcast Pioneers), presented the first segment from 8:01 to 8:11. She demonstrated and displayed merchandise on sale in the Gimbel Brothers' store and talked about the store's beauty shop service. The main commercial, if such could be called the case in this instance, was for Gimbel's beauty shop service. Miss King, as well as several store models, was seen in a new Gimbel coiffure and viewers were invited to come to the store and have their hair styled by Gimbel's experts. It is worth noting that although there were only 756 sets in the Philadelphia area at that time, May, 1946, Gimbels reported 23 customers came into its beauty salon because of the telecast.

The second part of the program, which ran from 8:11 to 8:34 featured Uncle Wip, the Gimbel Brothers kiddie character, and a group of his talented youngsters. The children sang and danced and displayed their talents. Uncle Wip sang and told stories to the kiddies in the audience.

The Philadelphia department store [Gimbels] bears the honor of being the oldest, continuous sponsor in television in the country. During April of 1951 it began its 5th year of unbroken weekly sponsorship of "The Handy Man" program with a special program featuring WPTZ veterans, Dr. Roy E. Marshall, Roy Neal and George Skinner as guests of 'Handy Man' Jack Creamer (a founding member of Broadcast Pioneers). Creamer missed only one broadcast during the four and a quarter years span. He cut his hand preparing for the show two years ago and Skinner had to substitute for him. Dr. Marshall and Roy Neal were doing WPTZ programs at the time Gimbels first picked up sponsorship of the "Handy Man" and thus attended the anniversary party celebrating four consecutive years of sponsorship.

Programming at the time that Gimbels sponsored the first fully commercial show on WPTZ was confined mostly between the hours of 7:30 and 9:30 or 10:00 p.m., with the late night being Fridays when the Madison Square Garden boxing bouts were televised. Programs then ran to 11:00 o'clock. Gillette, then as now, sponsored the telecasts. WPTZ, which was one of two cities outside New York carrying the fights, carried the broadcasts on an experimental basis.

The fights then as now, were a strong television attraction. Films were used for the heaviest part of the schedule and locally produced plays carried the bulk of the live productions. WPTZ used to carry several of the shows presented by WNBT (now WNBC), New York, and a Thursday night program was sponsored by Chase and Sanborn. In this case, WPTZ televised the commercial show receiving rates revenue from the client.

No programs were carried on Sunday and Tuesday evenings, now probably the best television nights in the week. WPTZ averaged about 11 hours of programming a week during its five day transmitting schedule.

A PENNY WITH HIS THOUGHTS, PART THREE!

Back in 1941 when WPTZ issued its first rate card, a sponsor was charged a bit differently than he is under today's television standards.

In addition to the $60.00 an hour time charge, WPTZ had studio charges. These were $75.00 an hour for the main studio, $40.00 an hour for the small studio and the same charge for the film studio. Thus were a sponsor to present an hour, live commercial program, he would have paid $60.00 for time and $75.00 for use of the mains studio. These studio charges were pro rated at $45 per half-hour and $30.00 for fifteen minutes' use of the main studio, and $30.00 and $20.00 for a half-hour or fifteen minutes' use of the small or film studio. Remember, however, that a sponsor's $60.00 time purchase also entitled him to four hours of rehearsal time. Today clients pay for all rehearsal time at WPTZ and most other television stations.

Studio equipment at WPTZ included two cameras, five microphone channels, turntables for auxiliary sound, and lighting equipment for simultaneous production from multiple sets.

Remote equipment consisted of a two camera pick-up, four microphone positions and auxiliary sound facilities, if needed. The film studio handled both 16mm and 35mm projection.

Production charges for sets, talent, script and film rights, etc., were quoted by program. Commercial time, then as now, was commissionable to recognized agencies.

Down through its 19 years of television WPTZ had led the way in many of the innovations that today are considered standards of the industry. The station was the first to demonstrate the 441 line picture back in 1937 and in 1940 it demonstrated the 525 line picture which the FCC later set as the standard.

In 1940, WPTZ televised the entire Republican National Convention which was held in Philadelphia. The station was on the air for a total of 62 hours during the week Wendell Wilkie won the Republican nomination for the Presidency. This was quite an accomplishment for a television station at that time. The Republican Convention by the way, was the first remote program televised over WPTZ.

On May 25, 1944, WPTZ cooperated with WNBT, New York, in presenting the first successful light-of-sight television relay between New York and Philadelphia. Eddie Cantor, who presumably made his television debut last year, starred in the special dedicatory program that was fed from New York to Philadelphia.

The next year, April 17, 1945, saw WPTZ succeed in bringing the first television program ever televised from Washington, D.C. to Philadelphia. Paul A. Porter, the chairman of the FCC, Dr. Karl T. Compton, president of the Massachusetts Institute of Technology and chairman of the Research Board for National Security, and John Ballantyne, president of the Philco Corporation, participated in the history making program. A multiple relay television network developed by Philco was employed in making the event possible, quite an accomplishment at that time.

Back in August of 1941, WPTZ made a three camera, remote pick-up of a baseball game, probably the first time all the diamond action ever had been televised. Other highlights of WPTZ's 1941 activity included the first telecast of Philadelphia's six hour long Mummer's parade and outstanding sporting events such as the Penn Relay games and television's first indoor sporting events which originated from the Arena in Philadelphia.

From its earliest days in television WPTZ's growth was guided by a group of Philco executives known as the program committee. Ernest B. Loveman, then advertising manager of Philco, headed this committee. Following the war, when television sets began to go into production, Loveman was appointed Vice President and General Manager of the Philco Television Broadcasting Corporation, operator of WPTZ, and assigned the task of developing the station in the commercial television field. This was in 1945. Loveman named Rolland V. Tookes assistant General Manager in charge of programs. The pair have directed WPTZ continuously since 1945.
A LITTLE BIT OF BROADCAST HISTORY!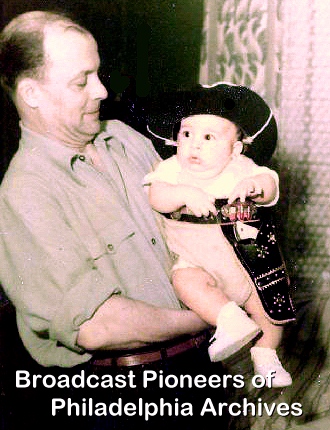 Member John DeBella with his grandfather
1952
OUR HATS OFF TO YOU FOR GIVING:
We would like to thank the following for giving us a donation at our September luncheon: Carol Leebron, Dorie Lenz, Gerry Wilkinson, Harry Donahue, Howard Holland, Marian Lockett-Egan, Roger Hendler, Steve Sacks, T. Morgan, Ted Hodgins, Bill Roswell, Eric Address, Mike Nozilo, Steve Tatz and Robin Mackintosh. Also, thanks to new member Mary Jo Melone for her contribution when she joined our organization.
We are a federally recognized, state chartered charity with a 501(c)(3) status. Contact us at (856) 365-5600 or e-mail pioneers@broadcastpioneers.com for more details. Your gift to Broadcast Pioneers will help us and may lower your federal income tax. That's win-win, isn't it?
Special Thanks (in alphabetical order) for the gift of Appreciated Stock: (a federal tax advantage for the giver)
Member Marc Howard - $3,600 (put into our general fund to be used where needed)
Member Sylvia Kauders - $5,159.45 (used for the scholarships listed below)
Member Dan Lerner - $5,217.80 (used for the scholarships listed below)
Special Thanks (in alphabetical order) for contribution of $1,000 or more to our DAP, Digital Archival Project:
Member Elliot Abrams - $1,000
Member Jerry Del Colliano - $1,000
Member Johnny B. Hall and wife Ginny - $3,000
Member Harry Hurley's Golf Tournament - $1,000
Member Marlin Taylor - $1,000
Special Thanks (in alphabetical order) for April 2017 Scholarships:
Member Johnny B. Hall and his wife, Ginny - 7 scholarships
Member Harry Hurley's Golf Tournament - 1 scholarship (for a Stockton University student)
Member Sylvia Kauders - 1 scholarship (from a grant for 5 yearly scholarships running until 2019)
Member Kal Rudman - 5 scholarships (for Temple University students)
Member Marlin Taylor - 1 scholarship
Special Thanks (in alphabetical order) for a contribution of $500 or more to our DAP, Digital Archival Project:
Member Esther Kurtz - $500
Member Art Moore - $500
Bequests in their Will:
Member Sylvia Kauders passed away earlier this year. In her will, she bequest to the Broadcast Pioneers of Philadelphia, the amount of $5,000. This funding is to be used to underwrite one scholarship per year until gone. These scholarships will start in the year 2020 and continue until 2024. From a previous gift, Sylvia has underwritten one scholarship a year starting in 2015 and continuing until 2019.

Member W. Carter Merbreier passed away a couple of months ago. In his will, he bequest to the Broadcast Pioneers of Philadelphia, the amount of $1,000. This funding is to be used to underwrite one scholarship which will be awarded in April of 2017.
W. Carter Merbreier Scholarship Fund:
The family of Captain Noah had asked in the Philadelphia Inquirer that donations for scholarships in the memory of W. Carter Merbreier should been made to The Broadcast Pioneers of Philadelphia Scholarship Fund. We would like to thank those who have donated: Joyce Haas (Mrs. Harry Haas), Karen Strauss, Art Moore and Mushinski family, Steve, Hank and member Liz Matt.
Extra Gifts included with Membership Renewals:
We would like to thank those who included an extra gift with their membership renewal. The latest gifts came from the following members: Constance Webber, Dave Petrelius, Lynne Barrett and Sheree Goldflies.
Underwrite a complete scholarship and we'll give you credit in the electronic newsletter until the scholarship is awarded in April of 2017. Give us a donation of appreciated stock of $2,000 or more) and we'll list you in our "Thank You" column for two years. Give us a donation of $1,000 or more and we'll list you in our "Thank You" column for a year. Give us a donation of $500 or more and we'll list you in our "Thank You" column for six months. You can select how we use the money: for our archival project, for scholarships or for our general fund to be used as needed.
More Thanks:
A growing portion of the revenues that fund the different activities of the Broadcast Pioneers comes from donations. This includes our archival project and our scholarship program. Now, we are making it even more beneficial for our donors. Broadcast Pioneers is now able to accept gifts of appreciated stock, which provides a significant tax benefit to you. By giving appreciated stock (stock which is worth more now than what it cost when it was purchased), you can get a charitable contribution tax deduction based on the current market value of your stock. At the same time, you avoid the capital gains
tax that would arise if you simply sell the stock. So if you'd like to support our educational mission or our archival project and save money on taxes too, please consider making a gift of appreciated stock. We are a federally recognized, state chartered charity with a 501(c)(3) status. Contact us at (856) 365-5600 or e-mail pioneers@broadcastpioneers.com for more details.
Don't be left out. You too can make a pledge. It's never too late. You can earmark it for scholarships, our Digital Archival Project or our general fund. Thanks so much for your support. If you forgot to make an extra contribution (cash or memorabilia) and would like to do so now, you can do so. We would be thrilled to hear from you at: PO Box 2886, Bala Cynwyd, PA 19004, call us at (856) 365-5600 or e-mail us at: pioneers@broadcastpioneers.com.

A FINAL THOUGHT....
In 1992, member Ed Cunningham was working on his first documentary, "Things That Aren't There Anymore." He talked with the legendary Phils outfielder and Phillies broadcaster, Richie Ashburn. We have in our video archive, the complete uncut interview. Other complete copies no longer exist today. Only portions were used in the actual WHYY broadcast. Well, Richie told Ed about the difference between playing on dirt and grass infields in comparison to today's fields. Richie says:
"The Cardinals in their old barkpark, they had a third baseman and a shortstop that couldn't move a lick. So they kept the grass very high and you couldn't get a ball through the infield."
Richie Ashburn
Broadcast Pioneers Hall of Famer
being interviewed by Ed Cunningham
1992

Please contact us by e-mail at newsletter@broadcastpioneers.com or by mail to: Broadcast Pioneers of Philadelphia, PO Box 2886, Bala Cynwyd, PA 19004. Your stories are important, to you, to us, and your colleagues. Contact us today and we'll include your story in the next newsletter!

© 2016, Broadcast Pioneers of Philadelphia
All Rights Reserved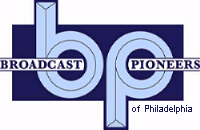 The e-mail address of the Broadcast Pioneers of Philadelphia is pioneers@broadcastpioneers.com
For luncheon reservations call (856) 365-5600 or e-mail us at: rsvp@broadcastpioneers.com