The Broadcast Pioneers of Philadelphia is a federally recognized, state chartered charity. We are a 501(c)(3) non-profit corporation serving Philadelphia since 1962.

Frank Stone
Newsletter Editor

Annual November Banquet
Hilton Hotel, 4200 City Avenue,
Philadelphia (near Channel 6 & 10)

Reception at 6 pm
Dinner at 7 pm
Friday, November 19, 2010

ADVANCE PAYMENT REQUIRED!
Ratecard: $80 for our members
$95 each for everyone else
BANQUET REMINDER (VENUE IS NOW THE HILTON HOTEL ON CITY AVENUE):
Our 2010 Person of the Year is KELLY RIPA!
Plus a star-studded cast of inductees
for our Hall of Fame!
TICKETS AGAIN ON SALE!
NEW, LARGER VENUE!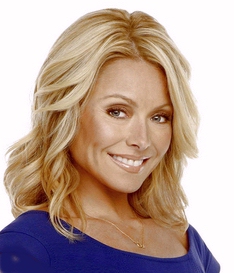 IMPORTANT NOTICE!
VENUE CHANGED TO HANDLE A LARGER CROWD!
HURRY! SPACE IS LIMITED!
It's November 2010, time for mid-term elections (today) across the country, return to standard time on our clocks (this Sunday), Veterans Day and Thanksgiving but in the Delaware Valley, the REALLY BIG STORY is the blockbuster Broadcast Pioneers annual Person of the Year/Hall of Fame banquet.
Due to the huge and overwhelming response, this year's star-studded spectacular event will take place at the Hilton City Avenue in the Grand Garden Ballroom. The hotel is at 4200 City Avenue, just a block from Channels 6 and 10 and the radio stations in Bala Cynwyd. There's still plenty of time to make a reservation by sending your check to Broadcast Pioneers, P.O. Box 2886 Bala Cynwyd, PA 19004. This is the only way you can make a reservation. Tickets are $80 for the member, $95 for non-members, spouses, friends and everyone else. This means that the member's ticket is $80 (your dues must be up to date or technically you're not a member). If the member wishes to purchase a ticket for their spouse, it's $95 (unless the spouse is also a member).
The annual banquet/fundraiser benefits our scholarship program and other educational activities. It's our big event of the year. In April of this year, we awarded thirteen $1,000.00 scholarships to college and university students, specializing in communications, journalism, public relations and other related fields.
With record-breaking reservations on the books, the 2010 Person of the Year/Hall of Fame banquet sold completely out in just 20 days. So that we could include everyone, we moved the location of the banquet to the Hilton Hotel on City Avenue. We'll be in the Grand Garden Ballroom. It's simply pure luxury. If you liked Bala, you're going to love the Hilton. It's wonderful. What an evening this is going to be! It's a who's who of broadcasting. Anyone who is anyone will be there.
You don't have to worry about us selling out (because we can handle up to 1,400 people), but you do need to be concerned about sending in for tickets. We need to let the Hilton know how many people are attending one week in advance. However, they did say that they could accommodate extra people after the cut off date as long as there were not too many. So, avoid disappointment. Get your ticket reservations in now. Unlike our luncheons, the ONLY way to reserve your seat(s) is to send in for tickets.
Our Person of the Year for 2010 is Kelly Ripa who started her TV career right here in Philly by being a regular dancer on "Dancin' on The Air" on Channel 17 and "Dance Party USA." Both shows were produced by Broadcast Pioneers members Frank Nise and his son Michael. Mike currently serves on our Board of Directors.
Our 42nd Annual "Person of the Year/Hall of Fame" banquet takes place on Friday, November 19th at the beautiful Hilton Hotel, 4200 City Avenue, Philadelphia. Reception is at 6 pm with a tasty dinner being served at 7 pm. There's plenty of free parking in the Hilton's open air parking lot ($10 valet parking is also available). CASH BAR ALL NIGHT LONG! Ticket prices are $80 for our members and $95 for everyone else. Price includes salad, a delicious three course dinner, dessert and your choice of coffee or tea. There's also a crudité table.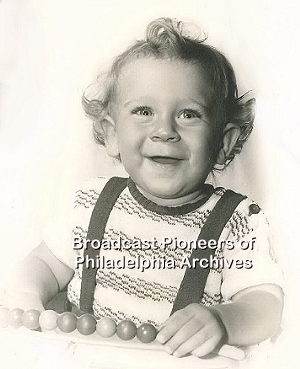 Broadcast Pioneers member Glenn Schwartz
Our Hall of Fame inductees for 2010 are:
Carol Erickson, meteorologist and news reporter for CBS 3, KYW-TV
Peggy King, former girl singer on "The George Gobel Show" on TV
Linda Munich, Vice-President of Public Affairs for 6ABC, WPVI-TV
Dave Neal (Dave Gomberg), news producer at Channels 3,6 and 10
Joe Pellegrino, all round sports guy at Channel 6 and WCAU-TV
Glenn Schwartz, the chief meteorologist for WCAU-TV, NBC 10
Dick Sheeran, former reporter and anchor for KYW-TV, CBS 3
Rick Williams, co-anchor of the noon and 5 pm for Action News, 6ABC
John Zacherle, the cool ghoul, host "Roland" of WCAU-TV's "Shock Theater"
We will also induct the following people posthumously in our Hall of Fame. They are:
Al Alberts, star of the "Al Alberts Showcase" for three decades on 6ABC
Herb Denenberg, consumer reporter and former PA insurance commissioner
Jack Downey, former VP/GM for WCAU Radio, now WPHT Radio
Joe Earley, who was Mr. Rivets on Channel 3 & the postman on "Gene London"
Ed Elias, former Engineering Supervisor for WPVI-TV for a half-century
Steve (Mr. Movie) Friedman, former movie expert and telephone-talk host
Paul Harron, Jr., head of Harron Communications for decades
Paul Harron, Sr., pioneer radio and TV owner including WIBG and Channel 12
Irv Homer, well-known tv personality and radio telephone-talk show host
Sarajane "Cissie" Hurst, TV producer at Channels 3, 6, 10; WPEN PR Director
Bob Klein, innovator of "Urban Contemporary Radio;" GM at WDAS AM & FM
Ed McMahon, sidekick to Johnny Carson, host of several local 50s TV shows
Bob Menefee, former longtime Philadelphia radio host and air personality
Jim Nettleton, one of the original Philadelphia WFIL, Famous 56 "Boss Jocks"
Frank Nise, innovator of modern-day broadcasting lines and TV producer
Nat Wright, the All-Night Rat, host of the Dawn Patrol/WIP Radio for 20 years
Proceeds benefit the Broadcast Pioneers Scholarship Fund and other educational activities. We are a federally recognized, state chartered charity with 501(c)(3) status for federal income tax purposes. Monies raised from last year's banquet plus extra gifts and scholarship underwriting allowed us this past April to give away thirteen $1,000 scholarships to area college students!
Be part of a history making evening by making your reservation NOW! The room will be filled with the movers and shakers of Philadelphia broadcasting. All the names, faces and voices you recognize everyday. Don't miss this one! You'll regret saying, "I wasn't there!" Be there and spread the good news about the most exciting organization in the Delaware Valley, the Broadcast Pioneers of Philadelphia, with more members than ever before.
VIDEO!
Here's some video of Broadcast Pioneers member Glenn Schwartz doing the weather on WRAL-TV in Raleigh, North Carolina. Glenn will be an inductee into our Hall of Fame at our annual banquet.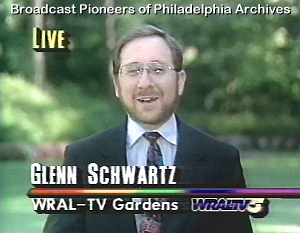 Broadcast Pioneers member Glenn Schwartz
WRAL-TV
Raleigh, North Carolina
Watch in Real Video!
Watch in Windows Media!
Here's a clip that dates from the late seventies. The anchors are Broadcast Pioneers member Vince Leonard with Jack Jones. Broadcast Pioneers member Carol Erickson does the weather. Carol will be an inductee into our Hall of Fame at our annual banquet.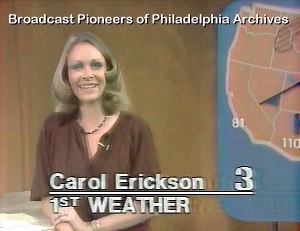 Broadcast Pioneers member Carol Erickson
KYW-TV
circa 1979
Watch in Real Video!
Watch in Windows Media!

Visit Our Website Often - http://www.broadcastpioneers.com

OCTOBER LUNCHEON REVIEW :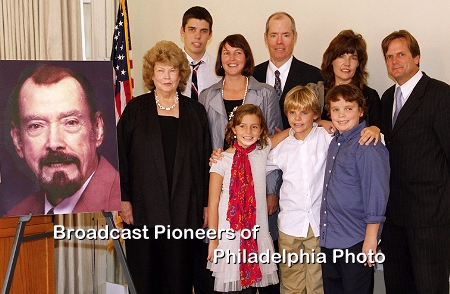 The Entire Webber Family
Broadcast Pioneers Luncheon
Bala Golf Club, Philadelphia
Wednesday, October 20, 2010
Legendary broadcaster, TV personality, past President and Chairman of the Board of Broadcast Pioneers, Bill Webber passed away earlier this year. At the time of his death, he was our Chairman of the Board and the person who served in that position longer than any previous individual. He was our "Person of the Year" in 2006 and was inducted into our "Hall of Fame" in 1999. At our Wednesday, October 20th luncheon, we paid tribute to this wonderful human being and excellent broadcaster.
For almost two-thirds of a century, this giant of a man worked the Philadelphia broadcast scene on both television and radio. In fact, he was still on the air on both WHAT Radio, 1340 on the AM dial and WVLT-FM, Cruisin' 92.1 in Vineland earlier this year. If there's anyone out there not familiar with Bill's career, you can learn more about him by reading his bio from our website.
It was another huge crowd (over 130) for our Wednesday, October 20th luncheon. It all took place at the beautiful Bala Golf Club, 2200 Belmont Avenue in Philadelphia! Our MC for this event was Pat Delsi, a former president and a former chairman of the board of Broadcast Pioneers and he currently serves as our treasurer.
Speaking that afternoon was:
Ralph Caliri, former General Manager of Channel 17, WPHL-TV
Tema Steele, financial advisor and personal friend of Bill Webber
Len Stevens, former co-owner of WPHL where Bill did his cartoon show
Allen Stone, former roommate of Bill Webber who they were both bachelors
Dean Tyler, friend and former PD of WIP Radio and WPEN Radio
Les Waas, long-time friend and broadcast associate of Bill Webber
Bill Webber, Jr., Bill's son who has followed his dad into broadcasting
Plus, one of our favorite resident songbirds, Pretty Perky Peggy King (of the George Gobel TV show) was there to provide a musical tribute.
COMPLETE AUDIO!
Listen with Real Audio!
Listen with Windows Media!
In our opinion, the Real Audio version sounds better. It was cut at a higher rate so it would be better quality than the Windows Media version!
COMPLETE VIDEO!
No luncheon in November. That's because we have our annual banquet that month. Next luncheon will be on Wednesday, December 15th at the Bala Golf Club. Mark it on your calendar and plan to be there.
HEARD AFTER THE LUNCHEON:
"I want to commend you for today's Bill Webber tribute. It was a memorable event. Thank you so much for inviting me to participate. My wife and I certainly look forward to being with you for the annual banquet Nov. 19th at the Hilton." Allen Stone
"Bill was a big man. Some men are tall because they stand on others to seem bigger. Bill never did this, instead, he would help raise you up. Some stand tall by bragging about their achievements or flaunting their wealth. Bill was a humble man. He was my friend." Paul Big Bear
WELCOME NEW MEMBERS:
Full Members:
Deborah Gallo Leister of Cruisin' 92.1, WVLT out of Vineland, NJ currently does a talk show on the station dealing with economics and legislative and judicial issues. She also has had an extensive background in writing and producing newsletters. Before moving to the Delaware Valley area, she was a member of the Cincinnati Public Speaking Association.
John Weber has worked as an executive producer at WWDB and WCAU Radio, where he later became Broadcast Operations Manager. In 1996, he went to NYC as Director of Operations for national syndicator NJI Broadcasting. When they were acquired by Premiere Radio Networks, John stayed on and today is a Vice-President.
Andy Scheid is Bill Webber's son-in-law and is married to Bill's daughter, Wendy. He is currently General Sales Manager for WITF-TV and Radio in Harrisburg. Previously, he was with WGZN-AM in Aston, Blair Television, WIOQ, Seltec, WJZY-TV in Charlotte, WPSG-TV, Channel 57 here in Philly and WGAL-TV in Lancaster.
Eric Address is the owner of Computerologist, Inc., which provides all levels of computer services, networking, etc., as well as installation of business phone systems. Eric worked for WFIL, the FCC, and was one of the founders of EJ Stewart, the area's first and largest tele-production facility. He designed Starliner, the mobile van that went to the 84 Olympics.
We are thrilled to have these new members and we hope to see as many of you as possible at our banquet or the December luncheon. Again, we have set another record in membership. We're just getting bigger and better every day!
IN TOUCH:
Anyone notice the huge story about Kelly Ripa in the November 2010 issue of Good Housekeeping magazine? It was wonderful. Of course, Kelly was on the cover. We learned from the article that Kelly and her husband Mark Consuelos have developed a TV reality show for TLC called "Homemade Millionaire." The show premieres the night of our banquet, Friday, November 19th at 10 pm. That's just about the time Ripa will step to our podium at the Hilton and accept the honor of being our "2010 Person of the Year."
Captain and Mrs. Noah (aka Carter and Pat Merbreier) have moved. We mentioned this last month and we received a call from member Bill Russell saying that the phone number we gave you didn't work. Well, that's because we had an incorrect number. Eons ago, when the Captain and Mrs. Noah first set sail on the ark, he tells us, that they had to rig "flood" lights for the chickens. He said, "They were a real discipline problem. They kept using "fowl" language."
We have started accepting applications for the scholarships we will give away in the spring. Area college students can fill in an online application that takes five minutes. For 2011, we expect to award a minimum of thirteen $1,000.00 scholarships. Complete details are here!
And speaking of young people, our 9th college student symposium was held in front of a capacity crowd on Saturday morning, October 23rd at the facilities of 6ABC, WPVI-TV. President Jerry Klein was the moderator and panelists included: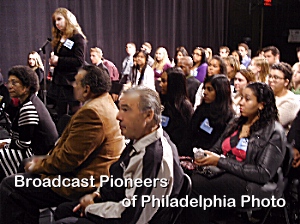 Our college student symposium
at the studios of WPVI-TV, 6ABC
Saturday morning, October 23, 2010
Maxine Crooks, executive producer for WPVI's Action News
Pat Delsi, former station owner of WSSJ Radio in Camden, NJ
Melissa Magee, meteorologist for WPVI-TV, 6 ABC
Linda Munich, Vice-President of Public Affairs for WPVI-TV
Walter Perez, anchor for Action News, WPVI-TV, 6 ABC
Marilyn Phister, executive producer for programming
We were filled to capacity. In fact, we had enough students register for the event in only nine days and then we were filled. Many more wanted to attend but there just wasn't enough room. We will have a college student career night on a major local university campus in the spring of next year with our next symposium at NBC 10 (it's already booked) in October of 2011. Our symposium last year was at CBS 3, so in a three-year span, students will see first hand three major Philadelphia television stations.
Broadcast Pioneers member Ed Eisen's new book, "Soul for Sale: Confessions of a Philadelphia Spin Doctor," is now available free online at: http://www.buzzunlimited.com/Soul_for_Sale.pdf. To view, simply click on the link (it will take a few moments to load). To download onto your computer's hard drive, right-click and hit SAVE AS!
Did you know...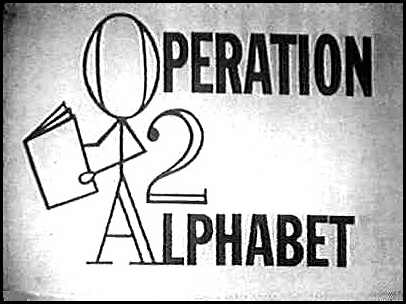 Still from the second series of the program
WFIL-TV
1964
"Operation Alphabet" premiered on WFIL-TV, Channel 6 in Philadelphia in 1961. It was considered to be a new approach to help adults learn to read and write. Some sources have reported that the show was two years "in the making."
Alexander Shevlin of the Board of Education of Philadelphia hosted the program in cooperation with the Philadelphia Junior Chamber of Commerce. Shevlin, previous to this venture, was no stranger to broadcasting. In the fifties, he produced and sometimes hosted weekly broadcasts on WFIL Radio (including the WFIL Studio Schoolhouse) aimed at Philadelphia school children. Communications students from Temple University also participated.

This first series of "Operation Alphabet" had 100 half-hour episodes. They were television lessons and were recorded on videotape. One episode was shown each day (Monday through Friday) and it took 20 weeks to work the way through all one hundred shows. The series was for adult "illiterates" who wanted to learn. Each learner had a "Home Study Book" to reinforce and supplement what was learned from the television lessons. To promote the series, posters were displayed throughout each community.

The series' creators had three basic educational considerations during the developmental stages. The show had to be educationally sound. Cost to viewers (for books, etc.) had to be kept to a minimal amount. Finally, the material had to be age appropriate.

Airing stations (it originated in Philadelphia at WFIL-TV) received the tapes free of charge, as long as they returned them after airing. The cost of the workbook was only $2.00 and was published by the Civic Adult Education Project. Many of the stations broadcasting the show were educational outlets (now called public TV) like WNDT (now WNET-TV), Channel 13 in New York City.

The age appropriateness was important. Most of the written lower-level educational material of the early sixties was written for grade school students. They talked about dolls, toys and other child-like topics.

This series gave adults a chance to learn in their own homes without anyone outside the house being aware of what was going on. "Operation Alphabet" taught educational reading skills on an individual basis but on a large scale. By being done in the privacy of their home, there was no stigma or embarrassment.
There were 90 shows in the second series and took 18 weeks to air. Broadcast Pioneers member Lew Klein believes the second series was produced at WFIL-TV in the late part of 1964 or the early months of 1965. After that, there were no new shows. There were 190 episodes all together. When the second series finished, both series went into re-runs and continued to June of 1971 on WFIL-TV. At that point, Channel 6 was sold to Cap Cities. They retitled the station, WPVI-TV, and kept on running the program.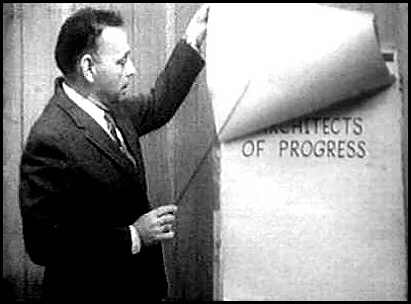 Dr. Alexander Shevlin, the program's host
WFIL-TV
1964
Klein also said that while most of the educational programs produced and aired by WFIL-TV were aired during a time period where most people could watch (usually between 9 am and 12 noon), Operation Alphabet aired at 6 am. He said that the reason for this was not that the station was trying to "bury" it in the Channel 6 schedule but that most of the adults who could benefit from the show, had to be at work early because of the type of work they did.
Remember that there were no home video tape recorders during the entire time that Operation Alphabet was aired. The viewer had to watch it in real time. That is, at the time the television station was airing it.
JC Jackson, a visitor to our website, e-mailed:
I remember my dad watching this show everyday while I was getting ready for school. I never understood why he watched this show, until I found he dropped out of school and went to the Army when he was very young. My father was an intelligent man and always wanted to learn. But he was very proud and I do not think he wanted to go back to school at his age. I guess that is why he was so hard on me about school.
FYI: While Dr .Shevlin hosted WFIL's "Studio Schoolhouse" in the fifties, by the sixties, Marguerite Farley had taken over. She later became the 20th president and our 20th Chairman of our Board of Governors (now called Board of Directors). We have some of the Studio Schoolhouse radio broadcasts in our audio archive, and we thought you would enjoy hearing this one from March 10, 1964.
Former Philadelphia broadcaster Bill Stock who worked on many of these broadcasts remembers: "We always got a kick out of this (Happy, the Healthy) show, because the 3rd and 4th graders from the local schools would come in to sing the club song and take the club pledge. About 20-30 kids, all scrubbed up and in their best clothes and tremendously excited because they were going to see a RADIO SHOW! It was such an innocent time. These shows were always taped in Studio B (of WRTI in the old Thomas Hall) because we used the piano (which lived in that studio). Marguerite Farley would narrate and the other members of the cast were from the Philadelphia Dairy Council - all very professional, as you can hear.
Listen with Real Audio!
Listen with Windows Media!
This regular monthly column is written and researched by Gerry Wilkinson
WE REMEMBER :
CHARLIE O'DONNELL HAS DIED!
Former Philadelphia broadcaster Charlie O'Donnell has died. Charlie was probably best known for his announcing for the last 26 years on the nationally syndicated game show, "Wheel of Fortune." O'Donnell lived in Sherman Oaks with his wife Ellen. They had four children and two grandchildren.
In 1987, Charlie was picked to be the announcer of Pope John Paul II's arrival in Los Angeles at the Papal Teleconference at the Universal Amphitheater. He was twice the announcer for Beatles concerts and once for the Stones.
However, we probably know him best as the announcer on "American Bandstand," both here in Philadelphia at WFIL-TV, Channel 6 (now WPVI) and later on the west coast when Dick Clark moved the show westward.
O'Donnell's other credits include: "The Dating Game," "Everybody's Talking," "The Gong Show," "The Guinness Game," "Hot Potato," "The Joker's Wild," "Let's Go Back," "Monopoly," "The Newlywed Game," "The Parent Game," "Stompers," "Tic Tac Dough," "To Tell The Truth," "Trivia Trap," "Wedding Party," "The Wizard of Odds" and "Wordplay."
In Philly, Charlie was the Program Director at WHAT Radio and discovered local disc jockey legend Hy Lit while playing basketball. O'Donnell then moved to WIBG at News Director.
Broadcast Pioneers member Jack Hyland was the one responsible for getting Charlie away from WIBG and to the WFIL stations. There, he hosted over-night movies on TV at a time when stations were not on the air 24 hours a day. He also announced on the national segments of "American Bandstand." Charlie didn't announce on the local segments of the show, but only on the network segment.
On Sunday, May 17, 2009, just before our WIBBAGE reunion luncheon, Broadcast Pioneers member Sam Lit spoke with O'Donnell. It's presented here in two segments, each about 10 minutes long. Be advised that some of the material appears in both segments. This is done to give continuity to what Charlie is saying. We recommend you listen to both parts.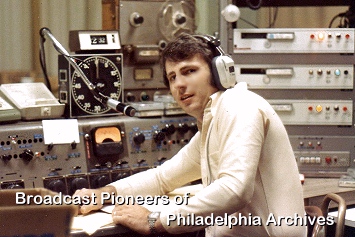 Tom Steele
WCAM Radio, Camden
August 1973
Tom "Stainless" Steele passed away earlier this year in Florida. He was best known as the co-founder and owner of Frankford-Wayne Recording Labs, which was responsible for mastering practically all of the music released on
Philadelphia International and several other record labels. Tom was also an engineer/board operator at WTEL. Pioneers member Dave Shayer recalls visiting him there in 1962, when Tom offered Dave, who had not yet entered broadcasting, the chance to read the sign-off live on the air (Dave complied). Additionally, Tom assisted Broadcast Pioneers member David Kurtz with the installation of the original WDVR studios in 1963. In the photo, taken by Pioneer member Mel Klawansky, Tom is seen doing his nightly music show.
Debbie D'Antuono who worked at WHYY-TV for more than a third of century has passed away from lung cancer at age 53. Bill Marrazzo, President and CEO of WHYY said: "Her work with us will long be remembered, in large measure because it was always marked by the things that made her life so special; self assurance and focus perhaps the best amongst them."
Francis J. Locke, better known as Ed, passed away last month. He was 88 and lived in Millville. He was a radio announcer and worked in Philadelphia at WRCV and WIP Radio, WNEW and WSNJ in Bridgeton, NJ. He retired in 1985 and enjoyed landscaping and woodworking.
Lynne Atkins of KYW Newsradio had a bad week recently. She lost both her husband and mother within a few days of each other. The Broadcast Pioneers joins the KYW Newsradio family is expressing our condolences.
Tom Primavera passed away in mid-September. In our October issue of the newsletter, we didn't mention that Tom was 87 years old. Now, we have told you.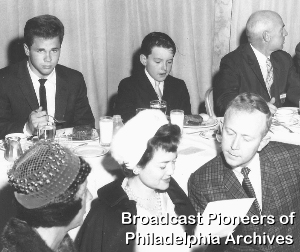 (back row - left to right - Tony "Wally," Jerry "Beaver" Mathers and an unidentified male)
(front row - left to right - two unidentified females and Jack Hyland)
WFIL-TV event
1962
Barbara Billingsley died last month at the age of 94. She was most well known to America for her role as "June Cleaver" on the TV Series, "Leave It to Beaver," which ran for six seasons. Who can forget her in the kitchen making dinner, perfectly dressed (usually in pearls) wearing an apron and saying to Hugh Beaumont, "Ward, I'm worried about the Beaver." Watch a complete episode of the show here.
The above picture is believed to be some kind of local WFIL-TV dinner as "Leave It to Beaver" was carried on Channel 6 (and ABC-TV). Tony Dow and Jerry Mathers were two of the stars of that sit-com. Jack Hyland worked for WFIL-TV in publicity at that time. Patricia Hyland, Jack's wife said that she knows that the event was in Philadelphia. Note that Tony Dow (Wally) and Jerry Mathers (Beaver) are both drinking milk. Also, notice that the milk (at least so far) is undrunk. The series ran for a year on CBS-TV. When they cancelled the show, it moved to ABC-TV for another five seasons and a total of 234 episodes. Hard to believe that the Beaver is now 62 and Tony Dow is on medicare at age 65. Ken Osmond played the rascal "Eddie Haskell." He was a Los Angeles police officer for years. FYI.... During the first season of the series, Mathers received a salary of $500 per episode.
THANK YOU:
Special thanks go out to member Johnny B. Hall for his personal donation to Broadcast Pioneers this past month for our DAP, Digital Archival Project. In fact, every month for a year now, John has helped further the goals of our DAP by providing needed funds necessary to keep this project going.
Our thanks go to those who sent an extra contribution when sending in for banquet tickets. They are: Brother Gerry Molyneaux, Lou Beccaria, Robin Mackintosh and John Weber. Thank you!
We also thank Brother Gerry of LaSalle University for a contribution to the Bill Webber Memorial Scholarship Fund. That gift was made in the memory of Jim Dylik, the father of Jake Dylik (class of 2012), who won a Broadcast Pioneers Scholarship this past April. Jim passed away in August and Brother Gerry says that he knows that Jim appreciated what the Pioneers did for his son. It was our pleasure to help a future broadcaster.
Special thanks to member Vince Leonard for donating some wonderful photos to our archival project. Also thanks to member Mike Strug for supplying us with 8 hours of videos from his career.
If you forgot to made an extra contribution and would like to do so now, it's never too late. We would be thrilled to hear from you at: PO Box 2886, Bala Cynwyd, PA 19004.
MORE IN TOUCH:
Where the "Round" Building Was
shot from City Avenue
WPVI-TV
October 2010

Where the "Round" Building Was
shot from the station's parking lot
WPVI-TV
October 2010
For those of you interested in what replaced the "round" building at WPVI-TV, the above pictures show you. From the parking lot, you can see a round partial wall with grass and the station's satellite dishes. In addition, they added two long tiers of parking (four rows) to the lot which we estimate can hold another hundred or so vehicles. Looking at it from City Avenue, it, very much, has a similar appearance as the old round building. Under the grass and wall, is a parking area for the Action News vans. They really did a nice job keeping the feeling. The above photos were taken by our Chairman of the Board, Gerry Wilkinson last month. By the way, Gerry was by the station today around 4 pm, and their wasn't an empty parking space in the entire lot.
And you thought the Post Office was slow.... On Wednesday, October 13, 2010, we received an e-mail from member Ellie (Lynn) Faragalli saying that she would be attending our October luncheon. The only problem was that she was talking about the October 2009 get together. The e-mail was sent on Wednesday, October 14, 2009. It took 365 days to get here. We were really wondering how this happened. Well, Eleanor explained that she had some computer problems with unsent e-mails building up in her e-mail client. All of a sudden, Verizon sent them all at one time. At least, that's her story. Confidentially, we did a lot of research on the subject (at least 30 seconds) and came to the conclusion that untrustworthy space beings from Pluto were responsible. And if Pluto was the dog into those Mickey Mouse cartoons, what the hell was Goofy?
Word has reached us that Bob Craig, longtime Philadelphia air personality can now be heard Sundays on WRTI-FM. From 7 pm to 8, he hosts "Big Band Jazz." For those with an HD radio, Bob can also be heard Sunday afternoons on WRTI HD-2 from 3 to 6 pm when he hosts "Voices." Bob started the big band jazz show on October 3rd. The program features "everything from vintage classic swing to some exciting new things," says Bob.
We thought we would call this to your attention because from time to time we hear from you. Just because you receive an e-mail or a printed invitation to the banquet, this doesn't mean that we didn't get your ticket reservation(s). These are done in bulk and there's just no easy way for us to remove those already reserved from the mailing list. The same holds true for our luncheons. Just because you receive a notice about an upcoming luncheon, this doesn't mean that we didn't get your reservation. Those e-mails are done as a bulk mailing to the entire membership and we have no way to remove your name from that list if you already reserved.
On Friday, October 22nd, WPSG-TV, Channel 57, celebrated its 25th anniversary as Philadelphia's youngest commercial television station. While the station had been on the air since 1981 (when it was owned by William S. Gross using the call letters WWSG-TV), it mainly carried financial news and subscription programming. In 2006, the station became part of the CW Network rebranding itself as The CW Philly 57. The station's President and GM Jon Hitchcock (who was one of our speakers during our September luncheon said: " The CW Philly is still in a growth spurt. While celebrating this milestone, we're looking forward to an even more exciting future that will continue to serve our viewers and local communities throughout the Delaware Valley." The CW Philly (WPSG-TV) and its sister station (KYW-TV) are part of CBS Television Stations, a division of CBS Corporation.
40 Years ago, a boy and his buddies sneaked into the old baseball stadium in North Philly, Connie Mack Stadium. That lad was Paul Kurtz, reporter and anchor for KYW Newsradio. They realized they had wandered near the visiting team's bullpen and started bothering the pitchers for a ball. One of them, was Steve Carlton. They told the boys to bring them some food and he would see what they could do about a ball. Well, the kids didn't get their ball, but did get to watch the game.
Recently, Kurtz decided to write a book about the Phillies, "162-0, A Phillies Perfect Season." During the course of all this, Kurtz ran into Carlton and told him the story. Steve said he remembered it because it didn't happen that often that a kid would or could stick his head into the bullpen. When they were saying goodbye, Carlton asked Kurtz for his address and a few weeks later, an autographed ball showed up. Paul finally got his ball and only had to wait 40 years.
Broadcast Pioneers member Dom Giordano was on the road with his WPHT Radio evening talk show last month. He was out west in Vegas, San Francisco (where he broadcast live from an Italian restaurant) and the Ronald Reagan Library in California. In August, he was broadcasting live from Italy and a couple months earlier was in Bermuda broadcasting. Again, we say we hope he's collecting hazardous duty pay for all of this.
A couple months ago, we mentioned that our Chairman's youngest daughter, Zara Wilkinson returned to Philadelphia after getting two master's degrees; the last one in library science. Well, good news, especially for dear old Dad, Gerry Wilkinson. Within a couple of weeks, Zara was working part-time as a library supervisor at Swarthmore College. And just yesterday, she started a second part-time job at Temple University's library. Swarthmore has also been giving her extra hours, so it's basically now full-time work (divided by the two schools) but no benefits. Continued good luck, Zara.
HyLitRadio.com has a new Friday night destination. Put your dancing shoes on and head out to the Sunnybrook Ballroom, 50 Sunnybrook Road, Pottstown, PA. Member Sam Lit, son of the legendary Hyski, goes all out every Friday evening to make sure everyone has a good time. You get choice, not chance, when you make it to a HyLitRadio.com dance!
FYI... The Sunnybrook Ballroom was home for many local big band radio broadcasts heard in the late fifties and early sixties on WRCV Radio (now KYW Newsradio). Broadcast Pioneers member Bill Bransome did many of those remotes.
Broadcast Pioneers member Jay Meyers will receive the Lifetime Achievement Award in the Humanities and Social Sciences at Drexel University's 20th Anniversary Gala Honorees Inaugural Awards Ceremony on Friday, November 12th at 6 pm in the Anthony J. Drexel Picture Gallery, Main Building, Third Floor, 32nd and Chestnut Streets. Way to go, Jay!
In August of this year, The Library of Congress issued a 181 page report called "The State of Recorded Sound Preservation in the United States: A National Legacy at risk in the digital age." It deals many issues including technical issues in digital audio preservation. It talks about how historical recordings are being lost at an alarming rate and how many are already gone forever. The complete report is here for a free download. This is why our Digital Archival Project is so important.
DIGITAL ARCHIVAL PROJECT NEWS: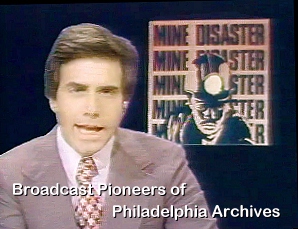 Broadcast Pioneers member Larry Kane
Action News
WPVI-TV, Philadelphia
March 4, 1977
Last month, we were all glued to the television watching the dramatic rescue of 33 miners in Chile. We thought that we should dig into our video archive and go back a third of a century to March 1977. In Tower City (a borough of 1,500 in central Pennsylvania, near Pottsville), there was a mine disaster during this time, the second in its history. Ten men were trapped. One was rescued and the other nine perished. It was a national story but the top one locally. For days, the TV stations covered it. We have put together excerpts from four different WPVI-TV Action Newscasts. Seen on the tape were Larry Kane, the station's main anchor with Jim Gardner at 5:30 pm. Pat Warren and Mike Strug were on the scene with filmed reports with weekend anchor Bob Hite.
A word about the video. Our original source material is a Sony 3/4 inch video tape from Channel 6. It is obviously a dub from the master airchecks. It was called "1977 Story Hold Tape 2." On this tape, they dubbed important news stories to keep in the station's archive. So our source material is one generation down from the original station masters (which were not saved but only used to make these "Hold Tapes.") We also know that 3/4 inch tape does not age well. The tape oxide causes a problem with "head clogs." However, this particular tape seemed to be in pretty good condition. When the video starts, you'll notice a little problem in the first couple of seconds, but then it clears up. We believe that the problem exists because the original master was cued to the beginning of the story. When the tape started up, it took a couple seconds to get up to speed (that's why there was always a pre-roll). Regardless, we are thrilled to have this material in our video archive thanks to 6ABC, WPVI-TV.
Watch with Real Video!
Watch with Windows Media!
Broadcast Pioneers member Mike Strug said:
The video...so timely in light of Chile. As I looked at the composite video, I'm made more aware than ever of how we live in far different technological times. We didn't have the option of "live" satellite feeds or even microwave feeds that might have been viable if we had driven just part of the way back from Tower City which is about 70 miles or so west of Allentown.

I seem to recall that we would fly up to Tower City to relieve another reporter who would fly back with the story he or she had prepared. The fresh reporter would then follow the story through that day, stay overnight and fly back with the next day's story. And the process was repeated with another reporter relieving him/her.

I also recall that we rented a RV that we drove to the mine site, so that we could "live" on location. I had not seen nor remembered the two pieces included in the Pioneers' newsletter. I actually have a copy of another story that I did (it has since been donated to our video archive) at the scene in which a photographer and I went down into a nearby coalmine and spoke to the miners underground. And finally, was I ever that young?
Broadcast Pioneers member Steve Levy told us:
The anchor (in the middle of the clip) is Bob Hite. He left Action News for an anchor job at WFLA-TV in Tampa where he spent the next 30 years. He's my pal. We were the weekend team at Action News and he's my neighbor in Colorado.
Broadcast Pioneers member Larry Kane reminded us that Bob's dad was a well-known staff announcer. Steve Levy also mentioned this additional information:
His Dad also was named Bob Hite. They had to get a dispensation from AFTRA for Bob (Junior) to use the same name. His dad was Cronkite's announcer for many years, actually decades. Young Bob grew up sailing with Cronkite. His Dad was also the Lone Ranger announcer on radio as well as Sgt. Preston of the Yukon and (I think) the Green Hornet. He also did news anchoring for CBS.
FYI: Tower City is about 7 miles down the road from Lykens and that town is where our Chairman of the Board, Gerry Wilkinson, used to spend his summers as a child. Gerry's great-grandfather, Charles "Skip" Welker, was a coal miner near Tower City. In this same area is Millersburg, hometown of member Brad Seecof who video tapes our luncheons for us.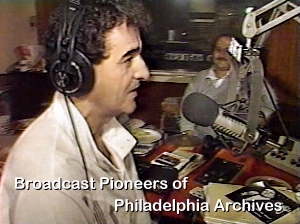 Joey Reynolds
WFIL Radio
November 1985
Well, we started to look at the stuff sent by Strug (see the mention in the Thank You section) and found a series of three packages about crazy morning drive radio DJs. It was called "Breakfast Flakes." Broadcast Pioneers member Mike Strug interviewed John DeBella, Joey Reynolds and Ross Britain. We have all three packages (plus a station promo) in our video archive thanks to Mike. The Joey Reynolds package was taped just before Reynolds was suspended (and later dismissed) for pretending to be Broadcast Pioneers member Don Cannon on WSNI (Sunny 104.5) saying that the caller just won the big WSNI cash jackpot.
Watch in Real Video!
Watch in Windows Media!
Once again, we heard from Broadcast Pioneers member Mike Strug who said:
It was one of a three-part series that ran in November of 1985 called "The Breakfast Flakes." I'm don't know if anyone is running multi-part series anymore. It's a big deal if they run a piece-of-a-story; a tease really and say you can see the whole story "at 11." And, even if you might find a multi-part series, I can't imagine you'll see a single story that runs this long anywhere but on a magazine program. From beginning to end, it times out at about 3:45. That wasn't unusual back then. But we live in a different media era and our attention span seems to be measured in seconds, not minutes.
Remember, History is ONLY What Gets Saved!
(If there were no portraits of George Washington, how would we know what he looked like?)
ON THE SCENE:
Vice-President Frank Stone was on the scene at the hospital in Cape May. No, he wasn't covering an event for Broadcast Pioneers, but took ill and was rushed to the medical center in mid-October. A few days later, he had gallbladder surgery and at last report was home recovering with wife Barbara taking good care of him. It's a real pain having to write all these stories without you, Frank. Get well soon. Please!!!
A FINAL THOUGHT....
"I'm not a prettier everywoman. I'm an everywoman that they clean up awfully well for TV."
Kelly Ripa

We welcome your input regarding content, future stories, suggestions, etc. Please contact us by e-mail at: newsletter@broadcastpioneers.com. Your stories are important, to you, to us, and your colleagues. Contact us today and we'll include your story in the next newsletter!

Photo Editor & Archival Historian - Gerry Wilkinson
© 2010, Broadcast Pioneers of Philadelphia
All Rights Reserved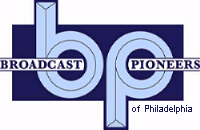 The e-mail address of the Broadcast Pioneers of Philadelphia is pioneers@broadcastpioneers.com