The Broadcast Pioneers of Philadelphia is a federally recognized, state chartered charity. We are a 501(c)(3) non-profit corporation serving Philadelphia since 1962.

Frank Stone
Newsletter Editor

Annual Banquet
Hilton City Avenue
Friday night, November 18, 2011

Doors open at 5:45 pm
Reception at 6 pm
Dinner at 7 pm

ORDER TICKETS NOW!
Ratecard: $80 for member
Everyone else: $95 each
OUR PERSON OF THE YEAR/HALL OF FAME BANQUET!
COME OUT AND MEET OUR INDUCTEES!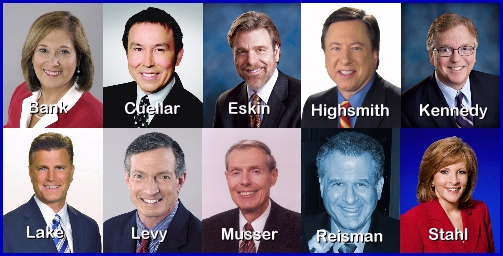 The inductees for our "Hall of Fame" for 2011 (in alphabetical order):
Cherie Bank, former WCAU-TV medical reporter & TV host
Dann Cuellar, reporter for 6ABC, WPVI-TV's ACTION NEWS
Howard Eskin, WIP sports talk host & sportscaster on NBC 10
Steve Highsmith, PHL 17 & NBC 10 host and political reporter
Wally Kennedy, KYW Newsradio anchor/former TV/radio talk host
Tim Lake, anchor of 4 pm, 6 pm & 11 pm news on NBC 10, WCAU
Steve Levy, former anchor/reporter/sportscaster at Channels 3, 6 & 10
Andy Musser, Phillies/Eagles/Sixers sportscaster for 25 years!
Barry Reisman, Philly's Jewish-American radio host since 1965
Stephanie Stahl, CBS 3's medical specialist/reporter and TV Host
SPECIAL ADDED ATTRACTIONS!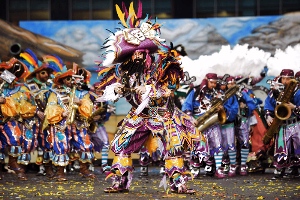 The Polish American String Band!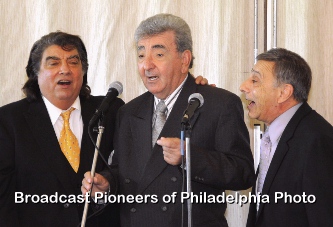 Danny and the Juniors
Billy Carlucci of "Billy & the Essentials"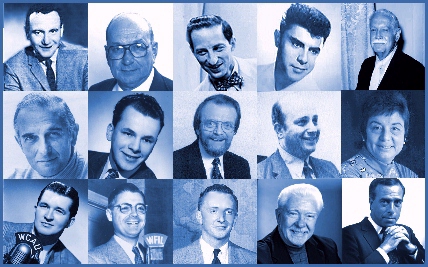 We will also be inducting 15 people posthumously into our Hall of Fame. All posthumous honorees will be honored in one short video that evening. They are:
Larry Brown, former WPEN Radio air personality/TV pitchman
Dick Covington, former KYW Newsradio anchor/ID announcer
Jack Creamer, "The Handyman Show" host on WIP & Channel 3
Tommy DeNoble, Bandstand regular & TV host/singer/engineer
Bob Dome, former broadcast advertising executive extraordinaire
Randy Kraft, former TV news anchor and actor on "General Hospital"
Jack Lamar, all round Philadelphia-area broadcaster & announcer
Don Lancer, former KYW Newsradio anchor known as "The Dean"
Norman Leebron, producer, sales manager and all-round broadcast guy
Helen Lipkin, former 30s/40s WDAS kids show host & WPTZ personality
Mac McGuire, DJ and singer on WPEN, WIP, KYW and WCAU Radio
Tom Moorehead, former WFIL-TV sports director and TV personality
Roy Neal, former WIBG announcer, WPTZ personality & NBC newsman
Charlie O'Donnell, Bandstand announcer, movie host/network announcer
Joel A. Spivak, former WCAU Philadelphia TV & radio air personality
Opening the program will be Bill Roswell of KYW Newsradio singing our National Anthem and an invocation by member Art Wilson. There will be video clips from our archives and other fun events including piano music by Bucky Clark. We would tell you more... but that would ruin the surprises!
OUR 2011 PERSON OF THE YEAR!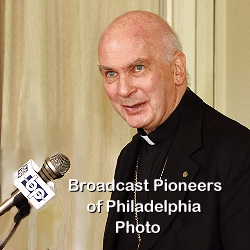 Cardinal John P. Foley
Broadcast Pioneers Luncheon
Bala Golf Club, Philadelphia
Wednesday, June 15, 2011
(Photo by Broadcast Pioneers' President Jerry Klein)
Our 2011 Person of the Year is His Eminence Cardinal John P. Foley, Broadcast Pioneers of Philadelphia member and a native to this area.
Cardinal Foley was a broadcaster before he entered the church. He began his broadcasting career as a high-school teenager as a WJMJ Radio announcer. Once he entered the church, he continued with his fascination with broadcasting. He was co-producer and co-host of the Philadelphia Catholic Hour on WFIL Radio. He co-produced 20 television episodes of "The Making of a Priest," for Group W. When the Roman Catholic Church needed to tell the world that the cardinals had chosen a new pope, they relied on the traditional plume of white smoke. For more sophisticated communications efforts over the past 20 years, the Vatican turned to Cardinal John Foley. It was he who told the world that Pope Benedict was elected.

In 1984, he was named by Pope John Paul II as President of the Pontifical Commission. It's the office responsible for all the Vatican's print and electronic communications and ministries. He held that post for more than 20 years and was responsible for the Today Show's week-long broadcast from the Vatican. He also was commentator for NBC broadcasts of the Christmas Midnight Mass from the Vatican for 25 years. In 2007, Foley was elevated to Cardinal.
Accepting on behalf of the Cardinal (whose health prohibits him from attending) will be Matthew Gambino, the Director and General Manager of the Catholic Standard and Times. It's a position that Cardinal Foley previously held.
Last November, we raised enough through ticket sales and underwriting to award sixteen $1,000 scholarships to area college students. Looks like we are on the road to do the same this year.
AS ALWAYS, WE NEED YOUR SUPPORT TO BE ABLE TO CONTINUE TO GIVE THESE SCHOLARSHIPS! MAKE SURE YOU PLAN TO ATTEND! SEND IN FOR YOUR TICKETS NOW!
For those of you interested in the menu, here it is (subject to change without notice):
Crisp vegetable crudités with herb dip
Tossed garden salad with raspberry vinaigrette and ranch dressings
Boneless chicken breast, apples, and seasoned corn bread stuffing with gravy
Warm bakery rolls with creamery butter
Lemon cheesecake with strawberry sauce
Fresh brewed coffee, decaf and teas
Vegetarian Platter is available which consists (subject to change without notice) of: Grilled vegetable tower with zucchini, summer squash, peppers, tomato, eggplant and Portobello tomato, served aside cous cous and tomato basil sauce and season vegetables accompaniment. Just tell your server that you prefer the vegetarian meal.
Tickets are now on sale. Prices are $80 for the member (each member can buy ONLY one ticket at the member price) and $95 for everyone else (including spouses, friends and guests). The event will once again take place at the beautiful City Avenue Hilton, 4200 City Avenue, Philadelphia. The date is Friday, November 18th. Reception is at 6 pm and dinner will be served at 7 pm. Doors open at 5:45 pm. Cash Bar all night long! Valet parking is $10. Event lot parking is $5. Free Street Parking available within a couple of blocks. Make plans to be there! Just click here for our reservation form. Just print, fill in and mail. Don't forget to include your check.
WE'LL BE PROUD TO SEE YOU IN THE CROWD!

Visit Our Website Often - http://www.broadcastpioneers.com

WELCOME NEW MEMBERS:
FULL MEMBERS:
Tonya Ellis is the station manager for LaSalle University's cable television station (channel 56 in Philadelphia, for those on Comcast). She has been with them since 1997 and is also an adjunct professor in production for the school. Her two-year-old son, Peter, is the station's mascot. She has earned a Master's degree in Professional Communication. Before coming to work at LaSalle (her alma mater), she worked in advertising.
Kim C. Kline stated in broadcasting in 1980. She was the promotion manager for WKBS-TV, Channel 48 here in Philadelphia, when the station signed off the air. Her dad, Jack Kline, worked at WCAU, WPHL-TV and WKBS. After Philly, Kim moved to KPLR-TV in St. Louis and to KRBK-TV in Sacremento. She started there as promotion manager and then moved into sales where she stayed for 15 years.
Dawn Timmeney, anchor and reporter for NBC 10, has joined. She has been with the station for the last eleven years. Before that, she was the primary anchor at WBRE-TV in Wilkes-Barre and an anchor/reporter for WFMZ-TV, Channel 69 in Allentown. Before that, she was an anchor/reporter for WPCN Radio in Mount Pocono. Dawn is always active in community service, working with such organizations as the Make-A-Wish Foundation.
Harry Hurley, brother of member Don Hurley, has joined the organization. Harry started at the Press of Atlantic City in 1978 and moved into broadcasting in 1991. He is the president of Harry Hurley Communications based out of Egg Harbor. Earlier this year, Harry donated $1,000 to underwrite a Broadcast Pioneers scholarship. The proceeds came from the annual Harry Hurley Charity Golf Tournament. Thanks, Harry.
Dave Petrelius joined our industry in 1979 and has over 30 years of film and television experience. He spent almost all of those decades as a senior producer for NFL Films in Mount Laurel. In 1996, Dave was named leader producer for the launch of NFL Sunday Ticket, then headed up NFL International. He had produced over 200 segments of HBO's "Inside the NFL." Welcome aboard.
We are thrilled to have these new members. They've helped to bring our total membership up to 448 (an all-time record). We hope to see as many of you as possible at our banquet in later this month.
DIGITAL ARCHIVAL PROJECT NEWS:
Here's a few excerpts from the Channel 10 show, "Ten Around Town." The WCAU-TV tape number was 819-30-P. The program was recorded on September 24, 1982 and aired the next day. Broadcast Pioneers members Cherie Bank and Steve Levy are the hosts of the series. Steve is visiting his old South Philly neighborhood.
Our copy is from Steve Levy's original VHS tape, which was mastered off of the original Channel 10 recording. As you can see in the video, the tape is slightly damaged - not surprising after 29 years!
Steve Levy e-mailed us:
Taping the first broadcast of Ten Around Around Town was remarkable. First, to do a show from the South Philly corner where I grew up, where my dreams of being on Philly TV began, was almost surreal. Then to start a show that became the most successful show in decades for WCAU TV....and to begin a relationship with Cherie Bank that became family...was more than a kid from the neighborhood could hope for.
Cherie Bank e-mailed:
Besides what Steve said (he became part of my family too) 10 Around Town was a joy to do. We had the best Executive Producer, Dan Sitarski, and the best team of producers any on-air people could hope for. Our stories were fun and informative and imaginative. And we all loved being together. In fact, all these years later we are fast friends!
Watch the excerpts in Real Video!
Watch the excerpts with Windows Media!
There was a program on WCAU Radio called "Hi Neighbor Party Time" and its host was Ralph Collier. On this particular show, Philadelphia singer-turned-actor James Darren was interviewed. The house singer was Susan Brooklyn. It dates from early May of 1958.
We do not have the complete show of this broadcast. However, we can present to you three excerpts (as one piece of audio with 1 second dead air between cuts). The running time is a little over 14 minutes.
This specific recording was made via a transcription disc and not on reel to reel audio tape. Because of that, the recording is fairly noisy. We have spent about 20 hours cleaning up the audio and removing over 500 pops and clicks from the original recording.
Listen in Real Audio!
Listen in Windows Media!
IN TOUCH WITH OUR MEMBERS:
Broadcast Pioneers member and legendary broadcaster Ed Hurst has moved The Steel Pier Radio Show to News Talk 1400 AM, WOND. Ed now broadcasts every Saturday from 4 to 5 pm. His first guest was the great Tony Bennett. We spoke with Ed who told us:
I'm not talking to the fishes anymore. Coskey (Dave Coskey, President Longport Media) is doing great things. I love the move and we're having fun. Tony Bennett was my first guest. He told me I was the first to play his records in 1949. I'm five days older than him. The listener response has been unbelievable. I've been on the air for 67 years and never had such a wonderful experience.
We heard from Jack "Geno" Smith, a visitor to our website, who said that he used to attend the Grady and Hurst Dance Show held just outside of Wilmington and broadcast over WPFH and WVUE-TV, Channel 12, which was a commercial station at the time. He also remembers the dances they held at the Claymont (Delaware) Fire Station on Saturdays. He stated that he was always there and that Ed and Joe gave him the nickname "Geno." Great hearing from you.
We heard from member Valerie Morrison, who told us her manager Frank De Angelo had the opportunity to meet Karen Scioli (better known as Stella on KYW TV's "Saturday Night Dead") at the October luncheon. Turns out Karen was one of the early producers of the TV show "COPS." Congratulations to Karen on this little known fact.
Member Marciarose Shestack tells us that there's complete website about her late husband, Jerry Shestack. It's a living tribute to such a wonderful man. We enjoyed our visit to the site.
Last month, a new book by Michael Lisicky came out called "Gimbels Has It." The introduction is by member Gene London and features stories by member Jane Norman and comments from Dick Clark and our own Chairman of the Board, Gerry Wilkinson, whose grandfather (Larry Rhoades) was a guard at the center city store and quite often worked on the same floor as WIP Radio. In fact, member John Facenda once arranged for an audition for Gerry's grandfather, but, alas, the broadcasting experience would still be a couple generations down the road. Lisicky grew up in Camden and now lives in Baltimore where he is an oboist for the Baltimore Symphony Orchestra.
We got an e-mail from a visitor to our website who thought we needed to make clear that members Joe Grady and Ed Hurst got credit for having a "Bandstand" type dance show on WPFH, which became WVUE-TV (Channel 12). He said: "I was a Regular on their Dance Show just north of the City of Wilmington, Delaware. When they closed in the Wilmington Area, the show went to Atlantic City and I attended as often as I could." The Delaware event is mentioned in Ed Hurst's bio on our website.
Member Cherie Bank had an article written about her induction into our Hall of Fame and her career. It's in the fall issue of Elite Professionals Magazine on page 20. Read it here!
Member Dom Giordano co-hosted "The Governor Tom Corbett Show" over WPHT Radio last Thursday morning. The program is aired live once a month from Harrisburg with the phone lines open for callers' questions.
Out of the west coast, we heard from member Harvey Sheldon who created the Bunny Hop dance for Bob Horn's "Bandstand" Show. Harvey wants everyone to know that he has two Internet radio stations. One features Philly music and the other pop music on his Bandstand station. You can listen right here! And Sheldon has just written another book. Is this one number 13 or 14? He has written so many that we have lost count. Well, anyhow, his latest is called"Emmis." It's about the Holocaust. When we checked this past weekend, it wasn't available yet on Amazon.com.
Member Al Meltzer is going to be on "The 10 Show" this coming Wednesday, November 9th. If you want to be in the audience, please call 1-877-713-1010, toll free. Remember, Big Al will be one of our speakers at our December 21st luncheon.
We received an e-mail from a visitor to our website, Jim Capaldi, who said:
I just noticed that you added Bob Menefee to your Hall of Fame in 2010. I used to listen to him every day on WCAU-AM when I was a teenager in the sixties. He then went to WPEN but died at a young age sometime not long after that. I recall that he said that he was from West Virginia and that his wife was named Barbara. One of his idiosyncrasies was that he never wore a coat; he would go out in the coldest weather without one. Now that I am 61, I am thinking more about the days of my youth and Bob Menefee was a part of that.
A LITTLE BIT OF HISTORY!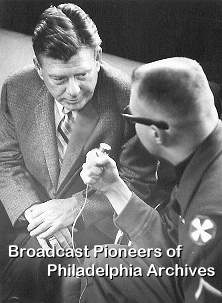 (Left to right) Arthur Godfrey and Andy Musser
WE REMEMBER:
Member Storm Phillips told us that Norman Corwin died in California at 101. Corwin was a creative giant of the Golden Age of Radio whose programs chronicling World War 2 were milestones in broadcasting. He joined CBS in 1938 at the height of the radio network's glory, while working with such broadcasting greats as Edward R. Morrow and Howard K. Smith. While his early work was behind the microphone, he eventually turned his focus to writing, producing and directing.
Toby DeLuca passed away last week. He worked at the WFIL stations for years in the fifties and sixties. He was also working with member Bill Campbell when the Wilt Chamberlain 100 point game was broadcast. He was afriend to many local and national entertainers.
Did you know...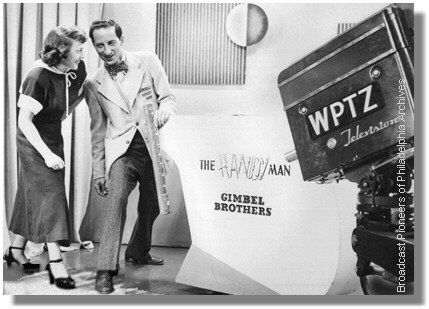 Broadcast Pioneers members Jane King & Jack Creamer
"The Handy Man" Program on WPTZ
circa 1947
...that thanks to member Phyllis Ariano-McGinnis we now have in our archive a beautifully preserved 1946 hardback book written by member Jack Creamer, who passed away about 15 years ago.
Jack was probably best known for his "Handy Man" network radio program and local WPTZ television show. His sidekick on the TV version was member Jane King Hall.
We thought you might enjoy a few tidbits from the book we got from Phyllis called "Handy Household Manual."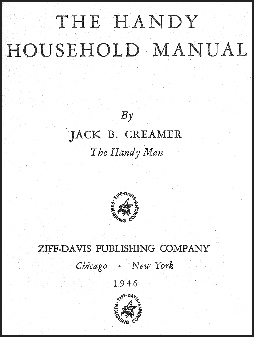 Jack tells you that if you want more juice from your oranges, warm them up slightly or running them under the hot water for 30 seconds. Cut it with the sections (not across). Also, before cutting, roll them on the table for a moment. That will get you the most juice from your oranges.
Jack also mentions that the best way to store potatoes is to spread them out in a shallow box so air can circulation around the spuds. But Jack does say that if your potatoes get old and wrinkled or frozen, soak them in some cool water for about 30 minutes and then use immediately. (May we suggest that you just throw them away and get new ones?)
Remember those old waxed cardboard milk containers? Well, Jack suggests that they would make a wonderful container to hold the breadcrumbs that you just made out of stale bread. Our breadcrumbs come in a little round can. Usually, you get a new can when you buy more, so we're just not sure what to do with the old waxed cardboard milk container. In fact, we're even more confused because our milk comes in plastic jugs.
Creamer also thinks that if you want self-thickening gravy, use the water in which rice has been cooked. Lots of nutrients have been cooked out of the rice... and are then added to your gravy.
Jack tells you that you should keep your brown sugar in a large jar with dried prunes. The prunes keep the sugar from turning hard and the sugar sweetens the prunes.
The book also tells us that homemade cookies are a tough thing to ship. Jack thinks that packing them around marshmallows or popcorn would work wonders.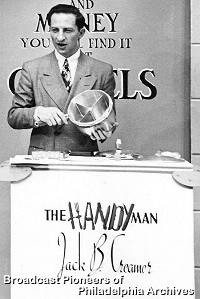 Jack points out that tomatoes kept in the refrigerator turn soft and wrinkled when removed from the refrigerator. To keep them nice for packed lunches, refrigerate the entire lunch box.
Bay leaf flavor can be added to soups by putting the leaves in a tea ball and then placing the ball in the soup. When finished, just remove the tea ball. You don't have to fish out the leaves and you still have the flavor.
Jack Creamer was a member of Broadcast Pioneers for many years. We have missed him since his death a decade and a half ago. On Friday, November 18th, we will induct Jack into our Hall of Fame.
This regular monthly column is written and researched by Gerry Wilkinson.
MORE DIGITAL ARCHIVAL PROJECT NEWS:
For many years, AM Philadelphia on WPVI-TV was a Philadelphia favorite. We have in our video archive an interview that host Wally Kennedy did with former mayor turned broadcaster Frank Rizzo. The year is 1987. This recording was originally mastered on VHS tape. It was then dubbed to Beta SP, a professional video tape used mainly by television stations. Our copy comes off of the Beta SP tape.
However, it had extremely low volume, almost non-existent. We were able to increase the volume to a normal level but that process unfortunately increased background noise of the tape. You may hear a low frequency hum. We are very much aware that it is there. While we were able to reduce the hum, it is still there on the recording. If any out there has a better copy of this interview, we would be delighted to receive it.
Watch in Real Video!
Watch in Windows Media!
King George VI, the head of the British Empire, died on Wednesday, February 6, 1952. The British Prime Minister Winston Churchill addressed the British nation the next evening at 9 pm (British time). It was 4 pm here in Philadelphia. While the speech was carried live in the United States, many stations reaired the address later that evening when people returned home from work. WIP Radio in Philadelphia was one such station.
That night, Thursday, February 7, 1952, the station rebroadcast Churchill's address. Afterwards, there was a ten-minute wrap-up by WIP. This was a local wrap-up and NOT part of the original Mutual Broadcasting System's original feed. WIP was a Mutual radio affiliate at that time.
We have the complete broadcast in our archive. We present to you the local wrap-up after Churchill's address. This would have been on Thursday evening, February 7, 1952. As of now, we have not yet been able to identify the announcer.
Listen in Real Audio!
Listen in Windows Media!
Remember, History is ONLY What Gets Saved!
(If there were no portraits of George Washington, how would we know what he looked like?)
MORE IN TOUCH WITH OUR MEMBERS:
Member Kenny Jeremiah starts a radio program on WLVT, Cruisin' 92.1, out of Vineland, New Jersey. The broadcast can be heard every Tuesday evening from 10 pm to 11 pm. It's called "Good Time, Old Time Rock-n-Soul Show."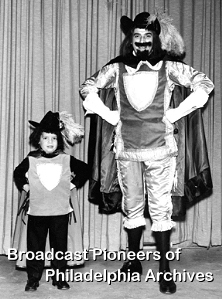 (Left to right) Bill Webber, Jr. and Wee Willie Webber
Penn Fruit TV commercial
1964
Bill Webber, Jr. told us that his first TV appearance was in a1964 Penn Fruit supermarket spot. Here's a picture from the shoot. Bill Webber, Jr. tell us that he had one line. At the end of the commercial, Bill Jr. said,"Hey Dad, don't forget about the low prices!"
NFL Legend and Broadcast Pioneers member Vince Papale and his wife, Janet Cantwell Papale, a former world class gymnast, have written a new book entitled "Be Invincible!" It's a playbook on reaching your full potential. Watch Lu Ann Cahn interview the Papales about the new book.
Speaking of books, member Jerry Del Colliano has written a new book entitled"Out of Bad Comes Good" (The Advantages of Disadvantages). The back of the book says, "This study of successful people who have overcome the disadvantages that life in our fast times can bring is a formula for turning bad into good that can be put into action immediately. Jerry was a Dale Carnegie instructor for years and has been teaching as a professor of music industry at USC. Many remember Del Colliano from his days running 'Inside Radio.'"
Former Bandstand dancer Bunny Gibson, who now lives out on the West Coast, informs us that she just performed in a new music video for Spanish artist Enrique Burnbury. She also says for us to eat a soft pretzel with mustard for her. Our question is: regular or atomic (really hot) mustard?
Ed Elias' daughter, Debbie Elias (a member of this organization) did an interview with Dave Roberts' son, actor David Boreanaz. They talk about their dads working together at WPVI and, of course, about David's career. Read about it here!
Broadcast Pioneers member T. Morgan has checked in to tell us about Debbie Gallo, who was recently hospitalized. Doctors and nurses were working on her doing things like PICC lines (painful) when she decided the show must go on. During the procedure, she did a WVLT broadcast from her hospital bed! Way to go, Debbie!
John Primerano (a member) appeared on (member) Dr. Diego Castellanos' 6ABC program Puerto Rican Panorama. John performed a variety of tunes, such as You Belong to My Heart, Amor Amor, and Besame Mucho.
R. Alan Campbell, a Broadcast Pioneers member from Monterey, Mexico, has checked in to tell us how happy he is that his internet stream of classical music has been picked up by iTunes. Alan did afternoon drive on Philly's classical WFLN in the 60's and 70's. Nice going, Alan.
The Press of Atlantic City has reported Harry Hurley is leaving WENJ-AM 1450 and moving to WOND-AM 1400 in January as part of their local-talk lineup. Prior to joining WENJ, he has spent the past five years with WIBG-AM 1020. Hurley will be taking over the time slot that was filled by Rush Limbaugh. This is just one more of the major changes made by Dave Coskey, President of Long Port Media, a Broadcast Pioneers member and a speaker at the October luncheon.
While member Charlie Gracie was in the UK last month, he flew to Italy to headline a big rock and roll show in the land of his ancestors. He then returned to the United Kingdom for more touring, including a couple shows with Linda Gail Lewis, sister of Jerry Lee Lewis.
We heard from Brenda Freedman, the widow of member Sam Bushman. She tells us that she's putting pictures and stories about her beloved hubby online. Her webpage is called (what else) "For Immediate Release." Here's an interesting fact we found on the website: Sam Bushman had his own TV show on WIBF-TV, originating from the Benson East.
A LITTLE BIT OF HISTORY!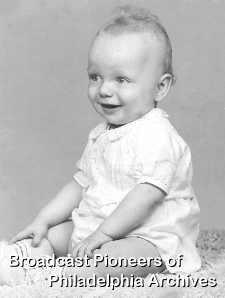 A young Wally Kennedy
THANK YOU:
As we do every month, we want to thank Broadcast Pioneers member Johnny B. Hall for his monthly cash donation to our DAP, Digital Archival Project. However, Johnny has hit a home run! Thanks, Johnny! Our Digital Archival Project keeps on moving along.
Johnny also surprised us with confirmation that he and his lovely wife, Ginny, will be underwriting four $1,000 scholarships. These will be awarded in April 2012. Thanks, Johnny and Virginia. This will go a long way to help out some deserving college students.
A round of applause for Board Member Kal Rudman who just purchased two tables at our annual banquet. What's so special about this? Well, he did it in order to bring area college students studying communications to the event to network with all of you. Thanks, Kal.
Kenny Jeremiah, Charlie Gracie and others at WVLT, Cruisin' 92.1, have been airing PSAs about our upcoming banquet. Thanks, everyone. Word has also reached us that we're getting PSA airplay on KYW Newsradio. Kudos to them, too.
We wish to thank Allen Stone, Art Moore, Les Waas and Catherine Brown for the extra contributions they included in their banquet ticket orders. These and other gifts will help fund scholarships for area college students.
Thanks also go out to Debbie Elias, Ed Elias' daughter, who is a member. She sent some material and a nice donation for our Digital Archival Project. Thanks for everything.
If you forgot to make an extra contribution (cash or memorabilia) and would like to do so now, it's never too late. We would be thrilled to hear from you at: PO Box 2886, Bala Cynwyd, PA 19004.
IN TOUCH WITH THE INDUSTRY:
The Philadelphia Union has signed a deal with CBS. Next year, SportsRadio WIP will broadcast live 17 of Philadelphia Union's matches, either home or away. They will also partner with the team to produce a weekly one-hour soccer show which will run through the end of the season in November. Broadcast Pioneers member Marc Rayfield, Senior Vice President and Market Manager at CBS RADIO Philadelphia, said:
Soccer is exploding in the Delaware Valley. PPL Park is filled every game and the fans are as enthusiastic as any in professional sports. We are proud to help expand the team's reach and the sport's popularity throughout the region.
We inducted Sid Mark into our Hall of Fame 10 years ago this month. Well, now, ten years later, Sid is celebrating 55 Years of his radio broadcasting love affair with Frank Sinatra. The show is currently heard on Sundays from 8 am to 1 pm on WPHT Radio. Mark's syndicated show, "The Sounds of Sinatra," is featured on over 100 radio stations, coast to coast. Congratulations to Sid and WPHT. Here's to another 55 Years!
Bob Hite was an anchor here in Philly. He was on WPVI's Action News in the mid-70s. He left here to go to WFLA, where he stayed for 30 years. He retired four years ago. Well, we received word that Bob is now hosting an informerical for a health care provider based in Florida. The program has been running on WFLA-TV.
WCBS-TV in New York is starting to broadcast on one of their sub-channels, now called "CBS News York Plus." It will include material from the TV outlet and from several CBS O&O radio stations in NYC. The sub-channel also can be used for breaking news. Reported plans are to replicate this with other CBS-TV O&O's. KYW-TV, CBS 3, is owned by CBS.
Carla Carpenter is now Senior Vice-President of Digital Media at the ABC owned and operated stations. She has been VP and News Director for WPVI-TV for the last 14 years.
Well, looks like Fox 29 is planning to keep Mike Jerrick around for awhile. They just completed a new 3 year deal. Mike is currently seen mornings (with member Sue Serio) on "Good Day" on WTXF-TV. The show airs from 4:25 am to 10 am. That's 5 hours and 35 minutes of air time each and every morning.
Happy Holidays! Wildwood-based radio station WEZW-FM 93.1 has done it again! On October 18, they started their holiday celebration by changing formats to all Christmas music 24/7. This is the third year the station has gone to this format.
Ken Trujillo, onetime Philadelphia city solicitor and longtime partner in Trujillo, Rodriguez & Richards L.L.C. recently purchased WAT-AM 1340 and re-formated it as a Spanish language (and online) music format "El Zol."
WIBG-AM 1020 In Ocean City New Jersey has announced a change in format from a Christian station (since 1992) to news-talk format. Programming will feature local talent as well as the syndicated Michael Savage show.
NBC 10 Philadelphia is teaming up with the U.S. Chamber of Commerce and RecruitMilitary in support of a job fair aimed at matching job-seeking veterans with employment opportunities. The "Making a Difference on the Homefront" job fair, which is open to veterans and military spouses, will take place at Lincoln Financial Field in Philadelphia on Thursday, November 3 from 11 am to 3 pm.
ON THE SCENE:

Women - in higher and higher numbers - are now breaking into what was once a white male bastion in the broadcast industry, college students were told at the latest Broadcast Pioneers of Philadelphia symposium at NBC 10 on Saturday, October 29th. The symposium was held inside "The 10 Show" studio.
The glass ceiling is disappearing as women fill slots as anchors, news directors, producers, and technical staff, said Justin Pizzi, an on-air news reporter for the station. Females outnumbered males 83% to 17% at the event.
A panel of professionals offered counsel to the students on how to break into the industry. The panel included Pat Delsi, former owner of WSSJ Radio, Camden, N.J. and Broadcast Pioneers treasurer; Ed Dress, Content Producer for NBC 10s The Investigators; Alissa Ingram, Executive Producer for NBC 10's 11 p.m. news; Jillian Mele, NBC 10 reporter, 10 Show host and AM Traffic; Dan Stamm, Content Producer for NBC 10, WCAU-TV; and Justin Pizzi.
Master of Ceremonies was Jerry Klein, former newsman for WCAU Radio and KYW Newsradio, currently Executive Vice-Present of Anne Klein Communications Group and President of this organization. Our Chairman of the Board Gerry Wilkinson, former Operations Manager for WDAS Radio and Television Producer for WHYY-TV made opening remarks.
Panelists charted a course of action for broadcast wannabes:
• Don't make the same mistake twice.

• Networking and internships are vital to landing a job.

• Be prepared to start at the bottom, accept low pay and tasks you may disdain, move around a lot, work abominable hours and be persistent.
On the Scene guest reporter this month was Broadcast Pioneers Board Member Ed Eisen.
A REVIEW OF THE OCTOBER LUNCHEON: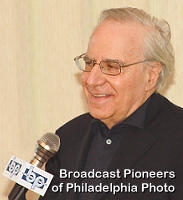 Member Larry Kane
Wednesday, October 19, 2011
Broadcast Pioneer member Larry Kane, the Dean of Philadelphia News Anchors, was one of our speakers on Wednesday, October 19, 2011. He talked about his brand new novel, "Death by Deadline." Everyone who attended received a free copy of the book, courtesy of member Larry Kane.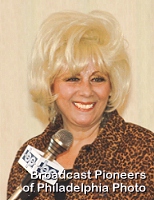 Member Karen Scioli
Wednesday, October 19, 2011
Also on the big show was member Karen Scioli. You might know her as "Re Re DeNucci" from WOGL's "Breakfast Club" with Ross Brittain. However, even more of you will know her as Stella from Channel 3's "Saturday Night Dead" broadcasts from the 80s. Her favorite holiday, of course, is in October (Halloween)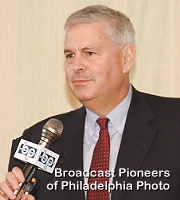 Member Dave Coskey
Wednesday, October 19, 2011
Member Dave Coskey is the new president of Longport Media who just purchased 5 radio stations in the Atlantic City area (WOND, WBSS, WTKU-FM, WWAC-FM and WMGM-FM). He talked about where he plans to take the group of stations. Longport just partnered with Sportsradio 94, WIP. WBSS, 1490, is now carrying WIP's programming on the station 24 hours a day. They're calling it "WIP at the Beach."
COMPLETE VIDEO!
Watch Dave Coskey (for DSL users)
Watch Dave Coskey (for high speed users)
Watch Karen Scioli (for DSL users)
Watch Karen Scioli (for high speed users)
Watch Larry Kane (for DSL users)
Watch Larry Kane (for high speed users)
8 PHOTOS OF THE LUNCHEON!
COMPLETE AUDIO!
Listen to Dave Coskey in Real Audio!
Listen to Dave Coskey in Windows Media!
Listen to Karen Scioli in Real Audio!
Listen to Karen Scioli in Windows Media!
Listen to Larry Kane in Real Audio!
Listen to Larry Kane in Windows Media!
Some of what we heard….
Dave Coskey…"It's a thrill to be here. For a kid who grew up in Philadelphia to be in this room with all these people is amazing. We're rebuilding, eliminating a lot of the syndication and are committed to live and local. We're pleased to have brought Ed Hurst and his Steel Pier program to WOND. We've brought together key South Jersey personalities who are recognized as great talent…we're going back and capturing what radio was and what it should be. We're bucking the trends and hoping it pays off."
Karen Scioli had us laughing so much and delivered her presentation is such rapid-fire style it was difficult to capture a quote... but we remember how she, in her her thick South Philly accent, kept telling Larry Kane how hot he looked!
Larry Kane… "This book, the characters who are in it, are in this room-not really the anchors in this town, but you'll figure it out. Actually, the hero of the book turns out to be an all-news radio station 1070. The book will keep you petrified and up at night. It scourges the conscience of American television."
HEARD AFTER THE LUNCHEON
"A fantastic luncheon. Being with Larry Kane when Action News got its start was just amazing. Larry has done so much. He has such depth and grasp of the political scene and so much more. I remember, even though we had teleprompters, Larry memorized his script…he never had to read anything! What a talent." Joe Pellegrino
"Dave Coskey is going to make radio today succeed. I'm coming out of retirement to do my old show Memory Lane because Dave asked me to do it. The most important words he said were "live and local." That's what's going to make Dave's stations successful. You have to give the people something they don't get on their iPhones." Tom Lamaine
"Today was great. It's always a pleasure to see the people you worked with and the people who are currently working…people who are a legacy for the past and the future in this business." Larry Kane
"Very nice and very interesting program. I love Broadcast Pioneers and always enjoy being here." Kenny Jeremiah
"I thought it was wonderful. Dave Coskey and his live and local concept is wonderful. It's been a great day all around." Steve Ross
"It was very exciting. I think I made out with half the people in this room and dated most of them. Larry Kane looks very sexy." Karen Scioli
"It was great. Incredible legends filling this room and with Larry Kane leading the charge, it doesn't get any better than this. We're making a lot of changes at the radio stations and hopefully that will translate into listeners." Dave Coskey
"Another winner luncheon. I have my daughter with me as my guest because she and Dave Coskey went to school together. To see what Dave has done and is doing now is amazing, he's bringing personality back to radio." Tom Moran
A FINAL THOUGHT....
"When as a teenager I told God my plan for my life, he just laughed."
Bill Wright, Sr.
2009 Broadcast Pioneers' "Person of the Year"
Please contact us by e-mail at newsletter@broadcastpioneers.com. Your stories are important, to you, to us, and your colleagues. Contact us today and we'll include your story in the next newsletter!

Photo Editor & Archival Historian - Gerry Wilkinson
© 2011, Broadcast Pioneers of Philadelphia
All Rights Reserved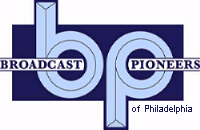 The e-mail address of the Broadcast Pioneers of Philadelphia is pioneers@broadcastpioneers.com
For luncheon reservations call (856) 365-5600 or e-mail us at: rsvp@broadcastpioneers.com