The Broadcast Pioneers of Philadelphia is a federally recognized, state chartered 501(c)(3) non-profit corporation serving Philadelphia since 1962.

Ed Eisen
News Editor

Annual Banquet
The Hilton City Avenue
Friday night, November 16th, 2012

Doors open at 5:45 pm
Reception at 6 pm
Dinner at 7 pm

Advance Tickets Required!
Ratecard: $85 for member
Everyone else: $95 each
2012

"Person of the Year"
& Hall of Fame Inductees
Tickets Must Be Purchased in Advance!
None available at the door!
Already 285 tickets sold!
Send in for yours today!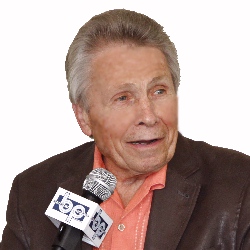 The date is Friday evening, November 16th!
PERSON OF THE YEAR
Dean Tyler, former WIBG Good Guy, former WIP PD and former WPEN & WMGK General Manager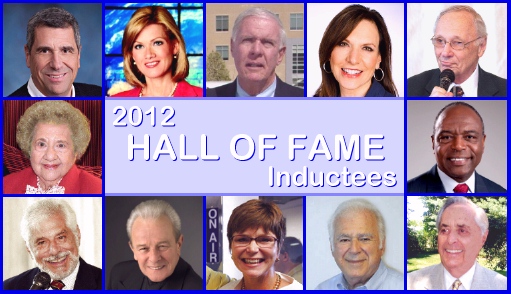 HALL OF FAME (LIVING INDUCTEES) (in alphabetical order):
Donald Barnhouse, commentator for WCAU-TV, now seen on WFMZ-TV
Lu Ann Cahn, eight-time Emmy winner, an investigative reporter for NBC-10
Angelo Cataldi, morning sports talk show host on WIP-AM/94, WIP Radio
Charlie Gracie, rock singer, big hits were "Butterfly" (1957) & "Baby Doll" (2012)
Stan Hochman, veteran sports reporter/commentator, Daily News columnist
Sylvia Kauders, veteran TV, stage, and movie actress & public relations consultant
Jay Lloyd, long-time Suburban Bureau Chief for KYW Newsradio, 1060
Robin Mackintosh, veteran "Eyewitness News" journalist for KYW-TV/CBS 3
Liz Matt, long-time co-host of 6ABC's "AM Philadelphia" & reporter for Fox 29
Beasley Reece, former football player/sports anchor for KYW-TV, CBS 3
Tommy Roberts, former owner of WTMR Radio, 800 on AM in Camden, NJ
Cecily Tynan, WPVI-TV, 6 ABC "Action News" prime-time meteorologist
HALL OF FAME (POSTHUMOUS)
Frank Beazley, WCAU-TV Sales Director, head of Center City Film & Video
Red Benson, former WPEN late night telephone talk host, also with WCAU
Bud Brees, best known as the "singing disc jockey" on WPEN Radio
Tom Donahue, pioneer disc jockey at WIBG, father of progressive rock radio
Christopher Graham, long-time "Uncle WIP" kids host in the twenties & thirties
Judy Lee, former Channel 3 & NBC-TV weathercaster/news anchor/weather girl
Al Martino, popular South Philly singer who appeared in "The Godfather"
Joe Pyne, radio/tv talk show host who pioneered debate type programming
Charles Shaw, CBS Radio journalist & News Director at WCAU Radio & TV
Ed Yates, former director for "Bandstand" and "American Bandstand"
Tickets are now on sale. Prices are $85 for members (each member can buy ONLY one ticket at the member price) and $95 for everyone else (including spouses, friends and guests). The event will once again take place at the City Avenue Hilton, 4200 City Avenue, Philadelphia. The date is Friday, November 16th. Reception (with crudités) is at 6 pm and dinner will be served at 7 pm. Doors open at 5:45 pm. Cash Bar all night long. Valet parking is $10. Event lot parking is $5. Make plans to be there! TICKETS NOW ON SALE! Just click here for our reservation form! Just print, fill in and mail. Don't forget to include your check.
Remember, we are a 501(c)(3) non-profit organization. That means a majority portion of the ticket may be tax deductible on your federal income taxes. All donations may be 100% deductible. Ask your tax advisor how this may apply to you.
DINNER MENU (subject to change)
Salad:
Tossed Garden Salad with Raspberry Vinaigrette or Ranch Dressing
Entrée:
Boneless breast of chicken, apples and seasoned corned bread filling with plenty of pan gravy. Seasonal vegetables and roasted potatoes with warm bakery rolls with creamery butter.

OR

Vegetarian entrée tower, cous cous and tomato basil sauce. Seasonal vegetables and roasted potatoes with warm bakery rolls with creamery butter. (If you prefer the vegetarian meal, just tell your server.)
Dessert:
Lemon cheesecake with strawberry sauce

OR

Fruit cups (these are very limited and are for those on special diets only)
Drinks:
Fresh brewed coffee, decaffeinated coffee, tea and water
Cash bar all evening long

Visit Our Website Often - http://www.broadcastpioneers.com

A LITTLE BIT OF HISTORY!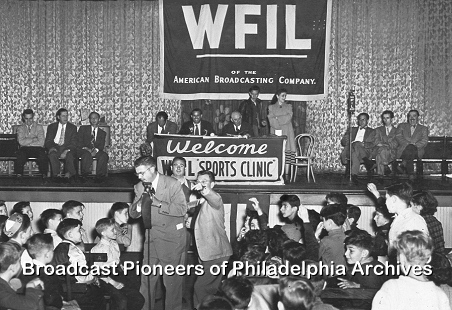 Former Broadcast Pioneers President/Chairman Tom Moorehead (at mike standing)
WFIL Radio
Philadelphia, Pennsylvania
circa 1947
WELCOME NEW MEMBERS:
FULL MEMBERS:
Yannick Nézet-Séguin is the Music Director for the Philadelphia Orchestra. He has been Music Director of the Rotterdam Philharmonic Orchestra and Principal Guest Conductor of the London Philharmonic Orchestra since 2008. He has also been Artistic Director and Principal Conductor of the Orchestre Métropolitain (Montreal) since 2000 and has conducted all the major ensembles in his native Canada.
Allison Vulgamore is the President and Chief Executive Officer of the Philadelphia Orchestra. She has been in that position since January of 2010. More than 30 years ago, her career began with the Philadelphia Orchestra. Prior to Philadelphia, she was the President of the Atlanta Symphony Orchestra for more than 15 years. Allison was also with the New York Philharmonic.
Ryan Fleur is the Executive Vice-President of Orchestra Advancement for the Philadelphia Orchestra. Before coming to Philadelphia, Ryan was the President and CEO of the Memphis Symphony Orchestra. In the nineties, he worked with the New York Philharmonic and the Boston Ballet. Part of Fleur's job here in Philly is organizational responsibility for all orchestra creative concert, touring and all orchestra personnel.
Timothy Kastner is the Digital Media Manager for the Philadelphia Orchestra. He is the primary liaison on digital media activities including television, radio, the Internet and recording. He was also the owner and operator of Echotone Music based out of Nashville where he handled all aspects of audio engineering. He has also taught courses at the Nashville State Community College in Nashville, TN.
Elaine Soncini-Leaf has been in the business since 1977. She has worked with Mike Bowe on WHAT Radio and before that with WPEN's Dean Tyler (who will be honored as our "Person of the Year" later this month). She was previously married to WIP and WPEN air personality Ken Garland. She is currently on the air at WSBB in New Smyrna Beach, Florida, where she does voice-overs and interviews on the station.
Sharla Feldscher has been in the business for decades. She owns Sharla Feldscher Public Relations at 325 Cherry Street in Center City. She has been named to the Philadelphia Public Relations Association's "Hall of Fame." In addition, she has written several books, and two of them have been translated into other languages. She's had columns in the Philadelphia Daily News and the Jewish Exponent, as well as features on KYW Newsradio.
ASSOCIATE MEMBER:
Ellen Kopeland worked in the News Department at WIP Radio for 7 years. She started while she was in college and then continued there until 1975. She served on the board of American Women in Radio and Television. Can't forget the 10 years of laughter, "acting" in the Sigma Delta Chi Gridiron Show at the Bellevue. She chairs the House Council at the Kennedy House. "It's an almost full-time position," she says.
We are thrilled to have these new members. More members than ever. We hope to see as many of our members as possible at our "Person of the Year"/"Hall of Fame" Annual Banquet & Fundraiser on Friday evening, November 16th..
DIGITAL ARCHIVAL PROJECT NEWS:
Broadcast Pioneers member Liz Matt
Evening Magazine
KYW-TV, Channel 3
Thursday, February 16, 1978

Broadcast Pioneers member Liz Matt
Evening Magazine
KYW-TV, Channel 3
Thursday, February 16, 1978
Here is a video clip from the ever popular "Evening Magazine," which ran for decades on KYW-TV, Channel 3 here in Philadelphia. Liz Matt was involved in the show. The clip starts out with the show's co-host Theresa Brown, who introduces Ron Attarian before he throws it to Liz. Ron and Liz were known officially as "Tipsters" and were both in the original cast of "Evening Magazine."

Here's some of what Matt said about this broadcast:
It was funny to see those segments. They were surely early '78. That red vest and plaid shirt were my "uniform" for weekend roundup that winter.

It's funny... with no internet to refer to, I had to give all the details... like how much tickets were! Weekend Roundups ran every Thursday. I was 26 years old. Evening Magazine began in July of 1977 (I was still 25 when I got the gig) and this was about 6 months into the show.

Theresa is a sad story of a brilliant talent, bullied by the Evening production's punishing schedule. She was the first woman host of Evening (Magazine) with Larry Angelo. I always worried about her. She left the show suddenly because of overwork after about 17 months. She was followed by Ellen Spencer, who stayed until Susie Pevaroff. Susie came in and then Ray Murray. Then when Susie left, it was Ray and Nancy Glass.


If anybody knows where Theresa Brown is, I'd love to write to her. She taught me a LOT! She would be about 68 years old, as she was 32 when the show started and I was 25.

Dr. Ron Attarian, PhD, of Montgomery County is a retired educator. Ron said this to us via e-mail:

I was a teacher at Saul Agricultural High School in Philadelphia back in '77-78. I was teaching horticulture (specifically greenhouse management) so that's where I filmed a lot of the gardening tips as an Evening Magazine "tipster." I started at Saul in 1972 and was there for 20 years.

Bill Bennett from Farm, Home, & Garden and Out Back With Bill Bennett told me of the opening on Evening Magazine. Bill was a teacher at Saul and a very well known old timer in the TV business. With his recommendation, I went to 5th & Market on a Friday afternoon at 5 p.m. and did my audition on the sidewalk, in the middle of everything, with the hand-carried African violets I brought with me. They hired me almost immediately!
In our opinion, the Real Video version is clearer.
Watch in Real Video!
Watch in Windows Media!
We have added another 10 old Broadcast Pioneers newsletters into our archive. We now have 226 different ones (all online), including every issue since 1997. However, we still are missing many issues. For those interested in reading our old newsletters, they are all archived! Click here to see them! You can also look there to see which issues we are missing. The ones with a blue link, we have. We are missing all the issues listed in plain black print. If you have one (or more) of the missing issues, we would love to borrow them to scan into our newsletter archive. Please call at (856) 365-5600 or e-mail us at newsletter@broadcastpioneers.com.
On June 7, 1972, WHYY-TV, Channel 12, aired an announcement asking viewers to become a member of the station for an annual donation of $15. Doing the spot was the station's General Manager, Warren Kraetzer. Warren was president of the Broadcast Pioneers from 1973 to 1975 and was our Chairman of the Board during 1975 and 1976. While this was a television broadcast, we only have audio.
Listen in Real Audio!
Listen in Windows Media!
On July 13, 1965, NBC Radio carried the all-star baseball game on radio with Bob Prince and former Channel 3 announcer Herb Carneal. This game was the 36th such event and was played in Minnesota. The manager for the National League was Philadelphia Phillies manager Gene Mauch. Richie Allen (3rd base) of the Phils played in that game. In our audio archive we have a live commercial and live station identification for KYW Radio. This was after Group W took back control of the station but before it went all news.
Listen in Real Audio!
Listen in Windows Media!
A LITTLE BIT OF HISTORY!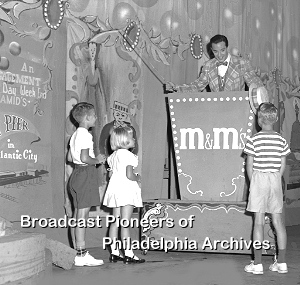 Broadcast Pioneers member Gene Crane
Candy Carnival
WCAU-TV, Channel 10
Summer 1952
IN TOUCH WITH OUR MEMBERS:
Member Harry Hurley told us that there are changes underway at the station where he works. In mid-October, the AM station WENJ (1450) changed call letters to WPG and became Talk Radio 1450. The station had been programming sports from ESPN. All that stayed on WENJ-FM, but AM is now separate with Harry 6 am to 10 am. Clear Channel syndicator Glenn Beck is on 10 am to 1 pm, Sean Hannity 3 to 6 pm, and Mark Levin 6 to 9 pm. A new talk show (but not really to be announced) will go into the 1 pm to 3 slot. Harry, by the way, has become the station's Senior Programming Consultant. The call letters WPG (World's Playground) were used by the Atlantic City municipal owned station over a half century ago. Member Frank Stone also sent us this story. Thanks to both.
Philadelphia's WIP-FM presented a $5000 donation to Eagles Quarterback Michael Vick and his Team Vick Foundation. "Under Michael Vicks' guidance, Team Vick Foundation has already made an impact on improving the quality of life for residents in the Hunting Park area of Philadelphia and we look forward to the continued good works the foundation will bring to the tri-state area," said Broadcast Pioneers member Marc Rayfield, Senior Vice President/Market Manager for the CBS-owned station. Angelo Cataldi, morning drive host for SportsRadio94, will be inducted into BP's Hall of Fame later this month.
Member Vibiana Bowman Cvetkovic is making a presentation on Saturday, November 3rd, in Pittsburgh at the 23rd Annual Conference of MAPACA (The Mid-Atlantic Popular and American Culture Association). The organization is dedicated to critical analysis of various aspects of popular and American culture. Zara Wilkinson, youngest daughter of our Chairman of the Board, Gerry Wilkinson, will be giving a presentation at the same event.
In the "You Never Know What You'll See" category, Gerry Wilkinson, our Chairman of the Board, was driving through the section of Philadelphia where he lives when he looked to the right and saw a white rooster walking down the sidewalk like he owned it. Owners of chickens inside the city limits are in violation of Section 10-112 of the Philadelphia Code, which prohibits the keeping of farm animals, defined as "any chicken, goose, duck, turkey, goat, sheep, pig or cow." Maybe it was okay because the rooster was less than a block away from a city school. The City code does permit the keeping of such animals in zoos, slaughterhouses and schools.
Many of us at Broadcast Pioneers have grandchildren. But how many of us get letters like this -- that pay such high tribute to a loved one? Ed Eisen, your news editor, did. Ed writes, "From the time my grandson Josh Gold was 11, I encouraged him to take up the craft of filmmaking. Now, at 21, Josh just started his freshman year at Drexel. He was asked to write an essay about something personal in his life. This is what he wrote and my response."
Broadcast Pioneers member Skip Clayton of WBCB Radio and Garo Yepremian, one of the Miami Dolphins most recognizable figures, bring fans onto the field and into the locker room with their newly updated book, "Tales from the Miami Dolphins Sideline." Published by Skyhorse of New York, the book relives the Dolphins 1972 season and much more.
Come have some fun with one of Broadcast Pioneers' very own musical giants, Kenny Jeremiah and Bittersweet. Tomorrow through Sunday (November 2nd to the 4th) and Saturday, November 10th and 17th, at the LaPiazza Restaurant & Lounge, Pacific & Burk Avenues, Wildwood, NJ. Show starts at 7:30 pm. And Saturday, November 24th at Mori's Restaurant & Lounge, 830 Landis Avenue, Vineland, NJ, 8 pm to midnight. For reservations at Mori's, call (609) 522-8300. By the way, Kenny has a radio show on WVLT, Cruisin' 92.1, Tuesday evenings at 10.
Broadcast Pioneers member Harvey Sheldon's new book, "The Golden Age of Television," was just released two weeks ago, but he has already finished his next work about the golden age and history and radio. The book talks about radio nationally but mentions some locals including Hy Lit, Grady and Hurst, Doug Arthur, Joe Pyne (who worked at several stations here in Philadelphia), Eddie Newman and Lee Stewart.
Broadcast Pioneers member Bunny Gibson, once a bandstand regular, is producing her 10th "Day of the Child" Dance Contest for Children Uniting Nations. CUN is a non-profit organization that provides mentorship for foster children. Some 1000 foster children will be attending the event on November 18th at the Santa Monica Pier in California.
A LITTLE BIT OF HISTORY!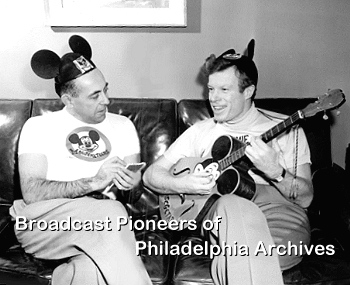 Broadcast Pioneers member Harry Harris with lead mouseketeer Jimmie Dodd
The Mickey Mouse Club
Los Angeles, California
circa 1956
WE REMEMBER:
Henry Rodriguez, age 87, of Westmont, NJ, passed away on October 10, 2012. Henry graduated Roman Catholic 1943, was a World War II Navy Veteran, worked at RCA in Camden and retired after 20 years for CBS-TV and WCAU-TV, Channel 10 in Philadelphia.
Actor Gary Collins passed away on Saturday morning, October 13th. He was the host of the long-running syndicated talk show "Hour Magazine." The first month of shows came out of Philadelphia and KYW-TV. See below in our "Thanks for the Memories" Section.
Jarrett Spotswood Lickle passed away on Friday, October 5th. He was known to Philadelphians who watched WCAU-TV in the early fifties as "Patches." More info about him is in our "Did You Know" column below.
Andy Hopkins passed away the morning after our October luncheon. He had retired just two months before. He was playing golf and they found him not breathing at the 14th hole. He was a mainstay at WPEN Radio for 18 years where he did mid-day and hosted a solid hour of Sinatra. After leaving broadcasting, he became a computer expert and ran a computer business.
We mailed a banquet invitation to member Preston Stover several weeks ago. The invitation was just returned marked "Deceased." Preston hasn't been well for quite some time. He worked at WPTZ, Channel 3, in the early days. Many of the photos from that era were taken by Stover, who free-lanced as the station photographer and developed the negatives in his bath tub.
Bill Bode, 87, died in a hospital in Liberty, N.C. on the afternoon of Tuesday, October 23rd as a result of several illnesses. Bill donated his body to medical science. His bio is in the THANKS FOR THE MEMORIES section.
WORKING DVD RECORDERS NEEDED!
We need working DVD recorders for our archival project. If you have a DVD recorder that you wish to donate, please contact us by calling (856) 365-5600 or e-mail us at: pioneers@broadcastpioneers.com!
WORKING NEW OR USED VHS TAPES NEEDED!
We can also use new, blank VHS tapes. We also have a limited use for used VHS tapes (even pre-recorded ones - we can record over the content) that we can use in our archival project. If you have any that you wish to donate, please contact us by calling (856) 365-5600 or e-mail us at pioneers@broadcastpioneers.com!

Did you know...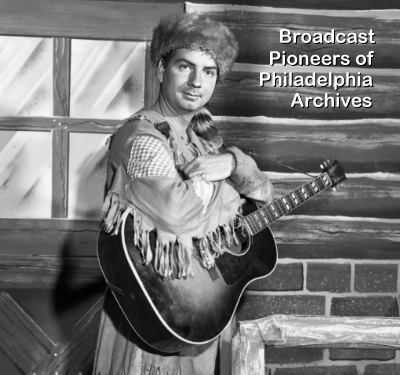 Jarrett Lickle (Patches)
December 1952
Picture taken by Roy Swartz and the original negative
was donated to us by the Lower Merion Historical Society
Photo © Broadcast Pioneers of Philadelphia
Although his real name is Jarrett Spotswood Lickle, the children called him "Patches." His friends called him "Spotty" and rumor says that as a child he was teased with the name "Spot."

Patches was an elegant, prince-like traveler who appeared in the fifties on Channel 10, WCAU-TV. His clothes were tattered, but not crummy and never dirty. He had several programs on the station including "The Old Story," "Just Us Kids" and "Pioneer Playhouse."

He wore a coonskin cap, reminiscent of Davy Crockett. He also had buckskins, moccasins and a bag thrown over his shoulder.

Before going on the air for the first time, Lickle had to get his costume ready. Holes were torn in the material and patches sown over the rips to give him his TV moniker. However, once the program aired, kids sent him others including many brightly colored ones. The old ones were removed and the new ones were added. That was "Patches."

He started at WCAU-TV in 1952 at the age of 26 and was seen twice a week beginning in February of 1954 (Tuesday and Thursday 4 pm to 4:15). He was 5 foot, 11 inches tall, weighed 185 pounds and had blue eyes, brown hair and a ruddy complexion. Originally, he appeared on WCAU-TV only on the weekends. (Later, it would be daily.) This was because he was on a Baltimore TV station during the week. He lived in Monkton, Maryland (about 25 miles from Baltimore), and he was a real outdoors type who enjoyed hunting, fishing and camping.

Jarrett began in broadcasting at 15, singing hillbilly-style on the radio. Then he entered the Armed Forces and worked in California broadcasting for a short time. In 1949, he made his TV debut in Baltimore and came to WCAU-TV on the recommendation of his friend Barry Cassell of "Action in the Afternoon" fame.

Patches sang folk songs in his tenor voice and strummed his guitar. He was sort of Channel 10's answer to Rex Trailer, a western singer and host on Channel 3, WPTZ, here in Philadelphia. He also told musical yarns and bible stories. These songs required a lot of research because he performed mostly original selections. He and his wife Liz, who also played the guitar, loved to "jam" together.
In 1990, Jarrett wrote a book of children's poems called "Mister Mouse's Christmas." It was illustrated by Sharlaine Dziadon and Patricia L Pullin and was published by Atricia Publishing International.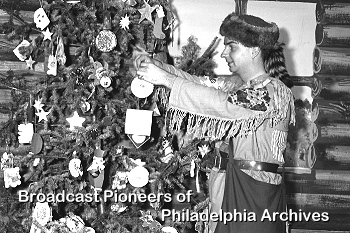 Jarrett Lickle (Patches)
1952
Picture taken by Roy Swartz and the original negative
was donated to us by the Lower Merion Historical Society
Photo © Broadcast Pioneers of Philadelphia
Surprise, surprise! We opened our e-mail one January 2002 morning and there was an e-mail from "Patches." He wrote:
I am Jarrett Spotswood Lickle and "PATCHES." My oldest daughter just sent me an e-mail with your website and asked if I knew about it or not. Well now it was such a wonderful surprise when I hit your site. As you can imagine it is a great feeling to be remembered and it took me back many years to WCAU-TV. I am 76 now and feeling hail and hearty, thank the Good Lord. I am now living in Sparks, Maryland close to where I was born really....

I thought I would bring you up to date... First, after leaving WCAU-TV, I worked for a few months on WTNJ radio, 220 watts in Trenton, N.J. I was negotiating with WBAL-TV back here in my home of Baltimore. They took me and I was Patches here with a different format. I had found that the pioneer character WCAU-TV gave me limited the subject matter to pioneers, indians and animals. However Patches has been with me through it all. After WBAL-TV I went over to WJZ-TV where I ended up with 11 children's shows a week.

It was here that I did my last shows for TV. I married a girl from Cumberland, Maryland, who was here on a scholarship to the Peabody Conservatory. We married and in between TV shows, we were a singing duet with my guitar. We sang in many wonderful lounges and hotels here and in southern Spain for three years. All in all, we did lounges for 26 years. After leaving WJZ-TV, my wife Elizabeth and I opened a most successful Coffee House in the roaring 60's. You may find it interesting to know that the likes of John Denver, Don McLean, and Emmy Lou Harris were among the many wonderful performers we were able to present to our clientele.

That lasted as long as folk music did, which was about ten years. I am now retired and Liz, my wife, is still an RN here in a fine hospital. And yes we still sing and play at some various occasions. My voice has not failed me yet so as long as it holds good, I will always sing and play that good old guitar. It has been and is still a wonderful trip for me....
The coffeehouse Jarrett was talking about was called, "Patches 15 Below." It was so named because you had to walk down 15 steps from the sidewalk to enter.
Chuck Mu, a visitor to our website, e-mailed: I do believe that at the end of the show, Patches said "Wishing You a Guitar Full of Happiness."
Jarrett Spotswood Lickle passed away from cancer last month on Friday, October 5th, 2012 at the Gilchrist Hospice Care in Towson, Maryland. Memorial services were held on October 20th.
He is survived by his wife of 49 years, Elizabeth (Liz) Murray Lickle; four daughters, Andrea Allen, Kathryn Rumsey, Laura Stark and Nancy Jarrett Bernoni; nine grandchildren; and two great-grandchildren.
This regular monthly column is written and researched by Gerry Wilkinson
MORE DIGITAL ARCHIVAL PROJECT NEWS:
Closing Title Graphic
Captain Noah's High Adventures
WPVI-TV, Channel 6
1980

Captain Noah (on left)
Captain Noah's High Adventures
WPVI-TV, Channel 6
1980
In 1980, there were several specials done by Captain Noah, W. Carter Merbreier. They were called "Captain Noah's High Adventures." We believe there was twelve episodes. Most of them were shot on film like this one was. This episode, a Thanksgiving special, was called "The Pilgrims at Plymouth." It was shot on location at the Plimoth (spelled correctly) Plantation in Plymouth, Massachusetts. It is a 17th century living museum. It aired over WPVI-TV and was syndicated on several dozen stations across the country. The airdate in Philadelphia was Tuesday, November 11, 1980. In our opinion, the Real Video version is clearer.
Watch in Real Video!
Watch in Windows Media!
In 1972, Channel 29 was owned by Taft Broadcasting and the call letters were WTAF-TV. Here in our audio archive, we have the license renewal announcement that aired on Monday, April 24, 1972 at 8:30 pm. While this was a TV broadcast, we only have audio.
Listen in Real Audio!
Listen in Windows Media!
Next, we have something that no one has heard in over 45 years: an Ed Sciaky interview with folk singer Patrick Sky. The interview was recorded backstage at the Second Fret here in Philadelphia. It was recorded on an Ampex 350 portable tape recorder using an RCA 44 microphone. Our audio comes directly off the original tape. The interview was recorded on Thursday, March 23, 1967. It was broadcast on Ed's folk music show "Broadside" on WRTI-FM two days later.
Listen in Real Audio!
Listen in Windows Media!
At 11:30 pm on Halloween in 1965, WFIL Radio aired this news bulletin about pills being given out to treat or treating children earlier in the evening.
Listen in Real Audio!
Listen in Windows Media!
Remember, History is ONLY What Gets Saved!
(If there were no portraits of George Washington, how would we know what he looked like?)
A LITTLE BIT OF HISTORY!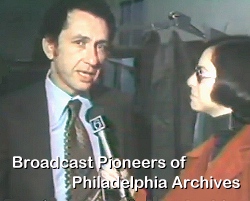 (left to right) Arlen Specter and Action News Reporter Judi Bloom
East Falls Polling Place
WPVI-TV, Channel 6
Tuesday. April 27, 1976
THANK YOU:
As we do every month, we want to thank Broadcast Pioneers member Johnny B. Hall for his monthly cash donation to our DAP, Digital Archival Project. Johnny donates $200 every month. The amount totals $2,400 yearly and really helps us to underwrite this much needed but expensive project. And again, we wish to thank member Jerry Del Colliano for his $1,000 contribution to our DAP fund. And thanks also go to another member. We received a $1,000 contribution to our archives from long-time Broadcast Pioneers member Len Stevens. We welcome other gifts for this project in the form of monetary donations and/or items such as video tapes, audio transcriptions and photos.
We currently have fourteen $1,000 scholarships being underwritten for 2013. The scholarship competition will start within the next week or so. We have six from Johnny Hall, one from the Adelman family and Leon Love, one from Esther Kurtz (in memory of her late husband, David Kurtz), Roy Shapiro, Sylvia Kauders, the Harry Hurley Golf Tournament and Broadcast Pioneers Vice-President Kal Rudman is underwriting two scholarships. At our last luncheon, new member Marlin Taylor gave us a check for a grand for a scholarship in memory of David Kurtz, founder of WDVR. If anyone else would like to join this list, act now. The deadline is only weeks away.
We also had some nice contributions given to us at our October luncheon. The donators include Corky & Laurie (Mrs. Corky) Warren, Jerry Klein, Don Hurley and Harry Hurley. Thanks also go to members Les Waas, Art Moore, Carol Leebron and Bob Kravitz will mailed in contributions when ordering banquet tickets.
People keep donating material for our Digital Archival Project (DAP). Thanks this month goes to member Liz Matt for videos of her work over the last several decades. Also, many thanks to Barry Magarick, also a member, who donated a lot of photos, paperwork, audio tapes and other material.
Thanks also goes to members Michael Muderick and Gary Mirkin for digitizing lots of this material. If you can help in this, please let us know.
If you forgot to make an extra contribution (cash or memorabilia) and would like to do so now, it's never too late. We would be thrilled to hear from you at: PO Box 2886, Bala Cynwyd, PA 19004 or call us at (856) 365-5600.
A LITTLE BIT OF HISTORY!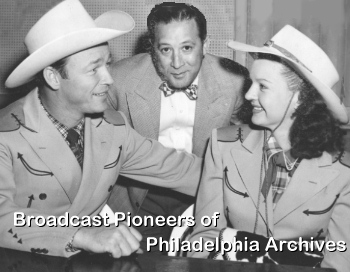 Broadcast Pioneers member Max E. Solomon with Roy Rogers & Dale Evans
Philadelphia, Pennsylvania
circa 1955
IN TOUCH WITH THE INDUSTRY:
Lora LeSage has been promoted to Senior Vice President of Digital Media for NBC Owned Television Stations, including Philadelphia's NBC 10. She will handle editorial and special content responsibilities, audience development and digital marketing coordination for the websites, social platforms and mobile apps of NBC's 10 O&O stations in the country.
Eileen Matthews, a recipient of numerous Emmy awards, has joined NBC 10 Philadelphia as a Business Development Account Manager. She will develop and maintain corporate accounts and work closely with clients in fashioning non-traditional advertising strategies. "Her years of experience in this market and her enthusiasm for local television will be a terrific asset to our group," said Ben Oldham, Vice President of Sales for the NBC-owned TV station.
SportsRadio 94 WIP's Angelo Cataldi has donated $1,580 to the American Heart Association of Southeastern Pennsylvania in honor of the late Richie Ashburn, inducted posthumously into the Broadcast Pioneers Hall of Fame in 1997. The charity, the Richie Ashburn Memorial Homeruns for Hearts event, also honors longtime Phillies announcer Harry Kalas,
Our Person of the Year in 2004. Both men succumbed to heart disease. Angelo, by the way, will be inducted into our Hall of Fame later this month.
SportsRadio 610 WIP, Villanova Athletics and IMG announced a multi-year agreement to have WIP carry men's basketball and football broadcasts of the school. The agreement begins with the 2012-13 Villanova Men's Basketball campaign, which starts next week. In addition to the 2012-13 Villanova Basketball slate of games, 610 WIP will also carry "Talking Villanova Basketball with Jay Wright," beginning next month.
CBS 3 news anchor Susan Barnett was on national television twice last month. She was on "The View" live from Los Angeles on the 17th and two days later was on the syndicated Anderson Cooper program from NYC. Susan also introduced Anderson on the 18th at the Lew Klein Awards at Temple University. Lew is a past president and a past chairman of the board of this organization.
Many Broadcast Pioneers members reacted sadly to the passing of radio icon WPEN-AM, once chronicled as the "Station of the Stars" in Philadelphia.
950 WPEN was sold last month, subject to government approval, by Greater Media for $8.5 million. The buyer is California-based Harold Camping's Family Radio, best known for the preacher's end-of-the world predictions. Family Radio was heard on Camden's WKDN (FM) until that station was sold to Merlin Media earlier this year for 22.5 million dollars. That station is now WWIQ. WPEN will continue to simulcast Sports 97.5 "The Fanatic" (WPEN-FM) until completion of the sale. It is expected after the transaction, WPEN (AM) will become WKDN. Family Radio "parked" the call letters at their station in State College, PA. WTMR, 800 on AM used to be WKDN (AM) previous to 1969.

One question is what becomes of the land that WPEN uses for its daytime tower array in the Overbrook Park section of Philadelphia. According to the City of Philadelphia's Office of Property Assessment, the land is owned by Greater Media. They purchased the 238,550 square foot (7701 to 7753 Brookhaven Road) property in 1974 for $100,000. The station's nighttime array is at a different location near East Norriton, Pennsylvania.

NOTE: The $8.5 million price tag for WPEN (AM) is exactly the same amount that Westinghouse Broadcasting paid for WPTZ, Channel 3 (now KYW-TV) in 1953. At that time, the TV station grossed 4 million dollars for the last year's business with 50% of that being profit. At the time, it was the highest price ever paid for a television outlet.
THANKS FOR THE MEMORIES:
A LITTLE REMEMBRANCE OF WPEN (AM)
In the early '50s WPEN was a pioneer of late-night live audience talk radio. Steve Allison was host of a five-night a week radio show from 11:30 a.m. to 2 a.m. The program was broadcast from a restaurant on the ground floor of a Sun Ray Drug-owned building on Walnut Street between 22d and 23d streets. The station was one of the first in the country to use a live seven-second delay tape system. In addition to live guests, Allison took telephone calls from listeners. Until a sex scandal ended his highly successful career in the city, Allison had such guests as Eddie Fisher, Billy Eckstein, show biz luminaries and local politicians appear on the show. After Allison's highly publicized departure In the late 50s, Frank Ford hosted the late evening talk show from the restaurant studio.
In 1979, WPEN dumped the Oldies format morphing into Nostalgia. Big bands and adult standards were featured and WPEN marketed itself as "The Station of the Stars." Over the years DJs who became legends here landed at WPEN. Among them were BP's Tom Moran, Bill Webber, Ken Garland, Bill Wright, Sr. and Ed Hurst who went on to revive the Steel Pier Show on Channel 6. Dean Tyler was station manager at WPEN for many years. This November 16th, we will honor Dean as BP's "Person of the Year" for 2012.
MORT FARR & FARR BETTER SERVICE!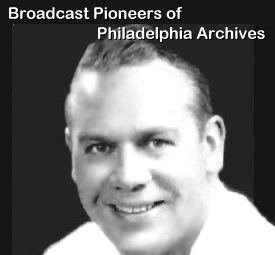 Mort Farr
1948
Mort Farr owned his own appliance store on the outskirts of Philadelphia, in Upper Darby (69th and Marshall Road). Most of us would remember him for doing his own commercials during the sixties on the WFIL-TV weekend newscasts with Broadcast Pioneers member John Roberts. In the fiftie,. Mort was the president of the National Appliance and Radio Dealers Association. He had started his business in the mid-1920s. Of course, one can't forget his slogan, "You get Farr better service at Mort Farr."
LIZ MATT SELLS ROBIN MACKINTOSH A SANDWICH!
When I was a rising freshman and rising sophomore at Temple, I worked in Avalon in a hoagie and pancake joint called "Aunt Maggie's" at 32nd at Dune across from the Avalon police station. (It's now called "Uncle Bill's" but that's irrelevant, except to people who know Avalon.)
Across the street worked a summer cop who bought his lunch regularly at Aunt Maggie's: Robin Mackintosh. I used to call him "Ossifer Mackintosh". I don't know why I felt silly and familiar with him. I wasn't flirting. He just seemed like a "summer cop" I guess --- approachable. Anyway, years later, I was a little somebody working in his newsroom, producing features for Carol Erickson! We've always remained on good terms. But I've never sold him another sandwich. The years were 1969 and 1970.
Both Liz Matt and Robin Mackintosh will be inducted into our Hall of Fame later this month. The date is Friday evening, November 16th. See the story at the top of this newsletter.
JACK FENTRESS RECALLS "HOUR MAGAZINE" FROM PHILLY!
Actor Gary Collins (who passed away last month) was the host of the long-running syndicated talk show entitled, "Hour Magazine." The show aired from 1980 until 1988 and was produced by Group W Productions (Westinghouse). It aired here in Philadelphia on KYW-TV, Channel 3 and the station was owned by Westinghouse Broadcasting. The show originated from Philadelphia for the first month as a "test."
Jack Fentress was the Program Director at KYW-TV during this time and he tells us:
[Gary Collins was a] very nice man as I remember him. The only thing I remember about the beginnings of the show was that the Executive Producer and I constantly fought about the progress and direction of the show. He was assigned by New York and not a member of the KYW staff. I can't remember his name [It was Marty Berman] but we became friends later on despite all of the problems with the show's beginnings.

Problem was, that the control of the test was supposed to be within the KYW Program Department and he, as Executive Producer, was supposed to work under those rules. Therein lay the problem. Meaning - almost every decision by either party was a fight. Not brutal, but you can remember how those kinds of things were. Not just with this show. What a dumb decision that was. Good old HQ.

I also don't remember who I staffed the show with. They would be working under him (so to speak) but still reporting to KYW Programming. A combination made for trouble if you ask me. That's all I can bring back on that.
CHIEF HALFTOWN REMEMBERED!
Master Sgt. Daniel Piccione, a visitor to our website, e-mailed:
One sweltering summer day when I was about 9 or 10, my family was visiting some friends in Glen Mills and one of the kids there said, "You want to go see Chief Halftown? He lives down the street." Of course I didn't believe him, but said "Yeah, sure." We didn't tell anyone where we were going; back then it was perfectly safe to wander off on your own.

We walked down the road, down a driveway, and without knocking, walked through a screen door into a house. Well, sure enough, it was Chief Halftown's house and we strolled unannounced into his living room to find the big man himself sitting in his easy chair, watching an Eagles game with a couple empty cans of Schmidts on the floor next to the chair. What struck me the most was that he wasn't in his TV regalia - no headdress, just Bermuda shorts and tank top.

In spite of our wraithlike appearance in his house, he couldn't have been a nicer guy. I was in awe, but my friend was known to him since he was a neighborhood kid, so our presence wasn't much of a shock. He gave us autographed press photos and shot the breeze with us for a while. That was my first unofficial brush with local celebrity and after nearly 50 years, is something I have never forgotten.
THE ASSISTANT DIRECTOR OF "ACTION IN THE AFTERNOON"
REMEMBERS THE SHOW AND ITS DIRECTOR BILL BODE!
Jimmy Hirschfeld tells us:
Action in the Afternoon was produced inside and outside the WCAU-TV studios from February 2, 1953 to January 29, 1954. The half-hour series was broadcast Monday through Friday regardless of the weather at 3:30 pm (sometimes 4 pm) throughout its 52 week run. Charles Vanda, the station manager, created the program. He utilized our new City Line Studios and the outdoor area on the side parking lot just behind the studios, so we could have both cast and crew shuttle back and forth from interior to exterior sets.

Vanda had the show set in the fictional town of Huberle, Montana. The name Huberle was based on the names of two CBS network executives Hubbell Robinson and Harry Omerle. Vanda did this to get them to greenlight the show. It worked!

The cast was made up largely of WCAU staff performers (both television and radio), plus one local Philadelphia actor who played the sheriff because there was no one on the staff who fit the role.

We got our horses from Fairmount stables, which was located about half a mile from our City Line location. There were 2 production crews for the program. They alternated weekly and each storyline ran for 5 days, so that the production crew could prepare their next week's shows while the alternate crew was producing the live shows. The directors were John Ullrich and Bill Bode. I was assistant director to Bill Bode and Howard Reifsnyder (later a CBS Sports Producer) was John Ullrich's AD.

Bill Bode was one of the 2 alternating directors of ACTION IN THE AFTERNOON. Prior to that he directed local programming for WCAU-TV, directing all kinds of programs including "Home Highlights," a daily cooking and homemaking program which ran weekdays for a half-hour each morning, before the network began providing full time programming throughout the day. Since fewer directors were needed at the station, Bill decided he'd become a writer rather than continue directing. He submitted many scripts to various network programs, including one that I know that he sold - a script for the original Hawaii 5-0 series. He also wrote all the station's Promos for many years... certainly through the '60's and early 70's... perhaps longer as I left Philadelphia in 1973.

What I remember most about the year I worked on ACTION were the late nights each week that Bode and I were in production that we spent planning each shot for the next day's production. We'd work until 11pm - midnight from Monday to Thursday evening plotting the camera and cast moves from inside to outside and back again, making sure there was enough time for both the actors and cameras to travel from the Exterior locations to the Studio and visa versa. When there was a problem, we'd add a sequence of the Tommy Ferguson Trio playing a western-type instrumental in the Copper Cup (the local bar), which was run by Red Cotton, [Elaine Watts] the proprietor. Those were grueling late night planning sessions, but necessary. By the way, [Broadcast Pioneers member] John Zacherle, who played the recurring character Grimy James, is living in NYC.
Bill Bode who was one of the show's directors sent us the budget for one week of the program:
Estimated Budget for the week of November 8

Jack Valentine: Vacation
Blake Ritter $102.50
Elaine Watts $102.50
Barry Cassell $102.50
Jean Corbett $205.00
Sam Kressen $205.00
Norman Garfield $125.00
John DeArman $75.00
Rudy Strange $75.00
Tom Slaugh $50.00
J. Burkle $50.00
Anna Turner $50.00
C. Zapacosta $25.00
Dom Lommacoio $25.00
J. Saulker $25.00
6 Extras (Monday) $60.00
Overhead $1300.00
Engineering $1100.00
Teleprompter $215.00
Horses $250.00
Art (Credits, signs) $25.00
Music $285.00
Wardrobe: salary $50.00
2 dresses $12.00
2 suits $8.00
cleaning $15.00
guns, ammo $25.00
stagecoach $30.00
John Bailey, a visitor to our website, wrote us:
I was only 5 years old when Action (in the Afternoon) was aired but I used to watch it every day. When I was in high school in the sixties, our English teacher mentioned that he had been an actor on "Action" (which no one remembered). I'm almost positive it was Chris Keegan. He would sometimes read things like Dickens in character. Fantastic teacher and always a fun class.
A trade publication reviewed the show in 1953 and said:
Despite its title, "Action in the Afternoon" lacks action. The episode was embellished: it highlighted a 10 second fist fight in the saloon, five or six gun shots and a horse ride in which one of the "good men" was wounded. The horse race lasted scarcely a minute over fairly even terrain. The acting is uniformly good and the settings attractive. But a little action, please.
In 2004, Bill Bode wrote his own obituary. Charlie Higgins forwarded it to us. Bill said about himself:
Joined WCAU-TV in 1950 as an A.D. Got shoved by Charlie Vanda from the floor into being a Film Editor in Helen Buck's Film Department. Bode cursed his way through a couple of years while other assistant directors became directors, finally cursed Vanda enough that he got back on the floor, working with directors like Skip Bergman, Glen Bernard, and Joe Tinney. Became a director when assigned by Vanda to be alternating director, with John Ullrich, for ACTION IN THE AFTERNOON, 1953.

After ACTION, directed shows like McMahon's GET HAPPY, along with News and PIXANNE and all the other stuff. Resigned 1956 after a disagreement with Vanda. Freelanced 'til 1958, including script (Incident of Love) on CBS's Studio One Summer Theatre. Returned to WCAU-TV when CBS replaced THE BULLETIN and Jack Dolph replaced Vanda, produced/wrote multiple shows, but especially THE BILL BENNETT SHOW for many, many years.

Resigned again in 1981 when the take-over by the bean-counting bookkeepers was so complete he couldn't stand watching the business decline. Back to freelance with global TV with Tony Verna (shows like Live Aid, Sport Aid, Pope Paul II's Prayer for World Peace) and editing Verna's books Live TV and Global TV. Also taught English and Speech at several colleges. Survived prostate cancer, but didn't survive other illnesses. Donated his body parts for transplant, the rest for medical school training. Fade to black.
A FINAL THOUGHT....
"If you want to stay young looking, pick your parents very carefully."
Dick Clark
Broadcast Pioneers Person of the Year
1980
Please contact us by e-mail at newsletter@broadcastpioneers.com or by mail to: Ed Eisen, 1110 Longshore Avenue, Philadelphia, PA 19111. (215) 725-7253. Your stories are important, to you, to us, and your colleagues. Contact us today and we'll include your story in the next newsletter!

Photo Editor & Archival Historian - Gerry Wilkinson
© 2012, Broadcast Pioneers of Philadelphia
All Rights Reserved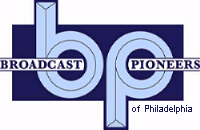 The e-mail address of the Broadcast Pioneers of Philadelphia is pioneers@broadcastpioneers.com