| | |
| --- | --- |
| | Broadcast Pioneers of Philadelphia is a federally recognized, state chartered 501(c)(3) non-profit organization serving the Philadelphia Broadcast Community since January of 1962. |
Our Annual Fundraising Banquet
The Hilton Hotel - City Avenue
Friday Evening, November 21, 2014

Doors Open at 5:30 pm!
Reception starts at 5:45 pm
Dinner served at 7 pm sharp!

Tickets are:
$88 each for our members!
$98 each for everyone else!
Our "Person of the Year &
Hall of Fame Inductees for 2014!
Our Fundraising Annual Banquet!
Friday, November 21, 2014!
338 tickets sold so far!
Send in for yours now!
TICKETS ON SALE NOW!


NONE AVAILABLE AT THE DOOR!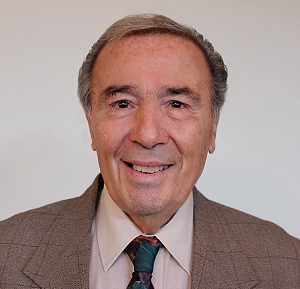 Broadcast Pioneers "Person of the Year" for 2014, Pat Delsi
Broadcast Pioneers Luncheon
Wednesday, October 15, 2014
Our Honorees!
Our "Person of the Year" for 2014 is Pat Delsi
In 1953, Pat Delsi began a long-lasting broadcast career at a little station in Vineland, NJ. A year later, Delsi joined WCAM in his hometown of Camden and stayed until 1980. A popular Delaware Valley air personality since the fifties, Delsi has worked at one time or another as an announcer, newsman, sportscaster or disc jockey at almost every station in the Philadelphia market, including WRCV Radio and KYW Radio. In fact, in June 1965, Pat did the first newscast on KYW Radio when it returned to Philadelphia, two months before the all-news format was introduced.
Delsi has introduced over a million songs on the air and, as a newscaster, has reported over 150,000 five-minute newscasts in the Delaware Valley. This legendary radio broadcaster has also devoted himself to a life of public service and has served on many boards and committees. Pat has served as this organization's president and then chairman of the board. He has been on our board of directors for over two decades.
TICKETS MUST BE PURCHASED IN ADVANCE
AND THEY ARE ON SALE NOW!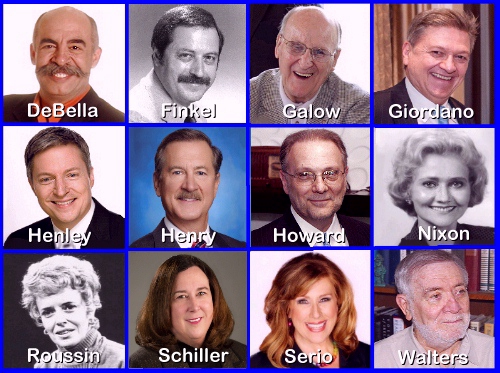 Our Living Hall of Fame Inductees for 2014 are:
John DeBella, longtime Philadelphia morning drive host on WMGK-FM, 102.9
George Finkel, Emmy winning director of Super Bowl & Olympics coverage
Ralph (Bud) Galow, engineer for decades at WRCV and KYW Radio
Dom Giordano, morning talk show host on WPHT, 1210 Talk Radio on AM
Bill Henley, meteorologist at WCAU-TV (NBC 10) for more than 2 decades
David Henry, WPVI-TV news street reporter for almost three decades
Blaise Howard, Vice President and General Manager of More FM, 101.1
Agnes Nixon, creator of modern soap operas All My Children & One Life to Live
Connie Roussin (Spann), legendary TV host of many TV shows on Channel 6
Susan Schiller, Vice President and News Director, CBS 3 & CW Philly 57
Sue Serio, veteran meteorologist and morning Weather Anchor for Fox 29
Fred Walters, legendary executive editor at KYW Newsradio & more
Our Posthumous Hall of Fame Inductees for 2014 are:
Stella Alberts, famed producer of the Al Alberts Showcase on WPVI-TV
Marian Anderson, one of America's best contraltos in the entire 20th century
Walter Beaulieu, engineer extraordinaire for WFIL-TV/WPVI for 4 decades
Ralph Collier, iconic interviewer at WFLN, WCAU, WRTI-FM and WBUX
Joe "Dr. Shock" Zawislak, iconic horror movie host on WPHL-TV, Channel 17
Warren Kraetzer, former president of WHYY-TV, WUHY-TV and Radio
John Leitch, Chief Engineer at WCAU Radio & WCAU-TV for decades
Bob Mitchell, popular DJ on WIBG during their heyday plus WDAS & WCAM
Fred Sherman, legendary business news commentator for KYW Newsradio
Joe Tamburro (Butterball), VP of Programming & PD for WDAS AM & FM
Ron Tindiglia, developer of the WFIL-TV/WPVI format of "Action News"
Tickets on Sale NOW!
Tickets are on sale now! Prices are $88 for members (each member can buy ONLY one ticket at the member price) and $98 for everyone else (including spouses, friends and guests). The event will once again take place at the Hilton City Avenue, 4200 City Avenue, Philadelphia. The date is Friday, November 21st. The reception is at 5:45 pm and dinner is served at 7 pm. Doors open at 5:30 pm. Cash bar all night long. Valet parking is $10. Event lot parking is $5. Tickets are on sale now! Make plans to be there! A major portion of the ticket price may be deductible on your federal income tax. Ask your tax advisor for details! Tickets must be purchased in advance. Absolutely no tickets available at the door.
Our MCs for the evening are Broadcast Pioneers members Tom Lamaine and Terry Ruggles. Members of the National Marian Anderson Historical Society and Museum will perform our National Anthem. Blanche Burton Lyles, founder of the society, will play the piano and Jillian Pirtle, a Marian Anderson scholar, will sing. Member Harry Hurley will lead us in our opening prayer. At the piano for the rest of the evening is Broadcast Pioneers member Dr. Bucky Clark
This is our BIG FUNDRAISER of the year. If you can't be with us in person, you can still do your part. If you make a contribution to us from now until November 21st, we will credit it to this fundraising event. So you can still be a part. But hurry before it's too late! Time is running out.
The Broadcast Pioneers of Philadelphia is a Pennsylvania non-profit corporation that is tax exempt under section 501(c)(3) of the Internal Revenue Code. Membership fees, contributions and the bulk of our banquet tickets may be tax-deductible for federal income tax purposes. Consult your tax advisor.
TICKETS ON SALE NOW!
DINNER MENU (subject to change)
Salad:
Tossed Garden Salad with Raspberry Vinaigrette or Ranch Dressing
Entrée:
Boneless breast of chicken, apples and seasoned corned bread filling with plenty of pan gravy. Seasonal vegetables and roasted potatoes with warm bakery rolls and creamery butter.

OR

Vegetarian entrée tower, cous cous and tomato basil sauce. Seasonal vegetables and roasted potatoes with warm bakery rolls and creamery butter. (If you prefer the vegetarian meal, just tell your server.)
Dessert:
Lemon cheesecake with strawberry sauce

OR

Fruit cups (these are very limited and are for those on special diets only)
Drinks:
Fresh brewed coffee, decaffeinated coffee, tea and water
Cash bar all evening long!
WE WANNA SEE YOUR FACE IN THAT PLACE!

Visit Our Website Often - http://www.broadcastpioneers.com
You should check our website often on the front page (above) for important information!
Check out of Facebook Page - http://www.broadcastpioneers.com/facebook
There are things on our Facebook Page that are NOT on our website (like our vintage photo of the week)
Tune in to our YouTube Channel - http://www.broadcastpioneers.com/youtube
Our YouTube Channel has all our luncheons, exclusive interviews and archival material

WELCOME NEW MEMBERS:
FULL MEMBERS:
Tony Butala started in the business in 1945. He's President and Owner of Talent International Promotions. You, however, probably know them better as the singing group, "The Lettermen." He started as a singer on KDKA, the Westinghouse radio station in Pittsburgh. He sang in many motion pictures including Peter Pan, White Christmas and more. In 1958, he founded "The Lettermen" with himself as lead. He had 18 Gold Records and 6 different Grammy Nominations.
Gene Kolber has been around in the business since 1958. You may know him better as Gene Kaye. In the sixties, seventies, eighties and nineties, Gene was on air at WAEB Radio in Allentown. For ten years, Gene ran the largest teenage dance in America with over 2,000 kids every Saturday evening. He was the manager, discoverer and song producer of "Jay and the Techniques." In the late sixties, he had his own weekly show on WCAU-TV. He has worked for the Casinos and now runs Kolber Advertising.
Joseph Cannavo has been in the field for over a half-century. Joe is a native South Philly guy. At the age of 16, Cannavo was doing his own radio show on WJMJ, owned then by Pat Staton, one of this organization's original founders. When the station was sold, he moved his Italian language broadcast to WDAS-FM in the sixties. In the seventies, he hosted a 3 hour weekly series of programs on WJIC in Salem, NJ. In 1985, he moved to WTTM in Trenton. His daughter Melissa precedes him as a member of this organization.
Jeff Salvino started in our industry in 1990. He is the producer-host of a daily radio feature heard over WNTP (the old WIBBAGE from the 50s and 60s). You can hear him with his news commentary each morning at 8:02 am in the middle of the Bill Bennett Radio Talk Show. "The Daily Salvo" offers insight on the latest current events in just 60 seconds. Each "Salvo" passionately blends candor, wit and irony to promote a distinct and memorable sound.
We are thrilled to have these new members. Over 500 Members. More than ever before. We hope to see as many of our members as possible at our November 21st banquet.
DIGITAL ARCHIVAL PROJECT NEWS:
VIDEO: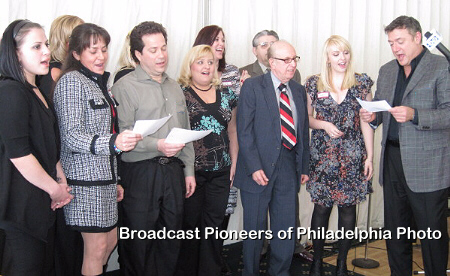 Former Kids (now grown up) from
the Al Alberts Showcase
Broadcast Pioneers of Philadelphia Luncheon
The Bala Golf Club, Philadelphia
Wednesday, February 17, 2010
If you liked the Al Alberts Showcase and the Four Aces, you must have loved this luncheon. Wow! What an event we had and it was all just for you!
It all took place on Wednesday, February 17, 2010. At this fantastic luncheon, we had kids (now adults) in attendance talking about Al and the show. Eddie Bruce, Ira Brown (billed at the age of 5 as the World's Youngest Comedian), Rick Bossman aka Rick Douglas and John Primerano were with us. They were on the program when it was on Channel 48 (The Al Alberts Talent Hour) and most stayed when it moved to Channel 6 in 1970.
Video Excerpts of the Luncheon
AUDIO:
In February of 1948, WCAU Radio was airing a program called "This is Television," hosted by Charles Shaw. The show dealt with the new communications media called "TV." While we do not have the complete program, we do have to excerpts that date from February of 1948. In excerpt one, Shaw went to the roof of the PSFS Building where the tower for Channel 10 was being erected. There, Shaw spoke with the head of the construction company, Henry Buxbaum. In the other excerpt, Shaw talked with the General Manager from Motorola of Philadelphia Company and James D. McClaine, Commercial Manager from WPTZ, Channel 3 (a competitor of Channel 10).
Dan Krystkiewicz, a visitor to our website, donated this audio. He dates this broadcast as probably Saturday, February 21, 1948. That would mean that the recording made atop the PSFS building was done on Thursday, February 19th. "This is Television" aired 6:45 pm to 7 pm according to the label on the transcription discs. Dan says: "Unfortunately recorded on cardboard Wilcox-Gay Recordio discs, which mostly accounts for the surface noise." The Broadcast Pioneers of Philadelphia filtered out most of the noise.
The PSFS Building, on the corner of 12th and Market Streets in Center City Philadelphia was designed by Architects George Howe and William Lescaze. The building, described as the first truly modern skyscraper, has 36 floors and is 492 feet tall. The WCAU-TV tower was 262 feet tall. Thus, putting the antenna 748 feet above street level. That's 200 feet taller than the top of William Penn's hat on City Hall. Channel 10 moved its antenna to Roxborough in 1954 where it was 450 feet higher. The building is now known as "The Loews Philadelphia Hotel," and was the home of the Channel 10 live broadcast series called, "10" for several years after the turn of the century. The audio excerpts below are available only Real Audio format!
Former President of the Broadcast Pioneers of Philadelphia Tom Moorehead was an announcer for the WFIL Stations. While he was best known as a sportscaster, he did do other things like host a TV show on Channel 6 entitled, "Stop, Look & Listen." Tom Moorehead was one of our founding members and served as 8th President from 1969 to 1970.

We dug into our archive and came up with this February 6, 1946 radio broadcast of part of an ice hockey game between the Philadelphia Falcons and the New York Rovers. The game was played at the Philadelphia Arena which in future years would be right next door to the WFIL studios. However, at this time (1946), WFIL Radio was broadcasting from the Widener Building in Center City Philly.

We also know that this game was not broadcast live but was recorded onto several 16 inch transcription discs. This cut, which is almost 13 minutes long, is the only known surviving disc. Most likely, the game would have never been recorded if it wasn't scheduled for a delay broadcast.

Joe Nadler of Charlotte, NC, a visitor to our website e-mailed: If you listen to the clip, there are several mentions of a player on the New York team, "Shero." This is none other than Fred Shero, who coached the Flyers to two Stanley Cups....
Today's News Becomes Tomorrow's History!
(This is what our Digital Archival Project, DAP, is all about!)
A LITTLE BIT OF BROADCAST HISTORY!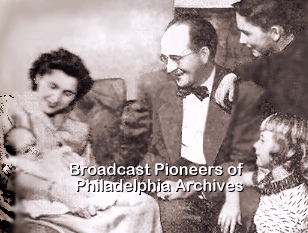 The Joe McCauley family
at Joe's home
1954
Broadcast Pioneers' Hall of Famer Joe McCauley was a mainstay on WIP radio for decades. First with the all-night Dawn Patrol and then with the morning drive shift (from 1954 until his death in 1968). Joe is seen here with his son Joey. (Son Jimmy wasn't born until June 12th of the next year). In the lower right is Joe's oldest daughter Lynn. Joe's wife, Roz, is seen holding baby Kathleen.
Kathleen would later be known as Kate McCauley Hathaway, an actress. Kate's daughter (and Joe's granddaughter) is award winning actress Anne Hathaway (who was born 14 years after her grandfather's death). Listen to a half-hour interview with Joe McCauley from 1967 elsewhere in this newsletter.
IN TOUCH WITH OUR MEMBERS:
We heard from Broadcast Pioneers member Elliot Abrams. Abrams is a Senior Vice-President for Accu-Weather. For decades, we could hear him do the weather on KYW Newsradio during morning drive. Elliot says:
After my 43 years of morning drive weather forecast for KYW newsradio, meteorologists from CBS 3 assumed full weather coverage on the station. I am still on a variety of stations from Chicago to New York City and Boston, but will miss talking to people in my original home town.
Member Harvey Sheldon (one of our people who lives on the West Coast) has written yet another book. This one is called "Philly Pfanatics." It's the history of the Phillies, Athletics, Eagles, Warriors and more. It's about the teams and their fans. Looks like another winner for Sheldon. It will be out at the end of next month.
Also on the left side of the country, member Bunny Gibson tells us that she appeared as Delores the Cashier on the Nickedeon television series, "The Haunted Hathaways." She says that it's one of the most popular shows for everybody's grandchildren. "They love it," she concludes.
WPVI tells us that there was a big honor for 6abc president and general manager Bernie Prazenica (a member of the Broadcast Pioneers). Last month, he was inducted into Temple University's Gallery of Success. Bernie is a proud alum of Temple's School of Media and Communication. The Gallery of Success honors top Temple grads each year and their names are on permanent display in Mitten Hall. Our Chairman of the Board, Jerry Klein, received this same honor in 2012.
Member Dick Standish lets us know this information. He said: "Al Novack, who just retired from (KYW) Newsradio after 40 years on the air in Philadelphia radio, used to drive the Prize Patrol for Famous 56. I hope Al never got a ticket while on duty."
Broadcast Pioneers member Charlie Gracie was part of the birth of Rock & Roll and his unique style influenced some of the most important artists in rock history, including the Beatles, Cliff Richard, Van Morrison, Graham Nash, the Kinks and countless others. Scheduled for release next month is Charlie's book, "Rock & Roll's Hidden Giant: The Story of Rock Pioneer Charlie Gracie."
Charlie's inspiring story traces his rise to the top of the charts through his fall from fame--thanks to the "chew-'em up, spit-em out" cut-throat world of pop music. From his upbringing on the streets of South Philadelphia to the tragic death of his great friend Eddie Cochran to experiencing the dark side of Dick Clark and the early days of the music industry, Charlie's unfaltering integrity and talent were the constant guides in his life, providing an uplifting story of family and perseverance.
Broadcast Pioneers member Jackie Strauss tells us that "Remember When" is now available as a podcast on the CBS Philly website. The program features Jackie, Steve Ross and Jim Murray. You no longer have to stay up late to her the broadcast. It's now available on your computer.
Broadcast Pioneers member John Primerano tells us that, on October 14th, he had the honor of being Tony Lo Bianco's guest for his one man performance as Fiorello LaGuardia in "The Little Flower" at The Da Capo Opera House in New York City. His connection with Tony is by way of a 35 year friendship with actor-singer Ann Jillian and her husband Andy Murcia. In the TV movie"The Ann Jillian Story," Tony played Andy.
A LITTLE BIT OF BROADCAST HISTORY!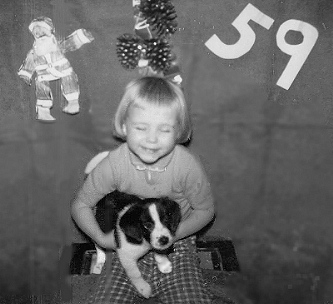 Barb Prasch and her dog, Buckskin
November 1959
We received an e-mail from Barb Prasch, a visitor to our website, who tells us:
About 55 years ago, my sister wrote a letter to Buckskin Billy (Bob Bradley) to ask if we could have a black and white puppy he was trying to find a home for. He said yes and she and my brother and I went on his show. I was about three years old and very afraid of the cameras and lights so I ran off the live show with Buckskin Billy saying something like, "And there she goes, off into the sunset." Attached is a picture of me when I was younger with our dog Buckskin who lived a long, good life and was known to everyone in the Holmesburg area of Philadelphia.

She lived a long life (until 1976) and was a faithful friend to me for many years. She followed me everywhere. She also traveled the neighborhood looking for me when I wasn't home. She'd want to go into the school. She'd go under the rides at carnivals (if I was on them), she'd act as a type of herder to the other animals we had. She even let me paint her nails!
Member Bob Bradley was honored as the Broadcast Pioneers "Person of the Year" for 1986. Bob had a long career at Channel 3 as a staff announcer, newsman and kids show host.

Did you know...
that the Army Navy Game in 1949 was played on Saturday, November 26th? That's 65 years ago this month. It was on television just two days after Thanksgiving. The final score gave Army a 38 to zip victory. The game was played right here in Philadelphia at Sesquicentennial Stadium, which was built in 1926. It could hold 100,000 fans. In 1949, the population of the United States was 150 million people, half what it is now. So it was really huge for its era.
You may remember the venue as Municipal Stadium as it was known until 1964. At that time, it became renamed John F. Kennedy Stadium. It stood until September 24, 1992 and today that land is part of the South Philly Sports Complex.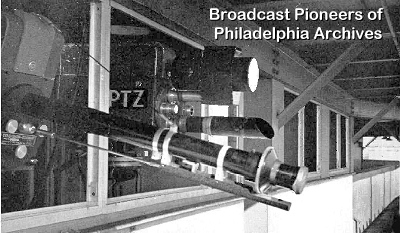 WPTZ Camera ( with a RCA Zoomar lens)
Philadelphia Municipal Stadium
Army Navy Game
November 26, 1949
The broadcast was fed live (on the East Coast) over the NBC Television Network and the originating station was WPTZ (now KYW-TV, CBS 3). Broadcast Pioneers member Preston Stover (who passed away last November at the age of 95) was the director for the telecast. It was he who was in charge of most everything to do with this broadcast. It was shot with four cameras. Today, a sporting event like this would use lots more but in 1949, four was considered to be a lot.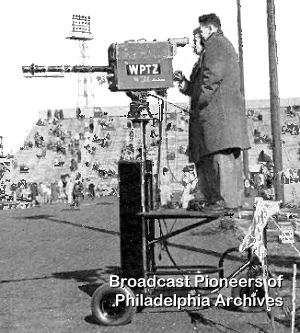 WPTZ Camera mounted on a mike boom dolly
Philadelphia Municipal Stadium
Army Navy Game
November 26, 1949
Camera 3 (shown above) was the one mounted on the mike boom dolly. This allowed the camera to be moved at will. Those who watched that telecast would have marveled over the close-ups of the President of the United States, Harry Truman. The president traditionally attended the game, which at that time was held here in the Quaker City.
The "mike boom dolly" setup was used during the summer of 1949 by the station for telecasting of Philadelphia's American Legion Parade. By the way, conversion for use as a camera dolly or for a mike boom took only a matter of minutes and required only two crew members. Previously, this type of shot was only available if the station or network spent a large amount of money to use special camera motorized trucks or vehicles.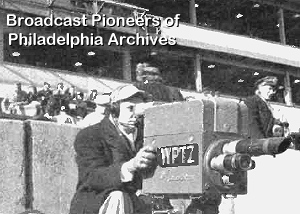 WPTZ Camera (middle of the sideline)
Philadelphia Municipal Stadium
Army Navy Game
November 26, 1949

Another camera (shown above) was placed by an exit tunnel and allowed the operator to be much closer to the action. The cameras used for this pickup were RCA TK-30s (introduced in 1946), considered to be state of the art during that era. Camera one and two were located in the press box. Camera one had a zoomar lens and camera two had a Reflectar lens. The cameras in the press box were side by side.
While they were 300 feet away from the playing field, the Reflectar had a 40 inch focal length and that allowed decent closeups of the football action. This camera needed a counter balance to secure it. Because of its unusual shape, the WPTZ crew was said to refer to this as "The Pickle Barrel." It was mounted on a regular lens turret.
Coverage started at 1:15 pm. By the way, the NBC-TV coverage was announced by Bob Stanton, who had done much radio work but not a lot of TV. Of course, in 1949, nobody had done much TV. Stanton's real name is Robert Haymes and he was the younger brother of Dick Haymes. Radio coverage of this game was aired on the Mutual Broadcasting System.
This regular monthly column is written and researched by Gerry Wilkinson

MORE DIGITAL ARCHIVAL PROJECT NEWS:
VIDEO:

Betsy and Barbara Brookshier
Broadcast Pioneers Luncheon
Wednesday, April 21, 2010
On Wednesday, April 21, 2010, we had a tribute luncheon to Broadcast Pioneers member Tom Brookshier. Here's your chance to relive that luncheon and see and hear everyone that spoke.
COMPLETE VIDEO!

AUDIO:
Sometimes you get lucky. The Broadcast Pioneers of Philadelphia did with this audio. Our Chairman of the Board Jerry Klein had in his collection a half-hour audio interview with WIP's Morning Mayor, Joe McCauley. The program, produced by Klein, was hosted by then Temple University student Florence Weiss and entitled "In & Around." An interesting sidebar! Florence worked part-time at WIP as a fill-in receptionist during her college days.

Aired over WRTI-FM (the Temple University college radio station) on Monday, April 24, 1967, Joe tells all about his career in Philadelphia broadcasting. Listen to McCauley in his own words tell you about his early experiences at WHAT Radio (owned by the Public Ledger newspaper) and how he filled in on the Dawn Patrol on WIP for a month in 1940.

In this program, Joe speaks about how he got the name "The Morning Mayor." Do you know how? He also talks about his hosting a Monday evening movie on WKBS-TV, Channel 48 and he also mentions his "appearances" on Broadway in "What Makes Sammy Run?"
Listen to the interview in Real Audio!
Here's another show in that series. On February 20, 1967, the then college student host, Florence Weiss, spoke with Tom Snyder. The producer of that broadcast was Broadcast Pioneers member Jerry Klein, himself a Temple student at that time.

Tom had worked at KYW-TV from 1965 until 1970. A year after his arrival in Philly, Tom pioneered a morning TV talk show called CONTACT. Snyder is one of the most respected and hardest working people to ever work in our market.

Tom Snyder emailed: "My God the memories you bring back to me.... And you have my permission (if in fact it is needed) to put any material from my days at KYW on your website. While I agree that the team at KYW was great one, I preceded Jessica Savitch there by several years. She and I did work together at NBC in New York, and she was a good friend."
Listen to the interview in Real Audio!
Remember, History is ONLY What Gets Saved!
(If there were no portraits of George Washington, how would we know what he looked like?)
IN TOUCH WITH THE INDUSTRY:
Eagles Running Back LeSean McCoy has joined the CBS 3 and SportsRadio 94WIP team as an on-air contributor during the football season, the stations have announced. McCoy is featured with Sports Director Beasley Reece in weekly analysis airing on Eyewitness News following Thursday Night Football on CBS. He also appears on Toyota Sunday Kick Off, the station's Sunday morning pre-game show airing at 11:30 a.m.
McCoy can also be heard on SportsRadio 94WIP Fridays at 5 p.m. with Anthony Gargano and Rob Ellis. In addition, he is featured on The Chickie's and Pete's Players' Lounge with LeSean McCoy hosted by Ike Reese and Gargano each Monday at 6 p.m.
CBS Television will start operating a Classic TV programming service for use on sub-channels on stations. Reports have it that it will carry programs like I Love Lucy, Star Trek, Harry Days and Cheers plus historical news events from CBS News. The service will be carried on the O&O stations plus elsewhere. Broadcast Pioneers member Joanne Calabria, Vice-President, Public Affairs, CBS Television Stations Group tells us that it will run on KYW-TV's Channel 3.2 and that the service will be called, "Decades."
For example, Decades will look back at classic series such as Happy Days and its "jump the shark" episode, explain its historical significance and then broadcast that episode. Viewers will also be taken back in time to rediscover events that shaped our world, such as the assassination of President John F. Kennedy, Neil Armstrong walking on the moon, the Beatles' U.S. debut on The Ed Sullivan Show and the birth of software and technology companies like Microsoft and Apple. Decades will connect these events to what people were watching on television, seeing at the movies and experiencing as a nation.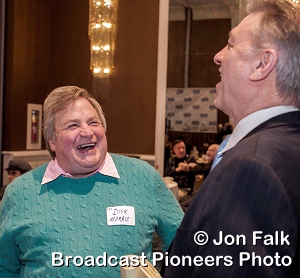 (left to right) WPHT Radio Talk Hosts Dick Morris and Dom Giordano
Broadcast Pioneers Luncheon
Hilton City Avenue Hotel, Philadelphia
Wednesday, January 18, 2014
WPHT Talk Show host Dick Morris announced last month that he will be leaving his post at the station. Dick started with the broadcast outlet in March of 2013. Morris said that he wants to campaign for political (mostly Republicans) candidates in the 2016 election). Dick was a friend and political advisor for former President Bill Clinton (a Democrat). Morris also writes a weekly New York Post column that is syndicated across the country. Morris is often seen on various national news channels. By the way, late word is that Dick will continue with an one hour show on Saturdays from noon to 1 pm.
Talk Radio 1210 WPHT announced that Broadcast Pioneers member Rich Zeoli will be the host in the 3 pm to 6 pm slot on 1210AM, starting Wednesday, November 5th. That's tomorrow.
"We are thrilled that Rich is moving to afternoons at WPHT. He's a smart, energetic, entertaining talk show host who can tackle a variety of issues that relate to his audience." said Broadcast Pioneers member Marc Rayfield, Senior Vice President and Market Manager, CBS RADIO Philadelphia.

Added Zeoli, "This is a passionate town and we have opinions on everything. I love nothing more than challenging the audience and they challenge me right back. There are many local issues that impact our lives and we need a place to talk about them. That's what the show is all about and what I plan to bring to afternoon drive on WPHT - a place for the Delaware Valley to talk. I'm just as interested in talking about pop-up beer gardens as I am about NSA spying. What makes this town like nowhere else in America is its passion, and we'll share a lot of passion on the drive home together."

Zeoli joined WPHT in 2010 as a freelance part-time talk show host. He was hired full-time in October 2012, and has hosted evenings, 6-9pm since then. Zeoli grew up in New Jersey and spent his career advising candidates in New Jersey and Pennsylvania running for all levels of political office including Governor, U.S. Senate, and Congress. He was the youngest chair of a political party in New Jersey history.
Talk Radio 1210 WPHT also announced that Broadcast Pioneers member Dom Giordano's contract has been extended. Giordano will continue in the 9 am to 12 noon slot on 1210AM.
"Dom has been a staple of Philadelphia Talk Radio for over 25 years and is a cornerstone of WPHT. We are pleased that Dom will be with us for years to come," said Broadcast Pioneers member Marc Rayfield, Senior Vice President, CBS RADIO Philadelphia.

Added Giordano, "I've loved every minute I've spent on the air on 1210 WPHT over the past 15 years and I look forward to many more to come. It's a privilege to be with a station in my hometown that's so committed to live and local broadcasting and to serving this community." Dom will be inducted into our Hall of Fame later this month at our Annual Fundraising Banquet on Friday evening, November 21st at the Hilton Hotel - City Avenue. Tickets are still available. Send in for yours now.
Philly's 76ers and Greater Media of Philadelphia have agreed to a multiyear arrangement that keeps 97.5, the Fanatic as the team's flagship station. They will also air 10 one-hour long Sixers programs plus other features including a "Get to Know the Sixers" online. Tom McGinnis will continue doing play-by-play. He's been doing the games for two full decades.
The NBC Owned Television Stations division of NBCUniversal today announced that Sarah Glover has been promoted to Social Media Editor. In her new role, Glover will work with the group's 11 local NBC stations and regional news network, NECN, to further build and engage their already robust social media audiences. Most recently, Glover worked as the Social Media Editor for NBC10 Philadelphia / WCAU, one of the NBC-owned stations.
Glover has worked as Social Media Editor at NBC10 Philadelphia for the last two years, where she has effectively leveraged social media to build community and further extend the station's brand in the marketplace. Her responsibilities included managing NBC10's social portals and mobile apps as well as shooting video, writing stories, live tweeting breaking news and managing the station's website.

Before joining NBC10, Glover was Staff Photographer at the Philadelphia Daily News for more than three years, where she led the video team that shot, produced and edited video stories for the "Tainted Justice" series, which won the 2010 Pulitzer Prize for Investigative Journalism. Previously, she was Staff Photographer at The Philadelphia Inquirer for nine years, where she covered the 2008 presidential campaign among other major stories and regularly produced video packages for the website.
A LITTLE BIT OF BROADCAST HISTORY!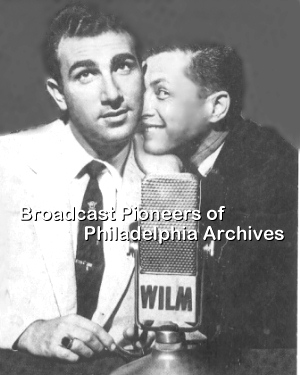 (Left to right) Bob Mitchell and Bud Smith
WILM Radio
(They were on daily from 7:30 pm to 10 pm)
1955
Bob Mitchell later went on to WIBG becoming one of the WIBBAGE Good Guys. He later went to the West Coast with Tom Donahue. Bob Mitchell will be inducted posthumously into our Hall of Fame this November 21st.
WE REMEMBER: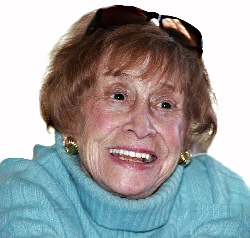 Broadcast Pioneers member Sally (Sara) Berlin, 97, passed away on October 25th. Sally and her late husband of 60 years, Samuel, had a son Andy. Sally had a grandchild, Lorien, and a great-grandchild. Sally served on our Board of Directors from 2007 to June of this year. Berlin did PR for three different Philadelphia mayors. She was active in the Police Athletic League (PAL) for decades.
Member (Philip) Scott Ward, 69, died peacefully at home Wednesday, October 22nd after a brief illness. He is survived by his wife of 48 years, Sandra; son Bryan and daughter Laura Ward. He worked on the production staff at WFIL-TV and then became a director at KYW-TV, Channel 3. His first job was as a DJ in his hometown of Spencer, West Virginia.
Allan Michaels, who did morning drive on WMMR before going rock, passed away recently. His son, Jay McClenaghan, tells us that his dad worked in the Philadelphia market from 1948 until 1993. The family to Philly in 1964. Allan also worked at WIP, WPEN, WWDB, WWSH and at WJBR. Jay told us that he and his dad actually worked together for several years.
A LITTLE BIT OF BROADCAST HISTORY!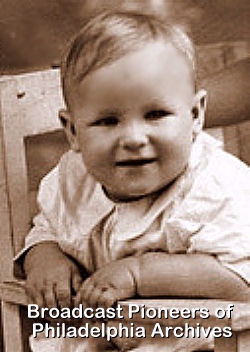 Broadcast Pioneers member Ralph "Bud" Galow
THANKS FOR THE MEMORIES:
Connie Roussin Spann's thoughts about Channel 6!
Broadcast Pioneers member Connie Roussin Spann will be honored on Friday, November 21st, at our annual "Person of the Year" and "Hall of Fame" Fundraising Banquet. She will be inducted into our Hall of Fame. Unfortunately, it looks like Connie won't be able to be with us that evening. She has been having with problems adjusting to new medications and cannot fly. She lives near the South Carolina/Georgia border area. However, she didn't want you to miss her remarks that she had prepared for that evening. So here they are:
I'd like to take you back 50 years to the architectural wonder of the TV station designed for Channel 6 by Vincent Kling. Located at Monument Road and City Line Avenue it was the newest and best of all that technology could provide for television. The decorating was deluxe…marble floors, executive offices with exotic woods and a private, sumptuous private office suite for Walter Annenberg.

A master control room was set at the core of the building. In addition there were three surrounding television studios …each with separate control rooms and private seating.

But it was the "Talent Area" that was the heart of the station…filled with an abundance of diverse talent that will never be seen again and must be remembered.

This long room was divided into cubicles. There was a dressing room for men and one for women, and three miniscule offices: one each for weatherman Roy Allred, newsman Gunner Back and sports purveyor Les Keiter.

That talent department of cubicles was a daily sitcom in itself. Just picture it: Ever smiling Sally Starr in her various be-jeweled cowgirl outfits; Rex Morgan in his cowboy hat practicing roping everyone with his lariat; Debbie Adams, from the "A.M. Gal" modeling her ice-skating outfits as she left each day to skate at the Marriott outdoor rink; Chief Halftown in his handsome headdress in and out for his tapings; Al Alberts with his charges of children's talent on a showcase produced by his wife Stella; Jerry Blavat noisily in and out with his Rock groups; Happy the Clown not very happy when he his makeup was removed and the constant stream of on-air guests from Hollywood, Broadway and world-wide dignitaries.

It was a mélange of egos in that one large room and as Miss Connie, of Romper Room from Portland Maine, just hired in 1964, all overwhelming. However, what grounded me was advice from a secretary on my first day at the station. She said: "Connie, as you begin your career in Philadelphia, just remember what the word "Star" is spelled backward."

Despite that thought (although it is a great book title) television during my three decades of involvement gave to me fulfilling camaraderie and everlasting love of broadcasting from which I hope , my journalism, interviews, longevity and dedication has left a small fingerprint.

Thank you channel 6 for the best years of my life!
Toni Spaulding on WPEN!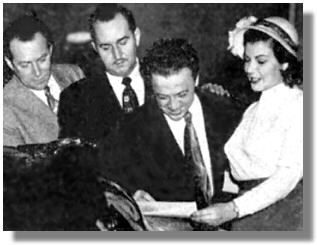 Left to right - WPEN Sales Manager James Crawford
WPEN General Manager Edward Obrist
Frank Palumbo, a local night club owner and WPEN Sponsor
WPEN DJ Toni Spaulding
at WPEN Radio
1950
In our archives, we have proofs from an article published in February 1950 by a national publication. Unfortunately, we don't know which magazine it was. The article said:
Night Owls in Philadelphia know about "Toni Talking" to a man - or WPEN AM-FM and sponsor, Frank Palumbo, local Ford Mercury dealer, missed a bet in their pooled campaign. One full week of fun, tricks and a few bolts of promotion lightning that would have blistered Ben Franklin's key were employed before the program's inauguration, 2-7 am, January 17.

Tony Talking is conducted by Toni Spaulding, claimed by WPEN to be the only all-night girl disc jockey in the country. Program's debut also introduced Philadelphians to the start of WPEN's 24-hour program schedule. Not only is the program soothing for the night crowds' ears but its time is sold from start to finish - Frank Palumbo Motors splits the time with a local General Electric dealer.

Working hand-in-hand, WPEN and Mr. Palumbo chalked up a series of promotional hits. The conventional use of circulars, ads and radio spots were put in play. But the spectacles which started people talking about Toni Talking, WPEN says, were these: An elephant adorned with a Toni banner stalked Quaker City streets; faster modes of transportation included a horse and buggy, a fleet of Mercurys parading through the streets, and a smoke writing airplane. Posters were tacked on 35,000 telephone poles, the name, time, station and sponsor painted on every downtown street corner and Palumbo Motors girls called homes in both the city and suburbs to suggest the show for family listening. A regular "first nighter" was held at Mr. Palumbo's night club with celebrities and radio people on hand. Results are already in. WPEN reports Miss Spaulding received thousands of cards and letters from fans in the first morning's mail.
Lucille Luongo speaks to Broadcast Pioneers!
Lucille Luongo was the President & CEO of the Library of American Broadcasting at the University of Maryland. She was our speaker at the Wednesday, May 15, 2002, meeting held at the Bala Golf Club in Philadelphia.
Here's a copy of her prepared remarks:
Good afternoon everyone. I come here via your president, the exuberant, effervescent, energetic, Ed Papazian.

I've known Ed for a quarter of a century. I met him during the first weeks of my second career. When I asked Ed what I should talk about, he said, "Your career." I've had three, but sometimes, they all seem the same: perpetual student.

Being a product of the '60s, I was an anti-establishment, don't trust anyone over 30, I can change the world, flower child. My first career was in education. I had some great experiences, but clearly, I was the student for I learned more than I taught.

Alas, although I really enjoyed teaching, it was impossible to live the life I aspired to on a teacher's salary. In less than a decade, I had become the dreaded establishment and I was heavy pushing thirty. The women here know what I mean.

Mirror, mirror on the wall,
I am my mother, after all.

So, armed with a book titled "What Color Is My Parachute?" in one hand and the Yellow Pages in the other, I embarked on finding my next career.

And, good luck for me. One interview became one job and in the late 70s. I ended up at a fabulous company, then called The Katz Agency, which became Katz Communications, which became The Katz Corporation, which became The Katz Media Group, the name by which it's known by today.

That's where I met Ed. He was one of the colorful characters in a cast of many intelligent, savvy, risk taking, expert sales and marketing, client servicing executives, all male.

Three television divisions and a radio division
Then 4 TV divisions, 6 radio divisions an international division and a cable company.
Still all male.

I was hired as an executive secretary. Today they're called executive assistants or administrative assistant. So here I was, 30 years old with a Masters degree taking dictation and typing memos. The problem was that I didn't know how to take dictation or be a secretary.

I developed my own form of speedwriting but I couldn't always read it back. Luckily, I had a pretty good memory and I could just about reconstruct the essence of the communication. After all, I had taught English for nearly 10 years!

It was amazing that I never got caught. My boss would read all the letters before he'd sign them and he'd beam with self-satisfaction, "they always sound better once they're typed. Don't they, Lu?"

In any event, I was fortunate to young enough to be cute and old enough to know better. I walked a thin line and again, I learned more than I taught.

The company was growing at break neck pace: 22 offices, several thousand employees, hundreds of TV clients, several thousand in radio, diversifying businesses. It was really exciting. And I grew with the company.

Our department (mine and his) was responsible for advertising and public relations. I was promoted to assistant director, director, then I replaced my boss, became the first woman VP who wasn't in personnel, facilities or some ancillary service. I was top dog in my area. I took on marketing, client relations, and industry relations (here's where I got some great event and executive production skills) employee relations created an Intern program for college credit.

I was the keeper of the K, the company's image. Whenever something was about to happen or sometimes even in the planning stages, I was there. What a spot and what great training.

We were exploring so many new business opportunities and I was there. We went into program production. We produced a first run morning show called "Break Away" with Kathy Lee Gifford when she was Kathy Lee Johnson.

We produced a game show called "That's Amore!" (Never heard of either of these shows did you? Well that's an indication of how well received they were.)

We got into sports productions and syndication. We produced the Big East, The PAC Ten, The Big Eight, The Kick-off Classic, The Liberty Bowl, The Olympiad.

I met and worked with Bud Greenspan! I wrote copy for Bobby Knight. Held press conferences with Tommy Johns, Larry Holmes, Macho Camacho. It was unbelievable and unpredictable.

Our TV clients felt that syndication was a conflict of interest for us and we closed that unit 3 years later. I was lucky to be around during some of the gravy years. Lavish parties, great corporate presence. And I learned, not only about the business, but also about men vs. women.

I learned that there was a different standard for men than for women. Women had no mentors; no one to who them the ropes teach them the rules of the game and that kept us out of the game. I learned that women made men uncomfortable because they just couldn't be themselves with us in the room. And you know what? It wasn't anybody's fault.

I learned that there were some men who were willing to help. And others who never would. And I learned from the ones who would that: You had to blow your own horn and how or no one would ever be sure what you did.

You had to deliver bad news swiftly, with solutions, if possible, but never excuses. I learned the importance of consensus, the hard way. The term "Having all your ducks in a row" took on new depth. I learned that difficult decisions were arrived at with great difficulty and when I questioned these decisions, disagreed with them or railed at their ramifications.

I learned that the decision makers didn't want to re-agonize with me. And I learned that people weren't always interested in my opinions! My job was to make the news as palatable as possible.

And I was fortunate because the president and the chairman genuinely liked me and because I was a woman, and didn't know any better, they indulged me.

But the two most important things that I learned were: Sometimes a cigar is just a cigar. Some of the things that
happened to me happened because they happened, not because I was a woman. And the second was: Sometimes it can't be fixed and it's just time to move on.

By 1997, after nearly twenty years, every member of the senior management team I'd been a part of was gone. Retired or otherwise. I couldn't seem to get in step with the new team. It wasn't fun any more. It was time. And so...career #3.

I would be my own boss. I would control my own destiny. I opened a company called Bridge Media, a corporate communications, special event Production Corporation.

I did work for Smart Route Systems, Clear Channel Television, Petry Media Corporation even went back to Katz for several months to consult on the opening of two new television companies and I executive produced: The New York Emmy Awards, The Television Academy's Silver Circle Awards, the Golden Mike Award, the Radio Mercury Awards, The Touch Down Club's Sonny Awards and three huge TV/Internet Conferences; When Networks Collide, The TV Programming Marketplace and Reality Bytes. Again, I learned.

Then, about a year ago, I got a call from a member of the search committee for the Broadcast Pioneers Library of American Broadcasting asking me if I'd be interested in talking to them about a CEO position. I was told to write a letter expressing, my interest.

Throughout my broadcast career I had been involved with a number of nonprofits, most notably AWRT (5 years as the NYC Chapter President, National President in'95 &'96).

I couldn't resist this great opportunity to take the LAB to its next level and here I am. I've come full circle, back to education. And again, I find myself in the enviable position of student.

Upon perusing our various collections, I discovered that they were full of hidden treasures. Not only did they carry the history of our industry, but a great deal of hidden history, political history, social history, women's history.

The most mundane elements of a news broadcast or commercial spot are often those that are most important to historians because they provide a living social context.

For example, in the late 40s and early 50s, Pall Mall cigarettes did a series of radio spots, which parodied familiar poems and revised them into sales pitches.

Lewis Carroll's "The Walrus and the Carpenter"
Henry Wordsworth Longfellow's "The Village Blacksmith"
Edgar Allan Poe's "The Raven"

They were clever and witty and the voice-overs were done by erudite readers with English accents and the punch line always: Outstanding...and they are mild. The hidden history? Imagine a time when there was such a thing as a familiar poem? Well there was little TV and some radio, but for entertainment, most people read!

People were actually familiar with the classics, all people. And the social context? Smoking made one appear more sophisticated.

On the radio, cuts for UltraBrite, musical theatre-style ala Gershwin, Rogers & Hammerstein and Lerner & Lowe...

"When my husband left for work he never kissed me
But now he can't resist me
Ever since I started using UltraBrite"

or

"In Math class I could figure to the fraction
But with boys I didn't add up right
Until I summed things up and
Switched to UltaBrite"

Little operettas selling white teeth as the cure for all your love problems. And the social context, WOMAN, GET YOUR MAN!

I've brought along a few ads from Radioland and Radio Television Mirror, which I've blown up.

First, from the folks at Doublemint Gum, promoting facial beauty and exercise through gum chewing! Today, gum chewing promotes tooth decay and builds a wing on your dentist's home in the Hamptons.

And here's Kate Smith, the food counselor. I'm sure all of you remember Kate Smith. She cut quite a figure for a woman. Diet gurus today push health food and appear to be quite a bit thinner and more athletic. But, the prune spice cake she's pushing sure sounds yummy. And this ad which boldly asks "SKINNY'? New discovery adds pounds - quick.

Today, the little lady on the right, who looks quite emaciated, has the coveted figure. This was obviously the pre-Twiggy era. But again, the admiration of strong stock; social context.

And this one for Midol! "There's no room for those dreaded days," Quite a bold step for an advertiser. But since the men are away at war and the women had to keep the homefront in smooth working order, one couldn't give in to "...functional menstrual pain."

In this Chesterfield ad, we see a new kind of woman, in her uniform, on her motorcycle with a war bonds poster behind her. "In wartime, more than ever, a satisfying smoke is comfort more than ever." Be patriotic. Smoke Chesterfields. Social context? No men. New woman. New market.

My favorite photo is from Vox Pop, a show that captured the voices and stories of American soldiers during WWII. It also documented the contributions women made to the war effort.

This photo was taken on November 23,1943, the first anniversary of the SPARS, the women's reserve unit of the US Coast Guard. Parks Johnson and his co-host, Warren Hull are shown interviewing Mary Lou Goff. It was because of her work on the homefront that Phillip Hintz, a service man, was able to go overseas.

For this good work she was awarded a ring and a pair of theatre tickets! When Johnny came marching home, however, she was unceremoniously sent back to the kitchen.

And there's so much more in the library. Not just on women and war, but the shift in our society from agricultural to industrial and industrial to service providers.

It's truly a wondrous place and the Broadcast Pioneers of Philadelphia has, collectively or individually, an open invitation to visit us at the University of Maryland in College Park for a special tour and look at our collections. It is, after all, your library, the Broadcast Pioneers library.

The mission of the Library of American Broadcasting is three-fold: acquisition, preservation and access. We're always looking for meaningful acquisitions and finding the means to preserve and safe keep this documentary evidence of the most powerful, wide ranging, influential, cultural force of the 20th and most likely the 21st centuries.

Thank you for having me.
Lucille Leongo passed away at the age of 58 in January of 2006. She died from cancer.
More About Uncle WIP!
You'll remember in the last issue of our newsletter, we spent quite an amount of space talking about Uncle WIP. Well, we have gotten a couple e-mails recently from Richard Swart (of Hood River, Oregon), a visitor to our website. He says that he's 80 years old and wanted to share with us his memory of Uncle WIP, a mainstay on WIP for more than three decades. He wrote:
As remembered by an 80-year old. I don't know whether you have them or not. Probably the 2nd Uncle WIP in the late 30's. (Editor's note: It would be the third Uncle WIP).

Hello, boys and girls,
How do you do?
It's Uncle WIP on the radio and here to entertain you.
With songs and stories for you to enjoy.
Now are you ready, every girl and boy?

You know from North to South and East to West,
Every day we try with our very best!
So are you ready for our show? If you are, we'll let her go!
For it's Uncle WIP (chord, chord)!

This was a mostly talked song with a piano accompaniment. I remember being on the birthday list when I was five and living at 45th and Chester Ave across from Clark's Park with the great fireworks on the 4th of July, at least in the 30's - 40s.
A LITTLE BIT OF BROADCAST HISTORY!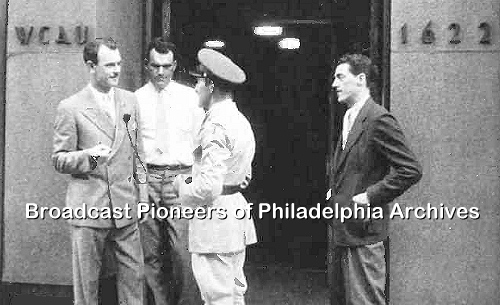 "Man on the Street" Interview
WCAU Radio
1622 Chestnut Street, Philadelphia
1934
OUR 2014 COLLEGE STUDENT SYMPOSIUM AT NBC 10: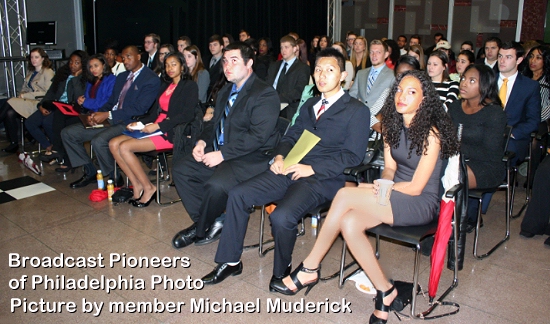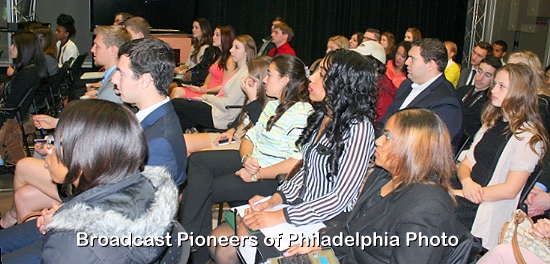 This past Saturday morning, we had our 13th Annual College Student Symposium. This year, it was held at the facilities of NBC 10. The students heard from WCAU-TV staff about what it was like to work at a major market television station. Afterwards, the station served a pizza lunch for everyone. It was quite a day. Last year, this event was held at 6abc, WPVI. In 2015, we will hold it at KYW-TV, CBS 3. This means in a three year period, students can see three different O&O operations in a major market.
OUR HATS OFF TO YOU:
Special Thanks for 2015 Scholarships:
Vice-President Kal Rudman - 5 scholarships (all for Temple students)
Member Johnny B. Hall and wife Ginny - 4 scholarships
Members Robin and Ira Adelman & Leon Love - 2 scholarships
Member R. Alan Campbell - 1 scholarship in the memory of Fred Ruggieri (Fred Randall)
Member Harry Hurley's Golf Tournament - 1 scholarship (for South Jersey residents or students)
Member Sylvia Kauders - 1 scholarship (from a grant for 5 yearly scholarships)
Member Esther Kurtz - 1 scholarship in memory of her late husband, David Kurtz
Member Marlin Taylor - 1 scholarship
Special Thanks for contribution of $1,000 or more to our DAP, Digital Archival Project:
Member Johnny B. Hall and wife Ginny - $3,000
Member Marlin Taylor - $1,000
Member Harry Hurley's Golf Tournament - $1,000
Underwrite a complete scholarship and we'll give you credit in the electronic newsletter until the scholarship is awarded in April of 2015. Give us a donation of $1,000 or more and we'll list you in our "Thank You" column for a year.
More Thanks:
We want to thank member Johnny Hall and his wife, Dr. Virginia Hall, for sending an extra $250 this month for our scholarship program. When asked about this, Johnny said,"I just couldn't help myself." Well, thanks to your generous gifts, we'll be able to help more than ever. Thanks.
We would like to thank those of you who included an extra contribution when you paid for your meal at our October luncheon. Those include: Eric Address, Rick Barringer, Mike Bove, Bill Kelley, Mel Klawansky, Jerry Klein, Bob Kravitz, Dorie Lenz, Lauren Lipton, Bob Pantano, Brad Seecof, Allen Stone, Les Waas and Gerry Wilkinson.
Don't be left out. You too can make a pledge. It's never too late. You can earmark it for scholarships, our Digital Archival Project or our general fund. Thanks so much for your support.
Our special thanks go to TUTV and The Kal & Lucille Rudman Media Production Center.

They have underwritten a grant to be used to fund an entire year of all our newsletters for calendar year 2014. We thank them so much for their support!
If you forgot to make an extra contribution (cash or memorabilia) and would like to do so now, it's never too late. We would be thrilled to hear from you at: PO Box 2886, Bala Cynwyd, PA 19004 or call us at (856) 365-5600.
A FINAL THOUGHT....
"I felt sure that the new thing called television could never compete with radio."
Taylor Grant
early fifties

Please contact us by e-mail at newsletter@broadcastpioneers.com or by mail to: Broadcast Pioneers of Philadelphia, PO Box 2886, Bala Cynwyd, PA 19004. Your stories are important, to you, to us, and your colleagues. Contact us today and we'll include your story in the next newsletter!

© 2014, Broadcast Pioneers of Philadelphia
All Rights Reserved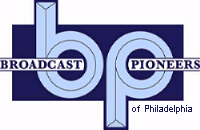 The e-mail address of the Broadcast Pioneers of Philadelphia is pioneers@broadcastpioneers.com
For luncheon reservations call (856) 365-5600 or e-mail us at: rsvp@broadcastpioneers.com