| | |
| --- | --- |
| | Broadcast Pioneers of Philadelphia is a federally recognized, state chartered 501(c)(3) non-profit organization serving the Philadelphia Broadcast Community since January of 1962. |
Our Annual Fundraising Banquet
The Hilton Hotel - City Avenue
Friday Evening, November 18, 2016

Doors open at 5:45 pm!
Reception starts at 6 pm!
Dinner served at 7 pm sharp!

Tickets are:
$88 each for our members
$98 each for everyone else!
TICKETS ON SALE NOW!
Our Annual Banquet!
Friday, November 18, 2016!
Our "Person of the Year" &
"Hall of Fame" Inductees!
329 Tickets Already Sold!
Send in for Yours NOW!

JERRY BLAVAT!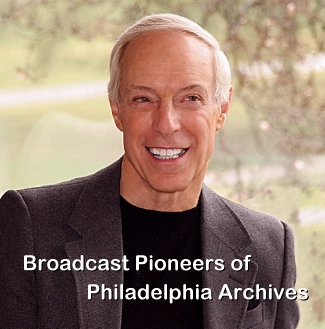 2016 PERSON OF THE YEAR!
Watch our "Pioneers of Philadelphia Broadcasting" episode shot at the office of Broadcast Pioneers member Jerry Blavat.

"HALL OF FAME" LIVING HONOREES!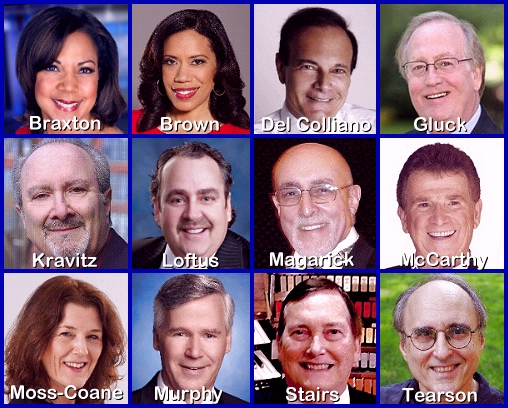 Monique Braxton, NBC 10 News Journalist/Reporter for sixteen years
Natasha Brown, CBS 3 News Anchor for "Eyewitness News" on weekends
Jerry Del Colliano, nationally known expert on broadcasting/interactive media
Paul Gluck, TUTV manager, former executive at several Philadelphia stations
Bob Kravitz, photo journalist at most every television station in our marketplace
Jim Loftus, President and CEO at More FM, number one station in the city
Barry Magarick, founder and president of Magarick Advertising
Tommy McCarthy, former music director at CBS Radio's WOGL-FM, 98.1
Marty Moss-Coane, longtime WHYY "Radio Times" host/executive producer
David Murphy, weekday meteorologist for morning & noon "Action News"
Michael Stairs, well-known organist for the famed Philadelphia Orchestra
Michael Tearson, air personality for as long as Rock Music has been on FM
"HALL OF FAME" POSTHUMOUS HONOREES!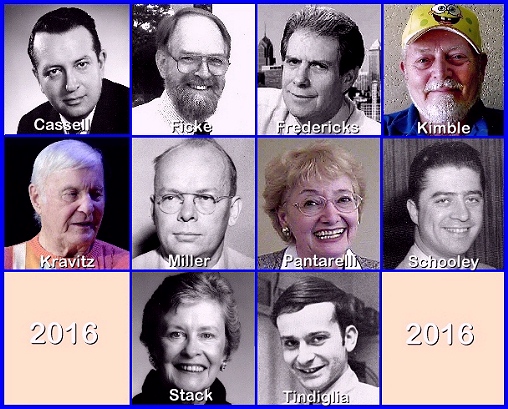 Barry Cassell, well-known radio and television announcer in the 50s and 60s
Fred Ficke, WHYY-TV stage manager coaching US Presidents to TV 12 staff
Steve Fredericks, famed radio sports host and commentator for WCAU & WIP
Bill Kimble, who "kimblized" you as you listened on WPEN, Station of the Stars
Pinky Kravitz, "Mr. Atlantic City" and host of "Pinky's Corner" for 57 years
David Miller, worked for W3XE (Philco) and put Channel 6 on the air in 1947
Marie Pantarelli, former assistant for George Koehler & Lew Klein for 50 years
Jess Schooley, former WCAU-TV stage manager for most Channel 10 shows
Joan Stack, well-known celebrity interviewer and Bucks County radio host
Ron Tindiglia, credited with developing the Action News format here in Philly
TICKETS NOW ON SALE!
NO TICKETS AT THE DOOR!
MAIL ORDER ONLY!
NO CREDIT CARD SALES!
Prices are $88 for members (each member can buy ONLY one ticket at the member price) and $98 for everyone else (including spouses, friends and guests). Our MCs for the event will again be members Larry Kane and Dom Giordano.
The event will once again take place at the Hilton City Avenue, 4200 City Avenue, Philadelphia. The date is Friday, November 18th. The reception is at 6 pm and dinner is served at 7 pm. Doors open at 5:45 pm. Cash bar all night long. Valet parking is $10. Event lot parking is $5. THIS EVENT IS OPEN TO THE PUBLIC!
The Star Spangled Banner will be sung by Broadcast Pioneers Member Sandee Bengel with piano accompaniment by Andy Kahn of the All-Star Trio. The invocation will be done by member Cathy Gandolfo. At the piano for the rest of the evening will be Broadcast Pioneers member John Primerano.
Make plans to be there! A major portion of the ticket price may be deductible on your federal income tax. Ask your tax advisor for details! Tickets must be purchased in advance. Absolutely no tickets available at the door.
DINNER MENU (subject to change)
Salad:
Tossed Garden Salad with Raspberry Vinaigrette or Ranch Dressing
Entrée:
Boneless breast of chicken, apples and seasoned corned bread filling with plenty of pan gravy. Seasonal vegetables and roasted potatoes with warm bakery rolls and creamery butter.
OR

Vegetarian entrée tower, cous cous and tomato basil sauce. Seasonal vegetables and roasted potatoes with warm bakery rolls and creamery butter. (If you prefer the vegetarian meal, just tell your server.)
Dessert:
Lemon cheesecake with strawberry sauce
OR

Fruit cups (these are very limited and are for those on special diets only)
Drinks:
Fresh brewed coffee, decaffeinated coffee, tea and water
Cash bar all evening long

WE'LL BE PROUD TO SEE YOU IN THE CROWD!

Don't forget our BIG 51st annual Person of the Year/Hall of Fame Banquet on Friday, November 18th. The ticket(s) order form is above. This is our BIG fundraiser of the year. We appreciate YOUR continued support.
Can't make it? YOU CAN STILL HELP! You can make a contribution right now and it will be included in the total amount raised during this main fundraising event for this year.
YOU CAN BE A PART BUT HURRY BEFORE IT'S TOO LATE!
With your support, Broadcast Pioneers mentors area college students. We run an annual college student symposium each spring at a major Philadelphia TV station. We award scholarships to area students. In April, we presented twenty $1,000 scholarships and are committed for another twenty in April of 2017.
VERY IMPORTANT! We maintain a digital and hard copy archive of Philadelphia Broadcasting. This includes 6,000 local TV programs, 12,000 area radio broadcasts and 40,000 photographs. This is becoming a more and more expensive project. Your funding is very much needed in order for this project to continue.
YOUR FUNDING helps us preserve the rich broadcast history of the Philadelphia market! Time is quickly running out!
WE CAN'T DO IT WITHOUT YOU!
Again, this may be your last chance to show your support for everything we do this year. Even if you don't buy a ticket or two, you can still make sure that you are counted in the main fundraiser of the year. Thank you! Contributions in any amount can be sent to:
Broadcast Pioneers
P.O. Box 2886
Bala Cynwyd, PA 19004

Visit Our Website Often - http://www.broadcastpioneers.com
You should check the front page of our website often (link above) for important information!
Tune in to our YouTube Channel - http://www.broadcastpioneers.com/youtube
Our YouTube Channel has all our luncheons, exclusive interviews and archival material!
Check out our Facebook Page - http://www.broadcastpioneers.com/facebook
There are things on our Facebook Page that are NOT on our website (like our vintage photo of the week)
Go to our Twitter Account - http://www.broadcastpioneers.com/twitter
The Broadcast Pioneers Twitter Account has info and stuff not available elsewhere!
Go to our Instragram Section - http://www.broadcastpioneers.com/instagram
Here's another one of our social media sections. Visit it as often as you wish!

NEW FULL MEMBERS:
Dave Frankel started in our business in 1979 at WCAX-TV in Burlington, Vermont. Then he spent two years at Miami's Independent News Station and moved on to WSVN-TV, also in Miami. He came to Philadelphia in 1984 where he spent 14 years with WPVI-TV, 6abc, Action News. In 1998, he moved over to Eyewitness News and KYW-TV and stayed for several years. Today, Dave is a lawyer with Frankel & Kershenbaum, LLC in Bryn Mawr, Pennsylvania.
Dave Stanley started his career back in the early sixties. Dave hosted Philadelphia's first early morning newscast on KYW-TV. He started at WCAU-TV as a copyboy. He went on the WIFI, WBCB, WEEZ, WRCP, WPEN and WTMR just to name a few. Dave's now down in Charlotte, North Carolina. While at Channel 3, he did a 20 part report all about Philadelphia radio, possibly the most extensive report in broadcast history. Welcome aboard.
We are thrilled to have over 500 Members. More than ever. We hope to see as many of our members as possible at our annual banquet on Friday evening, November 18th. Tickets on sale now!
DIGITAL ARCHIVAL PROJECT NEWS:
VIDEO: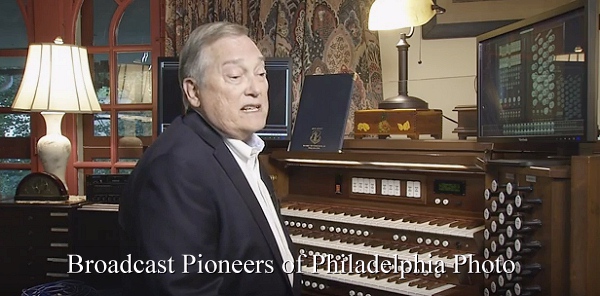 Broadcast Pioneers Member Michael Stairs
at his Rosemont, PA home
Tuesday evening, September 13, 2016
On Friday evening, November 18th of this year, member Michael Stairs will be inducted into our Hall of Fame. For three decades, Michael has been the organist for the Philadelphia Orchestra. He can also often be found in the grand court of the Center City Macy's store playing the famed Wanamaker organ. Classical music expert Ed Cunningham, a member of Broadcast Pioneers, did the interviewing that evening.
Michael Stairs is native of Maine and studied piano in Presque Isle, and at age 10, gave concerts in Houlton and New Sweden (locally televised). In 1955, his father, a Baptist minister, was called to Wayne Park Baptist Temple in Erie, PA. Michael played on a weekly radio broadcast called Skypilots on Saturday mornings and a live broadcast on Sunday evenings from the City Mission. He held concurrent positions at the large Reformed Temple Anshe Hesed and South Hills Baptist Church.
Michael continued on to Westminster Choir College and played piano rehearsals for von Karajan, Steinberg, and Bernstein. This was followed by four years at The Curtis Institute of Music in Philadelphia, studying organ with the famed Alexander McCurdy, piano with Vladimir Sokoloff, and composition with Matthew Colucci.
In 1985, Maestro Muti appointed Michael organist for The Philadelphia Orchestra. In the same year, he was appointed Organist and Choirmaster at Bryn Mawr's Church of the Redeemer.
In 1969, Keith Chapman hired Michael to assist him at the huge Wanamaker Grand Court organ. Now assisting Peter Conte, Michael often plays Wednesday evening webcasts on YesterdayUSA.com.
Stairs taught Upper School music for 25 years at The Haverford School, but in post-retirement, is Artist-in-Residence at St. Charles Borromeo Seminary in Wynnewood. He also accompanies many local choral groups and is Organist Emeritus at The Redeemer. He recently married Margaret Connell.
Watch the Video from our YouTube Channel
(video courtesy of Broadcast Pioneers VP Brad Seecof and Metramedia Broadcasting & Studios)
AUDIO:
Here's a broadcast made by The Ol' Night Owl, Powers Gouraud on WCAU Radio. His program was very popular and a mainstay at the station for decades.
On Thursday evening, July 9, 1942, Powers Gouraud speaks with "Uncle Miltie," Milton Berle. Berle would later get the nickname "Mister Television." At the time of this broadcast, Berle was just 3 days away from his 34th birthday. Milton was in town for his appearances at the old Earle Theater where he was headlining.
Some of Gouraud's broadcasts were live and others were transcribed on 16" transcription discs. Why? Because the people being interviewed would be on stage at the time of the broadcast. If you listen really carefully to this recording, the announcer at the beginning and end of the program sounds clearer while Gouraud and Berle have some distortion in their voices. We believe that this is because the announcer was at the WCAU studios while Gouraud and Berle were at a remote location.
The original source of this recording is from an old WCAU Radio (now WPHT) 16" transcription disc. In 1966, the audio was transferred to reel to reel audio tape. Our computers files are made directly off that reel to reel recording. That 1966 transfer tape is now part of the Broadcast Pioneers archives.
While this historic interview has been on our website for 13 years beginning in 2000, in January of 2013, we re-did the audio because today's technology is much superior to that of 2000. What you hear today is far better than what you heard previously. It is also now available, for the first time, in both Real Audio and Windows Media Formats. In our opinion, the Real Audio version is clearer. We ran this audio in our newsletter several years ago and are repeating it for those who missed it.
Listen in Real Audio!
Listen in Windows Audio!
Here's some audio from Broadcast Pioneers member John Facenda's days at WIP Radio. This recording was transferred from a 16 inch transcription disc in the collection of Jack Facenda, John's son. The transcription transfer was courtesy of Scott Bomboy. This newscast dates from July 27, 1940.
Listen in Real Audio!
Listen in Windows Audio!
Today's News Becomes Tomorrow's History!
(This is what our Digital Archival Project, DAP, is all about!)
IN TOUCH WITH OUR MEMBERS:
Congratulations go out to Dr. Virginia "Ginny" Hall, wife of Broadcast Pioneers member Johnny B. Hall. She has been a busy lady. Ginny has been elected as chairperson of the Foundation of the Pennsylvania Medical Society( PAMED).
The Foundation facilitates scholarships and loans to medical students, and additionally oversees the Physician Health Program, to support physicians, residents, fellows and medical students with issues of health, and support the Lifeguard Program, addressing issues of practice reentry and improvement. She also has been inducted into the College of Physicians of Philadelphia. Due to scheduling conflicts, the formal induction ceremony will occur in May 2017.

Also, Ginny and Johnny will travel to Orlando, Florida on November 11 with Ginny serving as a delegate to the semi-annual meeting of the House of Delegates of the American Medical Association. They promise to be back in time to attend the Broadcast Pioneers Annual Banquet on November 18. Johnny observed that it's a good thing he learned to cook 46 years ago!

EDITOR'S NOTE: The Halls put their money where their mouths are. In 2017, again they are underwriting seven $1,000 scholarships that we will be awarding in April. They have been doing this for many years. Thanks so much.
Awhile ago, there was a historic marker dedication at 212 North 12th Street in Center City Philly. What's so special about that location? It was the home of the famed Sigma Sound Studios owned by member Joe Tarsia. People like Kenny Gamble, Leon Huff, Bob Eli and many others both on the talent and engineering side made it what it was. Well, the legend continued as Grammy award winning producer, songwriter and guitarist Bobby Eli (who has attended some of our luncheons) was honored in Nashville for his many achievements.
Beginning this Saturday evening, member Corky Warren can be seen on Comcast/Xfinity on Channel 190. The telecast starts at 7 pm running until 9 pm. It can be seen in Center City, South Philly, West Philadelphia and parts of the greater Northeast. It's Corky's Time Machine, now in Philadelphia.
A LITTLE BIT OF BROADCAST HISTORY!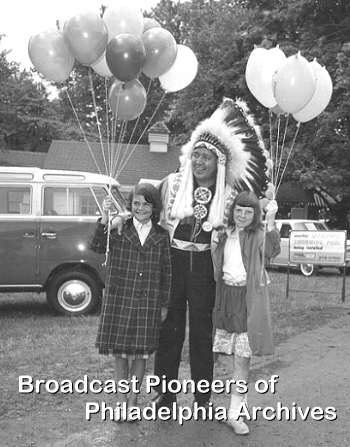 Chief Halftown with two friends
circa 1965
Did you know...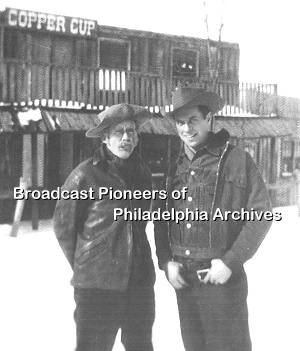 Broadcast Pioneers member John Zacherle on right
Action in the Afternoon
WCAU-TV, Philadelphia
1953
John Zacherle was born on September 27, 1918 right here in Philadelphia. Ironically, he was never allowed to watch horror movies as a child. He lived in Germantown (a section of Philadelphia) and was graduated from Germantown High. Following high school graduation, he decided to get a Bachelor's degree in English literature. After receiving his degree from the University of Pennsylvania (in West Philadelphia), he joined the army to help out with World War II. He ended up a major and saw action in North Africa and Europe.
After the service, Zacherle joined Stagecrafters, a Chestnut Hill repertory company. Eventually, John Zacherle found his way to the Bala Cynwyd studios of WCAU-TV, which was owned by the Evening Bulletin, a local Philadelphia daily newspaper. Charlie Vanda, President of WCAU (both radio & television) had gone to New York City to pitch CBS executives on airing some of the local WCAU programs. They had aired "Willie the Worm" and "The Big Top," both originating live from WCAU-TV, Channel 10. They didn't like any of Charlie's ideas and on the spot, he created a western, which eventually became "Action in the Afternoon."
It was sort of a western soap opera with continuing characters. John Zacherle had a number of parts as an extra and finally worked his way up to co-starring parts. Sometimes he would play two roles on the same day, one with a beard and one without. About half way through the run of the show, the station hired Zacherle to play an undertaker wearing a long black flock coat. When the station employed him to play Roland three years later, they simply brought the coat out again to help create the character Roland (pronounced Row-Land).
Shock Theater came to the airwaves on Monday, October 7, 1957. Roland lived in a crypt with his wife, "My Dear" (who never appeared on camera until Zacherle refused to do the shows until he got a $10 raise from $90 to $100 a week.) Sometimes, Zacherle would drive a stake through My Dear's heart "just to make her happy." The wooden stake was actually pounded into a container of stones and soil. Gasport was their son and hung in a dark bag attached to the wall. While he never appeared on camera, you would hear him moan, which was anyone on the crew who happened to be close enough to a microphone. Roland had a lab assistant called "Igor."
After the title graphic, you would see Roland entering the set by walking down a round stairway. Because of the insistence of Vanda, the WCAU broadcasts have a reputation of being gorier. Zacherle said that Charlie had told him that if there's a head in that basket, that he wants to see it. It also may have been easier to do since the Channel 10 shows were all shot in Black & White and Hershey's Chocolate Syrup had the appearance of blood.
The show aired immediately after the news, which featured WCAU news legend John Facenda. Since the news broadcasts in those days were less than half an hour, Zacherle came on at 11:25 pm on weekdays and 11:20 pm on Saturdays. Initially, the broadcasts were on Mondays and Tuesdays. However, the show started to attract a younger following in addition to the adults and the shows were moved to Friday and Saturday evenings.
On August 16, 1958, the Saturday Evening Post wrote an article about Zacherle. Less than two weeks later, on August 29th, WCAU-TV's ownership officially transferred from the Evening Bulletin (a local Philadelphia newspaper) to CBS-TV. Less than a month later, Roland and Shock Theater had disappeared from the Channel 10 program schedule. There were 95 broadcasts of Shock Theatre with Roland. The package the station purchased was called "SHOCK" and had 52 movies in it. Channel 10 added a few from its library and aired a total of 63 different movies during Zacherle's reign.
In February of 1958, as a publicity stint, Channel 10 invited the audience to an open house at the studio. About 800 people were expected, but over 10,000 people showed up. Traffic on City Line Avenue (a major road in the area) was just outside the studio. Traffic was tied up for hours. Windows were shattered and damage was done by some of the station's facilities.
Bernie Lowe, co-owner of Cameo Records, along with Dick Clark and others, saw how his daughter loved Roland and got the idea for a record. It was called "Dinner with Drac." However, Dick Clark (who owned part of the label) thought it was too gory for his American Bandstand show which went on the network just about the same time as Roland first appeared on Philadelphia television. It was originally flipped with "Igor." Cameo quickly took John Zacherle back into the studios and re-cut another version that was tamer. That's the version that was aired on Bandstand. (Clark also made Lloyd Price re-cut "Stagger Lee" in order to get air play.) There was just one problem--everyone outside of Philadelphia wanted the Bandstand version. However, radio station powerhouses like WIBG, the Big 99 in Philadelphia were playing the original version. Lowe came up with a solution. Re-issue "Dinner with Drac" with both versions (one on each side) and eliminate "Igor." The song was a smash, going into the national Top Ten.
By the way, Dick Clark, was supposedly the one who nicknamed Zacherle, "The Cool Ghoul." The follow-up was "Lunch with Mother Goose" flipped with "82 Tombstones." Shortly after the mob scene at WCAU-TV and the Saturday Evening Post article, Zacherle knew he had a big following. He refused to go on unless he got a 10% raise (from $90 to $100 a week). The station refused and for a couple of shows (April 18 and 19th of 1958), he was replaced by an actress playing "My Dear." There was a public outcry, and the next week John was back. However, it left him bitter towards the station. He found out that he was able to get more money from WABC-TV in New York and decided to make the move. Interesting that all this time, John was still living at home. The story goes that he was so devoted to his mother that even after moving to New York, he returned to Philadelphia every week to visit his mother. (She reportedly didn't want to leave Philadelphia).
John got to appear in a motion picture entitled, "Key to Murder.' Several of the "Action in the Afternoon" people were also in it. When John made the move to NYC, the station added a "Y" to his name to make it easier to pronounce. After the move to WABC-TV (New York) My Dear became "Isobel" and Roland became "Zacherley." His real name has no letter Y in it, by the way. In March of 1959, "Shock Theater" (it was used in both markets) was changed to "Zacherley at Large." John Zacherle must have felt very much at home at Channel 7. Lynn Dollar, who did the weather on WPTZ, Channel 3 in Philadelphia in the early to mid-fifties was now doing the weather on WABC-TV, New York. Lynn was seen just before Zacherle's broadcast. In the fall of that year, he moved to WOR-TV, also in New York City. WOR also did something different. They taped the program on two-inch reel to reel videotape. The other, earlier broadcasts were all live. The shows were also shown on WOR's sister station, WKHJ.
Keep in mind that videotape in the early days was very expensive, as much as $500 per reel. Since it was that costly, the station used the tapes over and over.
In 1963, Zacherle hosted cartoons on New York's WPIX-TV. The next year, the station moved him from the kiddie cartoons to hosting horror movies. The following year, Zacherle started hosting on WNJU-TV, across the river from New York in Newark, a teenage dance show called, "Disc-O-Teen." He hosted the program in costume, did all his bits and even used the kids in the skits. That show ended in the fall of 1967, when he moved to doing morning drive at WNEW-FM. By the summer of 1969, he was doing 10 pm until 2 am. It was progressive rock and it led the way to doing the same format here in Philadelphia, first on WDAS-FM and then on WNEW's sister station, WMMR (newly named from the old WIP-FM). He switched stations to WPLJ-FM. He stayed there for an entire decade. That's forever in this business.
For Halloween one year, John returned to Philadelphia and the Academy of Music. He read from Edgar Allen Poe and was backed-up by the famed Philadelphia Orchestra. In 1984, he started his well-known Halloween special broadcast over WCBS-FM. This annual event continued until 1992 when he moved to WXRK.
Tony Verna, a long-time producer/director at WCAU-TV e-mailed quite some time ago: "Ed White created Shock Theater and I directed the pilot. Ed had a genius for that sort of thing."
On Friday, November 19, 2010, John Zacherle was inducted into the Broadcast Pioneers Hall of Fame. Visitor to our site Gary Johnson writes: My brothers and I remember the good shows that Zacherle made. I miss the peeping through the keyholes and the break in scenes. What a wonderful show that was. He is and will always be the best Dr. of Darkness! Goodnight, whatever you are (the traditional Roland closing).
This regular monthly column is written and researched by Gerry Wilkinson
Our special thanks go to TUTV - Temple University Television and The Kal & Lucille Rudman Media Production Center.

They have underwritten a grant to be used to fund an entire year of all our newsletters for calendar year 2016. We thank them so much for their support!

You Can Help Us!



When you log into Amazon via http://smile.amazon.com, all eligible purchases earn Broadcast Pioneers a donation of 0.5% from Amazon. However, you must log in to Amazon through http://smile.amazon.com. We have made it simple. You can also log into them using http://www.broadcastpioneers.com/amazon. It's easy to remember and takes you to the same place.
AmazonSmile is the same Amazon you know. Same products, same prices and the same service. The only difference is that they donate 0.5% of your eligible purchases to Broadcast Pioneers. IT DOESN'T COST YOU ANY MORE TO DO THIS! Same price to you and we get a donation to help us continue with all our great educational projects! IT'S WIN - WIN!

A MOMENT OF YOUR TIME:
We thought you might like to read the following e-mail sent to us by a student at La Salle University. She granted us permission to reprint it here. We believe you will enjoy it. This is why we do what we do.
My name is Amanda Keaton and I have been a part of Broadcast Pioneers for four years now. I am currently a senior at La Salle University and last year I received the Broadcast Pioneers Scholarship.

I just want to thank Broadcast Pioneers for giving me the opportunity to tour the news studios, connect with producers, reporters, anchors, and other employees. Thank you for believing in me and helping me to get one step closer to my career goals. It was because of Broadcast Pioneers that I connected with a producer at 6abc and landed an internship there this past summer. During my internship, I have gained so much experience, made many connections, and even completed my reporter/anchor reel.

My first half of my senior semester was tough but I made it through with all A's and one B for my mid-term grades. I plan to keep working hard throughout the rest of the semester and into next year. The Broadcast Pioneers' scholarship has benefited me and my family tremendously in helping me continue my senior year at La Salle.

I also plan on attending many more events hosted by the Broadcast Pioneers and I look forward to seeing you all again.
MORE DIGITAL ARCHIVAL PROJECT NEWS:
VIDEO: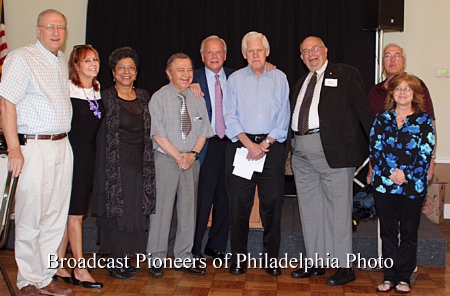 (Left to right) Bob Feldman, Elaine Skypala, Linda Munich, Diego Castellanos, Dave Roberts,
Marc Howard, Steve Sacks, John Caracciolo and Sheree Goldflies
Broadcast Pioneers Luncheon
Bala Golf Club, Philadelphia
Wednesday, October 19, 2016
He was our friend. Many of us knew him personally. We loved him and now, we miss him. However, Captain Noah will live on in the memories of his friends and his millions of viewers.
On Wednesday, October 19th, we shared stories and lots of memories about the rascally ol' Captain. Captain Merbreier once said that he can't really decide if he was Carter Merbreier or Captain Noah. The answer is simple. He was both. Not sure you can separate them. Why would you want to?
Our MC for the afternoon was member Marc Howard, who was an anchor for many years at the same station as Carter Merbreier, WPVI.
Our speakers were, in alphabetical order:
Ed Cunningham, producer of WHYY-TV's "Philly's Favorite Kid Shows Hosts"
Bobby Kravitz, well-known Channel 6 camera operator and photojournalist
Linda Munich, former WPVI-TV, 6abc Vice-President of Public Affairs
Dave Roberts, former weathercaster on WPVI. He shared an office with Carter
Steve Sacks, former WPVTI-TV, 6abc camera operator and technician
Elaine Skypala, former Associate Producer of the Captain Noah Program
Plus, live on the phone from New York City, we had Art Moore. Art worked at Channel 6 for quite awhile in Production and is now VP of Programming for WABC-TV (new York) and producer of "Live with Kelly," the Kelly Ripa Show.
(video courtesy of Broadcast Pioneers VP Brad Seecof and Metramedia Broadcasting & Studios)

AUDIO:
In 1968, John Zacherle visited the WRTI studios. On this occasion, it was for a taped interview. The station already had one weekly series of radio drama (already a lost art) on the air, "Playhouse 90.1", and for the Spring 1968 season, a second series was offered, "Thru the Mist," a sort of Twilight Zone for radio. However, one of the time slots was cut to 20 minutes because of a Temple University sporting event. Broadcast Pioneers CEO Gerry Wilkinson, who produced both drama series as a college student, balked at the idea of cutting one of the programs which was already been produced and recorded.
Instead, he thought it might be a good publicity stunt to interview John Zacherle, who played Roland a decade before on WCAU-TV's Shock Theater. This is how this interview came into existence. The original tape lasted for 18 and a half minutes and was cut to fit into the proper time slot. This air tape of the show has been buried for 32 years in the basement of Gerry Wilkinson's mother's house and "discovered" in 1999.
Just in case you are interested, this interview was recorded with one of those wonderful RCA 44 ribbon microphones. It was bi-directional. John spoke into one side and Bruce into the other. The interview was recorded in Studio B of the WRTI-FM studios which were located in the basement of Thomas Hall at the time. Several months later, the station moved across the street to new "digs" in Annenberg Hall. In 1998, the University tore down Thomas Hall, which was originally the Park Avenue Methodist Episcopal Church built in 1886. The building had fantastic acoustics.
The tape was recorded at 7 and a half ips and mastered on an Ampex 351 tape recorder. Our audio was mastered from the ORIGINAL master tape.
Listen in Real Audio!
Listen in Windows Audio!
As part of our continuing Oral History project, Sam Lit (Hy Lit's son) spoke with John Zacherle on Tuesday, August 25, 2009, just weeks before Zach's 91st birthday. The interview was conducted on behalf of the Broadcast Pioneers.
Listen in Real Audio
Listen in Windows Audio
Remember, History is ONLY What Gets Saved!
(If there were no portraits of George Washington, how would we know what he looked like?)
IN TOUCH WITH THE INDUSTRY:
WDEL AM & FM in Wilmington won top honors from the Radio Television Digital News Association and was presented with an Edward R. Morrow Award for Overall Excellence in Small Market Radio. Our friend Tim Lambert (who spoke at our September luncheon) accepted a Morrow Award on behalf of his station, WITF in Harrisburg. Ben Allen, also from the station won a Morrow Award as well. WITF has won a dozen Morrow Awards since 2007.
Telemundo62 / WWSI hosted the 8th annual Día del Niño (Day of the Child) on Saturday, October 15. Activities included arts and crafts, music and live performances by the Mexican Cultural Center's Folkloric Dancers. The event also featured a mobile Telemundo62 TV studio where attendees could experience how to be a meteorologist and present a weather forecast.
Attendees had the opportunity to meet members of the NBC10 and Telemundo62 news teams, including Iris Delgado, Violeta Yas, Jaime Becerril, Christian Cázares, Rosemary Connors, Krystal Klei, Erika Martin, and member Denise Nakano.
NBC10 / WCAU aired "From Wentz He Came," an NBC10 News / CSN special hosted by John Clark. The half-hour program brought viewers a unique look into the North Dakota roots of Philadelphia Eagles quarterback Carson Wentz and featured exclusive interviews with his family, friends, former coaches and teammates. The program will be rebroadcast on Thursday, November 24th (Thanksgiving) at 6 pm on Cozi TV. That's 10.2.
Sheena Parveen is leaving WCAU-TV, NBC 10 in a couple of months. Come January, she'll find herself at NBC 4 in the nation's capital. As far as weather, the two markets are similar, but the NBC station is number one in their market. She'll be on the station's morning team. Former NBC 10 and CBS 3 meteorologist Doug Kammerer is NBC 4's Chief Meteorologist. He's been in that position since 2010. Earlier this year, we saw Doug briefly back on NBC 10 filling in for member Glenn "Hurricane" Schwartz who had the flu and others on the staff were on vacation.
Beasley Broadcasting is unloading four Charlotte stations to Entercom. This is being done, we are told, in order to comply with FCC ownership regulations. Beasley plans to use the profits from the sale in order to lower the debt needed to finish the Greater Media sale. Included in that are the sales of the Greater Media stations to Beasley.
CBS RADIO'S SportsRadio 94WIP announced the team of Joe DeCamara and Jon Ritchie as the station's new midday show. DeCamara and Ritchie are broadcasting the program weekdays from 10 am to 2 pm. The show can be heard on-air, online at CBSPhilly.com and by downloading the Radio.com app for mobile devices.
"We are thrilled to add this new show featuring Joe and Jon," said Broadcast Pioneers member David Yadgaroff, Senior Vice President and Market Manager, CBS RADIO Philadelphia. "As a player, Jon Ritchie embodied the hard-working nature of our fine city. As a host, he will connect with the fans and share their passion for our local teams. Joe has proven himself to be a strong voice for the Philadelphia fans. We are excited to have them."
Cable station product seller QVC started Beauty iQ recently. They refer to it as the first live multi-platform dedicated to exclusively selling beauty products. The new network will also give beauty tips and advice from the beauty people. The new network expects to be in 40 million homes across the nation by Christmas time. It will carry beauty programming all the time and will include live programming Wednesday through Sunday from 8 pm until midnight. QVC is based in West Chester, Pennsylvania.
WE REMEMBER: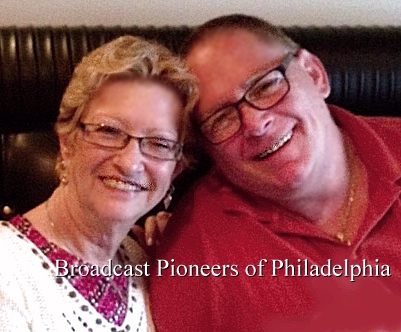 Members Joyce and Mel Klawansky
Member Joyce Klawansky passed away in mid-October. She has been married to member Mel Klawansky for 40 years. They met when Mel was the evening engineer for WFIL, Famous 56's George Michael. Joyce worked with George taking phone calls, requests and other information. Joyce was also a WFIL Boss Chick and made personal appearances with George Michael and other Boss Jocks. Mel is an engineer for WPPX-TV here in Philadelphia. He is scheduled to retire in a few months. Joyce had been fighting cancer for some time, and became ill just a few days after the couple returned from vacation in Hawaii. The Klawanskys have two sons and five grandchildren. Joyce was 61.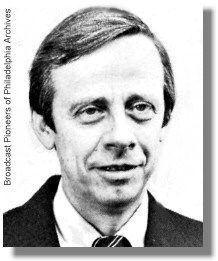 Bob Nelson
KYW Newsradio
1980
Former KYW Newsradio anchor Bob Nelson passed away last month in California. He came to the station in 1967 where he was a news anchor and the editor of Arts and Entertainment. Member Jay Lloyd who worked with Nelson said that he liked things the average person liked. Bob retired in 1991. However, he still stayed with the station putting together theater reviews and entertainment features.
The station tells us that he filed his last report three years ago. Steve Butler, the current Director of News and Programming says that Nelson's real gift was in writing. "Certainly, his essay, 'I Am Your Flag,' was great evidence of that," said Butler. Written and recorded in 1975, his essay and recording of "I Am Your Flag" was revised three times to reflect the era.

We have Bob on an audio clip. By the time the 1968 Presidential Elections came around, KYW Newsradio was just about 3 years old. The format had been tweaked. For example, the taped teletype in the background got a little louder than in 1965. Our audio is from Thursday, August 8, 1968. Here, the news is announced that former Vice-President Richard Nixon who just received the GOP nomination the night before had selected Maryland Governor Spiro Agnew to be his running mate. The newscaster is Bob Nelson. By the way, we are aware that this clip has some distortion but decided to use it anyhow. The quality was vastly improved in 2016, 15 years after we first posted it.
Sheela Allen-Stephens
"Live on City Line" program
WCAU-TV, Channel 10
October 1987

(Left to right) Sheela Allen-Stephens & Betsy Hoffman"Live on City Line" program
WCAU-TV, Channel 10
October 1987
Sheela Allen-Stephens, 73, passed away last month. She, according to member Glenn "Hurricane" Schwartz, survived breast cancer, three heart attacks, brain surgery and diabetes. Sheena was the entertainment and features reporter for NBC 10 news (WCAU-TV) for three complete decades. In 1987, Sheela did a program live on WCAU-TV called "Live on City Line" for a half-hour each weekday. Her co-host was a 29 year-old guy by the name of Matt Lauer, who later went on to be host of NBC's "The Today Show." We have a few clips of one of those broadcasts when Matt interviewed Broadcast Pioneers member John Zacherle. You can watch the video clips right here!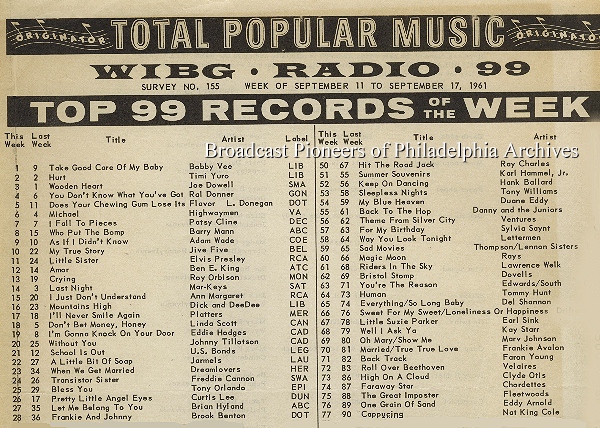 Pop singer Bobby Vee, 73, passed away last month from Alzheimer's Disease. He had 38 different songs on the top 100 charts from 1959 to 1970. His biggest hit was probably "Take Good Care of My Baby" which went into the number one position in 1961. The tune was written by the legendary Carole King and Gerry Goffin.
Broadcast Pioneers member John Zacherle passed away at age 98 in New York City. We celebrate John's life elsewhere in this newsletter.
ON THE HEALTH FRONT:
We received an e-mail from our Board Member Emeritus Barry Reisman. We writes:
Back in June, I was doing some work around the outside of the house and fell off the ladder. Fractured my heel and dislocated my ankle. Two surgeries in the Trauma Unit of Cooper Hospital and two weeks of hospitalization, followed by ongoing outpatient Physical Therapy got me back on my feet. They tell me that it could have been much worse, so I'm grateful that it was "only" my foot. The good news is that I am now able to walk just fine without the aid of a walker and feel great. Still can't drive, but that will come along soon.

Fortunately, I have a complete broadcast studio at home, so my daily and Sunday shows (9:00 a.m. - 10:00 a.m.) on WWDB haven't missed a beat. Coincidentally, before the accident, I was planning to take two weeks off, so my shows were already recorded. Not exactly the vacation I had planned, but at least I was covered on the air. I think it's safe to say that my ladder days are over!!
THIS AND THAT! Little Bits of Information....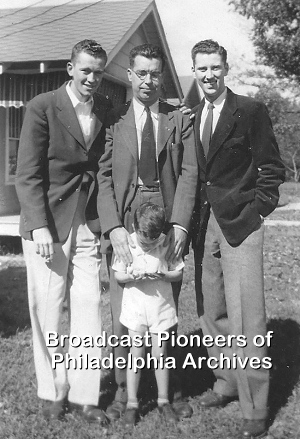 (left to right) Sid Doherty, George Springer and Brian Doherty
(front row) Tommy King Springer
Beckley, West Virginia
circa 1947
George Springer was the Sports Editor for the Beckley Post-Herald Newspaper in Beckley, West Virginia. Brian was Sid's brother. Tommy King Springer is now in his seventies. This photo was sent to us by Jack Chevalier, former sportswriter at the Philadelphia Inquirer, Evening Bulletin and Philadelphia Tribune.
On September 23, 1956, WCRV-TV, Channel 3 (then owned by the Peacock Network, NBC) began broadcasting 15 hours of local color programming including "Let Scott Do It" with Mr. (Joe Earley) Rivets; Pat Landon's 2:15 pm newscast; Pete Boyle at 6 pm and the 11 pm news with Taylor Grant and Judy Lee doing the weather. NBC was owned at the time by RCA who made a big investment in color television sets. No one would buy color TVs if there were no shows to watch.
Stoney McLinn started writing sports professionally in 1909. He ended up on WIP Radio for many years as their ever popular sports guy. In the forties, Stoney was the station's Sports Director and an icon in the City of Brotherly Love.
In the fall of 1932, Blayne Butcher joined the WCAU announcing staff coming from WLW in Cincinnati. He replaced Owen Cunningham who left announcing to become the station's assistant studio manager. At the same time in Chicago (at WJJD) a young Gene Autry took over a daily early morning radio spot. He was billed as "The Yodeling Cowboy" from Oklahoma.
In June of 1943, the host of the long-time running "Children's Hour," Stan Lee Broz, was in Germantown Hospital for emergency surgery. He had been suffering from the mumps. Broza was this organization's very first president and chairman of the board.
In August of 1970, Jerry Klein left WRCP AM & FM as news director to join the staff of WCAU-AM Radio as a newscaster. Klein served as president and then chairman of the board of this organization in the last several years. At the same time, Connie Chung was writing news for WTTG-TV in the nation's capitol.
In October of 1986, Broadcast Pioneers member Larry Kane conducted an interview with Pope John Paul II. Larry received access through then Archbishop John Foley. Foley and Kane had met years before when Kane was a young reporter here in Philly and Foley was an English teacher at an area Catholic school. Larry Kane is our co-MC for our annual banquet later this month. Larry has been one of our MCs since 2010. Cardinal Foley was honored as our Person of the Year in 2011.
In March of 1963, long-time WCAU Radio sports guy Bill Campbell decided to leave the station to begin broadcasting the Philadelphia Phillies baseball games. Joining Bill at the Phils microphone was Richie Ashburn (also in his first year as a Phils broadcaster) and veteran By Saam, who had been doing Phillies announcing on and off since 1939.
In February 1959, WHAT-FM begins a stereo 24 hours a day. After 4 pm, they carried separate jazz programming on FM. Before 4 pm, they carried the same shows as WHAT (AM) radio. General Manager Dolly Banks said that jazz stations had about the same size audience as classical music stations.
We received an e-mail from Edward Guldner, a visitor to our website. He tells us:
In the mid to late 1950's, my mother was chosen from the WCAU-TV studio audience to be a contestant on Cinderella Weekend with Bill Hart. She, along with my sister and my very young niece were in Philadelphia so my niece could be on stage at another studio (WFIL-TV) for Happy The Clown; afterward they went to see Cinderella Weekend, and my mother was chosen because she had traveled a somewhat great distance (from Schuylkill County PA).

Unfortunately, my mother did not do well on the show, and received the fourth-place prize which was a bottle of perfume known as My Sin by Lanvin. She cherished that perfume and used it very sparingly so it would last as long as possible.
On June 24, 1958, legendary WFIL-TV television personality Sally Starr originated her evening 6 to 7 pm telecast from the mound of Connie Mack Stadium. Phillies players and coaches were guests on her program. The occasion was the WFIL Stars Night at the Phillies. Afterwards, fans got to see the Phils lose to the Chicago Cubs, three to nothing.
On December 14, 1954, WHYY-FM came on the air. Westinghouse Broadcasting let KYW-FM go dark and then donated the equipment to the new educational station. The supplied the equipment, transmitter and tower. John Ullrich who previously worked at WCAU-TV (on shows like Action in the Afternoon) was WHYY-FM's program supervisor.
During the summer of 1951, WFIL-TV air personality Chief Halftown was hosting a program called, "Pony Express." The daily program offered a drawing for a live pony. The station received over 7,000 cards and letters within a three day period. The contest had children identify different animals.
We received an e-mail from Chuck Goudy, a visitor to our website. He contacted us because his grandfather, Charles Aloysius Goudy (usually called "Hank") was mentioned in an article we had on our website about WIP Radio in 1924. If you are interested in reading it, you can find it here! Well, anyhow, he asked if we had any additional info about his grandfather. We didn't but Chuck was able to supply us with some additional information. Chuck wrote:
Granddad Charles ("Hank") and his new bride Rosa (Grandma) spent a year in the Orient in 1929 or 1930. My Dad was born in January 1931, and later made recordings of indigenous music for (I believe) RCA. They went to Japan, Vladivostok, Korea, Vietnam, China, Hong Kong, etc.

By the way, the story I was told by Dad when I was a kid was that before joining RCA, Granddad worked for (a well-known Lab) and invented the permanent magnetic speaker in his basement during his own time, and (the company) claimed the patent because he was an employee, so he left in disgust and joined RCA. Don't know how accurate that story is, but that's what I was told.

Lastly, he had only a high school education, and had to work his way through high school because his father didn't think a high school diploma was worth anything. Eventually he was the head of development at RCA and reported directly to David Sarnoff.
THANKS FOR THE MEMORIES:
Stories from the WFIL Staff Bulletin!
Friday, November 1, 1946
Leroy Miller Returns Monday
Leroy Miller has recovered from his recent illness and expects to be back at the microphone Monday morning. It'll be great to have him back with us. Many thanks to Tom Moorehead for his swell job as a pitch-hitter, and to Ruby Cooper for building the shows.
Special Election Coverage
WFIL, WFIL-FM and the Inquirer are cooperating to broadcast the election returns beginning at 8:30 pm Tuesday night. We will make remote pick-ups from Carnegie, Harrisburg, Gettysburg, Philadelphia party headquarters, the Inquirer and two points in North Jersey.

Both stations will be on the air with the extensive coverage, and a huge election tabulation board is being set up in Studio B.

All staff members are asked to cooperate to make this the best election night broadcast we have had to date.
Amateur Night on "Hoedown"
"Hayloft Hoedown" will conduct another of its popular amateur nights at Town Hall, Saturday, November 2nd. The cast staged a special show at the Manufacturers' Club, Halloween Night.
New WFIL-FM Shows
Mil Spooner is now featured on WFIL-FM at 4:15 pm, Mondays, Wednesdays and Fridays. Charles Sansone presents a piano program Tuesdays at 4:15 pm.
Anice Ives Guests
Donald Burr, Roxborough Community Council president - Tuesday
Representatives of the Coast Guard League - Wednesday
New Personnel
Mrs. Dorothy Reiss has joined the staff of the Sales Department
Morgan Show on WFIL 10:30 pm Wednesday
Beginning Wednesday, November 6th, "The Henry Morgan Show" will be heard on WFIL at 10:30 pm. Remind your friends to listen to WFIL's terrific "Bingsday" lineup:

9 pm - The Affairs of Ann Scotland
9:30 pm - Pot O' Gold
10 pm - Bing Crosby
10:30 pm - Henry Morgan Show
New Time for Frank Kingdon
Effective, Monday, November 4th, Frank Kingdon's commentary on the news will be heard on WFIL at 7:15 pm. Monday through Friday.
"Veteran's Board" Thursday
"The Veteran's Information Board," WFIL's new half-hour program for ex-servicemen, will be heard each Thursday at 9:30 pm effective November 7th.
Sport Notes
Friday, November 1 - 11:15 pm - Ambler vs. Quakertown high school football

Saturday, November 2 - 11 am - Sports Clinic with "Cap" Cappon, assistant Princeton coach as guest. Also the Venango Midgets and Shelmire Jayvees.

Saturday, November 2 - 7:15 pm - School Boy Sports with Northeast and Southern High Schools. Howard Berry, former Penn grid star as guest

Saturday, November 2 - 11:15 pm - Ice Hockey. Philadelphia Rockets vs. Indianapolis

Sunday, November 3 - 6:45 pm - Frank Reagan, ex-Penn back guest of Don Kellett

Monday, November 4 - 6:30 pm - Primo Carnera, wrestler and former heavyweight boxing champion, guest of Tom Moorehead (a former President of Broadcast Pioneers)

Wednesday, November 6 - 11:15 pm - Ice Hockey. Philadelphia Rockets vs. Hershey

Thursday, November 7 - 11:15 pm - Basketball. Philadelphia Warriors and Pittsburgh
"Campus Quiz" Schedule
Wally Butterworth and Tom Moorehead take their new "Campus Quiz" to the Manor Theater , Prospect Park, Tuesday at 9 pm. Contestants will be teams from Collingdale and Glen-Nor high schools. A juke box and special prizes will be awarded.
IT WAS FM RADIO, BUT WE CALLED IT WI-FI!
Awhile ago, we asked Broadcast Pioneers member Mel Gollub to write a more detailed bio about his career in broadcasting. On radio, he used the air name Mel Stewart" and he owned WIFI Radio here in Philly. Here's what he wrote:
I was a radio dial twister in 1944 at age 15. I enjoyed listening to various Philadelphia AM stations from my West Philadelphia home. One facility, WHAT, invited visitors. It had a new owner. William Banks purchased it on February 12, 1944 for $22,500 with a small studio and office on the 5th floor of the Public Ledger Building at 6th and Chestnut Street, Philadelphia.

The General Manager was Milton Laughlin. He was the previous owner's GM who stayed until Billy Banks installed his sister, Dolly Banks in that position. Eventually Banks removed the operation to 1505 Walnut Street, Philadelphia.

The aforementioned "visitors welcome" radio station prompted me to hang out on a few April Saturday afternoons. On one of these days, Milton Laughlin asked me whether I wanted to work every Saturday afternoon as the audio board operator/announcer. Of course, I jumped at the opportunity. Laughlin gave me a quick beginner's course on how to function in my new role. He also advised me to use a different air name thereby my choosing the name "Mel Stewart".

I stayed with WHAT part-time from 1944 to 1946. When I graduated Overbrook High School, I switched to full time for one year. I decided to leave because full-time changed my status to an evening audio board operator for foreign language and religious broadcasts with limited announcing duties.

I went to WNAR in Norristown as a D.J. from 1947 until late 1948. However, I realized that my employment as an audio board operator/announcer had little to offer for the future. I was jealous of my many Wynnefield friends who attended Overbrook High School with me. They were about to enter their 3rd year of college.

I noticed an ad stating that Rider College in Trenton, N.J. had immediate openings. I jumped at the opportunity by giving WNAR two weeks' termination notice. The Rider College campus was near radio station WTTM. On the day I visited the WTTM program director, he told me that his 6 a.m. to 9 a.m. morning personality, Ernie Kovacs, was also required to do station breaks between network broadcasts from 9 a.m. to noon. During this time, Kovacs wanted to take a wire recorder to do street interviews for playback on his morning show.

I was asked to do about one to two hours a day of station breaks so Kovacs could hit the street. I was only able to do it for a few weeks because my coming to Trenton turned out to be a hasty, bad decision. I could not afford to purchase an automobile to commute. It took almost two hours each way from West Philadelphia to Trenton, N.J. After one semester of total exhaustion, I had to leave Rider College and my brief WTTM stint.

Here it was the beginning of 1949 and I severed my radio employment and attendance at an out-of-state college. I felt fortunate to be accepted in the fall of 1949 at Drexel Institute of Technology. However, I had almost a half-year of inactivity before starting Drexel. It was the perfect time to seek a summer relief announcer position at a station I admired. That station was WIP. Murray Arnold was the program director. His secretary came to the phone stating that they were auditioning for a summer relief announcer next Monday, Tuesday and Wednesday They were pretty well full-up, however, she would work me in as the last candidate on Wednesday.

I arrived for the audition and was given an approximate 3 minute script of news and commercials to read. I was seated at a desk next to a control window with faces peering out. They gave me the go-ahead to start. After I was done announcing, Varner Paulsen, the assistant program director came in and stated that Murray Arnold wants to see me in his office. I was told that I got the job! Not only did I do WIP summer relief announcing in 1949, I was retained part-time the rest of the year and started full-time in 1952. I left in 1958. Working at WIP was a pleasant experience.

At Drexel, one of my classmates and friends was Chuck Barris. The same Chuck Barris of the "Gong Show" and "The Dating Game." Both Chuck and I graduated in 1953 with a Bachelor of Science degree in Business Administration.

In 1955, I was awarded a Master of Arts degree in Communications from Temple University. My advisor during this stay was John B. Roberts of Broadcast Pioneers fame. He treated me as a colleague not another graduate student.

The 1950s was a dismal period for FM radio stations. Some AM broadcasters thought that AM would remain the dominant player and FM would not succeed. Because of this illogical thinking, many AM station owners turned in their FM licenses. For example, KYW-FM (92.5) in Philadelphia left the air for undisclosed reasons on August 18, 1953.

I thought that this was the time to own a radio station. Why not apply to the Federal Communications Commission to start FM broadcasting again on 92.5? I did just that in 1957 and sought permission from the F.C.C. to use the call letters WIFI. I used the slogan: "HI-FI on WI-FI" starting in 1958. "The term "WI-FI" (for the Internet) was commercially used (in) August 1999."

In 1961, I built, owned and operated Atlantic City's first FM station: WRNJ (95.1) atop the Ritz Carlton Hotel. In 1975, I built, owned and operated WLRB (92.7): the first FM licensed to Rehoboth Beach, Delaware.
A Visit with "The Greatest"!
Member Don Bustard wrote this about his time with Muhammad Ali. Don wrote:
I first became aware of the young Cassius Clay - he was 18 - when I attended a sports press conference in his honor in the summer of 1960. Cassius had just returned to Philadelphia from the Atlanta Olympics where he had won the gold medal as a light heavyweight boxer. He was a handsome young man, bright, articulate, but brassy, who kept everyone amused talking about butterflies and bees.

Fourteen years later, on August 9, 1974, my cameraman partner and I visited Muhammad Ali at his training camp at Deer Lake in the Pennsylvania Poconos. Mike Boyer and I were a two-man news film crew on assignment for the Mike Douglas Show to film a story for the program. Boyer was the film cameraman and I was the sound-on-film man. We had driven up from Philadelphia, getting to the camp shortly after 8:00 in the morning.

Mike and I were escorted to the gym building, where Muhammad was talking to a salesman. The salesman was trying to sell Ali, of all things, a personal helicopter. He kept saying, "You can get to New York City from this camp in less than 45 minutes." It was wasted time; Muhammad didn't like to fly. After the salesman left, Ali greeted both Mike and me and we sat down with doughnuts and coffee, watching the Today Show on TV. After 9 am, Ali gave us a tour of the boxing camp. Mike and I shot some background film waiting for Mike Douglas to arrive.

Shortly after 10 am, Mike Douglas arrived in a long, black chauffeured limo. With Douglas was one of his show's producers, whom Mike and I knew as a former KYW-TV sports producer. After all the greetings, we got down to work. We filmed a long interview with Ali and Douglas. We also filmed a few members of Muhammad's family. Then it was time to move to the full-size outdoor boxing ring. A sunny day!

BROADCAST PIONEERS NOTE: While Don had identified the producer as Merrill Reese, Reese says he never worked on the Douglas show. However, there was a Douglas producer named Merrill Mazuer who was a producer with Mike Douglas. That's who came to the training camp with Douglas.

Muhammad changed to his boxing shorts, and Douglas changed to his tank top and long shorts. The the five of us marched down to the outdoor ring. Mike Boyer and I slipped under the ropes with our portable film gear onto the canvas. Then Douglas joined us in the ring. Ali was wearing standard boxing gloves; Douglas was wearing oversize gloves. I think they were pink.

The two men sat on small stools in neutral corners. Almost at once, Merrill, the producer, rang a bell. Ali and Douglas jumped up and went to the center of the ring. They touched gloves, then both laughing, they started to dance around the ring. Ali, of course, was smooth and graceful, and to my amazement, Douglas, middle-aged, was moving along with Ali. It wasn't until years later that I discovered that Mike Douglas had been an amateur boxer.

Both men were shouting and throwing wild and fake punches. Ali was very playful, even throwing punches directly at the camera, and he threw a few wild shots in my direction. Now I was not afraid, but I did become concerned. After all, I was in a boxing ring with a man in his prime - Ali was 32 - and this man had been the world's heavyweight champ. He was in training for a title fight with Foreman in Zaire, Africa. That was the fight the press called the "Rumble in the Jungle." Ali upset Foreman in October and regained his world's title. My concern was the fact that "accidents do happen," especially when grown men are fooling around. And as my 45th birthday was coming up at the end of the month, I didn't want to spend it in a hospital.

After 6 or 8 minutes, Merrill rang the bell again, and the fun fight was over. I felt saved by the bell! Everyone seemed to be pleased with the fun fight. As we walked to the house to change, Ali kindly invited us to join him and his family for lunch. Of course we accepted! As we arrived at the lunch, the family was already eating. It was a loud and happy family. The children were joking and laughing with each other. It was plain to see there was a lot of love in that room. The phone rang. The telephone was located on a small footstool in the corner. One of Ali's daughters answered the phone and calmly said, "It's Elvis, Dad!" The room grew quiet as Ali walked to the phone.

As we listened to Muhammad talking to Elvis Presley on the phone, it became obvious that the two men were close buddies. Years later the Mercer Museum in Doylestown, PA, researched and did a special exhibit on the relationship between Elvis and Ali. Back at the luncheon, Mike Douglas, realizing that it really was Elvis Presley on the phone, joined Ali at the telephone, grabbing the phone from Ali's hands. Ali just smiled. Douglas fell to his knees at the footstool and pleaded with Elvis to be on his show. As my partner, Mike Boyer, and I were still at the luncheon table, we both started to snicker because we were sure that Elvis would never be a guest on the Mike Douglas Show. As I remember, he never was!

At the beginning of this talk, I gave the date when I visited Ali's training camp. It was August 9, 1974. It was an important day in American history. When Mike and I were having doughnuts and coffee with Ali in the morning watching the Today Show on TV, the network suddenly went live to the White House. Ex-President Nixon had just resigned and was leaving the White House for the last time. As Nixon walked across the green lawn, we were all stunned into silence. Then Nixon entered the door of the waiting chopper. He turned and waved. There appeared to be a few tears rolling down his face. The chopper door closed and very quickly it took off. We were still speechless when Ali summed up the moment, in just four words, and I quote,"Grown men don't cry."
OUR HATS OFF TO YOU FOR GIVING:
We would like to thank the following for giving us a donation at our October luncheon: Eric Address, Mike Bove, Diego Castellanos, Marc Howard, Bill Kelley, Bob Kravitz, Dorie Lenz, Hal Lipman, Robin Mackintosh, T. Morgan, Steve Sacks, Elaine Skypala, Steve Tatz, Steve Weigner and Gerry Wilkinson. Special thanks to new member Dave Frankel for his nice contribution when he joined.

We are a federally recognized, state chartered charity with a 501(c)(3) status. Contact us at (856) 365-5600 or e-mail
pioneers@broadcastpioneers.com
for more details. Your gift to Broadcast Pioneers will help us and may lower your federal income tax. That's win-win, isn't it?
Special Thanks (in alphabetical order) for the gift of Appreciated Stock: (a federal tax advantage for the giver)
Member Marc Howard - $3,600 (put into our general fund to be used where needed)
Member Sylvia Kauders - $5,159.45 (used for the scholarships listed below)
Member Dan Lerner - $5,217.80 (used for the scholarships listed below)
Special Thanks (in alphabetical order) for contribution of $1,000 or more to our DAP, Digital Archival Project:
Member Elliot Abrams - $1,000
Member Jerry Del Colliano - $1,000
Member Johnny B. Hall and wife Ginny - $3,000
Member Harry Hurley's Golf Tournament - $1,000
Member Marlin Taylor - $1,000
Special Thanks (in alphabetical order) for April 2017 Scholarships:
Member Johnny B. Hall and his wife, Ginny - 7 scholarships
Member Harry Hurley's Golf Tournament - 1 scholarship (for a Stockton University student)
Member Sylvia Kauders - 1 scholarship (from a grant for 5 yearly scholarships running until 2019)
Member Kal Rudman - 5 scholarships (for Temple University students)
Member Marlin Taylor - 1 scholarship
Special Thanks (in alphabetical order) for a contribution of $500 or more to our DAP, Digital Archival Project:
Member Esther Kurtz - $500
Member Art Moore - $500
Bequests in their Will:
Member Sylvia Kauders passed away earlier this year. In her will, she bequest to the Broadcast Pioneers of Philadelphia, the amount of $5,000. This funding is to be used to underwrite one scholarship per year until gone. These scholarships will start in the year 2020 and continue until 2024. From a previous gift, Sylvia has underwritten one scholarship a year starting in 2015 and continuing until 2019.

Member W. Carter Merbreier passed away a couple of months ago. In his will, he bequest to the Broadcast Pioneers of Philadelphia, the amount of $1,000. This funding is to be used to underwrite one scholarship which will be awarded in April of 2017.
W. Carter Merbreier Scholarship Fund:
The family of Captain Noah had asked (in the Philadelphia Inquirer) that donations for scholarships in the memory of W. Carter Merbreier can been made to The Broadcast Pioneers of Philadelphia Scholarship Fund. We would like to thank those you have donated: Joyce Haas (Mrs. Harry Haas), Karen Strauss, Art Moore, Elaine Skypala, Marc Howard and Mushinski family, Steve, Hank and member Liz Matt.
Extra Gifts included with Membership Renewals:
We would like to thank the following who included an extra gift with their membership renewal. The latest gift came from the following member: Joe Tarsia.
Underwrite a complete scholarship and we'll give you credit in the electronic newsletter until the scholarship is awarded in April of 2017. Give us a donation of appreciated stock of $2,000 or more) and we'll list you in our "Thank You" column for two years. Give us a donation of $1,000 or more and we'll list you in our "Thank You" column for a year. Give us a donation of $500 or more and we'll list you in our "Thank You" column for six months. You can select how we use the money: for our archival project, for scholarships or for our general fund to be used as needed.
More Thanks:
A growing portion of the revenues that fund the different activities of the Broadcast Pioneers comes from donations. This includes our archival project and our scholarship program. Now, we are making it even more beneficial for our donors. Broadcast Pioneers is now able to accept gifts of appreciated stock, which provides a significant tax benefit to you. By giving appreciated stock (stock which is worth more now than what it cost when it was purchased), you can get a charitable contribution tax deduction based on the current market value of your stock. At the same time, you avoid the capital gains
tax that would arise if you simply sell the stock. So if you'd like to support our educational mission or our archival project and save money on taxes too, please consider making a gift of appreciated stock. We are a federally recognized, state chartered charity with a 501(c)(3) status. Contact us at (856) 365-5600 or e-mail pioneers@broadcastpioneers.com for more details.
Don't be left out. You too can make a pledge. It's never too late. You can earmark it for scholarships, our Digital Archival Project or our general fund. Thanks so much for your support. If you forgot to make an extra contribution (cash or memorabilia) and would like to do so now, you can do so. We would be thrilled to hear from you at: PO Box 2886, Bala Cynwyd, PA 19004, call us at (856) 365-5600 or e-mail us at: pioneers@broadcastpioneers.com.

A FINAL THOUGHT....
"Broadcast Pioneers CEO Gerry Wilkinson, who just turned 11 years old when Shock Theater and John Zacherle went on the air, remembers fondly how all the sixth graders loved Roland, the character that John played. It even entered into the schoolyard (not graveyard) games. Once, his schoolmate got into trouble for trying to drive a stake (a ruler) into one of the girl's stomach. 'He' was Roland and she was 'My Dear.'"

Please contact us by e-mail at newsletter@broadcastpioneers.com or by mail to: Broadcast Pioneers of Philadelphia, PO Box 2886, Bala Cynwyd, PA 19004. Your stories are important, to you, to us, and your colleagues. Contact us today and we'll include your story in the next newsletter!

© 2016, Broadcast Pioneers of Philadelphia
All Rights Reserved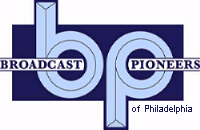 The e-mail address of the Broadcast Pioneers of Philadelphia is pioneers@broadcastpioneers.com
For luncheon reservations call (856) 365-5600 or e-mail us at: rsvp@broadcastpioneers.com