| | |
| --- | --- |
| | Broadcast Pioneers of Philadelphia is a federally recognized, state chartered 501(c)(3) non-profit organization serving the Philadelphia Broadcast Community since January of 1962. |
Our Annual Fundraising Banquet
The Hilton Hotel - City Avenue
Friday evening, November 17, 2017

Doors Open at 5:45 pm!
Reception Starts at 6 pm!
Dinner Served at 7 pm Sharp!

Tickets are:
$88 each for our members!
$98 each for everyone else!
Our 2017 Annual Hall of Fame
and Person of the Year
Fundraising Banquet!
Friday evening, November 17, 2017
JUST 16 DAYS AWAY!
BRING THE FAMILY!
TICKETS ON SALE NOW!
ORDER YOURS TODAY!
MAIL ORDER ONLY!
NO CREDIT CARD SALES!
ABSOLUTELY NO TICKETS AT THE DOOR!
It's the event of the year. It's a WHO'S WHO of Broadcasting. Everyone, pretty near, who's anyone will be there. Don't be left out. Send for your tickets now. Once they're gone, they're gone. It's our annual banquet. We honor our "Person of the Year" and our inductees into our "Hall of Fame." ABSOLUTELY NO TICKETS AT THE DOOR!
It's a family type event. Bring your parents, your children, your spouse, the rest of your relatives and all of your friends. It's that type of event. Make plans to be there.
"HALL OF FAME" LIVING HONOREES!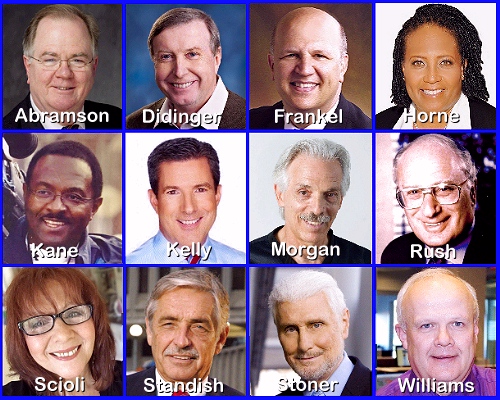 Dave Abramson, Chief Engineer for the Phillies, former WPHL Director
Ray Didinger, sports producer, writer, author and WIP air personality
Dave Frankel, former 6 abc & CBS 3 Weather Guy and News Anchor
Charlene Horne, editor, videographer, CBS 3 Video Editing Supervisor
Pete Kane, WCAU-TV, NBC 10 photojournalist for a third of a century
Bob Kelly, morning Traffic Reporter for Fox 29's "Good Day Philadelphia"
T. Morgan, well-known area air personality and programmer for 50 years
Herman Rush, former Chairman and CEO for Coca-Cola Communications
Karen Scioli, Saturday Night Dead's Stella/Production Coordinator for COPS
Dick Standish, reporter for KYW Newsradio & CBS 3's Eyewitness News
Pat Stoner, theater and film critic for WHYY and syndicated "Flicks" program
Rick Williams, Executive Producer for WPVI's evening Action News shows
"HALL OF FAME" POSTHUMOUS HONOREES!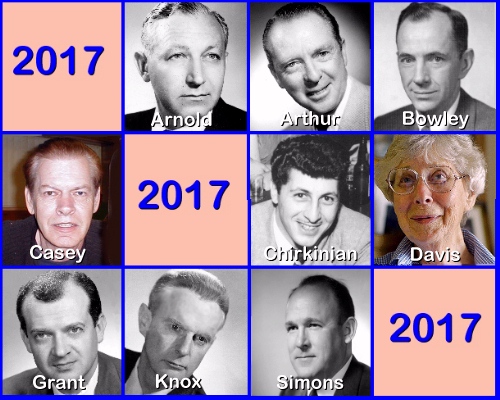 Murray Arnold, former station executive for radio stations WIP and WPEN
Doug Arthur, well-known air personality for decades on WIBG & WCAU
Ray Bowley, WPTZ Chief Engineer and Westinghouse Director of Engineering
Jonathan P. Casey, well-known South Jersey area air personality & programmer
Frank Chirkinian, CBS Sports Director & Producer, previously at WCAU-TV
Betty Killner Davis, W3XE/WPTZ television performer from 75 years ago
Mike Grant, former WCAU Radio announcer and station Program Director
Bob Knox, WIBG's The Gray Ghost, area newscaster and station disc jockey
Keneth Simons, pioneer of the development of cable television in the U.S.A.
TICKETS MUST BE PURCHASED IN ADVANCE
AND ARE ON SALE NOW!
2017 PERSON OF THE YEAR!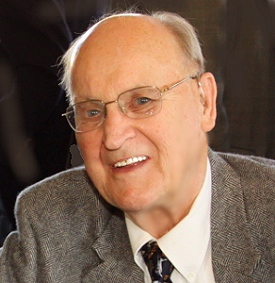 Broadcast Pioneers member Ralph "Bud" Galow
Broadcast Pioneers member Ralph "Bud" Galow worked for over four decades at KYW Radio. He engineered the very first KYW Newsradio "all news, all the time" newscast in September of 1965. Three months earlier, he was at the controls when WRCV Radio became KYW Radio. Galow is the first engineer/technician ever to receive the honor of "Person of the Year" from Broadcast Pioneers.
MORE BANQUET INFORMATION!
Our co-emcees this year are Dom Giordano and Pat Ciarrocchi. The Star Spangled Banner will be sung by Member Bob Kravitz and the Invocation will be by delivered by Member Bill Kelley. At the piano for the entire evening will be Member John Primerano.
Ticket prices are $88 for members (each member can buy ONLY one ticket at the member price) and $98 each for everyone else (including spouses, friends and guests).
The event will once again take place at the Hilton City Avenue, 4200 City Avenue, Philadelphia. The date is Friday, November 17th. The reception is at 6 pm and dinner is served at 7 pm. Doors open at 5:45 pm. Cash bar all night long. Valet parking is $10. Event lot parking is $5. THIS EVENT IS OPEN TO THE PUBLIC!
Make plans to be there! A major portion of the ticket price may be deductible on your federal income tax. Ask your tax advisor for details! Tickets must be purchased in advance. Absolutely no tickets available at the door.
DINNER MENU (Subject to change)
Salad:
Tossed Garden Salad with Raspberry Vinaigrette or Ranch Dressing
Entrée:
Boneless breast of chicken, apples and seasoned corned bread filling with plenty of pan gravy. Seasonal vegetables and roasted potatoes with warm bakery rolls and creamery butter.
OR

Vegetarian entrée tower, cous cous and tomato basil sauce. Seasonal vegetables and roasted potatoes with warm bakery rolls and creamery butter. (If you prefer the vegetarian meal, just tell your server.)
Dessert:
Lemon cheesecake with strawberry sauce
OR

Fruit cups (these are very limited and are for those on special diets only)
Drinks:
Fresh brewed coffee, decaffeinated coffee, tea and water
Cash bar all evening long
WE'LL BE PROUD TO SEE YOU IN THE CROWD!
Reminder!
Please don't forget our BIG 52nd annual Person of the Year/Hall of Fame Banquet on Friday, November 17th. The ticket(s) order form is above. This is our BIG fundraiser of the year! We appreciate YOUR continued support.
Can't make it? YOU CAN STILL HELP!
You can make a contribution right now and it will be included in the total amount raised during this main fundraising event for this year.
YOU CAN BE A PART BUT HURRY
BEFORE IT'S TOO LATE!
DON'T BE LEFT OUT!
With your support, Broadcast Pioneers mentors area college students. We run an annual college student symposium each spring at a major Philadelphia TV station. We award scholarships to area students. In April, we presented twenty $1,000 scholarships and are committed for another twenty in April of 2018.
VERY IMPORTANT! We maintain a digital & hard copy archive of Philadelphia Broadcasting. This includes 6,000 local TV programs, 12,000 area radio broadcasts and 42,000 photographs. This is becoming a more and more expensive project. Your funding is very much needed in order for this project to continue.
YOUR FUNDING helps us preserve the rich broadcast history of our wonderful Philadelphia market! Time is quickly running out!
WE CAN'T DO IT WITHOUT YOU!
Again, this may be your last chance to show your support for everything we do this year. Even if you don't buy a ticket or two, you can still make sure that you are counted in the main fundraiser of the year. Thank you! Contributions in any amount can be sent to:
Broadcast Pioneers
P.O. Box 2886
Bala Cynwyd, PA 19004

Visit Our Website Often - http://www.broadcastpioneers.com
You should check the front page of our website often (link above) for important information!
Tune in to our YouTube Channel - http://www.broadcastpioneers.com/youtube
Our YouTube Channel has all our luncheons, exclusive interviews and archival material!
Check out our Facebook Page - http://www.broadcastpioneers.com/facebook
There are things on our Facebook Page that are NOT on our website (like our vintage photo of the week)
Go to our Twitter Account - http://www.broadcastpioneers.com/twitter
The Broadcast Pioneers Twitter Account has info and stuff not available elsewhere!
Go to our Instagram Section - http://www.broadcastpioneers.com/instagram
Here's another one of our social media sections. Visit it as often as you wish!

DIGITAL ARCHIVAL PROJECT NEWS:
VIDEO: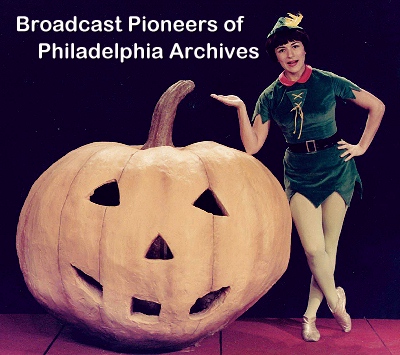 Jane Norman did it all! She was a singer, composer, writer and television personality. She began her musical career at age three, and at age eight one of her compositions was performed by the renowned Philadelphia Orchestra.
She went on to create and star in the nationally syndicated award-winning television show PIXANNE, which received a 12 rating and 62% share of audience when it aired on CBS, where it out-rated every other program, including soap operas and early evening news-a rare TV phenomenon.
With a handful of "pixie dust" and an ocean full of talent, Jane Norman flew into the hearts of millions of children who watched her as PIXANNE for 17 years on local and national television.
Speakers at our October luncheon, honoring Jane Norman, included: Jerry Blavat, Ed Cunningham, David Madden, Jim Craine, Steve Ross and Jim Murray. Liz Stadler, Jane Norman's granddaughter was there. She presented Jane's original Pixanne costume and other memorabilia to the organization for the Broadcast Pioneers Archives. The date of this tribute luncheon was Wednesday, October 18, 2017.
(video courtesy of Broadcast Pioneers VP Brad Seecof and Metramedia Broadcasting & Studios)
AUDIO:
Here's a piece of audio from WIBG, Radio 99. It dates from Tuesday evening, January 8, 1963. The air personality was Bob Knox, the Gray Ghost. This comes from the 10 pm hour. It was recorded off air and if you listen carefully, you can hear some crackles and pops related to AM radio.
Since we cannot air music because of licensing problems, we have strung together some commercials, newscasts, editorials and other things for you to hear. There's an editorial done by the station's news director Jerry Grove. Remember, these pieces did NOT air back to back. We put it together like that just so you can hear some of WIBG from its days of glory.
Listen in Real Audio
Listen in Windows Media Format
On Tuesday, December 3, 1974, Broadcast Pioneers members Ed Sciaky and T. Morgan interviewed Elton John by telephone, on WMMR Radio. Elton was in Philly for a two-show performance; one was the night before and the other that evening. During this interview, he talked about his song, "Philadelphia Freedom," and how it was sort of a tribute to his friend, Billie Jean King, who was part of the Philadelphia Freedoms tennis team. The tune had not yet been released at the time of this interview.
And now a little about this recording.... Our audio was mastered direct from the reel-to-reel tape which was recorded at the WMMR studios off the main studio's console. The audio we have in our archive is 16 minutes and 41 seconds long. It begins in the middle of the interview and the tape ends while the interview was still going on. Does anyone have more of this interview? If so, please e-mail us.
What we are presenting is basically the audio from this tape. We have removed the song played during the middle because of music licensing restrictions. Other than that, everything is intact. There were some clicks and pops that were from the phone setup at the station. These have been removed. Also, the audio level has been adjusted. When talking on this type of phone setup, the audio of the person on the other end (Elton John) is lower for a second or so and then rises. We have adjusted these levels raising Elton's level as much as 16 dbs in places. This gives the listener a much smoother sound. Remember, that the station's audio chain would have corrected the levels to an extent but our master was recorded before entering the audio chain. The tape was found in Member Judy Sciaky's basement (Ed's widow), where it has lived for most of the third of a century since this recording was made.
Listen in Real Audio
Listen in windows Media Format
Today's News Becomes Tomorrow's History!
(This is what our Digital Archival Project, DAP, is all about!)
A LITTLE BIT OF BROADCAST HISTORY!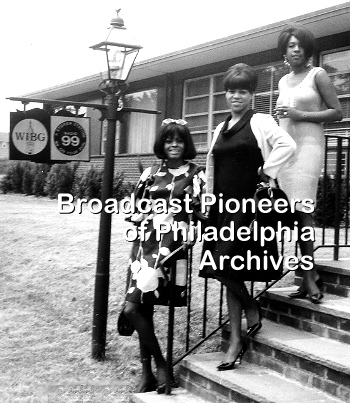 The Supremes
visit WIBG, Radio 99
Lafayette Hill, PA
(station licensed to Philadelphia)
(Photo originated donated by Bonnie and Joe Silvestri)
Did you know...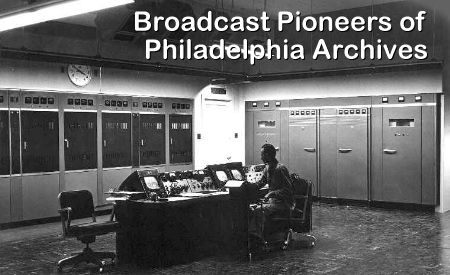 The RCA TT50-AH Television Transmitter & the GE WCAU-FM Transmitter
WCAU-TV and WCAU-FM
1954
This 1954 picture shows the RCA TT5-A 5KW Television Transmitter, which became the Auxiliary Transmitter when transmitter facilities moved to Roxborough. The TT5-A and the TT50-AH were both scrapped in 1979 and 1980 when two new RCA TT50-FH transmitters were installed. Since the FH models are both full power WCAU no longer has a Main and Auxiliary Transmitter but instead a Main and an Alternate Main Transmitter.
The RCA TT5-A was brought from the WCAU transmitter site at the PSFS Building when the transmitter was moved to Roxborough in May of 1954. The TT5-A was only the auxiliary transmitter during the time Channel 10 had the TT50-AH, which was at the Roxborough location. When it was at the PSFS location, it was the main transmitter and the station had no auxiliary.
A part of the RCA TT50-AH 50KW Main TV Transmitter can also be seen on the right (four panels). The Technician at the operating console, according to longtime WCAU-TV technician Charlie Higgins, is Ed Hill, Al Bizik or Ken Hahn. By the way, Charlie also said that he thinks that the TT5-A transmitter, when scrapped, was shipped to South America. A number of those models were still in use at that time by our neighbors to the south.
The 1954 picture shows the rest of the new RCA TT50-AH Main TV Transmitter (left) and the GE FM Transmitter of 10KW power (right), also brought from the PSFS site.
Here is a little information about the RCA TT50-FH transmitters which were purchased by Channel 10 and installed in 1979 and 1980. The last unit of this TT50-FH model was shipped by RCA in February of 1981. The first one shipped was in October of 1971 with the transmitter version being designed in the late sixties. The RCA TT50-FH had a solid state exciter driven by crystal oscillators.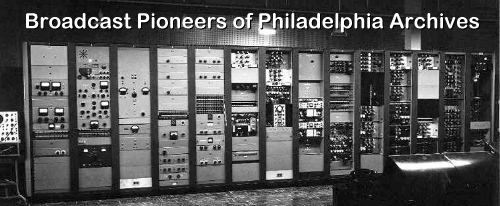 Terminal Equipment Racks
WCAU-TV
1954
Its aural exciter was conventional direct FM modulation while the visual had a rather unique RCA designed diode modulator. The amplifier cabinet contained three tubes. Two were for visual, consisting of a visual predriver and a final while the aural had one final amplifier tube. 127 stations world-wide purchased the TT-FH; some were TT50-FH. There were also four other versions which were TT-17FH, TT-25FH, TT-35FH and the TT-75FH. The very first television transmitter manufactured by RCA was the TT-2AH.
Ron Wood, a visitor to our website e-mailed:
I worked at The RCA Meadowlands, PA factory from 1969-1972 and was on the design crew for the TT50-FH. I did a lot of the work on the diode modulator. I also traveled to Iowa where the first TT50-FH went to WHO, Des Moines, and helped the RCA Field Engineering crew with installation and turn-on. We needed to help in the field with the first one because full documentation wasn't ready quite as soon as the hardware. I've been retired from electronics engineering for about 10 years now.
Mike Melnyk, a visitor to our website and our luncheons e-mailed:
I was a transmitter engineer starting in 1966 when I was 21 years old and worked on this transmitter. The problems I remember were the screen caps on the final amplifier shorting and the 6146 in the visual modulator that were laying down having a short life. We changed them every 9 weeks to prevents loss of airtime. I still have one of the rectifiers out of the 5800 volt supply, a 857B. I remember the rectifier cabinet, seven tubes, a full wave three phase bridge plus a hot spare. That was the "good old days," really enjoyed that job and use to climb up 1000 foot tower as well.
We will continue this story in our December 2017 electronic newsletter. Special thanks to Charlie Higgins for his hard work in this piece.
Our special thanks go to TUTV - Temple University Television and The Kal & Lucille Rudman Media Production Center.

They have underwritten a grant to be used to fund an entire year of all our newsletters for calendar year 2017. We thank them so much for their support!

You Can Help Us!



When you log into Amazon via http://smile.amazon.com, all eligible purchases earn Broadcast Pioneers a donation of 0.5% from Amazon. However, you must log in to Amazon through http://smile.amazon.com. We have made it simple. You can also log into them using http://www.broadcastpioneers.com/amazon. It's easy to remember and takes you to the same place.
AmazonSmile is the same Amazon you know. Same products, same prices and the same service. The only difference is that they donate 0.5% of your eligible purchases to Broadcast Pioneers. IT DOESN'T COST YOU ANY MORE TO DO THIS! Same price to you and we get a donation to help us continue with all our great educational projects! IT'S WIN - WIN!
MORE DIGITAL ARCHIVAL PROJECT NEWS:
VIDEO: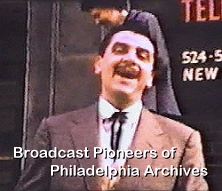 Ernie Kovacs outside CBS Television
West 57th Street, New York, NY
circa 1953
Here's a brief clip from 8 mm color home movies shot in 1953. You'll see the McGuire Sisters and Julius La Rosa from the Arthur Godfrey TV and radio show following by footage of Ernie Kovacs and Andy McKay (the genius behind the genius) outside of the CBS Television studios in New York City. The movie was sent to us by Lynne Gill. Her ex-husband's uncle was Channel 3 booth announcer Earle Gill. Lynne e-mailed:
Looking at the film and the type of clothing, I would guess it was taken in the late spring (or) early summer. I have correspondence from Ernie to my mom dated 1953. The movie was taken by my Mother and/or my Dad. It was one of our home movies. I think she lost contact with him (Kovacs) after he moved to California.

The ladies in the film with Ernie were my mother and her lady friends. My mom was Evelyn Gondolf. Since it was our camera, I assume my Dad, Gus, took the movie.
We can tell you that the film dates before October 19, 1953. It was on that date that Julius La Rosa was fired by Arthur Godfrey live on the air. Since we see "Little Godfreys" (that's the nickname of members of the Godfrey show) leaving the building, we can assume that both the McGuire Sisters and Julius La Rosa were on the Godfrey program. So that would have to be before the October date. This would have been about a year or so after Ernie left Channel 3 here in Philly to head to the Big Apple.
While the Godfrey show was on the network (with both radio and TV segments), Ernie Kovacs was doing an early afternoon program on WCBS-TV, New York, out of the same building. Because of the broadcast periods of the two broadcasts, we estimate the time of the film to be around 11:30 to 11:45 am. We have color corrected (the best we could) the film.
AUDIO:
One of the great singing legends of all time was Andy Williams. It's been a little over five years now since Andy passed away and we thought this would be a good time to present to you an interview done with Williams in 2009 by another legend. This one is still with us and his name is Ed Hurst, a member of Broadcast Pioneers. This aired as part of "The Steel Pier Radio Show" and was produced by member Don Hurley.
Andy was, of course, a big vocalist for decades and had his own television show from 1962 to 1971. He won three Emmys for outstanding variety presentation. He also had six Grammys to his credit. For those interested, Williams purchased the entire Cadence label catalog including his own work, plus those of others including the Everly Brothers, the Chordettes, Lenny Welch, Johnny Tillotson and others.
In the early nineties, he opened his own theater in Branson, Missouri in which he performed until his death in 2012. Andy was a personal friend of the Kennedy family and was with Robert Kennedy when Bobby was shot in 1968. Williams sang "The Battle Hymn of the Republic" at Robert Kennedy's funeral.
Listen in Real Audio
Listen in Windows Media Format
On Monday evening, October 9, 1933, there was a major prize fight (boxing match) here in Philadelphia. It was George Godfrey vs. Obadiah "Obie" Walker and the event was held at the Baker Bowl on North Broad Street.

Officially called "National League Park," and owned by the Philadelphia Phillies, it was nicknamed "Philadelphia Baseball Park," "Huntingdon Grounds" and the "Phillies Baseball Park." It was bordered by Lehigh Street and Huntington and 15th Street and Broad with the Reading Railroad via a tunnel running under part of the stadium. It was the world's first baseball park built primarily out of steel and bricks and not wood.

Built at the turn of the century after the first stadium (1887) on this location burned to the ground in1894, the stadium was named after William Baker, Phils owner from 1913 to 1930.

It was at this ballpark in 1935 that the legendary Babe Ruth played his last game of major league baseball. However, what was most interesting about this place happened in 1923. An 11-year-old boy (Reuben Berman) caught a fly ball that landed in the bleachers. At that time, the ballparks made the spectators return the balls, but the lad refused. He was arrested and brought before a judge the next morning, who ruled that the boy had every right to keep the ball as a souvenir and ever since that time, fans were allowed to retain baseballs hit into the stands.

Baker Bowl never saw the Phils play a night game there, but in 1933, there was plenty of electricity all over the place. The reason? The heavyweight fight between Godfrey (former champion of the world) and Walker.

The Godfrey and Walker heavyweight fight was broadcast live over WCAU Radio (1170 on your dial at that time) and the radio announcer was a local guy named Paul Douglas who would later become a big motion picture actor.

Douglas at one time played professional football for the Frankford Yellowjackets who became the Philadelphia Eagles (the "Birds" played at the Baker Bowl for three years.) Paul started at WCAU in 1928.

We have a 23-second audio clip of the fight from the opening of that remote program. We would have loved to bring you more of the broadcast but that's all we have (it was just a short cut on a transcription disc.)
Listen in Real Audio!
Listen in Windows Media!
Remember, History is ONLY What Gets Saved!
(If there were no portraits of George Washington, how would we know what he looked like?)
A LITTLE BIT OF BROADCAST HISTORY!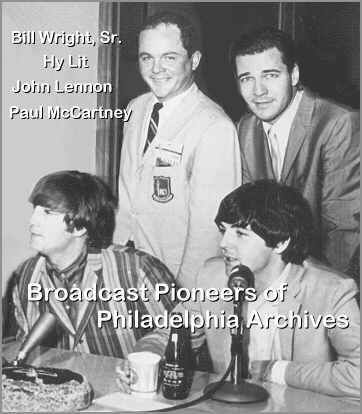 (Standing are member Bill Wright, Sr. and Hy Lit)
(Seated are John Lennon and Paul McCartney)
taken at a press conference in Philadelphia
September 1964
WE REMEMBER:
This past month, we lost several real legends and superstars of rock and roll and soul music. They were Jimmy Beaumont, Jerry Ross and Bunny Sigler. Please see the stories about these greats in our "Thanks for the Memories" column.
Johnny Morris passed away last month. He was 91 years old. He was born and grew up in Connecticut. While in high school there, Johnny worked at a local radio station. Even though the Korean War was over, Morris was drafted and became part of Armed Forces Radio based in Germany. After leaving the service, he continued to for the Armed Forces Network as a civilian. He covered different stories and was based in Europe. He did this for seven years.
During 1964, Johnny Morris went to work in WHWH in Princeton, New Jersey (1350 on AM). He was their sales manager. Then he became involved with the beginning of WPST-FM. Morris became the company's president. Thirty years later, he started Morris Broadcasting and purchased WIMG (1300 on AM) in Trenton, NJ. Johnny was deeply involved in his community. He was a part of numerous local groups including having membership in Broadcast Pioneers.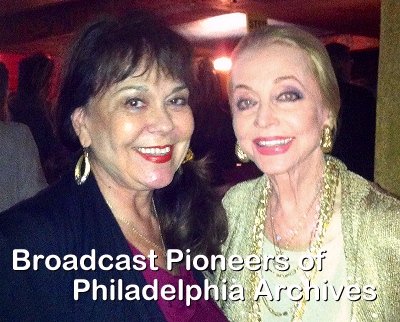 (Left to right) Member Bunny Gibson and Actress Anne Jeffreys
Hollywood, California
2014
At the end of September (but too late to get into our October Newsletter), we lost movie and TV actress Anne Jeffreys. She played Marion Kirby, the female host on the television series, "Topper." She appeared in all 78 episodes. Jeffreys was married to Robert Sterling, the male ghost on Topper. She later was featured in the ABC Soap Opera, General Hospital where she played Amanda Barrington for twenty years. Jeffreys was 94. Member Bunny Gibson (of American Bandstand fame) knew Anne from Bunny's time on the same soap opera.
I had the honor to work with Anne Jeffreys on "General Hospital." She was the elegant and beautiful "Amanda Barrington." I was thrilled to work with her. After all, this was Marion Kerby from "Topper." I'd seen her on "My Three Sons,""Fantasy Island," "Wagon Train" and so many other wonderful television shows.

I was very nervous being a new actress here in Hollywood but Anne was kind and gracious and my scene with her went very well. Years later, in 2014, we met again at Marvin Paige's Memorial in Hollywood. He was the Casting Director that hired both of us. She was still the elegant, beautiful, and gracious lady, now in her 90's, and an icon always.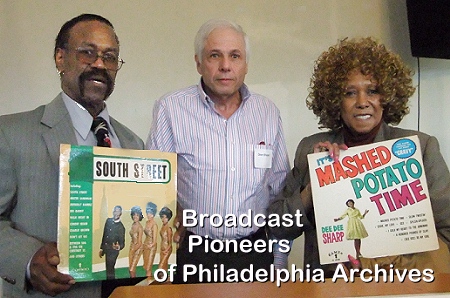 (Left to right) Member Stephan Caldwell of the Orlons
with Member Dave Shayer and singer Dee Dee Sharp
Broadcast Pioneers Luncheon
Bala Golf Club, Philadelphia
Wednesday, December 19, 2012
The date was Monday, May 13, 1963, the first day on the air for WDVR (101.1). Member Dave Shayer was one of the original announcers, and was with the station for a number of years. He was music director from 1969 until 1972.
In the summer of 1967, WDVR's sales manager, Gordon Potter, was named the General Manager at KBMS in Los Angeles. Gordon then asked Dave to join him in the capacity of program and music director. Dave accepted, then traveled to California and transformed the station into a West Coast clone of WDVR.
Dave returned to Philadelphia and WDVR. The travel bug bit again a few years later, and this time the destination was Hawaii, and a slot at KUMU, the top-rated easy listening outlet in Honolulu. While there, Dave joined the Screen Extras Guild and made a few appearances on the locally filmed series "Hawaii Five-0."
Dave's last broadcast employment was with WWSH from 1974 to 1979, where he worked with the late Nels Hobdell. After Dave "retired" from broadcasting, he joined the Service Planning & Schedules department of SEPTA. Dave Passed away in early October.
Dave was, at times, the voice of WDVR (now More FM) on their Station IDs. We have taken three of those IDs from our audio archive and strung them together so you can listen to them. They date from the 1960s.
Listen in Real Audio
Listen in Windows Media Format
Broadcast Pioneers member Mel Klawansky (brother of Lou Klawansky, also one of WDVR's original announcers) told us this about his friendship with Dave:
I've known Dave Shayer since 1963. He and my brother, Lou, were the among the first air staff at WDVR, 101.1 in Philadelphia, so I met him through my brother. Over the years, Dave and I began to hang out together, and in recent years we would go to dinner every Thursday night.

Sometimes my wife, Joyce, would join us. Dave was one of the funniest and kindest people I have known. His quick wit and ability to see things funny before others did was very unique. I lost my brother in 1998 to throat cancer, and Dave became like a brother to me. One of our favorite things was going to Ephrata, PA to shop at the Record Connection, a local record shop there, and then to the Green Dragon Farmer's Market.

On the way home we would stop at a diner for dinner. He loved diners. We did that often. We always had a good time together. I will miss him greatly. He was one of the good guys.

THIS AND THAT! Little Bits of Information....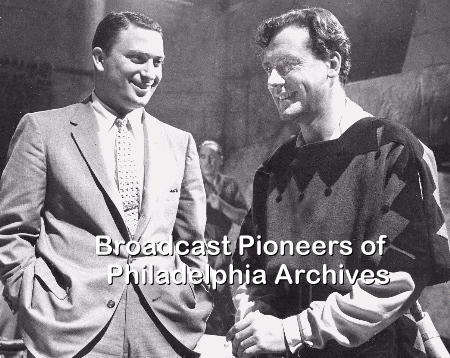 (Left to right) Member Herman Rush with Actor Richard Greene
on the set of the TV Series, "Robin Hood"
The United Kingdom
circa 1956
(Herman worked for Official Films at the time and they distributed the show in the U.S.)
In August of 1944, we found that KYW DJ Stu Wayne was recovering from the flu. He had been ill for a few weeks and was off the air for a spell.
September of 1948 saw WIP's Uncle WIP doing double duty. He was doing morning drive (before there was something called that) on Pat Stanton's WJMJ. Uncle WIP was on the Stanton station using his own name, Wayne Cody. At that same time, Bob Ardrey went to WHAT Radio from WNAR in Norristown. In the sixties, Bob would find himself at WDAS as Program Director.
Did you know that in some markets, "American Bandstand" in 1961 was carried by CBS and NBC affiliated stations? Well, they dumped out regular network programming to pick up ABC's dance show. Most carried the entire show. Just a few picked up just the first half-hour or the last half-hour. Why? It was profitable. Another reason was that the local stations carried their local dance show immediately following the Dick Clark telecast. At that time, 1961, the show was aired for two hours locally with the network taking 90 minutes. WFIL-TV, Channel 6 dumped out Johnny Carson's quiz show, "Who Do You Trust" with sidekick Ed McMahon in order to carry the first half-hour which was just local. The game program aired locally on a delay basis at 1:30 pm daily.
If you listened to the ever popular "950 Club" on WPEN Radio in 1947, you could have gotten into Woodside Park for half-price. That is, if you had a 950 Membership Club Card. The broadcast for many years was very popular with Joe Grady and Ed Hurst as your hosts. The kids danced to the records at the amusement park even though the show was on radio. Joe Grady once said, "It was like Bandstand, only without the TV cameras." They also did the same thing from their Center City Philadelphia studios. Back then, teenagers were also known as "bobby-soxers."
In 1940, Jack Steck broadcast a Children's Hour type of broadcast on WDAS Radio. It aired Sunday afternoons and in the spring, it originated live from Woodside Park. Ironically, WDAS Radio later would erect its buildings on the same site that housed the amusement park.
During the winter of 1963, 600 industry people gathered at the Bellevue-Stratford Hotel in Center City to pay tribute to Columbia recording artist Patti Page. WPEN air personality narrated a presentation about Patti's career. The event was MCed by Red Benson, also of WPEN. Also performing at the event were Broadcast Pioneers' very own "Danny and the Juniors." Joe Terry, Frank Maffei and David White of the group are members and they were singing there that evening.
In May of 1941, the Variety Clubs of America held a major event in Atlantic City. The Chief Barker was Dr. Leon Levy, president of the WCAU Stations. Others involved included Ben Gimbel, president of WIP Radio, Arthur Simon, GM of WPEN Radio, Roger Clipp, General Manager of the WFIL Stations and Stan Lee Broza, PD of WCAU and host of the Children's Hour. Broza was this organization's first president.
THANKS FOR THE MEMORIES:
We Lost Some Music Legends!
This past month, we lost some true legends of rock and roll. In alphabetical order, Jimmy Beaumont, Jerry Ross and Bunny Sigler. We asked member Eddie Collins (Mr. Ed) of Groovetime Productions to write a little about each of these super legends.
Jimmy Beaumont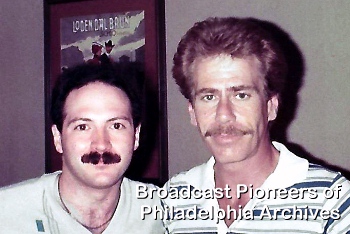 (left to right) Member Eddie Collins with Jimmy Beaumont
The Irem Temple, Scranton, PA
September 8, 1985
October also saw us lose Jimmy Beaumont, the lead singer of the Skyliners. The group was based in Pittsburgh, PA and before T.J. Lubinsky started producing music shows for PBS, TJ was the pledge producer at the Pittsburgh Public Television station. Jimmy Beaumont was often a visitor to the studio to help raise money for the educational station. Member Eddie Collins said:
Very saddened to hear Jimmy Beaumont of the Skyliners has passed on at age 76. This is quite devastating, as Jimmy was one of the most iconic voices to grace rock & roll, and if I made a Top10 list of the most influential ballads ever, "Since I Don't Have You," would be on top.

I first met Jimmy September 9,1985 in Scranton PA, and later in 1990 on two occasions I emceed him in concert. Of those two shows, one fell on his birthday October 21st, which he co-shared the honors on that day with Norman Wright (Del-Vikings) and Jay Proctor (Jay & The Techniques) who all were also on the show bill. To honor them all, I had a special cake made, which was presented to them on stage by my sons Keith & Karrie, at Panther Valley High School in Lansford PA.

The legacy of Jimmy Beaumont & The Skyliners, is one that set standards in rock music. At a time in 1959, when Elvis, Jerry Lee Lewis, and others were rockin' it up, the voice of Jimmy Beaumont took us to another place, as the records of The Skyliners ("This I Swear," "It Happened Today," "Believe Me," and incredible version of "I'll Be Seeing You," on Calico Records) meshed the sound of strings and horn arrangements by Lennie Martin, creating something fresh and new. Also, the guidance of manager Joe Rock, was a major force which helped promote, and sustain longetivity of the act into the mid 1970's signing to Capitol Records, and beyond into this millennium.

As my friend Frank Jordan, of The Jordan Brothers, who toured with The Skyliners in 1959 on Dick Clark's "Caravan Of Stars" met with Jimmy on October 21,1990, (a meeting I arranged for them to reunite), Frank said to Jimmy "you were always in the back of the bus, trying to write the next hit!"

For decades, Jimmy Beaumont delivered the goods, a voice ever identifiable, and for all of us who found joy through his recordings, and performances, to quote his single on May Records, "Everybody's Cryin'" R.I.P. Jimmy.
Jerry Ross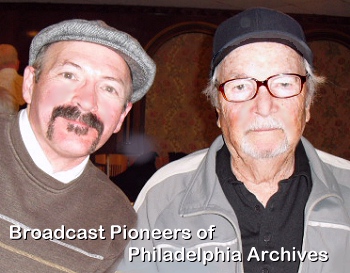 (left to right) Member Eddie Collins with Jerry Ross
"Breakfast at Tiffanys"
Tiffany's Diner, Philadelphia
December 12, 2010
Early in October, we lost Philly song writer Jerry Ross, a frequent visitor to Broadcast Pioneers luncheons ten years ago. His health prevented him from stopping in lately. He was 84. Collins wrote:
JERRY ROSS! Record producer, songwriter, talent visionary of rock's 'golden age' has passed on at age 84. A gentleman who kick started the careers of many, told me over breakfast in 2010 how it all started ."..in 1956, I was an announcer on Bandstand, and I felt it wasn't my true calling, but I saw something in the teen idols that were on the show, one in particular Tommy De Noble, so I started Sheryl Records, and he was my first act." By 1961, Jerry had The Dreamlovers ("When We Get Married") and formed Heritage Records.

Next, a production deal struck in 1963 with Columbia Records launching the careers of a young Kenny Gamble, and April Young (..later his wife) The team of Jerry Ross & Kenny Gamble would spawn a few chart successes, and in 1964 notably "The 81" by Candy & The Kisses from Camden N.J, a huge hit in Philly and the east coast.

But true success for Jerry Ross came by the way of the acts he brought to Mercury Records in 1966-68, as producer for Bobby Hebb, Keith, Jay & The Techniques, Spanky & Our Gang, and many others, with the hit records they garnered on AM radio airwaves. and reviving the career of Jerry Butler, as a soul artist.

One of the funniest stories Jerry shared with me....Frank Virtue (Virtue Studios) called and said he just got a brand new 4 track Ampex recorder (..the first in Philly studios!) & told me to come up and see if we could get it going. We pulled it out of the box, had no idea what we were doing, but that night the first thing we recorded was The Sapphires, and "Who Do You Love" (released on Swan Records. - 1964)

Not one to sit still, in 1968, Jerry re-activated his Heritage label, with the signings of Bill Deal & The Rhondels, The Cherry People, and The Duprees. As always, Jerry Ross knew talent when he heard it. And during that year, "I'm Gonna Make You Love Me" (penned by Jerry Ross & Kenny Gamble) became a #1 smash for The Temptations & Supremes.

While vacationing in the Netherlands,, as he sat in a restaurant, he heard a song called "Venus"..asked the waitress who it was, and she said 'The Shocking Blue.' The year was 1970, and in what became known as the 'Dutch Invasion,' Jerry would produce consecutive top ten hits for The Shocking Blue, The Tee Set, and George Baker Selection, all on his Colossus label.

In 2013, Jerry Ross was formally acknowledged for his accomplishments by the Philadelphia Music Alliance, with a bronze plaque on its walk of fame.

During recent months I had spoke to Jerry on the phone, as he was in the process of writing a book of his memories, and of those he sure had many, also leaving us with an incredible wealth from his endless songbook, of the music he helped create during the greatest years of rock & roll.
Bunny Sigler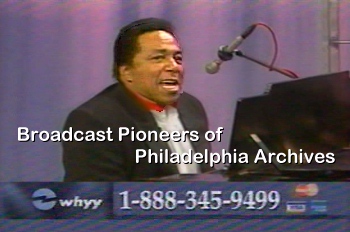 Bunny Sigler
Live Doo Wop/Rock & Roll Performance
WHYY-TV, Channel 12
1999
Walter Sigler, known to everyone as Bunny, passed away early last month. He was 76. Sigler was part of the Philadelphia International (Gamble and Huff) group. He was a talented writer, producer and performer. Eddie Collins wrote:
Another voice that shaped 'The Sound Of Philadelphia,' BUNNY SIGLER, has fallen silent at age 76. A soul sender who started on V-Tone records in 1959, with "Hold On," and continued a string of single releases into the 1960's, notably under the guidance of John Madara & David White, signing Bunny to Decca Records in 1966.

Then in 1967, it was a medley "Let The Good Times Roll / Feel So Fine" (previous hits for Shirley & Lee in the 1950's) released on Cameo-Parkway records,( produced by John Madara & Leon Huff) that catapulted Bunny on the national charts, (and stellar follow ups in "Lovey Dovey," and "Follow Your Heart")

During the 1970's he created some great sides with Gamble & Huff, in addition to songwriting contributions (The O'Jays, Instant Funk, Patti La Belle etc.) and in recent years Bunny was currently active in recording ventures.
Gerry Wilkinson, our CEO, knew Bunny. Gerry says:
The way Bunny told it, he was born shortly before Easter one year and his parents referred to him as their little Easter Bunny. The name stuck.

I knew Bunny from my time as Operations Manager (1970 to 1980) at WDAS radio. Those were the days when a who's who of the black music scene visited WDAS on an almost daily basis. It was not unusual for Kenny Gamble to show, especially on "record day" to see our VP of Programming, Jimmy Bishop (who was my mentor). Jimmy also did 6 pm to 10 on our AM station. Often, Gamble would drag along Sigler and other notables from his organization.

My office was next to Jimmy's. It was not unusual to hear live singing coming out of Bishop's office. I would often come over on some pretext to stop in, just to hear the vocalizing. You would hear a duet with Gamble and Sigler, ometimes related to what they were promoting and sometimes just for fun. Sometimes, they would wander into the AM air studio (no one ever stopped them) and do a little live singing on Butterball's program, 2 to 6 pm). I remember one occasion where Gamble and Sigler sang live on the air, "If You Don't Know Me By Now,' a new release by Harold Melvin and the Blue Notes with Teddy Pendergrass on lead. A lot of people don't know that Gamble and Sigler (along with Leon Huff) were background singers on that record.

Let's fast forward a couple of decades. It's now 1999. I was working at WHYY. It just happened to be the era when T.J. Lubinsky started doing all his music shows for PBS. His first was Doo Wop 50, the second largest fundraising show ever to air on WHYY.

I ended up putting together the acts that performed during the pledge breaks. One such was Bunny Sigler. I remember him sitting at the piano with Jerry Blavat and performing ad lib for 15 minutes. It was magic.
A LITTLE BIT OF BROADCAST HISTORY!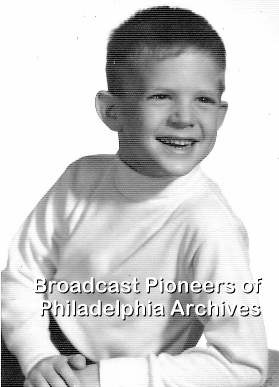 A very young Dave Frankel
OUR HATS OFF TO YOU FOR GIVING:
We would like to thank the following for their contributions donated at our October luncheon. They include: Eric and Marlene Address, Dee Dee Bennett, Paul and Ginny Big Bear, Diego Castellanos, Damon Castle, Aleen Freed, Mel Klawansky, Dorie Lenz, David Madden, Mike Melnyk, Steve Sacks, Stan and Jackie Strauss, Steve Tatz, Pam and Todd Tuckey and Gerry Wilkinson.

By the way, those who have sent (and will send) a contribution to our banquet fundraising fund will be thanked in our December newsletter. That way, we will thank everyone at one time so we don't forget anyone.
We are a federally recognized, state chartered charity with a 501(c)(3) status. Contact us at (856) 365-5600 or e-mail pioneers@broadcastpioneers.com for more details. Your gift to Broadcast Pioneers will help us and may lower your federal income tax. That's win-win, isn't it?
Special Thanks (in alphabetical order) for the gift of Appreciated Stock: (a federal tax advantage for the giver)
Member Marc Howard - $3,600 (put into our general fund to be used where needed)
Member Sylvia Kauders - $5,159.45 (used for the scholarships listed below)
Special Thanks (in alphabetical order) for contribution of $1,000 or more to our DAP, Digital Archival Project:
Member Jerry Del Colliano - $1,500
Member Johnny B. Hall and wife Ginny - $3,000
Member Harry Hurley's Golf Tournament - $1,000
The Shunfenthal Family (in memory of Sherri Shunfenthal's father, Les Waas) - $2,000
Member Marlin Taylor - $1,000
A Member who prefers not to be identified publicly - $1,000
Special Thanks (in alphabetical order) for contribution of $1,000 or more into our General Fund to be used where needed:
Member Art Moore - $1,000
Member Brad Seecof and Metramedia Broadcasting & Studios - $1,000
Special Thanks (in alphabetical order) for April 2018 Scholarships:
Member Johnny B. Hall and his wife, Ginny - 7 scholarships
Member Harry Hurley's Golf Tournament - 1 scholarship (for a Stockton University student)
Member Sylvia Kauders - 1 scholarship (from a grant for 5 yearly scholarships running until 2019)
Member Kal Rudman - 5 scholarships (for Temple University students)
The Shunfenthal Family (in memory of Sherri Shunfenthal's father, Les Waas) - 1 scholarship
Member Marlin Taylor - 1 scholarship
Member Allan Tripp - 1 scholarship in honor of his 100th birthday
Special Thanks (in alphabetical order) for a contribution of $500 or more to our DAP, Digital Archival Project:
Member Lauren Lipton - $500
Bequests in their Will:
Member Sylvia Kauders passed away earlier this year. In her will, she bequest to the Broadcast Pioneers of Philadelphia, the amount of $5,000. This funding is to be used to underwrite one scholarship per year until gone. These scholarships will start in the year 2020 and continue until 2024. From a previous gift, Sylvia has underwritten one scholarship a year starting in 2015 and continuing until 2019.

Member W. Carter Merbreier passed away a couple of months ago. In his will, he bequest to the Broadcast Pioneers of Philadelphia, the amount of $1,000. This funding was used to underwrite one scholarship which was awarded in April of 2017.
Underwrite a complete scholarship and we'll give you credit in the electronic newsletter until the scholarship is awarded in April of 2018. Give us a donation of appreciated stock of $2,000 or more) and we'll list you in our "Thank You" column for two years. Give us a donation of $1,000 or more and we'll list you in our "Thank You" column for a year. Give us a donation of $500 or more and we'll list you in our "Thank You" column for six months. You can select how we use the money: for our archival project, for scholarships or for our general fund to be used as needed.
More Thanks:
A growing portion of the revenues that fund the different activities of the Broadcast Pioneers comes from donations. This includes our archival project and our scholarship program. Now, we are making it even more beneficial for our donors. Broadcast Pioneers is now able to accept gifts of appreciated stock, which provides a significant tax benefit to you. By giving appreciated stock (stock which is worth more now than what it cost when it was purchased), you can get a charitable contribution tax deduction based on the current market value of your stock. At the same time, you avoid the capital gains
tax that would arise if you simply sell the stock. So if you'd like to support our educational mission or our archival project and save money on taxes too, please consider making a gift of appreciated stock. We are a federally recognized, state chartered charity with a 501(c)(3) status. Contact us at (856) 365-5600 or e-mail pioneers@broadcastpioneers.com for more details.
Many of us are over 70 and a half years old. If you are, you can donate directly to Broadcast Pioneers from your IRA Account. If you take a distribution and then donate to us, you would have to pay federal tax on the distribution. By donating directly to us, you pay no tax and we get the full amount. Remember, this donation must go directly to us in order for you to avoid paying income tax. This direct donation may also prevent you from going into a higher tax bracket. That's always good. Speak with your tax advisor about this. It's a good idea for everyone.
Don't be left out. You too can make a pledge. It's never too late. You can earmark it for scholarships, our Digital Archival Project or our general fund. Thanks so much for your support. If you forgot to make an extra contribution (cash or memorabilia) and would like to do so now, you can do so. We would be thrilled to hear from you at: PO Box 2886, Bala Cynwyd, PA 19004, call us at (856) 365-5600 or e-mail us at: pioneers@broadcastpioneers.com.
Remember, if you itemize, be sure to keep records or receipts from any charity including Broadcast Pioneers. That way, you can get the tax deductions you deserve from the federal government. Broadcast Pioneers does not offer tax or legal advice so check with your tax advisor for more details on how you can benefit from all this.

A FINAL THOUGHT....
This is the story of an advertising agency who thought they were really slick, only to be outsmarted by a Philadelphia radio station that was even slicker.
When I was Operations Manager of WDAS AM & FM in the 1970s, one of my many responsibilities was to make sure that all advertising met our standards.
Well, one day I was put into a bad situation. Our sales manager had sold 13 weeks of spots for a national brand of coffee. That was fine. We got a good price and it was on the national card (so we got top dollar). However, the contract said that we must air the copy exactly as supplied by the advertising agency. That usually wouldn't be a problem and the contract was already signed.
The copy was brought to my attention because it read something like this:
You know, I try to get to the radio station about 20 minutes before my program each day. You know why? Well, that's because I come in early to brew myself a nice hot cup of (Insert brand name here) Coffee. I really enjoy its nice, rich flavor.
Wait. This is an endorsement. Whomever wrote this copy thought they were being really slick. They didn't supply the copy until after they received a signed contract from us. Then they dropped the bombshell.
They figured we were stuck airing the copy. I wasn't going to allow this to happen. I looked over the contract and while it said we couldn't change the copy, it didn't say we couldn't pre-record the spot. They probably figured even if we recorded the commercial, it would still be a recognized voice associated with the station. Of course, they were hoping for a live read with the likes of Georgie Woods, Jimmy Bishop and Butterball doing the copy. If they did, it would have sounded like an endorsement of the product. That's good for the advertiser. Not so good for the station.
At that time, WDAS AM was all very uptempo. WDAS-FM was very low keyed. So, we recorded two versions of the spot. One uptempo and one with a low delivery. Bruce Greenberg of WMOT Records (Blue Magic) was visiting Jimmy Bishop (our Program Director). I knew that Bruce (today a member of Broadcast Pioneers) had worked as an on-air personality. He recorded both spots (for free, of course0. We put the uptempo one on FM and the low keyed one on AM. Bruce's voice was not recognized as a station voice on either station. In fact, by using the wrong tempo, it sounded like a pre-recorded national spot from the agency. Certainly, not an endorsement by WDAS air personalities.
I had instructed sales not to accept a renewal (unless we got a different piece of copy). The agency didn't renew but they did go for another 13 weeks on other stations in town who did live reads on the copy as written. Yes, some stations actually accepted the copy.
The ad agency thought they were being slick but we outslicked them and got paid for it. (Sometimes the good guys do win).
Member Gerry Wilkinson
former Operations Manager of WDAS (1970 to 1980)
now CEO of Broadcast Pioneers

Please contact us by e-mail at newsletter@broadcastpioneers.com or by mail to: Broadcast Pioneers of Philadelphia, PO Box 2886, Bala Cynwyd, PA 19004. Your stories are important, to you, to us, and your colleagues. Contact us today and we'll include your story in the next newsletter!

© 2017, Broadcast Pioneers of Philadelphia
All Rights Reserved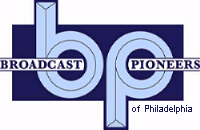 The e-mail address of the Broadcast Pioneers of Philadelphia is pioneers@broadcastpioneers.com
For luncheon reservations call (856) 365-5600 or e-mail us at: rsvp@broadcastpioneers.com