The Broadcast Pioneers of Philadelphia is a federally recognized, state chartered charity. We are a 501(c)(3) non-profit corporation serving Philadelphia since 1962.

Frank Stone
Newsletter Editor

December luncheon
Bala Golf Club
December 17, 2008

Reception at 12 noon
Lunch at 12:30 pm
Ratecard: $25 per person
Reservations Required
(856) 365-5600
rsvp@broadcastpioneers.com
Time to deck the halls and trim the tree. It's that season of the year again and we know it at the Broadcast Pioneers. That's why we have a yuletide theme. The holiday is here and we've lined up an exciting December noontime meeting just for you. It's our Wednesday, December 17th luncheon at the beautiful Bala Golf Club, 2200 Belmont Avenue in Philadelphia! Just minutes away from Channel 6 and Channel 10 and the radio stations in Bala Cynwyd. Get Driving Directions!
We'll have another winner of a program for this luncheon; the topic is "Christmastime in Television !" The moderator will be our very own Chairman of the Board, Bill "Wee Willie" Webber.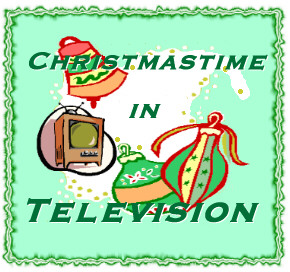 Our panel will be:
Donald Barnhouse, commentator from the John Facenda Big News
Trudy Haynes, former Channel 3 news reporter & TV Personality
Bill Henley, star of NBC 10's daytime show entitled, "10"
Pretty Perky Peggy King, of "The George Gobel Network Show"
W. Carter Merbreier, also known as our very own Captain Noah
Jane Norman, Channel 10's favorite star studded fairy, Pixanne
Plus, live on the telephone from his home in Florida, TV's favorite "teeny-bopper," Al Alberts. Also, that same day we will be awarding to two fellow members of our organization, "The Broadcast Pioneers Service Award." The two honorees are Ray Fiedler, a half-century veteran Assistant Director at Channel 10 and Walt Beaulieu, a former long-time tech from Channel 6. Congratulations to both. Come out and honor them.
Meet and greet (networking) starts at 12 noon with a full-course lunch including salad, coffee or tea and dessert being served at 12:30 pm. There's also a crudité and cheese table. Cash bar available! The cost is still only $25 per person.
This is going to be huge so we ask you to make your reservations early and tell us whether you have been naughty or nice (so we can include it right on your name tag).

Visit Our Website Often - http://www.broadcastpioneers.com

A WRAP-UP ON OUR 2008 ANNUAL BANQUET:
A great evening and a sell out crowd of Pioneers, guests and numerous former Hall of Fame inductees (Cathy Gandolfo, George Michael, Bob Pantano, Dave Schratwieser, Mike Strug and Ukee Washington), all present to support our scholarship program and to congratulate our new Hall of Fame inductees and 2008 Person of the Year, Bill Campbell.
Thanks to the backing of this annual event, we will be awarding twelve $1,000 scholarships. THIS IS AN ALL-TIME RECORD FOR THE ORGANIZATION. Four of the scholarships are fully underwritten by Broadcast Pioneers Vice-President Kal Rudman. And, for the second year in a row, a scholarship has been contributed by member Esther Kurtz in memory of her husband Dave Kurtz, founder of B101.
With Bucky Clark providing the dining music, the evening kicked off with The National Anthem led by Bill Wright Sr., as all the guests raised their voices in song and bowed heads as Carter Merbreier (Captain Noah) led the invocation. A particular highlight was the presence of comedian Joe Conklin who did his impression of Bill Campbell. The Person of the Year Award presentation was particularly impressive, with introductions by members Merrill Reese and Harry Kalas. These words were from the new inductees, "legendary, humbling, passion, teams, a part of history."
Special thanks, to the organizations who advertised in the banquet program, with ads for the 2008 banquet. We appreciate your support.
WELCOME NEW MEMBERS !
BILL ROSWELL of KYW Newsradio. Bill has been with them since 1980. Currently, he is the Director of Digital News and Media at the station. Previously, he was with the Camden Courier-Post and the Suburban Newspaper Group. From 1968 to 1980 he worked with Broadcast Pioneers former President and current Treasurer, Pat Delsi.
JOAN ERLE, WCAU/NBC 10. In December 1999, Joan joined NBC 10 as Director of Market Research. She is responsible for TV viewer and website visitor analyses for use by the news, programming, creative services and sales departments. Joan is a member of The National Market Research Association, the National Academy of Television Arts and Sciences, Philadelphia Advertising Club and Association for Women in Radio and Television.
ERIC GARGIULO, writer, editor, interviewer, broadcaster. Presently Eric is Sports Editor/Writer for Calkins Media. Additionally, he is Disc Jockey for Progressive Broadcasting, Co-Host/Announcer, WK Media, Inc., Host/Announcer, Stone Cutter Media and Talk Show Host on Merrill Reese's station, WBCB.
VINCENT BORRELLI, retired chief public safety officer for Delaware River Port Authority. He has been in the broadcast business for 14 years. For the past 5 years, he has hosted a radio talk show, "Chief's Corner" about law enforcement on WVLT, Cruisin' 92.1 in Vineland. Vince is a 40-plus year veteran of law enforcement, including a stint with the U.S. Marshals dignitary-protection program.
EMME DESSEL, started in the business in 1981 as an Advertising Account Executive. Her background includes Cox Communications, Cablevision, C-Tec Cable Systems,Group W Cable and Tri-County Broadcasting. She holds a BA in Public Administration from Rutgers University.
AL TEDESCO, currently, Program Director of the Paul F. Harron Television Management Graduate Program, Department of Cinema and Television, Drexel University. He was GM/VP for channel 57, from 1981 through 1985. Additionally, he was GM/VP for Pennsylvania Pay Television and Electronic Billboards, as well as VP Marketing for Popvision. In 1991, he formed Medianex, a marketing/communications organization and documentary laboratory.
BILL KELLEY, former board member of the Musical Fund Society of Philadelphia. He is the recipient of the NBC 10 "Spirit of Philadelphia Award". Bill has been the conductor of the Crystal Cathedral Orchestra televised throughout the world each week on "The Hour of Prayer. He was a guest conductor for Radio City Music Hall's Orchestra in 1982.
We're delighted to have you with us! Hope to see you at a luncheon real soon!
ON THE HEALTH FRONT :
We've heard from George Finkel's son, Mike, that George had triple bypass surgery and valve replacement on November 25. Mike said, "we feel blessed this was caught early on." The surgery went well. Mike also said: "All continues to go well this morning. His heart is beating strong without additional medication. They'll get him up to eat a little later. A lot to be thankful for this year!" A speedy recovery, George!
Lydia DeGuio, Broadcast Pioneers Board Member, recently fell and broke her arm. She completed re-hab and arrived home only to suffer a massive heart attack on the next day. The doctors are holding a positive outlook for her prognosis and say she is doing well. She is now home from the hospital. Best of luck, Lydia. We'll be praying for you.
Did you know...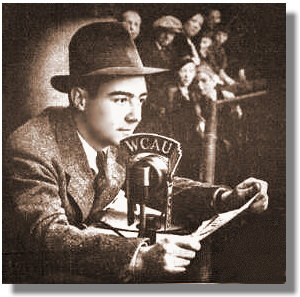 Bill Dyer
WCAU Radio
1936
The Philadelphia Phillies won the World Series this year, but did you know that announcing the play-by-play of the games started in 1936? The games were carried over WCAU Radio, now WPHT. The first announcers were Bill Dyer and Dolly Stark. Other well known Phillies sportscasters included: Stoney McLinn, By Saam, Taylor Grant, Roy Neal (of NBC-TV fame), George Walsh, Claude Haring, Richie Ashburn and our Person of the Year, Bill Campbell.
IN TOUCH:
Jan Beaty, widow of former Broadcast Pioneers Board member John Beaty, passed along some sad news. John McCall, who worked with her husband at EASY 101 (now B101) has passed away. Jan sent us a donation in John's memory. We appreciate Jan's support and welcome all "In Memoriam" donations.
We've heard from our friend and Broadcast Pioneers member Ceasar Berry of the famous "The Tymes" vocal group. In early November, The Tymes were inducted into The Vocal Group Hall of Fame. Among the many songs you've heard, remember "So Much In Love" and "You Little Trustmaker." Congratulations, guys!
Henry and (Pioneers member) Bobbie Shaffner received strong praise from Senator Joseph Lieberman for their song written for Presidential candidate John McCain, which was presented to Lieberman at a rally in Wynnewood, Pennsylvania. The Shaffners who are veteran members of ASCAP are featured in a book titled, "Presidential Sheet Music." They have written campaign songs for President Jimmy Carter, Hillary Clinton, Michael Dukakis and Mario Cuomo. Nice going folks!
Broadcast Pioneers member Wally Kennedy will be narrating an audiobook, "Swimming with the Supertankers" by Greg Firestone. The book focuses on the healthcare industry. Wally tells us he's excited about the book even though he's done radio, TV and been featured in a movie, because this is his first audiobook. Keep up the good work, Wally!
Pioneer member R.A. Campbell has shared his thoughts about "many memories from the BP Newsletters." He worked with Austin Culmer at WPBS and described him as a warm, generous, humorous gentlemen. In the late 40's, his family would begin each weeknight with Doug Arthur's Danceland on WIBG. The family always got a kick out of his commercial delivery for Gretz Beer, which was slow and deliberate ending after a long silence with the word, "naturally." As a teenager, he interned at KYW and fondly remembered his chats with Tom Snyder while riding the elevator and talking about the business.
Good to hear from you!
Member Dave Shayer (WDVR and WWSH) has programmed a format called "easy music radio" for www.Live365.com. Hear many beautiful orchestral arrangements from the 60's and 70's. Tune in by subscribing to LIVE365.com or www.easymusicradio.com. We'll be listening!
Al Maslin, a member of the Broadcast Pioneers of Philadelphia, wants everyone to know he has a new e-mail address. It's amaslin@msn.com. Normally during this time of year, Al would be living in Florida, however due to the death of his step daughter (age 38 with two little children), he has postponed going south for a while and has been sharing time between his home in southern New Jersey and his son-in-law in Pennsylvania. Al, be assured of our good thoughts for you and the family.
More In Touch:
The News of Delaware County recently published a fascinating story about Captain Noah and His Magical Ark. The reporter, Amy A. Winnemore wrote a compelling story about herself and her younger sisters. She talked about their childhoods and growing up on Saturday mornings watching the show and the puppets, Wally the Walrus and Maurice the Mouse and sending their crayon-colored art work to "Dear Old Captain Noah." There were more than 3800 episodes, over 27 years. Her memories came flowing back during a press event at Memorial Hall in Fairmount Park where the original Captain Noah and His Magical Ark set is now on display in the new home of the Please Touch Museum. Dressed in his red uniform, she met Captain and Mrs. Noah who were there for the grand opening. She said, "being so near to an idol from my childhood was more than exciting. …It's reassuring to know that the people you looked up to as a child, are exactly how you thought they'd be." In response to the story, the Captain said, "this sort of tribute makes it all worthwhile, …made me tear-up; a rarity for this old rascally Captain." The magic continues!
Broadcast Pioneers Vice-President Kal Rudman is donating $50,000 to the Temple University Urban Archives to help start the Broadcast Pioneers collection at the school. Pioneers President Gerry Wilkinson said, "This was quite a surprise when Kal told me what he wanted to do. We hadn't asked for this at all. He just stepped up to the plate and put his money where his mouth is. In fact, everything that Kal has done for us (like funding six $1,000 scholarships this spring and pledging money for four more at our annual banquet in November) has been Kal's idea." We thank Kal Rudman for his support. Kal's philathropy was written up in the Winter issue of "Inside," a Jewish Lifestyle Magazine. He is truly the "Guardian Angel" of the Delaware Valley.
A final thought...
On the night before Christmas
I heard such a clatter
That I climbed on the roof
To see what was the matter.
And Santa had wrecked
His sleigh full of toys
That his reindeer were taking
To good girls and boys.

Not a greeting was said
Not a friendly word spoken
For I saw at a glance
My antenna was broken.
And the night before Christmas
I spent on the roof
Repairing the damage
Of each tiny hoof.

On next Christmas Eve
When he flies through the air
I hope he'll remember
My antenna is there.
But I won't take it down
So that Santa can fly
For he broke my antenna
And left me a tie
Jeanne DeGood
from the "Phil Sheridan, WFIL" Newsletter
circa 1957


© 2008, Broadcast Pioneers of Philadelphia
All Rights Reserved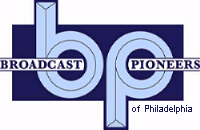 The e-mail address of the Broadcast Pioneers of Philadelphia is pioneers@broadcastpioneers.com
For luncheon reservations call (856) 365-5600 or e-mail us at: rsvp@broadcastpioneers.com