Visit Our Website Often - http://www.broadcastpioneers.com

BOARD MEETING:
There will be three meetings of our Board of Directors next year; June 2010, October 2010 with the next one being on Wednesday, February 17, 2010 at Bala. Mark your calendars.
HALL OF FAME/PERSON OF THE YEAR BANQUET:
What a spectacular evening we had at Bala Golf Club on Friday, November 20th. A sell-out audience of 250 witnessed history in the making at our 41st annual banquet. Anyone who is anyone was there. It was a celebrity-filled room, complete with camera crews from the major stations to record the memorable moments of the evening.
Our Person of the Year was:
Bill (The Rebel) Wright, Sr., former WIBBAGE "Good Guy" & WPEN jock
Our 8 inductees into our "Hall of Fame" were:
Elliot Abrams, Accu-Weather's Senior VP, mornings on KYW Newsradio
Joanne Calabria, VP of Public Affairs for CBS 3 and the CW Philly 57
Renee Chenault-Fattah, co-anchor of the NBC 10 News at 11 o'clock
Mort Crim, former "Eyewitness News" TV Anchor on KYW-TV, Channel 3
Gene London, former Philadelphia TV Children's Celebrity and Host
Al Meltzer, sports director/anchor and play-by-play on Channels 3, 6, 10 & 17
Irv Ross, Channel 6's very first Director of Engineering, there for 50 years
Lisa Thomas-Laury, 6ABC "Action News" Co-Anchor and Reporter
We also inducted 12 persons into our "Hall of Fame" posthumously. They were:
Joey Bishop, nationally known comedian from South Philly
Jay Cook, former Program Director & Boss Jock at WFIL, Famous 56
Hugh Gannon, former sportscaster for WCAU (Radio & TV) and Prism
Powers Gouraud, the ol' nightowl, who ruled the airwaves in the 30s & 40s
Florence Hanford, Philly's pioneering TV chef who started in 1947
Wally Kinnan, the Weather Man, the city's well loved meteorologist
Siani Lee, former news anchor on WCAU, NBC 10 and CBS3 (KYW-TV)
Tony Mammarella, the producer for ABC-TV's "American Bandstand"
Jack McKinney, the telephone talk show host on both TV and radio
Jack Pyle, air personality extraordinaire for Philadelphia broadcasting
George Thomas, former announcer for the WCAU broadcast stations
Long John Wade, the pleasing voice of WFIL, Famous 56 and WIBG Radio
This was a fundraiser for scholarships to area college students. Four were underwritten by individuals. Robin, Ira and Marlene Adelman and member Leon Love funded one $1,000.00 scholarship while member Esther Kurtz underwrote one in the memory of her late husband, David Kurtz, founder of B-101, and two grants for $1,000 came from Broadcast Pioneers member Kal Rudman.
HEARD AFTER THE BANQUET:
" It was wonderful. Having worked with some of these guys and listened to many of the others, it's magic." Steve Levy
"A great honor to be with all these wonderful people. Dad would have been so proud." Maura McKinney Mastro (Daughter of Jack McKinney)
"A great night to hear stories. Just to be in the presence of this great history in Philadelphia and these wonderful broadcasters who have accepted me…and for such a good cause, the scholarships." Dave Abramson
"Really proud of my Dad. Doing his Christmas show with him is pretty awesome." Kate Wright (Daughter of Bill Wright)
"Very excited to turn a new chapter in my life and go forward. This is wonderful. In this room, memories and broadcast history are beyond anything in the world." Dave Roberts
"I had a great time, the memories are amazing." Bobby Kravitz
"A very special night, with very special people. Wonderful to be here to experience all this means to so many." Nessa Forman
" I am feeling really blessed and so thankful for this honor. There is nothing greater than being recognized by your peers." Lisa Thomas-Laury
MORE IN TOUCH:
Things are moving on our our DAP, Digital Archival Project. We received a donation of $410 from Judith Hibbs, in memory of her father, member Doug "Bud" Hibbs who passed away earlier this year. Doug was in the business for 75 years (not a typo). Doug's father started WTEL Radio, now WWDB, 860 on the AM dial. We also received contributions from member Ed Cunningham and member Valerie Morrison in memory of her late husband. We also received some Jack McKinney radio broadcasts from Jack's daughter, Maura who sang the Star Spangled Banner at our annual banquet. We need your materials for this archive. We can return them once they are in a digital format. History is only what gets saved!
We heard that Donna and Tom Lamaine recently visited Harrah's in Atlantic City to take in the Kenny Jeremiah show. If it was anything like the October luncheon, the room was rockin! No doubt you folks had a great time! Both Tom Lamaine and Kenny Jeremiah are members of the Broadcast Pioneers.
We've heard from Marty Jacobs, former Manager of News and Public Affairs for WKBS-TV, who was sharing some memories about his time with WKBS.
…a snow storm that snowed early arrivers in and everyone else out…and the on air snow fight with the crew…the only TV host in history to give blood live while discussing its need and uses…how I created and distributed the first news for children distributed to their 5 stations. Thanks for sharing Marty!
"The Magic of Hollywood: The Gene London Costume Collection at the Reading Public Museum" will undergo changes with the December 15th roll-out of a dozen magnificent costumes from "Gone with the Wind" (1939 ­ now celebrating its 70th anniversary), arguably the most beloved and enduring film of all time. In 1989, the Ted Turner organization selected Gene London to recreate the costumes from Gone with the Wind for its Golden Anniversary celebration. Costumes from some of the most legendary moments in the film will be on view. This will be a limited-engagement feature, on display through February 15th with the entire costume exhibit ending on May 30th.
Unless you've been living in a cave, you probably already know that Broadcast Pioneers member Dave Roberts is retiring from his duties at 6ABC, WPVI on Friday, December 11th. Dave has been as the station for 31 years and has become a fixture for the Channel 6 parades and, of course, his wonderful weather forecasts. We'll miss him on the air, but now, he'll have no excuses not to attend our luncheons. Hope to see you there on December 16th, Dave. And speaking of Dave, his son, David Boreanaz, is still going strong on the FOX TV Series, Bones. It's currently on Thursday evenings at 8 pm on FOX TV Network and Channel 29, here in Philadelphia. The show is also in reruns on TNT daily at 7 pm.
Watch Video Retrospective on Dave Roberts' Career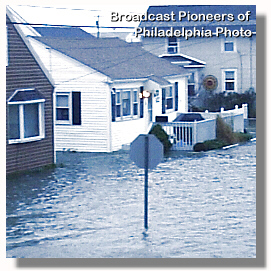 Frank Stone's House
West Wildwood, NJ
November 2009

So much for coastal living! Newsletter Editor and Broadcast Pioneers Vice-President Frank Stone, living in West Wildwood New Jersey is pleased to report he survived the recent three-day nor'easter. With 19 plus inches of water around his house, he evacuated at 1:30 am on Thursday November 12th, meeting the National Guard on the bridge, on the way out. Frank said, "they told me, we think you can get out, if you do, don't come back until it's over. We won't let you in!" Some minor damage to the house. " I still love it here, living my dream!"
A final thought...
"I have never gotten to the point during an audition where I said, 'OK, kid, that's enough.' I let them have their three minutes in the sun."
Al Alberts
1985

© 2009, Broadcast Pioneers of Philadelphia
All Rights Reserved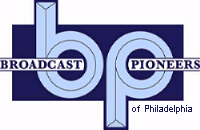 The e-mail address of the Broadcast Pioneers of Philadelphia is pioneers@broadcastpioneers.com
For luncheon reservations call (856) 365-5600 or e-mail us at: rsvp@broadcastpioneers.com