The Broadcast Pioneers of Philadelphia is a federally recognized, state chartered charity. We are a 501(c)(3) non-profit corporation serving Philadelphia since 1962.

Frank Stone
Newsletter Editor

December Luncheon
The Bala Golf Club
Wednesday, December 21, 2011

Reception at 12 noon
Lunch at 12:30 pm
Ratecard: $25 per person

PLEASE RESERVE NOW!
(856) 365-5600
rsvp@broadcastpioneers.com
Another Luncheon
Bigger Than the Last One!
Don't Miss Our December 21st Luncheon!
It's BOOK AUTHOR DAY!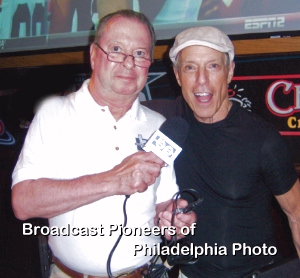 On Wednesday, December 21st, at the Bala Golf Club, come out for our fantastic luncheon that we are calling "Author Day."
We will have three different authors with us that afternoon. Member Jerry Blavat, the Geator with the Heater, will talk about his new book, "You Only Rock Once." Also on the big show is member Al Meltzer (often called "Big Al"). He'll be discussing "50 Years of Adventures in Sports Broadcasting." Also, speaking that day will be author Alan Boris, whose book "Philadelphia Radio" came out earlier this year. Our Chairman of the Board Gerry Wilkinson wrote the preface for that book.
Plus, live on the telephone from Los Angeles will be member Harvey Sheldon, who has written 13 books. One of his latest is "Philadelphia's History of Music." Plus, as a extra special bonus, Harvey has shipped us copies of his different books. The first 100 people who pay will get a free copy of one of Harvey Sheldon's books (sorry, no choice of titles).
Make plans to join us on Wednesday, December 21st at the beautiful and historic Bala Golf Club, 2200 Belmont Avenue (across the street from the State Police) in the Wynnefield section of Philadelphia. It's only minutes away from Channels 6, 10 and 17 and the radio stations in Bala Cynwyd.
Meet and greet (networking) starts at 12 noon with a full-course lunch including salad, coffee or tea and dessert being served at 12:30 pm. There's also a crudité and cheese table. Cash bar available all afternoon!
The cost is still only $25 per person. This is our 7th year without a price increase! Plenty of FREE parking or valet service. The luncheon is open to all our members, their guests and any person in the industry or associated fields, whether active or retired. You do NOT have to be a member to attend. Call NOW with your reservation(s), (856) 365-5600!

Visit Our Website Often - http://www.broadcastpioneers.com

IRA CONTRIBUTIONS TO BROADCAST PIONEERS:
If you are 70 and a half or older, current law allows you to make a gift to a qualified charitable organization such as the Broadcast Pioneers of Philadelphia using funds transferred directly from your individual retirement account without paying federal income taxes on your distribution. Please check with your tax advisor for more details and to see if this federal law can apply to you. Time is running out. This opportunity lasts only until the end of the year, December 31, 2011.
GIVING TO BROADCAST PIONEERS:
With only a few weeks left in 2011, some of us are thinking of ways to lower our tax bill. Well, Broadcast Pioneers is a 501(c)(3) organization. We are a federally recognized, state chartered charity. So gifts to Broadcast Pioneers may be tax deductible. You can donate to our Digital Archival Project, Our Scholarship Fund, Our General Fund and other important projects. For those of you holding stock that has appreciated in fund, we are set up to accept stock as a gift. The profit on that stock may not be taxable, so giving may save you money and help us at the same time. Check with your financial advisor to find out how this can apply to you. Call us at (856) 365-5600. HURRY! TIME IS RUNNING OUT! If you want a tax deduction for 2011, you must act before the end of the month.
ATTENTION BOARD MEMBERS:
There will be a meeting of the board of directors of this organization before the luncheon. The date is Wednesday, December 21st. The time is 10 am. Board members need to call in their reservations for both the board meeting and the December luncheon.
WELCOME NEW MEMBERS:
FULL MEMBERS:
David Rimmer started in the business as a request line operator at WXLO Radio in New York. The next year, he moved to WOR Radio as a desk assistant and later became a senior producer. Then on to NBC Radio as program coordinator for NBC Talknet. Then on to the ABC Radio Networks as a producer, Operations Manager, PD of Talk programming. In 1990, he came to Philadelphia as PD for WWDB. After 5 years, he left and became VP of Talking Programming for Sony Worldwide Networks. Then owner-GM of Morgan Media in NYC. Welcome aboard.
Our next new member is John Johnson. He started in the business in 1980 and went to Channel 10 (when it was a CBS owned and operated television station in 1984). Eleven years later, he was still there when the station became a NBC O&O. He stayed until 2009 was a freelance producer and editor. Welcome to the organization, John. We are delighted to have you in membership.
Eileen Matthews started in the business thirty years ago. This Emmy & Telly Awards winner was producer on the old "Ten Around Town" show on WCAU-TV. Won her two Emmys for producing "The Adventures of Ritzy the Wolf," that aired on Channel 10. She's also produced segments for "Home Matters" on the Discovery Channel. She's currently a producer for NBC 10 Studio Ten Creative Group, a full service production company. Eileen is a past president of the Mid-Atlantic Chapter of NATAS.
Marsha Hurst first got into the business 31 years ago. She has worked at WCAU-TV and WCAU Radio in the early eighties. She was with the PR firm, Media Connections, and then returned to WCAU-TV. From there, she did freelance for four years with WPVI, 6abc. Today, she owns her own marketing firm called "Hurst Communications, Incorporated." Welcome to the organization.
Jerry Clegg has been in the business since 1957. He's currently the GM at WSVM in Valdese, NC. Previously, he ran his own marketing and advertising consultanting business, Clegg and Company. He was the manager partner of WVOV in Danville, VA, Senior Account Exec for CNN Radio and WCNN in Atlanta and before that was an AE with Plough Broadcasting. Delighted to have you as a member.
Mark Abrams is a reporter/anchor/editor at KYW Newsradio and he's been in the biz since the bicentennial year of 1976. He's been at newsradio since 1997. He broke into radio at WHUM and then came to WPEN on weekends (and kept his fulltime gig at WHUM). In 1981, he joined the Reading Eagle newspaper as a reporter. Then he came back to radio and WIP. Thrilled to have you in the fold.
Allan Kobernick is the Director of Multimedia Services at the Community College of Philadelphia. He's also the Station Manager of CCPTV's Channel 53 station on Comcast and Channel 21 on Verizon's FIOS. For twenty years, he was the CEO & President of Blue Sky Productions, a distribution and production company with over five thousand customers. He has over a dozen awards to his credit.
Denny Somach is the owner of Denny Somach Productions. At one time, he was a radio announcer and programmer for WYSP here in Philadelphia. Somach has been a consultant for several cable networks including MTV, Cable Music Channel, the Comedy Channel and the Fine Living Network. He was also a consultant for XM satellite radio and the Comcast Network. Denny has authored two books about the Beatles.
Nora Muchanic joined WPVI-TV in July of 1986 as a reporter. Since 1997, she is also the host of "Perspective New Jersey." Before coming to 6ABC, Nora was a general assignment reporter with NJN. Previously she was with WHTM-TV in Harrisburg and WWAC-TV in Atlantic City. Muchanic started her career at UA Columbia Cable in Pompton Kaes, NJ. She's been in broadcasting since 1979.
We are thrilled to have these new members. They've helped to bring our total membership up to 456 (an all-time record). We hope to see as many of you as possible at the December luncheon.
DIGITAL ARCHIVAL PROJECT NEWS: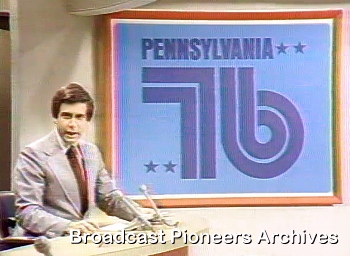 Action News Anchor Larry Kane
WPVI-TV, 6ABC
April 27, 1976
Here's a piece from the 6 pm news on WPVI-TV on Tuesday, April 27, 1976. It was primary election day in Pennsylvania and residents were selecting the GOP candidate for United States Senator. The winner the Republican nomination from John Heinz who was elected to the Senate that November. His main rival was Arlen Specter who would win the GOP nomination for Pennsylvania's other Senate seat in 1980. Heinz' wife at that time was Teresa. Teresa is currently married to US Senator John Kerry. The Action News anchor is Broadcast Pioneers member Larry Kane.
Watch in Real Video!
Watch in Windows Media!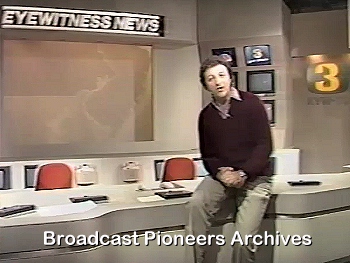 Eyewitness News reporter Mike Strug
KYW-TV, Channel 3
February 23, 1984
On February 23, 1984, member Mike Strug, who was then working at KYW-TV, did a piece about the three year anniversary of the station's morning newscast. Seen in the piece are Dave Stanley, Gary Geers and Jerry Penacoli.
Watch in Real Video!
Watch in Windows Media!
Broadcast Pioneers member Ed Harvey worked at WCAU Radio for over two decades. While he is best known for his telephone-talk show, "The Talk of Philadelphia," that aired daily on the station from 1 pm to 4 pm, he also worked at the station as a disc jockey and a Master of Ceremonies. Around Christmas 1953, Ed Harvey was hosting a WCAU Radio show called "Block Party." This program had no similarities to the Hy Lit "Block Party" show on WCAU-TV a few years later. It was an interesting show that featured audience participation, professional singing and corny jokes told by Ed Harvey. The music director for the show was Bernie Lowe, who later went on to found "Cameo-Parkway" Records.
The audio in this presentation is excellent. We mastered it off of the original WCAU Radio tape. The same one that aired in 1953. While some of the shows were broadcast live, this was was recorded in advance of the air date. This is a slightly abridged version of the program but it gives us the idea of what the show was like. The date is Monday, December 14, 1953.
Listen with Real Audio!
Listen with Windows Media!
Wednesday, December 7th is the 70th anniversary of the Attack on Pearl Harbor. Seventy years ago, on Sunday, December 7, 1941, the Japanese Air Force attacked United States Forces at a base called Pearl Harbor. That was the official entry of the U.S. into the Second World War. Ten years later, on Friday, December 7, 1951, WFIL Radio aired a 15 minute radio show called "December 7, 1941." All news reports in this program were recreated by WFIL personnel in 1951. None date from 1941. Heard in this broadcast were: John Corcoran, Blake Ritter, member Allen Stone, Joe Novenson and member Jim Felix. Produced by Marty Pinsker for the WFIL Special Events Department.
Listen with Real Audio!
Listen with Windows Media!
Finally, we thought you might like to listen to audio of the Children's Hour from December of 1956. The program was aired over both WCAU-TV and WCAU Radio. Air time is 11:30 am to 12:30 pm. Our excerpt picks up shortly before noon.

During the last couple of years of the program, the first half of the show was sponsored by their long time advertiser, Horn & Hardarts. The second part of the broadcast was brought to the audience by the local Plymouth dealers. Please be advised that even though the commercials state that "It's the 1960 New Plymouth," it is only 1956 and the cars they are talking about are really the 1957 Plymouths. Why?

A Plymouth promotional brochuresaid: Cars you might have expected in 1960…here now! ...Plymouth! Suddenly it's 1960. 3 years ahead…the only car that dares break the time barrier. Decades ago, it took 5 years to go from the drawing board to the end of the production line. The 1960 models (which came out in 1959) were on the drawing boards as early as 1954. The parent company, Chrysler, completely scrapped three years of Plymouth design work that had been spent on the entire line and, instead, went right to designs that were said to be planned for the 1960 model year. Thus the marketing line, "Suddenly, it's 1960!"
Listen with Real Audio!
Listen with Windows Media!
Remember, History is ONLY What Gets Saved!
(If there were no portraits of George Washington, how would we know what he looked like?)
BROADCAST PIONEERS' SCHOLARSHIPS:
Because of the success of our recent banquet and because of underwriters for scholarships, this year Broadcast Pioneers will offer a total of seventeen $1,000 scholarships. That's the most we ever have given out. AN ALL-TIME RECORD! If you know of any college student who might be interested, please let them know. You can find all the information right here!
IN TOUCH WITH OUR MEMBERS:
Broadcast Pioneers member and 2011 Hall of Fame inductee Howard Eskin took everyone by surprise at the Person of the Year-Hall of Fame banquet with some up to the moment breaking news. Howard announced the Phillies games will be broadcast on WIP and WPHT radio for the next three years. Howard scooped CBS Radio with the news, which was to be released the next day. The news means CBS has successfully renewed the National League East powerhouse. The games won't air on all-sportys WIP-AM, just the FM, which frequently simulcasts with 610. You never know what you'll hear at a Broadcast Pioneers event. Banquet attendees heard it first from the man in the know!
In our last newsletter, we mentioned member Harvey Sheldon's new book, "Emmis." We're happy to report to you that it's now available on Amazon.com. Several years ago, Sheldon funded the Harvey Sheldon Jewish History Research Video Library right here in Philadelphia at the University of Pennsylvania.
After almost 17,000 hours on television, Regis Philbin appeared on Live with Regis and Kelly for his final show on November 18, 2011. On November 21, we spoke with Broadcast Pioneers member Art Moore, VP for Programming for WABC and Executive Producer for the show. Art was also a previous President and Chairman of this organization. Art told us:
It was bittersweet. I've worked with Regis for 24 years. It's tough not to have him around. People were happy for him, but sad over the loss of the daily contact with both the staff and the viewers.
Member Johnny B. Hall took a tour of the new digs for WJTL-FM, a Lancaster County based Contemporary Christian format station. Johnny also recently participated in the creation of a number of educational videos produced by the Department of Humanities, Penn State College of Medicine, Hershey, PA. The videos illustrated several scenarios in which considerate and respectful behavior among different levels of professional staff fosters cooperation and collegiality in the workplace. He also serves as a member of the Kienle Center Players, a medical college in-house drama group focusing on patient-physician issues.
Member Kenny Jeremiah is appearing with Bittersweet on Friday, December 16th from 7 pm to 11 pm at Antonietta's Beautiful Restaurant and Lounge in Runnemede, NJ. It's what they call "The Big - Little Holiday Party." He's also back in AC just in time for the holidays. See him and the Jeremiah Hunter Band on Friday, December 23rd in the Eden Lounge at Harrah's. Sing a holiday song for us while you're there, Kenny.
WE REMEMBER:
Smokin' Joe Frazier, the former Heavyweight Champ of the World, passed away last month. He spent decades living in West Philly, only a couple blocks from Overbrook High School. Captain Noah tells us the story how one time at a public event, Joe came up to him and hugged him. Frazier said to Merbreier (Captain Noah), "Thanks so much for putting my kids' picture on your show." The captain told us that no one was more happy than he that the young Frazier's drawing appeared on the magical ark!
Corinne Bernstein Glass, who sang on the Horn and Hardarts Children's Hour, passed away at the beginning of November. She was about 8 when she started singing on the broadcast. Her performances date from 1935 to 1937.
Gordon Gray, 87, was a former Vice-President of the organization during the seventies. He passed away at the end of October from pancreatic cancer in Brunswick, Maine, where Gordon lived with his wife Barbara. Gray moved to Philly in 1967 as a full professor and department chair for the Radio-TV-Film department at Temple University. Early in his career, he was a broadcast coordinator for NBC-TV. He was a Fulbright Scholar. Of Gray, Broadcast Pioneers former President and Chairman of the Board Bob Smith, who was dean of Temple's School of Communications and Theater, said:
Temple grew because Gordon was able to recruit outstanding people, really strong faculty members from other universities. He didn't try to be a star. He enjoyed setting the stage so that others could perform to their very best.
Members Rich Gunning and Mel Klawansky are reporting the passing of weekend music host Brian Murphy, age 57, of B-101. He passed away late in November after a long battle with cancer. He previously worked at Eagle 106, WOGL-FM and Metro Networks.
Member Bill Vogt passed away in mid-November at the age of 90. He was a sales service manager at Channel 6 from 1950 to 1954. Bill was also Vice-President and General Sales Manager at WDAS AM & FM from 1954 to 1965 and again from 1975 to 1986. In 1965, he became General Manager for WIBF (TV and radio) here in the area.
ON THE HEALTH FRONT:
Board Member Ed Hurst was in the hospital a little while ago. The doctors think it was heart failure. He's home now and resting. Easy does it, Ed. Hurst still keeps busy with "The Steel Pier Radio Show" heard over WOND Radio, produced by member Don Hurley. Member Dave Coskey runs the station.

THE MEMORIES OF BROADCAST PIONEERS MEMBER ALAN TRIPP!
Did you know...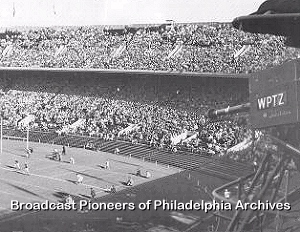 Maybe memory makes sheer terror seem like unlimited fun and adventure. In reality, early television production was so ad lib, so ad hoc, so off-the-cuff and so "How do you do this? I don't know. Just do it" that it produced both trepidation and laughter.
Back in the early days, the only television signal on the air in Philadelphia was an experimental channel, W3XE, operated by Philco, a maker of radios and, prospectively, TV sets. When the channel was granted a commercial license, management had everything but programming. Much of the excitement lay in a simple station identification slide in glorious black-and-white.
As a young advertising agency executive with limited experience but unlimited gall, I told one of my clients, a rug retailer, that he should jump into this new medium while it was cheap. Then I told Roland Tooke, the PTZ station manager, that I had an advertiser ready to sponsor a program. "What program?" Roland replied, "We don't have any programs." Taking a leaf from radio broadcasts, I proposed man-on-the-street interviews. Tooke took up my offer, saying, "I'll provide Carl Volker and our news camera crew. You produce the program."
That's when the terror set in. I had no budget, just a little client money for air time. So I grabbed the Morning papers, wrote down a bunch of questions on current topics, questions that any dummy on the street could have an opinion on, and parked myself on Walnut Street with my one-man camera crew toting the single-system Auricon camera. I grabbed the microphone and collared some innocent passers-by. Do you think the mayor is doing a good job? Is President Truman doing better than Roosevelt? Do you like the Phillies or the Athletics? Predictably, such sparkling questions produced less than illuminating answers. But the program did get on the air twice a week for five tortuously long weeks and, amazingly, was seen by enough people to sell a few rugs.
Way back in 1949, the Philadelphia Eagles won the NFL East title and the Los Angeles Rams won the West, the Championship game to be decided in L.A. Local broadcasts of Pro Football had been modestly successful, but college teams still dominated audiences and no Pro title game had ever been telecast. Making matters still more dubious, network cable connection ran only as far West as Chicago.
However, because one of the "brothers" who owned the Eagles introduced me to NFL Commissioner Bert Bell and I felt I had to do something, I asked the Commish for the rights to televise the Championship Game. A quick call to my friends at Channel 6 led to a deal to borrow their news crew to film the game – the news crew chief allowed that he could put a portable developing tank on an airplane and the ABC Chicago affiliate agreed to feed the resulting edited film to the ABC network. It all happened: an almost-live (6 hour delayed) broadcast of a championship Pro Football game. The fact that it poured rain in Los Angeles for three days before and during the game and the fact that less than 20,000 people sat shivering in the 100,000-seat Coliseum were overshadowed by the Eagles' brilliant 14-0 win -- seen on TV by more than a million viewers.
In the early fifties, an extraordinarily talented guy named Dave Kaigler was our agency's Television Director. When our client, Franks Beverages, wanted to be on TV, we found ourselves with a budget that would buy only "kid time." Dave said, "Hey, I sing and play the guitar and tell kid stories. Put me on Sunday morning." And that's how Channel 3 came to own Sunday mornings – just a tousle-headed cowboy opening his show with Zippity-doo-dah and a magic little bluebird descending onto his shoulder, timed perfectly with the bridge of that song. The station gave us a director; but Dave wrote, sang and produced the show himself. No script clearance, no censors. And it ran for 39 weeks.
During the Fifties, it remained open season for local, live programming in Philadelphia. Our agency, Bauer & Tripp, produced two musical series: a half-hour on KYW from 6:30 to 7:00 p.m. on KYW-TV, starring strictly Philly talent such as Lynne Barrett, who went on to do her own Dinah-Shore-ish show, and then a very professional production on WCAU-TV from 11:15 to midnight each Saturday with Ed McMahon as M.C., Bobby Roberts Orchestra and night-club stars like Dinah Washington – all directed by Alan Bergman who, after essaying a few tunes with me (including I Love Lucy), went on to marry Marilyn and write three Oscar-winning songs.
Yes, the early days of television in Philadelphia were great times for free-swinging, creative people – a mix of fearfulness and fearlessness -- and a wonderful partnership between the TV stations and the agencies.
MORE IN TOUCH WITH OUR MEMBERS:
Member Billy Carlucci of "Billy and the Esssentials" fame has a new CD out just in time for the holidays. It's called: "Billy and the Essentials Christmas Album." Fans of Billy and the Essentials have been requesting a Christmas album for years. The distinctive sound of Billy and the Essentials has captivated audiences since early rock and roll and resonates with music lovers all over the world. Broadcast Pioneers' Chairman of the Board Gerry Wilkinson, who produced some of the local Doo-Wop specials on WHYY-TV, says:
Eleven top holiday tunes make up this CD. It's hard picking the best track because they're all wonderful. I especially liked "Jingle Stomp" and "Christmas Time is Here." Billy produced this CD and his talent shines through not only as a lead singer with a strong and powerful voice, but also as a brilliant song writer. I give it 6 stars out of five.
Also getting 6 stars out of 5 is Member Charlie Gracie's new CD. It's called "For the Love of Charlie" and is on the ABKCO label. It was produced by Al Kooper, who has produced and played with the likes of the Rolling Stones, Bob Dylan, Jimi Hendrix and more! By the way, Gracie received the Lifetime Achievement Award on November 3rd from Philadelphia Row Home Magazine. The event was held at the VIE in Center City. Charlie has entertained us often at our luncheons. But back to the new album. We especially liked the treatment that Charlie gave to the old Al Alberts' classic, "On the Way to Cape May," on this album. It's available on Amazon.com, where you can hear 30 second samples from the new and great album. A little bird told us that Charlie is working on a book that will tell his life story. It's due out in 2012. We can't wait.
We heard from member Gene Crane way down south (like in Mexico). He says that he's so proud of all the wonderful inductees we inducted into our Hall of Fame a couple weeks ago. We wants us to know he sends his congratulations and love. We hope to see Gene at one of our spring luncheons.
Member Bunny Gibson e-mailed that last month, "I did my 9th year of the 'Day of the Child' Dance Contest for 1000 foster children. This year, I had my LA American Bandstand dancing buddies as helpers: Linda Gonzales, James Rodriguez & Laura Rosenson. Also, my granddaughter, Nicole Weiss, danced with the kids, gave out prizes and medals and, through the 'joy of dancing' they all felt like Winners!"
THANK YOU:
As we do every month, we want to thank Broadcast Pioneers member Johnny B. Hall for his monthly cash donation to our DAP, Digital Archival Project. The amount totals $1,800 yearly and really helps us to underwrite this much needed but expensive project.
Johnny has also underwritten 4 scholarships. Three scholarships have been underwritten by various donators in the memory of Mrs. Noah. Five additional scholarships have also be underwritten by Ira & Robin Adelman, the Harry Hurley Golf Tournament, Sylvaia Kauders, Leon Love and Esther Kurtz in memory of her late husband, David Kurtz, founder of B-101.
We also thank new member Eileen Matthews for her extra contribution when joining the organization. We also forgot to mention that nice donation from Don Hurley given to us at the October luncheon. Thanks guys.
When people were ordering their banquet tickets, many included an extra gift to go towards scholarships. We thanked some previously, but some still need a mention. So we are delightful to give thanks to Allen Stone, Art Moore, Les Waas, Catherine Brown, Sally Berlin, Steve Tatz, Paul Gluck and Liz Matt. Thanks everyone.
If you forgot to make an extra contribution (cash or memorabilia) and would like to do so now, it's never too late. We would be thrilled to hear from you at: PO Box 2886, Bala Cynwyd, PA 19004.
A LITTLE BIT OF HISTORY
Ellis A. Gimbel (on the phone)
Gimbel Brothers Department Store in Philadelphia
January 29, 1927

Richard Gimbel (on the phone)
Gimbel Brothers Office in London
January 29, 1927
Special thanks to Bunny Gibson who arranged with Jennifer Warren Gimbel to have Jennifer's assistant, Jessica Mills, scan these photos from the Gimbel family collection. We are seeing both sides of the telephone call. What made it so special? It was the very first telephonic communications between Philadelphia and London. The conversation (at least Ellis' part) was broadcast live over WIP Radio, which was owned by the Gimbel Brothers Department Store. Ellis headed the department store company for many years. Richard was Ellis' son.
IN TOUCH WITH THE INDUSTRY:
Last month, the CW Philly 57 aired all three episodes of the Drexel University Student-Produced Sitcom "Off Campus." They aired between November 5th and the 26th. "OFF CAMPUS" features the adventures and misadventures of recent college graduates and roommates Claire, Dean, Felix, Hailey and Nick. Allen Sabinson, Dean of the Antoinette Westphal College of Media Arts & Design at Drexel and a member of this organization said:
To say we're thrilled is an understatement. We've watched these shows since the beginning, and we knew they were good, but to be recognized by NATAS and CBS's CW Philly 57 speaks to the talent, creativity and hard work of our students and faculty. I am extremely proud of these achievements and believe that our students and faculty are just getting started.
We've heard from our friends at 6ABC, WPVI. They tell us that 4 years ago, the station told us that they were the first local television outlet to seed the social network landscape. Now, they have reached a six-figure milestone – 100,000 LIKES! President & General Manager, Bernie Prazenica, a member of our organization said:
This is now a primary way for us to stay connected to our news viewers, but it's grown to be so much more than just a place to be social. Facebook is now a source for content, and it's a platform for citizen journalism.
The CBS Evening News (carried locally on CBS 3) focused on Philadelphia mid-month in November as Anchor Scott Pelley reported on his roundtable discussion with local entrepreneurs and national officials about the economy. CBS 3 Anchor Chris May interviewed Pelley about the Philadelphia panel and those reports aired over several days.
The day before Thanksgiving, WUBA, 1480 on AM, owned by Clear Channel, went back to being WDAS. They were playing R&B holiday music. At the end of the month, they flip to an all oldies R&B format with music from the 50s, 60s and the 70s. Gerry Wilkinson, Chairman of the Board of Broadcast Pioneers, who was Operations Manager for WDAS & WDAS-FM from 1970 to 1980, said:
While the station can trace its roots back to 1922, it was a decade later when cloth manufacturers Dannenbaum and Steppacher purchased the station. Both were founding members of this organization with the former being one of our previous officers. In 1950, Max M. Leon bought the station. Max was a former Vice-President of the Broadcast Pioneers. Shortly thereafter, Max's son-in-law and my mentor, Bob Klein (former GM) flipped the format to R&B. Leon and Klein have both been inducted into our Hall of Fame in recent years.
WOGL-FM, the oldies station in town is now doing all holiday music, calling itself "Philadelphia's New Christmas Classic Station. The station is expected to flip back to oldies at the end of the month. B-101 previously went all Christmas.
Last month, CBS 3 and the CW Philly 57 launched their 23rd annual "Joy of Sharing" toy campaign. This year, for the first time, the TV stations are joined by the five CBS O&O's in the market. Later this month, the unwrapped toys for local children campaign will end with a five hour television fundraiser.
Member Joe Ball, who runs ACT (Advertising/Communication Times), has a special invite for all Broadcast Pioneers members. He's inviting you to be his guest at the Executive Networking Card Exchange which will be held at The Radnor Hotel, 591 E. Lancaster Ave., St. Davids, on Tuesday, February 21, 2012 from 4:45 pm to 7:15. There's a free buffet and free parking. Free admission with a business card. Meet and mingle. Bring lots of business cards. Contact Joe for more info at adcomtimes@aol.com.
Congratulations to 6abc's Cecily Tynan, who won the masters division of the 8K race in the Philadelphia Marathon.Tynan finished the course in 30 minutes 4 seconds.
Congratulations to on-air personality at WMMR 93.3 FM Pierre Robert who is celebrating his 30th year with the station. During a recent interview with Daily News columnist Dan Gross, Robert told him his two radio heroes are Jerry Blavat and Sid Mark.
Did you know that Billy Joel has played and sold out more shows at South Philadelphia arenas and stadiums than any other solo artist? He has sold more than 150 million albums worldwide, with local fans buying his music for the longest string since his beginning. Billy was close personal friends with the Judy and Ed Sciaky family. Ed was a member and Judy is currently one.
The Public Relations Society of America will be holding their 43rd annual Philadelphia Pepperpot Awards at the Franklin Institute in early December, to recognize best in class PR Campaigns from the region. Last year, the Anne Klein Communications Group won five awards. Our President Jerry Klein is Executive Vice-President of the firm.
Power 99 morning air personality "Jonesy," also known as Tarsha Jones is now off the air at the station. Jones was previously WQHT-FM. Earlier in her career, she worked at the Radio One property WPHI (then called the Beat). Power 99 is owned by Clear Channel.
Longtime WPVI Assistant News Director, Tom Davis, has been named Vice President & News Director at 6abc Action News. Davis has more than 20 years of experience in TV news, working in several different markets. Before coming to Philadelphia, he was at WJLA in Washington, DC. Prior to that, Davis was an executive producer at television stations in both Cleveland and Youngstown. Davis takes over for Carla Carpenter, who was recently promoted to Senior Vice President of Digital Media.
ON THE SCENE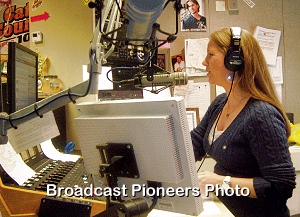 Member Jennifer Honess Scordo, whose air name is "Georgia"
WPUR Radio, Cat Country, Northfield, NJ
(Photo by Barbara Farley-Stone)
We were recently on the scene with Broadcast Pioneers member Jennifer Honess Scardo, aka "Georgia," in studio at WPUR "Cat Country" 107.3 FM in Northfield New Jersey.
Jennifer joined Broadcast Pioneers while working at NBC10 during an eight year stint doing audio and a variety of production assignments. Jennifer has been an on-air personality at WPUR for three years, and was very excited the day we met her because she had recently signed a new three year contract. We asked Jennifer about the move from NBC10. She told us she loved what she was doing and yet, like most of us, put out some feelers to test the market and had the chance to make the move.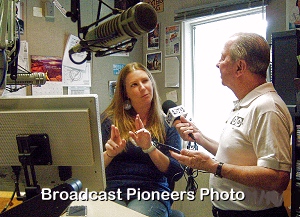 Member Jennifer Honess Scordo and VIce-President Frank Stone
WPUR Radio, Cat Country, Northfield, NJ
(Photo by Barbara Farley-Stone)
"This is a great job and a lot of fun. I get to listen to music all day, give away prizes, report the weather and chat with listeners. My name is Jenn but I worked in a place where there were too many Jenns, and since I'm originally from Georgia that became my nickname and now my on-air name. I've been a member of Broadcast Pioneers for over three years and think it's a great networking tool. I can't get to too many lunches because I'm working mid-day. I've been here in the northeast for eleven years and still can't get used to the winters." You can hear "Georgia" from 10am to 3pm on WPUR 107.3.
A REVIEW OF OUR PERSON OF THE YEAR/HALL OF FAME BANQUET:
What a Wonderful Evening!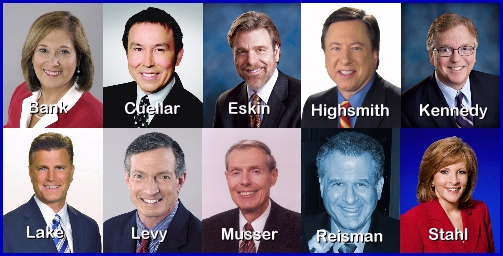 You came out and cheered on our ten inductees for our "Hall of Fame" for 2011. You helped us welcome each of them to the podium. They are (in alphabetical order):
Cherie Bank, former WCAU-TV medical reporter & TV host
Dann Cuellar, reporter for 6ABC, WPVI-TV's ACTION NEWS
Howard Eskin, WIP sports talk host & sportscaster on NBC 10
Steve Highsmith, PHL 17 & NBC 10 host and political reporter
Wally Kennedy, KYW Newsradio anchor/former TV/radio talk host
Tim Lake, anchor of 4 pm, 6 pm & 11 pm news on NBC 10, WCAU
Steve Levy, former anchor/reporter/sportscaster at Channels 3, 6 & 10
Andy Musser, Phillies/Eagles/Sixers sportscaster for 25 years!
Barry Reisman, Philly's Jewish-American radio host since 1965
Stephanie Stahl, CBS 3's medical specialist/reporter and TV Host
We also inducted 15 people posthumously into our Hall of Fame. They were:
Larry Brown, former WPEN Radio air personality/TV pitchman
Dick Covington, former KYW Newsradio anchor/ID announcer
Jack Creamer, "The Handyman Show" host on WIP & Channel 3
Tommy DeNoble, Bandstand regular & TV host/singer/engineer
Bob Dome, former broadcast advertising executive extraordinaire
Randy Kraft, former TV news anchor and actor on "General Hospital"
Jack Lamar, all round Philadelphia area broadcaster & announcer
Don Lancer, former KYW Newsradio anchor known as "The Dean"
Norman Leebron, producer, sales manager and all-round broadcast guy
Helen Lipkin, former 30s/40s WDAS kids show host & WPTZ personality
Mac McGuire, DJ and singer on WPEN, WIP, KYW and WCAU Radio
Tom Moorehead, former WFIL-TV sports director and TV personality
Roy Neal, former WIBG announcer, WPTZ personality & NBC newsman
Charlie O'Donnell, Bandstand announcer, movie host/network announcer
Joel A. Spivak, former WCAU Philadelphia TV & radio air personality
The invocation this year was done by member Art Wilson. The Star Spangled Banner was sung by KYW Newsradio's Bill Roswell. Piano music by Bucky Clark.
OUR 2011 PERSON OF THE YEAR!

Cardinal John P. Foley
Still from his video acceptance
November 2011
Our Person of the Year for 2011 was His Eminence, Cardinal John P. Foley, a member of the Broadcast Pioneers of Philadelphia and a native to this area.
Accepting on behalf of the Cardinal (whose health prohibits him from attending) was Matthew Gambino, the Director and General Manager of the Catholic Standard and Times. It's a position that Cardinal Foley previously held. Cardinal Foley recorded a message for us to be played at the banquet--possibly the first time that a video received a standing ovation!
Watch Cardinal Foley's Recorded Remarks!
The gala event took place on Friday, November 18th. Reception was at 6 pm and dinner at 7 pm.
Last November, we raised enough through ticket sales and underwriting to award sixteen $1,000 scholarships to area college students. This year, we raised enough funds to award seventeen $1,000 scholarships, an all-time record.
MORE VIDEO!
Watch videos of the Hall of Fame Inductees acceptance speeches!
Cherie Bank
Dann Cuellar
Howard Eskin
Steve Highsmith
Wally Kennedy
Tim Lake
Steve Levy
Andy Musser
Barry Reisman
Stephanie Stahl
Bill Roswell speaks about Cardinal Foley
AUDIO!
During his acceptance speech upon being inducted into our Hall of Fame, member Howard Eskin delivered BREAKING NEWS! He says that for the next 3 years, the Philadelphia Phillies baseball broadcasts will be heard on both WIP and WPHT radio. The next day, he told the world on his Saturday broadcast. But you heard it FIRST at the Broadcast Pioneers banquet.
Bill Roswell sings the Star Spangled Banner
Member Art Wilson does the invocation
Posthmous Honorees' Family Members Speak
Bill Roswell speaks about Cardinal Foley
Matt Gambino accepts on behalf of Cardinal Foley
Cherie Bank speaks
Dann Cuellar speaks
Howard Eskin speaks
Steve Highsmith speaks
Wally Kennedy speaks
Tim Lake speaks
Steve Levy speaks
Andy Musser speaks
Barry Reisman speaks
Stephanie Stahl speaks
RED CARPET PRE-SHOW VIDEO!
Mike Strug & Howard Eskin
Broadcast Pioneers Banquet
Hilton City Avenue, Philadelphia
Friday,November 18, 2011

Jim Gardner & Kalie Desimone
Broadcast Pioneers Banquet
Hilton City Avenue, Philadelphia
Friday,November 18, 2011
This is the second year that we have recorded a "Red Carpet" program just before our banquet. A sort of a pre-show presentation. Broadcast Pioneers members Mike Strug and Kalie Desimone spoke with some of our guests for the evening.
HEARD ABOUT THE BANQUET: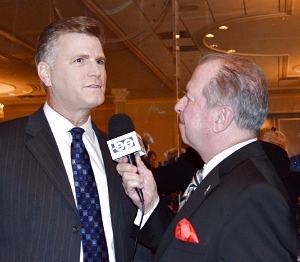 (Left to right) Members Tim Lake and Frank Stone
Broadcast Pioneers Banquet
Hilton City Avenue, Philadelphia
Friday, November 18, 2011
(Photo by Barbara Farley-Stone)
"I love coming to this. It's so good to see so many people and spend an evening with friends and colleagues." Cathy Gandolfo
"I feel so proud to be with so many wonderful broadcasters. This is an exciting night." Cherie Bank
"I've been on the air in Philadelphia since 1976 and am honored to be here and to be able to do it in my hometown." Howard Eskin
"This is great. Andy Musser is one guy who really helped me along the way. He was my mentor and I just wanted to be here to express my appreciation. Larry Anderson
"Andy is one of the best. I grew up listening to him doing Villanova basketball games. He's a wonderful man." Tom McCarthy
"I was in the business for 44 years and have some wonderful memories. It's great to be here to honor Cherie and Steve." Bill Baldini
"I am thrilled and so excited. It's a real honor. To be inducted with friends and colleagues is wonderful." Stephanie Stahl
"I feel wonderful about the honor. It's an important validation of what I've tried to do. To be here with my family is just great." Steve Highsmith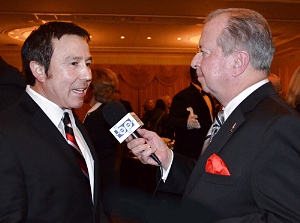 (Left to right) Dann Cuellar and Vice-President Frank Stone
Broadcast Pioneers Banquet
Hilton City Avenue, Philadelphia
Friday, November 18, 2011
(Photo by Barbara Farley-Stone)
"We're here to support and recognize Dann Cuellar. He is such an integral part of the Action News team. We're glad to be here to recognize Dann and the others." Jim Gardner
"This is such a fabulous event. To be here with all these wonderful people, and the Mummers is very special! To have Cardinal John Foley as the Person of the Year means so much and his message to fellow broadcasters about integrity is very powerful." Pat Ciarrocchi
"I was on The 10 Show the other day. First time I've been back in the building in ten years. I worked there for 20 years. Being back on camera was exhilarating. There's a feeling when you do live television that's magical." Al Meltzer
"Great to be here…hard to believe it's happening. Do you think they made a mistake?" Steve Levy
"This is a great honor. To be linked with so many broadcast legends is amazing." Tim Lake
"This is really quite honestly one of the seminal events of my adult life. This is one of the most special nights ever." Wally Kennedy
"I am very humbled by this high honor and privilege, to be recognized by Broadcast Pioneers is very special." Dann Cuellar
I was one of those people who was fortunate to grow up in this town and then to work with these legends was wonderful. I am proud to have been a part of it." Liz Matt
A FINAL THOUGHT....
Cardinal John Foley is a member of this organization. His first religious post was at Sacred Heart Church in Havertown. One evening, there was a church dinner and Father Foley was standing in line waiting for dessert with a young elementary student in front of him. The two came to a plate of cupcakes, which had a sign saying, "Take one - God is watching!" The child looked at Father Foley for guidance. Father Foley said, "That's right, just one cupcake." Soon they came to a plate of chocolate chip cookies. Again the child looked for guidance and said, "Father Foley, what should I do?" Foley said, "Take as many cookies as you want. God is watching the cupcakes."
as told by Bill Roswell
November 18, 2011
remarks celebrating Cardinal Foley being named our "Person of the Year"
Please contact us by e-mail at newsletter@broadcastpioneers.com or by mail at Frank Stone. Your stories are important, to you, to us, and your colleagues. Contact us today and we'll include your story in the next newsletter!

Photo Editor & Archival Historian - Gerry Wilkinson
© 2011, Broadcast Pioneers of Philadelphia
All Rights Reserved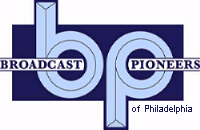 The e-mail address of the Broadcast Pioneers of Philadelphia is pioneers@broadcastpioneers.com
For luncheon reservations call (856) 365-5600 or e-mail us at: rsvp@broadcastpioneers.com