The Broadcast Pioneers of Philadelphia is a federally recognized, state chartered 501(c)(3) non-profit corporation serving Philadelphia since 1962.

Ed Eisen
News Editor

December Luncheon
The Bala Golf Club
Wednesday, December 19th

Meet & Greet at 12 noon!
Lunch at 12:30 pm
Ratecard: $28 per person!

PLEASE RESERVE NOW!
CALL (856) 365-5600!
rsvp@broadcastpioneers.com
Another "Third Wednesday" Luncheon!
Wednesday, December 19th!
A TRIBUTE TO DICK CLARK
& "AMERICAN BANDSTAND"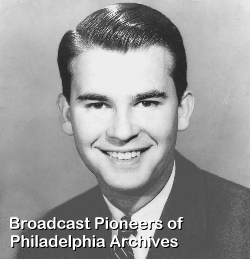 Our next Broadcast Pioneers luncheon is a "Tribute to Dick Clark and American Bandstand." It will be held at the Bala Golf Club, 2200 Belmont Avenue in Philadelphia on Wednesday, December 19th (that's the third Wednesday of the month). Meet and greet is at 12 noon and lunch will be served at 12:30 pm. Our MC is Corky Warren.
Scheduled to speak that afternoon are (in alphabetical order):
Jerry Blavat, legendary Philadelphia air personality & dancer on Bandstand
Steve Caldwell, one of the original singers of the rock & roll group, "The Orlons"
Ron Joseph (RJ), Philly air personality and dancer on "American Bandstand"
Bill Kelley, "American Bandstand" dancer & member of our Board of Directors
Lew Klein, executive producer of the ABC-TV show "American Bandstand"
Frank Maffei, of the rock and roll group "Danny and the Juniors"
Carole Scaldeferri, an "American Bandstand" regular dancer/celebrity
Dee Dee Sharp, the legendary soul singer of "Mashed Potato Time"
Bonnie Nadley Silvestri, a dancer on "American Bandstand" during 1961
Ray Smith, a producer for the NBC-TV "Today Show" & former show dancer
Arlene Sullivan, an "American Bandstand" regular dancer/celebrity
Joe Terry, of the rock and roll group "Danny and the Juniors"
Bill Wright, Sr., Llgendary WIBG "Good Guy" & Bandstand performer

At the December luncheon we'll have our new golden Broadcast Pioneers Lapel Pins. They are brand new and can be obtained with a donation of $7 or two pins for a donation of $10 or more.
It all takes place at the beautiful and historic Bala Golf Club, 2200 Belmont Avenue (across the street from the State Police) in the Wynnefield section of Philadelphia. Only minutes away from Channels 6, 10 and 17 and the radio stations in Bala Cynwyd. Call now for reservations. (856) 365-5600! Don't miss this one!
Meet and greet (networking) starts at 12 noon, and a full course lunch including salad, coffee or tea and dessert will be served at 12:30 pm. There will also be a crudité and cheese table. Cash bar available all afternoon!
Plenty of FREE parking. The luncheon is open to all our members, their guests and any person in the industry or associated fields, whether active or retired. You do NOT have to be a member to attend. Call NOW with your reservation(s), (856) 365-5600!
Please note: The price for our monthly luncheons is now $28 per person. Prior to this increase, we had not raised our luncheon prices since 2005. That's seven full years. We tried our best to maintain our old pricing but recently our caterer pushed our cost up by 25%. Please note that we do NOT make a profit on the lunches; they do NOT add any net revenue to our treasury. We actually lose money doing these luncheons. They are done so that our members can enjoy good food and great programs, see old friends and have a wonderful time.
In order to speed up check-in at the luncheon, it would help if you had the $28 in exact change or your $28 check already written. Make it payable to the Broadcast Pioneers of Philadelphia.
WE WANNA SEE YOUR FACE IN THAT PLACE!

Visit Our Website Often - http://www.broadcastpioneers.com

NEED A TAX DEDUCTION?
Looking to pick up some more tax deductions before the end of the year? May we suggest a contribution to Broadcast Pioneers. Broadcast Pioneers is a 501(c)(3) charitable organization, so your contributions may be tax deductible (check with your tax adviser to be sure).
A check is great, but you can get even more mileage out of your contribution by making a donation of appreciated stock. Instead of paying capital gains tax on the increase in value of your stock, you get the donation for the full current value of the shares (contact us for instructions to give your stockbroker on how to transfer the shares).
Your contributions help underwrite Broadcast Pioneers' scholarships for college students, our student symposia and career nights, our Digital Archive Project and other educational activities. Call us at (856) 365-5600 or e-mail us at: pioneers@broadcastpioneers.com. Don't wait! Next month will be too late!

ATTENTION - BOARD MEMBERS:
FYI...Board Members! There will be a Board Meeting before the December 19th luncheon at the Bala Golf Club from 10 am to 11:30 am. Please put it on your schedule. When reserving for the luncheon, board members should also let us know if they plan to attend the board meeting.
BROADCAST PIONEERS IS ON FACEBOOK:

Broadcast Pioneers now has a Facebook page that you can find here: http://www.facebook.com/broadcastpioneers. Join in on all the fun and "like" our page. Member Art Wilson is our Facebook guru.
WELCOME NEW MEMBERS:
FULL MEMBERS:
Michael Kaufman has owned and operated a small, award-winning, full-service marketing/communications firm for the last three complete decades. He has been writing advertising copy for almost 40 years. He's based out of Huntingdon Valley, PA. He also owns "Wear It's At," the promotional products division of Kaufman Advertising. He has won numerous industry excellence creative awards on the local, regional and national level.
Anna Mae Wallowitch is the widow of Charles Shaw, famed CBS Radio WWII correspondent and news director at WCAU. Anna Mae appeared on the Betty Hughes Show, interviewed on several radio stations because of her open heart surgery in 1959 (rare in that day). She established her own business representing artists and photographers. In the 70s, she was involved in the show "Parents Without Partners."
Lee Schwartz is currently the producer and co-host of the "Lee and Brian Show" on WNJC, 1360 on AM. It's on Saturdays from 2 to 4 pm. Brian is Lee's son and a communication student who will graduate from Temple University this spring . Previous to that show, Lee was the producer/host of "Reach for the Stars" on the same station from 1997 to 2005. The program interviewed hundreds of authors, celebs and others.
Kathy Gerrow is the Assistant News Director for WCAU-TV, NBC 10. She has been in the business since 1979 and was previously a reporter for KYW Newsradio (1981 to 1983), a producer for KYW-TV (1983 to 1996) and been with NBC 10 since 1996 as a producer, executive producer and Assistant News Director. While the station was searching for their latest news director, Kathy filled in as Acting News Director.
We are thrilled to have these new members. We now have 480 members. More than ever. We hope to see as many of our members as possible at our December 19th luncheon.
DIGITAL ARCHIVAL PROJECT NEWS:
Broadcast Pioneers member Jerry Blavat
in Philadelphia, Pennsylvania
1994

Dick Clark, our 1980 Person of the Year
in Hollywood, California
1994
In 1994, Broadcast Pioneers member Jerry Blavat spoke with the 1980 Broadcast Pioneers "Person of the Year," the legendary Dick Clark. This interview was broadcast at that time on Jerry's syndicated TV program "Backstage with the Geator."
Five years later, Blavat was working with Broadcast Pioneers Chairman of the Board Gerry Wilkinson at WHYY-TV, where they put together a 90-minute live program called "Jerry Blavat presents the Legends of Rock & Roll." The Channel 12 show aired in March of 1999.
The video below is from a VHS aircheck (recorded at WHYY) of that broadcast. Wilkinson, who produced all of the WHYY-TV segments, said that the interview that aired that evening came from the original air tape from 1994. However, the original master of the complete, uncut interview is believed to no longer exist. Some of the other interviews and performances from earlier Blavat shows were edited for the Public Television broadcast. However, Gerry thinks that the Clark interview is intact exactly as aired in 1994. The Real Video version is of slightly higher quality.
Watch in Real Video!
Watch in Windows Media!
On Sunday, May 17, 2009, Broadcast Pioneers member Sam Lit spoke with Charlie O'Donnell in conjunction with our WIBBAGE Reunion luncheon (held a few days later). While Sam had Charlie on the phone, he recorded an interview with O'Donnell for Broadcast Pioneers.
Charlie O'Donnell was from Philadelphia. He was program director at WHAT Radio, news director at WIBG, Radio 99 and hosted all-night movies on Channel 6.
However, he was also the announcer on "American Bandstand." Then he began a decades-long career as a game show announcer. Charlie O'Donnell was truly one of the greats of our business.
Listen in Real Audio!
Listen in Windows Media!
Our Wednesday, May 21, 2008 luncheon was a "Tribute to Jim O'Brien." It had been a quarter of a century since the untimely passing of Jim O'Brien, one of Philadelphia's most beloved broadcasters. Jim was the main Channel 6 weathercaster and the mid-day news anchor. He was also known for being one of the Boss Jocks on Famous 56, WFIL Radio and co-host of Channel 6's "Dialing for Dollars." One of the speakers that May afternoon was member Bill Russell, Jim O'Brien's stage manager, crew chief & lighting director. Here's what Bill said that afternoon: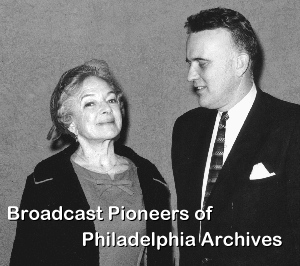 (left to right) Actress Helen Hayes and Broadcast Pioneers member Ed Harvey
WCAU Radio
February 1963
In early February of 1963, actress Helen Hayes appeared briefly (about 20 minutes) on Ed Harvey's "Talk of Philadelphia" afternoon broadcast on WCAU Radio. They spoke about her career and her appearance at the Walnut Street Theater where she was appearing with Maurice Evans in "A Program for Two Players." Her appearance in Philadelphia was a pre-Broadway run. The show never made it to the Great White Way. For the first time in almost a half century, here is that interview. It was mastered off an aircheck recorded at WCAU Radio. We have 400 such broadcasts of Ed Harvey in our audio archive.
Listen in Real Audio!
Listen in Windows Media!
WE REMEMBER: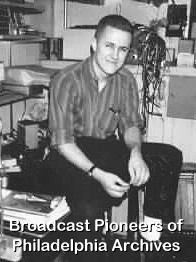 Dick Swayze
circa 1962
Dick Swayze, 70, lost his battle with cancer on Halloween. Growing up, he discovered his passion for radios, electronics and engineering, and while attending Haverford High School he ran the school radio station. Immediately following the Army, he worked for WTOP, Washington, and was one of the technicians stationed atop the Lincoln Memorial to record the funeral of President. Kennedy. Shortly thereafter, he began working at WCAU Channel 10 in Philadelphia as the transmitter technician.
William J. Pietrowski, 78, better known to WBCB listeners as Bill Melody, passed away on Halloween with his family around him. He was an entertainer, musician and songwriter who appeared at many different places, including the Grand Ole Oprey. He was a writer for the Calkins newspapers which includes several local papers. He has been a commentator on Merrill Reese's station WBCB since 1993.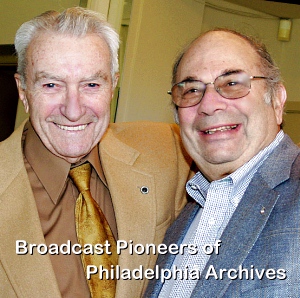 (left to right) Broadcast Pioneers members Bill Russell and Steve Sacks
Broadcast Pioneers Luncheon at the Bala Golf Club, Philadelphia
Wednesday, January 17, 2007
Bill Russell, 86, passed away on Thanksgiving evening. As many of our members may know, Bill had a stroke 3 years ago and never really fully recovered from that. Two months ago, Bill fell and broke some ribs. He had lost a lot of weight and was pretty much bed ridden. He worked with all of the top celebrities at Channel 6 and also worked on the national broadcast of "American Bandstand." He was an ex-Marine and a member of this organization since the spring of 1994.
ON THE HEALTH FRONT:
Broadcast Pioneers Board Member Bob "Chopper Bobby" Kravitz had surgery a few days after our annual banquet. His wife Susan reports to us that everything went well and Bob is now home resting. Recover soon, Bob.
Broadcast Pioneers Vice-President Kal Rudman had cataract eye surgery a couple of weeks ago. His lovely wife Lucille told us that he's doing well. So next time Kal tells you, "Good to see you," we'll know he actually can. All the best, Kal.
IN TOUCH WITH OUR MEMBERS:
Bonnie Nadley Silvestri reflected on American Bandstand memories recently on the "Pearl Polto Show" on the Internet. You can catch the program hosted by Pearl Polto on YouTube at http://youtu.be/peygqq4YPwA. Pearl and Bonnie are both members of Broadcast Pioneers. Bonnie is better known as "Bristol Stompin' Bonnie." The producer is Ronn Homer, son of the late talk show host Irv Homer. Irv was posthumously inducted into the Broadcast Pioneers Hall of Fame two years ago.
Broadcast Pioneers member Mike Bove, who reunited with his 60s group The Tridels, says the sales of their new Double CD, Back To Life, are going very well. All proceeds go to "Pennies in Action," an organization that supports breast and prostate cancer research. Broadcast Pioneers member Uschi Keszler is the organization's CEO and Founder. If anyone is interested in making a donation to get a copy of the CD (CD costs $10.00), contact Mike Bove.
Broadcast Pioneers member Ralph DiCocco was out in Burbank, California, over Thanksgiving to see his daughter and other relatives. It was 36 degrees here when he called, but it was 82 degrees there. Ralph, we think we'll just have to send California some of this cold weather.
Former Broadcast Pioneers President and Former Chairman Frank Hogan is retiring from his job as General Manager of Rowan Radio, WGLS, at the end of this year. He has been involved with the station since 1977 and became GM in 1991. Assistant General Manager Derek Jones will serve as interim station manager of the station.
Just in time for Christmas, Broadcast Pioneers member Denny Somach, producer of the nationally syndicated "Get the Let Out" radio features, has just released an illustrated coffee-table tome aptly titled "Get the Led Out: How Led Zeppelin Became the Biggest Band in the World." Somach, who lives in Havertown, helped establish WYSP as an FM rock radio innovator and ratings grabber with the "Superstars" and "Classic Rock" formats. The book was published by Sterling.
Just in case you didn't know, Broadcast Pioneers member Paul Big Bear and his wife Ginny are singing their heads off again this holiday season. "The Party Continues" will be entertaining at the LuLu Shrine, Butler Pike in Plymouth Meeting on New Year's Eve. And you're invited! On Thanksgiving Day, Paul and Ginny participated in the 52d annual Hatboro Parade. Big Bear served as Grand Marshall and Ginny drove the van pulling their party float. Keep belting 'em out, Big Bear!
Broadcast Pioneers member Bill Vargus (Billy V), former Channel 29 sportscaster, is playing the starring role in Media Theatre's "Dr. Dolittle." The production runs through January 27th and is the region's first professional production of the two-act musical. Bill is also the husband of Broadcast Pioneers member Sue Serio, who does the morning weather on Fox 29.
Broadcast Pioneers Hall of Famer Sylvia Kauders just closed in a starring performance of a new play, "Marty's Back in Town." The award-winning actress played an old-fashioned Jewish immigrant mother who fights for the survival of her children in the tenements of Brooklyn, NY. Thirty years later in Manhattan's posh Park Avenue, the children are grown but the family is faced with accepting the black sheep son back into the clan. The play was written and produced by Moorestown, NJ, resident Norman Shabel. Savagely funny, Sylvia played the role of "Moma" in the Adrienne Theatre production.
The Adelmans gave us some of their daughter Marlene's wonderful poems at our annual banquet on Friday, November 16th. We certainly have a budding poet in our ranks. We appreciate their sharing.
Broadcast Pioneers member Bunny Gibson has come full circle from her dancing on "American Bandstand." She just booked four days as a Principal Dancer on "Two and a Half Men" with Ashton Kurtcher, Jon Cryer and Angus T. Jones.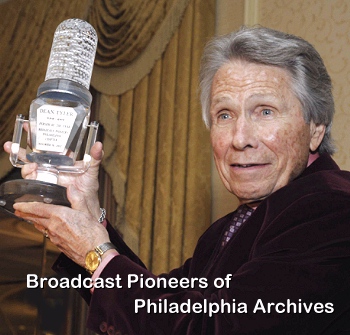 Our 2012 "Person of the Year" member Dean Tyler
Our annual banquet at the Hilton City Avenue, Philadelphia
Friday, November 16, 2012
Photo taken by Joel Schwartz
Broadcast Pioneers 2012 Person of the Year Dean Tyler will be having some hip surgery in the next few days. Dean scheduled it for after the banquet so it would be able to attend and accept our honor. Tyler told us that it is the latest technique with less cutting and less recovery time. Dean, we pray for total success and wish you a quick recovery. If you missed the banquet, video and some photos are available here!
What a wonderful banquet we had on November 16th. 350 of your closest friends were in attendance. We received several inquiries about the "news story" across from Dean Tyler's bio in the banquet program booklet. Well, it was only a news story in the mind of Board Member Les Waas. Actually, it was a paid advertisement illustrating the comic talents of Les. For those of you who didn't see it, here it is.
Broadcast Pioneers member Harry Hurley was named one of the top 100 most powerful people in the State of New Jersey for the sixth consecutive year. Member Frank Stone sent us the story from the Press of Atlantic City where Hurley ranked number 97 among the names listed on the PolitickerBJ.com's 2012 Power List. They referred to him as "The voice of South Jersey, no other media person has an animated and accurate a political take on the land." Harry can be heard daily on WPG-AM, 1450 doing morning drive from 6 am to 10 am.
Hurricane Sandy took its toll on the east coast and the home of former vice-president and board member Frank Stone. Returning to their home in West Wildwood three days after the mandatory evacuation, Frank and his wife Barbara found their entire first floor totally damaged by the storm. Over five feet of water surrounded the house, washing out floors, walls, appliances and furniture. Frank said:
This is the first time in thirty-six years that water has penetrated the house. We've hired professionals to dry the house out and mitigate for mold. New walls and electrical service will be next. It's going to take time, but at least we had a home to return to. We consider ourselves fortunate
Anne Sceia Klein, Founder and President of Philadelphia-based Anne Klein Communications Group, has been named a "Woman of Distinction" by the Philadelphia Business Journal. Anne is the wife of Broadcast Pioneers' President Jerry Klein. The award honors women who have made a significant impact through professional accomplishments and community involvement. Anne was also named a "Super Woman" by South Jersey Magazine. That award is given to those who "are finding ways to do it all, and are changing lives in the process." Anne was honored for her role in helping students develop their careers for more than 30 years. Jerry serves as Executive Vice-President of the public relations firm.

Did you know...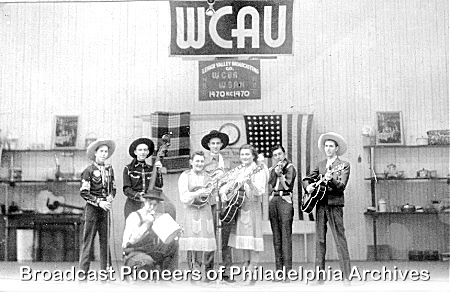 (left to right) Elmer Newman, unidentified, unidentified, Julie Murray
Slim West, Sophie Murray, Pee Wee Miller, Pancake Pete Newman
Sleepy Hollow Gang
WCAU Radio
1940
When radio was less than seven years old in Philadelphia, the Newman Brothers came in first in a talent contest. It was 1929 and the Great Depression was getting underway. At the same time, Uncle Elmer Newman and sibling Pancake Pete started performing on Philadelphia radio.
Moving from nearby Milwaukee to Minneapolis, two sisters were singing on local radio. They were Sophie and Julie Murray (the Murray Sisters). The Newmans thought that the four should sing together. Besides, the boys thought the young ladies were beautiful. It took a little while, but eventually the four did start performing together and became well-known country singers and performers.
Pete married Sophie during June of 1936, and the next year Elmer and Julie married. Later, the four purchased 23 acres of land near Quakertown, Pennsylvania, a quiet suburb of Philadelphia. They thought that an amusement park based on country singing would be a good thing, so on May 4, 1940, they opened the Sleepy Hollow Ranch with a rodeo, live farm animals, square dancing, food vendors, and pony rides - but the big draw was country music. Thousands of people attended every weekend.
The four would become known as the "Sleepy Hollow Ranch Gang." Major stars appeared at the ranch, including Gene Autry, Roy Rogers and Dale Evans, the Carter Family, Wayne Newton, Roy Acuff, Carl Perkins, Frankie Avalon, Bill Haley, Smiley Burnette, the Ink Spots and the Mills Brothers.
The ranch was destroyed by fire in early November 1963. The property was underinsured and was never rebuilt. Sophie Murray was the female lead vocal and played the guitar. Her sister, Julie sang harmony and strummed the mandolin.
If you notice under the WCAU Radio banner in the photo above, there is a smaller banner. WCBA and WSAN were two different radio stations that shared the same frequency in the northeastern part of Pennsylvania. In 1939, WCBA sold out to WSAN and thus the Lehigh Valley Broadcasting Company was formed. When we say shared the same frequency, we mean one station broadcast for awhile and then signed off and then the other one signed on. Here in Philadelphia, we had the same thing. WFI and WLIT shared the same frequency. Here, those two stations had merged into one and formed WFIL several years before.
By 1942, The station was just using the WSAN call letters. Certainly by that time, there would have been less men around (because of the Second World War), so we are dating the photo previous to that. So, our educated guess is that the photo dates from 1940. Another reason we suspect this is that the original photo referred to the place as "The Sleepy Hallaw Ranch." Quickly, it was retitled Hollow. The photo was recently sent to us by a visitor to our website, Al Leichter.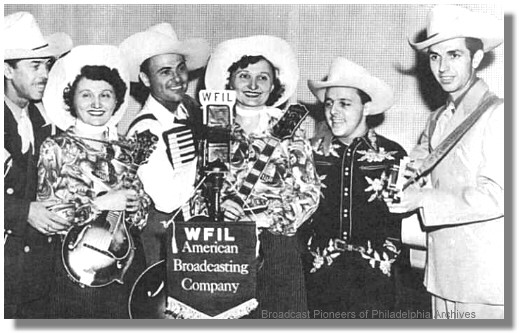 The Sleepy Hollow Ranch Gang
(Left to right) Elmer Newman, Julie Murray, Monte Rosci, Sophie Murray, Pee Wee Miller and Pete Newman
WFIL Radio in the Widener Building
1947
Here's another photo of the Sleepy Hollow Ranch Gang. They were heard during the late forties on the ABC Radio Network originating from WFIL Radio here in Philadelphia. They were also part of a program called "Hayloft Hoedown," which came live from the Pythian Temple at 19th and Addison, Philadelphia, and at one time, possibly, from Philadelphia's Town Hall.

The group, by the way, recorded for COWBOY Records. The Murray Sisters, Pee Wee Miller and Elmer Newman also did some individual sides for the same label. The gang also did some recording for the old Majestic label.
When the Murray Sisters weren't involved, the group was the Sleepy Hollow Ranch Boys, sometimes called the Sleepy Hollow Ranch Cowboys. On Thursday, September 5, 1940, they were on at 2 pm. Famed country singer Rex Allen sang with the group for a couple of years and left them shortly before this photo was taken.
Dawn Newman, a visitor to our site, e-mailed us in 2001:
What a great surprise to find my grandparents on your site!!! Julie & Elmer Newman are my grandparents.

Elmer died in 1969. Julie still lives in Quakertown. Pancake Pete Newman was Elmer's brother and unfortunately passed away this February. He lived in Eldon, MO with his wife Sophie, who still resides there.

Elmer and Julie had 2 sons, Danny and Charlie Newman, both who are still in the music business. Danny has a Saturday night radio show called " The Hartlands Hayride" on WDVR radio out of Seargentsville, New Jersey, which airs at 7:00 pm. Pete and Sophie had a son & a daughter, Kenny & Mary Eva. Kenny owns the Orlando Carriage Company in Orlando, Fla. He can be found almost every night driving carriages out of Church Street Station. Mary Eva lives with her mother in Eldon, MO and is an awesome bowler. She works for the Justice Department, where her father was Sheriff up until his time of retirement.

I have lots of their original show costumes, cowboy hats, boots, jewelry and trunks. I also collect all Sleepy Hollow Ranch memorabilia. They recorded several 78's and radio transcriptions. Elmer wrote many songs that were recorded by the famous artists of the era.

My name is Dawn Newman. I own Blue Moon Equestrian Enterprises of Hilltown, PA & Hellertown, PA. We raise show and sell American Quarter Horses. We do riding lessons, boarding and training of horses.
This regular monthly column is written and researched by Gerry Wilkinson

OUR SCHOLARSHIP COMPETITION:
In the spring of 2012, the Broadcast Pioneers of Philadelphia awarded seventeen $1,000.00 scholarships to outstanding undergraduate students studying radio, TV, film production and associated fields.
Now, we offer another round of scholarships to be awarded in 2013. We already have underwriters for 14 scholarships. Additional funds from our November 16th, 2012 fundraiser allow additional scholarships. So this year, we will again be offering seventeen $1,000 scholarships.
Awards are given to current college sophomores and juniors (for use in their junior and senior years) who have demonstrated academic excellence and professional potential. Awards will be presented at our Wednesday, April 17th, 2013 luncheon. Winners MUST attend this event in order to obtain the scholarship.
This year, as was the case in previous years, our process starts with an on-line application which will take students less than five minutes to fill in. Application can be found here!
MORE DIGITAL ARCHIVAL PROJECT NEWS:
The Al Alberts Christmas Special
WPVI-TV, 6ABC
December 19, 1987

The Al Alberts Christmas Special
WPVI-TV, 6ABC
December 19, 1987
We have some video from the Al Alberts Christmas Special from December 1987. It's of a dance group (unidentified). The program was transferred off the original one inch tape which was donated (along with over a hundred other Al Alberts Showcase telecasts) to our video archive by WPVI-TV. In our opinion, the Real Video version is of higher quality.
Watch in Real Video!
Watch in Windows Media!
From that same broadcast is Al Alberts singing "Silent Night." We know that this excerpt was used for several years on the show. The earliest Christmas telecast we have in our video archive of the Showcase dates from December 20, 1986. The record date of that program was December 7th. We have the next year's broadcast (December 19, 1987) and this exact same footage is also in that show and several broadcasts from the nineties. Since 1986 is the earliest show we have, we cannot verify whether it was used previously. We at least have knowledge that this song (Silent Night - Oh, Holy Night) was recorded about a quarter century ago.
Watch in Real Video!
Watch in Windows Media!
We also have several complete Captain Noah's High Adventure Specials which aired 1979 through 1981 and were syndicated across the country. This particular episode is called "This Way to Christmas" and featured Broadcast Pioneers member Joe Earley as Santa Claus. We all know that Captain Noah is member W. Carter Merbreier. This 30 minute program was shot entirely on film. Some of the other High Adventure broadcasts were a combination of film and video tape. This leads us to believe that this particular program was one of the earlier telecasts. We ran this video in our newsletter a few years ago and have gotten several requests to present it again. In our opinion, the Real Video version is slightly better.
Watch in Real Video!
Watch in Windows Media!
In the fifties and sixties, religious broadcasting saw the formation of stations that broadcast nothing but "the word." Some in our area were WVCH and WXUR. One interesting one was WXUR, which was purchased by Dr. Carl McIntire's group in 1962.

Dr. McIntire was minister of the Bible Presbyterian Church in Collingswood, NJ, and head of the International Council of Christian Churches. He was always very out spoken and when he thought the government was on the wrong path, he told you in no uncertain terms. This often got him into problems and eventually the government lifted the station's license for failing to comply with the FCC's "Fairness Doctrine." The Doctrine has since been repealed by the Federal Communications Commission.

However, the station definitely had a religious tone, both day and night. His group also owned Shelton College, which was based in the beautiful Christian Admiral Hotel (originally called the Admiral) in Cape May, NJ. On Christmas Day of 1965, WXUR & WXUR-FM aired Handel's Messiah as performed by the Shelton College Choir. We do not know whether it was live or on tape, but it probably was recorded. The announcer has yet to be identified. Here is an excerpt of that broadcast.
Listen in Real Audio!
Listen in Windows Media!
Remember, History is ONLY What Gets Saved!
(If there were no portraits of George Washington, how would we know what he looked like?)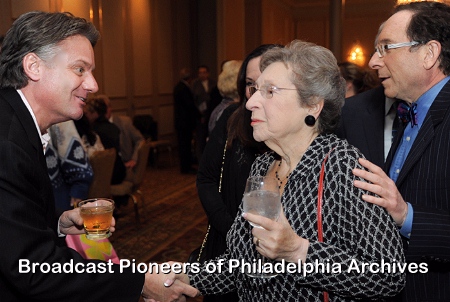 (left to right) member Dennis Bianchi, Miriam Schwartz and her son, member Glenn "Hurricane" Schwartz
Broadcast Pioneers Annual Banquet where we inducted Hurricane into our Hall of Fame
The Hilton Hotel City Avenue, Philadelphia
Friday Evening, November 19, 2010
Glenn's mother passed away a couple weeks ago on November 14th
(Our prayers go out to the Schwartz family)
THANK YOU:
As we do every month, we want to thank Broadcast Pioneers member Johnny B. Hall for his monthly cash donation to our DAP, Digital Archival Project. Johnny donates $200 every month. The amount totals $2,400 yearly and really helps us to underwrite this much needed but expensive project. And again, we wish to thank member Jerry Del Colliano for his $1,000 contribution to our DAP fund. We also received a $1,000 contribution to our archives from long-time Broadcast Pioneers member Len Stevens. We welcome other gifts for this project in the form of money and/or donated items like video tapes, audio transcriptions and photos.
We currently have fourteen $1,000 scholarships being underwritten for 2013. The scholarship competition is now underway. We have six from Johnny Hall, one from the Adelman family and Leon Love, one from Esther Kurtz, Roy Shapiro, Sylvia Kauders and one from the Harry Hurley Golf Tournament. Broadcast Pioneers board member Kal Rudman announced that he would underwrite two scholarships and new member Marlin Taylor just donated a thousand dollars to underwrite a scholarship in the memory of his former boss David Kurtz. Just at press time, we received $1,000 for a scholarship in the memory of Broadcast Pioneers Hall of Famer Mac McGuire. The contribution came from member R. Alan Campbell.
Other contributions this past month came from Joe Tarsia, Ed Gannon, Les Waas, Carole Leebron, Art Moore, Bob Kravitz, Liz Matt, Steve Tatz, Paul Gluck and Sally Berlin.
If you forgot to make an extra contribution (cash or memorabilia) and would like to do so now, it's never too late. We would be thrilled to hear from you at: PO Box 2886, Bala Cynwyd, PA 19004 or call us at (856) 365-5600.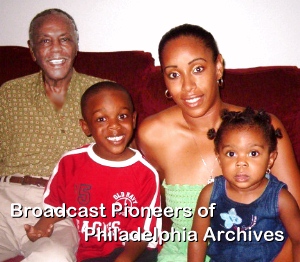 The Georgie Woods Family
(left to right) George Woods, grandson Daelehn Simms, daughter Devin Simms, granddaughter Savannah Simms
The Woods home in Boynton Beach, Florida
August 28, 2004
IN TOUCH WITH THE INDUSTRY:
Daralene Jones, an Orlando TV reporter who earned a reputation for delivering breaking news and exclusive stories, joins NBC10 next month. The announcement was made by Anzio Williams, vice president of News for the station. Ms. Jones was WFTV's lead reporter on the hazing death of Florida A&M University drum major Robert Champion. Originally from Chicago, Jones earned an M.S. degree in public affairs at the University of Illinois and a degree in mass communications from Illinois State. She is a member of the National Association of Black Journalists.
CBS 3 and The CW Philly 57 are requesting new, unwrapped toys for local children on behalf of the Salvation Army this Christmas season. The campaign is being launched through public service announcements airing through Wednesday, December 19. The stations will wrap up the drive with a five hour on-air fundraiser with Chris May and Susan Barnett. In addition, all five of the CBS Radio stations in the market will join in the holiday tradition by collecting toys at their studios, participating in campaign events and promoting the drive on-air.
One lucky Facebook fan will drive off in a new car this holiday season thanks to WPVI, 6abc Action News and the Delaware Valley Honda Dealers Association. The winner will also play Pay 6 Forward by selecting a local charity also to be awarded a new car. The sweepstakes runs through December 10. The winner and the chosen charity will be announced December 11 on Live on Channel 6's Action News at 4 pm.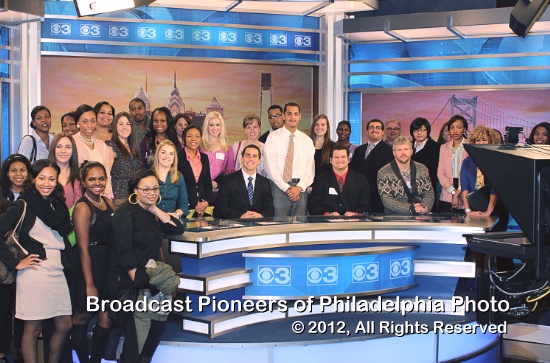 College Students at our Symposium
Studios of CBS 3, KYW-TV
Saturday, November 3, 2012
THANKS FOR THE MEMORIES:
Broadcasting Magazine Reviews the first show of "American Bandstand"
In August 1957, a reviewer for Broadcasting Magazine reviewed the first show of "American Bandstand." He wrote:
Although an ABC-TV news release indicates its new daytime program, "American Bandstand," appeals to both teenagers and adults, this post-teenage reviewer has definite reservations. It is conceivable the younger set finds the predominantly rock 'n' roll selections "real cool" but most adults are likely to consider themselves a "lost generation" of viewers.

The program has been carried several years on the network's Philadelphia affiliate, WFIL-TV, and began its network exposure last Monday. Its format includes dancing by teenagers in the studios of originating station WFIL-TV and interviews by MC Dick Clark with teenagers and guest personalities.

Mr. Clark is a personable, self-assured performer and blends in well with the youngsters, who undoubtedly consider him a hep oldster. On the initial show, guest performers were Billy Williams and The Chordettes.

Even their selections were aimed at the teenage audience, though Mr. Williams sang an old-time song which is enjoying a current revival, "I'm Gonna Sit Right Down and Write Myself a Letter." At appropriate pauses, Mr. Williams interjected a comment ("oh, yeah"), which apparently is his trademark, and the visiting youngsters were "all shook up."

It is not likely many housewives (unless they're hep to "crazy," "oh, yeah," I'm with you," and "ah, too much") will tune in these summer afternoons.
BUNNY GIBSON REMEMBERS DICK CLARK!
Dick Clark's impact on his American Bandstand's Regulars' lives from Philadelphia to Los Angeles is permanently set within all our hearts. Dick was like a "father figure" to me and to all the Regulars and he and his loving wife Kari were part of all of our families.
As an example of how we feel, in honor of Dick, the Regulars and myself supported declaring "Bandstand Day" in Philadelphia, "Dick Clark Day" in Los Angeles, and the "Tribute to Dick Clark" on "Dancing with the Stars" with twenty of the Regulars representing all four decades, 50's to 80's, appearing on DWTS's, May 8, 2012.
After Dick's Tribute, DWTS's Judge, Carrie Ann Inaba, said to me "If it wasn't for American Bandstand, there wouldn't be a "Dancing with the Stars!" Dick's impact on dancing, music and in our lives across America will be forever!
When I first came to LA, I visited Dick at his Production company. When he saw me, Dick didn't say "hello", he said "I knew I'd see you again!" Dick knew that the "joy of dancing" that I had when I was on his AB Philly show from 1959-61 would stay with me for a lifetime and I would keep on dancing, no matter what. Thank you, Dick Clark!!!
STILL MORE ABOUT DICK CLARK!
Member Bunny Gibson sent along this word she got from Kari Clark, Dick's wife.
As you all know, Philadelphia is where it all began for Dick. Many people even mistakenly think Dick was from Philadelphia, and he didn't mind because he loved the city. Dick was very proud to be associated with the Broadcast Pioneers over the years. Television and radio were two of his great loves. He would be touched to know you are all gathered and paying tribute to him. I appreciate your thinking of Dick and I know he would too.

JANE NORMAN REMEMBERS HARRY HARRIS!
How nice to see the picture of Harry Harris in the (November) newsletter. He wrote a lovely review of the PIXANNE show the first time it aired, and mentioned that I had taught his daughter Terri in kindergarten. Even at age five, she was a talented artist. Harry was a terrific columnist, and I will always appreciate his supporting my career. He wrote lovely reviews of the show, and we kept in touch. And Harry was an innovative and creative writer for many years.
A FINAL THOUGHT....
"Age ain't got nothing to do with how old you are."
Dick Clark
Please contact us by e-mail at newsletter@broadcastpioneers.com or by mail to: Ed Eisen, 1110 Longshore Avenue, Philadelphia, PA 19111. (215) 725-7253. Your stories are important, to you, to us, and your colleagues. Contact us today and we'll include your story in the next newsletter!

Photo Editor & Archival Historian - Gerry Wilkinson
© 2012, Broadcast Pioneers of Philadelphia
All Rights Reserved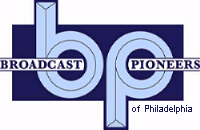 The e-mail address of the Broadcast Pioneers of Philadelphia is pioneers@broadcastpioneers.com
For luncheon reservations call (856) 365-5600 or e-mail us at: rsvp@broadcastpioneers.com