| | |
| --- | --- |
| | Broadcast Pioneers of Philadelphia is a federally recognized, state chartered 501(c)(3) non-profit organization serving the Philadelphia Broadcast Community since January of 1962. |
December Luncheon
The Bala Golf Club
Wednesday, December 17, 2014

Meet & Greet at 12 noon!
Lunch at 12:30 pm
Ratecard: $28 per person!

PLEASE RESERVE NOW!
CALL (856) 365-5600!
rsvp@broadcastpioneers.com
Another "Third Wednesday" Luncheon!
Wednesday, December 17th!
"Holiday Time at the Broadcast Pioneers"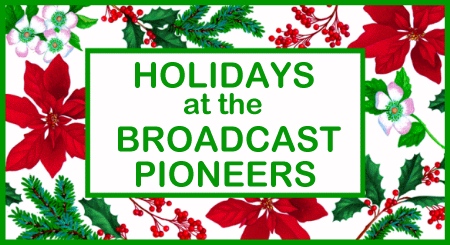 Hit After Hit! Smash After Smash! Blockbuster After Blockbuster! Here's another "monster" lunch where the "stars" don't wait to come out at night. They're here at lunchtime!
At press time, we're still putting together this luncheon. However, let's tell you about what we have confirmed. We have two speakers. Both are members and both are inductees into our Broadcast Pioneers Hall of Fame. They are Dom Giordano, WPHT Talk Radio 1210 host from 9 am to 12 noon, and Bob Perkins, evening jazz host on WRTI-FM from 6 to 9 pm. They will be talking about what it's like to work holidays. This and many more topics.
Just added to the program is member Valerie Morrison, well known medium and psychic. She has worked with the Philadelphia Police on unsolved cases and brought results. Maybe, she'll be able to tell us what to expect in 2015. Another recent addition is member Pretty Perky Peggy King from the "George Gobel" TV Show. She'll be with us singing some holiday songs.
The Tridels (made up of Broadcast Pioneers members Mike Bove, Art Wilson and Jackie Strauss) will be there to share a couple of holiday songs as will member John Primerano. He'll also be performing at the piano before the luncheon, so get there early. Our emcee for the afternoon is one of South Jersey's most powerful people (see story elsewhere), Harry Hurley.
This all takes place at the beautiful and historic Bala Golf Club, 2200 Belmont Avenue (across the street from the state police) in the Wynnefield section of Philadelphia. Only minutes away from Channels 6, 10 and 17 and the radio stations in Bala Cynwyd. Call now for reservations. (856) 365-5600! Don't miss this one!
Plenty of FREE parking. Our luncheons are open to all our members, their guests and any person in the industry or associated fields, whether active or retired. You do NOT have to be a member to attend.
The cost is only a donation of $28 (or more) per person! In order to speed up check-in at the luncheon, it would help if you had exact change or your check already written. Checks can be made payable to the Broadcast Pioneers of Philadelphia.
If you would like to add a few dollars extra, we would appreciate it. It would help us with all the important work we are doing. Thanks!
WE'LL BE PROUD TO SEE YOU IN THE CROWD!

Visit our website often - http://www.broadcastpioneers.com
You should check our website often!
Check out our Facebook page - http://www.broadcastpioneers.com/facebook
There are things on our Facebook page that are NOT on our website (like our vintage photo of the week).
Tune in to our YouTube Channel - http://www.broadcastpioneers.com/youtube
Our YouTube Channel features all our luncheons, exclusive interviews and archival material.

DIGITAL ARCHIVAL PROJECT NEWS:
VIDEO:
(Left to right) Jay Lloyd, Dawn Stensland & Dick Sheeran
(All members of the Broadcast Pioneers)
The 49th Annual Broadcast Pioneers Banquet
The Hilton City Avenue Hotel
4300 City Avenue, Philadelphia
Friday, November 21, 2014
This year Broadcast Pioneers held our 49th annual Broadcast Pioneers banquet. At the banquet, we induct broadcasters into our Hall of Fame and honor our Person of the Year. As we have been doing for the last several years, this year we recorded a pre-show. This year the hosts were Jay Lloyd, Dawn Stensland and Dick Sheeran. As people came into the hotel, our hosts stopped them and spoke with them. This "much watch" video was recorded by Vice-President Brad Seecof and his company Metramedia Studios. It is a multi-camera shoot in high definition and recorded with air quality resolution.
AUDIO:
Here is an audio clip from the spring of 1963. WRTI-FM broadcast a live college baseball game between Temple University and LaSalle. The game was a 14 inning event! Back in those days, the station broadcast sporting events over a regular telephone line (because of costs). Here, wrapping up the coverage, we hear Broadcast Pioneers member Merrill Reese. On the broadcast he was joined by Phil Jasner, who later went on to write for the Philadelphia Daily News. Jasner passed away 5 years ago tomorrow.
Listen with Windows Media Format!
Our next piece of audio dates from April 3, 1991. It was a Ralph Collier broadcast and his guest was Dr. Arthur Dudden, a former history professor who had taught at Bryn Mawr College for 42 years. Dr. Dudden had written book called "The American Pacific," which at the time of the interview wasn't even published yet. For those interested in American history and foreign policy, this is a must-listen.
You'll hear Ralph pause for a couple of commercials, which are not included in this audio. Why? The answer is simple. They were not on the archival recording we have. Neither is the end of the broadcast where Collier tells you about his next guest. This audio recording was one of many (along with a large volume of photos and scrapbooks) donated to us by Ralph's widow. By the way, we inducted Ralph Collier into our Hall of Fame last month, and Mrs. Collier accepted the award on behalf of her late husband.
Dr. Dudden wrote and/or edited 16 different books, including several that dealt with political humor. However, he also authored more scholarly books like the one talked about on this radio program. Dudden was born and raised in Detroit and was a huge Tigers fan. In the late fifties, he was a Fulbright scholar and the founding president of the Fulbright Alumni Association. Arthur Dudden lived to the age of 87 and passed away in 2009.
Listen with Windows Media Format!
Today's News Becomes Tomorrow's History!
(This is what our Digital Archival Project, DAP, is all about!)
A LITTLE BIT OF BROADCAST HISTORY!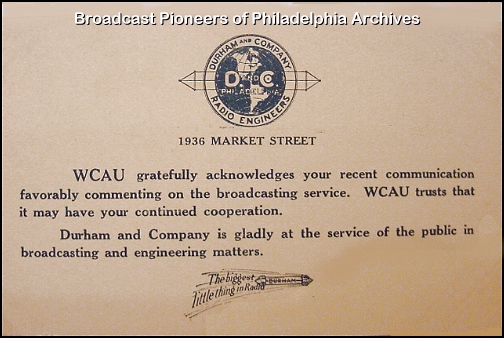 Postcard sent to WCAU Radio Listeners
April 1925
Wilson Durham was the founder of WCAU Radio. He sold the station to Ike Levy and Ike's law partner Daniel Murphy in 1924. The FCC approved the sale in early 1925. WCAU was operating under the new ownership when this card was sent to the listener, but the management must have decided to use the existing cards instead of printing new ones. Leon Levy bought out Murphy's shares in the company at the end of 1926.
WHAT'S IN YOUR CLOSET, BASEMENT, ATTIC OR STORAGE AREA?:
Most of the material in our Digital Archival Project comes from our members. We accept photos, articles, scrapbooks, reel to reel audio tape, cassettes, broadcast tape cartridges, and video (we can handle most any format). Clear out that area and donate the material to the Broadcast Pioneers.
Got a working VHS machine? With remote? We can use it for our archival project. Also, we can use VHS tapes (new or used) in good condition. Doesn't matter what's on it. If it contains material of interest to our project, we'll digitize it and keep it. If not, we can still use it. While our first option for recording off air (or off cable) for the archives is DVD, VHS tape can still be put into use to record off air analog signals. We can use other equipment, too. Got an MII professional tape machine? MII is one of the few tape systems we can not currently play. We have machines but none of them work yet. Even if yours doesn't work, we may be able to combine two non-working machines into one that works. Contact us by e-mail at: pioneers@broadcastpioneers.com or call us at (856) 365-5600.
IN TOUCH WITH OUR MEMBERS:
Member Harvey Sheldon has yet another new book coming out later this month. It's called"The Miraculous Philly Phanatics." In it, he describes the history of the Philadelphia Phillies, Eagles, Warriors, SPHAS and the University of Pennsylvania football team. Sheldon's third book about Philadelphia will be released in the spring. What makes this all the more interesting is that he lives on the West Coast but is still a Philadelphian at heart.
Along with Tony Bennett, the legendary Peggy King is one of the few stars of stage, screen, radio, television and nightclubs still performing today. Peggy King will appear in concert with The All-Star Jazz Trio on Sunday, February 1 for a 2:00 p.m. matinee appearance at the historic Sellersville Theater in Sellersville, PA. Tickets are $25.00 for auditorium seating and $39.50 for cabaret seating and are available in advance via www.st94.com or by calling 215-257-5808. The Sellersville Theater is located on 24 West Temple Avenue.
Our organization has three members who are also siblings: Joaquin Bowman, Melanie Capoferri and Vibiana Bowman Cvetkovic. They are the only known group of three siblings to be members of our organization at the same time in our history! We received an e-mail from Melanie and a photo. She said:
Thought you might want to know that three Broadcast Pioneers members headed the Abington William Penn Chapter of the Daughters of the American Revolution (the DAR) last night, Nov. 6th, at the Abington Presbyterian Church. I'm the Regent for the Chapter, my brother, Joaquin Bowman, did the introductions and Lew Klein was our featured speaker! Lew did a smashing presentation on Dick Clark, Bandstand & early Philadelphia television. We also gave Broadcast Pioneers some great PR emphasizing the importance of preserving broadcasting history. The DAR ladies were wowed by Lew and all said they would love him to come back and expand on his stories of early Philadelphia television.
Broadcast Pioneers member John Brown has a new book out. "Why Not? Conquering the Road Less Traveled" is available on Amazon and at Barnes and Noble. Cerebral Palsy affects 3 out of 1,000 births. Born in the early 50's with a type of spastic CP that impacts his gait and balance but leaves his speech intact, Broadcast Pioneers member John Brown and his strong willed mother fought against conventional wisdom and doctors' predictions that he would never walk.
He was mainstreamed in the Philadelphia Catholic, then public, school system. He went on to play Catholic grade school football and developed a keen interest in high school wrestling and football. After completing a degree in broadcast journalism, he embarked on a 44 year career as an award winning Philadelphia radio disc jockey, traffic reporter and meteorologist. He retired in October 2013. John's is a story of the American spirit, demonstrating how tears, determination and true grit can get you to the top.
This year, PolitickerNJ's 2014 Power List once again named WPG 1450 AM morning host Harry Hurley as one of the most powerful people in the entire state of New Jersey. This is the eighth time Hurley has been named in the Power 100. No elected official can be placed on this list, Harry is known as the "Mayor of the Morning" and "The Rush Limbaugh of the Jersey Shore." He is the only broadcaster on this year's list.
A LITTLE BIT OF BROADCAST HISTORY!

(Left to right) Motown Singer David Ruffin and Harvey Holiday
WDAS Offices, Belmont & Edgley Roads, Philadelphia
circa 1971
NEED A TAX DEDUCTION?
Looking to pick up some more tax deductions before the end of the year? May we suggest a contribution to Broadcast Pioneers? Broadcast Pioneers is a federally recognized 501(c)(3) charitable organization, so your contributions may be tax deductible (check with your tax advisor to be sure). A check is great, but you can get even more mileage out of your contribution by making a donation of appreciated stock. You get the donation for the full current value of the shares (contact us for instructions to give your stockbroker on how to transfer the shares) but you don't pay the capital gains tax on it. Sounds like win-win to us.
Your contributions help underwrite the Broadcast Pioneers Digital Archive Project, scholarships for our college students, our student symposia and career nights, and other educational activities. Call us at (856) 365-5600 or e-mail us at:pioneers@broadcastpioneers.com. Don't wait! Next month will be too late!

Did you know...
that KYW Radio moved to Philadelphia from Chicago with much fanfare? It's true, and it happened 80 years ago this very month.
KYW Radio Print Advertisement
December 1934
On Tuesday, December 4, 1934, a press release read:
With a five-hour broadcast enjoyed by several hundred studio guests and thousands of listeners at firesides throughout the Nation, Philadelphia's newest radio station, KYW, which went on the air yesterday, was formally dedicated last night.

…The formal welcome to this city was expressed by Mayor Moore in an inaugural program in which a host of artists of the National Broadcasting Company were featured. The Mayor called attention to the fact that Station KYW formerly broadcast from Chicago.

…Among artists and representatives of the National Broadcasting Company heard were Gladys Swarthout, of the Metropolitan Opera Company, Dr. Walter Damrosch, Jessica Dragonette, the Revelers, M.H. Aylesworth, President of the National Broadcasting Company, Rudy Vallee, Ed Wynn and Ben Bernie.
KYW moved from Chicago to Philadelphia seamlessly. They signed off the air in Chicago on Sunday, December 2, 1934 and signed back on in Philadelphia on Monday morning, December 3, 1934.
Some sources show that this move was on December 11th. However, we have dated news reports that prove the earlier December 3rd date.
In 1934, the official name of the company that owned KYW was "The Westinghouse Electric and Manufacturing Company." Its Philadelphia studios in 1934 were located in the WCAU Building, 1622 Chestnut Street in Center City Philadelphia. WCAU's general manager and co-owner, Dr. Leon Levy (a founding member of the Broadcast Pioneers of Philadelphia and an inductee into our Hall of Fame) was KYW's general manager. Its transmitter was in Whitemarsah.
Philadelphia's Mayor Joseph Hampton Moore said on December 3, 1934:
The KYW call letters are among the best known in the radio world. With its removal from Chicago to Philadelphia, KYW will provide the radio listening public of the surrounding territory with an additional chain program as well as outstanding local programs.
An interesting sidebar about Moore: he served two terms as mayor but not consecutively. His first term was from 1920 to 1924 and his second term was 1932 to 1936. He was mayor when KYW moved to Philadelphia, but he was also mayor a decade before, when all of Philly's first radio stations came on the air.
Others who spoke included Dr. Leon Levy, E.W. Loomis, Middle Atlantic Division Manager of the Westinghouse Electric and Manufacturing Company and Walter C. Evans, Manager of the Radio Division of Westinghouse.
While the inaugural broadcast was five hours long in Philly, NBC Radio picked up an hour and a half of it for live broadcast on its Red Network. KYW became the affiliate of the NBC Red Network and the national broadcast was heard from 10:30 to 11 pm and from midnight to 1 am.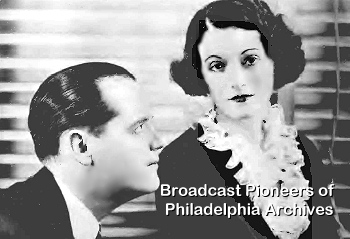 (Left to right) Wade Booth and Dorothy Day
appearing on "The Singing Stranger" broadcast
originating from KYW, Chicago and broadcast on NBC
December 1934
Until KYW moved to Philly, the NBC Red Network stations in town were WLIT and WFI, which each had 500 watts and shared the same frequency of 560 kHz on the AM dial.
On Sunday, December 2, 1934, without any explanation that the NBC Red Network affiliation was moving to KYW, a press report said:
With the opening of program service tomorrow, WLIT and WFI, popular outlets of the National Broadcasting Company, will inaugurate a new service bringing to the Philadelphia audience, the blue network WJZ programs instead of the red WEAF programs, formerly heard over these stations. Many new features, heretofore never presented over a local station, will now be available.
KYW would stay under the management of WCAU for three and a half years until NBC provided management services in 1938. When KYW moved to Philadelphia, it was at 1020 kHz on the AM dial, the same frequency it was in Chicago. Years would pass before it would re-locate to the 1060 kHz dial position that we know today.
Now, because everyone was interested in 1020 kHz, you might think that Philadelphia didn't have a station at that frequency. However, it did. It was WRAX, who moved its station to 920 kHz and shared time with WPEN. (On May 11, 1938, WPEN took over WRAX and incorporated its hours into the WPEN schedule.)
KYW Radio came on the air at 4:30 pm in Chicago on Armistice Day (November 11th) in1921. It was the 7th station on the air in the United States and was owned by Westinghouse and the Edison Company.
Since its beginning in 1921, KYW has had the same owner, Westinghouse. The company has merged and purchased other businesses (like CBS), but it, today, can still trace its roots to the same company.
One thing that is unusual about KYW is that Westinghouse has owned KYW in three different cities. Chicago, Philadelphia and then Cleveland. Each time, the KYW call letters moved with the station. When the federal government required NBC and Westinghouse to trade back the stations that were swapped in January of 1956, KYW returned to Philadelphia. It is the only station to use the same call letters in three different markets with the same owner.
This regular monthly column is written and researched by Gerry Wilkinson

MORE DIGITAL ARCHIVAL PROJECT NEWS:
VIDEO: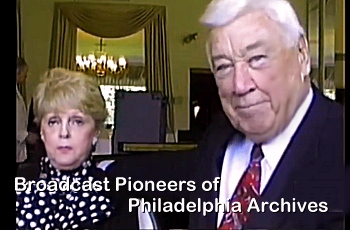 (Left to right) Broadcast Pioneers Members Peggy King and Herb Clarke
Broadcast Pioneers Luncheon
The Bala Golf Club
2200 Belmont Avenue, Philadelphia
May 2001
After one of our luncheons in 2001, Broadcast Pioneers Board Member Herb Clarke sat down and talked with Peggy King. You may remember her from her years on the George Gobel TV Show on network television in the fifties. Or from her many record albums on Columbia Records under the supervision of Mitch Miller. At the time, we were recording these interviews on VHS tape. Today we would do them as two-camera HD air quality shoots. However, we are still delighted to have this priceless recording.
AUDIO:
Broadcast Pioneers member Dick Standish started his career in broadcasting at the Rutgers student radio station in 1960. Dick is an award-winning Philadelphia reporter who joined KYW-TV, Channel 3 in Philadelphia, in 1979 after working at sister radio station KYW Newsradio for twelve years. Dick graduated from Rutgers University with a degree in history and later taught journalism at the school.
We have an audio clip from Monday, September 6, 1971, which was also Labor Day. KYW Newsradio reporter is Dick Standish talks about the holiday. Dick e-mailed us some additional details:
For about ten years, I often covered the Pennsauken observances honoring the so-called Father of Labor Day (Peter J McGuire) and the local union movement in general. If you looked closely you could see the very first hint of yellow and gold in the oaks and maples.

We'd usually use the event as the news peg for a broader story ---- pending potential strikes, hometown economy, political fights and campaign updates. U.S. Senators Cliff Case and Pete Williams often headlined --- before Case was defeated and Williams was snared in the ABSCAM stings.

In this particular story, we hear an animated argument about who was the Father Of Labor Day. For some of our local union leaders, it was a big, serious issue when others questioned the claim.
Listen with Windows Media Format!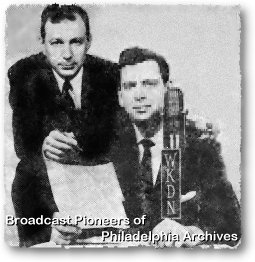 (left to right) Jim Donahue and Art Milner
WKDN Radio
In 1948, WKDN, 800 on the AM dial, came on the air. Some two decades later, WKDN became WTMR, and it is still using those call letters today. However, during its WKDN days (when it was owned by Ranulf Compton, a former U.S. Congressman), the station did a little of everything, including a noon newscast that ran 15 minutes. (By the way, WKDN today is at 950 AM and is the old WPEN).
We have a newscast from September 1958. A little of the opening and part of the close is missing. What you hear is all we have. This audio was recorded on an 8 and 3/4 inch green flexible transcription disc. It wasn't meant for broadcast so the quality is not the greatest. It was donated to us by Broadcast Pioneers member Michael Muderick and digitized by Bill Gellhaus.
Listen with Windows Media Format!
Remember, History is ONLY What Gets Saved!
(If there were no portraits of George Washington, how would we know what he looked like?)
IN TOUCH WITH THE INDUSTRY:
Justin Finch joined CBS 3 and The CW Philly's Eyewitness News team as a reporter last month. Finch comes to Philadelphia from WTVJ in Miami, Florida, where he has been a reporter since 2011. Previously, he was an anchor/reporter for Channel One News, a nationally broadcast, daily educational news program seen by millions of students in their classrooms every school day. Justin began his journalism career as a reporter and anchor for New York City's News 12 The Bronx & Brooklyn in 2005.
David Spunt has joined CBS 3 and The CW Philly's Eyewitness News team as a reporter. Spunt comes to Philadelphia from WBTV in Charlotte, where he has been a reporter since 2012. Previously, he was a reporter for WAFB in Baton Rouge, Louisiana, where he won a regional Edward R. Murrow Award and was also recognized by the Louisiana Associated Press Association for story of the year. He has also worked as a reporter for WRBL in Columbus, Georgia, in addition to working in public radio. Spunt was a production assistant for The CBS Evening News earlier in his career.
Broadcast Pioneers member Dom Giordano and WPHT, Talk Radio 1210, present "The 6th Annual Feast of the Seven Fishes" on Monday, December 15th from 7:30 pm until 10 pm. Dom tell us that it all takes place at the Vie, 600 North Broad Street in Philly. He e-mailed that the National Person of the Year is Lt. Col. Allen West (former US Congressman). Plus, there will be local guests from the world of politics, entertainment and sports, and plenty of live music. The food is wonderful, Dom says: a traditional Italian seafood feast featuring the culinary creations of Vie and the Chescaphe Event Group.
Listeners will enjoy a huge seafood buffet featuring an irresistible array of Italian specialties. Just part of the menu includes: Marinated Mozzarella Balls, Hand Rolled Mozzarella, Stuffed With Prosciutto Basil & Roasted Peppers, Assorted Cheeses, Meats, Prosciutto & Pepperoni, Stuffed Pepper Shooters, Fried & Stuffed Long Hot Peppers & Banana Peppers and Tricolored Tortellini With 4 Cheeses. Plus much more. The event benefits the Catholic Charities and the Archbishop's Christmas Benefit for Children and is a festive night that celebrates a wonderful Christmas tradition. Vie is a gorgeous 17,000 square foot event venue with a huge, beautiful ballroom with reserved seating. For more details, Dom Giordano says to visit: http://philadelphia.cbslocal.com/feast-of-the-seven-fishes. By the way, Dom was inducted into our Hall of Fame last month.
Broadcast Pioneers member Joanne Calabria tells us that CBS 3 and The CW Philly 57 have launched the 26th annual Joy of Sharing toy campaign benefiting children in need this holiday season. The campign was launched last Friday, November 28th, during a special Talk Philly segment at 12 noon on CBS 3. All five of the CBS RADIO stations in the market – KYW Newsradio 1060, 98.1 WOGL, SportsRadio 94WIP, CBS Sports Radio 610 and Talk Radio 1210 WPHT – will also join in the holiday tradition by collecting toys at their studios, participating in campaign events and promoting the drive on air. The toy drive ends on December 19th.
This Saturday, December 6th, marks a significant moment in WHHS history. WHHS will celebrate 65 years on the air! They invite you to celebrate with them as their staff hosts a radiothon that starts at noon on Friday, December 5th, and go straight through until noon the next day.
A LITTLE BIT OF BROADCAST HISTORY!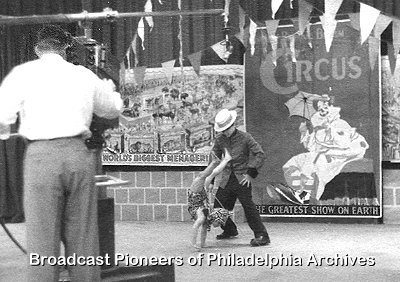 Unidentified personel on "The Children's Hour"
hosted by Stan Lee Broza, this organization's first President
WCAU-TV
1955
WE REMEMBER:
The legendary Dave Appell is said that have heard music in his head all the time. We're all familiar with his work: "Let's Twist Again," "Tie a Yellow Ribbon 'Round the Old Oak Tree," "South Street," "Bristol Stomp" and "Mashed Potato Time." He wrote music for Tony Orlando and Dawn, Chubby Checker, Bobby Rydell, the Orlons, the Dovells, Dee Dee Sharp and many, many more. He passed away last month at the age of 92. Appell was raised in Fishtown and played many musical instruments, but his first was the ukulele. Dave was the musical director for the Ernie Kovacs shows when Ernie was here in Philadelphia. You may have heard Dave and the Applejacks on Broadcast Pioneers member Charlie Gracie's hits like "Butterfly" and "99 Ways." They also backed up Broadcast Pioneers Hall of Famer John Zacherle on his "Dinner With Drac" hit.
You know you've got a hell of a show when your fan mail shows up in stuffed-to-the-brim duffel bags. Dick Heist, a veteran Philadelphia area broadcaster, hauled in requests and kudos by the bagful. But here's the oddity: he was broadcasting in English but most of his mail was in Japanese. He spent many years at WPAZ in Pottstown, WPPV in Lansdale and WBUX in Doylestown. But Dick had another passion, the art and science of clock making. By 1978 Dick was ready for retirement from broadcasting and ready for a new career. The Iron Bridge Clock Shop was born. So was another labor of love as Dick sought out antique clocks with unique historical backgrounds. He focused on time keepers that dated back to the Revolutionary era, crafted by many of the German and English clockmakers who settled in Pennsylvania. He perfected the art of restoring them to a place in the highly prized antique collections and period furnishings in Delaware Valley homes. More details and photos can be found here!
ON THE HEALTH FRONT:
Broadcast Pioneers member Johnny B. Hall is having open heart surgery tomorrow. He told us that the doctors expect nothing but a great recovery. He is scheduled for surgey at the Milton S. Hershey Medical Center in Hershey, Pennsylvania. Johnny's wife, Dr. Virginia Hall, is on staff at the same hospital. Johnny tells us that he'll be in the ICU for a couple days and then in a regular hospital room for a few more. Once Johnny comes home, Virginia plans to work half days so she can take care of him.
John says he hopes that he'll be well enough to accompany Virginia on her annual trip to India. She works with the very fine people on staff at the Christian Medical College in Ludhiana. Johnny says, "We will get a little time for sight-seeing, but picture-taking at the Taj Mahal is strictly forbidden."
THANKS FOR THE MEMORIES:
Some Followups from Recent Newsletters!
Last month, we ran a story (and photos) about Joe McCauley and his family. We heard from member Dr. Brian McDonough that his brother Bill is a good friend of McCauley's son, Joe. Brian told us that the younger Joe turned seventy this past weekend. We also mentioned that Anne Hathaway was Joe's granddaughter. Well, after publication, we received an e-mail from member Bill Webber, Jr. He said:
I had no idea that Anne Hathaway was Joe McCauley's granddaughter! In 2012, we were staying at the Beverly Hilton for a few days at the end of our California family vacation. Unbeknownst to us, they were having the press junket for "The Dark Knight Rises" at the hotel.

We got to see Christian Bale, Michael Caine, Morgan Freeman and others, but the highlight for my daughter was meeting her favorite actress Anne Hathaway.

(Left to right) Grace Webber and Anne Hathaway
The Beverly Hilton Hotel
Beverly Hills, California
2012

Anne was late for a press conference but, despite the protests of her handlers, she stopped to take this photo with Grace (my daughter). Anne could not have been nicer. If I ever run into her again, I'll be sure to tell her that her grandfather and my father worked together at WIP.

Grace Webber is an aspiring stage actress. She is currently in rehearsals for the title role of Millie in Thoroughly Modern Millie for the Clocktower Players in Irvington, NY. She appeared in their production of "The Little Mermaid" last year. You can watch her (Wee Willie Webber's granddaughter) here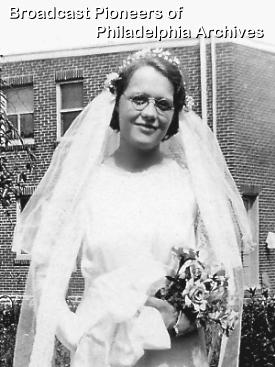 Helen Muschert Dale
"Radio Bride"
1934
The "Did You Know" column in our October 2014 newsletter was about Dr. Charles Algase, a Philadelphia area dentist who also had a radio program. Here's part of what we said:
On Friday, June 15, 1934, from 7:30 to 7:45 pm, Dr. Algase did a broadcast on WLIT Radio. It was a radio wedding. On that night, the doors open for guests. From 6:45 pm to 7 pm, there was a band concert. Then, there was an introduction of some of the Algase prize winners and other guests.

7:30 pm was the start of the 15 minute broadcast wedding ceremony. From 7:45 pm to 8:15 was the wedding reception and then a procession to the Broad Street Pennsylvania Railroad Train Station. At 9:15 pm, the train departed for the ride to Niagara Falls in New York State. There, the happy couple stayed on Saturday and Sunday at the Hotel Niagara in Niagara Falls, NY
Well, less than a week ago, we received an e-mail from Bette Collins, a visitor to our website: She wrote:
I wanted to thank you for an article you featured in your October 2014 Newsletter about Dr. Algase's Sunny Smile Club. It mentioned a wedding broadcast on June 15, 1934. The couple's names were Helen Muschert and William Dale. Helen Muschert is my grand aunt and both of my grandparents were in their wedding party. I'd never heard this story and I really enjoyed reading about it.
We e-mail back and asked her for some additional details about the Dr. Algase broadcast wedding. She sent us the above wedding photo and here's what she told us:
My grand aunt, Helen Muschert Dale, was born in 1913 in North Philadelphia. She remained married to William Dale until his death in 1961. William Earl Dale was born in 1911 in Centre County, Pennsylvania. She and her husband William had 3 children together, living in Lancaster, Pennsylvania.




My grandmother, Elizabeth Crooks Muschert (Mrs. Walter C. Muschert), was one of Helen's matrons of honor. She was born in the Germantown section of Philadelphia. My grandfather, Walter Muschert, was one of the ushers. He is a brother to Helen and was born in North Philadelphia. About the time of the wedding in 1934 most of the family was living in Northeast Philadelphia.

The other matron of honor, Mrs. Walter Hall, is Florence Muschert Hall, sister to my grandfather Walter and Helen. It is interesting to read the description. Everyone in the wedding party is related to them somehow.

I do wish I could ask my grandmother about the wedding. She had a fantastic memory and was great with details. She died in 1998. I will ask my mother to look for that wedding party photo [a different one than above] that she has. Hopefully, it was taken at the studio. That would be fantastic. She did mention to me that the

Reverend that performed the ceremony

was from Emmanuel Lutheran Church. That was the family church.
Radio in 1925!
We have found, in our archives, a radio listing from 1925. Keep in mind that this listing is for only four radio stations. There were others on the air at the time. Maybe it is a list of "highlights." One thing that makes this day really interesting is that it is the last day that the Lit Brothers radio station used the call letters WDAR. The next day, Monday, February 2, 1925, the station would start using the call WLIT.
Sunday, February 1, 1925

WOO Radio, Philadelphia, PA
owned by the John Wanamaker Department Store
509 meters (590 khz)
500 watts

10:30 am - Morning service from the Bethany Presbyterian Church, located at 22nd and Bainbridge Streets in Philadelphia. Broadcast includes an organ recital from 10:30 to 10:45 am with Miss Caroline Quigg at the console. Church services will begin at 10:45 am with a sermon by Rev. A. Gordon MacLennan, pastor. Benediction on the stroke of noon.

2:30 pm - Musical exercises opening the regular Sunday afternoon session of the Bethany Sunday school.

6 pm - Old-time hymns and melodies and sacred chimes recital on the Wanamaker Grand Organ, Clarence K. Hawden at the console. Broadcast will originate from the store which will be closed at the time.

----------

WIP Radio, Philadelphia, PA
owned by the Gimbel Brothers Department Store
509 meters (590 khz)
500 watts

4 pm - Services under the auspices of the Germantown YMCA, broadcast direct from the Germantown Theatre. "Our Nation's Greatest Need" lecture, by Dr. Francis H. Green. He is one of the most popular lecturers in the East.

7:15 pm - Evening service, broadcast direct from the Holy Trinity Church on Rittenhouse Square in Center City Philadelphia. Rev. Floyd W. Tomkins, D.D., is the rector.

9:30 pm - Ben Stad and his WIP Symphony Orchestra with Karl Bonawitz at the organ. Broadcast direct from the Germantown Theatre, assisted by the Arlon Singing Society. Johanne Kramer, Ulrich Wols, tenor and Edwin Henry, bass.

----------

WDAR Radio, Philadelphia, PA
owned by the Lit Brothers Department Store
395 meters (760 khz)
500 watts
The next day they will start using the WLIT call letters

2 pm - Special concert by the Arcadia Concert Orchestra. Professor Earl Sarkost is the director. First selection will be the Overture from the "Marriage of Figaro" by Mozart. Next is a waltz by Volstedt called "Jolly Fellows." This will be followed by a song, "My Dream Girl" penned by Victor Herbert. The fourth selection will be from "Lohengrin," by Wagner. Next are Cello solos played by Peter Wenner. They will be "Andante No 1" written by Wenner himself. Also "Carry Me Back to Old Virginia" by Bland-Wenner. And the last cello solo will be "Scherzo" by Goens. The sixth piece will be "Dance of the Hours" by Pochiello. Next will be vocal solos. This will be followed by :Russian Fantasie" by Tobani and "Serenade" by Saint-Saens. Next is more vocal solos. The conclusion will be a march from the "Queen of Sheba" by Gounod. Vocal solos will be performed by Robert M. Carson, baritone.

6 pm - Concert program from the Benjamin Franklin Hotel by W. Irving Oppenheim's Concert Orchestra.

----------

WFI Radio, Philadelphia, PA
owned by Strawbridge & Clothier
395 meters (760 khz)
500 watts

4:30 pm - Addresses from the Central Branch of the YMCA, Broad and Arch Streets in Center City Philadelphia. Speaker will be Dr. Charles Wood of Washington, DC. His topic will be "Destiny Making Forces." This broadcast will also include a performance by the YMCA Instrumental Trio. Warner Yates is the violinist. Walter Turbuck plays cello and Harry Shuster at the piano. Nevin West is on the cornet. Also performing will be the Friendly Male Quartette from the Messiah Lutheran Church. It consists of Paul Hesser, first tenor; Fred Hufsmith, second tenor; Ed J. Gebhardt, baritone; Amon Berkheiser, basso; and Walter Gebhardt is the director.

7:30 pm - Organ recital and services from the Arch Street Presbyterian Church. The speaker will be Dr. William C. Robinson of Delhi, NY. Special music by Bertrand A. Austin, cellist.

----------

Nearby Radio Stations

----------

WHAR Radio, Atlantic City, NJ
owned by F. P. Cook Sons (the Seaside Motel)
275 meters (1090 khz)
500 watts

2:30 pm - Short sacred recital

2:45 pm - Sermon by Dr. Thomas Cross

9 pm - Address by Eugene E. Dennison

9:15 pm - Compositions of Dvorak

----------

WPG Radio, Atlantic City, NJ
owned by the City of Atlantic City
296 meters (1000 khz)
500 watts
Station was on the air at this time for less than a month
Start date was January 3, 1925

3:15 pm - Organ recital from the Auditorium of the Atlantic City High School

10 pm - The Chalfonte-Haddon Hall Double Trio

10:45 pm - Recital in the Atlantic City High School

A LITTLE BIT OF BROADCAST HISTORY!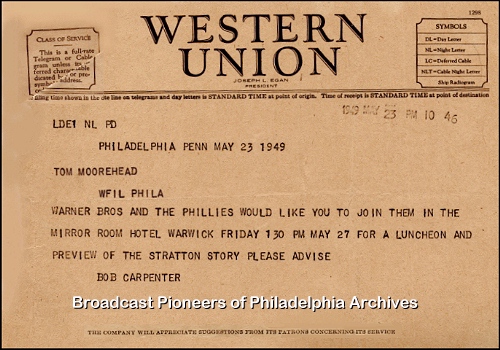 Telegram from Phillies' Bob Carpenter to Broadcast Pioneers member Tom Moorehead
Moorehead was our President in 1970. He passed away in office.
1949
1947 and Stu Wayne!
Here's an article that was written about Broadcast Pioneers member Stu Wayne:
There's a man in Philadelphia radio who thinks so much of his listeners that he saves their pictures, in much the same manner that fans ask celebrities for their photographs.

His name is Stuart Wayne; he's a disc jockey on KYW and has managed to collect two thousand pictures during the two years he has been conducting KYW's Musical Clock program. In exchange he's sent out three thousand pictures of himself.

Such goings on are consistent with Wayne because he's a humble gentleman who is fond of people. His life has been humble from the beginning for he was born on a little farm in North Canton, Connecticut, one of six children, thirty-four years ago.

At the age of nine Stu began working as a farm hand, graduated to auto mechanic work at 12, auto sales at 14 and auto insurance at 16. By the time he was 21, Mrs. Wayne decided young Stuart had been in the automobile business long enough.

One day seeing an ad in a newspaper, placed by a local radio station, she wrote an answer signing young Stu's name. It was the beginning of a radio career that has taken Wayne down the Atlantic coast, through many stations in Connecticut and New York, and finally to Philadelphia.

Wayne began his career at KYW in October 1942 as staff announcer. During the next three years, he performed all types of announcing and acting chores. By 1945 he was so established that Program Manager Jim Begley assigned him to the station's famous morning Musical Clock.

The Clock keeps Stu busy on weekdays, but Saturday afternoons and Sundays are devoted to his power boat and his dog, both named "Lucky." Occasionally he makes a quick flying trip to his West Hartford, Connecticut, country home. He has been most happily married for ten years to the former Agnes Hayes.

Two months after taking over the Clock, Stu began devoting ten minutes daily to Tiny Tots, playing music especially recorded for them. The results were amazing. Transcription companies couldn't keep their stores filled with enough kiddie tunes. The kiddie tune market spread like wildfire throughout the country.

Most amazing result, as far as Stu himself is concerned was that "Uncle Stu" has become the idol of thousands of youngsters, throughout the Philadelphia area.

Wayne is proud of the happiness he brings people. One story he likes to tell happened shortly after he took over the "Clock." A tearful mother had written asking if Stu could locate a Mickey Mouse watch for her young son, who had been bed-ridden for a year as a result of a severe burn. Stu read the request on his program, and received 18 watches in three days, but alas, they were all broken.

The next step was a watch repairman; so Wayne wandered into the nearest shop on Philadelphia's Sixteenth Street, operated by a Swiss immigrant. The wartime harassed jeweler waved Wayne away. "Such junk you want me to work on," he said, "with all these back orders I have."

Then Stu read the letter from the little boy's mother. As he told of the youngster's accident in a fire, the watch repairman's eyes glistened.

"I'll do it," he said softly. And as he spoke he raised his chin and pointed to his scarred throat. "You see, I too was burned when I was a little boy - all over my body."
KYW's Jim Begley who was mentioned in this article was broadcasting live on both the NBC Red and Blue Networks at 11:30 pm on May 6, 1937 direct from Lakehurst, NJ, the scene of the Hindenburg explosion.
1948 and Stu Wayne!
In 1948, a now defunct national magazine wrote this about Broadcast Pioneers member Stu Wayne:
About twenty-five thousand records ago, a young announcer stepped up to the KYW microphone one August morning in 1945 to say for the first time: "This is the Musical Clock with Stuart Wayne."

A lot of disc grooves have worn thin since then, a lot of new records have become hits, and a lot of people have been made happy by the genial young man who is now famous for his penchant for "talking across the back fence" to early morning listeners in and about Philadelphia.

Take the time last summer, when Stu's regular secretary went on a vacation and filling in for her was a lovely young lady named Peggy Jo Dunn. Peggy Jo is just like any other young lady of 17 now. At one time, however, she was a seriously sick little girl, bedridden with rheumatic fever. Eighteen months ago a friend told Stuart Wayne of her condition. The first time he asked people to write Peggy Jo she received 400 letters; in a year's time she had received 14,000.

That announcement started a shut-in club that has grown to over a hundred members, a group that is constantly receiving cheerup mail and cards. Wayne's fame for shut-in work has spread to such an extent that this year he was named radio chairman for National Shut-In Day.

Turning a "Musical Clock" into a public service vehicle was a natural for Stu as picking hit songs.

It is no secret that Stu Wayne was first to recognize Jack Owens' "How Soon" as a hit and he sparked it to national popularity.

Getting up early (Stu starts his daily stint at 6:30 am) is not new to Wayne. He was born and raised on a little farm in North Canton, Connecticut, some 34 years ago. At 21, he found himself in the automobile business. Then Mother Wayne answered a newspaper audition ad placed by a local radio station. Son Stu rose to the occasion and he's been in radio ever since.

Coming to KYW in 1942, Stu served as a staff announcer for three years before being assigned to the "Musical Clock."

Although Mr. and Mrs. Wayne have no children of their own, Stu is "Uncle" to a host of youngsters in Philadelphia. Each day he devotes the final ten minutes of his program to youngsters in a segment he calls "Tunes for Tiny Tots at Ten to Nine." The feature has been such a success that KYW has scheduled a special 15-minute "Tunes for Tiny Tots" Saturday mornings.

Radio keeps the Wayne family pretty busy. But week-ends will find Stu and his wife, Agnes, aboard their power boat. "Lucky II," or spending a quiet few days in Connecticut.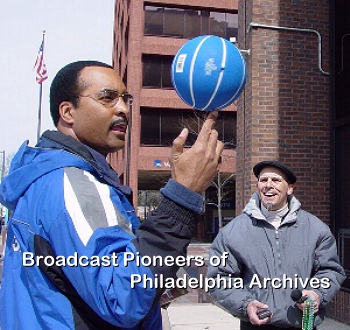 (left to right) Ukee Washington & member Dave Michaels
"Ukee shows Dave how to handle a basketball"
2007
OUR HATS OFF TO YOU:
Special Thanks for 2015 Scholarships:
Vice-President Kal Rudman - 5 scholarships (all for Temple students)
Member Johnny B. Hall and wife Ginny - 4 scholarships
Members Robin and Ira Adelman & Leon Love - 2 scholarships
Member R. Alan Campbell - 1 scholarship in the memory of Fred Ruggieri (Fred Randall)
Member Harry Hurley's Golf Tournament - 1 scholarship (for South Jersey residents or students)
Member Sylvia Kauders - 1 scholarship (from a grant for 5 yearly scholarships)
Member Marlin Taylor - 1 scholarship
Member Esther Kurtz - 1 scholarship in memory of her late husband, David Kurtz
Member Bob Pantano - 1 scholarship (for a Temple University student)
Bette Lavine (neighbor of Mike Nise) - 1 scholarship
Special Thanks for contribution of $1,000 or more to our DAP, Digital Archival Project:
Member Johnny B. Hall and wife Ginny - $3,000
Member Marlin Taylor - $1,000
Member Harry Hurley's Golf Tournament - $1,000
Underwrite a complete scholarship and we'll give you credit in the electronic newsletter until the scholarship is awarded in April of 2015. Give us a donation of $1,000 or more and we'll list you in our "Thank You" column for a year.
More Thanks:
Linda Munich just recently sent in a very nice and very generous contribution. Thank you, Linda! Also, a special thank you to member Debbie Elias for her generous donation to our Digital Archival Project. It is very much appreciated. We would also like to thank those of you who included an extra contribution when you paid for your banquet ticket: the Adelman Family (Ira & Robin Adelman & Leon Love), Birtan Collier (wife of Ralph Collier), Bob Kravitz, Art Moore, Les Waas, Alan Stone, Robert Bocchino, Valerie Morrison, Bill Kelley, Connie Roussin Spann, Bob Backman, Barry Reisman, Brother Gerry Molyneaux, Mike Nozilo, the Thomas (Liz & Nick) Family, Frank and Barbara Stone, Dave Abramson, Michael Muderick and Gerry Wilkinson.
A growing portion of the revenues that fund the different activities of the Broadcast Pioneers comes from donations. This includes our archival project and our scholarship program. Broadcast Pioneers is now able to accept gifts of appreciated stock, which provides a significant tax benefit to you. By giving appreciated stock (stock which is worth more now than what it cost when it was purchased), you can get a charitable contribution tax deduction based on the current market value of your stock. At the same time, you avoid the capital gains tax that would arise if you simply sell the stock. So if you'd like to support our educational mission or our archival project and save money on taxes too, please consider making a gift of appreciated stock. We are a federally recognized, state chartered charity with a 501(c)(3) status. Contact us at (856) 365-5600 or e-mail pioneers@broadcastpioneers.com for more details.
Don't be left out. You too can make a pledge.You can earmark it for scholarships, our Digital Archival Project or our general fund. Thanks so much for your support.
If you forgot to make an extra contribution (cash or memorabilia) and would like to do so now, it's never too late. We would be thrilled to hear from you at: PO Box 2886, Bala Cynwyd, PA 19004 or call us at (856) 365-5600.
Our special thanks go to TUTV and The Kal & Lucille Rudman Media Production Center.

They have underwritten a grant to be used to fund an entire year of all our newsletters for calendar year 2014. We thank them so much for their support!
A FINAL THOUGHT....
"The quality of a mediocre product is remembered long after the low price is forgotten."
Broadcast Pioneers Member Louis Palens
Time Salesman
50s, 60s and 70s
WDAS Radio

Please contact us by e-mail at newsletter@broadcastpioneers.com or by mail to: Broadcast Pioneers of Philadelphia, PO Box 2886, Bala Cynwyd, PA 19004. Your stories are important to you, to us, and to your colleagues. Contact us today and we'll include your story in the next newsletter!

© 2014, Broadcast Pioneers of Philadelphia
All Rights Reserved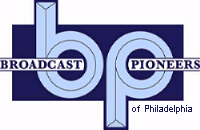 The e-mail address of the Broadcast Pioneers of Philadelphia is pioneers@broadcastpioneers.com
For luncheon reservations call (856) 365-5600 or e-mail us at: rsvp@broadcastpioneers.com