Visit Our Website Often - http://www.broadcastpioneers.com
You should check our website often on the front page (above) for important information!
Check out our Facebook Page - http://www.broadcastpioneers.com/facebook
There are things on our Facebook Page that are NOT on our website (like our vintage photo of the week)
Tune in to our YouTube Channel - http://www.broadcastpioneers.com/youtube
Our YouTube Channel has all our luncheons, exclusive interviews and archival material

DIGITAL ARCHIVAL PROJECT NEWS:
IN TOUCH WITH OUR MEMBERS:
Member Charlie Gracie will be ringing in the New Year at Anthony's Restaurant and Banquet Facility, 4990 State Road, Drexel Hill, In the Drexeline Shopping Plaza. The cost is only $50 per person and it includes a lavish buffet plus all the New Year's amenities. A cash bar is available. Call (610) 623-6900 for reservations.
Board Member T. Morgan's new book "Confessions of a Teenage Disc Jockey" has been purchased and in available to be read by the Rock & Roll Hall of Fame in Cleveland. T. says he is "most honored." We also thought you would like to know that if you buy two books, you only pay for the shipping of one. A special holiday deal. This is all available at Morgan's website: http://www.tmorganonline.com.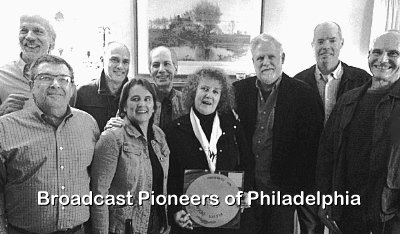 (left to right) John Harvey, Larry Jordan, Michael Tozza, Julie Roberts
Jerry Abear, Helen Leicht, David Dye, Bill Webber, Jr and Juan Varleta
WIOQ Radio Reunion
Home of Ken and Liz Tankel, Malvern, PA
Sunday, November 8, 2015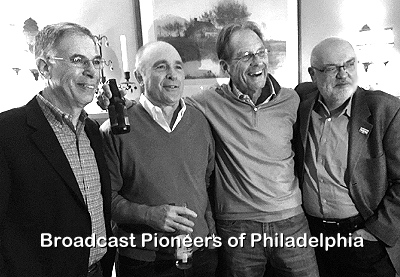 (left to right) The Management team of Art Camiolo, Rick Feinblatt, Bill Staats & Alex Demers
WIOQ Radio Reunion
Home of Ken and Liz Tankel, Malvern, PA
Sunday, November 8, 2015
Member Bill Webber, Jr. tells us that on Sunday, November 8th, Ken & Liz Tankel hosted a reunion for the WIOQ-FM staff (circa 1973-1987) at their home in Malvern. He said: "It was great to see everyone after some 30 odd years." He told us that, besides those in the photos, they had member John Brown and member Judy Sciaky (representing our friend and Broadcast Pioneers Hall of Famer Ed Sciaky) joining them.
Member Harry Hurley has again been named to PolitickerNJ.com's Power List for 2015 of the top 100 most politically powerful people in the state of New Jersey. It's the 9th time has made the list landing in position #83. Last year, he was placed lower in position #89. Harry said: "it's a high honor, privilege and is a very difficult list to make. In New Jersey, this Power list is the gold standard."
Gerry Wilkinson, our CEO, was seeing stripes a few weeks ago. No, he wasn't in prison and he wasn't looking at the flag. He saw a zebra run past his car on City Avenue (about two blocks west of More FM). No, he hadn't been drinking. In fact, his wife, Michele and daughter Zara saw it too. The zebra was being followed by 8 to 10 Philadelphia police cars. Gerry said, "It was quite a sight." The animal was one of two zebras that ran away from a circus in Fairmount Park. Police captured the animal, unharmed, in a nearby cemetery.
Board Member Ed Eisen tells us that he will be speaking at Rydal Park, one of the Delaware Valley's most prestigious retirement communities on Tuesday, January 5th, 2016 at 1:30 pm in their Main Auditorium. The event is in Jenkintown at 1515 The Fairway.
We would like to thank member Dom Giordano for all the good things he said about our organization on "Inside Story" that aired this past Sunday at 11:30 am on WPVI, 6 abc, just before the noon broadcast of "Action News." Dom was one of the guest panelists. The program is hosted by Broadcast Pioneers member Monica Malpass.
We heard from member Bunny Gibson this morning. She e-mailed that she "had my 'Dance Contest' for foster children connected with United Nations 'Day of the Child.' It was my thirteenth year having fun with the kids. All the kids are 'Winners' and receive a prize. Doing my third year 'Dance Contest' with 'Angel Tree' for children whose parents are incarcerated. Again, all children are 'Winners' and receive a prize. Just finished a Pilot "The Haunt" with a great cast including Martin Klebba. Funny Comedy!"
A LITTLE BIT OF BROADCAST HISTORY!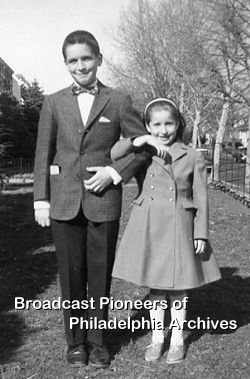 Member Elliot Abrams and his sister Cindy
in front of their parents' Philadelphia home
Here's what Member Elliot Abrams told us about the picture:
My sister's name is Cindy. She was about 6 here and I was 11. Cindy went to Girls High, then after college and grad school (Penn State and Ohio State) became a CPA and worked in the financial field. This picture was taken in front of our childhood house on Barringer Street in Mount Airy. I must have rented a suit for the occasion.

MORE DIGITAL ARCHIVAL PROJECT NEWS:
VIDEO:

AUDIO:
Here's a complete newscast from two-thirds of a century ago. It's from WFIL Radio. It's the 6:55 am newscast, complete with commercials. The date is Wednesday, September 29, 1948.
Listen in Real Audio!
Listen in Windows Media!
Former Philadelphia broadcaster Charlie O'Donnell was probably best known for his announcing for a quarter of a century on the nationally syndicated game show, "Wheel of Fortune."
However, we probably know him best as the announcer on "American Bandstand," both here in Philadelphia at WFIL-TV, Channel 6 (now WPVI) and later on the west coast when Dick Clark moved the show westward.
In Philly, Charlie was the Program Director at WHAT Radio and discovered local disc jockey legend Hy Lit while playing basketball. O'Donnell then moved to WIBG at News Director.
Broadcast Pioneers member Jack Hyland was the one responsible for getting Charlie away from WIBG and to the WFIL stations. There, he hosted overnight movies on TV at a time when stations were not on the air 24 hours a day. He also announced on the national segments of "American Bandstand." Charlie didn't announce on the local segments of the show, but only on the network segment.
On Sunday, May 17, 2009, Sam Lit on behalf of Broadcast Pioneers spoke with O'Donnell. It's presented here in two segments, each about 10 minutes long. Be advised that some of the material appears in both segments. This is done to give continuity to what Charlie is saying. We recommend you listen to both parts.
Listen in Real Audio to Part 1
Listen in Windows Media to Part 1
Listen in Real Audio to Part 2
Listen in Windows Media to Part 2
Remember, History is ONLY What Gets Saved!
(If there were no portraits of George Washington, how would we know what he looked like?)
IN TOUCH WITH THE INDUSTRY:
CBS RADIO's Talk Radio 1210 WPHT announced last month the addition of Emmy Award winning television journalist and Broadcast Pioneers member Dawn Stensland to the "Rich Zeoli Show." She started Monday, November 16th from 3 to 6 pm. Every day Broadcast Pioneers member Zeoli discusses the top issues of the day. Stensland now joins him to provide news, traffic and weather updates as well as her views on the day's trending stories.
"Dawn is a well-known voice and face to the Philadelphia public," said Andy Bloom, Operations Manager, WPHT/WIP. "She has two decades of success in Philadelphia, New York and other major markets that will be an asset to Talk Radio 1210 WPHT. In getting to know Dawn, I've been struck by her charismatic presence and infectious laugh. I think the audience will truly enjoy what she brings to the Rich Zeoli Afternoon Show."

Added Stensland, "It's an honor to join Rich, and to reunite with the CBS Philly family where I began in '97. Rich is a man of integrity who says it like it is. Rich's loyal listeners on 'PHT 1210 are known for their desire for the truth."
"Hello there, Harvey here!" can once again be heard. The voice of Harvey is available on Philly's stream radio station entitled, "Libra." You can access it on iRadioPhilly.com. It's been a couple of decades since people of the Delaware could hear John Harvey. Previously, you could have heard him on WIOQ and WMGK. Mike Bowe and Michael Tearson are already of iRadioPhilly.com.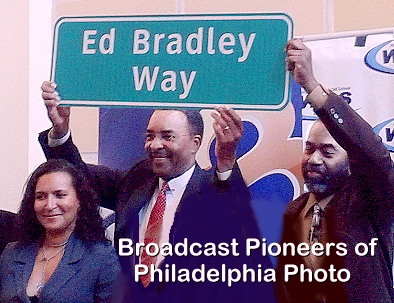 (left to right) Patricia Blanchet (Ed Bradley's widow), Ukee Washington, prime co-anchor
on CBS 3 and WDAS Producer Renard Henderson
WDAS Radio, Bala Cynwyd
Saturday, November 14, 2015
(Photo taken by Michele Wilkinson)
A portion of City Avenue between Monument Road and Presidential Boulevard has been dedicated and renamed, in honor of the legendary CBS newsman, Ed Bradley, who began his broadcasting career here in Philadelphia. The dedication took place Saturday, November 14th at the facilities of WDAS in Bala Cynwyd. Bradley started his broadcasting career at WDAS Radio here in Philadelphia at a news reporter and radio anchor. He worked there from 1963 to 1967.
Harry S. Gross, one-time WCAU Radio financial talk host and reporter, has finally decided to retire. He's been writing regular columns for the Philadelphia Daily News, until the end of November, 2015. At age 92, Harry says that he'll now be able to focus more of his wife, Helen.
Telemundo62 Philadelphia (WWSI) News Anchor Ramon Zayas was named one of the Region's "Most Influential Latinos" by Impacto Latin Newspaper and PHLDiversity.
"I am truly honored and humbled to receive this recognition," said Ramon Zayas. "This special award reinforces my commitment to help the communities that we serve, stay ahead of the news and issues that impact and affect them the most."

"Ramon cherishes the opportunity to lead by example and we're very proud of all the work he is doing as a journalist and in the community to help our communities," said Anzio Williams, Vice President of News for NBC10 Philadelphia and Telemundo62 Philadelphia.
NBC10/WCAU and Telemundo62/WWSI, in partnership with the NBCUniversal Foundation today announced that three Philadelphia region nonprofit organizations will receive a total of $100,000 as part of the 21st Century Solutions grant challenge. In the Philadelphia Region, the following organizations are the recipients of a 21st Century Solutions grant: The Energy Coordinating Agency (ECA) of Philadelphia, The Free Library of Philadelphia Foundation and The Reading Assist Institute.
"NBC10 and Telemundo62 – in partnership with the NBCUniversal Foundation – are honored to take part in the fourth annual 21st Century Solutions grant challenge, which recognizes and supports innovative efforts that aim to help solve some of our region's most pressing social issues," said Ric Harris, President and GM, NBC10 and Telemundo62. "Each of these three grant recipients is helping to make a meaningful impact in the communities we serve, which ultimately helps us build stronger communities."
CBS 3 launched its 27th annual Toy Fest toy drive yesterday benefitting children in need this holiday season. The Philly POPS Festival Brass joined Ukee Washington and Jessica Dean live on Eyewitness News to kick-off this year's campaign, along with representatives of the organizations that will benefit this year – the Salvation Army, the USO and the Boys and Girls Club of Camden County.
All six of the CBS RADIO stations in the market also joined in the holiday tradition by collecting toys at their studios, participating in campaign events, and promoting the drive on air.

The stations will be soliciting new, unwrapped toys for local children through public service announcements airing on all of the CBS stations through Monday, December 21st when the stations wrap up the campaign with an all-day drive through drop-off at the CBS Broadcast Center, 1555 Hamilton Street in Philadelphia. One of the longest-running TV public service campaigns in the region, Toy Fest has provided toys for more than 100,000 children in need over the years.
WE REMEMBER:
For those of us who produced for TV, if you needed a picture related to Atlantic City or Steel Pier, you knew to reach out to Allen Pergament, called "Boo" by most everyone. He passed away last month after an extended illness at 83. He had an entire room in his Margate home dedicated to his unique collection.
Camden born Jim Perry passed away last month at 83 after fighting cancer for the last five years. He graduated from the University of Pennsylvania and was Sid Caesar's straight man in the fifties. He was also a singer, and replaced Philadelphian Eddie Fisher at Grossingers in the Catskills. However, Americans will remember him as a game show host. He reigned over such programs as $ale of the Century, Family Feud, Card Sharks and was the announcer of The Joan Rivers Show.
Norman Pickering passed away last month. In 1945, he invented an improved pickup (including the stylus) for the phonograph record (often played on radio even in the forties). Previous needles were steel and wore out the records after playing many times. The Pickering pickup (and Pickering cartridge) were named after him. His original design was meant for radio stations but soon caught on with the general public. He was 99.
ON THE HEALTH FRONT:
Member Sylvia Kauders has been a little under the weather since the summer time. She's been in and out the hospital. When we spoke with her, her voice seemed strong and full of spirit, but then she reminded us that she's an actress and if she needs to put on a performance, she will do so. Today is her birthday. She wouldn't say how old she is because, according to her, all us broadcasters have big mouths and would tell the world. She celebrated her birthday on Saturday with a party with 50 people there. Hang in there, Sylvia!
New Jersey 101.5, WKXW in Trenton, announced last week that morning drive air personality Jim Gerhart will not be returning to the air. Jim had been off air on a leave of absence following an injury. He was in his third decade with the station. Gearhart had previously worked at WFIL Radio.
THANKS FOR THE MEMORIES:
The New 1952 WCAU Building!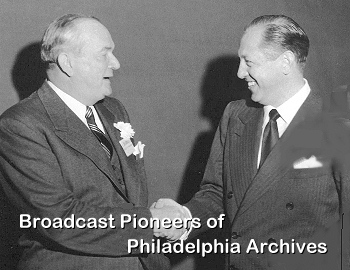 (Left to right) Donald Thornburgh, President/General Manager of the WCAU Stations
CBS Chairman of the Board Bill Paley (one time part owner of the WCAU stations)
Tuesday, May 27, 1952
Promoted as "the most integrated structure of its kind", the new WCAU Building on City Line Avenue was opened in May of 1952. It sat on a 10 acre site and had a 100,000 square foot physical plant. The building was completely air-conditioned and it was designed so that the facilities could triple in size at some time in the future. That was never done.
The back lot of the station was used as the exterior set of "Action in the Afternoon," broadcast nationally on CBS-TV and originated live from WCAU-TV. In later years, much of the property has been sold off for rental office space.
Over three hundred people were on hand for the grand opening. They included Donald W. Thornburgh, president and general manager of the WCAU stations. Also among the guests were Rosel H. Hyde, Robert F. Jones and George E. Sterling from the Federal Communications Commission. William S. Paley, chairman of the board of CBS was also there as was Justin Miller, president of the National Association of Radio and Television Broadcasters, Robert and William McLean, president of the Evening and Sunday Bulletin newspaper and Philadelphia Mayor Joe Clark. Adrian Murphy, president of CBS Radio and J. L. Van Volkenberg, president of CBS-TV were also there.
This speech was given by Donald Thornburgh, President and General Manager of the WCAU stations at the dedication ceremonies of the new WCAU Radio and Television Center.
The group gathered here today illustrates the many facets of our stations responsibilities. Here are the representatives of the Federal Commission that has regulatory power over all communications. Here are the officials of the federal, state and local governments. With us are religious and educational leaders of our area. Officers of the National Association of Radio and Television Broadcasters. The heads of the Columbia Broadcasting System with which this station has the honor of being an original affiliate to it in both radio and television.

Many of our clients and advertising agency friends are here. Personal friends, and last but not least, a goodly representation of our parent company, The Philadelphia Bulletin.

Since we feel that the success of WCAU is measured by the various groups represented here today. I am going to submit a current report to you, the people that guide us in our activities. We hope you will feel that we have earned the right to create this building and that our past stewardship will bode well for our future business growth and continued public service.

Let us first examine the popularity of our programs on WCAU Radio and Television. In radio, we have 7 of the top 10 nighttime programs and 9 of the top 10 five times a week daytime programs. In television we have 8 of the top 15 once a week shows and 5 of the top 10 multi-weekly shows.

Program popularity is reflected by business activity. In radio 1950 and '51 represent our two best years in total sales volume. In television, WCAU-TV has been shown in each of the last four Rorabaugh quarterly reports as leading all other television stations in the United States in total number of advertising accounts.

This bespeaks a good sales staff and good creative program departments that have been able to build and sell programs that have proven profitable for the advertiser.

From the standpoint of network originations, we have been fortunate in having our television department headed by a well-known and respected production leader in Charles Vanda, who for many years was with me on the Coast. His programs are well accepted locally and we have had as many as six of an origination per week on the Columbia network, two of them commercially sponsored. Only Hollywood and New York originate more.

But the business volume has not been our only goal. We have tried to be ever alert to the public service potentialities of radio and television. The proof of our success seems to be answered by the experts who constitute the committees for the various annual awards.

This spring WCAU and WCAU-TV has received seven major awards for 1951. The George Foster Peabody award for "What in the World," a television program broadcast in conjunction with the University of Pennsylvania.

The Alfred I. DuPont award and a check for $1,000 for the best large station public service programs in both radio and television. This is the first time a station has been given the award for both.

The Ohio State Educational Institute for Radio certificate for "freedom Revisited," a historical series of radio.

The Ohio State Educational Institute for Television for the best Children's entertainment program, "The Big Top." Our own famous circus program originated in the Camden Convention Hall.

The Variety Award for the station originating the best television programs for the network.

Freedoms Foundation Award, another for the radio program, "Freedom Revisited." This is the third successive year we have received their medal.

National Federation of Woman's Clubs for the best children's entertainment in television. Again, "The Big Top."

We are proud of the fact that no other station in the United States has ever succeeded in winning all of these important awards in any one year.

Add to these accomplishments the fact that for two years our engineering department has been deeply involved in planning and supervising the construction and engineering of this modern now functional radio and television studio.

The culmination of our efforts came in the transfer last week when television was moved on Sunday night between midnight and 8 am and radio the following Friday night instantaneously, both without loss of a program and without a facility failure of any sort. With the complicated electrical engineering involved, this represents a Herculean task accomplished by Vice President John Leitch, our engineering department and the other operational departments of our organization.

WCAU has through its entire history been a well-operated and well accepted station. Through the years it can point with pride to many firsts in radio. So, from the day the building of this new home was decided upon, we, as an organization, resolved to make these radio and television properties not only commercially successful, but worthy of their physical new housing.

We feel we have won the confidence and trust of our listeners and viewers in the great area these stations cover. We look at the future as a challenge to continue to furnish the best in entertainment, news, information and education to our public. Our new motto, "Speaking for Freedom," expresses our hope that we can disseminate this service from the birthplace of freedom in the truly American way.
The Beginning of WQAL!
In 1957, NBC, the owner of WRCV-TV, Channel 3 in Philadelphia at the time, moved its transmitting tower from 1230 East Mermaid Lane in Wyndmoor, Pennsylvania to Roxborough. They started to look for a buyer and sold the property and tower to The George Voron Company on January 12, 1959. The company owned a construction permit for a new FM radio station for Philadelphia. Up until this time, Voron's firm dealt with supplying companies and businesses with "piped-in music." Their offices were located at 835 North 19th Street, on the second floor walkup.
A shack was built at the tower site and WQAL went on the air on Wednesday, November 11, 1959 at 5 pm from that location. The very first thing ever broadcast on 106.1 and WQAL was the Star Spangled Banner performed by Henry Mancini and the Warner Brothers Studio Orchestra. The first voice ever transmitted was that of Broadcast Pioneers member Dave Custis, who was totally responsible for the sound and format of WQAL. The first record played by the station (not counting the National Anthem) was The Carousel Waltz written by Richard Rodgers and performed by Percy Faith and his Orchestra on Columbia Records.
Voron, who had held the CP for some time for the new station was given an FCC deadline of November 15th to either be broadcasting or surrender the license. They made it by 79 hours. Total cost for placing the new station on the air was $90,000.
Custis was brought in by Voron to help get the station on the airwaves. At that time, Dave had no broadcast experience whatsoever. Voron liked Dave and for almost three-quarters of a year, Custis worked without any pay. He gathered records for the station's library. It was Custis who took the piece of paper known as a "Construction Permit" and converted it into a real radio outlet. Dave Custis was totally responsible for the station's format.
Custis told us that he also did an airshift on the station. He was well known for mixing in sound effects with records. For example, he might play the sound of a steam engine traveling by and then segue into Duke Ellington's "Take the A Train." Dave said, "it was really fun. I could play whatever I wanted." He was the only DJ on the station that was allowed to play recordings from his own record collection. Even after the station was on the air, Voron still wasn't paying Custis. Finally at Dave's insistence, the station started giving him $25 a week which included 36 hours of weekly airshifts. He also sold seven of the first eight commercial accounts carried by the new broadcast station. Six months later, they doubled his salary to $50 and were paying other air people $1 an hour.
Custis and his sister were fans of a network radio and TV show called "Your Hit Parade." Each week, Dave's sister would transcript into a little notebook, the top ten list of songs compiled by the "Your Hit Parade" broadcast. The show went off the air in 1958, but it always stood out in Custis' mind. While doing his WQAL air shift, once a week (sometimes on different days of the week), he would recreate the "Your Hit Parade" top ten on WQAL. For 20 years, he had tried to purchase the rights to the "Your Hit Parade" name and finally in 1980, succeeded. For almost a dozen years, Custis syndicated new versions of the "Your Hit Parade" shows for big band radio stations. It was carried in Philadelphia over WPEN.
However, let's get back to WQAL. Rumor has it that the call stood for "Quality ALways." Other sources said that WQAL stood for "Just Quality Radio" or "Where Quality Counts." However, according to Dave Custis, the call letters simply stood for QUALITY and nothing else.
George Voron and his brother Abe built some of the station's facilities and equipment. Their studio was right there on the transmitter site. The audio console was a budget version from Gates. The format for WQAL was very loose. However, it consisted of a mixture of instrumental music (similar to what WDVR would play when they hit the air four years later) and syrupy popular music of that era. On Saturdays, Dave Custis thought it would be a good idea to play a half-hour of John Philip Sousa marches. At first, the Voron Brothers thought it didn't fit the station. However, with the amount of mail and calls the program generated, the station knew it was successful. Within a year, the station was Philadelphia's number one FM station. This was done with little publicity. A few posters and flyers were used, but no newspaper space. One thing they did for exposure was to sponsor a bowling team.
In 1961, Dave Custis left WQAL to go to Triangle Publications, radio syndication division located at the WFIL studios. He was replaced by Broadcast Pioneers member John Carlton, who came to WQAL from WFIL.
On September 30, 1970, Voron sold the stereo station to United Artist Broadcasting for $1,110,000. George and Abe kept the property and tower on Mermaid Lane until it was sold to Pinnacle Towers, Inc. on January 15, 1999.
About that time, the new owners moved the studios from the transmitter site to the 555 Building on City Line Avenue in Bala Cynwyd. Eventually, they applied for and received FCC permission to use new call letters, WWSH (WISH). During this time, Broadcast Pioneers member John Beaty was Program Director. Later, Broadcast Pioneers member Nelson Paine Hobdell III (still in his twenties at that time) replaced him as PD and Operations Manager. Nels was already well known in the area.
Steve Maresz , a visitor to our website e-mailed:
I was a big fan of the beautiful music format station "WWSH." Nels Hobdell was the General Manager. I know the music was supplied by the SRP company and "WWSH" in my opinion executed the format great! I remember a few "WWSH" announcers from back then like Bill Hudson, Sid Doherty, Carmen Tubby and Allan Michaels.
WWSH kept the easy listening format started by Dave Custis. It was, of course, modified often to keep it up to date WWSH was formatted using 600 ten and a half inch reels of stereo audio tape syndicated by SRP, owned by Jim Schulke. It was called "matched flow" where a couple tape machines (not cartridge) had 15 minute segments (each with one vocal) recorded on them. There were four segments on each reel. By controlling where you cued the reel, you could vary the sound where no half-hour was repeated within a two week period.
More on Kaiser Broadcasting!
In our October 2015 newsletter, we talked about Kaiser Broadcasting and mentioned the station in Massachusetts. Well, one of our members, Marlin Taylor was working for Kaiser in that market. Marlin was inducted into our Hall of Fame last month. After being employed up north, he came to Philadelphia and WDVR. So here's what Marlin Taylor wrote.
Kaiser Broadcasting, the broadcasting division of Kaiser Industries, was founded and headed by Richard C. Block. Dick was a dynamo, constantly on the move and famous for showing up at the gate of the next flight leaving for the city he was aiming for … without a reservation. Walking up to the desk, he'd give his name and the attendant would respond that they didn't find his name on their passenger manifest. He'd then get slightly huffy and say the airline obviously lost it, as he made it days ago. Usually, he'd win. Of course, this was the 1960's, before the TSA, high security, etc.

Back to Boston…. The Boston Globe did not own any broadcast properties until partnering with Kaiser, creating Kaiser-Globe Broadcasting to purchase license of UHF TV station WXHR-TV Channel 56 along with its sister radio stations WXHR-AM and FM, acquiring them from Frank Lyman, Jr., who had built all three of the stations and was owner of an electronics manufacturing firm, Harvey Radio Labs.

The TV had first begun broadcasting as WTAO-TV in 1953, not long after the FCC first granted UHF licenses. However, it had operated no more than a total of about three years during the span of 13 years from its inception 'til Kaiser-Globe acquired it in 1966. Of course, the call letters were changed to WKBG and eventually to WLVI, the Roman numeral for "56."

The AM station was renamed WCAS, standing for "Watertown, Cambridge, Arlington, Somerville … the four principal communities lying north of Boston just across the Charles River. It was a daytimer on 740 KHz and focusing on the happenings within these four towns.

The FM became WJIB, a nautically-themed Beautiful Music station ala WDVR. It began broadcasting on September 15, 1967, with yours truly [Marlin Taylor] as Program and Music Director. Interesting side note: We had much confusion at the station with telephone calls for "Mr. Taylor." It seems that there were at least three or more "Mr. Taylor's" in question: myself, General Manager Peter Taylor and the fact that the Boston Globe was principally owned and managed by members of the Taylor family. Neither Peter nor I had any relationship with the Globe Taylors. He was imported from Kaiser sister station, KFOG in San Francisco, and I am from Bucks County.

I would stay with WJIB for only 8 months, as I wasn't particularly happy with the way I was being treated, considering that WJIB catapulted out of the starting gate from zero to near the top of the Arbitrons in just five months, destroying the longtime AM format powerhouse in one book … yet I was given a pittance of a compensation increase. So, when Jerry needed help back at WDVR, I was ready. After getting the house back in order, I was off once again to conquer the Big Apple.
OUR HATS OFF TO YOU:
Special Thanks for contribution of $1,000 or more to our DAP, Digital Archival Project:
Member Johnny B. Hall and wife Ginny - $3,000
Member Marlin Taylor - $1,000
Member Harry Hurley's Golf Tournament - $1,000
Member Glenn "Hurricane" Schwartz - $1,000
Member Elliot Abrams - $1,000
Special Thanks for April 2016 Scholarships:
Member Dan Lerner - 5 scholarships
Member Sylvia Kauders - 1 scholarship (from a grant for 5 yearly scholarships running until 2019)
Member Harry Hurley's Golf Tournament - 1 scholarship (for a South Jersey resident or student)
Member Johnny B. Hall and his wife, Ginny - 7 scholarships
Member Kal Rudman - 5 scholarships (for Temple University students)
Members Robin and Ira Adelman and Robin's Dad, Leon Love - 1 scholarship
Special Thanks for a contribution of $500 or more to our DAP, Digital Archival Project:
Member Esther Kurtz - $500
Member Art Moore - $500
Member Rod "Storm" Phillips - $500
Member Marian Lockett-Egan - $500
Underwrite a complete scholarship and we'll give you credit in the electronic newsletter until the scholarship is awarded in April of 2016 or 2017. Give us a donation of $1,000 or more and we'll list you in our "Thank You" column for a year. Give us a donation of $500 or more for our Digital Archival Project and we'll list you in our "Thank You" column for six months.
More Thanks:
We would love to give kudos to those of you who gave an extra contribution to Broadcast Pioneers when you sent in for tickets for our annual banquet. They include: Steve Tatz, Anthony Scafide, Art Moore, Jackie Strauss, Rick Kearney (Dick's son), Harry Hurley, Al Primo, Marlin Taylor, Dorie Lenz, Joe Claffy, Bette Lavine, Steve Sacks, Betty Davis and Gerry Wilkinson.
A growing portion of the revenues that fund the different activities of the Broadcast Pioneers comes from donations. This includes our archival project and our scholarship program. Now, we are making it even more beneficial for our donors. Broadcast Pioneers is now able to accept gifts of appreciated stock, which provides a significant tax benefit to you. By giving appreciated stock (stock which is worth more now than what it cost when it was purchased), you can get a charitable contribution tax deduction based on the current market value of your stock. At the same time, you avoid the capital gains
tax that would arise if you simply sell the stock. So if you'd like to support our educational mission or our archival project and save money on taxes too, please consider making a gift of appreciated stock. We are a federally recognized, state chartered charity with a 501(c)(3) status. Contact us at (856) 365-5600 or e-mail pioneers@broadcastpioneers.com for more details.
Don't be left out. You too can make a pledge. It's never too late. You can earmark it for scholarships, our Digital Archival Project or our general fund. Thanks so much for your support.
Remember, if you want to use your contribution as a tax deduction for this year, you have less than a month to make your contribution. It's a great way to give back.

Because on the hospitalization of our CEO Gerry Wilkinson at the end of October, the printing of our annual 2016 membership directory was delayed. It's currently at the printer right now. You should be receiving it mid-month. Thanks for bearing with us.

Our special thanks go to TUTV - Temple University Television and The Kal & Lucille Rudman Media Production Center.

They have underwritten a grant to be used to fund an entire year of all our newsletters for calendar year 2015. We thank them so much for their support!
Good news! We just received word that TUTV - Temple University Television and the Kal & Lucille Rudman Media Production Center will again be underwriting our newsletter. This grant will be used during all of calendar year 2016. It is appreciated. Thank you!
If you forgot to make an extra contribution (cash or memorabilia) and would like to do so now, it's never too late. We would be thrilled to hear from you at: PO Box 2886, Bala Cynwyd, PA 19004 or call us at (856) 365-5600.
A FINAL THOUGHT....
"The harder you work, the better your luck and that's absolutely true."
Patricia Blanchet, widow of Ed Bradley
Dedication of Ed Bradley Way
WDAS Radio, Bala Cynwyd
Saturday, November 14, 2015

© 2015, Broadcast Pioneers of Philadelphia
All Rights Reserved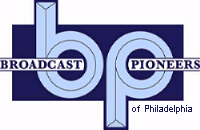 The e-mail address of the Broadcast Pioneers of Philadelphia is pioneers@broadcastpioneers.com
For luncheon reservations call (856) 365-5600 or e-mail us at: rsvp@broadcastpioneers.com