| | |
| --- | --- |
| | Broadcast Pioneers of Philadelphia is a federally recognized, state chartered 501(c)(3) non-profit organization serving the Philadelphia Broadcast Community since January of 1962. |
December Luncheon
The Bala Golf Club, Philadelphia
Wednesday, December 21, 2016

Meet and Greet at 12 noon!
Lunch served at 12:30 pm!
Ratecard: see below!

Please reserve now!
CALL (856) 365-5600!
rsvp@broadcastpioneers.com
Another Third Wednesday Luncheon!
Wednesday, December 21, 2016!
Lunch is only $10


(if you are a paid up member)
I

t

'

s

O

u

r

H

o

l

i

d

a

y

S

o

n

g

f

e

s

t!
Reserve by e-mail: rsvp@broadcastpioneers.com
Reserve by phone: (856) 365-5600!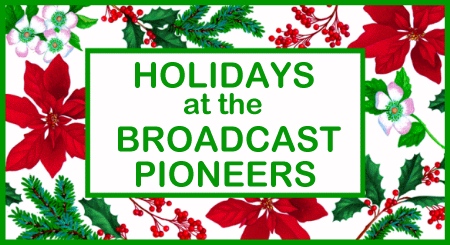 S
P

E

C

I

A

L

H

O

L

I

D

A

Y

P

R

I

C

I

N

G

!
Lunch is only $10


(if you are a paid up member)
Reserve by e-mail: rsvp@broadcastpioneers.com
Reserve by phone: (856) 365-5600!
Prices haven't been this low
since the 80s!

IT'LL BE A GREAT TIME!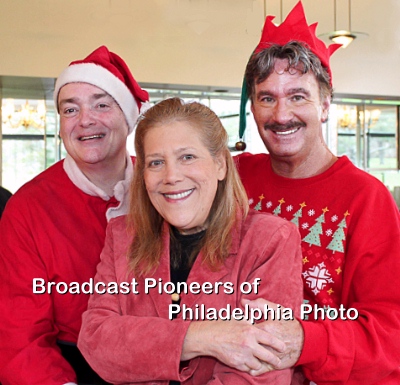 It's our traditional holiday gathering. Plenty of music, wonderful conversation and good cheer. It all takes place on Wednesday, December 21st at the Bala Golf Club.
If you are a member and your dues are paid up-to-date, your cost for the luncheon is only $10. It's our holiday gift to you. Everyone else is at the regular price of $28. You must reserve your space in advance by calling or e-mailing us in order to get the special $10 price.
Your dues aren't up-to-date? No problem! Pay what you owe and then your lunch is at the $10 charge. Not a member? No problem! Join that day and you'll get the $10 price.
In doubt as to whether your dues are up-to-date? E-mail us and we'll tell you. Just e-mail! pioneers@broadcastpioneers.com.
Reserve by e-mail: rsvp@broadcastpioneers.com
Reserve by phone: (856) 365-5600!
Your MC for the afternoon will be Broadcast Pioneers member "Santa" Bob Charger, local radio personality. You don't want to miss him. Bob will be there wearing a complete Santa suit and hat. Seeing this alone is certainly worth the trip.
Here's some of the performers that will be with us: Danny and the Juniors, Billy Carluccci (of Billy and the Essentials), Kenny Jeremiah (formerly of the Soul Survivors), Stephen Caldwell of the Orlons, Denise Montana, Frank Jordan of the Jordan Brothers, Eddie Collins, Joe Pellegrino, Johnny Lerro, Corky Warren, Grace Otley (with her Electric Violin), Sandee Bengel, Johnny B. Hall, John Primerano, Greg Martiello and Meagan Hill.
It all takes place at the beautiful and historic Bala Golf Club, 2200 Belmont Avenue (across the street from the state police) in the Wynnefield section of Philadelphia. Only minutes away from Channels 6, 10 and 17 and the radio stations in Bala Cynwyd. Call now for reservations. (856) 365-5600! E-mail: rsvp@broadcastpioneers.com. Don't miss this one! THIS EVENT IS OPEN TO THE PUBLIC! Make plans to be there.
Plenty of FREE parking. Our luncheons are open to all our members, their guests and any person in the industry or associated fields, whether active or retired. You do NOT have to be a member to attend. There is no reserved seating at our luncheons. Feel free to sit anywhere. Well, okay--the three people on the camera crew sit near the cameras, but that's in the back of the room.
In order to speed up check-in at the luncheon, it would help if you had exact change or your check written in advance. Checks should be made payable to the Broadcast Pioneers of Philadelphia.
If you would like to add a few dollars extra, we would appreciate it. It would help us with all the important work we are doing. Thanks!

WE'LL BE PROUD TO SEE YOU IN THE CROWD!

Visit Our Website Often - http://www.broadcastpioneers.com
You should check the front page of our website often (link above) for important information!
Tune in to our YouTube Channel - http://www.broadcastpioneers.com/youtube
Our YouTube Channel has all our luncheons, exclusive interviews and archival material!
Check out our Facebook Page - http://www.broadcastpioneers.com/facebook
There are things on our Facebook Page that are NOT on our website (like our vintage photo of the week)
Go to our Twitter Account - http://www.broadcastpioneers.com/twitter
The Broadcast Pioneers Twitter Account has info and stuff not available elsewhere!
Go to our Instragram Section - http://www.broadcastpioneers.com/instagram
Here's another one of our social media sections. Visit it as often as you wish!

NEW MEMBERS TO BROADCAST PIONEERS:
FULL MEMBERS
Carl Hemple has been in our industry for the last quarter of a century. From September of 1991 to 1997, Carl was an Account Executive for Clear Communications, Inc, owners of WVLT (Cruisin' 92.1) and WMIZ, 1270 on AM, both in Vineland, New Jersey. In 1997, Hemple was named General Manager and three years later, became CEO. Today, Carl holds both the GM and CEO posts for the stations. Cruisin' 92.1 currents airs an oldies rock format and WMIZ broadcasts Hispanic programs.
David Virgilio has been our business for the last 13 years. From 2003 to 2009, David was owner and Executive Producer for On Demand Wrestling, a company specializing in International online sports viewing. For the last couple of years, he has been running Synergy Broadcasting. Virgilio is also show host on WVLT, Cruisin' 92.1, and also works there as a radio producer and technical advisor.
We are thrilled to have over 500 Members. More than ever. We hope to see as many of our members as possible at our December 21st luncheon. Make your reservations now!
DIGITAL ARCHIVAL PROJECT NEWS:
VIDEO: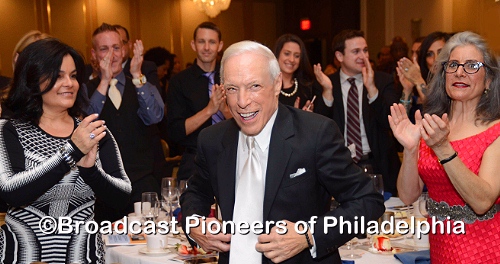 Member Jerry Blavat surrounded by his family and friends
51st Annual Broadcast Pioneers Banquet
The Hilton City Avenue Hotel, Philadelphia
Friday evening, November 18, 2016
If you missed the banquet, here's your chance to see what you missed. If you were one of the 400 people there, here's your chance to watch it again.
Watch the Videos from Our YouTube Channel!
(video courtesy of Broadcast Pioneers VP Brad Seecof and Metramedia Broadcasting & Studios)
AUDIO: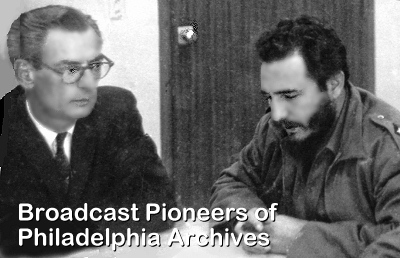 (Left to right) Broadcast Pioneers Hall of Famer Charles Shaw and Cuban rebel leader Fidel Castro
WCAU and WCAU-TV, Philadelphia
in the mountains of Cuba
July 1958
This photo was taken in Cuba during the summer of 1958 and was donated to us by Charles Shaw's son, Kip. During this time in the late fifties, 31 year old Fidel (returning from exile in Mexico) and his 27 year old brother, Raúl Castro, made their camp high in the mountains of Cuba. The Castro brothers had not yet assumed power in Cuba and were hiding out in the mountainous region of the island. Fidel passed away last month at the age of 90. Castro's father was a rich sugar cane plantation owner who had 23,000 acres of land in Cuba.
At this time in 1958, Cuba was ruled by dictator Fulgencio Bastista who took power in 1952 in a coup that preempted the scheduled presidential election. Bastista was a candidate and not favored to win. Just before heading to Cuba, Charles Shaw believed that the only hope for the return of democracy in the island nation resided with the Sierra Maestra rebels and the Castro Brothers in the southeastern part of Cuba.
Shaw departed for Cuba telling his audience that he was "on vacation" and left his broadcasts in the expert hands of George Lord. Charles flew to Havana and then took a 13 hour bus trip to Santiago instead of flying. The city is the nation's capital and the second largest in the entire country with a population of 200,000 in 1958. Today, it is double that.
"As I See It" Poster
at the annual banquet of
the Inter-state Milk Producers Co-operative
June 1954
There are seven radio broadcasts during the summer of 1958 that dealt with Shaw's 10-day trip to Cuba. The program was on-going and called, "As I See It." He referred to his adventure as a trip into a "zone of hostilities." This series of radiocasts were submitted for the George Peabody Award. However, Charles didn't win. The University of Georgia maintains an archive of the Peabody entries. While they have the transcripts of these historic broadcasts, none of the actual broadcasts reside with them. Until recently, none were known to have survived into the 21st century. However, The Broadcast Pioneers audio archive has one of them.
As you listen to this surviving radio program, there are two references to the 26th of July. While it was during July (of 1958) that Shaw was in Cuba, the "26th of July" has nothing to do with the date. It was the name of the movement that took power on New Year;s Day in 1959. The name came from the July 26, 1953 attack on a Cuban army facility in the Capital. December 2, 1956 saw the return of Castro who said he was ready to lead another rebellion against Batista. At one point, Batista announced that his troops had killed Castro. They were mistaken.
While in Cuba, Charles Shaw interviewed Raúl and met with Fidel. Shaw shot over 900 feet of film while he was in the mountain stronghold of the rebels. Parts of it were aired on "Prospect for Cuba," one of Channel 10's community interest programs. Shaw also gave nightly reports of his trip over WCAU Radio on "As I See It." This is one of those broadcasts. Shaw was later honored in October of 1958 by the Quaker City Lodge of B'nai B'rith for "brilliant news reporting while facing personal danger." After Fidel Castro siezed power in 1959, Shaw returned to the island nation five times over the next few years to report from Cuba. One of those visits was just a month after Castro took over.
The audio was originally recorded on an eight and three-quarter inch flex green disc, the kind used for dictation machines. Obviously, the quality is never the best under these circumstances. It took us hours of work to put the audio in the form available on this site. Because of the reconstructive nature of the audio, it does NOT fall under "fair use" and the audio is protected under United States Copyright. The audio was donated by Broadcast Pioneers member Michael Muderick.
While we have ran this audio before, we have spent additional hours (over the original process), cleaning the audio and reducing the noise. This is the first time, we have presented the cleaned up version.
Listen in Real Audio!
Listen in Windows Media Format!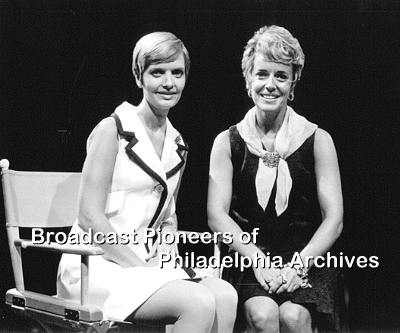 (Left to right) Florence Henderson and member Connie Roussin Spann
WPVI-TV
circa 1974
This photo, according to Broadcast Pioneers member Connie Roussin Spann, was taken in Hollywood during one of her yearly visits to the west coast. She tells us that she did so many interviews that she was often called, "The Philadelphia Barbara Walters."
Florence had a great singing voice and appeared in several Broadway Shows. This made her very much in demand for interviews. When she became Carol Brady on TV's "The Brady Bunch," people just became more interested.
While none of the interviews that Connie did with Henderson (she did several) exist today, we do have a Florence Henderson interview in our audio archive. It dates from November 1988 and was done by Broadcast Pioneers member Ed Hurst on WPEN Radio. Thanks to member Don Hurley for helping us preserve this historic broadcast. Don is currently producing the Steel Pier Radio Program, which is heard weekly over WPG AM & FM (1450 and 104.1) on Saturdays from 4 to 5 pm. Hurst, who the host of the show, has been in broadcasting for 73 years.
Listen to Ed Hurst in Real Audio!
Listen to Ed Hurst in Windows Media Format!
Today's News Becomes Tomorrow's History!
(This is what our Digital Archival Project, DAP, is all about!)
A LITTLE BIT OF BROADCAST HISTORY!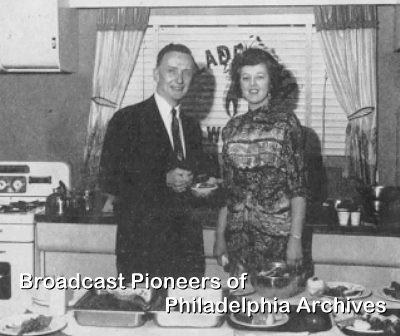 (Left to right) Roy Neal and Georgiana Kaminski
"Television Matinee"
WPTZ, Channel 3
Spring 1951
This is before Roy Neal's days as an NBC News Correspondent. At this time, Roy was hosting a daily television program called "Television Matinee." Mrs. Kaminski appeared on the telecast twice. First, she was selected as "Bride of the Week." Later, she was back as "Bride of the Month." She worked in Department 20 at the Philco Plant at C & Tioga. WPTZ, at that time, was owned and operated by Philco.
Did you know...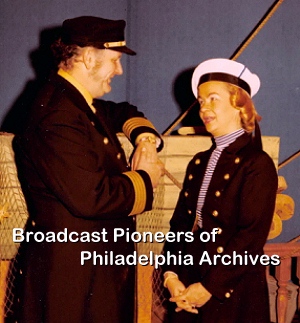 Members Carter Merbreier and Pat Merbreier (Captain and Mrs. Noah)
Channel 6 Studios, Philadelphia
December 1970
There has been much discussion whether Elvis Presley ever appeared on the Captain Noah program. Our CEO, Gerry Wilkinson, a nationally recognized broadcast historian for the Philadelphia market, says an absolute and resounding, "NO." Member Elaine Skypala, who worked as Associate Producer for a decade on the Captain Noah broadcast, agrees that this is true.
We believe that this misinformation comes from the fact that member Carter Merbreier (known to you as the rascally ol' captain) knew "The King." However, their meeting wasn't on the Captain Noah program but during the nineteen fifties.
Earlier this year, Gerry Wilkinson received a paperback book written by Carter. Gerry has since donated his copy to the Broadcast Pioneers Archival Project. It was a "not for sale" private printing that was meant for "televisions archivists, show guests and family on the occasion of Captain Noah's 90th Year."
The first story in this book was about Elvis Presley. Carter wrote:
I have never seen, heard nor experienced anything in my lifetime to match the electricity and excitement that that young man, Elvis Presley, generated that day at the old Arena.

Elvis ended his show which brought the crowd of girls to their feet and he said to me "See preacher, I use this guitar to carry my songs and my thoughts and my hips for those who are screaming out there". He then pointed a finger towards the crowd that idolized him, but his pointing was also aimed at the building next door, which was the building housing WFIL-TV.

Where, ten years almost to the day (in the future), I was to launch the first Captain Noah Show. I have been asked many times if Elvis asked for and did I have prayer with him. As a Pastor I believed, and continue to believe, that to be a confidential matter between God, Elvis and me.

WFIL Technician and Carter Merbreier
On the set of Stories Retold
WFIL-TV, Philadelphia
circa 1957

The old Sports Arena at 46th and Market Streets in Philadelphia was right beside the WFIL-TV station and studios. Here in 1957, I was the summer replacement for the host of the public-service show "Stories Retold," directed by Lew Klein.

Interestingly, in that same year - on almost the same day - as a Chaplain of the Philadelphia Police Department, I accompanied the plain-clothes personnel of the Juvenile Aid Division to a rock concert of a young country singer making his "first" appearance in Philadelphia and whom I met backstage: Elvis Presley.

He was dressed all in black, as was I. While I had a large pectoral cross dangling on a red rope against my black rabat, he had a large gold coin on a gold chain dangling against his black shirt.

"I guess we both prefer black, preacher man" he noted. "'cept, you've got that funny white collar."

"When your concert show starts, I'll take it off, so that it won't be a distraction for you or your audience".

"No need to worry about that!" he laughed. "I'll put on my black coat, so at least we'll match - Presley and the preacher." He was a nice, polite young man. Soft spoken and clean-cut looking.

As I was leaving, he asked if I need anything. "How about an autograph for my daughter, Pam?" I handed him one of my clergy cards. "Could you sign it 'to Pam', please?"

"To Pam?" he chuckled, signed and handed me back the autographed card, which is today framed and hangs on a wall in my daughter's home, signed as I requested "2 Pam - Elvis Presley."
Member Carter Merbreier (Captain Noah) on the set of his TV show
Channel 6 Studios, Philadelphia
December 1970
Carter Merbreier passed away this past summer. His estate at Carter's request donated his entire photo collection (over 4,000 pictures) to our archival project. Everyone has been digitized. All four the pictures in this story came from that contribution.
Also, we have bins of newspaper articles. In all of this, there is not one picture of Elvis on the show. In the hundreds of newspaper articles, not one recounts Elvis being on the Captain Noah program. Carter saved EVERYTHING. He certainly would have saved any reference to this.
Gerry Wilkinson recounts that out of the hundreds of hours of conversations over the years about the broadcast, Carter never told him any stories about Presley except the one told above, which been recounted to him multiple times. Skypala also agrees that Elvis was never on the show while she was associated with it and by the time she left the program, Elvis was gone. Just because something gets reported in the press doesn't make it true. We just wanted to set the record straight.
This regular monthly column is written and researched by Gerry Wilkinson
Our special thanks go to TUTV - Temple University Television and The Kal & Lucille Rudman Media Production Center.

They have underwritten a grant to be used to fund an entire year of all our newsletters for calendar year 2016. We thank them so much for their support!

You Can Help Us!



When you log into Amazon via http://smile.amazon.com, all eligible purchases earn Broadcast Pioneers a donation of 0.5% from Amazon. However, you must log in to Amazon through http://smile.amazon.com. We have made it simple. You can also log into them using http://www.broadcastpioneers.com/amazon. It's easy to remember and takes you to the same place.
AmazonSmile is the same Amazon you know. Same products, same prices and the same service. The only difference is that they donate 0.5% of your eligible purchases to Broadcast Pioneers. IT DOESN'T COST YOU ANY MORE TO DO THIS! Same price to you and we get a donation to help us continue with all our great educational projects! IT'S WIN - WIN!
MORE DIGITAL ARCHIVAL PROJECT NEWS:
VIDEO: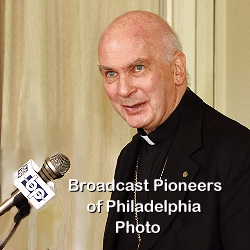 Broadcast Pioneers member Cardinal John Foley
Broadcast Pioneers Luncheon
Bala Golf Club, Philadelphia
Wednesday, June 15, 2011
In a few days, it will be 5 years since member John Cardinal Foley passed away. Most people aren't aware of his deep background in communications. For example, he was a radio announcer on WJMJ while he was still in high school. He was part of a Channel 3 TV series called, "Debate." It followed the ever popular "Bertie the Bunyip." Foley said that he met many people who remembered the Lee Dexter puppet show but not one that ever watched "Debate." He passed away at 3 am on Sunday morning, December 11, 2011 at the age of 76. He was a beloved figure in Philadelphia broadcasting. The Cardinal had been battling Leukemia and Anemia.
We selected Cardinal Foley as our 2011 Person of the Year. Member Pat Ciarrocchi and the KYW-TV staff made the video for us to run at our annual banquet.
While Cardinal John Foley had planned to come and speak live at our annual banquet, his doctors finally said that he was just not well enough to attend. Foley recorded a message for us where he said what he would have said if he were with us.
AUDIO:
Here's 36 minutes of a WPEN broadcast. It's a talk show with a live studio studio and we believe that it was a late evening program. The host doesn't mention his name or the name of the program. However, we believe the air personality is none other than Frank Ford.
This audio came to us from member Alan Boris. Yes, he's the guy who wrote the "Philadelphia Radio" book published a few years ago. It was sent to him from someone is Australia. Here's the e-mail he received:
My name is Ian Holder and live on the Gold Coast, Queensland, Australia. Back in 1959, my late father William Holder was a sharebroker in Brisbane, Australia, a partner in the firm Corrie & Co. Back in 1959, my parents did a trip of the United States, the UK and Europe. It was mainly a business trip which included the New York Stock Exchange and various parts of the United States.

On June 23, 1959, my father appeared on radio station WPEN in Philadelphia to talk about stocks and shares. A recording was made of the broadcast and it is attached here. I have no idea who interviewed my father but I would like to know for my own records. The quality of the sound isn't great but it is listenable.
The sound quality is actually pretty good. We have done a little work on it removing some hiss and raising the volume in some low passages. It is 36 minutes in length. We pretty much are presenting it as we got it. Here's a couple of things to notice. First, there's a break for five minutes of news about eight and a quarter minutes in. There's a station break (WPEN AM & FM, Philadelphia). We believe that this is at midnight. We have added one second of dead air between the outcue for the news and the next audio. When it returns, the host is asking the guest a question. This leads us to believe that there is actually some audio missing. The air personality would have re-introduced the guest.
Since WPEN aired its newscasts at the top of the hour, the earliest the program could resume was 5 after the hour. There is 28 more minutes of programming. An ID would have been required on the half-hour at that time. There was none. Since after the news, there was no re-introduction of the guest, parts are definitely missing. There's no half-hour ID and there are no commercials breaks at all. This leads us to believe that this recording has, at one time, gone through some editing somewhere during the last half-century. We cannot tell where or when.
Also, since there is only 8 minutes or so before newstime, there would have been another guest before William Holder. Probably from 11:05 pm to 11:50 pm.
There are many questions for which we don't have answers. The biggest question is WHO IS THE HOST? We believe it's Frank Ford. Why? Because the host's first name is Frank. At about 3 minutes and 20 seconds, the host refers to himself as Frank. Also at the end of the broadcast, William Holder says "Thank you very much, Frank." It's drown out by applause but it is faintly there.
At the time of this broadcast, WPEN was owned by Sun Ray Drugs. Some of the air personalities would have included Red Benson, Larry Brown, Bud Bress, among others. Frank Ford covered the 11 pm until 2 am air shift. We believe the interviewer is Frank Ford. Anyone have some better info?
Listen in Real Audio!
Listen in Windows Media Format!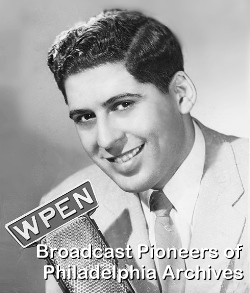 Marvin Burak
WPEN Radio, Philadelphia
circa 1955
Here's an excerpt of a Marvin Burak broadcast on WPEN Radio from September 1955. He's talking about the 1955 Major Leagues Baseball race. While we have dated this broadcast as taking place in September, from different things talked about, we have not yet been able to give it an exact day. If you can help, please let us know.
In the mid to late 60s, Marvin hosted a twice a week broadcast (Thursdays and Fridays) on WXUR (AM), 690, licensed to Media, Pennsylvania. Around 1967, he convinced the station to have a broadcast called, "Right - Center - Left." The right segment aired on Mondays. The center part on Tuesdays and the left (hosted by Marvin) on Wednesdays.
The Center portion was hosted by his neighbor across the street, a local bartender by the name of Irv Homer. The right section was hosted by Jay Parker, an African-American, who later worked in the Reagan administration. Marvin's daughter, Lois, attends Broadcast Pioneers luncheons quite often. Lois does a radio program called, "The LOLO Show.
Listen to Marvin in Real Audio!
Listen to Marvin in Windows Media Format!
Remember, History is ONLY What Gets Saved!
(If there were no portraits of George Washington, how would we know what he looked like?)
IN TOUCH WITH OUR MEMBERS & THE INDUSTRY:
Michael Sciore, a Southern New Jersey business person, has asked for FCC approval to purchase W289AZ. That's a local FM translator that is licensed to Camden and is currently owned by the Hope Christian Church in Marlton and leased to WEMG, 1310 on AM, also licensed to Camden. This is the old WCAM/WSSJ station.
Sciore at the beginning of the summer asked for permission to purchase WEMG for almost a million bucks. Part of the deal is that he will continue to lease the FM translator. A year ago, the church had the government re-license the translator from Trenton to Camden. Currently, the translator operates at 250 watts and broadcasts at 105.7 on the FM dial. The purchase price for the translator is a half million dollars.
WIP Radio tells us that they have a new afternoon drive team of Chris Carlin and Ike Reese. They are on the air from 2 pm to 6 pm.
"Chris Carlin understands the passion that major East Coast cities have for their sports teams. It's easy to be excited to add a seasoned talker who has hosted great shows. I know he'll fit right in at WIP. Ike Reese has spent the last nine years developing a deep relationship with Philadelphia sports fans. He's passionate. He's opinionated. He's beloved. We're thrilled that he'll be playing an even bigger role at the radio station," said Broadcast Pioneeers member David Yadgaroff, Senior Vice President and Market Manager, CBS RADIO Philadelphia.

Carlin worked in the Big Apple doing Mets coverage, producing and on air work. Reese has spent the last several years doing afternoons on WIP.
Radio One wants to be now known as "Urban One." They say that they are a company "representing black culture." They said that the company now is half non-radio. That's 50%. The new name goes into effect at the beginning of 2017.
Beasley now owns the Greater Media stations including the ones here in the Philadelphia market. For the last several months, Caroline Beasley has been interim CEO and will become their permanent CEO at the beginning of January. Dan Finn, who was Greater Media Market Manager in New Jersey, is staying with Beasley. John Fullam, who ran the Greater Media Philadelphia cluster is staying with Beasley until the end of the year to aid in the smooth transition to a new market manager for Philly.
And speaking of Beasley, their star on mid-day, Pierre Robert, has been with WMMR for thirty-five years. He started here in Philly in 1981. Pierre doesn't really remember the actual date because he thought it would never be important. Robert was inducted into our Hall of Fame last year. Currently, he does mid-days for the station.
iHeartMedia gave a nice promotion to DC Cole. He's now Senior Vice-President for Programming for the group's Wilmington, Delaware cluster that includes WILM (Wilmington) and WDOV (Dover). At least for the current time, he'll also continue as program director for WLAN AM & FM (Lancaster).
CBS 3 has launched its 28th annual Toy Fest toy drive, which benefits children in need during this holiday season. All six of the Philadelphia CBS Radio stations also joined in the holiday tradition by collecting toys at their studios, participating in campaign events, and promoting the drive on air. The stations are KYW Newsradio 1060, 98.1 WOGL, SportsRadio 94WIP, Talk Radio 1210 WPHT, 92.5XTU and 96.5 AMP Radio. The stations are soliciting new, unwrapped toys for local children through public service announcements airing on all of the CBS stations through Tuesday, December 20th when CBS 3 wraps up the campaign with an all-day drive through drop-off at the CBS Broadcast Center, 1555 Hamilton Street in Philadelphia.
The Philadelphia Housing Authority, who operates the Wilson Park Community Center and Apartments (2500 Jackson Street in Philadelphia, PA), received ten brand new Lenovo Laptops for their community center. The new laptops, courtesy of KYW Newsradio and Comcast, will be utilized by the Wilson Park Boys & Girls Club.
"By partnering with a community minded organization like Comcast, it is gratifying to assist communities and organizations like the Philadelphia Housing Authority's Wilson Park Community Center who make a difference in the lives of local children in Philadelphia, PA with new laptops," says Broadcast Pioneers member David Yadgaroff, CBS Radio Philadelphia SVP and Market Manager.
Meagan Hill and Tom Orr, co-hosts at the Bucks County Cabaret, will perform their merry musical holiday show, "It's a Fruitcake!" on Friday, December 16th at 8 pm. The cabaret is located at the Rodeway Inn on Lower York Rd in New Hope, Pennsylvania. Call 609-510-7784 for more information.
The non-profit Family Stations, sells its translator in Cape May. 92.3, W222AL to Gail Burke. Sounds like she's planning to use the translator (55 watts) to rebroadcast the signal of WIBG-FM in Avalon. The reported price is $22,000.00. Family Radio used to own WKDN in Camden, which they sold a few years ago. Then they bought WPEN (AM) from Greater Media and gave it new call letters, WKDN.
CBS RADIO's SportsRadio 94WIP announced an extension of their broadcast partnership for exclusive live play-by-play coverage of The Philadelphia Phillies pre-season, regular season and post-season games. As part of the extension, live coverage will begin with the team's first spring training game against the New York Yankees on Friday, February 24, 2017 from Tampa, Florida.
Since 2004 the Phillies radio broadcast play-by-play has aired on CBS RADIO Philadelphia stations, with the last five seasons airing on SportsRadio 94WIP. Phillies hometown radio announcers Scott Franzke, Larry Andersen and Jim Jackson will continue to provide commentary of the games on SportsRadio 94WIP.

"We're thrilled that SportsRadio 94WIP is continuing the partnership as the radio home of Phillies baseball," said Broadcast Pioneers member David Yadgaroff, Senior Vice President and Market Manager, CBS RADIO Philadelphia. "The Phillies have become part of the fabric of WIP and we're excited for the 2017 season to begin.
Our friend Tom Taylor in his NOW newsletter talks about some info gathered from WXPN's General Manager, Roger LaMay, who is also Chair of the Board of NPR. Roger says that the average over-the-air listener to National Public Radio (NPR) is 58. However, those listening on the Internet via a tablet are 5 years younger. Listeners on a smartphone app at 49, or nine years younger than over the air patrons. Those using the NPR facebook site are 42 and 39 for NPR twitter. On NPR's website, it's 38 and for podcasts 33. Those getting news via social media and it's below 30.
The 98.1 WOGL Loves Our Kids Radiothon raised $309,925 for The Children's Miracle Network at Children's Hospital of Philadelphia. It aired last Tuesday and Wednesday on WOGL-FM. Donations were taken by phone, on line and in person. The Radiothon was broadcast live from the Ryan Seacrest Foundation's "Seacrest Studios" located in the Colket Atrium at Children's Hospital of Philadelphia. WOGL hosts Valerie Knight and Frank Lewis of the Breakfast Club presented the check for $309,925 from 98.1 WOGL to Children's Hospital.
Broadcast Pioneers member Dom Giordano wants you to know about the Talk Radio 1210 8th Annual Dom Giordano USO Holiday Feast on Monday, December 19th from 6:30 until 10 PM at Sonesta Philadelphia Rittenhouse Square, 1800 Market Street, Philadelphia, PA 19103. National Person of the Year: Rick Santorum. Live Music and Traditional Feast. Also for this very special 1210 event, there will be free complementary parking! Tickets are $90.00. The Dom Giordano U.S.O. Holiday Feast benefits the Liberty U.S.O. and Catholic Charities along with the Archbishop's Christmas Benefit for Children. For more details: http://www.cbsphilly.com/feast.
Vince Leonard is such a beloved figure in our industry and especially to everyone in this market, we thought we would share this e-mail we received from Vince and his wife, Frankie on Thanksgiving Day. For the very few people who may not know who Vince Leonard is, we'll tell you. He was the news anchor on Channel 3 for a quarter of a century. Frankie sent us this e-mail:
Vince and I have you on the top of our list of FAVORTE FRIENDS to tell you that we will be thinking about you all day and hoping that you're enjoying every minute, yourself !

I have been cooking for the last three days so that we can enjoy a stress-free and delightful dinner together. We both LOVE turkey and all the trimmings, so our mouths are watering already and we can hardly wait!

I did make a major change in the menu this year, though. We voted on changing our usual pumpkin pie for an ice cream covered hot blueberry pie. Doesn't that sound heavenly ?

We think of you so often and miss you always. Stay well and happy for us! With so much love!
Frankie and Vince

THIS AND THAT! Little Bits of Information....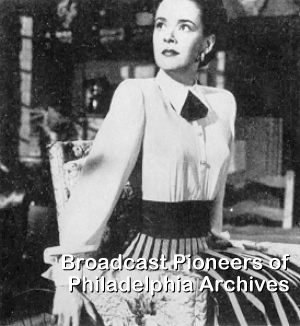 Susan Peters as "Miss Susan"
a daily 15 minute soap opera
NBC-TV Show originating from WPTZ
1951
When WFIL-TV (now WPVI), Channel 6 came on the air in September of 1947, celebrating the start of telecasting with a live broadcast of the Philadelphia Eagles - Chicago Bears football game, direct from Franklin Field. Broadcast Pioneers founding member Max E. Solomon moved from radio to become the Television Sales Manager. The station promised viewers a heavy sports schedule including lots of football and racing events.
In September of 1951, NBC got the rights for the program, Strike It Rich." The show previously aired on CBS, both on radio and television. The daily telecast took over the time period for "Miss Susan," a soap opera originating live from WPTZ, Channel 3 (now KYW-TV), here in Philadelphia.
Starting in broadcasting in 1922 was Jim Willard. He portrayed "Uncle WIP" on WIP for 4 years from 1932 to 1936 and then moved over to WIBG where he did a similar program as "Uncle Jim."
When Westinghouse came back to Philly in 1965 and took back control of WRCV, renaming it KYW, the people in the know expected them to start programming Top 40 to compete against WIBG. Those who didn't expect that, suspected they would go MOR (Middle of the Road) and go after WIP Radio. They were all wrong. From day one, according to press reports, ownership had decided on the all-news format. It would start three months later.
In November of 1961, some of the top headlines in our business were Mitch Thomas going to WDAS from WILM in Wilmington. Marvin Burak, previously of WPEN, came back on the air on FM's WIFI. But the big story was the return of Hy Lit to Philadelphia's WDAS. He was previously on WCAM and before that, WIBG, Radio 99.
Eleven AM radio stations and twelve FM stations - that's what Philadelphia had in 1964. Billboard said that WIP Radio has "heavy LP programming with emphasis on new versions of old standards." WIBG was said to have "highly identifiable air personalities." WFIL Radio was quoted to have a "standard pop" format with a "well staffed news and community affairs department."
Did you know that in the late 40s and early 50s, WPTZ, Channel 3, had their crews shoot and transmit the games to whatever station was carrying the Phillies baseball games? At that time, games were not carried on the same station all year long. No credit for the remote facilities was given on air. The reason for doing this was simple. In those days, it was no easy task to install and remove telecasting equipment. It just made everything easier not to mention it.
In 1932, WCAU Radio's Program Director, Stan Lee Broza, host of the Children's Hour and the very first president of this organization, stated that his station would start broadcasting "very early" in the morning, at 7:25 am. WCAU stayed on the air until 1 am. That meant that they operated for 121 and a half hours on a weekly basis.
Previously at WINS, New York, Les Keiter was named News Director and Director of Special Events for WMGM Radio, which was based in New York City. This was during November of 1960. The station's original call letters were WHN but were changed in 1948. Fourteen years later (1962), Storer (owners of WIBG at that time) bought the station and returned to the WHN call letters. Les came to Philadelphia and WFIL-TV in 1963.
During December of 1945, WPEN Radio had some new programs starting. "Philadelphia Philharmonic" was a light classical music show heard daily. "Conversation at Midnight" wasn't a talk show but an opera broadcast. At this same time, KYW Radio started a new addition. It was called "Junior Town Meeting of the Air" and featured area high school students.
In 1967, Broadcast Pioneers member Jerry Lee said: "If you spend money in promotion, it comes back very fast." At that time, the station, WDVR (now More FM), mailed out over 800,000 black and gold sweepstakes tickets marked, "For Adults Only." The promotion was very successful. Spots were bought on KYW Newsradio and on local TV stations. WDVR also bought a full page ad in the Inquirer, 200 taxi cards and 100 bus posters.
In 1952, local radio stations set out to cover local elections and the national presidential race. WFIL Radio & TV sent Broadcast Pioneers Hall of Famer (and former president and chairman of the board) Shelly Gross to various polling places in their mobile van. Program Director of WIP Murray Arnold said he had 35 people to cover the activities. KYW Radio covered the races via NBC Radio with cut aways at 25 after the hour and as needed.
THANKS FOR THE MEMORIES:
Some Comments E-mailed to Us from Our Members!
Broadcast Pioneers member Phyllis Ariano-McGinnis worked at WIP decades ago. She e-mailed us:
Wondering if you know that dear Stoney McLinn, a Philadelphia sportswriter and broadcaster was Bill Campbell's mentor. Bill came to WIP as a very young man. He was anxious to learn. Stoney and Bess (McLinn) really took him under their wings. Bill was an excellent student and I believe Stoney was very proud of the progress and success of his protege.
Broadcast Pioneers member Gene Kolber (aka Gene Kaye) e-mailed us this:
Thanks for the opportunity to update your information on our dear friend John Zacherle. Back in 1967/68, I was hosting a "Bandstand type TV show for Willow Grove Amusement Park." It was called "Summer Sound." It was the successor to a show I had done for several years on Channel 17 called " Club Teen with Gene Kaye."

When Channel 10 approached me to move the show to Channel 10, they indicated a desire that I have a co-host and it should be someone that Channel 10 viewers were familiar with, but at the time, they made the decision that none of their on-air personalities would fit with the teenage rock and roll.

They then got the idea that John (Zacherle) would be the perfect mix. Doing the show from an amusement park would allow John to suddenly appear on all the different rides, to suddenly appear in the middle of the dance floor, spooking couples in the tunnel of love, etc, then they discovered there was a problem. Lots of people had rights (or may have) to many of the names he had used on the air during prior jobs and that's when we all settled on the name "Count Zach."

He was never at the podium, he never spoke one word EVER on the show, but he was in and out of every segment and the audience loved it!! He was a delight to work with, nothing was ever too much trouble for him, and my show's director was George Finkel who pioneers has already elected into the Hall of Fame.

I firmly believe that the success of the show both in rating and in sponsors was greatly influenced by having John "Count Zach" as my co-star. Years later, when I was a partner in the "Dick Clark American Bandstand Grill and Restaurant," Dick often spoke about how much he respected John's talents. John was the "Cool Ghoul" long before people described things as being "Cool."
Broadcast Pioneers member Joaquin Bowman worked at WDVR from 1963 to 1966. He wrote:
In 1963, while I was in my freshman year at Temple University, I began looking for a part time job in commercial broadcasting. I didn't have a good voice but I had my own car and was willing to work strange hours. My mother spotted an article in the Germantown Courier about a man named Dave Kurtz who had gotten a license for a new radio station he planned to put on the air.

Mom encouraged me to send him my resume listing all my qualifications, which, in reality, didn't exist. Low and behold, within a few days, I received a call from the new station manager, Marlin Taylor, inviting me in for an interview and an audition. Within a few days I was hired.

I recently asked Marlin why he gave me the job. "Various reasons. You were going to Temple, studying communications and worked at WRTI. So I knew you were serious. You had been working in a part time job, so I knew you weren't afraid to work and you would be dependable. There was one drawback . . . I didn't care for your name. Eventually the board operators were going to do newscasts and weather reports and I didn't think Joaquin Bowman was a good radio name. But you told me up front, that your name was Joaquin and you weren't going to change it. I wasn't going to argue. I had plenty of other things to deal with," Marlin explained.

I started my new job on May 13, 1963, the first day the station went on the air. Although I was just a fill-in, Marlin had a gap in the staffing and asked me to come in for a couple hours. I was honored and to this day I feel proud that I was part of the first-day team.

Although I wasn't doing any announcing on the air, that came later, and I made only $1.25 an hour, drawing a paycheck from a real radio station gave me a certain status with my fellow students back at Temple's WRTI. I held my head high because I was one of the very few students that actually broke the ice and had a job in commercial radio. Sometimes students would ask about openings and if I could help them also land a job.

At WDVR I also would have the fortune of meeting another lifelong friend and fellow Broadcast Pioneer member, Dave Shayer. Unlike me, Dave wasn't in college but had a decent voice. Dave was scheduled to do six-hour shifts and was one of the four full-timers. On his time off Dave and I would travel to the local radio stations.

In addition to giving me my first job in broadcasting, Marlin showed me how a truly dedicated and talented manager does his job. Marlin laid out the plan so we all knew what was expected:

Play the music as indicated on the flow chart.
No dead time between cuts.
Make sure the proper commercials are played.
Fill out the logs required by the FCC.

After a few weeks we were also allowed to do brief weather reports, then a little later came two-minute newscasts. Since I didn't have a strong voice or great delivery, I was eventually given the midnight to 6 AM shift, doing the 12:30 and 3:30 reports on the air. Strangely enough, there were people listening and when I'd mention my name at the bank or to someone at school they'd say, "Are you that Joaquin Bowman?"

I recall Marlin called early one morning following my 3:30 newscast. He complimented me on my delivery. "Probably the best I heard so far," he said. Unknown to Marlin, I had two impacted wisdom teeth removed the day before and my mouth was almost swelled shut. I wanted to call in sick, which was unheard of, but I knew no one would cover my shift. "Thank you, Marlin," I said. "I'll keep working on it."

I continued working at WDVR until 1966 when I graduated from Temple and started a job at WIBF in Jenkintown.
Dr. Russell Conwell and Radio!
In the summer of 1923, an article about Dr. Russell Conwell, founder of Temple University, appeared in Wireless Age Magazine. We ran part of the story in our June 2013 newsletter and have received several requests to post the entire article. So here it is.
An interview with Dr. Russell H. Conwell
(Famous for His Lecture, "Acres of Diamonds," Which He Has Given Twice Through WOO)

Article written by W. E. Johnson

"Although the young people are receiving great benefits from the forms of entertainment that are being broadcast today, they are not reaping the benefits that will come to those who will listen in a short time from now," is the prophecy of Dr. Russell H. Conwell, philanthropist, clergyman, lecturer, and author of the famous lecture, "Acres of Diamonds."

That immortal address, which has been delivered to visible audiences 6,102 times, has been broadcast twice from WOO, the Wanamaker Store in Philadelphia, and Dr. Conwell says that since then he has received invitations from stations in Boston, St. Louis and Chicago to broadcast his lecture.

"Just as I reached the invisible enormous army of listeners-in on that occasion," says Dr. Conwell, "so are a number of other people reaching the young folks through the medium of broadcasting. The broadcasting station has become a great public institution. It probably reaches more people than the newspaper or magazine, and it can transmit only such matter as is good and proper for listeners-in, both young and old. If anything objectionable should be broadcast I am sure there would be a storm of protest that would eventually result in the closing of the offending station.

"Chiefly notable at this time is the great knowledge being derived by thousands of boys who are building their own sets, out of what seems to me to be nothing more than a batch of wires and some tubes. Think of the great mechanical and electrical knowledge they are absorbing, which would not have come to them, except through broadcasting. The many forms of entertainment sent out have been inducement for them to build sets and get in on the fun.

"Many stations are broadcasting bedtime stories every night, but as far as I know, I do not think any of them have started to send out Sunday School services. I do not think they should discontinue sending out the bedtime stories, because this is really of great beneficial value to the little tots, and even older children, but I think Bible stories would be just the things for children on Sunday.

"The stations here do not send out bedtime stories on Sunday evenings. I think this is a mistake. Give the children the stories every night.

"The broadcasting of such matter, however," says Dr. Conwell, "should be at a time when there are no Sunday school classes in session. Many churches throughout the entire country broadcast church services and sermons at the same time that other churches in the same community are having services. I think the church broadcasts should be at a different time from the local services, so that as many people as possible could hear the sermons, personally, instead of using radio as a medium. Radio would then reach those who found it impossible to go to church, without keeping others away from their neighborhood churches."

Dr. Conwell, whose hobby is "Humanity," began life as a poor boy, and though he has made more than $10,000,000 lecturing throughout the country, he is known never to have more than one hundred dollars to his credit at any one time because he gives all his money for the education of young people. He is doing two men's work because years ago a young soldier sacrificed his life for him.

He declares one of the greatest benefits of broadcasting for young people will soon come to pass. "There are plans in progress at this time," he says, "to have about three hundred colleges and universities throughout the United States and Canada participate in a radio movement that will be of individual benefit to each student. Professors who are leaders in their fields in this country, England, France, and other countries, will broadcast their lectures, and these will be received in the classrooms just as if the lecturer were present. It would be practically impossible for visiting professors, those who are considered authorities, to tour the entire country and reach all the colleges and universities that could be reached through broadcasting. Student listeners-in will receive lectures from noted professors even at big colleges such as Princeton, Yale and Harvard.

"Eventually such a system will probably be installed in the high schools, but I think it will be some time before it will ever be used in the grammar schools. Broadcasting, however, can never supplant the individual teachers in these schools. The personal contact is necessary."

When Dr. Conwell spoke to the invisible audience through the microphone in the WOO studio, he says he experienced a new sensation.

"When I stood up before the microphone the first time, I knew something was lacking. I began to talk in my natural tone of voice. I soon began to feel, however, that I was missing parts of a lecture which I had delivered more than six thousand times. I was even making some slight mistakes. I knew that something had to be done, and quickly, too. I shut my eyes, visioned an enormous audience in front of me, and continued with my lecture without loss of memory or making any mistakes. It was indeed a new sensation.

"I reached an audience far greater than I could have reached otherwise. My family visiting in Massachusetts at the time heard the entire lecture, to say nothing of those in Porto Rico to the south, and Colorado to the west, who heard me."
It is probable that Dr. Conwell will again deliver his famous lecture over the radio. Though he is more than eighty years old, he is head of the well-known Temple University of Philadelphia, which has over 10,000 students, and is also pastor of Grace Baptist Temple. From the church he receives a salary of $10,000, but it is known that after he pays his bills on the first of the month, the remainder of the salary goes for the education of young people. Temple University gets it, as it does the proceeds of his lectures.

He has no radio receiving set. He would like to have one, but he wants nothing but a good one, the kind that "costs two or three hundred dollars, and you know I can't afford one like that," he says. He is an ardent fan, however, because he has listened-in at homes of friends.
Operation Alphabet!
Here's some e-mails we received about a television program called, "Operation Alphabet."
Lisa Quinn, a visitor to our website e-mailed:

As a little girl my Mother would turn on Operation Alphabet every morning for me to watch. It kept me occupied for half an hour while she got ready for work. I watched every weekday, for how long I do not know. I learned how to write by watching that show. One day I asked my Mom how to spell a word, I think it was hospital. As Mom spelled it, I wrote it out on my blackboard. She was amazed because I hadn't had any school yet, and (she) made me write out words 'til I filled up the blackboard. And that's the story of how "Operation Alphabet" taught a little girl how to write her letters.

Louis A. Tarone II, a visitor to our website e-mailed:

I remember Operation Alphabet well. Though I was an young kid who was getting good marks in school, I found something about it intriguing and used to get up early in the morning to watch it on Channel 6, which was carried on Service Electric Cable up here (in Hazelton). I even began recording the audio to it on my portable cassette. I still have those tapes.

Despite the fact that it was obviously not aimed at me – I was a ten year old kid at the time – I got a kick out of it and started getting up to watch it. Soon, I started laying the microphone from my portable Channel Master cassette in front of the TV speaker and recording a few of them. I dated each tape. After seeing your page, I dug those old tapes out. They were recorded between December 1971 and June 1974. Some of the subtitles are "Lesson 24 Rooms In The House," "OA2 Lesson 69 Angels of Mercy," "OA2 Jack Baker Looks For A Job," etc.

Years later, I was a student at King's College in Wilkes-Barre, PA. One morning, as I got up to go do my morning show on my college radio station, I turned on TV. This was 1980, just before CNN, MTV, et. al. There wasn't much early morning TV. But again, I found Operation Alphabet still on Channel 6! I made a mental note to get up and watch it occasionally. But, as you can imagine, college kids don't often get up before 6 a.m. – so I only saw it a few more times.

WPVI-TV finally deemed the content dated (for example, an address in one lesson was 'Philadelphia 44, Penna.") and stopped running it. It was either 1981 or 1982 when it was pulled from the air. I have a few old TV Guides from early 1980 and it is still listed as airing at 6 a.m. on Channel 6.

Operation Alphabet was dated 1962 in the program's closing credits, while Operation Alphabet II was dated 1964.

My questions are, do you know whether the films of the 190 lessons are still in existence, or were they tossed out as "debris?" Sadly, that has happened to many films of local television.

In fact, the first time I remember seeing it was Thanksgiving morning 1971. There was a major snowstorm up here which began the night before. I remember a bunch of us being outside in it Thanksgiving Eve throwing snowballs. I got up early Thanksgiving morning – just before 6 a.m. – to see how much snow we'd actually gotten. While awake, I turned on the TV. In those days, there wasn't much early morning TV. But as I surfed the dial, I saw Operation Alphabet for the first time. Here was this guy teaching people how to read and write!

JC Jackson, a visitor to our website, e-mailed:

I remember my dad watching this show everyday while I was getting ready for school. I never understood why he watched this show, until I found he dropped out of school and went to the Army when he was very young. My father was an intelligent man and always wanted to learn. But he was very proud and I do not think he wanted to go back to school at his age, I guess that is why he was so hard on me about school.
A LITTLE BIT OF BROADCAST HISTORY!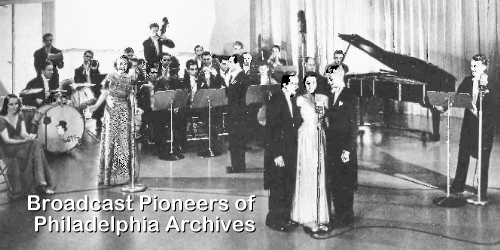 The Jan Savitt Orchestra
KYW Radio
at their studios, 1619 Walnut Street, Philadelphia
1938
In 1938, most of the local radio stations had their own house band. For KYW Radio, that would have been Jan Savitt. He was the station's music director. His band had daily broadcasts on KYW and a weekly one on NBC Radio. Previously, he held the same position at WCAU Radio and was featured on coast to coast CBS Radio Network programs that originated from WCAU. Jan was born in Russia and grew up in Philadelphia. He attended West Philadelphia High and the Curtis Institute. Savitt's contract with KYW expired in 1939 and he left the station to go on to national fame.
OUR HATS OFF TO YOU FOR GIVING:
We would like to thank those who included a donation when the bought their banquet tickets. These generous people include: Steve Tatz, Richard Troyan, Bob Kravitz, Marlin Taylor, Robin and Ira Adelman, Marc Rayfield, Paula Wholey, Jerry Del Colliano, Nina Stack, David Virgilio, Mike Strug, Paul Big Bear, Steve Sacks, Jimmy Dee and Gerry Wilkinson. Additional donations from Lauren Lipton, Dorie Lenz, Peter DeFeo, Howard Eskin and Marciarose Shestack. New member David Virgilio included an extra contribution with his membership application.

We are a federally recognized, state chartered charity with a 501(c)(3) status. Contact us at (856) 365-5600 or e-mail
pioneers@broadcastpioneers.com
for more details. Your gift to Broadcast Pioneers will help us and may lower your federal income tax. That's win-win, isn't it?
Special Thanks (in alphabetical order) for the gift of Appreciated Stock: (a federal tax advantage for the giver)
Member Marc Howard - $3,600 (put into our general fund to be used where needed)
Member Sylvia Kauders - $5,159.45 (used for the scholarships listed below)
Member Dan Lerner - $5,217.80 (used for the scholarships listed below)
Special Thanks (in alphabetical order) for contribution of $1,000 or more to our DAP, Digital Archival Project:
Member Elliot Abrams - $1,000
Member Jerry Del Colliano - $1,000
Member Johnny B. Hall and wife Ginny - $3,000
Member Harry Hurley's Golf Tournament - $1,000
Member Marlin Taylor - $1,000
Special Thanks (in alphabetical order) for April 2017 Scholarships:
Member Johnny B. Hall and his wife, Ginny - 7 scholarships
Member Harry Hurley's Golf Tournament - 1 scholarship (for a Stockton University student)
Member Sylvia Kauders - 1 scholarship (from a grant for 5 yearly scholarships running until 2019)
Member Kal Rudman - 5 scholarships (for Temple University students)
Member Marlin Taylor - 1 scholarship
Special Thanks (in alphabetical order) for a contribution of $500 or more to our DAP, Digital Archival Project:
Member Esther Kurtz - $500
Member Art Moore - $500
Member Lauren Lipton - $500
Bequests in their Will:
Member Sylvia Kauders passed away earlier this year. In her will, she bequest to the Broadcast Pioneers of Philadelphia, the amount of $5,000. This funding is to be used to underwrite one scholarship per year until gone. These scholarships will start in the year 2020 and continue until 2024. From a previous gift, Sylvia has underwritten one scholarship a year starting in 2015 and continuing until 2019.

Member W. Carter Merbreier passed away a couple of months ago. In his will, he bequest to the Broadcast Pioneers of Philadelphia, the amount of $1,000. This funding is to be used to underwrite one scholarship which will be awarded in April of 2017.
Underwrite a complete scholarship and we'll give you credit in the electronic newsletter until the scholarship is awarded in April of 2017. Give us a donation of appreciated stock (of $2,000 or more) and we'll list you in our "Thank You" column for two years. Give us a donation of $1,000 or more and we'll list you in our "Thank You" column for a year. Give us a donation of $500 or more and we'll list you in our "Thank You" column for six months. You can select how we use the money: for our archival project, for scholarships or for our general fund to be used as needed.
More Thanks:
A growing portion of the revenues that fund the different activities of the Broadcast Pioneers comes from donations. This includes our archival project and our scholarship program. Now, we are making it even more beneficial for our donors. Broadcast Pioneers is now able to accept gifts of appreciated stock, which provides a significant tax benefit to you. By giving appreciated stock (stock which is worth more now than what it cost when it was purchased), you can get a charitable contribution tax deduction based on the current market value of your stock. At the same time, you avoid the capital gains
tax that would arise if you simply sell the stock. So if you'd like to support our educational mission or our archival project and save money on taxes too, please consider making a gift of appreciated stock. We are a federally recognized, state chartered charity with a 501(c)(3) status. Contact us at (856) 365-5600 or e-mail pioneers@broadcastpioneers.com for more details.
Don't be left out. You too can make a pledge. It's never too late. You can earmark it for scholarships, our Digital Archival Project or our general fund. Thanks so much for your support. If you forgot to make an extra contribution (cash or memorabilia) and would like to do so now, you can do so. We would be thrilled to hear from you at: PO Box 2886, Bala Cynwyd, PA 19004, call us at (856) 365-5600 or e-mail us at: pioneers@broadcastpioneers.com.

A FINAL THOUGHT....
"I would like to thank my parents who provided strong moral support. They were mortified when I went into the radio business. They thought I was joining the carnival."
Jim Loftus
upon his induction into our Hall of Fame
Friday evening, November 18, 2016

Please contact us by e-mail at newsletter@broadcastpioneers.com or by mail to: Broadcast Pioneers of Philadelphia, PO Box 2886, Bala Cynwyd, PA 19004. Your stories are important, to you, to us, and your colleagues. Contact us today and we'll include your story in the next newsletter!

© 2016, Broadcast Pioneers of Philadelphia
All Rights Reserved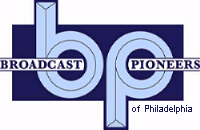 The e-mail address of the Broadcast Pioneers of Philadelphia is pioneers@broadcastpioneers.com
For luncheon reservations call (856) 365-5600 or e-mail us at: rsvp@broadcastpioneers.com