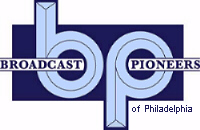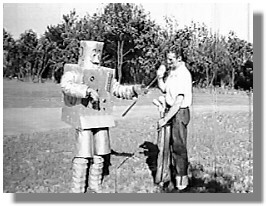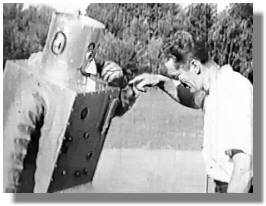 Alan Scott & Mr. Rivets
"Let Scott Do It"
WPTZ, Channel 3
1954

There was a mechanical man on WPTZ, Channel 3 from 1952 to 1956. His name was Mr. Rivets and he was portrayed by Broadcast Pioneers member Joe Earley. The program was called "Let Skinner Do It" and hosted by Philadelphia personality George Skinner. When Alan Scott took over, the show became "Let Scott Do It." Earley continued playing the part of Mr. Rivets, who had the personality of a 5 year old.

No known audio of those programs exist. Joe Earley told us that everything was live in those days. When either Scott (or Skinner) or Earley went on vacation, they shot black and white film clips so that it would seem like they both were there. In 1982 during the KYW-TV broadcast, "50 Years of Your Life," the station ran a silent 1954 clip of one of those times when someone was going on vacation. It is the only known clip of any of the Mr. Rivets shows in existence. You need the FREE Real Player installed on your computer in order to view this video.
Jonathan Scott, Alan's son e-mailed:
I can't imagine how you salvaged such quality from such an old piece of film. The quality is superb. It was shot, by the way, at our old home in Bryn Mawr in the front yard. It's a good thing Mr. Rivets didn't hook that shot. It might have broken a window.

From the official archives of the Broadcast Pioneers of Philadelphia
Photos and Video clip originally from the KYW-TV film library
Used with the permission and authority of KYW-TV, Channel 3 in Philadelphia.
Excerpt from the KYW-TV broadcast, "50 Years of Your Life"
Special Thanks to Broadcast Pioneers member Jerry Klein
© 2005 & 2013, Broadcast Pioneers of Philadelphia
All Rights Reserved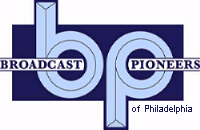 The e-mail address of the Broadcast Pioneers of Philadelphia is pioneers@broadcastpioneers.com