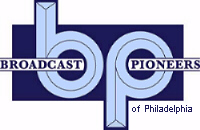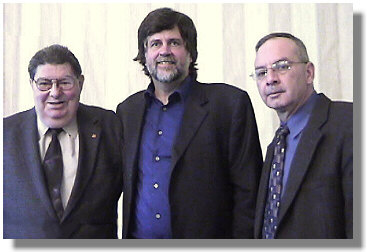 (left to right) Broadcast Pioneers Board Member Kal Rudman
Roger LaMay, General Manager of WXPN Radio
Frank Hogan, President of the Broadcast Pioneers of Philadelphia
Wednesday, October 20, 2004
Bala Golf Club, Philadelphia
Roger LaMay is general manager of WXPN, the member-supported radio station of the University of Pennsylvania. 88.5 WXPN is the non-commercial public radio service of the University of Pennsylvania and the premier public radio showcase for new music by the foremost recording artists of the singer/songwriter era. WXPNís signature program, World Cafť' broadcasts daily on more than 150 public radio stations nationwide, serves as a microcosm of the stationís programming culture. The World Cafe' is distributed by Public Radio International and features a rich eclectic blend of contemporary rock, folk, alternative country, rhythm and blues, world beat and jazz.

LaMay replaced Vinnie Curren, who left the station to become senior vice president for radio at the Corporation for Public Broadcasting in Washington, D.C.

LaMay is responsible for the overall operations of the station including fundraising, programming, and marketing, as well as overseeing the stationís move to a state-of-the-art studio and headquarters planned for the second half of 2004.

A 20-year broadcast veteran, LaMay previously served as general manager and news director of Foxís WTXF< channel 29 in Philadelphia. While at Fox, he served as a WXPN policy board member for five years and supported the radio stationís external initiatives including its annual Singer Songwriter Weekend.

Roger came to Philadelphia in 1986 from Los Angeles where he was News Director. He took over that same position here in Philly when Channel 29 started their news department. He was then promoted to Vice-President and General Manager of the station ten years later inn1996.

LaMay is involved in numerous community and cultural activities including: the Philadelphia Film Festival, the Greater Philadelphia Cultural Alliance, The Arden Theater, and the Philadelphia Chapter of the National Television Academy, formerly called the National Academy of Television Arts and Sciences.

He currently teaches Media Marketing at Pennís Wharton School as part of the evening program.

Born in 1954, LaMay holds a Master of Science Degree in Organizational Dynamics from the University of Pennsylvania (1999), and a Bachelor of Arts Degree in English from Skidmore College (1975) in Saratoga Springs, New York. LaMay was General Manager of WSPN, the collegeís radio station when it made the transition from a carrier current station to an over-the-air FM radio station.

He is a resident of the Mt. Airy section of Philadelphia.
From the official archives of the Broadcast Pioneers of Philadelphia
All Rights Reserved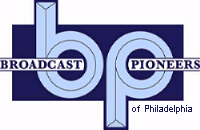 The e-mail address of the Broadcast Pioneers of Philadelphia is pioneers@broadcastpioneers.com