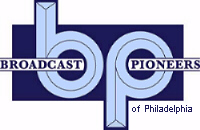 Download Our Screen Saver
We now have available for your free download, a Broadcast Pioneers of Philadelphia Screen Saver. You can have 41 classic photos from our archives which has been made into one super screen saver.
Right click on the download box below. Then click SAVE TARGET AS or SAVE or SAVE AS or something similiar. The AOL Browser calls it OPEN LINK. Click on it. A box should appear asking you where you wish to save it. Select a folder or simply accept the default selected by your computer. Click SAVE or DOWNLOAD or something similiar. The file is 1.8 megs and if you are using a dial up service (like AOL) to access the Internet, it may take 10 to 15 minutes to download. This is normal. Once downloaded, click on the file and it should unzip. Most modern computers have an unzip program installed by the factory. Once unzipped, click on INSTALL or INSTALL.exe. It's an simple as that.


From the official archives of the Broadcast Pioneers of Philadelphia
© 2007, Broadcast Pioneers of Philadelphia
All Rights Reserved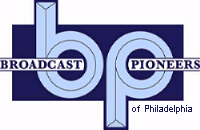 The e-mail address of the Broadcast Pioneers of Philadelphia is pioneers@broadcastpioneers.com