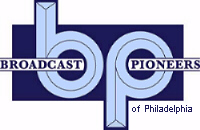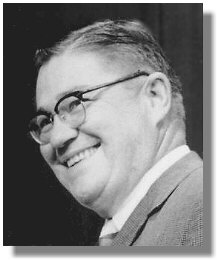 Phil Sheridan
appearing on "Morgan in the Morning"
WFIL-TV, Channel 6
1961
Born on Tuesday, September 2, 1919, Phil Sheridan was an institution in Philadelphia radio for decades. He began his broadcasting duties in 1942 but is probably best known as the Top Rated WFIL Radio Morning Man with his "Rise and Shine Show," which started on Friday, February 6, 1953.

It was Phil Sheridan, lovingly called "Uncle Philsy" and "Mr. Rise and Shine" by his thousands of fans, who got Philadelphia awake by crooning and chatting in the fifties and early sixties from 6 am to 9 am (Monday through Saturday) on WFIL Radio. Everyone knew that smile, his wire glasses and pipe, and the Delaware Valley woke each morning to Sheridan's voice saying "Rise and Shine."

He is also known as one of the area's first television weathermen (sponsored by Western Savings Bank) doing the forecast right after the John Facenda news on WCAU-TV, Channel 10. This would be September of 1950.

The published reason for Phil Sheridan quitting the Channel 10 weather was "simple fatigue." For six years, "Phil has been hewing to an overflowing schedule at both Channels 6 and 10." Phil said, he's "pooped." A typical Sheridan day during this era began at 5 am with preparation for his morning drive show on WFIL Radio. Then he had a TV show on Channel 6 from 10:30 am to noon (he hosted a movie called "Triangle Theater"). Speaking engagements took up as many as three nights a week and then he had to do the weather at 11:10 pm on Channel 10. Reports say that "in between shows, Phil busied himself preparing for them. From now on, he'll be at Channel 6 exclusively." The report said that an early evening weathercast on WFIL-TV was planned for Phil but that never materialized. The inside story was that Channel 6 told him, "no more broadcasting for the competition." His last WCAU-TV weather program was on Friday, December 28, 1956. Less than two decades later, the WFIL Radio morning man (Jim O'Brien) would have a similar schedule. Radio in morning drive and weathercasts in the dinner hour and during the 11 pm Action News.

But Phil was also on Channel 6 from time to time with folksy sort of programs, 'cause that's the kind of guy he was. One specific program was on in the afternoon, but only five minutes long. It was called, "Five with Phil" and featured Sheridan and his down home philosophy.

In 1964, Phil Sheridan left WFIL Radio and went to WSLT, 957 Asbury Avenue in Ocean City, New Jersey, owned by Les Allen. With its MOR music format, it was at 1520 KHz on AM with a thousand watts of daytime power. Phil Sheridan was the station's star announcer and their real claim to fame. The station had a weak signal and didn't really get into Atlantic City and barely covered the Wildwoods, but it had a strong, super radio personality in Uncle Philsy. After that, Phil spent two years hosting a Saturday morning program on WTYO in Hammonton, NJ.

For years, Phil Sheridan distributed poems from his listeners. All you had to do was send him a self-addressed, stamped envelope and the poem would come by return mail.

Here's one such poem written by Phil Sheridan's listener (on WFIL), Jeanne DeGood. It's called Santa's TV Problem!


On the night before Christmas
I heard such a clatter
That I climbed on the roof
To see what was the matter.
And Santa had wrecked
His sleigh full of toys
That his reindeer were taking
To good girls and boys.

Not a greeting was said
Not a friendly word spoken
For I saw at a glance
My antenna was broken.
And the night before Christmas
I spent on the roof
Repairing the damage
Of each tiny hoof.

On next Christmas Eve
When he flies through the air
I hope he'll remember
My antenna is there.
But I won't take it down
So that Santa can fly
For he broke my antenna
And left me a tie.
Phil Sheridan was born in Frankfort, Indiana and went to the University of Illinois for two years where he studied chemical enginner. He moved to Philly in 1941. He came here to make his mark in show biz, as a singer. After being employed as a Labor Relations Advisor for Lukens Steel Company in Coatesville, he kept his flame (he worked as a welder for awhile) for fame burning. In 1942, he was hired as a vocalist for WIP. It was at that time, Facenda (then at WIP) and Sheridan would first work together. Two years later in 1944, Philip G. Sheridan moved to KYW Radio as a staff singer. In 1946, he became Western Savings Bank's weatherguy on WCAU Radio, a post he would be able to move to television.

While Phil always attributed the weather forecasts to his friends at the weather bureau, he read and studied everything he could about weather for six months just as have a real understanding of what he was talking about.

Broadcast Pioneers member and former President Lew Klein said: He set a standard. His easygoing style has been patterned across the country. He had a rapport that was very much in tune with the man on the street.

Gene Crane, a member of the Broadcast Pioneers of Philadelphia, who was our Person of the Year in 2003 stated: He was very folksy. I remember he used to end each of his segments saying "Wishing won't do it, saving will" and dropping pennies into a piggy bank. Sheridan's WFIL Radio show was also sponsored by Western Savings Bank.

Another Broadcast Pioneers member and former President, Bill "Wee Willie" Webber reminisces: He was one of my mentors. He was a warm and wonderful guy and he came across the air that way. I really looked up to Philsy.

In 1963, Phil Sheridan once recalled: I guess good old American corn does it. I'm corny, and I'm proud of it.

After leaving broadcasting in the 60s, he became Executive Director of the North American Blueberry Council, traveling around the world promoting the fruit. In the 80s, Sheridan operated a gourmet food shop in Washington Township, New Jersey.

Phil Sheridan died on Thursday, June 27, 1991 at the Gloucester Manor Health Care Center, in Deptford, N.J., of complications stemming from Parkinson's disease. He was 72 years old. On Friday, November 19, 2004, Phil Sheridan was inducted into our "Hall of Fame."
From the official archives of the Broadcast Pioneers of Philadelphia
Her copy of the "Santa' TV Problem" poem donated by Maria Greco of Glenside, PA
Text written by Broadcast Pioneers member Gerry Wilkinson
All Rights Reserved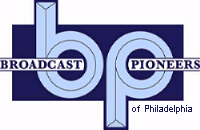 The e-mail address of the Broadcast Pioneers of Philadelphia is pioneers@broadcastpioneers.com