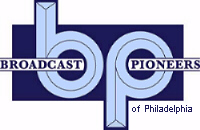 There are seven photos, please make sure you scroll all the way down to see everything.
Please be advised that we know that the quality of these pictures is not the greatest. They were sent to us by Roy Neal. Unfortunately, Roy has passed away since sending us this material. However, he did tell us that it was some kind of printed booklet. Possibly some kind of proof. He didn't remember exactly where it came from. With that said, we are still delighted to have these snapshots.
On May 23, 1951, the annual "Tee Vee" Popularity Awards were held by the TV Digest, a forerunner to the TV Guide. The magazine was published by Triangle Publications, owners at that time of the Philadelphia Inquirer, Daily News and the WFIL stations. Triangle was owned by Walter Annenberg and Walter's son-in-law, Merrill Pannitt was the Editor of TV Digest.

The evening dinner and awards ceremony took place at the Warwick Hotel in center city Philadelphia. More than 200 industry leaders gathered to pay tribute to local and national award winners.

Roy Neal e-mailed that WPTZ had remoted the broadcast from the hotel and it was broadcast live on Channel 3. It was made available to NBC-TV. Whether it was carried, no one seems to know for sure. However, excerpts were used on the network newscasts.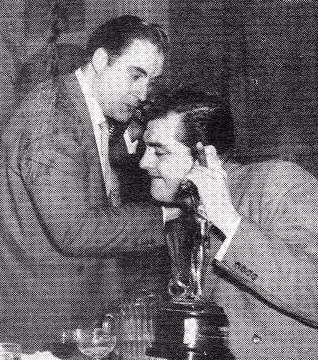 WPTZ's Ernie Kovacs receives his award
Nationally known television personality Sid Caesar (on the left) with Ernie Kovacs on the right. Note Kovacs' cigar in his left hand. Also by his left hand is Ernie's Tee Vee award. Ernie Kovacs was a local celebrity at this time. His first network show started just 9 days before receiving this evening.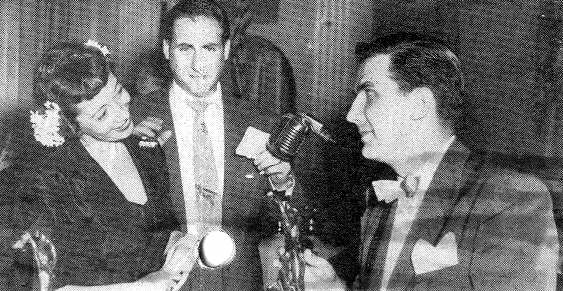 WCAU's Ed McMahon receives his award
Imogene Coca (left) and Sid Caesar (center) (both of "Your Show of Shows") present Ed's award to him. At this time, McMahon was working at WCAU doing radio and television work. He was a clown on "The Big Top" which was seen on CBS Television and was originated by WCAU-TV.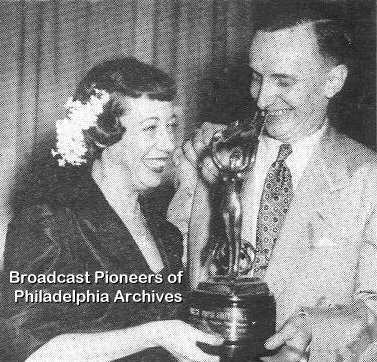 WPTZ's Roy Neal receives his award
Roy Neal at this time was working at WPTZ doing, among other things, a program called "Open House." Imogene Coca presents the award.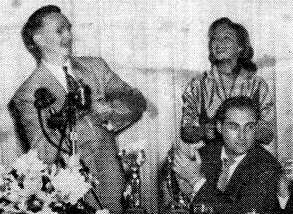 Roy Neal
Roy was the MC of the event. He's seen here with movie actress Evelyn Keyes and Sid Caesar.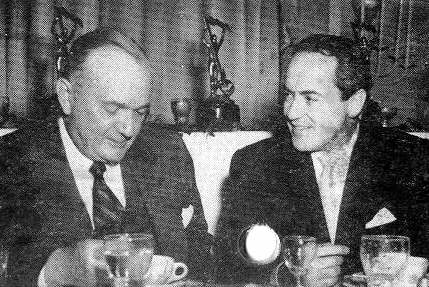 Donald Thornburgh
On the left is Donald Thornburgh (left), President and General Manager of the WCAU stations chatting with Movie Star Buddy Rogers.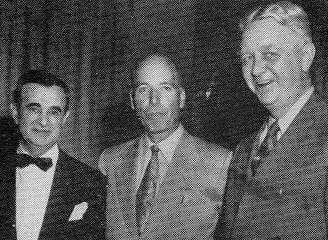 Featured Speaker and Friends
To the left is Max Liebman, Producer of "Your Show of Shows". In the center is James Carmine, Executive Vice President of the Philco Corporation and the chief speaker of this evening and Bill Slater of "20 Questions."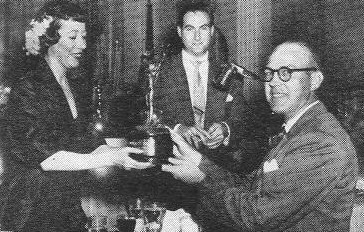 George Walsh receives his award
Imogene Coca presents an award to George Walsh, a local sportscaster and play-by-play announcer for the Philadelphia Phillies baseball games. Sid Caesar is in the center of the frame.
From the official archives of the Broadcast Pioneers of Philadelphia
Photos originally donated by Roy Neal
@2000 & 2012, Broadcast Pioneers of Philadelphia
All Rights Reserved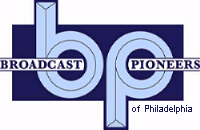 The e-mail address of the Broadcast Pioneers of Philadelphia is pioneers@broadcastpioneers.com