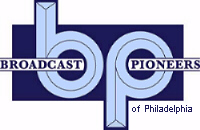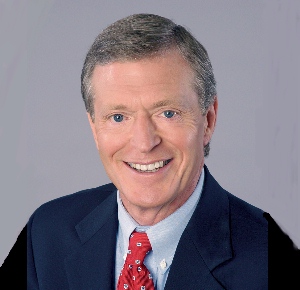 Terry Ruggles
Official NBC 10 Photo
2005

Broadcast Pioneers member Terry Ruggles started working at WCAU TV in 1974. His initial duties were as New Jersey Bureau Chief, responsible for all the news that happened from Trenton to Cape May. In his almost 4 decades with Channel Ten he did hard news, features, medical environmental and weather stories.
On March 29, 2004, Terry was promoted to co-anchor of NBC 10 News Today (Monday-Friday, 5 to 7 AM). He joined the morning news team with co-anchor (and Broadcast Pioneers members) Dawn Timmeney and Meteorologist Bill Henley. Terry replaced long-time colleague and news anchor Steve Levy, also a member of this organization. Besides his anchor duties, Ruggles continued to contribute reports on NBC 10 News at 4, 5 and 6 PM.
In his long tenure in the Philadelphia market, Ruggles has covered a variety of stories from local politics, the infamous MOVE event, and the 9/11 tragedies. Terry has been through 9 hurricanes and reported from four space shuttle launches as well as the Challenger Disaster. He has traveled to England, Germany, Haiti and Saudi Arabia to get the local angles to international stories.
Terry's first job in broadcasting was with the sports department at WCUE Radio in Cuyahoga Falls Ohio. While majoring in broadcasting at The Ohio State University he worked for WTVN Radio and Television as disc jockey and booth announcer. After college Terry was a Lt. in The United States Army running a closed circuit TV station and production facility at Ft. Benjamin Harrison in Indianapolis Indiana.
After his tour of duty in the Army, Ruggles continued his television career at WFRV-TV in Green Bay, Wisconsin, reporting news and sports. In 1972, he joined WZZM-TV in Grand Rapids, Michigan, where he co-anchored the news and hosted a weekly news program.
In November of 2007, Terry was inducted in the Broadcast Pioneers Hall of Fame. He resides in Cherry Hill, New Jersey with his wife Maryjane.

From the official archives of the Broadcast Pioneers of Philadelphia
© 2006 & 2018, Broadcast Pioneers of Philadelphia
All Rights Reserved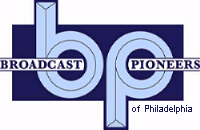 The e-mail address of the Broadcast Pioneers of Philadelphia is pioneers@broadcastpioneers.com