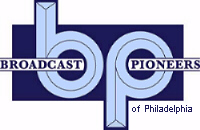 Tom Brookshier
Wednesday, January 18, 2006
Born on Sunday, December 15, 1931, Broadcast Pioneers member Tom Brookshier hails from Roswell, New Mexico. They lived at 618 North Main Street amd there were 5 children; two girls and three boys. As a teen, Tommy (in the 1940 census, it was spelled Tommie) worked at his dad's service station. Tom was an outstanding athlete in high school and at the University of Colorado which he was graduated in 1953. Selected by the Eagles in the draft that same year, Brookie proved his worth by becoming a starter and leading the team in interceptions. Where ever the ball was, there was Tom, ready to strike. It was a great start, but was interrupted when the United States Air Force intervened, and Lieutenant Brookshier spent the next two years as backfield coach at the Air Force Academy.
Returning to the Eagles in 1956, Brookie became one of the most popular players ever to wear the green and white. The fans loved his "take no prisoners' spirit. When he was asked to explain his popularity, Tom ventured, "Maybe it was because even though I wasn't a Philly guy, I played like a Philly guy."

For nine years, from 1953 to 1961, he was in the NFL with the Philadelphia Eagles. In 1962, the team honored him by retiring his number, 40. The Eagles won the national championship in 1960, the only Philly NFL champs in history.
Brookie was a key member of the Eagles team that defeated Vince Lombardi's vaunted Green Bay Packers at Franklin Field for the championship in 1960. It was the only post season game that Lombardi ever lost. And number 40 has been a favorite of Philadelphia fans ever since.
In 1961 the Eagles were playing Chicago when Tom collided with one of the Bears, and went down with a compound fracture of his leg, ending an outstanding professional career.
While recovering from a broken tibia that ended his "jock" career, WCAU Radio aired a conversation with Tom, direct from his Hahnemann Hospital bed. Because of the response, he was given a chance to do some sports reports and commentary daily on the station. His first year in the business Tom said that his salary was $12,000.

In 1962, Tom began his broadcast career at WCAU radio and TV in Philadelphia. "Brookie" eventually became the station's Sports Director. In 1970, he teamed with Pat Summerall, and the two became one of the most popular broadcast teams in NFL history. Like his celebrated broadcast partner of that era, Brookshier has received numerous athletic, broadcasting, and civic awards. Subsequently, Tom became a football analyst with CBS Sports, working NFL regular season games, several Super Bowls, and numerous Blue-Gray, Cotton, Sun, and Pro Bowl games.

Answering an query, Tom Brookshier said that as a broadcaster, he did three Super Bowl games (X, XII and XIV) and the pre-game/post game shows for Super Bowls IV, VI, VIII and XVI.

In an e-mail to us, Tom said: (someone)...on the Internet advised me of the Eagles record before I broke my leg. I was amazed. My last 21 games (60 and half of 61), we were 18 and 3 including the championship. I had forgotten how good and fortunate the birds of green and white were at that time.

He is in the University of Colorado Hall of Fame, Pennsylvania's Hall of Fame, and the Philadelphia Eagles All-Time Honor Role. His awards include the Washington Touchdown Club's Outstanding Broadcaster, the Bert Bell Award, Emmy awards for outstanding live sports series, and the Philadelphia Sportswriters Association.
He has golfed with President Gerald Ford and was friendly with Richard Nixon and Jimmy Carter. In 1977, Brookie played himself in the motion picture "Black Sunday." From 1988 to 1993, he hosted morning drive on WIP Sports telephone talk radio.
Tom once said to Main Line Today magazine, "I always want to be number two. I don't want to be number one, because then you don't have to try. Being number two makes you keep striving and pushes you to do better."
Tom has served several years on our Board of Governors, now called the Board of Directors. On Friday, November 16, 2007, Tom Brookshier was inducted into our "Hall of Fame." Tom and his wife Barbara (a college girlfriend) have two daughters and a son.
Brookshier and Broadcast Pioneers member Gerry Wilkinson were talking in the parking lot of the Bala Golf Club one day. Tom came from Roswell, New Mexico and Gerry's wife, Michele came from Carlsbad, New Mexico. The two towns are about 77 miles apart but only a little over an hour's drive on the wide open roads of the state. Brookshier was living in Roswell during the time of "The Alien Invasion" of July, 1947. Tom told Wilkinson that a reporter approached him and some friends at that time asking about the "flying saucer." Tom and his buddies asked, "Did it hit Carlsbad High School? Did it get any of the Carlsbad Cavemen (the local football team)?" Brookshier said that the teens in the area at that time weren't interested that much in "aliens" as they were in beating the rivals, "The Carlsbad Cavemen." He added, "unless they're good football players and can help us whip Carlsbad, we won't think about them too much." Brookshier was on the Roswell team.
Brookie has amassed a bumper crop of honors and trophies, including the University of Colorado Hall of Fame, Pennsylvania's Hall of Fame, the Philadelphia Eagles all-time Honor Role and the Washington Touchdown Club's Outstanding Broadcaster Award. Add to that the Bert Bell Award, Emmy Awards for outstanding live sports series and the Philadelphia Sports Writers Association Award, and you can fill any trophy room. A true All-American on the football field and in life, a world class Philly Guy, number 40 is Tom Brookshier.
Brookie grew up working at a station in Roswell. It's was his dad's gasoline station. He told us that he was very good dealing with the customers. He said that maybe that was why he was so comfortable in front of the microphone because he envisioned the audience as a bunch of people who passed through his father's "filling station."
Tom Brookshier passed away on January 29, 2010 from bladder cancer. But Tom will be remembered for the good times. Joanie Baldini, wife of Broadcast Pioneers member Bill Baldini, told us this story. One day when Brookie was doing the sports on the "TV10 Big News," anchor John Facenda, who was also a member of our organization, ended the newscast with a story about a local golf tournament. Then Facenda said that he, himself, was quite an excellent golfer. He got up from the anchor desk and came into the middle of the floor. He placed a golf ball on the floor, and the camera panned up. While this was happening, someone on the crew, removed the ball (because hitting a real golf ball in the studio could damage equipment). John then took a swing and the director cut to a shot of Brookie with a golf ball in his mouth.
From the official archives of the Broadcast Pioneers of Philadelphia
Bio written and researched by Broadcast Pioneers members Gerry Wilkinson & Ed Harvey
© 2010, Broadcast Pioneers of Philadelphia
All Rights Reserved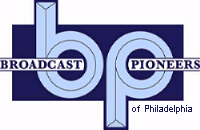 The e-mail address of the Broadcast Pioneers of Philadelphia is pioneers@broadcastpioneers.com