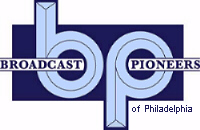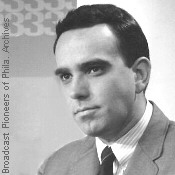 Tom Snyder
KYW-TV, Eyewitness News set
August 20, 1965

Former KYW-TV Newsman Tom Snyder had Leukemia, which finally did him in on Sunday, July 29, 2007. About his illness, Snyder said:
I don't eat that much but I have gained weight, about fifty pounds since I quit smoking more than five years ago. (Had) almost uncontrollable sweating in the middle of the night. Bloat like my gut is gonna explode. And just a general lack of stamina as the day wears on.

Well sir, I had a colonoscopy and everything is fine there. But a cat scan turned up some interesting stuff. My spleen is enlarged, which the doctors say might be crowding my stomach in my abdomen, thereby causing some of the bloating I am experiencing. And judging by my white cell count and a variety of other factors including what was shown on the cat scan, I have been diagnosed with something called chronic lymphocytic leukemia.

When I was a kid, leukemia was a death sentence. Now, my doctors say it's treatable! With pills or chemotherapy or a combination of both. Lemme pause here on this word treatable. Four years ago they stuck a defibrillator/pacemaker in my chest because my heart disease was treatable! A year and a half ago a nearly torn tendon in my left leg was diagnosed as treatable. Then I came down with atrial fibrillation, but was told not to worry about that because it is treatable!

I don't know how much more room I have in my aging carcass for this treatable (stuff)....! Anyway, my doctors assure me this is nothing to worry about, and I have to accept that, I guess. They say this kind of leukemia is not fatal, that people can live with it for thirty years.
Born on Tuesday, May 12, 1936 in Milwaukee, Tom Snyder was 6 feet 4 inches tall. He was Roman Catholic and graduated from Marquette University High School, which was run by the Jesuits. He also attended Marquette University.
He began his broadcast career in 1959 as a staff announcer and disc jockey at WRIT in Kalamazoo, Michigan. Then next year, he went to WAII-TV in Atlanta as a reporter. Then on to KTLA in Los Angeles in 1963, again as a reporter.
In the summer of 1965, Al Primo, the new News Director at KYW-TV created the "Eyewitness News" format and brought in Tom Snyder as a noon day anchor. Actually, Tom was at KYW-TV in Cleveland and when the Philly and Ohio stations switched back and KYW-TV (and Westinghouse) came back to Philadelphia, Tom Snyder and Al Primo (who was news director at KYW-TV in Cleveland) came along. The next year, 1966, Snyder pioneered a morning talk show, "Contact" seen on Channel 3 from 9 to 10 am daily.
1970 saw Tom leaving Philly and heading back to LA as the main anchor for KNBC-TV. While still anchoring on the NBC O&O (owned and operated), he started "Tomorrow" on NBC-TV. It was seen at 1 am, right after "The Tonight Show Starring Johnny Carson."
During 1974, NBC moved the show from the west coast to New York City. Tom starts hosting "The NBC News Update" in primetime. He, at the same time, takes over anchor duties on the Sunday version of the "NBC Nightly News" and he becomes the main anchor at WNBC-TV. 1977 saw the "Tomorrow" show return to LA, only to move back to NYC two years later.
At this same time, NBC has him premiering on their new news vehicle, "Primetime Sunday." In 1980, the Tonight Show is reduced to a 60-minute program and Snyder's broadcast moves into the earlier 12:30 am time slot. The show had its last broadcast in January of 1982. Snyder now leaves NBC to become the main anchor at WABC-TV. This news vehicle was also called "Eyewitness News" because Al Primo left Philly in the late sixties and took the format to New York and WABC. In 1985, ABC sends Tom to Los Angeles to become the main anchor of KABC-TV.
ABC Radio launched "The Tom Snyder Show," a syndicated radio talk/call-in show. It ran for five years. In 1993, CNBC premieres "Tom Snyder," a critically acclaimed broadcast. The show ends in December of 1994 just before Tom starts doing "The Late, Late Show" on January 9, 1995. Tom retired from the CBS-TV broadcast on March 26, 1999, about the same time as his pacemaker surgery. Rumor has it that Tom often did the show with his shoes (13-D) off. Another rumor is that Tom was so self-conscious about his ears, that his hair styles often covered them.
On February 20, 1967, WRTI-FM (the student run station of Temple University) aired a 30-minute interview with Tom Snyder. The program was hosted by then college student Florence Weiss and produced by Broadcast Pioneers member Jerry Klein, himself a Temple undergraduate. Listen to the Broadcast!
In 1965, Channel 3 News Director Al Primo teamed up Broadcast Pioneers member Marciarose Shestack and Tom Snyder to anchor the daily noon-time report. Here's a photo of them on the "Eyewitness News" set.
Sterling Mac Kinnon, a visitor to our website worked at KYW-TV for 21 months from January 1968 to October 1969. He e-mailed us:
I worked in the crew and briefly as a director with Tom Snyder while he was at KYW-TV in Philadelphia during the late '60s. Snyder was a daredevil and a madman. He was known for his acid tongue as "Tom Snide" and "Snidely Whiplash." Many in the crew just called him Whip.

...My first time as a cameraman on my first day at KYW-TV was on his "Contact" show. Dennie Steinmetz was directing. The experience was positive and exhilarating, mainly because of Steinmetz' relaxed demeanor and Snyder's wisecracking. Trying to one-up him when I was in the crew. He once stepped on the elevator at my last word and, with the door timed to shut ending the encounter said, "Sterling, you would be better served to learn the characteristics of the Image Orthicon tube than to engage in repartee with the talent of this station."

His repeating of the two never-uttered curse words over and over just before and right up to his on-the-air cues. It required the audio man to keep his microphone closed, which complicated the opening of Contact where the audio man had to manage the opening music as well as the opening announcement. If the audio man had mis-operated Tom's mike control, both would have lost their jobs.

His foppish coat-lapel pocket watch, which he would check against the studio clock while the closing news show credits rolled over his desk. This was the Snyder signature closing. One time Ralph Hicks climbed upon a ladder in back of the news set and poured a bucket of water over Snyder at show's end, just has he pulled out his watch. Snyder, of course, was furious because he thought he was still on the air. Ralph had arranged for Master Control to keep his image on the studio monitor after the station had switched to commercials. This marked a rare occasion when Tom was one-upped.

His Thunderbird, supplied by a local dealer. Tom always rode through the summer streets of Center City Philadelphia with the top down and a big smile.

Directing him. Once, in his office while planning the show he looked at me very seriously and asked, "Sterling, what do you suppose would happen if I plunged this letter opener into this can of butane lighter fuel?" "I think it might explode," I replied. "Let's find out," Tom countered, plunging the blade into the side of the can. I flinched but nothing happened except for the hissing of the escaping butane.

His sports report. Jim Leaming couldn't get back to the studio for the news and Tom said he would cover him. Tom's sports report went like this. "A partial score just in. Philadelphia 5. Now, turning to the local news."

The elephant turd incident. Tom had a buddy, a junior TV news reporter named John Bryan who had been out covering the Ringling Brothers circus arrival. He had retrieved an intact elephant dropping, about the size of a liquor bottle. Bryan took the turd to Bailey, Banks & Biddle and had it gift boxed and wrapped. He left it on Tom's desk with a note, "From an admirer."

...I will always treasure the memories of TV in the late '60s and the colorful people in it. Tom Snyder took the best of his talents and turned them into a great career. He hated Lawrence Welk, so we would chant from the cameras when he had wrapped up. "Real goood, Tommuh.
On Friday, November 21, 2008, Tom Snyder was inducted into The Broadcast Pioneers of Philadelphia's "Hall of Fame."

From the official archives of the Broadcast Pioneers of Philadelphia
Photo originally donated by Broadcast Pioneers member Marciarose Shestack
Researched, compiled and written by Broadcast Historian Gerry Wilkinson
© 2008, Broadcast Pioneers of Philadelphia
All Rights Reserved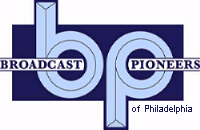 The e-mail address of the Broadcast Pioneers of Philadelphia is pioneers@broadcastpioneers.com