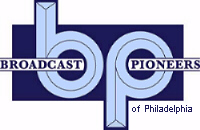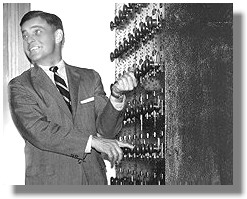 Channel 12 General Manager Warren Kraetzer
WHYY-TV Building (the old WFIL Building)
46th and Market Streets
West Philadelphia
1972

Though WHYY-TV has been on the air for five decades, they have had only a handful of presidents. The second of these was a gentle person by the name of Warren Kraetzer.

At that time, WHYY-TV was on channel 12, licensed to Wilmington, Delaware. Channel 35, the original WHYY frequency was, during that era, WUHY-TV, which was also run by WHYY-TV, but had different programming, mostly geared toward the classroom activities of area school children. When WHYY became channel 12, WHYY-FM became WUHY-FM. This was because of the FCC requirement at the time, that the same call letters for television and radio must be licensed to the same city. Channel 12 was licensed to Wilmington and the radio station was licensed to Philadelphia (originally the KYW-FM frequency, donated by Westinghouse Broadcasting). When channel 35 became WUHY-TV, WHYY radio became WUHY-FM. (The rules have since changed).

Warren Kraetzer was the President of the Broadcast Pioneers of Philadelphia from 1973 to 1975. At this same time, he was also General Manager and President of WHYY, Inc. While in Philly, Warren lived in Haverford, PA. He was hired as Vice-President and General Manager in November 1963 in a handshake agreement with William Goldman, President of the stations. Kraetzer wound up succeeding Goldman as President following Goldman's death in 1975.

When Warren came to the WHYY stations, Public TV was black & white and operated only five days a week. The whole operation had a yearly budget of only $600,000 for all three stations in total.

In 1977, Kraetzer stated that at the time he arrived at Channel 12, it "was unloved, unwatched and unwanted." When Kraetzer left WHYY in April of 1977, the TV operation was full time and in color. The radio station broadcast 18 hours a day. Warren helped WHYY survive a financial crisis in 1972 when it cancelled local programming. Upon his departure in 1977, WHYY, Inc. had an annual budget of $4.3 million dollars.

Officially a resignation, Warren was "tossed out" (as Kraetzer referred to it in the Spring of 2000 when he spoke with the Broadcast Pioneers of Philadelphia from his home in Rhode Island) when its Board Chairman, John R. Bunting publicly stated his dissatisfaction with the stations' programming. Bunting thought that they didn't compare favorably with other large Public TV outlets. Bunting did say at that time that Warren gets "98% of the credit for making it possible to transmit a picture to the entire Delaware Valley region and for operating within a balanced budget. That was the ball game the first seven, eight years. It was just months after Kraetzer took over that WHYY-TV became Channel 12 with more power than was possible with the Channel 35 frequency.

In 1977, Warren Kraetzer said, "I kept reading about the absence of the Philadelphia Orchestra from Channel 12, but no mention of the tremendous costs involved. We had people on the board who we thought would open doors for us, as they do to orchestras in other cities, but they didn't. A station takes on the dynamics and personality, good or bad, from its leader. If the leader isn't delivering, you get another one."

Warren moved to Rhode Island, where he was General Manager of WSBE in Providence. The station was owned by the state, similar to NJN, The New Jersey Network. He retired from the station in the mid 80's and went into real estate. He worked in that area for several more years.

Warren lived in Warwick, Rhode Island until his death on Sunday, May 5, 2002. At the age of 80, he passed away. He was married for 53 years to Coralie, his wife. He had four daughters and seven grandchildren.

In January of 1972, WHYY went thru some belt tightening. Its leader, Warren Kraetzer spoke to KYW-TV microphones about the station's problems on Friday, January 7th. While this was a television newscast, we only have audio.


From the official archives of the Broadcast Pioneers of Philadelphia
Audio clip originally donated by Broadcast Pioneers Board historian Gerry Wilkinson
Audio used with permission of KYW-TV
Photo courtesy of WHYY-TV
© 2010, Broadcast Pioneers of Philadelphia
All Rights Reserved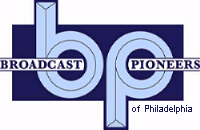 The e-mail address of the Broadcast Pioneers of Philadelphia is pioneers@broadcastpioneers.com