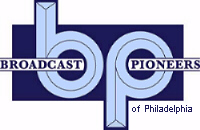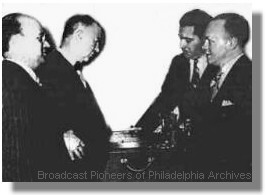 At the WRTI Dedication Ceremonies on January 22, 1948
Grouped around a recording instrument at WRTI are (left to right) Joseph First, Vice-President of Triangle Publications; Dr. Robert Johnson, President of Temple University; Walter Annenberg, owner of The Philadelphia Inquirer & the WFIL stations and Roger Clipp, General Manager of the WFIL stations.

While we are aware that there is at least one error (or more) in this historical document, we are presenting it uncut, exactly as written by Roger Clipp in October of 1964.
The History of WFIL
By Roger W. Clipp
General Manager of the WFIL Stations
On St. Patrick's Day 1922, Strawbridge & Clothier - one of the "big five" department stores in Philadelphia started broadcasting from its store with the call letters WFI.

In 1923, another of the "big five," Lit Brothers, started similar operations from their store, using WLIT call letters and sharing time with WFI.

In 1926, the stations began network service from NBC.

The "rug department" broadcasting operations prospered to the point where in 1935, the two stores merged the two stations - chose WFIL for the call letters - and formed a corporation, WFIL Broadcasting Company. They brought key men from NBC - among them the writer - to Philadelphia to run the newly-merged station. And WFIL was now a full-fledged, independent business operation - completely divorced from the status of a promotion device of a department store operation.

Before long, success made it imperative to move the operations out of the "rug departments" of the two stores and in the fall of 1937, WFIL moved into new quarters including studios and offices atop the Widener Building, a well-known, centrally-located office building.

The station settled down to real business in its new home and began racking up firsts that were simply predecessors of a very long list. To name a very few:
WFIL-FM began operation in 1941, the first commercial FM station in the United States with a completely separate program schedule.

In 1943, WFIL introduced the "Studio Schoolhouse" series which was the first in-school listening program in the nation and which has continued, uninterrupted throughout the school year, ever since.

In 1944 the station launched "Within Our Gates," an award winning series of radio dramas presented in cooperation with the Philadelphia Fellowship Commission which ran for more than ten years.
Close attention to public service and to advertisers' needs engendered a healthy operation and in 1946 Triangle Publications purchased the WFIL stations.

A new building was designed and built at 46th & Market Streets in Philadelphia to house the television operations. This building, incidentally, was the first one in the world to be designed and built expressly and exclusively for telecasting operations. From the first day of televising - September 13, 1947 - WFIL-TV has had a DAILY television newsreel program - again the first station in the United States - which won a National Headliner's Award in 1948, the first television station so honored.

1947 saw WFIL begin the "Triple X Campaign" to combat tuberculosis which brought the station the Du Pont Award in March 1948.

Realizing that broadcasting had come of age and should be considered a career to be prepared for by young people, WFIL helped establish a communications school at Temple University, Philadelphia, to provide collegiate facilities and training for young people desirous of obtaining a Bachelor's degree in the field.

By now, color was ready to be introduced as the youngest of the broadcasting family and again, in 1947, WFIL-TV was the first station in Philadelphia to telecast color programs on a regular basis.

Just before the year ended - on December 30, 1947, WFIL added facsimile, thereby becoming the first station with all four methods of transmission - AM, FM, TV, and facsimile.

WFIL-TV early in 1948 moved into its brand new broadcast building at 46th and Market Streets and during the same year, became the first affiliate of the ABC-TV network, and the first programs broadcast over the ABC-TV network facilities were originated at this location by WFIL-TV.

WFIL management's presentation, through the city's committee, of the broadcasting advantages of selecting Philadelphia for the site of both large political conventions in 1948 was an important factor in the Site Committees' selecting Philadelphia for their 1948 conventions. (It should be remembered that in 1948 the coaxial cable ran only from Boston to Washington with a spur to Chicago). WFIL personnel therefore were in with "both feet" during these 1948 political conventions.

But regular day-by-day operations continued including of course public service programming and in 1949 WFIL was presented with the Alfred P. Sloan Highway Safety Award for its "Silly Willie" traffic safety campaign.

1950 saw the inauguration of more public service efforts: the "University Of The Air" Monday through Friday programs, produced in cooperation with some twenty colleges and universities in the area were introduced which series, incidentally, won a second Du Pont award making WFIL the only station to have won two Du Pont awards and this program, like the "Studio Schoolhouse" program started in 1943, continues uninterrupted during the collegiate semesters. WFIL-TV therefore was the first station to telecast educational courses at college level five days a week.

1950 also launched the "What America Means to Me" radio series which won a Freedom's Foundation Award.

Radio, FM and management operations had stayed on at the Widener Building when television moved out to 46th & Market in 1948. It became obvious as the media grew, that it would be advantageous to put all operations under one roof so renovations and extensions were made to the 46th & Market building and the Widener Building contingent joined the television operations in the "new" building in 1952.

It was in this year that WFIL instituted a traffic safety campaign for the Commonwealth of Pennsylvania - "Hitch Horse Sense to Horsepower" whose campaign, in 1954, was adopted by the National Safety Council.

There followed several years of consolidating strides made in public service. During 1952-54 the WFIL stations were recognized 38 times with awards or citations for service in this field and to mention just a few of the bestowers: National Safety Council, Department Of The Army, American Cancer Society, New Jersey Science Teachers' Association, Freedom's Foundation, Naval Reserve, Boys' Clubs of America, American Heritage Foundation, National Exchange Club, plus a myriad of local organizations.

By 1954, radio and television operations were well established and consolidated and on this strong foundation, it was decided to add other broadcasting properties. In 1955, Triangle Publications acquired WNBF AM-FM-TV Binghamton, New York, and in 1956, WFBG AM-FM-TV in Altoona, Pa,., and WNHC AM-FM-TV in New Haven, Conn.

In 1957, WFIL-TV started its Bandstand program - first locally and then fed to the ABC-TV network. The Dick Clark Bandstand was on the air seven and one-half hours a week making WFIL-TV the nation's largest single station originator of network programming. The program originated at WFIL-TV from 1957 to 1963.

WFIL in 1957 became the first station in the United States to win the Marshall Field Award in "recognition of fundamental and imaginative contributions to the well-being of children." In June of 1957, the station started the nation's first Explorer Scout Communications Center, and in the fall of that year, WFIL introduced its show wagon and news-cruiser units - the first station in the Delaware Valley to have such equipment.

WFIL AM & FM were the first Philadelphia stations, in January 1958, to broadcast stereophonic sound and WFIL-TV in March of this year introduced the first video-tape unit. By August WFIL was using a helicopter for news coverage - again the first in the area.

By this time - 1958 - the Binghamton, Altoona and New Haven operations were full-fledged members of the Triangle broadcast family. The flag-station in Philadelphia, as has been mentioned, has stayed apace with developments equipment-wise and program-wise in the industry and has passed along the best of its findings to the other stations. Now it was felt we should stretch our wings in yet another field - UHF television. Accordingly, Triangle's broadcast operations (now known as the Radio and Television Division of Triangle Publications ) acquired UHF station WLYH-TV serving the Lancaster-Lebanon area of Pennsylvania operating on Channel 15.

KFRE AM-FM-TV stations located in Fresno, California, were added to the Triangle properties in 1959. KFRE-TV, Channel 12, was the only VHF station in a UHF market, and shortly after take-over, Triangle voluntarily applied to the FCC for a switch to a UHF allocation in order to make Fresno an all UHF market in keeping with the Commission's efforts at the time.

The next four years were spent in continuing the up-grading of the various Triangle stations' programs, equipment and operations. Late in 1963, WFIL-TV introduced the first mobile tape unit in the Delaware Valley. The Altoona, Binghamton and New Haven stations had all moved into new homes. All our television stations carry color; all have mobile video tape equipment and news cruisers; all the radio stations have FM and WNBF-FM now broadcasts stereo. Along with all the public service programming the stations produce, each regularly meets with its local "community council" to get the benefit of the thinking of local leaders in education, religion, government, etc., for the benefit of local programming.

Having been aware for some time of the dearth of programs in unusual areas, Triangle started to film unusual programs for its stations and their acceptance led to establishment of a syndicated service. For television, the roster includes such unusual programs as:
The Podrecca Puppets (world-famous Italian puppeteers) - color
Paul Whiteman visits college campuses to showcase talent - color
Two films on U.S. Parachute jumpers - color
Wonder of Birds - rare birds from all over the world in the natural surroundings - color
Zoos of the World - color
These Are Americans - Richard Nixon, Pearl Buck, Stan Musial, etc.
This is America - fairs and festivals from New York to Hawaii - color
Auto Races - Sebring, Nassau, Rebel 300, Watkins Glen, Langhorne, Riverside, Elkhart Lake, European races - color
Longest Tunnel - the seven and one-half cut through Mont Blanc - color
Boat Races - the Miami-Nassau ocean power boat race, and the Nassau Yacht Cruise - color
Antique Automobiles - the New Hope Show - color
Radio fare includes:
Anniversaries in sound - on holidays, past historical events, birthdays of great people
Taped audio program service for 112 hours per week - AM or FM
30 Hours of Christmas - from 6 PM Christmas Eve through Christmas Day
12 Hours of New Year's - 6 PM December 31 through 6 AM January 1
The foregoing titles were excerpted from our full list to illustrate the unusual areas into which we have delved to offer fresh program fare.

In 1961 we taped a series of about 100 half-hour programs entitled "Operation Alphabet" to teach illiterates to read and write to the fourth grade level. These ran in more than sixty cities in the United States. The second series upcoming - approximately 90 half-hour programs - teaches people to read and write to approximately the eighth grade level. Much interest nationwide was engendered by the first series among telecasters, educators, and the public. At the moment, the first series is being considered for telecasting in Japan.

Now comes CATV (cable) - the latest important new service for viewers and Triangle to keep apace with modern developments, now operates a system in the Binghamton, New York area and has applied for one in New Haven.

As personnel, equipment and programs burgeoned, the "new: building (vintage 1947) at 46th & Market became hopelessly inadequate and after several years of searching for the right location, Triangle in 1962 began building its new Triangle Broadcast Center at 4100 City Line Avenue, Philadelphia, which it occupied January 12, 1964. This very handsome and efficient edifice now houses the WFIL stations and all the management personnel for the Triangle Radio and Television Division.

But emphasis the past six or seven years has not been only on broadcasting operations, but on educational operations as well. I have already mentioned that WFIL established a communications school in 1947 in the undergraduate school of Temple University. In 1958 arrangements were completed to establish the Annenberg School of Communications at the University of Pennsylvania. This school is a graduate school of the University, conferring a Master's Degree for the two-year course and includes in its curriculum courses not only related to broadcasting but to newspapers, magazines, etc. Classes began in 1959 and a very handsome building on campus was contributed by Walter H. Annenberg, President of Triangle and dedicated in the fall of 1962.

Prior to physically moving from the 46th & Market Streets building in January of 1964, arrangements had been completed to give this building along with considerable equipment to the Philadelphia educational televisions station, WHYY-TV, which had been struggling along with inadequate equipment in space in a center-city office building. Therefore the educational activities of the Triangle stations (completely aside from educational programming) has been a many-faceted one: an undergraduate communications school to one university; a graduate school and building to another; a broadcasting building and equipment to an educational television station.

And now the story of the Triangle Radio and Television Division is brought up-to-date. This is not a complete history because it would be impossible to include all the details of a 42-year march in broadcasting. Nor is it finished, because so long as new equipment is invented, so long as new audience needs are discovered, new program techniques uncovered, the Radio and Television Division of Triangle Publications will continue to probe into these new facets to bring the audience more technically-perfect and more intellectually- interesting programming, and to bring to the advertiser more effective sales tools.
Okay, now let's discuss some of the "problems" in this document. First, Clipp talks about starting an undergraduate school at Temple University. That is not true. What WFIL did do in 1947 was to donate money to Temple University to build studios for WRTI, at that time an AM "wired-wireless" station. That station (and in 1952, WRTI-FM) became a training ground for thousands of students in the two decades that it was student operated. Temple's School of Communications and Theater was not founded until 1966. Second, Roger talks about WLIT. The station originally used the calls WDAR when they began broadcasting in May of 1922. On February 2, 1925, WDAR became WLIT. Finally, Clipp talks about Bandstand stating that it started in 1957, "first locally and then fed to ABC-TV..." Bandstand started October 6, 1952 with Bob Horn and became a Dick Clark vehicle in 1956. The program went on the network in 1957. While American Bandstand was, indeed, on the air for seven and a half hours per week, the network did not carry the entire program but only a portion. However, this is still a rare document to have be found and we are delighted to have it.

Broadcast Pioneers member Charlie Higgins e-mails:
I believe that WCAU-FM was on the air before WFIL-FM in 1941. And I know that WCAU had facsimile on the air when the Philadelphia Record owned the station in 1946. KYW also had FM which later became (WHYY-FM and later) WUHY-FM, I believe when Westinghouse gave it away.

I remember in grade school in Philadelphia that each day around 2 pm the teachers would slide back the blackboards into the wall that separated each classroom and turn on the radio and we would listen to WFIL and Filbert the Flea done by "Skipper" Dawes who also did The Magic Lady on which Eddie Fisher sang. I think each program was 15 minutes in length. I remember Studio Schoolhouse and Within Our Gates which until now I thought was a network program. It was broadcast on Sunday mornings and was always interesting.

I think he is totally incorrect in saying WFIL-TV broadcast in color in 1947. He might have meant 1957. I seem to think that WFIL-TV had the first color newscast and it was done with a single RCA TK-41 camera. I think they beat out WRCV-TV who was then an NBC O&O too. I'm not certain of the date that WCAU-TV went on the air with live color. We had two RCA TK-41's. This was under the Bulletin ownership. When CBS came along on August 31, 1958, all such color programming ceased until CBS "reinvented" color around 1966. CBS hated RCA for inventing the compatible color system.
A visitor to our website e-mailed that this article made reference to the WFIL stations being the first to broadcast stereo. However, the reference made by Roger Clipp referred to the WFIL experiments in stereo in the fifties using both AM & FM (one for each channel). Stereo sound on TV was decades away (although there was some experimentation in the fifties using TV sound and a radio station signal for the other channel). Stereo on WFIL-FM was years away. He pointed out there was no stereophonic broadcasting on AM after the fifties for several decades. That is true. But the stereo that Roger Clipp was talking about was this 1958 experiment. For that article about AM Stereo in the fifties, click here.
From the official archives of the Broadcast Pioneers of Philadelphia
© 2010, Broadcast Pioneers of Philadelphia
All Rights Reserved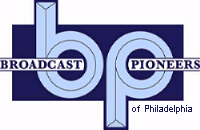 The e-mail address of the Broadcast Pioneers of Philadelphia is pioneers@broadcastpioneers.com