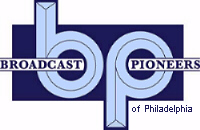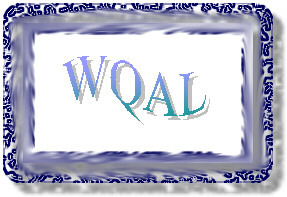 In 1957, NBC who was owner of WRCV-TV, Channel 3 in Philadelphia at the time, moved its transmitting tower from 1230 East Mermaid Lane in Wyndmoor, Pennsylvania to Roxborough. They started to look for a buyer and sold the property and tower to The George Voron Company on January 12, 1959. The company owned a construction permit for a new FM radio station for Philadelphia. Up until this time, Voron's firm dealt with supplying companies and businesses with "piped-in music." Their offices were located at 835 North 19th Street, on the second floor walkup.

A shack was built at the tower site and WQAL went on the air on Wednesday, November 11, 1959 at 5 pm from that location. The very first thing ever broadcast on 106.1 and WQAL was the Star Spangled Banner performed by Henry Mancini and the Warner Brothers Studio Orchestra. The first voice ever transmitted was that of Broadcast Pioneers member Dave Custis, who was totally responsible for the sound and format of WQAL. The first record played by the station (not counting the National Anthem) was The Carousel Waltz written by Richard Rodgers and performed by Percy Faith and his Orchestra on Columbia Records.

Voron, who had held the CP for some time for the new station was given an FCC deadline of November 15th to either be broadcasting or surrender the license. They made it by 79 hours. Total cost for placing the new station on the air was $90,000.

Custis was brought in by Voron to help get the station on the airwaves. At that time, Dave had no broadcast experience whatsoever. Voron liked Dave and for almost three-quarters of a year, Custis worked without any pay. He gathered records for the station's library. It was Custis who took the piece of paper known as a "Construction Permit" and converted it into a real radio outlet. Dave Custis was totally responsible for the station's format.

Custis told us that he also did an airshift on the station. He was well known for mixing in sound effects with records. For example, he might play the sound of a steam engine traveling by and then segue into Duke Ellington's "Take the A Train." Dave said, "it was really fun. I could play whatever I wanted." He was the only DJ on the station that was allowed to play recordings from his own record collection. Even after the station was on the air, Voron still wasn't paying Custis. Finally at Dave's insistence, the station started giving him $25 a week which included 36 hours of weekly airshifts. He also sold seven of the first eight commercial accounts carried by the new broadcast station. Six months later, they doubled his salary to $50 and were paying other air people $1 an hour.

Custis and his sister were fans of a network radio and TV show called "Your Hit Parade." Each week, Dave's sister would transcript into a little notebook, the top ten list of songs compiled by the "Your Hit Parade" broadcast. The show went off the air in 1958, but it always stood out in Custis' mind. While doing his WQAL air shift, once a week (sometimes on different days of the week), he would recreate the "Your Hit Parade" top ten on WQAL. For 20 years, he had tried to purchase the rights to the "Your Hit Parade" name and finally in 1980, succeeded. For almost a dozen years, Custis syndicated new versions of the "Your Hit Parade" shows for big band radio stations. It was carried in Philadelphia over WPEN.

However, let's get back to WQAL. Rumor has it that the call stood for "Quality ALways." Other sources said that WQAL stood for "Just Quality Radio" or "Where Quality Counts." However, according to Dave Custis, the call letters simply stood for QUALITY and nothing else.

George Voron and his brother Abe built some of the station's facilities and equipment. Their studio was right there on the transmitter site. The audio console was a budget version from Gates. The format for WQAL was very loose. However, it consisted of a mixture of instrumental music (similar to what WDVR would play when they hit the air four years later) and syrupy popular music of that era. On Saturdays, Dave Custis thought it would be a good idea to play a half-hour of John Philip Sousa marches. At first, the Voron Brothers thought it didn't fit the station. However, with the amount of mail and calls the program generated, the station knew it was successful. Within a year, the station was Philadelphia's number one FM station. This was done with little publicity. A few posters and flyers were used, but no newspaper space. One thing they did for exposure was to sponsor a bowling team.

In 1961, Dave Custis left WQAL to go to Triangle Publications, radio syndication division located at the WFIL studios. He was replaced by Broadcast Pioneers member John Carlton, who came to WQAL from WFIL.

On July 13, 1966, The George Voron Company transferred ownership of the 1230 East Mermaid Lane property to George and Abe Voron, majority owners of The George Voron Company.

On September 30, 1970, Voron sold the stereo station to United Artist Broadcasting for $1,110,000. George and Abe kept the property and tower on Mermaid Lane until it was sold to Pinnacle Towers, Inc. on January 15, 1999.

About that time, the new owners moved the studios from the transmitter site to the 555 Building on City Line Avenue in Bala Cynwyd. Eventually, they applied for and received FCC permission to use new call letters, WWSH (WISH). During this time, Broadcast Pioneers member John Beaty was Program Director. Later, Philadelphian Nelson Paine Hobdell III (still in his twenties at that time) replaced him as PD and Operations Manager. Nels was already well known in the area. Besides using his real name on the air, was also as Nelson Paine. Hobdell still lives in the area and as of this writing, early in 2002, was delivering afternoon news over the NJN radio network of stations.

Broadcast Pioneers member Gerry Wilkinson was an old college buddy of Nels. Wilkinson at this time (1970 to 1980) was Operations Manager for WDAS AM & FM in Philadelphia. Gerry recalls, "Nels and I worked similar hours at our respective stations. Since the WWSH studios were located across City Line Avenue in Bala Cynwyd, I would sometimes call Nels on the phone. I wanted him to do a 'beeper' for us. I would tell which story we needed and Hobdell would go to the wire and tear it off. When he had time in the station's format, he was turn down the monitor and read the story to WDAS over the phone. It was recorded for later broadcast and ended with Nels Hobdell, WDAS News, Bala Cynwyd. Those days were really fun." Gerry and Nels would later work together at WHYY-TV in 2000.
Steve Maresz , a visitor to our website e-mailed:
I was a big fan of the beautiful music format station "WWSH." Nels Hobdell was the General Manager. I know the music was supplied by the SRP company and "WWSH" in my opinion executed the format great! I remember a few "wwsh" announcers from back then like Bill Hudson, Sid Doherty, Carmen Tubby and Allan Michaels.
WWSH kept the easy listening format started by Dave Custis. It was, of course, modified often to keep it up to date. Keep in mind that Broadcast Pioneers members Dave Kurtz and Jerry Lee were having great success with a similar format on WDVR.

WWSH was formatted using 600 ten and a half inch reels of stereo audio tape syndicated by SRP, owned by Jim Schulke. It was called "matched flow" where a couple tape machines (not cartridge) had 15 minute segments (each with one vocal) recorded on them. There were four segments on each reel. By controlling where you cued the reel, you could vary the sound where no half-hour was repeated within a two week period.

In 1977, the station was sold to Cox Broadcasting. While some say that the easy listening format was dying, it wasn't. It was just getting to the point where stations couldn't sell the commercial time. Advertisers wanted the ever-important young demographic of 18 to 49. WWSH was appealing to an older audience. While it was one of the top rated stations in the city (a 7 share), it just couldn't attract sponsors. September 6, 1982 saw Cox abandoning the format leaving it exclusively to WEAZ, Easy 101. WEAZ used to be WDVR. WWSH blew away the entire announcing staff and started playing an adult contemporary rock format. The results were, to say they least, disappointing. On August 1, 1983, the station switched to a top 40 format again with un-amazing consequences. The station had gone from a successfully rated easy listening station to a financially losing rock outlet. Not a good sign for the owner. In 1984, the owners changed the call to WZGO and called it Z-106. The outlook was not any better. May 19, 1986 saw the station receiving another call change to WTRK, nicknamed Electric 106. Again, not a money winner.

On March 13th of the next year (1987), Malrite Communications, Inc. of Ohio purchased the station for $13,800,000. The new gang applied for and received new call letters, WEGX, with moniker "Eagle 106." It attracted a young audience. Broadcast Pioneers member Gerry Wilkinson recalls that his 11 year old daughter (at that time) loved the station. So did her friends. Problem was that advertisers were not interested in the "kids audience" who were that young. The station had ratings but still had trouble sell the all-important commercial spots. Partridge Family bad boy Danny Bonaduce (his dad Joe was a mainstay with the Philadelphia Zoo's PR department for many years & his grandfather was Jack Steck, our 4th President) was one of the station's more well-known personalities.

On the 71st day of 1993, (March 12th), the station started using the slogan Smooth Jazz 106. The time was 1:06 pm. For the second time in eleven years, the station dumped a successfully rated format to try something new.

There has always been some question on what date WEGX became WJJZ. Almost all Internet sources say March 12th. However, they are incorrect. According to FCC records, the date was March 22nd. An article in the March 12, 1993 Inquirer quotes Dave Noll, the station's General Manager as saying that the station will change its call letters from WEGX to WJJZ in about ten days. This would confirm the start of the use of the WJJZ call as March 22, 1993. This means the format changed on March 12, 1993 and the call letters on March 22 of the same year. They were required by the FCC during this ten day period to still use the WEGX call and not refer to the station as WJJZ. So during this short time, they called it JZ-106. The legal WEGX ID was used only at the top of each hour.

By the way, Milt Maltz, chairman of Malrite Broadcasting, owners of the station at that time, came to Philly from his home in Cleveland to break the news to the Eagle106 staff, just 24 hours before the format change.

Smooth Jazz has been called "yuppie Muzak" or the "beautiful music of the nineties." The idea of Smooth Jazz (already a successful format in other major markets) was to appeal to an older and more affluent listener in the Philadelphia marketplace. In 1993, Philadelphia was the only Top 9 market that didn't have a "smooth jazz" station.

Pyramid Broadcasting purchased WJJZ in January of 1994. They also owned WYXR-FM (now WLCE, Alice 104.5) in the area, so they became the first owner in the city to own two radio stations in our market. This became possible because of changes in the FCC's rules and regulations. Both stations were later sold to Evergreen Media, which was later purchased by Chancellor Media. Clear Channel later absorbed Chancellor. The parent company is now known as AMFM Radio Licenses of Tulsa, Oklahoma.
From the official archives of the Broadcast Pioneers of Philadelphia
Written and researched by Broadcast Pioneers member Gerry Wilkinson
© 2002, Broadcast Pioneers of Philadelphia
All Rights Reserved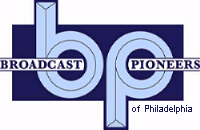 The e-mail address of the Broadcast Pioneers of Philadelphia is pioneers@broadcastpioneers.com