"HALL OF FAME" LIVING HONOREES!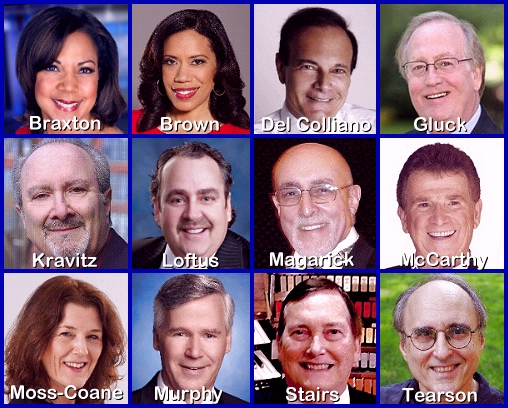 Monique Braxton, NBC 10 News Journalist/Reporter for sixteen years
Natasha Brown, CBS 3 News Anchor for "Eyewitness News" on weekends
Jerry Del Colliano, nationally known expert on broadcasting/interactive media
Paul Gluck, TUTV manager, former executive at several Philadelphia stations
Bob Kravitz, photo journalist at most every television in our marketplace
Jim Loftus, President and CEO at More FM, number one station in the city
Barry Magarick is the founder and the president of Magarick Advertising
Tommy McCarthy, former music director at CBS Radio's WOGL-FM, 98.1
Marty Moss-Coane, longtime WHYY "Radio Times" host/executive producer
David Murphy, weekday meteorologist for morning & noon "Action News"
Michael Stairs, well-known organist for the famed Philadelphia Orchestra
Michael Tearson, air personality for as long as Rock Music has been on FM
"HALL OF FAME" POSTHUMOUS HONOREES!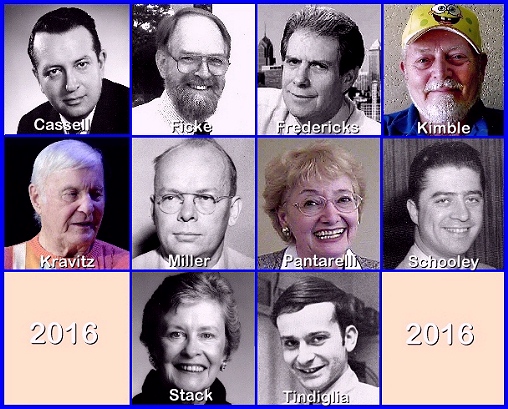 Barry Cassell, well-known radio and television announcer in the 50s and 60s
Fred Ficke, WHYY-TV stage manager coaching US Presidents to TV 12 staff
Steve Fredericks, famed radio sports host and commentator for WCAU & WIP
Bill Kimble, he "kimblized" you as you listened on WPEN, Station of the Stars
Pinky Kravitz, "Mr. Atlantic City" and host of "Pinky's Corner" for 57 years
David Miller, worked for W3XE (Philco) and put Channel 6 on the air in 1947
Marie Pantarelli, former assistant for George Koehler & Lew Klein for 50 years
Jess Schooley, former WCAU-TV stage manager for most Channel 10 shows
Joan Stack, well-known celebrity interviewer and Bucks County radio host
Ron Tindiglia, credited with developing the Action News format here in Philly
The event once again took place at the Hilton City Avenue, 4200 City Avenue, Philadelphia. The date is Friday, November 18th, 2016
WE WERE PROUD TO SEE
YOU IN THE CROWD!
VIDEO OF THE BANQUET!
We are now starting to post video of the banquet. More coming soon! Keep checking back! All video is from our YouTube Channel that is available at: broadcastpioneers.com/youtube
LIVING HALL OF FAME INDUCTEES
OUR PERSON OF THE YEAR
(Video courtesy of Broadcast Pioneers VP Brad Seecof and Metramedia Broadcasting and Studios)