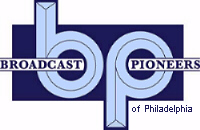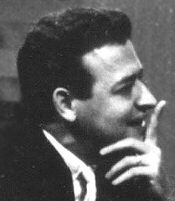 Joe Niagara
1969
A legend in his own time, broadcasting 13,000 days and into a 7th decade, The Rockin' Bird Joe Niagara passed away at the age of 76 on Friday morning, June 4, 2004 at 3:30 following surgery at Bryn Mawr Hospital. Joe had suffered from bladder cancer for several years and died of heart failure.

Born on Independence Day of 1927 as Joseph Nigro, Jr., it was South Philadelphia born & raised Joe Niagara that brought Rock & Roll to WIBG in 1956. Joe took the last name, Niagara from Niagara Falls because it was recognizable and non-ethnic sounding. Joe Niagara married his childhood sweetheart, Evelyn Vignola, in 1952.

Joe Niagara's evening broadcasts became the hit of the city. The next year, WIBG went all Rock & Roll (except for Doug Arthur's program which continued with pop and big band standards). In 1958, Arthur left the station and for the first time in history, Philadelphia had a 24 hours a day Rock & Roll station.

Niagara's Rock & roll started as an experiment on Wibbage because of the success of disc jockeys (in other cities) like Alan Freed. Success meant spot sales and that created a better bottom line. In '56, Joe was playing the standard fare heard over WIBG like Perry Como and Doris Day. However, he segued in some Elvis Presley, the Platters, Chuck Berry and Bill Haley. As the program gained in popularity, there was more rock & roll and less pop standards.

In 1980, while at WPEN, South Philly's (10th & Oregon) Joe Niagara got into the Guinness Book of World Records for playing more than 500 different versions of "Stardust." Each day for two years, he played a different rendition.

"As a kid I listened to the radio and thought broadcasting was exciting. I knew then it was something I wanted to be connected with," explained Niagara. At the early age of 13, Niagara visited WFIL radio personality Leroy Miller who inspired Niagara to be persistent. "He told me to keep knocking on doors, eventually one would open." At age 18, Joe Niagara served in the United States Army (he was based in the U.S. Panama Canal Zone) for a year.

Joe Niagara and his wife Evelyn had one child, Joe the III. The couple had three grandchildren, one was Joe the IV (the only grandson).

While Joe is probably best known for his "Wibbage" days and secondly for WPEN (back to playing the pop standards), he also worked at Famous 56, WFIL while the station was at its peak. He filled in for months while Dr. Don Rose recovered from an illness. Some industry leaders believe that Niagara never sounded better than during his WFIL days.

Niagara also worked for WIFI-FM, WCAU AM & FM (all in Philly). He retired from WPEN on Friday, July 30, 1999 but continued doing fill-in work for the station until 2002.

In 1998, Joe Niagara was inducted into our Broadcast Pioneers' Hall of Fame. Cleveland's Rock & Roll Museum and the NAB (the National Association of Broadcasters) also saluted him. Joe Niagara has a star on Philadelphia's Walk of Fame on Broad Street.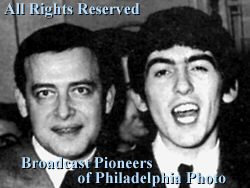 (Left to right) Joe Niagara & George Harrison
attending a Beatles' Party
at the Plaza Hotel, New York City
Monday, February 10, 1964
This picture is exclusive & not seen in 40 years!
Joe started in broadcasting at WDAS on Easter Monday, April 7, 1947. At that time, disc jockeys played 78 rpm records and one of the first artists that 19 year-old Joe Niagara spun was Doris Day. (Niagara and Day would become close, personal friends a decade later). Seemed that our Joe had a crush on Doris ever since he saw her perform at the Earle Theater here in Center City Philly. At that time, she was a big band singer with Pennsylvania's own Les Brown.

In 1949, Niagara moved to WIBG (taking over the previous shift held by Roy Neal who went to Channel 3 and later to NBC-TV). It was at Wibbageland in 1957 where he would get his handle "The Rockin' Bird" from WIBG's Station Manager. The name came from a 1957 single (Captiol 3811) by Peggy Lee, "Listen to the Rockin' Bird." It was Peggy's hip version of the classic "Listen to the Mockin' Bird."

Joe Niagara got caught up in the payola scandals of 1959 & 1960 and was forced off WIBG's air. While Niagara was never the target of any payola investigation, WIBG wanted new faces. In 1960, he went to KBIG (Los Angeles) where he stayed for two years before returning to WIBG where he remained until 1970.

During the mid-sixties when Channels 17, 29 and 48 all came on the air within 6 months of each other, Philadelphia telecasting found itself searching for programming. Early on, Joe Niagara found himself hosting a one-hour daily afternoon dance show on WIBF-TV, Channel 29. The show originated live from the basement studios of WIBF-TV. They were located in the Benson East Apartments in Jenkintown, PA, a suburb of Philadelphia.

Joe Niagara had a small bit role in "Blue Hawaii," the Elvis Presley smash motion picture. He also did a voice-over for the movie, "Breakfast at Tiffany's."

"He was back at WDAS (this time WDAS-FM) doing an oldies format in 1971," said Gerry Wilkinson, Vice-President of the Broadcast Pioneers of Philadelphia and Operations Manager for WDAS AM & FM during that era. "This format was the successor to Hyski's Underground. The oldies jock lineup was simply amazing. We had Joe Niagara, Hy Lit, Harvey Holiday and also from WIBG, Rod Carson. WDAS-FM sounded great," said Wilkinson, but owner Max M. Leon (Leon was a former VP of the Broadcast Pioneers of Philadelphia himself) thought the format was too limiting. It was replaced with a forerunner of today's urban contemporary format, now one of the city's top stations.

"Joe Niagara was a true professional in every sense of the word," said Wilkinson. "No matter what you asked of him, he would deliver 110%. I grew up listening to the Rockin' Bird and to eventually work with him was truly an honor." Joe Niagara was one of a rare breed. June 4, 2004 was genuinely the day the music died. Philadelphia lost a real legend. Joe Niagara was a member of the Broadcast Pioneers of Philadelphia.

From the official archives of the Broadcast Pioneers of Philadelphia
Photos originally donated by Broadcast Pioneers members Sid Mark & Hy Lit
© 2004, All Rights Reserved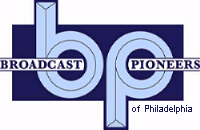 The e-mail address of the Broadcast Pioneers of Philadelphia is pioneers@broadcastpioneers.com