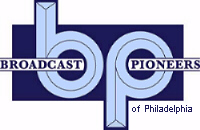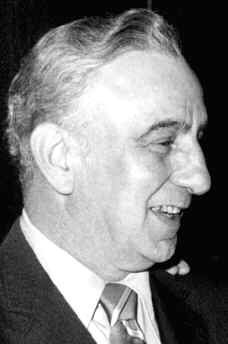 Broadcast Pioneers member John Facenda
Person of the Year Banquet
1971

On May 7, 1971 at the Marriott Hotel on City Line Avenue, Philadelphia (just across the street from the WCAU-TV studios), John Facenda was named "PERSON OF THE YEAR" by the Broadcast Pioneers of Philadelphia. We have four photographs from that event.
Photo #1
Photo #2
Photo #3
Photo #4
Broadcast Pioneers member John Facenda was the King of Philadelphia television news for over two decades. When Facenda first anchored the news at WCAU-TV beginning on September 13, 1948, the term anchorman had not even been invented. But they certainly had John Facenda in mind. Channel 10 had been on the air for four months, and broadcast from 10 a.m. until 8 p.m.

Facenda was unique. His kindness and generosity were legend. In television where looks are prized, Facenda prospered by his voice. As Clark DeLeon once referred to him, he was "The Voice of Philadelphia."

Mayor W. Wilson Goode once called Facenda "a monument in this city. I grew up feeling that the only newsperson in Philadelphia was John Facenda. I trusted him." This is certainly true. Shortly after Facenda passed away in September of 1984, someone was told of Facenda's death. They said that it was terrible because they knew him. They never met him, but they knew him. He came into their houses every evening for almost 25 years. John Facenda would probably have loved that scene. This was his strength. Tom Fox of the Inquirer once said, "The man was uppercase class. He had the majestic bearing of a king, the diction of an elocution teacher, the soul of a poet."

John Thomas Ralph Augustine James Facenda was born on August 8, 1913, in Portsmouth, Va. He was the son of a civil engineer and the middle child of 13. His dad, called Popa by John, came to Philadelphia in 1922 to work on the Benjamin Franklin Bridge. Ironic that the Philadelphia foot of this bridge is right there among a half dozen television and radio stations. Facenda's dad moved the family to Philadelphia on the 150 anniversary of the signing of the Declaration of Independence.

In 1931, Facenda was graduated from Roman Catholic High School. He started at Villanova but had to drop out because it was during the heart of the depression.

John went to work for the Philadelphia Public Ledger, a major newspaper in Philadelphia. At that time, they also owned WHAT radio. As fate would have it, an announcer for a WHAT program entitled ''Scholastic Sports Review" took ill and Facenda replaced him.

Facenda was hired by the station as an announcer. When Facenda first started broadcasting, he was nervous. To calm himself, he thought of his mother and talked straight to her and no one else. The stories about John placing a photo of his mom in the announce booth are all true. He had the ability to speak to an entire city, but everyone thought that Facenda was talking just to them.

Facenda went to New York City for a couple of years to work as program director Ticker News Service, a radio news operation. Returning to Philadelphia, he went to WIP radio in 1935 and stayed for 17 years. On Saturday, September 11, 1937, he married Dorothy Hunger. They were married in St. Edmond's Church (21st and Snyder) in South Philadelphia. John was the station's night supervisor at the time. He had replaced the previous night supervisor, Ed Wallace in the spring of that year. Wallace was promoted to production director.

At WIP Radio, John had developed, at the radio station, what his trademark: "Have a nice night tonight and a good day tomorrow. Goodnight, all."

Facenda, according to the Philadelphia Inquirer, once told how he coined those 12 familiar words. "I was finishing up a newscast at WIP radio and I was a little light in joining the network. My tagline had always been, 'Goodnight, all,' but I threw in the rest that night. Three days later I received a letter from a woman who told me to go on saying that because, she said, you never know how many people there are who have no one to say goodnight to. She had been bedridden for the previous 13 years." What was an ad lib to fill time in order to join the network on time, lasted for the rest of his life.
Broadcast Pioneers member Mel Gollub (Mel Stewart) tells us this story (dated August 28, 2006):
...Until 1952, Facenda was not confident that he should resign his fulltime WIP staff announcer position for Channel 10 exclusively. He was featured on many of the WIP newscasts. He was in reality, only a fulltime staff announcer working Monday through Friday from 3 pm to 11 pm.

Ben Gimbel conceded that Facenda could leave the premises for channel 10 daily at 7 pm under certain conditions. His scheduled station breaks from 7 pm to 11 pm could be consigned only to a current AFTRA - WIP staffer and that he, Facenda, must pay that person directly for substituting.

Dan Curtis was on the same shift, but Gimbel didn't want him to do all of the breaks during the Mutual Network programs. He wanted two alternating voices. Therefore, Curtis was excluded from announcing Facenda's IDs.

I was Facenda's Evening alternate during most of the 1950-52 period. Here's what Facenda was missing Monday through Friday from 7 pm to 11 pm. Two types of live stations breaks:

BREAK ONE: Philadelphia's pioneer voice, WIP, Philadelphia.... (followed by either a live or transcribed spot).

BREAK TWO: The Gimbel Broadcasting Service, WIP, Philadelphia.... (followed by either a live or transcribed spot).

During this lifeless shift, I was able to hit the books because I was enrolled as a day student at Drexel's School of Business Administration....
Mel also mentioned that two of the other announcers that covered John Facenda's shift were John Edwards and Bill Corty. Plus, he told us that John's replacement at WIP was Paul Sullivan. Paul was the first newscaster for WIP Radio who wasn't required to also do staff announcing.
Member Jack Jones (the WCAU engineer, not the news anchor) told us that John Facenda's 10:30 pm WIP Radio newscast in 1950 and 1951, originated from the studios of WCAU Radio and were fed to WIP. At that time, the stations were both in Center City Philly and only a few blocks separated them. In spring of 1952, a popularity poll conducted by TV Digest found that John was the most popular news commentator in the area. During the summer of 1952, John resigned his post at WIP Radio to work for WCAU-TV full-time.
In the 1950s and 1960s, Facenda was the king of Philadelphia news. He often had more viewers than his competitors (Channels 3 & 6) combined. The news was originally five minutes long, then ten. Finally 15 minutes and eventually a full half-hour.

In April 1954, TV Guide readers voted him The Local Personality Most Worthy of Network Recognition. In the early fifties, Facenda voice could be heard doing commercials on "I Love Lucy," "PM Playhouse" "Bob Cummings' My Hero" and "The Public Defender." A typical day in early 1954 for John Facenda would be:
midnight - catch a train from 30th Street Street to New York
8 am - start rehearsal for I Love Lucy commercials
4 pm - take train from New York to Philly
5:35 pm - John's WCAU Radio show (recorded the day before)
6:55 pm - 5 minute WCAU-TV News
11 pm - 5 minute WCAU-TV News

For awhile John's commercials for I Love Lucy were incorporated right into the show and for that, John had to fly to Hollywood six times (on weekends) a year. When time permitted (usually Sundays), Facenda liked to play golf and shot in the low 80's.

Broadcast Pioneers member Gene Crane called Facenda, "A cavalier, the ultimate gentleman."

While Facenda's star never dimmed, his ratings did. Vince Leonard at KYW-TV edged him out and then Action News came to Philadelphia. By 1972, Larry Kane anchored Channel 6 into first place. John fell to last place. Later that year, Channel 10 brought in Judd Hambrick from Honolulu to co-anchor with Facenda, Shortly afterwards, WCAU-TV dumped Hambrick and replaced him with Mike Tuck. Facenda could see the handwriting on the wall and decided to step down. His last night as a news anchor was March 23, 1973, just six months short of a quarter of a century. After leaving Channel 10, John kept his "other gig," the voice of NFL Films.

In 1971, the Broadcast Pioneers of Philadelphia named John Facenda "Person of the Year".

Shortly after moving to Philadelphia, John told his father that someday he would build bridges too. Well, John Facenda did exactly that. He built a bridge of trust that nearly everyone in Philadelphia became a part of. John had a son, Jack Facenda.

A Radio listing dated Thursday, November 30, 1950, showed Facenda doing a 15 minute newscast called "Night Extra" on WIP Radio from 10:30 to 10:45 pm. A TV Listing for Sunday, December 30, 1951 shows a 15 minute newscast from 11 am to 11:15pm, anchored by John Facenda.

Paul Sullivan worked at WIP and knew Facenda. Paul Sullivan, Jr. e-mailed us this story:
My Dad and I were standing outside our Drexel Hill home as he (John Facenda) drove by in his car. He waved at my Dad and me as he slowed and yelled out the window as he pointed to the car's radio, to WIP, to WIP (pronouncing the call letters as though they were a word). Dad and I, of course returned the wave and Dad wished him well as he drove off. I never ever heard Dad say anything remotely critical of Facenda's work. I believe my Dad liked him quite a bit.
For quite sometime, WIP Radio was nicknamed WIP (pronounced as WHIP). This goes back to the days of Christopher Graham, Philadelphia's first children's show host. He was Uncle WIP (pronounced WHIP) in the twenties.
Alan Pavel, a visitor to our website, e-mailed:
In the Fall of 1971, just before I turned 6, I was attending The Delta School in Philadelphia. There was a fund-raising committee called The Friends of Delta School that was holding fund-raising for The Delta School, that I am not sure if it exists anymore. John Facenda was approached to narrate and direct a commercial for the school and I was the student who was featured in the commercial.... I wish John was here today and I could meet him today. A lot of wonderful things have happened for me in the past 30 years. I remember the end of the commercial had me against a black screen with my head turning into a silhouette. John was very instrumental with the success of this commercial and my Mother recently told me how wonderful he was to work with..., and I hope he is looking down on all of us giving us his finest blessings.
Broadcast Pioneers member John Paul Weber (and morning newscaster on WIP for more than 40 years) told us in the Spring of 2000 (just weeks before Weber's death), more than a quarter century after John's last newscast, that when Facenda talked, people listened. Weber worked with Facenda at WIP. In fact when Facenda first started on WCAU-TV, he kept his radio job at WIP for more than four years. After all Weber said, radio was where the audience and money was. TV was the new kid on the block but Facenda was there, pioneering the way for many future generations.
Eileen Blackburn, a visitor to our website, e-mailed that she remembers hearing John Facenda's voice narrating the Christmas light show at Wanamaker's in downtown Philadelphia.

John Facenda passed away on Wednesday, September 26, 1984.

It's always difficult being the first because you set the trend for everyone that comes afterwards. Every television anchor in our market owes something to John Facenda. Truly, John Facenda had gone where no man had gone before.

From the official archives of the Broadcast Pioneers of Philadelphia
Written and researched by Broadcast Pioneers historian Gerry Wilkinson
Photo originally donated by Broadcast Pioneers member Bob Dome
© 2009, Broadcast Pioneers of Philadelphia
All Rights Reserved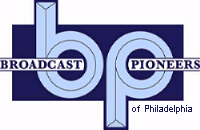 The e-mail address of the Broadcast Pioneers of Philadelphia is pioneers@broadcastpioneers.com