| | |
| --- | --- |
| | Broadcast Pioneers of Philadelphia is a federally recognized, state chartered 501(c)(3) non-profit organization serving the Philadelphia Broadcast Community since January of 1962. |
April Luncheon
The Bala Golf Club
Wednesday, April 20, 2016

Meet & Greet at 12 noon!
Lunch at 12:30 pm
Ratecard: $28 per person!

PLEASE RESERVE NOW!
CALL (856) 365-5600!
rsvp@broadcastpioneers.com
Our Spring Potpourri of Speakers!
Another Third Wednesday Luncheon!
Good Food - Great Programs - Wonderful Times
Wednesday, April 20, 2016!
Lunch is only $28 per person!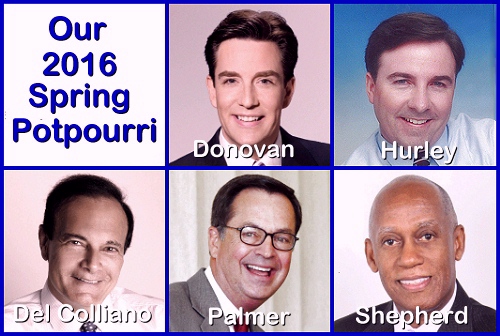 Hit After Hit, Smash After Smash, Blockbuster After Blockbuster... Here was another "monster" lunch where the "stars" don't wait to come out at night. They're there at lunchtime!
This is our spring potpourri of speakers!" It will be held at the Bala Golf Club, 2200 Belmont Avenue in Philadelphia on Wednesday, April 20th (that's the third Wednesday of the month).
Our MC for the afternoon is member Jerry Del Colliano, publisher/editor of the media blog Inside Music Media. He was publisher/founder of Inside Radio, a trade publication sold to Clear Channel in 2002. Jerry has been Program director for two Philadelphia radio stations, air talent at five Philadelphia radio stations and was on-air talent at Channel 6.
Our scheduled speakers are all members and they are (in alphabetical order):
Jim Donovan, the new co-anchor of CBS 3's Eyewitness News This Morning
Harry Hurley, telephone talk radio host: the Rush Limbaugh of the Jersey shore
Scott Palmer, Phillies' Public Affairs Director, former WPVI News/Sports Anchor
Gary Shepherd, former WDAS personality, president/CEO of 3rd Floor Media
This is also the luncheon where we award twenty $1,000 scholarships to area college students. It all takes place at the beautiful and historic Bala Golf Club, 2200 Belmont Avenue (across the street from the state police) in the Wynnefield section of Philadelphia. Only minutes away from Channels 6, 10 and 17 and the radio stations in Bala Cynwyd. Call now for reservations. (856) 365-5600! Don't miss this one!
Plenty of FREE parking. Our luncheons are open to all our members, their guests and any person in the industry or associated fields, whether active or retired. You do NOT have to be a member to attend. There is no reserved seating at our luncheons. Feel free to sit anywhere. Well, okay--the three people on the camera crew sit near the cameras, but that's in the back of the room.
The cost is only a donation of $28 (or more) per person! In order to speed up check-in at the luncheon, it would help if you had exact change or your check already written. Checks can be made payable to the Broadcast Pioneers of Philadelphia.
If you would like to add a few dollars extra, we would appreciate it. It would help us with all the important work we are doing. Thanks!
WE ARE PROUD TO SEE YOU IN THE CROWD!

Visit Our Website Often - http://www.broadcastpioneers.com
You should check our website often on the front page (above) for important information!
Check out our Facebook Page - http://www.broadcastpioneers.com/facebook
There are things on our Facebook Page that are NOT on our website (like our vintage photo of the week)
Tune in to our YouTube Channel - http://www.broadcastpioneers.com/youtube
Our YouTube Channel has all our luncheons, exclusive interviews and archival material

OUR NEW MEMBERS:
FULL MEMBERS:
Joyce Klawansky started at WFIL about a week after her husband, member Mel Klawansky did. Mel ran board. Joyce's "day" job was working in the Famous 56 traffic department with the program logs. When that duty was finished, she worked in the booth with King George Michael answering the phones and tallying music requests. Many of us will remember her for being a WFIL Boss Chick for several years. She worked at the station in the mid-seventies.
Like so many, member Steve Seiber (aka Stevie Doo Wop) sang on the street corner as a kid imitating the oldies he heard on WIBG. For thirty-three years, he had a career as a Speech Pathologist including the last seventeen in private practice. Since his retirement, he's been able to devote more time to his true love, music.He began singing publicly in 2005 in night clubs, live music venues, and private events. He sang at our luncheon last month.
We are thrilled to have these new members. Over 500 Members. More than ever. We hope to see as many of our members as possible at our April luncheon.
DIGITAL ARCHIVAL PROJECT NEWS:
VIDEO:
Member Jerry Blavat
at Jerry Blavat's Office
Pioneers of Philadelphia Broadcasting
Tuesday, February 23, 2016

Member Mike Strug
at Jerry Blavat's Office
Pioneers of Philadelphia Broadcasting
Tuesday, February 23, 2016
He's the Geator with the Heater; the Boss with the Hot Sauce; the King of Philly Rock & Roll. He's as much a part of Philadelphia as cheese steaks, Tastykakes, soft pretzels, and the Liberty Bell. He has been entertaining the Delaware Valley for over a half-century. He's Broadcast Pioneers member Jerry Blavat.
Here's a Blavat story you won't find in the interview. Broadcast Pioneers CEO Gerry Wilkinson, who produced "The Legends of Rock and Roll" featuring Jerry Blavat at WHYY-TV, along with some of the Channel 12 Doo Wop events said: "One day I stopped down at Jerry's studio while he was on the air. The broadcast still had 15 minutes to go when "Mama Geator" (Blavat's mother) showed up. That was the only time I ever saw his show ever take a back burner. He immediately went into a record (yes, he still plays those old 45's) and ran out to greet her pulling me with him. He didn't finish the stop set. It was something special to see a 60-year-old man (at that time) being that devoted to his mom. He worshipped his mom. To me that was a good trait to see." FYI... Jerry's mother passed away in December of 2001.
Well, back to this interview. Several weeks ago, we sat down with the legendary disc jockey Jerry Blavat as our host Mike Strug spoke with the Geator about his on-going mammoth career. In case you have been living in a cave for the last half-century, member Mike Strug is a veteran Philadelphia reporter who has worked at Channel 6, then KYW-TV and then decades at WCAU-TV. He's seen it all and done it all. He even did a few weather forecasts until the station realized (in Strug's words) that he "didn't know an isobar from an ice cream bar." Well, Mike may not know that but he certainly knows how to do an interview.
Watch the Interview on our YouTube Channel!
(video courtesy of Broadcast Pioneers VP Brad Seecof and Metramedia Broadcasting & Studios)
AUDIO:
Decades ago, major market television stations didn't stay on the air around the clock. They signed off the air when they thought everyone had gone to bed and there was no one left to watch.
It's late Monday evening, July 21, 1969 or actually very early on Tuesday, July 22th. It's about 1:30 in the morning and KYW-TV, Channel 3, owned by Westinghouse at that time, is getting ready to sign off for the evening. We have a seven and a half minute clip. While this was TV, we only have this recently discovered audio. No video of this broadcast is known to exist today.
It starts out with a 60 second spot for Girard Trust Bank, founded by Stephen Girard over two centuries ago. In 1983, the bank was acquired by Mellon Bank. That's followed by a Vulcan waterproofing commercial voiced by Broadcast Pioneers member Ed Harvey. Next is a two-minute station editorial done by Kenneth MacDonald, Vice-President and General Manager for KYW Television. Afterwards, there was "Thought for Today" followed by the station's sign off.
Listen in Real Audio!
Listen in Windows Media!
Well, you just heard a KYW-TV editorial so why not one from WCAU Radio (today's WPHT). We recently found this piece from early in 1965. Speaking on behalf of the station is Vice-President of CBS Radio and General Manager for WCAU, John Downey, who was inducted into our Hall of Fame in 2010.
Jack, as he was called by his friends, was a founding member of this organization and served at WCAU for a dozen years before becoming Mayor Frank Rizzo's right-hand man as Deputy Managing Director. He was our fifth president covering the years 1966 and 1967 and served for years on our Board of Directors. Here's that editorial.
Listen in Real Audio!
Listen in Windows Media!
Today's News Becomes Tomorrow's History!
(This is what our Digital Archival Project, DAP, is all about!)
IN TOUCH WITH OUR MEMBERS:
Member Harry Hurley, morning man at WPGG (Atlantic City) has been selected as this year's recipient of Talkers Magazine's 2016 Humanitarian of the Year Award. The publication presents only three awards yearly and this is the first time that this particular award has ever gone to a broadcaster from New Jersey. Harry will receive the award later this spring. Michael Harrison, the publisher of the magazine said: "Harry Hurley is the quintessential positive morning personality and shines as a beacon of hope for radio and humanity. The people of Atlantic City are blessed to have him."
For the current year (2015-2016), Harry Hurley (and his charity golf tournament) has underwritten a $1,000 Broadcast Pioneers scholarship for an undergraduate college student from Stockton University and also donated a thousand dollars to the Broadcast Pioneers archival project. Hurley told Broadcast Pioneers this past month that he will again do both for our (2016-2017) next year.
Broadcast Pioneers member Marc Rayfield is now the new chairman for the New York Market Radio Association. Marc is the CBS Radio Senior Vice-President and Market Manager for New York City. Previously, Marc headed up the CBS Radio Group here in Philly. Rayfield still lives in our area.
Broadcast Pioneers Board Member Kal Rudman had a huge article about him and all his good deeds in the Philadelphia Inquirer early last month. The story ran just before his 86th birthday. Kal and Lucille have been married for 58 years. You can watch a 49 minute interview with Kal that we did a little while ago. Member Mike Strug conducted the interview for us. Watch it from the Broadcast Pioneers YouTube Channel.
Broadcast Pioneers member Jerry Klein and his wife, Anne, have joined the American Heart Association's Executive Leadership Team for the April 15th Southern New Jersey Go Red for Women event. Jerry, who was the first chair of the Red Tie Brigade for men, co-chairs the Red Tie Brigade with Brandywine Realty Executive Vice President and hockey playing buddy George Sowa. Anne chairs the Red Dress Circle for women committed to helping other women become more aware of their heart health. Heart disease is the number one cause of death among women.
Member Pete Thompson reports in on what he has been up to. He says: "I am proud to report that I am working for no less than FOUR media outlets right now. I'm working part-time for Comcast SportsNet as a producer. I'm working part-time with the start-up SNJ Today in Millville as a fill-in sports anchor & reporter. I'm working a few days on the radio down here on 97.3 ESPN FM, which is part of Townsquare Media, the same group that Broadcast Member Harry Hurley is with. Finally, I'm working on a direct to the web segment each week called "Under Review" for the Cape May County Herald. That's a weekly segment that recaps all the high school sports action from the six high schools in Cape May County."
Did you know...
That the Children's Hour was legendary in Philadelphia? It's true. The children who appeared on it were local celebrities and stars. It ran for three decades. That's a very long time for a radio or television program to last. The host for the entire thirty years was Stan Lee Broza, a founding member of this organization and our very first president. His wife, Esther, who was also involved in the broadcast, was also a founding member. Stan Lee was our "Person of the Year" in 1969. Both Brozas were inducted into our Hall of Fame during 1993.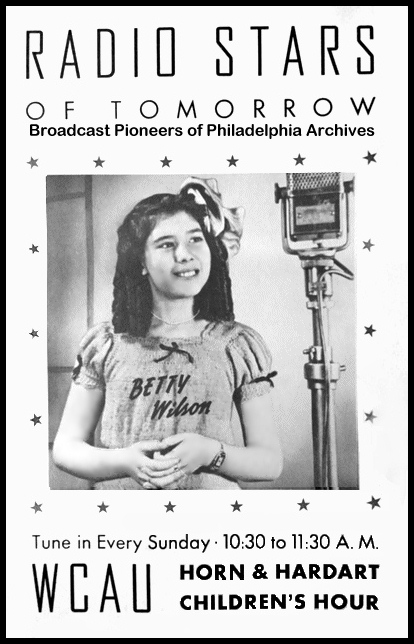 One of the performers on the show was a young lady named Betty Wilson, now Betty Story. Born in 1926, she started on the Children's Hour about 1936 when she was ten years old. She was on the radio program for about 5 years. It would be another 7 or 8 years before the program would also go on television as a simulcast.
One summer, she remembers, the pianist for the show, Billy James, took some of the kids to upstate fairs for performances. One of the other dancers was Ruth Winning. Betty remembers that Billy James and Bobby Heath wrote a song that became a huge, national hit. However, they had so little money that they sold the song (and all rights) to someone else who took credit for being the author. Betty also recalls how Kitty Kallen sang on the program, quite often with someone named Buddy.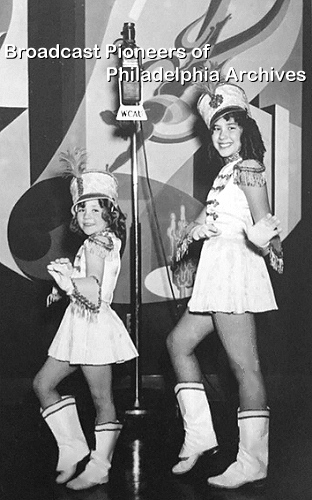 (Left to right) Delores McVeigh and Betty Wilson
Studio C, WCAU Radio
1622 Chestnut Street, Philadelphia
circa 1938
(wall painting by John Vassos)
The radio show had rehearsals on Saturdays and Betty remembers that her mother would accompany her to the station at 1622 Chestnut Street in Center City Philadelphia. The Wilsons lived in Haddon Heights, New Jersey. They took the bus across the bridge and Betty has a little suitcase that contained her tap shoes among other things.
Esther Broza chose the music and songs. She made up little skits and Bobby Dukes was Betty's partner a number of times. As strange as it may seem today, they (Betty and other children) danced for the radio audience.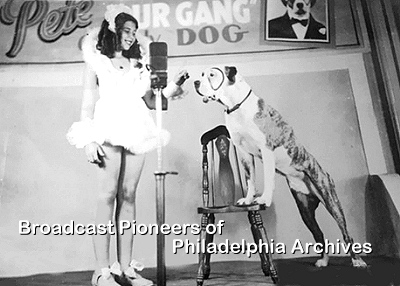 (Left to right) Betty Wilson and Pete the Dog (from Our Gang 2 reelers)
Steel Pier, Atlantic City, NJ
circa 1936
Sundays were the live broadcasts. The programs for almost the entire run of the Children's Hour were sponsored by the Horn and Hardart Automat. After the broadcast, all the performers went to H&H for lunch - free. Betty recalls that her favorite was the veal cutlet with tomato sauce. She loved the coconut custard pie that they ate for dessert.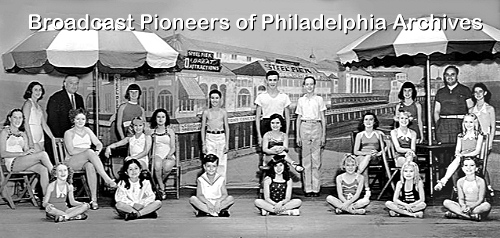 Daddy Dave's Revue (including Betty Wilson)
Steel Pier, Atlantic City, NJ
July 27, 1936
Betty did go on to sing and dance at Daddy Dave's Review. It was on the Steel Pier in Atlantic City. After high school, Betty performed with the USO during the Second World War.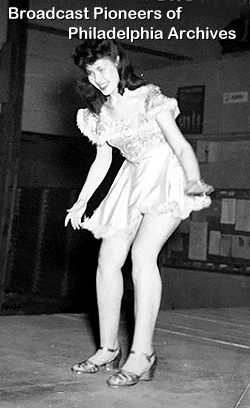 Betty Wilson
performing at an USO show
1944
Betty sang a bit in nightclubs. She had a story about singing at night in a club then being so tired that she'd fall asleep at her typewriter during her day job at a local bank. She was earning $75 a month at the financial institution but when she went into entertainment full time (at the USO), she made more.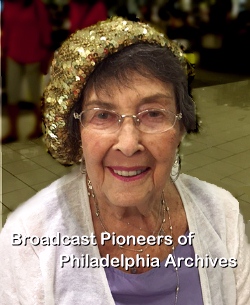 Betty Wilson Story
June 2015
She married Austin (Putt) Story in 1948 and had 5 children. They lived their whole married life in Chillicothe, Ohio, where she still lives. Her singing in Chillicothe was in community choruses and the Episcopal Church choir. At 89, she's still singing soprano in their choir. However, she's not their oldest member. There's a bass singer a year older than Betty and an alto vocalist whose 96. She recalls those days very fondly.

Our special thanks go to TUTV - Temple University Television and The Kal & Lucille Rudman Media Production Center.

They have underwritten a grant to be used to fund an entire year of all our newsletters for calendar year 2016. We thank them so much for their support!
MORE DIGITAL ARCHIVAL PROJECT NEWS:
VIDEO:
Temple University student Dominique Bober
Broadcast Pioneers Symposium
WPVI, 6abc
Philadelphia
Saturday, March 19, 2016
On Saturday, March 19, 2016, the Broadcast Pioneers hosted their 15th annual college student symposium. This year, it was at WPVI, 6abc here in Philadelphia. After the panel discussion, the students went into the Action News set and many of them got to sit down and read some news from the Channel 6 teleprompter, from that morning's Action News broadcast. Some had the opportunity to stand in front of the weather green screen and do "some weathercasting." This year, as most years, we had a capacity crowd in attendance.
Watch the Actual, Complete Panel Discussion!
(video courtesy of Broadcast Pioneers VP Brad Seecof and Metramedia Broadcasting & Studios)
IMPACT OF OUR SYMPOSIUMS:
Here's an unsolicited letter from Jason Mikell, one of the students who has attended three different symposiums that we have run. He says:
I wanted to take a moment to express a sincere thanks to the Broadcast Pioneers for the impact that you have made on me and my career. I'm in my Senior year and have attended the past three symposiums since November 2014, beginning at NBC 10, then CBS 3 last year, then 6ABC just weeks ago.

I left all three symposiums having learned more and more than I had from previous events. All have significantly impacted me, and my career since beginning this journey. I am happy to say I am proudly on the down hill slope now and have landed a position in Western Ohio at an NBC affiliate out there (WLIO-TV).


The next few weeks will be quite busy for me as I'll be wrapping up this semester, graduating in May, and moving around that time. May God bless the Broadcast Pioneers and the future students you will continue to impact.

AUDIO:
Each October 31st, children across the Delaware Valley go out trick or treating. Usually, there's no problem. Once in a while there is. Here's a WFIL Radio News Bulletin from Halloween night 1965. It seems that there were reports of someone in the city giving out improper material to area children. The report is very brief. This was less than a year away from the start of the Famous 56 Rock format.
Listen in Real Audio!
Listen in Windows Media!
It's 9:35 pm on Tuesday evening, May 15, 1972. Earlier that day, Arthur Bremer shot Alabama Governor George Wallace while he was campaigning for President in Maryland. We have a five and a half minute piece of audio from KYW Newsradio. We believe that the KYW anchor is Jerry Grove, however we are not sure (as the anchor didn't identify himself).
This is an off-air recording that was cut during a thunderstorm in the area. You can hear the thunder strikes in the recording. This report starts with a story from then KYW Reporter Andrea Mitchell, who left her hometown of New Rochelle, NY to come to Philadelphia to attend the University of Pennsylvania. She served as news director of the campus radio station, WXPN. After graduation she went to work for KYW where she stayed until 1976. Mitchell later became a fixture with NBC News. While we have had other KYW Newsradio material from this evening, this cut was recently discovered and has not been previously available.
Listen in Real Audio!
Listen in Windows Media!
Remember, History is ONLY What Gets Saved!
(If there were no portraits of George Washington, how would we know what he looked like?)
IN TOUCH WITH THE INDUSTRY:
Harvey Holiday and all the gang at WOGL, 98.1, are returning to Bala Cynwyd later this year, says Member David Yadgaroff, who heads the CBS Radio Group here in Philadelphia. The station is one of the city's top rated outlets in our market. WOGL will be joining WXTU, 92.5, and 96.5 AMP Radio in the 555 City Avenue location. Both of those stations in Bala Cynwyd were obtained from Beasley Broadcasting in 2014.
Some changes in the schedule at Talk Radio 1210, WPHT. National talker Sean Hannity has moved up to the 6 pm to 9 pm daily time period replacing Jeff Bolton. Syndicated money talker Dave Ramsey joined the WPHT lineup at 9 pm replacing Hannity. Both programs are aired on a delay basis.
Sean's radio show is fed live by syndicator Premiere Networks at 3 pm. Independently syndicated Dave Ramsey's show is fed live from 2 pm to 5 pm. Broadcast Pioneers member David Yadgaroff, Senior VP and Market Manager of the CBS Radio cluster here in Philly says that Dave "has been creating powerful radio broadcasts with the passion and positivity that will fit perfectly into WPHT's line-up!"

FYI... Hannity is one of the scheduled speakers at tomorrow's media solutions conference here in Philadelphia run by member Jerry Del Colliano. Jerry will be our MC of our April 20th luncheon.
NBC10, WCAU-TV, announced Brandon Hudson has joined the station as a reporter a week ago Monday. For the last five years, Hudson was a morning reporter and fill-in sports anchor at WPXI-TV, the NBC affiliate in Pittsburgh. "We welcome Brandon's versatility and experience covering live news to our talented news team serving the greater Philadelphia area," said Anzio Williams, the station's Vice President of News. Hudson worked at several stations in Alabama before heading north to Pittsburgh. He is a graduate of Florida State University.
Air Personality "Logan" returns to Philadelphia next Monday taking over the afternoon drive gig at More FM (WBEB). Logan spent a dozen years here in our market working at Q 102 and Mix 106. Recently, he's been doing morning drive and PD at WNCV in Florida. Member Chuck Knight, PD of WBEB said: "More-FM is the perfect place for him. That means great radio for Philly listeners." He added: "We feel Logan's upbeat energy and style is an awesome match for what our listeners want and need from us in Afternoon Drive. His approach is perfect for us and 101.1."
Joe Holden and Trang Do, two reporters with roots in the Philadelphia market, come home to join the Eyewitness News team. Trang Do, most recently an investigative reporter with WMAR-TV in Baltimore, joined CBS 3 on last month. The 2006 University of Pennsylvania magna cum laude graduate worked as an intern at CBS 3 during her senior year in college.
She has also reported and anchored in Huntsville, Alabama at WAFF-TV and in York at WPMT-TV. Joe Holden will join CBS 3 on May 4th from WPXI-TV in Pittsburgh, where he covered, among other high-profile stories, Pope Francis' visit to Philadelphia. Previously, he was an investigative reporter for WBRE-TV in Wilkes-Barre/Scranton market, and an assignment editor at WPHL-TV in Philadelphia.
CBS 3 and The CW Philly's seventh annual Ronald McDonald House Charities Telethon, a 14-hour on-air fundraiser that aired live across both television stations, raised $1,132,731. Many of the CBS 3 and CBS Radio personalities hosted the event. The CBS stations have raised over 6.2 million dollars for the charity since 2010.
Northeast Philadelphia native Pat Gallen has joined CBS 3's morning newscast, Eyewitness News This Morning, as a full-time feature reporter beginning yesterday. Gallen has been with the station as a freelance sports reporter since July. He also appears frequently as a fill-in host of SportsRadio 94 WIP. Previously, he was a host for 97.5 The Fanatic (WPEN-FM), provided sports content for Philly.com and was co-host of Eagles Post Game Live for Fox 29 (WTXF-TV) in Philadelphia.
Whitney Ingram has been named moderator of the weekly radio report featuring executive interviews of those affiliated with the many aspects of the food industries. With her is the show's originator and executive producer, Member Joe Ball. Joe owns ACT, Inc, a long time established advertising agency,
WE REMEMBER: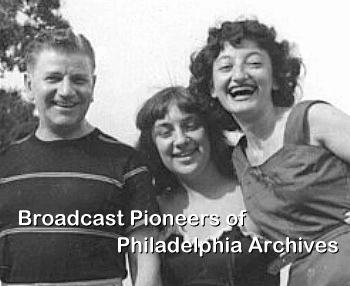 (Left to right) Jack Steck, unidentified female, and Marie Pantarelli
WFIL Picnic
1949
Member Marie Pantarelli started working at WFIL Radio a few months before WFIL-TV (now WPVI) came on the air in 1947. She worked there for almost a quarter of a century when she left to work for Gateway Communications owned by member Lew Klein and George Koehler. She served on our board of directors for twenty years and was our Vice-President during 2004 and 2005.
Original Eyewitness Newsman John Pierron passed away at the end of February. John was usually assigned to cover Philadelphia's City Hall and surrounding political beats. Pierron would have been 82 on March 5th. After leaving the station, John Pierron was the owner and operator of GSS Tours.
Two months after the fact, we learned that Dennis Burke, a technician and air personality at WVLT, Cruisin' 92.1, Vineland passed away in mid-January of this year. Dennis was involved in the production of the Patti Lattanzi & Billy Carlucci show which has aired over the station for many, many years.
On the date of our great Rock & Roll luncheon last month, legendary Doo-Wop singer Lee Andrews passed away at the age of 79. Born Arthur Lee Andrew Thompson, he was the father of Questlove, drummer for the NBC-TV house band for the Tonight Show Starring Jimmy Fallon for the last two years.
Frank Sinatra, Jr. passed away during mid-March at the age of 72. His godfather was Philadelphian Manie Sacks who was the uncle of Broadcast Pioneers board member Steve Sacks. In fact, the wedding of Frank Sr. to Ava Gardner in 1951 took place at the Sacks home.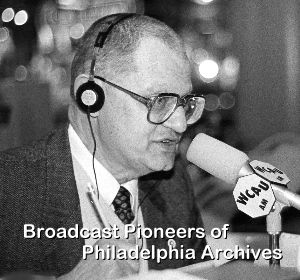 Harry Gross
doing a live WCAU Radio remote
1984
Harry Gross passed away in mid-March of this year at the age of 92. He did a money-oriented telephone talk show on WCAU and WWDB radio for twenty years. Harry was a CPA. Gross wrote a personal finance column in the Philadelphia Daily News for many, many years. During his lifetime Gross had donated 136 pints of blood (that's about 17 gallons).
ON THE HEALTH FRONT:
Can you imagine a broadcaster (who, of course, talks for a living) having the hiccups for over 100 hours in a row? Well, it happened to Big Daddy Graham of WIP-FM. Graham was getting ready to hit the air one day last month when he developed the hiccups. Being a good sport, he went on the radio but "it's a hard thing to hide on the air," said Graham.
He went to the ER but his hiccups started it all over again shortly after leaving. Then he went to Jefferson where he was told he had atrial fibrillation (AFib), an irregular heartbeat. Almost 3 million Americans have this condition. The talk personality has been with the station for decades.
We heard from member Robin Adelman. She tell us:
My dad (member Leon Love) is quite ill with the cancer that has spread and has affected his health. (Daughter) Marlene had another injury unfortunately since her initial concussion, and was home recuperating, when she contracted a bad case of the flu, which put her in the hospital. She's home resting now, but it hit her hard. I need surgery too, but need to wait a bit right now due to my family's problems. I wish I had something better to report, but that's it for now.

THIS AND THAT! Little Bits of Information....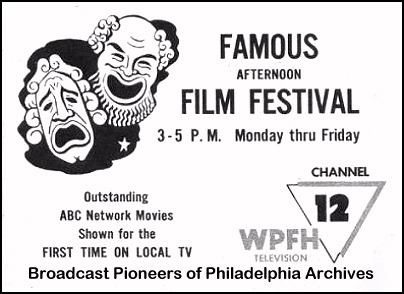 An ad for Channel 12
Summer 1956
During the summer of 1956, Dick Clark had just become the new host of "Bandstand," still a local two and a half hour Channel 6 program. ABC-TV was running afternoon movies to fill the air time. WPFH, Channel 12 in Wilmington picked up the broadcast because WFIL-TV wasn't carrying it. At this time, Channel 12 was a commercial television station. During the early days of Channel 12 (when it was WDEL-TV), the station was a NBC-TV affiliate. However, as stations got more power (and NBC took over ownership of Philadelphia's Channel 3), the Delaware station lost the affiliation and had to struggle to find inexpensive programming. The network movie ran two hours. At 5 pm, "Bandstand" was over and WFIL-TV carried the ever-popular "Mickey Mouse Club" from ABC. WPFH, hoping to get some of the Bandstand audience, counter programmed with a teenage dance show of its own, "The Grady and Hurst Show."
Mary (no last name given), a visitor to our website e-mailed us:
Willie the Worm... was my absolute favorite program when I was in first grade, and I remember being totally outraged when it was preempted by the Coronation of Queen Elizabeth!
On June 1, 1963, Jack McKinney was the star of a real boxing match in Painesville, Ohio. He knocked out local area boxer Alvin Green at the one minute point in the first round.
In February of 1944, WIBG's Doug Arthur conducted a popularity poll. In the number one position was Captain Glenn Miller with 14,223 votes. Total number ballots cast were 52,941. Harry James came in second with about 9,000 votes. The previous year, Harry had the first position.
In 1967, Member Ron Joseph (RJ) had a weekly television show on Channel 29, WIBF-TV. It was called "RJ at the Discotheque." At the same time, Member Jerry Blavat was starting his "Jerry's Place" program on WFIL-TV, Channel 6.
In 1952, Bob Horn said this about his new Bandstand television show on WFIL-TV:
Two or three days a weekly, we have before the WFIL-TV cameras, disc artists of luminary stature. ...Sometimes a brand new one just starting the flight upward.
Eddie Newman started in April of 1949 on WPEN spinning records for two hours nightly. He came from WOR in New York City. His program started at midnight. He had six different sponsors the first night. Some bought 15 minute blocks and other 30 minutes. The show was a sellout from the very beginning.
In November of 1957, WVUE-TV, Channel 12 out of Wilmington had Grady and Hurst on the air for two hours daily while Pete Boyle was on just before them. Bob Marshall's "Petticoat Partyline" was on from 3 pm to 4 pm daily with a live studio audience.
John Franklin did a weekly 15 minute program on WPTZ (Channel 3) on Thursday evenings at 9:30 pm during the summer of 1947. It was called "The Hobby House." The show was exactly what you would think. It was a quarter hour about favorite hobbies.
This section written and researched by Gerry Wilkinson
THANKS FOR THE MEMORIES:
The Miracle on 36th Street!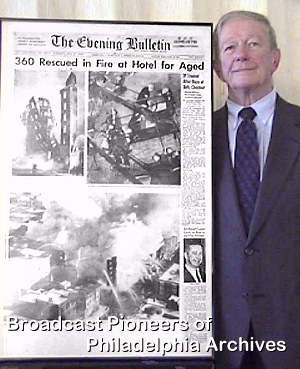 Member John Carlton
Broadcast Pioneers Luncheon
Bala Golf Club, Philadelphia
Wednesday, June 19, 2002
We found in our paper archive, this document written by Broadcast Pioneers member John Carlton. We have divided it into three parts and it will run in this newsletter and the May and June issues. This is John Carlton's own account of what happened on the morning of the Normandie Hotel fire. Built in 1901, it was a brick and concrete structure with wooden floors standing seven stories high. First fire alarm sounded at 6:47 am. Here's what John Carlton wrote:
Monday, January 8, 1968 dawned in Philadelphia clear and bitter cold. Nine degrees. In hangar I 33 at International Airport two men gulped down the last of their coffee and pulled on heavy parkas to keep out the icy morning.

Conversation was at a minimum. The weekend had been too short. The week ahead was loaded with long days. Clip board, stopwatch, mike, camera, the all important coffee thermos; they were ready. Then outside, on to the helicopter pad where the fragile, unlikely looking flying vehicle waited.

The men, Dick Scholfield, helicopter pilot and John Carlton, traffic reporter were members of Atlantic Refining's famed Go Patrol, a traffic reporting service broadcast on 13 radio stations in the Philadelphia area.

The nine degrees quickly seeped through the heavy parkas. Mondays, Ugh! The 280 horsepower engine thundered to life. The mass of pipes, plastic and whirling blades lifted gracefully off the ice covered pad. 100, 200, 300 feet. The helicopter skimmed over the automobile laden Penrose Bridge.

The helicopter hummed north on the Schulykill Expressway toward Philadelphia's 30th Street Railroad Station. The voice from the Go Patrol control room briefly and sleepily had little information to give Carlton. The stopwatch ticked off the seconds. Lights blinked on in 13 radio stations. It was time for the first report.

The first report out of the way, only 8 more, and two hours of cramped, cold flying to go. "Fire call: 36th and Chestnut. Copter 1, what is your location?" It was Walt MacDonald from the ground control room. "30th and Chestnut." "Fire board says it's the Normandie."

There is always useless information filed in the back of a good reporter's head. The Normandie Hotel. It had at one time been fashionable. It was now a retirement club. All of the residents were elderly." This could be a mess.

"First company arriving on the scene reports smoke from windows on second floor. "Where are you, John?" "We're there, Walt." Carlton had had a knack of being "there" where things were happening during his seven years as voice of the Go Patrol.

"The first alarm has been sounded." The helicopter circled the seven story building. Smoke was pouring out of several second story windows. It seeped up the stair case and elevator shaft, silently bumped the ceiling and pushed down, pushing the oxygen out. The smoke stealthily crept from floor to floor slipping under the doors of its sleeping, intended victims.

"Second Alarm, they're going to evacuate." Only a handful of firemen had arrived on the scene. The first hose line was yet to be unrolled. Somewhere flames burned through an electric cable. Blue white sparks flashed and hall lights went out.

"They don't know whether they can pass the second floor?" The sleep had disappeared from Walt's voice. "Dick, can you land on the roof?" "I think so, why?" Carlton told him.

"God! We'll give it a try." Well, if anyone could put it down on that ice covered roof, Dick could. When he flew, he became one with the helicopter, a beautifully coordinated combination of man and machine. He was a hell of a pilot.
Next month and in the June 2016 issue, you'll continue to read John Carlton's description of this record breaking fire and the rescue of the residents by the Go Patrol and the Philadelphia Fire and Police Department.
David Miller - Definitely a Broadcast Pioneer!!
David J. Miller Jr. was born in Philadelphia on June 7, 1913. After leaving high school before graduating in the early 1930s, he went to work for Philco at C & Tioga Streets in Philadelphia, working on the radio assembly line. He had a gifted aptitude for anything electrical that was soon demonstrated at the plant. At that time, Philco was establishing an experimental television lab. It would become one of the first television stations in the United States using the call letters W3XE.
Dave began working in the same lab as the person usually credited as the inventor of television, Philo T. Farnsworth, who was at Philco from 1931 through 1933. Dave was said to be a quick learner and soon passed the amateur radio license examination, obtaining his HAM radio license and broadcasting non-commercially under the call letters W3HCX.
He was a brilliant self-taught engineer, building his own transmitters and receivers. At Philco, during the late 1930s and early 1940s, he took a lead role in developing and establishing television signal broadcasting formats as he was elevated to chief engineer and thus was a key member of the team that put the commercial television station, channel 3, WPTZ, on the air. His experiments with signal patterns helped in establishing the industry-accepted scan rate of 525 lines.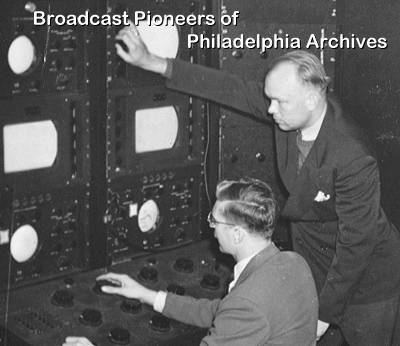 (left to right) unidentified male, seated and David Miller, standing
Philco Plant
C and Tioga Streets, Philadelphia
circa 1940
Also, while at Philco he was awarded the patent for a variable gain amplifier, a very complicated electronic circuit that enabled "fade in and fade out" capability of television signals. This technique for slowly changing scenes is used today throughout the television and movie industry. (ref. patent US2412279A, dated 1944).
Robert Miller, David's son told Broadcast Pioneers:
My brother and I remember watching television in the early 1940s when broadcasting was limited to a few hours a day. Many times Dad would call home and ask our mother how the test pattern appeared as he was adjusting the transmitting signal at the station, skewing the pattern this way and that way.

Once we were watching an early program and were surprised when he flashed a portrait of my brother and I on the screen for a brief moment. I believe that there were only about seven television receiving sets in Philadelphia at that time, all owned by Philco television research personnel. I also remember riding atop of the television broadcast van as it went up and down the sidelines of during live broadcasts of University of Pennsylvania football games. The television camera was fastened to the top of the van. I also remember making trips with Dad to the Wyndmoor transmitting tower and watching him climb to the top of the tower.

Later, WPTZ was broadcasting a live quiz show where the host would ask a question and phone television viewers for the answers. One time Dave called our mother and advised her that if someone calls and asks the question " Who holds up the earth?', she was to respond 'Charles Atlas." Well, the call came, and she responded as advised, and a short time later a free toaster came in the mail. That may be the very first "rigging" of a television quiz show, but not quite as serious as Charles Van Doren's scandal associated with "The $64,000 Question" television show during the late 1950s.
In 1947, after the FCC granted Triangle Publications, owner of The Philadelphia Inquirer, a television permit, Dave was hired to assist in establishing their television station in the Widener building (1339 Chestnut Street in Center City). He worked with Louis E. Littlejohn and Kenneth W. Stowman at WFIL, and in the record time of 62 days, produced a successful test pattern after the transmitter and antenna were installed, and soon they were transmitting commercially.
It was September of 1947 that WFIL went on the air. At WFIL his title was chief engineer. He was the person who actually proposed the channel number as "6," according to one of his sons. Today it is still Channel 6. When WFIL decided to move from the top floor of the Widener Building to 46th and Market Streets, constructing the first brand new first in the country made for television building, it was Dave who assisted in the design of the new television transmitting and receiving equipment systems. They moved there during the spring of 1948.
In 1947 Dave was appointed to the select committee to plan and implement television coverage of the Democratic and Republican National Conventions that were to be held in Philadelphia the following year. He was selected as a member of the general committee and the sub-committee on technical arrangements.
Later, in 1948, Dave was hired by the ABC Television Network to go to New York and assist in developing the system necessary to establish a national television network for the company. Channel 6, WFIL in Philadelphia became the first ABC television network station, according to the network.
We'll conclude this story in next month's issue of the Broadcast Pioneers newsletter.
The First Television Broadcast of Shakespeare was on Channel 3!
(Left to right) Seymour Bird and unidentified female
W3XE (Now KYW-TV), Channel 3, Philadelphia
Live Production of Romeo and Juliet
April 17, 1940
Seymour Bird told his daughter, Lisa-Bird Wiser, the following during an interview she conducted with her dad for Broadcast Pioneers. He said:
The program on W3XE was arranged by Henry Howard who had a school. The group doing the play was his students, the Henry Howard players. I was one of the leading characters in all the programs. I was a student at Henry Howard for one year. They had a little stage, audience and training in using various kinds of colored sticks to emphasis aspects of our face with television. With TV, we had to use brown lipstick to give the impression of red because it was black and white, no color television back then. In some of the programs in terms of the sets, they were able to make them so that there was no depth; really everything had to be done within a limited space.

Rewriting (the story): sometimes the material we were using you couldn't use on TV because there was too much movement. I would go over the material, something from Shakespeare, and rewrite portions of it so you could do it in a limited space on TV. I didn't rewrite the whole thing, just parts, using as much of the same language as possible, making it doable within the limited space that cameras allowed.
W3XE, Channel 3, Philadelphia aired what was claimed to be the first televised Shakespeare broadcast. Thomas Froman directed the telecast, which included scenes from three Shakespeare presentations: "Macbeth, " "The Taming of the Shrew" and "Romeo and Juliet." The picture above is from the latter.
Seymour was about twenty years of age when they did this production. When World War II came along, Bird enlisted in the service. Upon returning home, he went to medical school to become a doctor.
Several years ago, Lisa e-mailed us 12 photo scans of her dad acting on W3XE (now KYW-TV). This past month, she donated the actual hard copies of the photos. Thank you.
She also gives us an update:
...Dad acted in a number of high school and community theater productions. After his time at Philco, Dad enlisted and served as a radio repairman. The army needed more doctors so Seymour took the aptitude test and passed. While the rest of his unit was deployed overseas. Dad was sent to college with a unit of soldiers.

While at school it seems he did more local acting in addition to the accelerated two year college program the soldiers were put through. Then he went to med school.

During the Korean war, he served at Camp Atterbury in Indiana seeing returning soldiers who were having difficulty. Today, we know these difficulties as PTSD but then it was shell shock. After completing his enlistment, Seymour returned to Los Angeles where he entered private practice.

In LA, Dad was well known and highly respected in his field and was very involved with education and training of new psychoanalysts. He and my mother, an artist, were big supporters of the arts....

An interesting note, Seymour's father was a playwright of Yiddish theater in Odessa before fleeing and emigrating to America where he settled in Philadelphia. He was unable to continue those pursuits, having a large family to support but Seymour was raised with an appreciation for education and the arts which persisted throughout his life. ...Dad died on September 13, 2014 in Los Angeles.
OUR HATS OFF TO YOU FOR GIVING:
We are a federally recognized, state chartered charity with a 501(c)(3) status. Contact us at (856) 365-5600 or e-mail pioneers@broadcastpioneers.com for more details. Your gift to Broadcast Pioneers will help us and may lower your federal income tax. That's win-win, isn't it?
Special Thanks (in alphabetical order) for the gift of Appreciated Stock: (a federal tax advantage for the giver)
Member Marc Howard - $3,600 (put into our general fund to be used where needed)
Member Sylvia Kauders - $5,159.45 (used for the scholarships listed below)
Member Dan Lerner - $5,217.80 (used for the scholarships listed below)
Special Thanks (in alphabetical order) for contribution of $1,000 or more to our DAP, Digital Archival Project:
Member Elliot Abrams - $1,000
Member Jerry Del Colliano - $1,000
Member Johnny B. Hall and wife Ginny - $3,000
Member Harry Hurley's Golf Tournament - $1,000
Member Glenn "Hurricane" Schwartz - $1,000
Member Marlin Taylor - $1,000
Special Thanks (in alphabetical order) for April 2016 Scholarships:
Members Robin and Ira Adelman and Robin's Dad, Leon Love - 1 scholarship
Member Johnny B. Hall and his wife, Ginny - 7 scholarships
Member Harry Hurley's Golf Tournament - 1 scholarship (for a Stockton University student)
Member Sylvia Kauders - 1 scholarship (from a grant for 5 yearly scholarships running until 2019)
Member Dan Lerner - 5 scholarships
Member Kal Rudman - 5 scholarships (for Temple University students)
Special Thanks (in alphabetical order) for April 2017 Scholarships:
Member Johnny B. Hall and his wife, Ginny - 6 scholarships
Member Harry Hurley's Golf Tournament - 1 scholarship (for a Stockton University student)
Member Sylvia Kauders - 1 scholarship (from a grant for 5 yearly scholarships running until 2019)
Member Kal Rudman - 5 scholarships (for Temple University students)
Special Thanks (in alphabetical order) for a contribution of $500 or more to our DAP, Digital Archival Project:
Member Esther Kurtz - $500
Member Marian Lockett-Egan - $500
Member Art Moore - $500
Member Rod "Storm" Phillips - $500
Underwrite a complete scholarship and we'll give you credit in the electronic newsletter until the scholarship is awarded in April of 2017. Give us a donation of appreciated stock of $2,000 or more) and we'll list you in our "Thank You" column for two years. Give us a donation of $1,000 or more and we'll list you in our "Thank You" column for a year. Give us a donation of $500 or more and we'll list you in our "Thank You" column for six months. You can select how we use the money: for our archival project, for scholarships or for our general fund to be used as needed.
More Thanks:
We would love to give kudos to those of you who gave an extra contribution to Broadcast Pioneers when you paid for your March luncheon: Eric Address, Bob Backman, Doug Backman, Paul Big Bear, Diego Castellanos, Donna-Lee Conte, JIm Duffy, Ed Eisen, Johnny B. Hall, Kenny Jeremiah, Frank Jordan, Bill Kelley, Joyce Klawansky, Mel Klawansky, Bob Kravitz, Carol Leebron, Dorie Lenz, Tom Leonard, Lois Lipton Parker, Steve Tatz, Richie Troyan, Pam Tuckey, Todd Tuckey and Gerry Wilkinson.
A growing portion of the revenues that fund the different activities of the Broadcast Pioneers comes from donations. This includes our archival project and our scholarship program. Now, we are making it even more beneficial for our donors. Broadcast Pioneers is now able to accept gifts of appreciated stock, which provides a significant tax benefit to you. By giving appreciated stock (stock which is worth more now than what it cost when it was purchased), you can get a charitable contribution tax deduction based on the current market value of your stock. At the same time, you avoid the capital gains
tax that would arise if you simply sell the stock. So if you'd like to support our educational mission or our archival project and save money on taxes too, please consider making a gift of appreciated stock. We are a federally recognized, state chartered charity with a 501(c)(3) status. Contact us at (856) 365-5600 or e-mail pioneers@broadcastpioneers.com for more details.
Don't be left out. You too can make a pledge. It's never too late. You can earmark it for scholarships, our Digital Archival Project or our general fund. Thanks so much for your support. If you forgot to make an extra contribution (cash or memorabilia) and would like to do so now, you can do so. We would be thrilled to hear from you at: PO Box 2886, Bala Cynwyd, PA 19004, call us at (856) 365-5600 or e-mail us at: pioneers@broadcastpioneers.com.

A FINAL THOUGHT....
Broadcast Pioneers member Harry Harris was a reporter for the Evening Bulletin and then the Philadelphia Inquirer. For most of his career, during which he covered the radio and television beat. He has talked with Ed McMahon (who lived in Drexel Hill for many years) while working at WCAU. Harry asked McMahon "How do you know when you have made it?" Ed said:
"The first time I felt I'd really made it, was when I appeared at Steel Pier in Atlantic City and saw my name in lights six feet high. The big kick was that 16 years earlier I had a summer job right across the street, selling vegetable-paring gadgets."
From Harry Harris' unpublished book,
TV Star Secrets
(manuscript is in our archives)

Please contact us by e-mail at newsletter@broadcastpioneers.com or by mail to: Broadcast Pioneers of Philadelphia, PO Box 2886, Bala Cynwyd, PA 19004. Your stories are important, to you, to us, and your colleagues. Contact us today and we'll include your story in the next newsletter!

© 2016, Broadcast Pioneers of Philadelphia
All Rights Reserved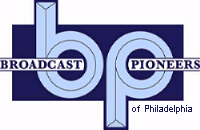 The e-mail address of the Broadcast Pioneers of Philadelphia is pioneers@broadcastpioneers.com
For luncheon reservations call (856) 365-5600 or e-mail us at: rsvp@broadcastpioneers.com