| | |
| --- | --- |
| | Broadcast Pioneers of Philadelphia is a federally recognized, state chartered 501(c)(3) non-profit organization serving the Philadelphia Broadcast Community since January of 1962. |
June Luncheon
The Bala Golf Club
Wednesday, June 18, 2014

Meet & Greet at 12 noon!
Lunch at 12:30 pm
Ratecard: $28 per person!

PLEASE RESERVE NOW!
CALL (856) 365-5600!
rsvp@broadcastpioneers.com
Another "Third Wednesday" Luncheon!
Wednesday, June 18th!
"A Tribute to WPEN, Station of the Stars!"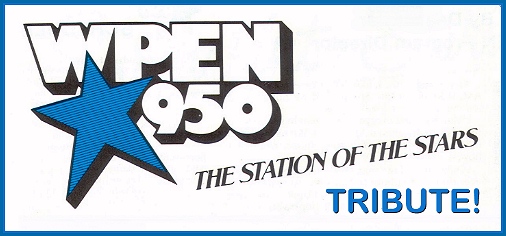 Hit After Hit! Smash After Smash! Blockbuster After Blockbuster! Here's another "monster" lunch where the "stars" don't wait to come out at night. They're here at lunchtime!
"A Tribute to WPEN, Station of the Stars!" That's our next Broadcast Pioneers luncheon. It will be held at the Bala Golf Club, 2200 Belmont Avenue in Philadelphia on Wednesday, June 18th (that's the third Wednesday of the month). Meet and greet is at 12 noon. Lunch, served at 12:30 pm, will be a three course meal with salad and dessert. Plus, we'll have a snack table. Cash bar all afternoon! Be there or be square!
Our MC for the day is member Dean Tyler, former WPEN station manager and air personality. For your enjoyment, we have scheduled (subject to change) a panel of six marvelous members. They are (in alphabetical order):
Bob Craig, Ed Hurst, Andy Kortman, Kim Martin, Tom Moran and Bill Wright, Sr. (all former WPEN air personalities).
Plus, live on the telephone, we'll have Walt MacDonald, traffic reporter for the station; Elaine Soncini, former WPEN air personality; and Ed Klein, the station's music director.
This all takes place at the beautiful and historic Bala Golf Club, 2200 Belmont Avenue (across the street from the state police) in the Wynnefield section of Philadelphia. Only minutes away from Channels 6, 10 and 17 and the radio stations in Bala Cynwyd. Call now for reservations. (856) 365-5600! Don't miss this one!
Plenty of FREE parking. Our luncheons are open to all our members, their guests and any person in the industry or associated fields, whether active or retired. You do NOT have to be a member to attend.
The cost is only a donation of $28 (or more) per person! In order to speed up check-in at the luncheon, it would help if you had exact change or your check already written. Checks can be made payable to the Broadcast Pioneers of Philadelphia.
If you would like to add a few dollars extra, we would appreciate it. It would help us with all the important work we are doing. Thanks!
WE'LL BE PROUD TO SEE YOU IN THE CROWD!

Visit Our Website Often - http://www.broadcastpioneers.com
Check out of Facebook Page - http://www.broadcastpioneers.com/facebook
Tune in to our YouTube Channel - http://www.broadcastpioneers.com/youtube

REMINDER!
A week or so ago, we mailed out membership renewals to all our members. If you joined in the past couple of months, you may receive a form, but you are not required to pay any dues at this time. We sent the form so we could verify that all the info we have is still correct. The next membership directory will be printed before you know it.
Kindly return your form and check (if a balance is due) at your earliest convenience. Please also note that on the form is an important little box that you can check if you would like to make an extra contribution. If you can can afford it and wish to do so, any amount will be greatly appreciated.

WELCOME NEW MEMBERS:
FULL MEMBERS:
Donald Sharp has been in the business for 45 years. He is the broadcast systems engineer for WPVI-TV, 6abc here in Philadelphia. Sharp has previously worked for NRC in the Big Apple. He was also an RCA Broadcast Systems field engineer and later manager for the same company. Before that, he worked for KTIV, Channel 4 in Sioux City, Iowa. Welcome to the Broadcast Pioneers.
Henry "Ted" Taylor is now in his 50th year in the business. He has hosted a program on WRDV-FM for the last year and is an adjunct professor at Chestnut Hill College. Previously, Ted had a syndicated sports show for five years. Taylor also worked for over a decade at WNPV, WBUX (AM), eleven years with WIBF-FM and five years in the sixties with WIFI-FM (92.5).
Stephan Rosenfeld joined our wonderful industry in 1973. Today, he is the president of Identity Advisors, LLC in Elkins Park. Rosenfeld is a former print and broadcast journalist and corporate communications executive. Previously, Stephan was the press secretary and special assistant to Pennsylvania's Attorney General Edward Blester, Jr.and former assistant general manager of SEPTA
ASSOCIATE MEMBER:
We welcome brand new Associate Member Eric Soler, who lives across the river in Millville, New Jersey. Eric coordinates city events with the media, specializing in South Jersey. If it happens in South Jersey, Eric will promote it. By the way, Eric is no relation to the well-known former Norwegian football (that's soccer to Americans) player and manager.
We are thrilled to have these new members. 517 members. More than ever. We hope to see as many of our members as possible at our June luncheon.
DIGITAL ARCHIVAL PROJECT NEWS:
VIDEO: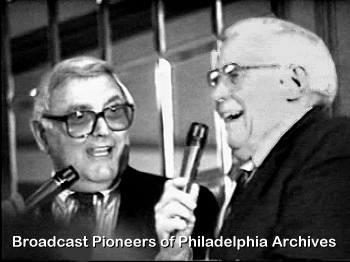 (Left to right) Broadcast Pioneers members Ed Hurst and Joe Grady
Broadcast Pioneers' Persons of the Year Dinner
May 7, 1990
In 1990, our Persons of the Year were Joe Grady and Ed Hurst. Broadcast Pioneers member Walt MacDonald of Go Patrol fame videotaped the event and has delighted us by donating a copy. You can watch their entire remarks right here.
Watch in Real Video!
Watch in Windows Media!
AUDIO:
As part of our continuing oral history project, Sam Lit, son of legendary DJ Hy Lit, spoke with John Zacherle on Tuesday, August 25, 2009, just weeks before Zach's 91st birthday. The interview, now 5 years old, is just about a half-hour long. We repeat it here for those of you who have never heard this before. In our opinion, the Real Audio version sounds clearer.
Listen in Real Audio!
Listen in Windows Media!
Our next piece of audio comes from the month of October in2007. Ed Harvey had a weekly talk show on WWDB (AM 860). On this particular program, his guests were broadcasters Tom Brookshier, Al Meltzer and Jack Whitaker, who have all been inducted into our Hall of Fame. While this broadcast did contain commercials, here we have removed the spots.
Listen in Real Audio!
Listen in Windows Media!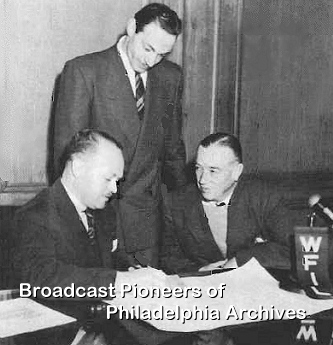 (Left to right - seated) Roger Clipp (General Manager) of WFIL Radio and
the President of Temple University Robert L. Johnson
(Standing) Dr. Armand Hunter, Director of Radio, Speech and Theater at Temple University
Dr. Armand Hunter was the educational director for WFIL Radio. On Thursday, January 22, 1948, a Philadelphia radio station was born: WRTI. The studios were constructed in the basement of Thomas Hall, previously the Park Avenue Episcopal Methodist Church at Park Avenue and Norris Streets in North Philadelphia. The building, which was erected in 1886, was the oldest structure on the Temple University campus (predating Baptist Temple by several years). It had been the home of WRTI from 1948 to1968, when WRTI-FM moved across the street to the new Annenberg Hall. In 2004, WRTI-FM relocated to new digs at 15th and Cecil B. Moore (Columbia) Avenue.

On the cold Thursday January afternoon when it began, WRTI was only an AM station operating via carrier current (then called a wired-wireless station). From its inception until 1968, the WRTI facilities were also used to record educational broadcasts for the WFIL radio stations.
The dedication ceremonies of the WRTI studios were broadcast live over both WFIL & WFIL-FM. Because of this, the activities were fed live to WFIL in the Widener Building in Center City. At least part of the ceremonies was recorded by WFIL. Silent film was also shot for WFIL-TV, which had come on the air several months earlier.
At 6 pm, current Temple President Robert L. Johnson delivered a short dedication speech. The address was carried live on WFIL-FM was the excerpt used by WFIL Radio for its evening newscasts.
The audio excerpt presented here was dubbed from one 16" transcription disc to another for use on later WFIL newscasts that evening. So far, we have only found a news sound bite. In1948, sound bites were much longer than they are today--thank goodness! As a result, w e have a 157 second recording (2:37).
Listen in Real Audio!
Listen in Windows Media!
Today's News Becomes Tomorrow's History!
(This is what our Digital Archival Project, DAP, is all about!)
A LITTLE BIT OF BROADCAST HISTORY!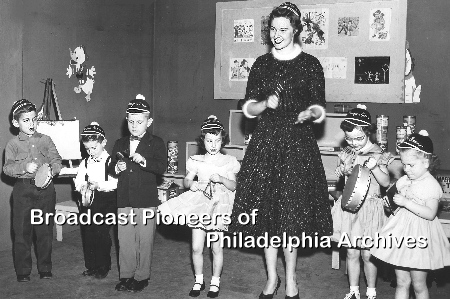 The adult in this shot is Claire Coleman
host of WFIL-TV's Romper Room program
February 1955
EDITOR'S NOTE: This photo and two others were sent to us by Glenn Stackhouse. He can be seen on the far e left of this picture. In fact, he tells us that he remembers having a crush on the girl playing the triangle in center. The station mailed his mother a few photos and a hand written letter from "Miss Claire." This live broadcast originated from the WFIL-TV studios at 46th and Market Streets in West Philadelphia. Clair passed away last year. She was married to Dick Schweiker, who served as a United States Senator from Pennsylvania and then as US Secretary of Health and Human Services for two years during the first Reagan administration.
Glenn Stackhouse shared with us his memories of being on Romper Room:

It was a long time ago and it's hard to recall what I was thinking as a five year old. I remember Miss Claire as being able to speak to me at my own level and she made me and the other children feel completely at ease.

I remember being fascinated by all the cameras and sound equipment and once when I wasn't paying attention I inadvertently walked halfway through a shot. After being waved away by a crew member, I was scared that I had done something terribly wrong but Miss Claire could sense my worry and reassured me that it was OK.

I remember the baby elephant too (which was on that episode of the program). I seem to recall that it was a little difficult to control and caused some excitement with the children and mild havoc in the crew. I wish I had a more detailed recollection but I think it was one of the most exciting events of my childhood.
IN TOUCH WITH OUR MEMBERS:
We heard from member Bunny Gibson of "American Bandstand." She told us that she just finished making a TV commercial for "Off," the insect repellent. She spent three days in hair rollers--something, she says, she hasn't done since her "Bandstand" days. She played a cat lady with three kitties and a lion.
Broadcast Pioneers Board Member Dick Kearney tells us: "Our son has had a very distinguished career teaching for 38 years at the Walnut Street (Elementary) School in Darby, Pa. He received many awards, but the greatest is his students who achieved scholastically above and beyond what was expected of them. Their playground is below standard for any school and they want to build a decent one for the school and the neighborhood. Best of all they want to name it the Rick Kearney Playground. We are so proud of his achievements." The playground has only been funded with $25,000 of the $50,000 needed."
We heard from member Cindy Keiter (daughter of legendary sports broadcaster Les Keiter). She tells us that she lives in the Big Apple and says: "I'm opening in a play on May 24th for 16 performances. It's called, 'Doubles Crossed:The Ballad of Rodrigo.' It's a real hoot and if you are in the city, I'd love to have you see it. It's FUNNY. TADA THEATRE, 15 West 28th street, 2nd floor." Doubles Crossed: The Ballad of Rodrigo is a tense, theatrical reimagining of the film noir dramas of the 40s and 50s. Suspicion and secret alliances underscore the gritty story of criminal-turned-G-man Freddie Tower and the past he can't escape.
We received an e-mail from member John Brown, retired traffic reporter/meteorologist for Total Traffic and Weather Network. He says:
I'm enjoying retirement and still working on my book. Hope to have it published late this year. Traveling to Scotland this year to do family research. I'm now able to trace family back to my 21st great grandfather, Sir John Browne of Lincolnshire, England. Also my membership to SAR (Sons of the American Revolution) has been accepted. They have recognized my 5th great grandfather Pvt Abraham Browne as a patriot. He served in Capt. Robert Gibson's Bucks County Militia.
On Saturday, April 12th, Camden Catholic High School in Cherry Hill welcomed 15 individual inductees into its Hall of Fame. One of those was our very own Treasurer Pat Delsi, who has previously served this organization as President and Chairman of the Board. Delsi was graduated from the school in 1952.
Delsi told us that one of his saddest broadcasts was in April of 1960.While on the air, he looked out of the window and saw his alma mater burning to the ground. He covered the story live.

One of happiest broadcasts was one that he didn't even recall until many years later. Pat tell us the story of two young people back in the day. The couple had a big argument and had decided to break up. Just as they were leaving, Delsi did a segment of his show called, "Kissin' Time" and the two decided to make up. Pat didn't know anything about this until years later, when the couple came up to him at an event and said that his segment made the two get back together. That day, they were celebrating their wedding anniversary.

By the way, Pat will be honored by the New Jersey Broadcasters Association later this month when he will be inducted into their Hall of Fame at the Jersey shore. Delsi was inducted into our Hall of Fame fourteen years ago in November of 2000.
The U.S. International Film & Video Festival has named Philadelphia advertising and marketing executive Joseph H. Ball (a member of the Broadcast Pioneers) the chair of a major judging committee. Entries from all over the United States and overseas are in the categories of Corporate Business-to-Business Communications and Corporate Business-to-Consumer Communications. Ball is founder and president of American Advertising Services in Bala Cynwyd.
Several weeks ago in Charles Village, a northern section of Baltimore, the ground collapsed because of heavy flooding. Broadcast Pioneers member R. Alan Campbell sent us this info. He said:
I recall the area was a few blocks from the old studios of WBAL where I worked in the early 1960's after leaving Philly's WTEL. I was a WBAL staff announcer and working on the morning show there with Perry Andrews. Perry, for several years in the mid-1950's was an announcer/DJ at KYW radio. WBAL, at this time, was heavily committed to Beautiful Music radio format.
Member Michael Muderick tells us that Broadcast Pioneers member Bonnie Squires was honored by JAFCO (Jewish Adoption and Foster Care Options) a couple of weeks ago. Bonnie was honored as one of three honorees for the "Woman of Valor" award. She is the society editor for the Philadelphia Jewish Voice, an on-line publication.
Eric Address, a Broadcast Pioneers member, has been doing much of the digitization for the Broadcast Pioneers video archival material. Eric recently brought on-line two 2" quad machines to digitize those vintage tapes we have lying around. While Address continues to work with Broadcast Pioneers on this project, he wants everyone to know that he also handles tape transfers on a commercial basis. Eric is working with Michael Muderick, the friendly face you see at the check-in desk at the lunches. You can contact Michael for information about commercial transfers if you have any interest.
On May 6th, Broadcast Pioneers member Joaquin Bowman celebrated his 70th birthday by doing a skydive from 14,500 feet at the Pennridge Airport in Perkasie. Bowman said: "It was a bucket list item and was one of the most exhilarating experiences in my life. From that distance I could see both the skylines of New York and Philadelphia as I was freefalling at 120 mph. What a blast! Planning my next one for my 80th!"
Broadcast Pioneers member John Primerano (a singing pianist) was featured on Broadcast Pioneers Board Member Diego Castellanos' long-running television show (Puerto Rican Panorama) this past Saturday afternoon on WPVI-TV, 6abc. If you missed it, it repeats tomorrow morning on Channel 6.2. Another Broadcast Pioneers member Nicky DeMatteo is also scheduled to appear on the show soon. No air date known as of now.

Did you know...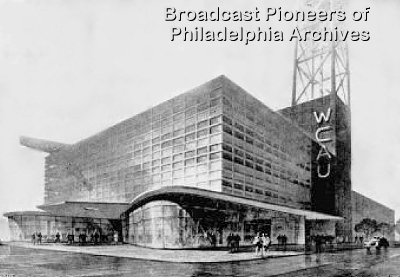 Artist sketch of a proposed new radio and television center for WCAU
November 1945
about the broadcast center that never was? In the November of 1945, WCAU Radio announced a plan to build a two million dollar radio and television center. This has become known as the TV facility that never was.
This four story building (stainless steel and limestone) was to have covered an entire city block in the heart of Philadelphia. It would have stretched from Broad to 15th Street and from Spring Garden, south to Buttonwood. The structure was to be 252 feet by 207. In addition, 40,000 square feet of this block (mainly on the Buttonwood side) would be reserved for later expansion.
WCAU announced that the building would be ready for operation in December 1947. Officials stated that this building would be the first in the United States to be built exclusively for television and radio broadcasting. They even planned a specially constructed roof that would hold a helicopter on a heliport landing area. On the other side of the roof would be a 612 foot (above the ground) TV and FM radio broadcast tower.
George Daub of Philadelphia was selected as the architect for the new broadcast center. The center would have been built by the Frank J. Larkin Construction Company.
WCAU planned for two huge television studios and an auditorium that could hold 500 people on the ground level. This would be the area for broadcasts such as the Children's Hour sponsored by Horn & Hardart Automats. The seating in the auditorium would be in the shape of a horse shoe, encompassing two complete stages that could be raised and lowered at will by some hydraulic lift machinery.
In the center of this area would be stage number one. It would have been able to be lowered or raised totally independent of the other. This would permit TV cameras access to both the stage and the audience. Stage number two would be used if and when a larger area was needed.
WCAU also decided that they would need a large TV studio where several different sets could be erected at the same time so that the cameras could move quickly from one set to another (for dramas and other such telecasts). A planned sound-proof partition (that could be removed) would effectively split the space into two different, separate studios.
The facility would have also had a couple of rehearsal areas for TV and 16 mm film rooms with projectors. There would be dressing rooms, a paint shop work area, property storage facilities and a carpenter and woodshop location.
The rest of the structure would have contained seven radio studios, offices, what the station called "rest areas," and a music library (that later would include films). It would have newsrooms for both radio and TV plus audition areas and separate writer sections.
A station spokesman said, "All studios will be equipped with the latest developments in acoustics, with a combination of polycylindrical construction and adjustable vanes."
WCAU officials believed that, at the time of the building's completion (December 1947), all television broadcasts would be in color. They also thought that, by adding the TV station and an FM radio station, they would have needed an additional 150 employees in that same time frame.
In 1945, WCAU showed a profit of $625,000 before taxes. Profits for the first five months of 1946 totaled almost that amount, $615,497. Liquid assets in mid-May of 1946 were valued at three and a quarter million dollars in cash and government bonds with another additional $600,000 from other sources. WCAU was, indeed, a profitable venture.
Eleven months after the new announcement of the new building, the station was to be sold. In October of 1946, citing a desire "to confine our interests to network holdings," Ike and Leon Levy (two founding members of this organization) sold WCAU to J. David Stern and his newspaper, the Philadelphia Record. Both of the Levy Brothers would have had seats on the Board of Directors of the newspaper. WCAU sold for three to six million dollars, the largest station sale in radio history up to that time. The Record announced plans to proceed with the erection of the new building announced the previous year. With some modifications, the cost of the building had increased by 50% to three million dollars.
To finance the transaction, Stern borrowed 5 and a half million dollars from the Jefferson Standard Life Insurance Company and the Pilot Life Insurance Company, both of Greensboro, North Carolina. Stern put down $100,000 when the sales agreement was signed.
Stan Lee Broza, founding member of the Broadcast Pioneers of Philadelphia and our first president and first Chairman of the Board, announced that he was leaving the station at the end of the year. The announcement was made one month before WCAU was sold. Broza agreed to continue hosting the ever popular "Children's Hour" on Sundays.
The WCAU sale agreement also added that the Levys would continue to manage WCAU for "as long as their services were required." The Levys each owned 32.67% of the station's stock. The remainder was owned by William Paley (head of CBS and Leon Levy's brother-in-law) at 11.06%, Sam Paley (Bill's dad and Leon's father-in-law) at 10.80% and 10.00% in trust for the daughter of Jacob Paley. Edna Bortin and Stan Lee Broza each owned 1% of the station.
By February of 1947, the newspaper ceased operations (because of labor strikes). The rights to purchase the WCAU stations went to the Philadelphia Evening Bulletin newspaper, which at that time owned WPEN AM & FM (the Bulletin acquired the stations in May of 1944 for $625,000) and the construction permit for WPEN-TV, Channel 10. For approximately 11 million dollars, the Bulletin purchased WCAU AM and FM and the rights to the Philadelphia Record columns, features and comics. The value of the broadcast properties were estimated to be around three million dollars plus a like amount of assets including cash. Then the Bulletin sold off the less powerful WPEN AM & FM (WCAU-FM and WPEN-FM flipped frequencies) to the Sun Ray Drug Store chain (they operated 150 stores in their peak) for $800,00 and transferred WPEN-TV's construction permit (January 16, 1948) to WCAU becoming WCAU-TV. The transfers of the stations were applied for in June of 1947 and change of ownership took effect at the end of that year.
But why the change of heart? Why sell WCAU? Shortly after the announcement of the proposed construction of this new building, two construction permits were issued for the Philadelphia market. Channel 6 was assigned to WCAU Radio and Channel 10 to WPEN.
Former tech at Channel 10 Charlie Higgins said:
the head of CBS Laboratories (Peter Goldmark) convinced someone (at WCAU and other CBS affiliates) that the frequency they wanted was on the UHF band as that was where all the activity was going to be. Hence WCAU turned in their CP for VHF Channel 6....
This is verified in an April 24, 1946 WCAU Radio press release. In the second paragraph, it stated:
Dr. (Leon) Levy announced that WCAU has petitioned the Federal Communications Commission for permission to withdraw its application for a low frequency (VHF) black and white television station and will apply to construct an ultra-high frequency (UHF) television station for color and improved black and white transmission.
The late assistant Chief Engineer of WCAU-TV Jack Jones said:
I did see paper work which had WCAU on Channel 6 (post war) and they (and other CBS o and o and affiliates) turned back VHF assignments, since Dr. Goldmark thought that CBS color would be the operating system (and not being compatible with black and white TV) and would be on UHF (with many less stations than we have today because each UHF station would have taken more than double the bandwidth of UHF stations in the 21st century.
Finally, the FCC rejected the CBS idea because it was incompatible with "current" TV in 1946. By the year's end, CBS and WCAU may have realized that UHF just wouldn't work. They weren't getting very far with their color system since it wasn't compatible with the RCA system already in use. Eventually, the FCC rejected both CBS plans. The Levys (the Paley family owned a minority interest in WCAU) may have decided it was time to make their profit on the $25,000 investment when they purchased WCAU twenty years before.
This regular monthly column is written and researched by Gerry Wilkinson

MORE DIGITAL ARCHIVAL PROJECT NEWS:
VIDEO: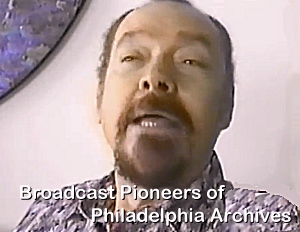 Bill "Wee Willie" Webber
In his Center City Apartment
Friday, June 16, 2000

Bill Webber got the nickname "Wee Willie" from the wife of WFIL's Phil Sheridan. At six foot, five inches tall, Bill was anything but wee. He stood tall on the Philadelphia broadcasting scene since 1953 and has become a legend in the industry.

On Friday, June 16, 2000, Fran Odyniec sat down with Bill in his Center City apartment. This recorded interview was part of the Broadcast Pioneers of Philadelphia's original webcast series, "PIONEERS IN BROADCASTING."
In 2013, we re-digitized the video using updated techniques. The quality is pretty good considering that it was shot with one VHS camera and using the microphone on the camera. You can now watch the entire interview direct from the Broadcast Pioneers' YouTube Channel.
Watch the Interview on our YouTube Channel!
AUDIO:
On Friday, September 19, 1975, the rock group "Caravan" visited Broadcast Pioneers member Ed Sciaky on his radio program on WMMR Radio. Here is the interview that Ed did that day. The band was in town for a personal appearance in concert. Our audio is mastered off of the original air check tape that Ed Sciaky recorded that day at the WMMR studios.
Listen in Real Audio!
Listen in Windows Media!
Here is an audio clip from Sunday, January 2, 1966. This is an off air recording of KYW Newsradio. The "all news, all the time format" is just three and a half months old. We have not yet identified the newscaster.
Listen in Real Audio!
Listen in Windows Media!
Several years later, KYW got some competition from WCAU Radio (now WPHT). This clip first aired in the early evening on Monday, February 28, 1972. WCAU Newsbeat anchor Al Julius is featured. By the way, today both stations have the same owner (CBS).
Listen in Real Audio!
Listen in Windows Media!
Remember, History is ONLY What Gets Saved!
(If there were no portraits of George Washington, how would we know what he looked like?)
A LITTLE BIT OF BROADCAST HISTORY!
Membership Card and Pin
WPEN Radio's "The 950 Club"
WPEN, Philadelphia
1949
EDITOR'S NOTE: Broadcast Pioneers member Andy Kortman found the items pictured above among his mother's belongings after she passed away in 1998. She had saved them for nearly a half-century. Andy's mother Carmel was a big "950 Club" fan from the beginning and became a member (as you can see) in 1949. She was 14 at the time. She "came back" to WPEN in the early 80s and listened daily to the second incarnation of "The 950 Club" as well as all of the other programs. WPEN was her station of choice.
In 1949, l ittle Carmel could never have guessed that nearly forty years later her youngest child Andy would join
WPEN and serve as Ed Hurst's producer for both "The Sunday 950 Club" and "The Steel Pier Radio Show" in addition to serving as "swing" man, hosting various on-air shifts. Sadly, Carmel did not live to see Andy take over as WPEN's "morning man" from 2000 through 2004, until "The Station of the Stars" flipped to "oldies" and eventually "sports-talk."
IN TOUCH WITH THE INDUSTRY:
Susan Schiller, vice president and news director of KYW-TV, CBS 3 and the CW Philly 57, tells us that Tom Duerr has been named Executive Producer, Late News for their TV stations. He will oversee the 11 pm newscast on CBS 3 and the 10 pm program on The CW Philly. Duerr comes to the stations from CBS's KTVT-TV in Dallas and take over this month.
(left to right - lower part of frame) Dan Baker and member Pat Delsi
The Mirage Bowl (later retitled the Coca-Cola Classic)
Korakuen Stadium, Tokyo, Japan
Sunday, December 10, 1978
Editor's Note: This stadium was torn down at the end of 1987, a half-century after it was built. It was also the home of the famous 28 inning, 311 pitch complete game pitched by Michio Nishizawa in 1942. While baseball is "the American passtime," the Japanese love the game. The remarkable 28 inning game was played DURING the Second World War while the United States and the Empire of Japan were at war. It came just six months AFTER Pearl Harbor.

This stadium also hosted a 1987 "Who's That Girl" Tour by Madonna. She sold out all 135,000 seats in a few hours. That same year, Michael Jackson hosted his "Bad" Tour there, also selling all the tickets.

The Mirage Bowl was hosted by Mitsubishi Motors. It was named after "The Mirage," a line of sub-compact and compact cars. The first Mirage cars were marketed here with Chrysler under the name "Dodge Colt."

Note that the above photo had the two sports announcer sitting in the stands with the crowd. Pat Delsi, a former president and former Chairman of the Board of this organization and currently our treasurer told us that it only stopped raining an hour or so before game time. The organizers of the game had made plans to cover the sportscasters with plastic so they could continue to broadcast the game. Pat said that the "clear" plastic was more opaque and they really wouldn't have been able to see if they were covered with this stuff. By the way, the broadcast started at midnight, at least on the East Coast of the United States. Temple won 28 to 24.
Last month, Dan Baker was told that the Philadelphia Eagles are "going in a different direction" and that he would no longer be the public address announcer, a post he held for 29 years. Baker will be honored by the team at their first regular game on September 7th. Dan Baker is also the PA announcer for the Philadelphia Phillies and will continue in that position.
Rutgers University-Camden (Camden, NJ) doesn't have a formal broadcasting degree program, so one enterprising student decided to design her own:
Lindsey MacGhee graduated from Rutgers University–Camden on May 22nd with a self-proposed bachelor's degree in cinematography and film/video production. Among her many multimedia projects, Lindsey produced a video on the adoption process at Animal Orphanage in Voorhees, N.J., where she serves as a kennel assistant. She worked as a production assistant on the production, A Place in Hell, in February 2014. Since August 2013, Lindsey has also served as an intern for the Preston & Steve Show on 93.3 WMMR in Philadelphia.

Congratulations to Lindsey for being so dedicated and kudos to Rutgers-Camden for approving her self-designed major. Sounds like win-win to us.
WE REMEMBER: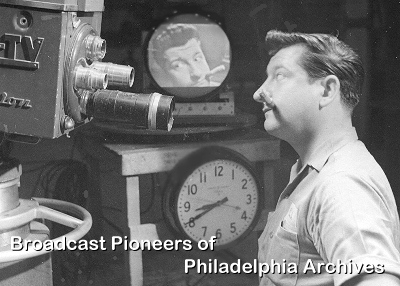 Hank Latven clowning around between shows
Channel 6 studios
4100 City Avenue, Philadelphia
Photo originally donated by Dave Nichols
Channel 6 technician Hank Latven passed away last month in New Mexico. He went to stay with his nephew and died not long afterwards. Hank loved fishing and asked that his ashes be placed into the Atlantic Ocean. Longtime member of Broadcast Pioneers Larry Kane offered these words:
For a young anchor, at the time, this was a man who infused confidence and cheer and humor in the best and most challenging times. He was a special person who spoke volumes with his candor and warmth and respect for others and since those days, I have always remembered, and will never forget him.
Former Temple University professor Dr. Jean Brodey, 85, passed away several weeks ago. She suffered from Parkinson's Disease. For over a quarter of a century, Brodey taught journalism and public relations at the university. In 1998, she was inducted into the Philadelphia Public Relations Association's Hall of Fame. Last year, she had a book of poetry published. The poems were written a half-century ago.
THANKS FOR THE MEMORIES:
The Passing of Bob McLean!
We heard from member Jay Meyers, who is president and CEO of Broadcast Management and Technology in Melbourne, Florida. Jay was PD at WFIL and became Senior VP of Clear Channel. Jay writes:
I saw the note about Bob McLean passing away. I met him only once and oddly it was when I unexpectedly appeared on his show (on KYW-TV) while attending Drexel in June of 1972.

We got a call one day at WKDU (Drexel FM station) from the producer to ask if we'd like to come down and be the (KYW-TV) studio audience (they also called the Villanova campus station) for a show the following week which was about the new breed of morning radio disc jockeys. Of course, we said yes.

Bob's guests were WFIL's Dr. Don Rose, WNBC New York's Don Imus, who at the time was just one year into the job but had already begun to get headlines by posing as an army general on the phone and ordering 50,000 hamburgers from McDonald's and the third member of the panel was Bob McLain, the morning host then on MOR WPEN, as he was introduced, same name, no relation.

It was a fun show and one of the segments was on talking up records. They had WFIL bring its record hop set up to the studio and had each of the three pros show how to "talk the song up to the post," except they flipped the 45 over so they had to talk up the B side, which of course they had never heard. They all missed naturally and it was a big laugh, especially when Bob McLain got the flip side of Roundabout by Yes, which was an instrumental LOL.

Going to commercial, host McLean says, "We have an audience full of college radio station folks and we're going to get a volunteer and see how the amateur can measure up to the pro. During the commercial, they came over to the audience for a volunteer.

Now, as you know, college radio back then was full of folks who only wanted to play progressive rock but I was and always will be a Top 40 guy and everyone from my station stood up and pointed at me and said "Use the Top Jock," which was my nickname. McLean's eyes went wide and he said "Top Jock? Oh, yes," and he told me to come on up.

After commercial, he started to interview me for a couple of seconds, and I glanced at the turntable and noticed that the record was still on the B side. So, in the middle of the interview, I flipped it over to Roundabout and he said "Let's see what you got." I proceeded to post the song dead on to the rousing cheers of my 'KDU friends, the host and the three pros. McLean turns to his guests and said, "Well, clearly we now know why he's called the Top Jock"

The next time I saw that remote set up was 11 years later when I became PD at WFIL and found it back in the corner of a huge storage room of old stuff.
Experimental Philco TV!
We received an e-mail from a visitor to our website, Lauren Bird-Wiser. She says:
My father, Seymour Bird, age 92, was an actor on some of the experimental Philco broadcasts of the early '40s. He has a number of official photos from those shows. I think he would be happy to donate them if you are interested. [Editor's note: We are.]


Dad is in poor physical health but in good mental shape and related some interesting stories the last time I visited him in Los Angeles (where he settled after the war).

I find this chapter of his life fascinating. We are going through old papers and such and it is amazing what memories come bubbling up. When the war came along, Dad enlisted and ended up going to med school, so he never returned to acting.
The Second World War also changed the direction of Philco. They devoted little time to developing TV and spent large amounts of time advancing something new that would be important for the war effort. It was called RADAR.
Back to our story. We asked Lauren to send along to us what she had. Here's what she gave us. Keep in mind that these are the spoken words of a 92 year-old man. They were meant to be heard, not read. This is a vital part of local Philadelphia broadcast history and we are proud to share it with you. These are her dad's words:
The program on W3XE, Philco was arranged by Henry Howard who had a school. The group doing the play was his students, "The Henry Howard Players." Each play was never done before. I was one of the leading characters in all the programs. I was a student at Henry Howard for one year.

They (the TV station) had a little stage and audience and training in using various kinds of colored sticks to emphasis aspects of our face with television. With TV, we had to use brown lipstick to give the impression of red because it was black and white, no color television back then. In some of the programs in terms of the sets, they were able to make them so that there was no depth; really, everything had to be done within a limited space.
EDITOR'S NOTE: According to 1941 Philco documents, the company did do some "natural" color television three years previously. It was just for testing purposes with no intention of any long term color broadcasts. Remember, that would have been in 1938.
Rewriting! Sometimes the material we were using you couldn't use on TV because there was too much movement. I would go over the material, something from Shakespeare, and rewrite portions of it so you could do it in a limited space on TV. I didn't rewrite the whole thing, just parts, using as much of the same language as possible, making it doable within the limited space that cameras allowed.
EDITOR'S NOTE: On April 17, 1940, W3XE, Channel 3, Philadelphia aired what was claimed to be the first televised Shakespeare broadcast. Thomas Froman directed the telecast, which included scenes from three Shakespeare presentations: "Macbeth, " "The Taming of the Shrew" and "Romeo and Juliet."
(left to right) unidentified, Seymour Bird, unidentified, unidentified driver of a "pretend" car
W3XE, Experimental Philco Television
January 5, 1940
When we were preparing at the TV station, positions were marked on the floor with tape. And these were the positions you had to take and when you had to move you were told how far, which was usually not much, mostly only a couple of feet. Guys (the station's crew) would move things around, pull them apart, push them in. They, too, had places marked on the floor. It was all worked out ahead of time. So you would rehearse with the camera to mark the spacing to be sure that the camera could pick it up.
EDITOR'S NOTE: The studios at this time were located at C and Tioga in part of the Philco plant. During this era, the transmitting tower was on top of the Philco factory. So was the transmitter, which had a 25-mile radius from their 230 foot high tower.
You had a certain depth, which was not great. They would set the positions and distances you could move. We did a lot of scenes between two people close to each other; made it easier. We would usually end up close to each other or in an embrace. With more people, you arranged them to not move very far away from each other or you couldn't see them.

It was very hot under the lights. We had to put up with it. We didn't keep from sweating. These shows were all live. They were half hour shows or one hour, not sure. The producer for the television company was Alexander, don't remember his first name. He was usually there. At the end of the program, each of us would usually get a picture showing us in the program. I don't know how the pictures were selected, either by Alexander or Henry Howard.
EDITOR'S NOTE: The producer that Bird talked about here was E. N. Alexander, often called Nick (his middle name was Nicholas). The publicity photos given to the actors were most likely from the rehearsal and not the actual broadcast. Time would have been needed to take the pictures and then develop them (in a three process technique) and then they would have had to be dried. Plus, the photographer would have been just in the way of everything.
The submarine story was about a group of sailors stuck at the bottom of the ocean. They wanted to let the ships above know they were still alive, so they had a lottery, and the "winner" of the lottery would be shot out the torpedo tube. You had a chance to survive and tell the people above, but even if you died they'd know that there were still live people below. I was the sailor that "won" the lottery, but I was a coward and refused to go. I shut myself into a back compartment which ruptured and drowned me. You don't know what happened to the other characters. You assumed they had another lottery and shot someone else up to the surface. The story was really about the coward who got his just ends.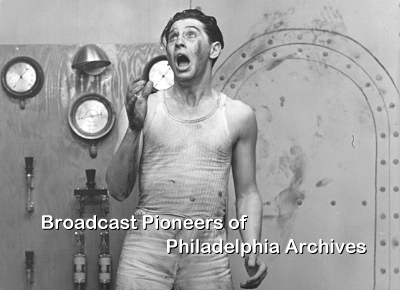 Seymour Bird as a sailor in a submerged submarine
W3XE, Experimental Philco Television
March 12, 1941
There were scene changes, like in the submarine, most of the crew (of the boat) in the front, and the guy at the end where the cabin ruptured. The submarine shoot was interesting - how they were able to portray the water pouring into the cabin. There were people on each side, to pour the water and also pull the walls apart, to be able to get the camera closer to me. It limited the area in which they had to pour water. Someone was over the scene pouring the water to represent the ocean pouring into the cabin containing him, and drowning me. When the show was over, they mopped the water up. It wasn't a great deal. That was the final part of the show.

We did the shows from 1940 to the beginning of 1941. Not a lot of time to practice. They weren't on every time or every week. I think we were using 441 lines when they started. There was always something before and after. The live show was something unusual for them. They may have had musicians; I don't remember any of that. I remember the excitement in the building, and the studio for sure, when they had developed a camera with 525 lines. They were very excited about it.
EDITOR'S NOTE: Bird is correct. They were using 441 lines at the beginning of 1940 when the Howard Players broadcasts came on. In a Philco document we have in our paper archive, E. N. Alexander, the station's PD wrote: "Philco was the first to transmit a 441-line picture. This was done in a television demonstration at the Franklin Institute, Philadelphia, in January 1937. This, however, did not satisfy our engineers. They have constantly experimented to achieve greater picture fidelity and are now (in 1941) pleased with the decision of the industry to employ better than 500 lines as the television standard for the United States of America. On May 3, 1941, the Federal Communications Commission of the United States approved 525 lines as standard. W3XE has been broadcasting experimentally on 525 lines since September 16, 1940."
Most of what was shown (on TV at that time) was not live. I don't know what the programs were, we didn't have televisions and couldn't see it. We knew what we were doing was unusual, but there were other programs being sent out. This was not commercial television. Only had to send signal/programs and not satisfy an audience. This was only for technical aspects. If comments came back about the program, that was something extra.
EDITOR'S NOTE: The actual, original TV shows were always live. However, TV is those days contained a lot of film presentations. None (or few) of the 16 mm presentations were shot for TV. Philco was just using the film to keep something on the air.
At that time, I was a fairly quick line learner and I could learn the lines within a few days easily. And the rehearsal depended on when we had to do the show and the time we had. We were a team by then, not all, but most of the people in the program had really learned all the elementary stuff. They had been there for a while. They were more comfortable with it and performed more easily. Some not so well; some were obviously more capable than others.

They always had programs to fill in, not always the live dramatic programs. There were people who responded to the experimental quality of it. You knew they weren't going out everywhere. At the time I was told it could travel 100 miles. Not many sets among most people. They were centered in areas working on TV, mostly to work on their own television, both from a technical standpoint, the main thing, and from a production standpoint, to use different kinds of programs.

I think we were the only dramatic program, so to speak, at least in Philadelphia. Television progressed very rapidly after that; not because we were there but because they were moving technically ahead. I remember when I was in the army, we had television, and they were small, and some people would have magnifiers in front so they could see it.
A LITTLE BIT OF BROADCAST HISTORY!
The "Musical Clock" Crew on WPEN Radio
featuring M.A. (the Mystery Announcer) who is wearing a mask
circa 1930s
Joe Niagara and Doris Day!
Broadcast Pioneers member Joe Niagara was friends with movie star Doris Day for decades. We found in our archives this recollection of "Dodo" and the time WPEN aired a "Date with Doris Day" contest. It originally appeared in the WPEN newsletter. Joe writes:
It started out as a small lunch date: a contest with the winner and I flying out to Carmel, California, meeting with Doris Day, and the three of us lunching, talking and picture-taking. Well, it winds up as a banquet.

I've known Doris Day for many years. Last March, on return from a vacation in Japan with my wife, we detoured to Carmel. Over lunch, I mentioned how the WPEN listeners would give so much to be doing this very thing, and how I'd love to run a contest with the winner coming out for a "Date with Doris Day." "Dodo" said it was fine with her, so the planning started.

Our sister stations in Washington, DC (WWRC) and Long Island, NY (WGSM) got wind of the contest and asked if they could get in on it too. They play the same "Great Stars and Great Songs" as WPEN. The response at all three stations was sensational.

On the weekend of July 11th, WPEN's winning couple (Red and Gloria Hess of Langhorne), the Washington winner (Bunny Deck and Colleen Patton), and the Long Island couple (Mr. and Mrs. Alfred Holmes), all met with Dean Tyler, WPEN's Program Director, my wife Evelyn and I at JFK Airport in New York. Within minutes, it was like everybody knew one another for ages.

We flew Pan Am into San Francisco and then motored in luxurious comfort to Monterey. After checking in at the Doubletree Hotel, we explored the Cannery Row and Fisherman's Wharf area. The next day, Saturday, everyone was ready for "A Date with Doris Day!"

Midday, we all went to the Highlands Inn, overlooking the Pacific Ocean, for our lunch date. I then drove out to pick up our guest of honor. Doris was ready and away we went.

After the excitement of the introductions, Doris put everyone at ease around the table. She signed pictures, books, album covers and answered all the questions these wonderful fans asked.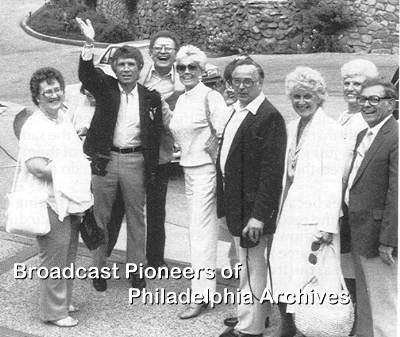 (left to right) Carol Holmes, Collen Patton (partially hidden), Dean Tyler, Joe Niagara
and Doris Day, Bunny Deck (mostly hidden), Al & Gloria Hess, Evelyn Niagara and Ted Hess
at Doris Day's home in Carmel, California
1996
When lunch was over, three hours later, she invited everyone to stop off at her beautiful house on a hilltop in Carmel Valley. This was a bonus none of us expected! They all asked for and received bumper stickers and information on the "Doris Day Pet Foundation." It was a weekend they'll never forget.

I've since received letters and snapshots from all the winning couples with glowing, fond remembrances of that once in a lifetime weekend.

And one of our listeners who didn't win sent in this suggestion. "Why not stage a Doris Day Convention in Carmel? They've done it for Sinatra." What do you think?
THANK YOU:
As we do every month, we want to thank Broadcast Pioneers member Johnny B. Hall for his monthly donation to our DAP, Digital Archival Project. Johnny donates $250 every month. The amount totals $3,000 yearly and really helps us to underwrite this much needed but expensive project. Johnny and his wife, Dr. Virginia Hall, will be also underwriting 4 scholarships for the 2015 year. Way to go!
Broadcast Pioneers Vice-President Kal Rudman started underwriting scholarships for our organization almost a decade ago. He was the person that underwrote our first scholarship way back when. Now there are many following in his footsteps. Kal has just said that he'll be underwriting five more scholarships for the coming 2015 year (all to be Temple University students because Kal was recently honored as Temple's Alumni of the Year). Thanks, Kal.
We received a $1,000 check from member R. Alan Campbell. The donation is for a scholarship to be given in April of 2015 in the memory of Fred Ruggieri, who used the air name Fred Randall. Thanks, Alan. We also have a $1000 pledge for 2015 from member Harry Hurley (limited to students either residing in or attending college in South Jersey). The proceeds for this scholarship will come from Harry's Charity Golf Tournament next year. Harry has also pledged a $1,000 gift to our DAP project. Thanks, Harry. We also just received two checks for two scholarships for April of 2015. They come from the Adelman Family and Robin's dad, Leon Love. Thanks.
That's thirteen $1,000 scholarships already underwritten or pledged for next year. If you would like to underwrite a scholarship, please let us know and we'll be happy to give you praise in this column.
And, again, we wish to thank member Jerry Del Colliano for his $1,000 contribution to our DAP fund. This is the second year in a row that Jerry has done this. We thank him so much for his gift to this most important project. Also, we wish to send kudos to member Valerie Morrison who recently sent us a nice contribution. Thanks. Also, kudos to new member Stephan Rosenfeld for including an extra contribution with his membership application.
We would like to thank those of you who included an extra contribution when you paid for your meal at our May luncheon. Those include: Mike Bove, Bill Kelley, Jerry Klein, Gerry Wilkinson, Lou Balezzi, Dave Petrellius, Les Waas and Frank McCall.
Don't be left out. You too can make a pledge. You can earmark it for scholarships, our DAP, Digital Archival Project or our general fund. Thanks so much for your support.
Our special thanks go to TUTV and the Kal & Lucille Rudman Media Production Center.

They have underwritten a grant to be used to fund an entire year of all our newsletters for calendar year 2014. We thank them so much for their support!
If you forgot to make an extra contribution (cash or memorabilia) and would like to do so now, it's never too late. We would be thrilled to hear from you at: PO Box 2886, Bala Cynwyd, PA 19004 or call us at (856) 365-5600.
OFFICERS AND BOARD FOR 2014 - 2015!
All terms run from July 1, 2014 to June 30, 2015.
Gerry Wilkinson - CEO
Jerry Klein - Chairman of the Board
Bill Gellhaus - President
Brad Seecof - Vice President
Bill Kelley - Vice President
Kal Rudman - Vice President
Carol Leebron - Secretary
Pat Delsi - Treasurer
Board Members
Dave Abramson
Jeff Benton
Paul Big Bear
Diego Castellanos
Loretta Bove Crowell
Ed Eisen
Dick Kearney
Bob Kravitz
Dorie Lenz
Michael Nise
Joe Pellegrino
Barry Reisman
Steve Sacks
Les Waas
Bill Wright, Sr.
Board Members Emeritus
David Custis
Ed Hurst
W. Carter Merbreier
Shirley Morris
Alan Tripp
A FINAL THOUGHT....
"I could sit for an hour and talk to myself. I'm one of the most interesting people I know."
Tom Snyder
from member Harry Harris' unpublished manuscript
"TV Star Secrets"
Please contact us by e-mail at newsletter@broadcastpioneers.com or by mail to: Broadcast Pioneers of Philadelphia, PO Box 2886, Bala Cynwyd, PA 19004. Your stories are important, to you, to us, and your colleagues. Contact us today and we'll include your story in the next newsletter!

© 2014, Broadcast Pioneers of Philadelphia
All Rights Reserved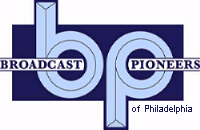 The e-mail address of the Broadcast Pioneers of Philadelphia is pioneers@broadcastpioneers.com
For luncheon reservations call (856) 365-5600 or e-mail us at: rsvp@broadcastpioneers.com