We Kicked off the New Year with our JANUARY SPORTS SPECTACULAR. The topic was ALL THINGS SPORTS! Our MC for the afternoon was Broadcast Pioneers member Joe Pellegrino, former sports anchor for WPVI and WCAU-TV!!
Our scheduled panel included (in alphabetical order):
Dan Baker, sportscaster & public address announcer for the Phillies & Eagles
Bill Vargus, the former sports director for Fox 29, WTXF-TV, Channel 29
Bill Werndl, well-known sports network & area broadcaster and sports author
Member Marciarose Shestack was with us that day. In the early seventies, KYW-TV's sports department wasn't doing very good in picking winners. Someone said, "Marciarose could do better." Of course, she didn't know much about sports. So she picked the winners based on other criteria, like which uniforms looked better. It was an interesting story.
We also celebrated the 70th birthday of WRTI, Temple University Radio. Tobias Poole (Operating Director) and Bill Johnson (General Manager) from the station were with us.
It all took place at the beautiful and historic Bala Golf Club, 2200 Belmont Avenue (across the street from the state police) in the Wynnefield section of Philadelphia. Only minutes away from Channels 6, 10 and 17 and the radio stations in Bala Cynwyd.
PHOTOS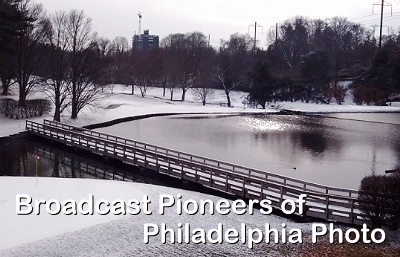 The Beautiful Bala Golf Club
with just a coating of light snow
Wednesday, January 17, 2018
(Photo by Gerry Wilkinson)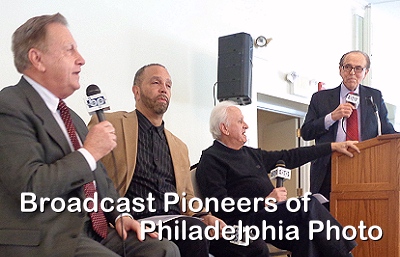 (Left to right) Dan Baker, Bill Vargus, Bill Wendl and Joe Pellegrino
Broadcast Pioneers Luncheon
Bala Golf Club, Philadelphia
Wednesday, January 17, 2018
(Photo by Gerry Wilkinson)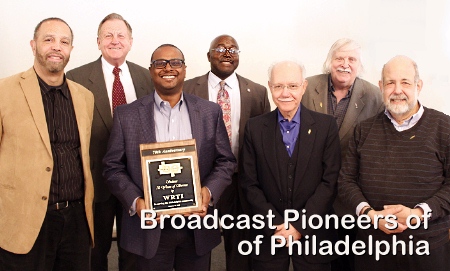 WRTI People - Past and Present
(Left to right) Bill Vargus, Dan Baker, Bill Johnson,
Tobias Poole, Mike Bove, Gerry Wilkinson and Michael Muderick
Broadcast Pioneers Luncheon
Bala Golf Club, Philadelphia
Wednesday, January 17, 2018
(Photo by Joe Amaoto)
VIDEO
(Videos Courtesy of Broadcast Pioneers VP Brad Seecof & Metramedia Broadcasting and Studios)