| | |
| --- | --- |
| | Broadcast Pioneers of Philadelphia is a federally recognized, state chartered 501(c)(3) non-profit organization serving the Philadelphia Broadcast Community since January of 1962. |
March Luncheon
The Bala Golf Club
Wednesday, May 20, 2015

Meet & Greet at 12 noon!
Lunch at 12:30 pm
Ratecard: $28 per person!

PLEASE RESERVE NOW!
CALL (856) 365-5600!
rsvp@broadcastpioneers.com
Another "Third Wednesday" Luncheon!
Wednesday, May 20th!
A CELEBRATION!
50 Years of Channel 29!
Plus Gene Crane!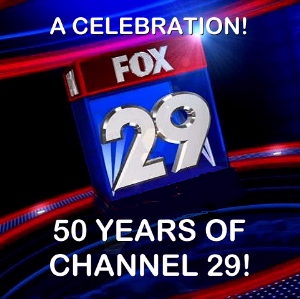 Breaking News! WTXF-TV, Fox 29 is 50 Years Old in May. Come out and help us celebrate a half century of this market's first commercial UHF television station.
Our MC for the afternoon is Alex Holley, morning co-host of Fox 29's "Good Day Philadelphia."
Our speakers are: (in alphabetical order):
Dennis Bianchi, Vice-President and General Manager of Fox 29, WTXF
Howard Eskin, Fox 29's Sports Anchor & host of Fox 29 Sports Sunday
Doug Henson, the station's first newscaster back in 1965 when it was WIBF-TV
Dave Schratwieser, investigative and street reporter on Fox 29 for two decades
Sue Serio, Fox 29's Morning Weather Anchor for "Good Day Philadelphia"
Maryann Vaughn, Fox 29's Assistant News Director, started there as an intern
EXTRA SPECIAL ADDED ATTRACTION!
GENE CRANE!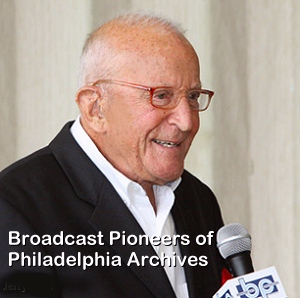 Broadcast Pioneers Member Gene Crane
Bala Golf Club, Philadelphia
Wednesday, May 19, 2010
Photo taken by Broadcast Pioneers member Jerry Klein
It's been five years since member Gene Crane has joined us at a Broadcast Pioneers luncheon. That's because he lives in Mexico. However, Gene will be in Philadelphia this spring and will be joining us at our May 20th luncheon. He'll be saying a few words telling us what he has been up to. By the way, Gene turns 95 years old on May 27th. Make it a point to come out and say hi to Gene.
This all happens at the beautiful and historic Bala Golf Club, 2200 Belmont Avenue (across the street from the state police) in the Wynnefield section of Philadelphia. Only minutes away from Channel 6. (Also close to channels 10 and 17 plus the radio stations in Bala Cynwyd).
Plenty of FREE parking. Our luncheons are open to all our members, their guests and any person in the industry or associated fields, whether active or retired. You do NOT have to be a member to attend. There is no reserved seating at any of our luncheons. Feel free to sit anywhere. Well, okay--the three people on the camera crew sit near the cameras, but that's in the back of the room (who wants to sit there except them?).
The cost is only a donation of $28 (or more) per person! In order to speed up check-in at the luncheon, it would help if you had exact change or your check already written. Checks can be made payable to the Broadcast Pioneers of Philadelphia.
If you would like to add a few dollars extra, we would appreciate it. It would help us with all the important work we are doing. Thanks!
WE WANNA SEE YOUR FACE IN THAT PLACE!

REMINDER!
Please note that in the next few weeks, we will be snail mailing your membership renewals to most of you. If you joined in the past couple of months, you may receive a form, but you are not required to pay any dues at this time. We sent the form so we could verify that all the info we have is still correct. The next membership directory will be printed before you know it.
WE DO NOT SEND YOU MULTIPLE NOTICES A COUPLE WEEKS APART! THIS WILL BE THE ONLY NOTICE FOR RENEWAL THAT YOU WILL RECEIVE.
Kindly return your form and check at your earliest convenience. Please also note that on the form is an important little box that you can check if you would like to make an extra contribution. Our archival project is becoming an expensive thing to do. It costs us about $8,000 a year just to store all our material. That averages out to about $16 per member. If you can can afford it and wish to do so, please help us in this important project. Any amount will be greatly appreciated.

Visit Our Website Often - http://www.broadcastpioneers.com
You should check our website often on the front page (above) for important information!
Check out our Facebook Page - http://www.broadcastpioneers.com/facebook
There are things on our Facebook Page that are NOT on our website (like our vintage photo of the week)
Tune in to our YouTube Channel - http://www.broadcastpioneers.com/youtube
Our YouTube Channel has all our luncheons, exclusive interviews and archival material

A LITTLE BIT OF BROADCAST HISTORY!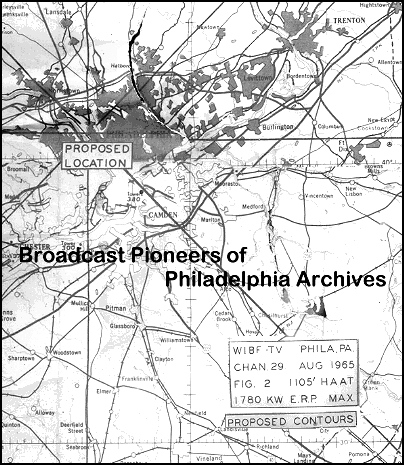 Contour Map for Proposed Signal for WIBF-TV (channel 29)
1965
This is the proposed contour map for Channel 29, WIBF-TV as submitted to the Federal Communications Commission. All the technical work for both Channel 29 and the proposed Channel 46 translator was done by Broadcast Pioneers member Joe Pelletier who was the station's Chief Engineer.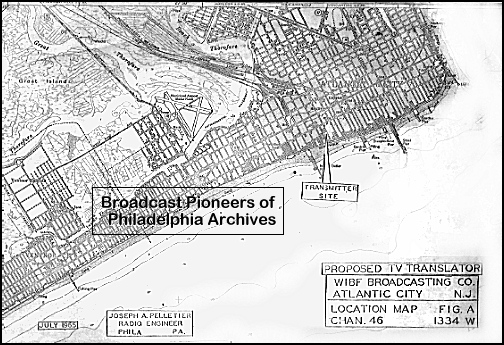 In 1965, WIBF Broadcasting Company applied for (and was denied) a TV Translator in Atlantic City on Channel 46. We have the entire proposed coverage map of Channel 46 in our archives.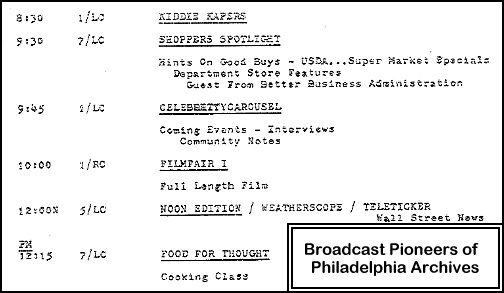 This is part of a proposed program schedule submitted to the Federal Communications Commission when WIBF was applying for a television license. This is from the Monday through Friday schedule. We have the entire program schedule proposal in our archives as well as the the technical proposal (with the TV antenna on top of the Benson East in Jenkintown).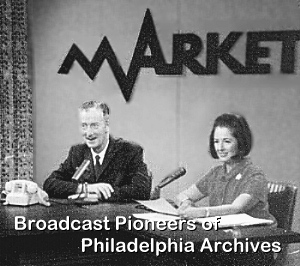 (left to right) Alan Scott and Dorie Lenz
WIBF-TV, Channel 29
Market Program
circa 1967
"Market was a six-hour live local daily broadcast that originated from the WIBF-TV studios. The show promoted that their audience had a higher then usual income, 53% were college graduates, 57% had 2 cars or more (remember this is a half-century ago) and 46% averaged at least 5 airplane trips a year (when most people didn't travel by air). More than a third of those plane trips went to places outside the United States.
By the way, you can read on many websites how WIBF stood for William, Irwin and Benjamin Fox, named after the three brothers who owned the station. You can read this about WIBF-FM and also about WIBF-TV, Channel 29. Well, it is only partially true. While WIBF does stand for William, Irwin and Benjamin Fox, they were not brothers. Benjamin was the father of William and Irwin. Second issue is that only William Fox owned the stations. In fact, early documents filed with the government (including the 1962 sixty-five page document applying for a CP, Construction Permit, for Channel 29 - we have a copy of this in our archives) were in Bill Fox's personal name. Only later did he use a corporate name. And now you know!
DIGITAL ARCHIVAL PROJECT NEWS:
VIDEO:
92 year-old Florence Hanford
at her home
March 18, 2002
Channel 3 over the years has aired many different cooking programs including one that featured Ernie Kovacs and another one with Pete Boyle. However, the most well-known is probably TELEVISION KITCHEN with Broadcast Pioneers member Florence Hanford. The program aired in different time periods, but always in the afternoon and always on Wednesdays. It was sponsored by the Philadelphia Electric Company.

Florence Hanford was a true television pioneer starting on WPTZ in February of 1947, at a time when Channel 3 was the ONLY station in town. That 20 minute cooking demonstration was on the WPTZ show called, "TV Matinee."

Florence was the supervisor of Home Economics for the Philadelphia Electric Company (now PECO). In October of 1949, she started her long running show, Television Kitchen, on Channel 3. It was a weekly program, but as mentioned above was aired on Wednesdays. Today, airing a weekly show on a Wednesday afternoon would be unheard of.
In the early days, the TV lights were so hot that they used stiff mashed potatoes instead of ice cream. They also had to make Jello with only one-seventh the amount of water called for in the recipe. Why? Because with more water, the Jello would turn into liquid because of the heat of the television lighting. By the way, did you know that Florence had musical talent? She played the electronic organ and was friendly with Larry Ferrari. One other interesting fact is that for a time in the fifties, TV kids host Pete Boyle's son, actor Peter Boyle ("Everybody Loves Raymond") ran camera on Florence's show.

Florence did a total of 1006 shows. For the first year or so, her program was produced by Broadcast Pioneers member Bob Jawer. On Monday afternoon, March 18, 2002, we interviewed Florence Hanford on VHS video tape. That's the kind of equipment we were using 13 years ago. Broadcast Pioneers member Ed Sciaky did the interview. Florence Hanford died on July 1, 2008, just a week after her 99th birthday. On Friday, November 20, 2009, she was inducted into the Broadcast Pioneers of Philadelphia's "Hall of Fame."
AUDIO:
And speaking of Ed Sciaky.... One Sunday, November 19, 1972, Ed was on WMMR Radio. During his 45 minute show, he had two guests in the studio, back to back. First were members of the British folk-rock group, Steeleye Span, followed by Tír na nÓg, an Irish folk band. Both were interviewed live on Ed's program. This month, we'll offer the Steeleye Span interview. Next month, we'll present the Tír na nÓg conversation.
The tape from which the audio was taken was recorded by Ed Sciaky at the WMMR Studios. It's an aircheck of exactly what was broadcast. Both groups sang live on the air. Because of licensing restrictions we cannot present that here. However, that complete recording does exist in our audio archive. Listen now to Steeleye Span.
Available in the Windows Media Format!
Next we have a piece of audio from WIP Radio. It's called "Frankly Speaking" and featured Frank Brookhouser on this daily broadcast. Frank was a popular columnist, first with the Philadelphia Inquirer and later with the Evening Bulletin. While we do not have an exact date for this broadcast, we believe that it is from the summer of 1958.
Available in the Windows Media Format!
Today's News Becomes Tomorrow's History!
(This is what our Digital Archival Project, DAP, is all about!)
IN TOUCH WITH OUR MEMBERS:
Broadcast Pioneers member Ron Joseph (also known as RJ) let us know that "RJ will intersperse heavy talk between his disco records. Ron Joseph now features information on New Jersey's governor Chris Christy, Hillary Clinton, Jeb Bush and other topics. You won't want to miss it because RJ has SOMETHING TO SAY." The program is broadcast over Cruisin' 92.1, WVLT every Friday evening from 7 to 9 pm. While the station is licensed to Vineland, NJ, it covers the Delaware Valley. WVLT also can be heard on the Internet.
Broadcast Pioneers member Jerry Klein and his wife, Anne Sceia Klein are humbled, according to Facebook, to have been the recipients of the inaugural "Heart of South Jersey" award, presented by the Southern NJ chapter of the American Heart Association at its annual Go Red for Women luncheon.
Senator Dawn Addiego (Anne's cousin) presented a congratulatory joint resolution from the NJ State Senate and General Assembly. The award was presented by George Sowa, EVP of Brandywine Realty and chairman of the Red Tie Brigade (and one of Jerry's Friday morning ice hockey buddies).
Broadcast Pioneers Board Member Les Waas needed a ride to our April luncheon because he can't drive long distances. Usually, Board Member Paul Big Bear or Ed Eisen (both live near Les) would give him a ride. However, on the day of this particular luncheon, both had other commitments. Gerry Wilkinson, our CEO, knew that member Vibiana Bowman Cvetkovic and her two siblings (members Joaquin Bowman and Melanie Capoferri) were coming to the luncheon. Gerry called Joaquin who was happy to give Les a lift. Bowman e-mailed Gerry: "I enjoyed spending time with Les Waas this month when I gave him a ride to the luncheon. I wrote a little story about it for the newsletter. I was thinking about what you said, 'Broadcast Pioneers is all about the people.' You're right." Here's what Joaquin wrote:
I provided a ride to the April meeting to Les Waas, inducted into the Broadcast Pioneers' Hall of Fame in 2005 and an advertising icon in Philadelphia. I had no idea that Les was responsible for writing almost a thousand jingles, many that are easily recognizable to life-long Philadelphians, like myself. Before we left his house, Les showed me his recording studio tucked away in the lower level of his Huntingdon Valley home. He told me that Bill Webber and Tom Moran would use the studio which had a fairly low entrance. Tom had no problem but Wee Willie Webber would routinely bump his head each time he came through the door.

On the ride down Broad Street, Bowman urged Waas to share some of his memories about his famous jingles. The two of us had a terrific time singing "Everybody who knows goes to Melrose" (Diner) and "Give me a little Kissling's Sauerkraut;" just a couple of Les' songs. On the way home Les entertained me with the tunes he wrote for the Phillies. He's not only a talented and creative person, but was a pilot in World War II, flying missions in the Philippines. It was a thrill to spend time with such an outstanding person.
Two members were inducted into the All-Sports Museum of South Jersey Hall of Fame last month. They were member Tom Lamaine and the late Bill Campbell. Bill was inducted into our Hall of Fame sixteen years ago in 1999 and was our Person of the Year in 2008. Tom Lamaine was inducted into our Hall of Fame twelve years ago in 2003. Tom said: "One of the most challenging things I've done in my career was working alongside Bill Campbell for the 76ers. He kept me sharp, he made me better."
A LITTLE BIT OF BROADCAST HISTORY!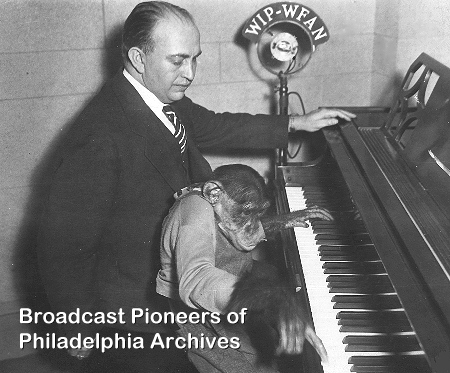 WIP/WFAN Radio
WIP Studios
circa 1932
The back of this photograph identifies the picture as "Lipman and the Piano Playing Chimp." We are dating this image around 1931. From 1928 to 1931, WIP Radio shared the 610 frequency with WFAN Radio. In 1931, the two stations were consolidated into one operation. The next year, 1932, the ownership of WIP was transferred to the Pennsylvania Broadcasting Company separating ownership from Gimbels Department Store. We date this photo to just before the title change.

Did you know...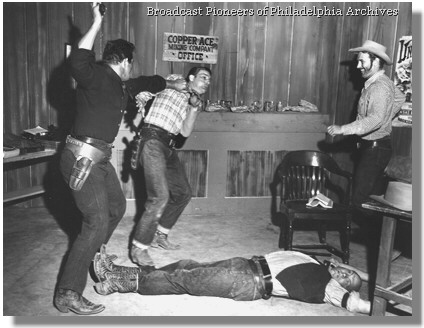 Action in the Afternoon Publicity Still
WCAU-TV
1953
there once was a company called, "Attractions, Inc." They were located at 121 South Broad Street in Center City Philadelphia. They started their firm in 1949 with the idea of supplying theater producers, television stations and others with whatever they needed to do what they wished to do.
When Philadelphia was producing some of the network television shows because there weren't enough studios in the Big Apple, "Attractions" was in seventh heaven. They hit it big when WCAU-TV contracted with them to supply everything they needed for the live daily action western "Action in the Afternoon."
The organization was owned and operated by three women: Helen Israel, Elsye Morris and Doris Jacobson. They maintained files of over 600 names and photos of would be actors and actresses. Their job was to help make "Action in the Afternoon" a success.
Mrs. Israel had said: "Our office looked like a rodeo. Even the old elevator operator in the building tried to get into the act. 'All my life,' he assured us, 'until I started riding elevators, I rode horses.'"
The company sent over 100 qualified applicants to WCAU-TV to audition for the western. Most were for the position of "extras," but a few of them got featured billing. People like Sam Kressen (Sheriff Sam Mitchell) and Norm Garfield (Blacksmith Ben Johnson) came from Attractions.
Action in the Afternoon was produced live on the back lot of WCAU-TV, Channel 10 in Philadelphia and broadcast on the CBS Television Network. It's was television's only live daily network western. This was at a time before CBS owned the station. At that time, it was owned by the Philadelphia Evening Bulletin newspaper.
Helen Israel, the president of the business, said: "This is the most important proof that though it may sometimes be difficult, the right person, place or thing for any TV need can be found right here in Philadelphia."
Helen Israel was a former drama teacher, writer and producer of radio programs both here in Philadelphia and in New York City. Elsye Morris' background was working as one of this city's most skilled radio actresses. Doris Jacobson was the head of the Radio-TV Department at Columbia Institute and worked as a radio actress and director.
Mrs. Israel said on the founding of the company: "We compared notes and found we were constantly on the phone, trying to help TV producers in a jam. So we decided that instead of doing so many favors, we'd join forces and furnish a paid service."
One of their "ventures" was to furnish the "Navy Goat" at the 1952 Army-Navy Game. They also found their services were in demand to find freshly painted homes to be used in local paint store advertising.
The company kept nothing in stock. Their glory was that they knew where to find things that were needed in a hurry.
Helen once said that "Sometimes, we we've been looking for specific types. We've seen just the right person on the street and walked up to them and offered them a job. We've stopped doing that, though. They've invariably thought crazy."
A note about the above picture. This picture was sent to us in 2005 by Tracy Schou, whose mother, Patricia Hale and father, William Skyler (real last name Schou) were on the show. Tracy e-mailed ten years ago: "My father died in January, 1959. My mother is alive and well, recently retired from the Reading Area Community College, where she was a career counselor, and was employed for more than 20 years. She was a founder of Green Hills Theater in the late '50s and early '60s and appeared in performances at the Bucks County Playhouse where she received rave reviews for her performances."
This regular monthly column is written and researched by Gerry Wilkinson

MORE DIGITAL ARCHIVAL PROJECT NEWS:
VIDEO: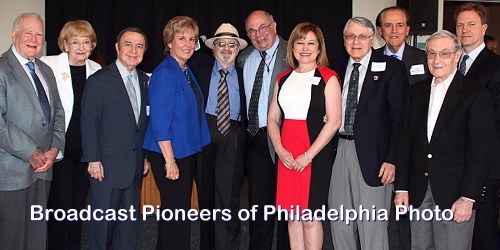 (left to right) Lew Klein, Marie Pantarelli, diego Castellanos, Bob Kravitz, Steve Sacks
Monica Malpass, Mike Nozilo, Joe Pellegrino, Irv Ross and Bernie Prazenica
(all are members of the Broadcast Pioneers of Philadelphia)
Wednesday, April 15, 2015
Action News was 45 Years Old in last month. Everybody knows the theme song. Everyone knows the format and everyone knows the anchors!
120 of you came out and helped us celebrate 45 Years of ACTION NEWS! It all took place at the Bala Golf Club, 2200 Belmont Avenue in Philadelphia on Wednesday, April 15th (that's the third Wednesday of the month).
Watch the video of the lunch from our YouTube Channel!
Videos courtesy of Board Member Brad Seecof and Metramedia Broadcasting and Studios

AUDIO:
Next, we have some audio from a television broadcast. It's a bowling show aired and produced locally by Channel 29. The date is May 31, 1970. The station ran bowling programs for a decade or more. Why aren't we presenting video of this? Because we only have audio. Why aren't we presenting more from the clip? Because this is all we have. It is the only known recording of many years of local bowling on Channel 29.
Listen in the Windows Media Format!
Our last piece of audio is again just the sound from a live television commercial. The announcer is Broadcast Pioneers member Gene Crane advertising Swell Fudge. Again, why aren't we presenting the video? Because we only have sound. At least on this recording, we do have the entire spot. It dates from 1958 and was telecast on WCAU-TV.
Listen in the Windows Media Format!
Remember, History is ONLY What Gets Saved!
(If there were no portraits of George Washington, how would we know what he looked like?)
IN TOUCH WITH THE INDUSTRY:
The Philadelphia Eagles and CBS Radio's SportsRadio 94WIP announced a multi-year broadcast partnership for play-by-play coverage of all Eagles pre-season, regular season and post-season games. The agreement also includes new elements such as an HD Radio station devoted exclusively to the Eagles 24/7 with year-round programming. CBS RADIO Philadelphia stations have carried play-by-play coverage of the Eagles for the last 23 years (since 1992).
Fans will be able to hear Eagles games on WIP and across the tri-state area's 11 station Eagles Radio Network. The new deal begins immediately.

Eagles radio announcers Broadcast Pioneers member Merrill Reese, the NFL's longest tenured play-by-play announcer, and former Eagles All-Pro wide receiver Mike Quick will continue to provide commentary of the games on SportsRadio 94WIP.

Broadcast Pioneers member Marc Rayfield, Senior Vice President and Market Manager, CBS Radio said, "The Eagles are the most identifiable and beloved brand in the Delaware Valley. Listening to Merrill and Mike calling the games on WIP has become a multi-generational tradition. WIP is proud to continue our long standing partnership and is committed to offering our listeners the absolute best in compelling, local content."
Eric Lerner has left WCAU-TV, NBC 10 to go to the Big Apple. He started his new gig as President and General Manager of WNBC on Monday, April 13th. Lerner takes the place of Michael Jack who has retired. Eric came to Philadelphia on March 21, 2012 from Seattle and CBS' KIRO-TV, where he was their Vice-President and General Manager for a half dozen years.
Broadcast Pioneers member Dave Skalish received a service award from CBS Radio. Broadcast Pioneers member Jim Loftus, Vice-President for CBS Radio, did the honors. The award was for 30 years of outstanding service. Dave said if he knew this was coming, he would have worn a better shirt.
Veteran local television executive Brien Kennedy has been named President and General Manager of KYW-TV (CBS 3) and WPSG-TV (The CW Philly), the CBS-owned stations in Philadelphia, it was announced by Peter Dunn, President, CBS Television Stations. Brien has been here in Philly since the beginning of last month. Kennedy joins CBS 3 and The CW Philly after serving as Vice President and General Manager of WCCO-TV, the CBS-owned station in Minneapolis-St. Paul, since June 2010.
Kennedy succeeds Jon Hitchcock, who is returning to his home state of Connecticut to serve as the General Manager of WTIC-TV and WCCT-TV in Hartford and New Haven. Kennedy joined the CBS Television Stations in 2003 (when the group was known as the Viacom Television Stations Group) as Station Manager of WTVX-TV, which at the time was the company's UPN station in West Palm Beach, Fla. In 2005, he was promoted to President and General Manager of WFOR-TV (CBS) and WBFS-TV in Miami and WTVX.
Philadelphia Magazine has announced plans for a new platform focused exclusively on business and innovation in the Philadelphia region. Called BizPhilly, it will feature daily digital content and regular print stories. BizPhilly is edited by Jared Shelly, who joins Philadelphia magazine from the Philadelphia Business Journal.
Brad Segall has been named Afternoon Drive anchor for KYW Newsradio, joining Michelle Durham and Broadcast Pioneers member Steve Nikazy on the weekday PM team. Segall has been the KYW Newsradio Suburban Bureau Chief for KYW over the past 10 years, and has also been a fill-in anchor. He fills a vacancy created earlier this year due to a retirement.
At the same time, KYW reporter Jim Melwert has been named Suburban Bureau Chief. Melwert has risen through the ranks at KYW, joining the station as a Desk Assistant while attending Temple University and rejoining the station in 2007 after reporting for the Radio Pennsylvania network in Harrisburg.

"We were incredibly fortunate to have the in-house talent ready to step into these new roles," said Steve Butler, KYW Director of News and Programming. "Brad and Jim are terrific pros and we're excited to have them carry on the KYW all-news tradition as we celebrate our 50th year."

By the way, it was good seeing Steve Butler at our Broadcast Pioneers' Career Night held at Temple University at the end of March of this year. Cherri Gregg of the station was one of our speakers.
Tony Hanson has spent 37 years at KYW Newsradio. He retired last month. He covered breaking news including the World Trade Center attacks, the 1985 Move siege, the air crash death of U.S. Sen. John Heinz, the Republican National Convention and related protests in 2000, as well as every aspect of the judicial system. He has earned many awards along the way. Hanson joined KYW as a desk assistant after graduating with a degree in communications from Temple University. He was soon promoted to writer correlator, and shortly thereafter to reporter.
Last month, NBC10, Comcast SportsNet and the Philadelphia Eagles announced a comprehensive new broadcast partnership that makes NBC10 "The Official Television Station of the Philadelphia Eagles," and expands Comcast SportsNet's coverage of the team with new shows. Under this new deal, NBC10 will broadcast all four Eagles preseason games, as well as expanded news coverage, beginning with the NFL Draft and extending throughout the season. The partnership includes live game-day, pre and postgame programming and weekly magazine shows.
"The Eagles are an institution in Philadelphia and we are proud to be 'The Official Television Station of the Philadelphia Eagles,'" said Valari Staab, President, NBCUniversal Owned Television Stations. "Between new game day programming, weekly team-focused shows and pre-season games, NBC10 will be the home for wall-to-wall Eagles coverage and we couldn't be more excited about our new partnership."

Together, NBC10 Philadelphia and Comcast SportsNet will provide Eagles fans with unprecedented coverage of the Philadelphia Eagles on multiple networks and platforms.

"Philadelphia already knows about the quality sports coverage that is at the core of NBC10 and Comcast SportsNet," said Don Smolenski, Eagles President. "We have had a long-standing relationship with Comcast SportsNet – a key driver of sports coverage in the city for more than two decades - and this new partnership allows us to build significantly upon that relationship. In addition, we are now going to work together with NBC10 and CSN to provide new and exciting content across multiple channels tailored to Eagles fans."
CBS Radio's 96.5 FM in Philadelphia now presents area listeners with a new destination to discover the best new pop, pop-rhythmic and dance music. Philadelphia's New 96.5 AMP RADIO blends the best of today's most popular songs and reflects the growing future of music consumption. Established artists such as Taylor Swift, Ariana Grande, Pitbull, Rihanna and Calvin Harris along with breakout artists such as Zedd and Wiz Khalifa to name a few will be featured on the station.
"AMP Radio will be a highly attractive brand for Philadelphia's young adult listener. The popularity of today's pop music is at an all-time high and we're looking forward to increasing the station's already powerful reach with advertisers and listeners, both on-air and online," said Broadcast Pioneers member Marc Rayfield, Senior Vice President and Market Manager, CBS RADIO Philadelphia.
We usually don't carry international news. However, we thought you might find this story of interest. The country of Norway says that they will switch off FM radio by the end of 2017. That's about 2 and a half years away. Their Ministry of Culture says it will save them money and will allow for a full transition to digital radio. 22% of the population there already is capable of receiving digital radio broadcasts.
Here in our area, New Jersey 101.5 (WKXW-FM, Trenton) was having a pirate radio station (broadcasting on 101.3) interfering with its signal. The station realized they had a problem when they received over 50 complaints that all of a sudden, they couldn't receive the station anymore. They contacted the FCC but their complaint wasn't in the fast lane. The station then found out where the pirate was and contacted local police who took the pirate down.
A couple of weeks ago, Greater Media announced that WPEN-FM (97.5 - The Fanatic) will air morning drive programming hosted by former WIP afternoon sports guy Anthony Gargano. John Marks will be the co-host. This is WPEN's first local morning drive program. Since Marks moves to morning, his shift will be filled by Harry Mayes and Eytan Shander. They expand from two to four hours. The rest of the day remains the same. The new Gardano morning show replaces ESPN's syndicated Mike and Mike in the Morning program. That shows switches over to Beasley's WTEL (AM), the old WIP dial position, 610.
WE REMEMBER: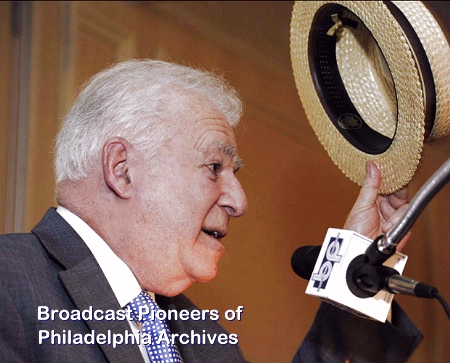 Broadcast Pioneers member Stan Hochman
(during his acceptance speech while being inducted into our Hall of Fame)
Broadcast Pioneers' Annual Banquet
The Hilton City Avenue Hotel, Philadelphia
Friday, November 16, 2012
Tom Mahon of the Daily News said that Broadcast Pioneers member Stan Hochman was a people person and that is true. Stan worked for the Daily News starting in 1959. The next decade saw him doing sports reports on WCAU Radio (now WPHT) and weekend sports on WFIL-TV (now WPVI). Stan hosted a talk show about sports on WIP Radio with Broadcast Pioneers member Ray Didinger. He was inducted into our Hall of Fame three years ago at age 86. Broadcast Pioneers member Phil Shulman told us this:
Stan taught me two life lessons during my days as Managing Editor of Morning Edition (on WCAU Radio):

#1 – "Use alliteration in your writing. It adds polish and people won't know why they like your writing – but they will." (Very helpful.)

#2 – "When dining, ALWAYS open and smell your pint of milk before you drink it." (I ignored this one UNTIL the day I chugged a few ounces of chocolate milk before I realized it had gone bad. Never did that again and – 50 years later – I still check the "sell by" date on the carton, and think of Stan.) A nice man. One of the last of a dying breed from Philadelphia's sportswriters heyday.

You can watch a video about Stan Hochman's career (that we played at our 2012 banquet) and see Stan accept induction into our Hall of Fame. It's in the Windows Media Format!
A LITTLE BIT OF BROADCAST HISTORY!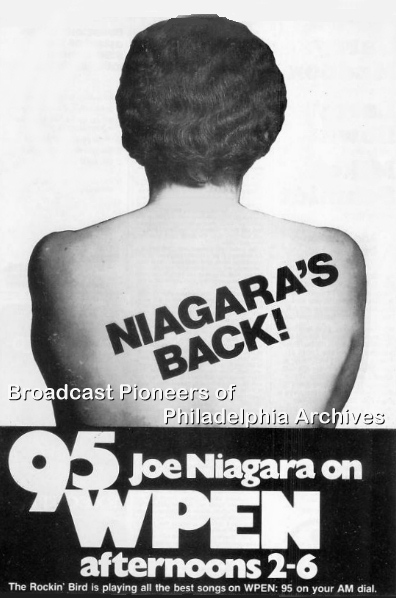 WPEN Ad during their oldies format era
1977
THANKS FOR THE MEMORIES:
Three Block Square!
Member Dick Sheeran (who was inducted into our Hall of Fame in 2010) told member Frank Stone in one of Frank's "On The Scene" interviews done a few years ago:
"There was 'Three Blocks Square' where Broadcast Pioneers member Liz Matt was my producer. We would go into the neighborhoods of Philadelphia and literally walk three square blocks, visiting stores, listening to people of the neighborhood tell stories and we would show and tell all about the neighborhood on TV. We told stories that were never told before that were down to earth, straight forward snapshots of a neighborhood and how each was different and special. Liz was a really big part of it, and as you know went on to become a highly respected channel 6 celebrity.
Broadcast Pioneers member Liz Matt (who was inducted into our Hall of Fame in 2012) was the writer and producer of "Three Blocks Square" on KYW-TV. Here's a little something she wrote three years ago about it.
I suppose it's within the realm of possibility that I would have enjoyed writing and producing "3 Blocks Square" as much if I had been assigned to work with any reporter other than the brilliant Dick Sheeran. But I doubt it. We were a well-matched team.

Dick's local reporting experience quickly helped define the neighborhoods with high-key identities that would hold interest all across the Delaware Valley: "K&A" in Kensington, Fairmount, Oxford Circle, South Philly, 52nd and Market, Chinatown, and beyond. My job began with going to each one and directly ferreting out the stories, making sure there was enough meat and visual substance to make each piece fun to watch.

Picture me knocking on doors of churches, sitting in diner booths and talking to old guys in taprooms at 11 a.m. (you read that right), asking neighborhood folks what were the "gee whiz" stories THEY talked about from within their 3-square blocks. Imagine being paid to dig through the microfilm of the backdated newspapers at the Main branch of the Free Library and find the "aha!" news clipping that proved they weren't making this stuff up. Absolute joy for $18,000 a year, enough for a studio apartment in a marginal neighborhood of Center City and a SEPTA Transpass to anywhere!

Then I got to bring my prize info back to Dick, a "downtown" South Philly guy who could smell high-concept BS from five blocks away yet treasured the truthful stories of Philadelphia's neighborhoods. I proudly presented my findings like a cat dropping a dying mouse on the front mat and purring with satisfaction. Dick brought these morsels back to life.

For example,

Two guys in Kensington getting drunk and renting a plane and buzzing their neighborhood in the summer of '57, stalling out and diving the plane nose down between the row houses in their own neighborhood. They did not survive, but not one other soul was even hurt. Just a few bricks knocked off a chimney.

Discovering Fayette Pinkney, a member of the musical girl-group "The Three Degrees," a gigantic soul hit machine with "When Will I See You Again". She had returned to West Philly and became a psychologist, after previously being an opening act for the likes of Ringo Starr.

The heartbreaking day we sat on the steps in Chinatown with an old man who had made peace with leaving his young his wife and baby son back in China when he came here as a young man to work, and not seeing her again till their son was an adult because of punishing immigration laws. I'll never forget Dick interviewing him about his shock at seeing his wife when they were reunited decades later and the recognition that they were both now old.

Whew.

My personal favorite experience was in the Fairmount stories, which included retelling the infamous prison break in 1945 when the robber Willie Sutton broke out by tunneling under the wall of Eastern State Penitentiary with twelve other inmates. OK. Anybody could look up the old stories about that, because it was huge news. Dick and I found the wife of a guy who was captured by the escapees!

Better yet, the wife was Maxine Koswoska, a plain lady but a legend in Fairmount for the essential corner store she ran on Parrish Street. Maxine was always busy selling milkshakes, party favors, loose leaf, Bic Pens. In short, Maxine sold EVERYTHING a kid in Fairmount needed to succeed. Maxine was a fixture in that store for 47 years but she was a young bride when her husband Joseph was abducted by the prison escapees on his way to work on that morning in April 3,1945.

Here's what I loved about Dick's interview with her, a lesson in interviewing I have never forgotten. At some point in the morning of the abduction, Maxine found out her husband was taken. Dick asked Maxine, "What did you pack him for lunch?" Said Maxine, "Kielbasa, of course."

EVERYTHING was revealed in both the question and the answer. If you thought you'd never see your husband again, wouldn't you remember your last touch point, in this case handing him his lunch? If he carried his lunch every day, which Dick intrinsically understood, didn't it characterized lunch-pail America and how that was daily life in Fairmount? And the fact that it was "kielbasa, of course," captured the Polish heritage of Fairmount. The trifecta of a neighborhood interview! By the way, Joseph Koswoski survived that and lived till 1960 and Maxine lived about a half dozen years more after our interview, died in a car accident and was such a local legend, she earned an obit in the Daily News on October 26, 1986. But the obit never mentioned her husband and Willie Sutton, only her milkshakes. Dick made her famous on KYW's "Three Blocks Square" for the worst/best day of her married life!

Thanks, Dick, for that unforgettable moment in interviewing that instructed and guided me for the remaining 15 years of my interviewing career. You were one great teacher. Thanks to Tom Battista, KYW GM, for the shot at the most fun I ever had in broadcasting.
Next month, we'll have more about "Three Blocks Square." This time, the memories of member Dick Sheeran!
Herb Clarke's Parents!
Broadcast Pioneers member Herb Clarke was a vital part of Broadcast Pioneers. A little while before he passed away, Herb wrote a book. It was self-published and only meant for family and friends. He called it, "The Times That Made Me Me." (no, that's not a typo). Fortunately for us, Herb donated both an electronic copy and a hard copy for our archives. We thought that you might enjoy this little excerpt from the book. This chapter is called, "My Parents."
At the turn of the century in 1903 my father, William Merritt Clarke worked as an electrician in the town of Burlington, NC, and served to rig its street lighting. When that job was completed he moved to Eden to help install wiring the new textile mills. He saved his pay and when the mills were glowing with light bulbs, he rented a large frame building and established general store, donned a gray suit and black bow and became a businessman. For the rest of his life his wardrobe never changed.

A few years after opening the store, there was a murder on a rainy night far out in the county. As a great story spinner, Daddy enjoyed telling us about it. "The sheriff had no clues as to who the killer was because the rain had washed away the muddy horse tracks but he managed to get one clue that could possibly prove the killer on horseback had been across the bridge.

There were several fresh chips cut from bridge planks which indicated a loose or broken horseshoe close to where the body was found." Daddy continued. "Of course, the Sheriff couldn't arrest every man in the county who owned a horse with a loose shoe. I thought the case would have to be closed for lack of evidence." A week or so later, an old blind man from Ruffin suggested to the sheriff that he could identify the rider if the horse and rider would ride over the bridge so he could hear the hooves of the horse.

About fifty men on horseback were summoned to the bridge. One at a time, they rode at a fast pace across the bridge. After most of the riders had gone across and were getting discouraged about finding the guilty person, finally the old man, with his hand cupped to his ear, turned and told the Sheriff, "That's your man."

The officer asked him how he knew. "Well, for one thing that rider was nervous and the horse ran with a crippled left hind foot with a loose shoe. That has to be the same horse that ran over the bridge the night of the murder," he said "It's the horse I heard from my house that night." A confession wasn't hard to get with the evidence against him. The man was given a fair trial at the courthouse in Wentworth and was hanged before more than six thousand people. Some traveled many miles to get there. The blind man was put on the county payroll for the remainder of his life.

Near that time, my father bought land and built a house for himself and his mother. Across the sandy road, he bought more land and with help from several volunteer carpenters constructed a small Methodist Church complete with a bronze bell to summon people to services with the tug of a rope. The church congregation first met in May 1907.

The new church led Daddy to "Miss Addie" about 1912. As a deaconess in fledgling mill towns, Mama worked diligently to keep the new churches active by arranging for occasional visiting pastors, seeking new members, training choirs and serving as pianist.

She also organized Wednesday night prayer meetings and the Sunday Schools for adults and children. While she did all these jobs, Daddy rode his horse five miles to the town of Spray to ask her to help with his little church. She agreed and accepted the challenge of a third church. A hundred years later, in May 2007, the congregation celebrated the 100th anniversary of the now much larger First Methodist Church of Eden, which still has the stained glass window earlier dedicated to my father.

They were married in 1917, when he was 47 and she was 36. The slogan of Daddy's general store was "If you can't find it here, you can't find it anywhere." That was almost true. There was salt mackerel in a barrel for eating or using as catfish bait in cone-shaped net traps in the river. Aged cheddar from a 30-pound block of cheese on a revolving platform could be cut by an attached mounted blade.

There were medical remedies such as Lydia Pinkham's for Women and Black Draught Laxative, ready-made clothing or bolts of cloth fabrics for the make-your-own ladies' dresses, Weyenberg's men's dress shoes for church, women's shoes with sensible heels, high-top work shoes made of rough leather in the state prison and Red Ball rubber boots.

Bags, aluminum cans, wax paper, nylons, frozen food and cigarette lighters had not been invented. White bread made by the Merita Bakery cost eight cents a loaf and was called "sweet bread" as opposed to home-baked kind. Only a few folks in early Eden could afford sweet bread. In a rear storeroom were bags of crushed corn for chickens, food for cows and pigs, horse feed and cured country hams hanging from the rafters.

During the Great Depression of the 1930s, Daddy delivered bushel baskets of food and clothing to families on credit. Food for a family of six or eight for a week could be bought for about five dollars. When he learned of poor people in distress, he filled his pickup truck with food, shoes and clothing for adults and children, all given for free, and often delivered an envelope of cash so they could buy a ton of coal. When employment in the mills began to perk up as WWII neared and military supplies were needed, many families with store debts and bills simply forgot them.

In 1940 at Daddy's request, Bill, Gordon and I spent an entire day tallying the full register of long overdue accounts. After noting the creditor and the amounts, we tied each set of rolled, unpaid bills with twine and tossed them in bushel baskets. After Bill finished pulling the handle on the Victor Adding Machine to add the charges, the long printed strip of paper had recorded only ten years' overdue bills totaling more than $73.000. In 1940, that would have been a sizeable fortune.

At the end of the day, without looking at the figures or the bills, Daddy took them out the back door of the store to the smoldering trash pile and burned them. Perhaps because he was forty-five when he and Adele Pattillo were married and she was thirty-five and they were very close, he never said "Dear," "Honey" or "Darling." He always spoke of her as "Miss Addie."

For many years, riding in the passenger side of Daddy's 1932 Ford pickup with his head out in the wind was his mixed breed shaggy white dog, Jack. At age 77, one week after he went in a hospital for the first time, my father died of pneumonia in 1951. Jack died a few hours later the same day and was deeply buried in a box behind the garage.
HARRY HARRIS ON SGT. BILKO!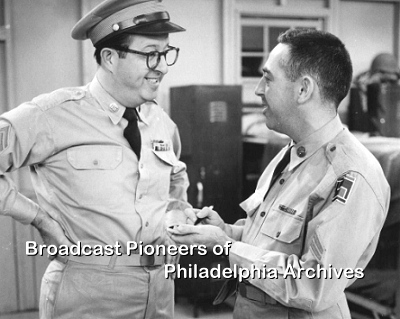 (left to right) Phil Silvers and member Harry Harris
on the set of The Phil Silvers Show (Sgt. Bilko)
DuMont Studios, 205 East 67th Street, New York
Friday, February 24, 1955
(Previously unreleased photo)
Did anyone see Broadcast Pioneers member Harry Harris on a rerun of "The Phil Silvers Show" that aired last Saturday evening at 11:30 pm on Decades? "Decades" is broadcast on a sub-channel of KYW-TV (3.2). The new channel is available off air and on cable.
Running for four seasons, "The Phil Silvers Show" (originally titled, "You'll Never Get Rich") was a hit on CBS-TV. It was cancelled while still at the top. It has been reported that 22 regular cast member salaries was just too big of a drain on the network and so they pulled the plug in order to get it into syndication while the show was "still hot" and the going price high.
Broadcast Pioneers member Harry Harris, a TV columnist for the Philadelphia Inquirer was given a cameo appearance on the show. This was often done for major market columnists so that they would write about their experiences on the program and thus generate publicity for the series.
Harry was in the episode called, "Bilko and the Beast," which aired on Tuesday, March 27, 1956. It was the 28th episode of the first season. Harris said that he wore "corporal stripes, a phony regimental patch, blank dogtags and strictly non-regulation blue socks." The program was filmed at the DuMont studios, 205 East 67th Street in New York City. Only the first season was shot at this location. Later they had their own sound stage at CBS at 221 West 26th Street in New York. The last season was shot in Hollywood.
Harry said that he met some of the others from the show at a NYC restaurant called "Oscar's Salt of the Sea." It was just around the corner from the DuMont studios. They had four tables at Oscar's and Harry was told that Silvers was still in his dressing room "trying to wake up."
The show is shot chronologically. Nat Hiken, the program's creator told Harris: "About every eight minutes, we have to take a break for about four minutes while the three cameras change film magazines. Other than that, we never turn the cameras off, even when they're being rolled from one set to the next. It takes about an hour to film a half-hour show."
Harris said: "The playing area, in front of mobile cameras, two mobile microphone units and 10 wide rows of bleachers, was set for three locales. A restaurant, Bilko's quarters and the Company B Day Room." Note that the restaurant looked an awful lot like the barracks except that it had some curtains. It was more like the snack bar on the army post.
Members of the cast of the Phil Silvers Show (Sgt. Bilko)
Broadcast Pioneers member at extreme right - standing)
DuMont Studios, 205 East 67th Street, New York
Friday, February 24, 1955
(Previously unreleased photo)
Rehearsal for this episode started on Monday, February 20th. Some of the rehearsals were held at the Nola Studios st 111 West 57th Street in Manhattan (above Lindy's Restaurant). There were major script revisions and finally a dress rehearsal on Friday morning at DuMont. At 2:45 pm that afternoon, the studio audience of 350 arrived. There were 74 people working on the show, 71 men and 3 women. The series' announcer did the warm-up. At 4 pm, the film started to roll. An hour later, it was finished.
The series won three consecutive Emmys for best comedy series with a total of 143 episodes. While many shows like this were filmed in California, the creator of the show Nat Hiken insisted that the show be filmed in New York City thinking that the Big Apple conducive for comedy.
If you look for Harris if you're lucky enough to see the show, he's in the first scene in the so-called restaurant. He was in the first five minutes of the show and never said a word. He was not mentioned in the closing credits. After doing his part, he sat in the bleachers with the audience to watch the rest of the show.
Don't confuse this episode with the one which starred Morey Amsterdam (season 4, episode 13 - Bilko's Giveaway) portraying a character called "Harry Harris."
FROM A HALF-CENTURY AGO!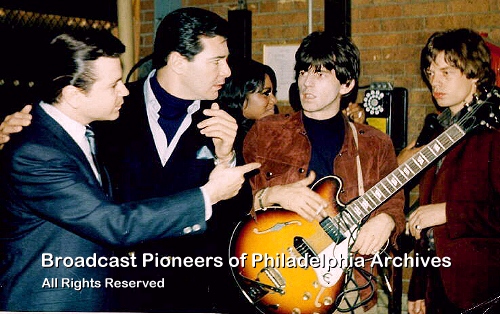 (Left to right) Alan Dean, Hy Lit, Keith Richards and Mick Jagger
Saturday, May 1, 1965
Backstage in the Philadelphia Convention Hall at 34th and Spruce Streets
Fifty years ago this past Friday, the Rolling Stones performed in Convention Hall. Earlier that same day, they played a similar gig in New York City. However, the concert wasn't like what you might expect today. It was an all-star show. The Stones and Herman's Hermits headlined the show. Other acts included Little Anthony and the Imperials, Bobby Vee, Freddie Cannon, Bobby Freeman, Brenda Holloway and more. The show was emceed by Broadcast Pioneers members Hy Lit, Joe Niagara and Bill Wright, Sr.
OUR HATS OFF TO YOU:
One final thanks for the 2015 Scholarships we awarded a couple of weeks ago:
Vice-President Kal Rudman - 5 scholarships (all for Temple students)
Member Johnny B. Hall and wife Ginny - 4 scholarships
Members Robin and Ira Adelman & Leon Love - 2 scholarships
Member R. Alan Campbell - 1 scholarship in the memory of Fred Ruggieri (Fred Randall)
Member Harry Hurley's Golf Tournament - 1 scholarship (for South Jersey residents or students)
Member Sylvia Kauders - 1 scholarship (from a grant for 5 yearly scholarships)
Member Marlin Taylor - 1 scholarship
Member Esther Kurtz - 1 scholarship in memory of her late husband, David Kurtz
Member Bob Pantano - 1 scholarship (for a Temple University student)
Bette Lavine (neighbor of Mike Nise) - 1 scholarship
Special Thanks for contribution of $1,000 or more to our DAP, Digital Archival Project:
Member Johnny B. Hall and wife Ginny - $3,000
Member Marlin Taylor - $1,000
Member Harry Hurley's Golf Tournament - $1,000
Special Thanks for April 2016 Scholarships:
Member Dan Lerner - 5 scholarships
Member Sylvia Kauders - 1 scholarship (from a grant for 5 yearly scholarships running until 2019)
Member Harry Hurley's Golf Tournament - 1 scholarship (for a South Jersey resident or student)
Member Johnny B. Hall and his wife, Ginny - 7 scholarships
Member Kal Rudman - 5 scholarships (for Temple University students)
Underwrite a complete scholarship and we'll give you credit in the electronic newsletter until the scholarship is awarded in April of 2015. Give us a donation of $1,000 or more and we'll list you in our "Thank You" column for a year.
More Thanks:
Special thanks to Hall of Fame inductee (class of 2012) Harry Hurley for his generous contribution pledge of $500. This donation is for our general fund.
Thanks to Barbara and Stewart Roberts of California for their donation to our organization in the memory of member Shirley Morris who served on our Board of Directors for 16 years. Shirley had asked that anyone who wished to do so should make memorial contributions to Broadcast Pioneers of Philadelphia. We also received another contribution in Shirley's memory from R. Alexander B. Jervis and Ann G. Jervis. Just in the last few days, we received another gift in Shirley's name from Rich and Beck Abel from Wilmington. Thank you.
Member Anthony Di Florio has donated three vintage Philadelphia editions of TV Guide. Two are from 1959 and one from 1970. These are great additions to our collection. We also thank member Bud Galow for his donation of 25 tapes containing KYW Newsradio material.
Special kudos to those who gave an extra contribution when paying for their April luncheon. These people include: Les Waas, Randall Jackson, Nick and Liz Thomas, Gerry Wilkinson, Pat Delsi, Bob & Susan Kravitz, Diego Castellanos, Cathy Gandolfo, Carol Leebron, Johnny B. Hall, Robin Mackintosh and Dorie Lenz.
A growing portion of the revenues that fund the different activities of the Broadcast Pioneers comes from donations. This includes our archival project and our scholarship program. Now, we are making it even more beneficial for our donors. Broadcast Pioneers is now able to accept gifts of appreciated stock, which provides a significant tax benefit to you. By giving appreciated stock (stock which is worth more now than what it cost when it was purchased), you can get a charitable contribution tax deduction based on the current market value of your stock. At the same time, you avoid the capital gains
tax that would arise if you simply sell the stock. So if you'd like to support our educational mission or our archival project and save money on taxes too, please consider making a gift of appreciated stock. We are a federally recognized, state chartered charity with a 501(c)(3) status. Contact us at (856) 365-5600 or e-mail pioneers@broadcastpioneers.com for more details.
Don't be left out. You too can make a pledge. It's never too late. You can earmark it for scholarships, our Digital Archival Project or our general fund. Thanks so much for your support.
Our special thanks go to TUTV - Temple University Television and The Kal & Lucille Rudman Media Production Center.

They have underwritten a grant to be used to fund an entire year of all our newsletters for calendar year 2015. We thank them so much for their support!
If you forgot to make an extra contribution (cash or memorabilia) and would like to do so now, it's never too late. We would be thrilled to hear from you at: PO Box 2886, Bala Cynwyd, PA 19004 or call us at (856) 365-5600.
A FINAL THOUGHT....
"I never saw a telethon that I didn't like."
Bill "Wee Willie" Webber
December 1996
Broadcast Pioneers Newsletter

Please contact us by e-mail at newsletter@broadcastpioneers.com or by mail to: Broadcast Pioneers of Philadelphia, PO Box 2886, Bala Cynwyd, PA 19004. Your stories are important, to you, to us, and your colleagues. Contact us today and we'll include your story in the next newsletter!

© 2015, Broadcast Pioneers of Philadelphia
All Rights Reserved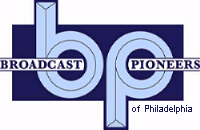 The e-mail address of the Broadcast Pioneers of Philadelphia is pioneers@broadcastpioneers.com
For luncheon reservations call (856) 365-5600 or e-mail us at: rsvp@broadcastpioneers.com