| | |
| --- | --- |
| | Broadcast Pioneers of Philadelphia is a federally recognized, state chartered 501(c)(3) non-profit organization serving the Philadelphia Broadcast Community since January of 1962. |
The Bala Golf Club
Wednesday, May 18, 2016
Meet & Greet at 12 noon!

Free Mr. Softee, Noon to 1 pm
Lunch at 12:30 pm
Ratecard: $28 per person!

PLEASE RESERVE NOW!
CALL (856) 365-5600!
rsvp@broadcastpioneers.com
Another Third Wednesday Luncheon!
Wednesday, May 18, 2016!
Good Food - Great Programs - Wonderful Times
Lunch is only $28 per person!
FREE Mister Softee - 12 Noon to 1 pm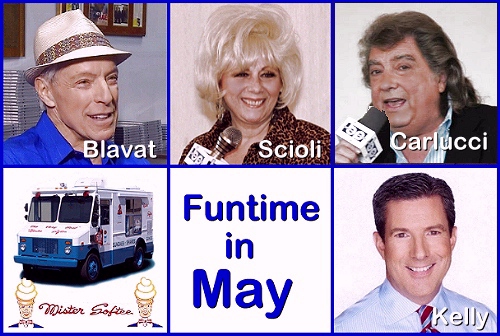 Hit After Hit, Smash After Smash, Blockbuster After Blockbuster... Here is another "monster" lunch where the "stars" don't wait to come out at night. They're there at lunchtime!
This is our "Funtime in May Luncheon." It will be held at the Bala Golf Club, 2200 Belmont Avenue in Philadelphia on Wednesday, May 18th (that's the third Wednesday of the month). Meet and greet at 12 noon. Lunch will be served at 12:30 pm.
Our MC for the afternoon is member Bob Kelly, Traffic Guy for Fox 29's "Good Day Philadelphia." . Bob joined the Fox 29 news team in October 2014. Previously, he was the traffic reporter for CBS 3 (KYW-TV) for 13 years. He started in the business with member Jerry Blavat.
And speaking of Jerry Blavat, we start off with the Geator with the Heater talking about his career, his book and the upcoming Hollywood motion picture based on his life. We also have member Karen Scioli (you remember her from "Saturday Night Dead.") She'll be providing us with a good time. (We're afraid to ask what that means LOL). Then, we wrap everything up with a mini-concert by member Billy Carlucci, a legendary figure in Rock & Roll.
PLEASE NOTE: Member Charlie Gracie was originally supposed to be at this luncheon. However, at the time of our get together, he will be interviewed by the BBC-TV for an upcoming rock documentary. It's the only time they could do it. This is great news for Charlie and while we're sad Charlie won't be with us, another legend of Doo Wop and Rock & Roll will take his place, the amazing Billy Carlucci of "Billy and the Essentials."
COME GET A FREE MISTER SOFTEE!
Special Treat! The corporate office of Mister Softee, Inc. will be sending a free Mister Softee truck (from 12 noon to 1 pm only) to our luncheon. Anyone who wants one can get a free Mister Softee. Why are they doing this? It's to celebrate the life of member Les Waas who wrote the Mister Softee jingle 56 years ago. May 18th, the date of the luncheon, would have been his 95th birthday.
It all takes place at the beautiful and historic Bala Golf Club, 2200 Belmont Avenue (across the street from the state police) in the Wynnefield section of Philadelphia. Only minutes away from Channels 6, 10 and 17 and the radio stations in Bala Cynwyd. Don't miss this one!
Make your reservations early by calling (856) 365-5600 or by e-mailing us at: pioneers@broadcastpioneers.com. It's going to be a really huge crowd. Attending this luncheon is the biggest "no-brainer" on the planet! Be there and say hi to old friends (and make some new ones).
RESERVATIONS ARE CRUCIAL! Don't wait until the last minute, reserve now! This is sure to be another blockbuster turn out. Make your reservation now by calling (856) 365-5600. This is THE place to be on Wednesday, May 18th!
Plenty of FREE parking. Our luncheons are open to all our members, their guests and any person in the industry or associated fields, whether active or retired. You do NOT have to be a member to attend. There is no reserved seating at our luncheons. Feel free to sit anywhere. Well, okay--the three people on the camera crew sit near the cameras, but that's in the back of the room.
The cost is only a donation of $28 (or more) per person! In order to speed up check-in at the luncheon, it would help if you had exact change or your check already written. Checks can be made payable to the Broadcast Pioneers of Philadelphia.
If you would like to add a few dollars extra, we would appreciate it. It would help us with all the important work we are doing. Thanks!
WE'LL BE PROUD TO SEE YOU IN THE CROWD!

Visit Our Website Often - http://www.broadcastpioneers.com
You should check our website often on the front page (above) for important information!
Check out our Facebook Page - http://www.broadcastpioneers.com/facebook
There are things on our Facebook Page that are NOT on our website (like our vintage photo of the week)
Tune in to our YouTube Channel - http://www.broadcastpioneers.com/youtube
Our YouTube Channel has all our luncheons, exclusive interviews and archival material

NEW MEMBERS:
Christopher Harper has been in our wonderful business for the last 35 years. From 1980 to 1995, he worked for ABC News and was stationed in their news bureaus of New York, Cairo and Rome. Then, he taught at New York University for a few years in the late nineties, before going to Ithaca College in Ithaca, New York. He was there from 1998 to 2005. From Ithaca, he came to the Delaware Valley and Philadelphia's Temple University where he still is today. Harper also worked for the Associated Press in Chicago and Newsweek He writes a weekly column for the Washington Times.
John Mussoni started in our fantastic business during 1974 at WEEI in Boston. He is currently the Interim Vice-President of News and Civic Dialog for WHYY. He's also the Executive Producer of their TV broadcast, "First." He's been there since 2009. He came to Philly in 1975 as a producer for WCAU (AM), now WPHT. In 1983, he became Assignment Manager for WCAU-TV where he stayed for seven years. Then he moved to WTXF-TV as News Director in 1990 where he stayed for 11 years. He also was an Executive Producer at CN8 and then became Senior Executive Producer.
We are thrilled to have these new members. Over 500 Members. More than ever. We hope to see as many of our members as possible at our May luncheon.

REMINDER!
Please note that in the next few weeks, we will be snail mailing your membership renewals to most of you. If you joined in the past couple of months, you may receive a form, but you are not required to pay any dues at this time. We sent the form so we could verify that all the info we have is still correct. The next membership directory will be printed before you know it.
WE DO NOT SEND YOU MULTIPLE NOTICES A COUPLE WEEKS APART! THIS WILL BE THE ONLY NOTICE FOR RENEWAL THAT YOU WILL RECEIVE.
Kindly return your form and check at your earliest convenience. Please also note that on the form is an important little box that you can check if you would like to make an extra contribution. Our archival project is becoming an expensive thing to do. It costs us about $8,000 a year just to store all our material. That averages out to about $16 per member. If you can afford it and wish to do so, please help us in this important project. Any amount will be greatly appreciated. History is only what gets saved!

DIGITAL ARCHIVAL PROJECT NEWS:
VIDEO: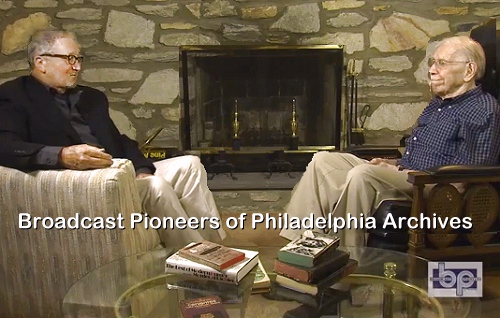 (Left to right) Members Mike Strug and Les Waas
at Les Waas' home in Huntingdon Valley, PA
Pioneers of Philadelphia Broadcasting
August 5, 2014
On August 5, 2014, we recorded one of our "Pioneers of Philadelphia Broadcasting" programs at the home of member Les Waas. Member Mike Strug did the interview. Les talked about his career and had some great stories to tell. He even sang the Mister Softee jingle which he wrote. As most of you know, Les passed away last month at the age of 94. This interview is a permanent part of the Broadcast Pioneers' YouTube Channel.
(video courtesy of Broadcast Pioneers VP Brad Seecof and Metramedia Broadcasting & Studios)
AUDIO:
Two-thirds of a century ago, the Philadelphia Bulletin Forum was a big deal in this city and even in the country. Parts of it were carried live or recorded on WCAU Radio and WCAU-TV (owned by the Bulletin newspaper at that time). Segments of the multi-day event were also carried live and/or on tape on the CBS Radio Network among others. Several future president spoke at the "Forum" including John Kennedy and Richard Nixon.
We have, in our audio archive, 30 minutes of a live one hour broadcast carried on WCAU-TV on Monday evening, March 3, 1952. We have the first half-hour from 10 pm to 10:30. On that evening, Channel 10 carried 90 minutes of that night's events. They carried a half-hour from 8:30 to 9 pm pre-empting the ever popular "Arthur Godfrey Talent Scouts" program. At 9 pm, the station joined the CBS network for the highly rated "I Love Lucy" followed by a game show called, "News to Me" hosted by John Daly.
At 10 pm, WCAU-TV again pre-empted network programming (Westinghouse's Studio One) for another hour of live coverage. The first half-hour of this is what we have. While it was a television broadcast, we have only audio. What was said during this time made the national news the next day.
Four United States Senators took part in this hour presentation. They were: Margaret Chase Smith (R-Maine), Harry P. Cain (R-Washington), Estes Kefauver (D-Tennessee) and Blair Moody (D-Michigan). It's interesting to note that several times during this 30 minute period, they talked about the possibility of Atomic War. One mentioned a report that there were 205 Communists in the State Department and Senator Smith was referred to a couple times as "the Beautiful Senator from Maine." All this is part of what 1952 was like.
By the way, Margaret Chase Smith was the first woman elected to both the United States House of Representatives and the U.S. Senate. She was also a "favorite son's" candidate for the GOP nomination for president in 1964. Kefauver was a candidate for the top White House job in 1952 and 1956 and ran as the Democrats' VP candidate in 1956 with Adlai Stevenson at the top of the ticket.
The Moderator that evening was CBS news correspondent Dwight Cooke who had MC duties for several of these evenings and for several years. Cooke was an old radio hand dating back into the thirties and hosted his own news commentating program on CBS for quite awhile.
There were delayed presentations on several of the radio networks later on, but this audio is from the WCAU-TV live telecast.
Listen in Real Audio!
Listen in Windows Media!
Our next piece of audio comes from May of 1953. Part of Phil Sheridan's morning broadcast was his feature called, "The Church of the Week." This is from an old WFIL Radio transcription disc. The quality is not the best, however, it is the only known recording of this feature.
Listen in Real Audio!
Listen in Windows Media!
Today's News Becomes Tomorrow's History!
(This is what our Digital Archival Project, DAP, is all about!)
IN TOUCH WITH OUR MEMBERS:
We heard from the West Coast and member Bunny Gibson. When she's not busy remembering her dancing days on American Bandstand, she is still acting. She tells us that she did the Orange County Fair Family Style Shoot. Done in front of a green screen, she looked like she was on a giant roller coaster with a large fan blowing her hair.
We have been informed that Broadcast Pioneers Member Steve Vertlieb has just been inducted into "The Monster Kid Hall Of Fame," the ultimate honor bestowed by voters in the annual Classic Horror Film Board competition. Steve has been involved in this group for more than a half-century.
Member Charlie Gracie's book, "Rock and Roll's Hidden Giant" has been so successful that it has gone into a second printing. Charlie was our speaker (about his career and his book) at our February luncheon. You can watch the luncheon here on Our YouTube Channel! Charlie is our guest our at May luncheon. Come on out and see him.
Member Christopher Harper, a professor at Temple, will travel to Guangzhou, China, to teach journalism research and in-depth reporting at Jinan University. Harper, who worked for ABC News in the Middle East and Europe, will spend two months teaching and touring China, Vietnam and Cambodia. Jinan University's International School is considered one of the best in China.
Member John Primerano was on Puerto Rican Panorama a couple of Saturdays ago. He sang one of his new songs on the program. In case you're not aware, Puerto Rican Panorama has been running on WPVI for decades and is hosted by Broadcast Pioneers Board Member Diego Castellanos.
Just a couple of weeks ago, member Harry Hurley was selected by Talker's Magazine as one of this nation's most important radio talk show hosts. This is the second year in a row that he has made this list. Last year, he placed number 100. This year, he moved up 30 slots placing at number 70. He's the only person from Southern New Jersey to ever make this national annual list.
Member Johnny B. Hall and his wife, Ginny, visited India. Ginny is in reality, Dr. Virginia Hall, and almost every year she visits The Christian Medical Center in India. They were there at the end of March of this year. Johnny sent us some photos and a little information. By the way, he gave a Charlie Gracie CD to one of the surgeons. Philadelphia music is worldwide. Click here to read what Johnny wrote!
Member Skip Clayton tells us that last month, April 11th to be exact, he did his 1,000th straight weekly broadcast of "Racing Wrap" (an auto racing program) on Merrill Reese's WBCB Radio in Levittown. That's nearly two decades of programs on the station.
The Philly Music Hall of Fame celebrates Broadcast Pioneers member Charlie Gracie's 80th birthday on Saturday, May 14th at the Clef Club Theater, Broad and Fitzwater. There's musical tributes from other top articles with a live radio broadcast with member Steve Kurtz on Cruisin' 92.1, WVLT. Cake, toast and light Philly Faire will be available.
A LITTLE BIT OF BROADCAST HISTORY!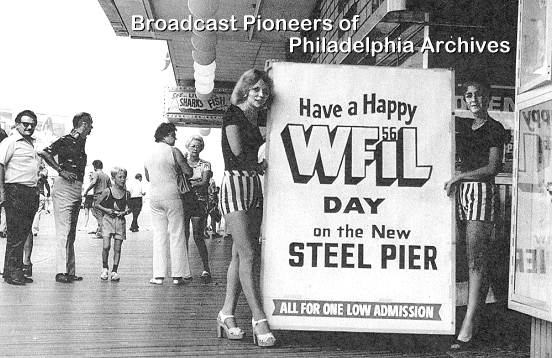 A couple of unidentified WFIL, Famous 56 Boss Chicks
Steel Pier, Atlantic City, New Jersey
circa 1972
WHERE OUR PREVIOUS SCHOLARSHIP WINNERS ARE NOW:
Stephen Jiwanmall won our scholarship in both 2010 and 2011. He graduated with honors from La Salle and earned his master's at Columbia. Then he worked for the Bucks County-based Calkins Media as a video reporter and fill-in anchor for the company's three Philly-area newspapers: Bucks County Courier Times, The Intelligencer, and the Burlington County Times. He's now been at WTXL-TV, Tallahassee as a reporter and fill-in anchor. He interned with Fox 29 and WHYY.
After college, Jamison Scala moved to LA to work in TV production and shortly thereafter started devoting himself full time to acting. He became passionate about comedy specifically at The Second City. Although he is still based in LA, he is currently working for The Second City performing sketch and improv aboard a cruise ship as part of their partnership with Norwegian Cruise Line.
Ben Rosehart worked for about 5 years as a sports anchor/reporter in Cheyenne, Wyoming at KGWN-TV (CBS affiliate). After covering everything from college basketball to rodeo, he moved up 100 markets & joined KWQC-TV (NBC 6) in Davenport, Iowa as a weekend sports anchor/reporter. For four years Ben covered the Hawkeyes & Fighting Illini in the heart of Big Ten country & and was nominated for an Emmy as the leader of our Friday night high school show called "The Highlight Zone." Then about a year ago, he took a leap of faith & moved out to San Diego to settle down with his fiancee & has been working as a sports producer/writer for KNSD-TV (NBC-7).
Chris Stover, a Temple University grad and a winner of one of our 2008 college student scholarships is now in New York City. He's a writer for the CBS-TV Network broadcast of CBS News This Morning (7 to 9 am daily). He's says that he also does some local anchoring on a fill-in basis. He told us that one day he hopes to return to work in the Philadelphia market.
Did you know...
that WCAU-TV pitched the CBS network the idea of a live children's program to be shot on the old set of "Action in the Afternoon?" Well, it's true.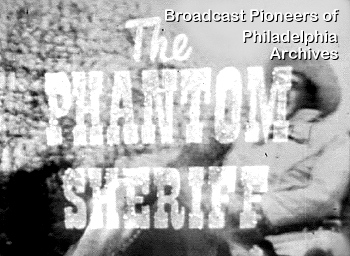 In October of 1953, CBS-TV announced the production of six pilots of children's shows. One of them was "The Phantom Sheriff" to be produced by WCAU-TV here in Philadelphia. Channel 10 programming wizard Charles Vanda figured that he was already doing "Action in the Afternoon" live on the network each weekday afternoon, so why not use that set for another live western. And "The Phantom Sheriff" was definitely meant to air live. Remember, videotape was still two years away.
A few months later, CBS cancelled "Action in the Afternoon," Now, Charlie wanted even more for there to be use for that huge set which was located right behind the station. He created "The Phantom Sheriff" and is so credited during the opening of the pilot program. At that time, there was no building next to WCAU on Monument Road. Just WCAU. Going up City Avenue towards Delaware County, again there wasn't much. Just trees, grass, bushes and even a creek. This is illustrated in the still frame below shot out back of WCAU.
"The Phantom Sheriff" was a TV series that never was. It was not picked up by the network and to our knowledge the pilot was never aired. We have in our video archive, the original kinescope made to go to the network. It was shot live with a couple of filmed pieces of b-roll. You can tell that it's film because it has a different appearance than the live shots. Some of the film was shot on WCAU's backlot but some of it looks like it could have been shot in Philadelphia's Fairmount Park, which was located near the station.
There are reports that there was another kinescope copy of this same show in existence. It is reported to have been a work print with grease marks, etc. on it. We cannot confirm this. However, we did notice one place where it looked like there may have been an edit or maybe it was just a technical problem with live cameras shooting outdoors. Hard to tell. It was almost two-thirds of a century ago and there seems to be absolutely no files or records about this proposed series.
Dick Foran was the star of the show and he was 43 at the time it was shot. He was featured in many movies and during the television era made a lot of guest appearances. Foran now has a star on the Hollywood Walk of Fame. Foran and Vanda knew each other from their Hollywood days and both worked with Abbott and Costello.
What we have is complete with music and a pitch by the show's star, Hollywood actor Dick Foran for the network to pick up the show. He tells them at the end of the program, that it will sell products. This 40 second piece was obviously never meant for air. There, Dick Foran says "This is quite a thing, live westerns televised here in Philadelphia. We're prepared for all sorts of weather, rain, snow." Running time is 27 minutes not including the network pitch.
When we screened our digital copy of the kinescope, it looked like the station used some b-roll from "Action in the Afternoon" and some stock movie footage. Most of the show looked like it was shot live and continuous. The date on the film can says Sunday, May 11, 1954. It was a nice, sunny day here in Philadelphia although a little on the windy side as you can tell as Fred, the sheriff, had his hat blown off his head in one of the shots.
Like "Action in the Afternoon," the show had a narrator. Action's narrator was Blake Ritter, who also played one of the characters on the daily show. The voice on this pilot sounds very much like Blake. The program starts with him saying "CBS Television presents through WCAU-TV, Philadelphia a story of action and fury from the fabulous west of yesteryear, "the Phantom Sheriff."
There were several exterior shots and two indoor sets, the old mine and the saloon, "Foley's Place," which looks a lot like the Copper Cup Saloon of "Action in the Afternoon." That's because it was on the same set. Since "Action" had already been cancelled, they repainted the Copper Cup sign to now say "Foley's Place." The bar was owned by a very shaky, scared but likeable "Mr. Foley."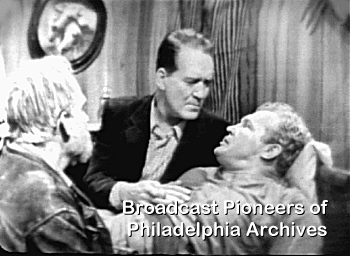 Dick Foran played "Clay," the local newspaper reporter in the unidentified town. In the pilot, the "Phantom Sheriff" is dying. Clay and his friend (unidentified by name) go to see him. Near death, "The Phantom Sheriff" now selects Clay as his successor and gives him the sacred ring that gives him his special powers (not exactly defined in the pilot).
The ring originally came from Flaming Lance, the medicine man of the Shoshonis that lived in the Wyoming, Utah, Nevada and Idaho area. In the latter part of the 19th century (the time era of our story), there were only five thousand or so Shoshoni Indians, sometimes called the Snake People.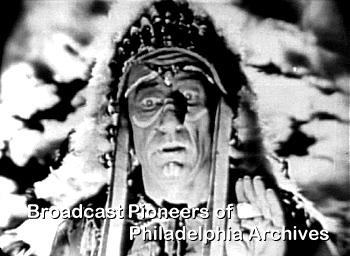 When the original Phantom Sheriff received the ring, he was told that "he who wears this ring shall fear no man. His speed shall be greater than the eagle. His powers beyond that of any man." What exactly those powers are, we were never told.
To start the magic, rub the ring and say "Oh mystic ring of Zeppole, I call upon you in the name of justice." There's a big puff of smoke and then Clay is seen to be wearing the Phantom Sheriff's outfit complete with white hat. However, since this was live television, Dick Foran couldn't change from his newspaper man street clothes into the Phantom Sheriff's getup fast enough so he had a stand in. Only thing was the stand in was taller than Dick. Of course, we saw the stand in only from the back and once Dick Foran had time to change into his new costume, he would take the place of the stand in and turn and face the camera. While Foran was shorter than the stand in, his shoulders were more broad.
Only two people knew the identity of the Phantom Sheriff, he and the older gentleman who was also a friend of Clay's. No one else was supposed to know. One wonders why someone never said, "Hey, anyone ever notice that the Phantom Sheriff looks just like Clay, the town's reporter?" The Phantom Sheriff didn't wear a mask and we were never told that he had the power to cloud men's minds (like the Shadow).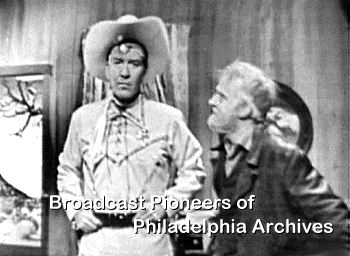 The Phantom Sheriff also wore a rather shiny (maybe even silly looking) medallion over his forehead. Maybe that stopped people from realizing that the Phantom Sheriff was in reality, meek and mild Clay. There were never an explanation.
Of course, the Phantom Sheriff had to have a beautiful horse named "Thunderbolt," who looked a lot like every other western hero's horse. Thunderbolt just showed up out of the blue whenever he was needed. No explanation of where he was previously or who fed him. It was just one of those things left to the imagination. Maybe since it was magic, the horse didn't need to eat. By the way, the horses used on "Action in the Afternoon" were supplied by the Fairmount Stables. The same source was probably used in this pilot.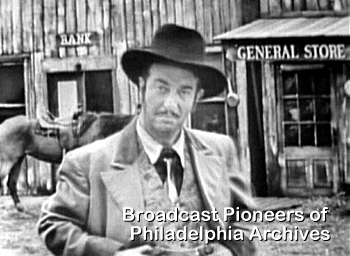 Broadcast Pioneers member Bill Bode passed away a few years ago, however, before he did, he explained to us how the title shots were done on "Action in the Afternoon." Similar techniques were probably used in "The Phantom Sheriff." He said:
...in the Fifties, when we superimposed a "white on black" title over video, we had to "split the fader," physically separate the two halves of the switcher used to fade (as opposed to cut) from one scene to another. The Crew Chief had to "ride gain" on the video signal amplitude created by putting two video sources together. The action in the opening sequence of the show—changing video images, cueing riders on horses and a buckboard, calling for AD's to flip to the next "super" card was so complicated I had to direct it for John's (Ulrlich) first week until he could absorb all of the calls and actions involved.
The Phantom Sheriff is a name that had been used elsewhere. Going back to the late thirties, there was a British Detective with this name. His stories ran in "Detective Weekly" and elsewhere in the United Kingdom. The stories were so popular that there was a actual decoder secret code with a decipher key. This had no relationship to our WCAU pilot.
Also, in 1952, Action Comics had a story called "The Phantom Sheriff." Again no relationship. In the beginning of 1954, there was a Cheerios 3-d Mickey Mouse giveaway comic entitled "The Phantom Sheriff." Again, no connection. In the mid-fifties, a television station in Texas, KTRK-TV, Channel 13 ran an hour daily cartoon program hosted by "The Phantom Sheriff." Once again, no tie in at all.
We wish we had more information, like who the producer and director were. We have no identification on any of the cast except for Dick Foran. Maybe someone out there can supply more information.
This monthly column written and researched by Gerry Wilkinson
Our special thanks go to TUTV - Temple University Television and The Kal & Lucille Rudman Media Production Center.

They have underwritten a grant to be used to fund an entire year of all our newsletters for calendar year 2016. We thank them so much for their support!
MORE DIGITAL ARCHIVAL PROJECT NEWS:
VIDEO: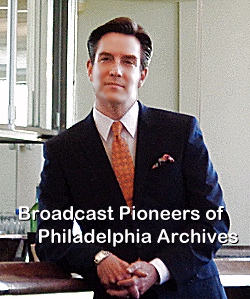 Member Jim Donovan
leaning against the bar
at the Bala Golf Club, Philadelphia
(waiting to go on)
Wednesday, April 20, 2016
On Wednesday, April 20, 2016, we had our Spring Potpourri. Member Jerry Del Colliano was the MC and our speakers were members Jim Donovan, Harry Hurley, Scott Palmer and Gary Shepherd. You can hear and see their remarks right here from the Broadcast Pioneers' YouTube Channel.
(video courtesy of Broadcast Pioneers VP Brad Seecof and Metramedia Broadcasting & Studios)

AUDIO:
Forty-four years ago, listeners heard this report on KYW Newsradio. The date was May 13, 1972. It's 3:01 in the afternoon and the news anchor is John Wydra. He was an anchor for decades at WCBS, New York after leaving Philadelphia. While here, he worked for both KYW Newsradio and WCAU Radio. In 1986, John ran for a New Jersey US Congressional Seat. He won the primary but lost in the general election. Recently, John has been writing modern day classical music and has studied at the Julliard School of Music. Listen to John on KYW Newsradio.
Listen in Real Audio!
Listen in Windows Media!
Our next audio dates from Thursday, July 27, 1967. It's WCAU Radio and it's 11:05 pm. It the second hour of the Jack McKinney Show, Nighttalk. This hour is a continuation of the first hour's discussion on civil rights and the rioting of the mid-60s. During the first hour, the program was interrupted for a brief 17 minute address to the nation by President Lyndon Johnson. Unfortunately, when the station went to the network, that feed was not recorded on this aircheck, done in the master control room of WCAU Radio.
We do have the first hour in our audio archive, but the quality of this 10" reel of audio tape is not that good. The second hour is a much cleaner record. Both hours have technical problems from come from the aging of this almost half-century recording. The tonal quality keeps shifting from normal to being low in volume and bassy in sound. We have corrected this by re-equalizing the recording when this happens. It was a very time consuming venture. However, we are quite happy with the finished product. We have the entire hour from after the end of the CBS Radio Network news at 11 pm until the start of the network news at 12 midnight. This includes all commercials. Here is the second hour of Nighttalk exactly as heard of Thursday evening, July 27, 1967.
Listen in Real Audio!
Listen in Windows Media!
Remember, History is ONLY What Gets Saved!
(If there were no portraits of George Washington, how would we know what he looked like?)
IN TOUCH WITH THE INDUSTRY:
Arena football is played on a smaller field than traditional outdoor American football. That makes the game have higher scores and often faster action. Well, the Philadelphia Soul says that all their remaining 2016 games will be carried live on 97.5, the Fanatic (WPEN, owned by Greater Media). Last year, the station aired the playoff games but this will be the first time they have aired regular season games. Play-by-play will be done by Joe Tordy. Barrett Brooks will do color. Games are played now through the end of July.
The Radio Television Digital News Association (RTDNA) awarded NBC10 Philadelphia / WCAU two regional Edward R. Murrow Awards, including one for its exemplary website content and a second for its comprehensive coverage after last year's Amtrak train derailment in Philadelphia. NBC 10 was also recognized in the Large Station Best Newscast category for its comprehensive reporting after the May 12, 2015 Amtrak train derailment in the Port Richmond neighborhood of Philadelphia.
The Mid-Atlantic Chapter of the National Academy of Television Arts & Sciences (NATAS) has selected Broadcast Pioneers member Walt Hunter to receive the 2016 Board of Governors Award this year. Hunter is an investigative reporter for CBS 3, KYW-TV. Hunter was inducted into the Broadcast Pioneers Hall of Fame in 2007.
A LITTLE BIT OF BROADCAST HISTORY!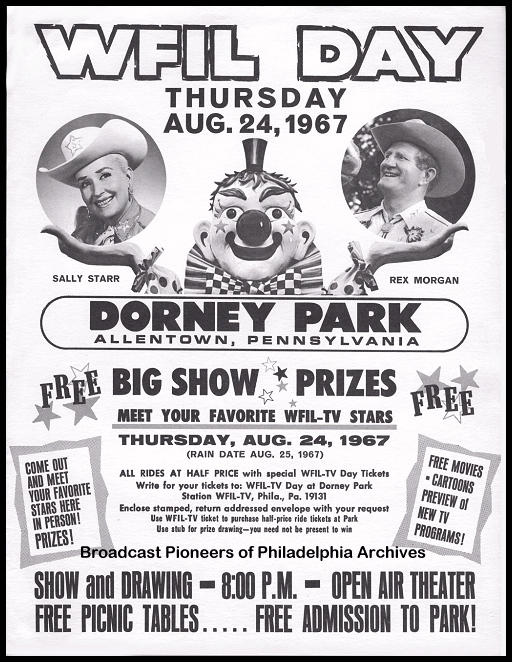 Dorsey Park Circular
1967
WE REMEMBER:
Ed Snider was chairman of Comcast Spectacor. That company owns the Philadelphia Flyers hockey team, the Wells Fargo Center and Comcast SportsNet Cable outlet. He formerly owned the Philadelphia 76ers. The Prism cable channel was under his control and as was WIP, the all-sports talk station. He passed away last month at the age of 83.
Member Les Waas passed away in mid-April. Les had been a member of this organization for a half century. He served for more than 40 years on our Board of Directors. He has been our president and later our Chairman of the Board. We inducted him into our Hall of Fame in 2005. He was a month away from his 95th birthday. For a complete bio, read here!
Legendary singer Billy Paul died in his South Jersey home last month from pancreatic cancer. He was 81. Paul was probably best remembered for his 1972 smash hit, "Me and Mrs. Jones." The song was number one for three weeks. Paul was stationed in Germany with Elvis Presley and Gary Crosby. His first professional singing was on WPEN in 1945 at age 11.
THIS AND THAT! Little Bits of Information....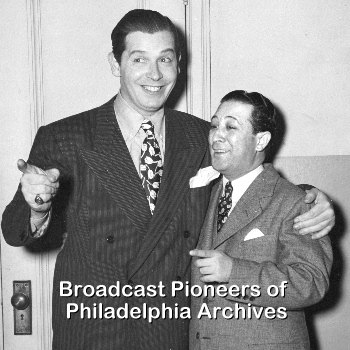 (Left to right) Milton Berle & Broadcast Pioneers Founding Member Max E. Solomon
1948
In February, we ran some information about Max E. Solomon, a time salesman for decades (mostly at WFIL). He used to work at WIP but was let go when he got into a fight with another salesman, Billy Banks (who later went on to co-own WHAT Radio). Solomon was a founding member of this organization and served as its President and later as Chairman of the Board.
Here's a classic Max Solomon story that is known nationally across our country: It was 1951, during the peak of Milton Berle's fame and Max walked into a car dealership (Sunny Stein) to try to sell the owner some commercials. The owner told Max, "Don't even talk to me. The only commercial I'll buy is just before Milton Berle starts his show." Solomon told him "No problem." The owner said, "I bet there is a waiting list." Max said no and that the owner could start advertising the next Tuesday (Berle was on Tuesdays at 8 pm). The contracts were signed and Tuesday came and went. On Wednesday, the owner called Max E. Solomon and said that his commercial didn't run. Max said, "Sure, it did." The owner said that he watched Channel 3 from 7:45 pm (15 minutes before Berle came on the air) until after the show ended and didn't see his spot. Max replied, "Oh, you didn't say you wanted it to run on the same station that carried Berle." (The spot ran just before Berle's show started but on a different station, Channel 6. The advertiser wasn't charged for the air time.)
Beginning on March 3, 1947, WCAU Radio aired a daily five-minute feature on how the weatherman prepares his forecast. The program was hosted by Dr. David M. Ludlum, Director of the Meteorology Department at the Franklin Institute. In a WCAU inside newsletter from February of that year, it says: "no formal weather forecasts will be made on this program."
A half-year later (September 1947), Dr. Francis Davis was added to the WFIL Radio staff. Two months after that, he was on WFIL-TV. The difference, however, is that Davis actually did the forecast. By the way, Davis was part of the team that prepared weather information for General Dwight Eisenhower for the Allied invasion of Europe (D-Day).
In 1952, WIP Radio reported a good year. President and General Manager Ben Gimbel said: "In our food and grocery products advertising alone, sales are up 22% for the (last) eight month period." He reported that radio was better than ever.
The top disc jockeys for 1964 playing popular singles were (in no particular order): Hy Lit Joe Niagara, Bill Wright, Jerry Blavat, Jerry Stevens, Georgie Woods, Lloyd "Fatman" Smith, John Bandy and Tom Brown. The WIP jocks did better in the LP category with the three top slots going to WIP personnel.
In October of 1931, WCAU Radio announced that they were building new studios at 1622 Chestnut Street in Center City at a cost of $350,000.00. Besides offices and control room spaces, there were to be seven different studios, all capable of going live on the air.
During July of 1937, George Thomas joined the staff of WCAU Radio. Thomas previously worked at WHAT Radio. He was hired by Stan Lee Broza, program director of the station at that time. Broza was this organization's first president. He was also a founding member as was his wife, Esther.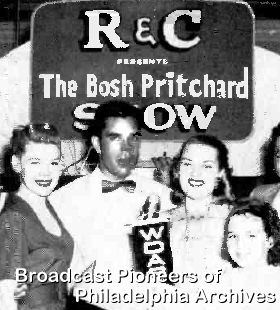 (Left to right) Patti Page, Bosh Pritchard, unidentified woman and unidentified girl
WDAS Radio
circa 1948
In the fall of 1950, Chief Halftown was added to the disc jockey staff at WDAS Radio. Halftown replaces Bosh Pritchard who played football at the time for the Philadelphia Eagles. This was Traynor Halftown's first DJ gig. However, he did previously sing on the radio in Buffalo, York and Harrisburg on local stations. He was the "head man" on the Cornplanter Seneca Reservation here in Pennsylvania.
Within a couple years of WFIL-TV coming on the air, they were running a local program during 1949 called "Swap Shop" hosted by Jack Steck, founding member of this organization. A little girl once swapped a bunch of puppies. Speaking of little ones, WFIL-TV had a program entitled, "Starlet Stairway" and was described as a "kiddie revue." It was Channel 6's answer to the ever popular, "The Children's Hour."
On Thanksgiving day of 1922, WIP Radio broadcast the first college football game. It was at Philadelphia's Franklin Field, University of Pennsylvania vs. Cornell. Final score was Cornell 9, U of Pa, zip.
And speaking of WIP, legendary newsman John Facenda once hosted a 15 minute radio program on WIP called "Calling All Detectives." It's a drama with Facenda telephoning listeners asking what mistake allowed the killer to be caught. The show premiered on March 3, 1952 at 7:45 pm. This program was in addition to John's news duties on WIP Radio and on WCAU-TV.
Think that was unusual? Not so, when John Facenda went to WCAU full-time, he was called upon to do many different things. On October 5, 1954, he hosted a new WCAU Radio program entitled, "Calling On You." Peggy Lancaster was his co-host and they gave the listeners "wonderful household hints."
THANKS FOR THE MEMORIES:
Fire and the Go Patrol, Part 2 of 3!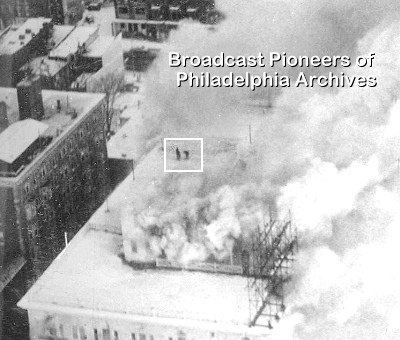 Member John Carlton & Pilot Dick Scholfield
on the roof of the Normandie Hotel, Philadelphia
Monday, January 8, 1968
We found in our paper archive, this document written by Broadcast Pioneers member John Carlton. We have divided it into three parts. The first part ran in our newsletter last month. Now we continue with part two with the third section running in the June issue. This is John Carlton's own account of what happened on the morning of the Normandie Hotel fire. Built in 1901, it was a brick and concrete structure with wooden floors standing seven stories high. First fire alarm sounded at 6:47 am. He continues with the story:
"Walt, tell the fire board we'll start evacuating from the roof. We're going in." "Watch for wires." Dick's voice. "Third alarm just went in." The helicopter very gently, tested the roof surface. would it hold. A little more weight - steady - feels good. Bump. "We're down."

"Fire radio says it has no way to tell residents to go to the roof. They're all asleep." "Oh, Christ, that's right. Carlton. "All right. I'll wake em up. I'm going down stairs. You take the reports." "Fourth Alarm," better hurry.

Carlton was out of the ship, running across the icy roof toward the elevator and staircase housing. Should stay with the ship. He can't go down there alone. The ship won't go anywhere. Oh, what the hell. "John - wait."

Carlton had already tried one door. lt turned out to be the elevator machinery which seemed to still be working. The second try proved to be the right one. As he started down the stairs, the smoke rushed up to meet him. It was dark and silent except for Dick's foot steps behind him.

The radio in the empty helicopter crackled. "Fifth and Sixth Alarms have been sounded. John, do you receive me?" There was no reply. Carlton and Scholfield were on the seventh floor of the Normandie. And so it began.

Forty minutes of high adventure, of living hell, of personal sacrifice and heroism. Forty minutes of looking into the face of death, through thick smoke. A few minutes ago this was a cocoon for some 350 elderly citizens. Now it's a hell.

Carlton and Scholfield rushed down the stairs, through the smoke. The lights in the hall were out. At the foot of the stairs, a square of light slid into view. It was an elevator complete with a wrinkled 70 year old operator.

"Can you get all the way down?" "Yeah. If I can get by the second floor." "Stay here. he'll send em out." "You go left. I'll go right." Carlton shouted, "We'll meet at the elevator."

On the roof, the unheard radio reported the ninth alarm. The old people didn't understand and were reluctant to open their doors. They were still half asleep. Carlton waited a few seconds after pounding on the first door. The smoke was getting thicker. No answer. How do they do it on TV? Slam a shoulder into the door. It didn't budge and the pain shot all the way to the back bone. Television doors must be made of cardboard. Kick it in. It worked.

The old lady, still in bed, was petrified. "Mam, the building is on fire. You will have to leave." But... Carlton had reached in the closet and pulled out a coat. "Here. Put this on. There isn't time to dress. Go to the elevator." She did.

The next door was already open and an old gentleman after being told of the situation shuffled off to the elevator without a word. Most of the residents would not open their doors and they had to be kicked in.

If old folks could make it themselves: great. If not, Carlton and Scholfield led them, sometimes four or five a time, holding hands, through the ever thickening smoke to the elevator. Then all was quiet, except for a radio blaring the news that John and Dick were inside the burning building and that radio contact had been lost. I'll say. Finally they met at the elevator.

"All clear?" "Yeah" "Lets go down" The sixth floor was worse. The heat was becoming intense. It was impossible to see. Breathing was painful. They repeated their actions. This time feeling their way from door to door. Two policemen arrived and the boys sent them along the opposite walls.

After clearing the first room, one of the policemen gave John a wet towel to hold over his face. lt helped for a few minutes but the smoke was impossible. After telling a resident to crawl along the floor where the air was better, he tried to open a window. His strength was going. He smashed it with his elbow. That heavy parka served some use after all.
The conclusion of this exciting and true story will run in our next issue. They were heroes saving the residents of the Normandie Hotel. TO BE CONTINUED NEXT MONTH!
David Miller, a real Broadcast Pioneer, Part 2 of 2!
We now continue from last month's issue, the story of David Miller. This is the other half of the information!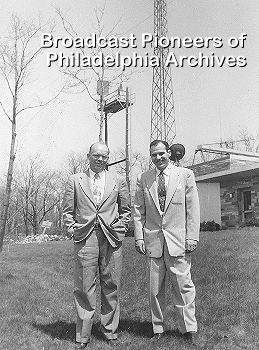 (Left to right) David Miller and unidentified male
WEEU Transmitter and Tower site
Mt. Penn, Reading, Pa.
1953
ABC-TV enabled local New York originated television shows to be broadcast in other parts of the country simultaneously (like CBS and NBC). Networking was necessary because local television broadcast signals may only be received within a 20 or 30 mile radius from where it is broadcast, depending on how strong the transmitting signal, the height of the transmitting tower and topographical features. Several other factors come into play such as the type of receiving antenna and even the weather conditions.
So by the late 1940s, Miller was one of the most knowledgeable television pioneers in Philadelphia and perhaps even the nation. If it weren't for engineers like David J Miller Jr. working behind the cameras, there simply would not be what we know today as television personalities. The likes of David J. Miller Jr. define the words "broadcast pioneer."
As television became popular, Dave saw an opportunity. There was a need for someone to install television antennas on roofs for private residences and commercial establishments. There was also the need for someone to repair the televisions. Some of those television aerials that he installed on the roofs of the many row houses in Philadelphia are still there and if the friction tape that was used to secure the coaxial cable is spaced about every foot apart, then you can feel assured that Dave installed that antenna.
It is estimated that prior to 1945 there were only a few televisions in the Philadelphia area. By 1950 there were about 6,000,000 in the nation, and by 1960 there were about 60,000,000. Certainly television during the late 1940s and early 1950s was a growing industry. Early television receivers used many vacuum tubes and cathode ray tubes, and other parts that wore out fairly quickly as compared to today's advanced technology designs, so someone was needed, quite often, to get these sets operating again.
So David Miller started a television repair business sometime in 1949 and soon had several trucks and many employees out on the road installing television antennas and repairing the sets. He ran the business out of the cellar of his home in Northeast Philadelphia and at one point employed about fifteen men, installing antennas and repairing the televisions. He also built televisions from scratch. The cabinets were finished in leather and the electronics were assembled in the cellar of Dave's home.
Dave stayed in that very successful business through 1952 in Northeast Philadelphia, but really desired to get back into television broadcasting. It was in his blood. After being offered the job as chief engineer at WEEU in Reading Pennsylvania, he gave up the television repair business. It was Hawley Queer who owned WEEU radio, and he was granted a license to establish a UHF television station in the region. Dave supervised the design of the General Electric transmitting system. He oversaw the installation to successful completion.
It was Dave who, during the very first live broadcast from WEEU (UHF channel 33), gave a guided tour through the new facility. WEEU was one of the very first UHF stations in the United States. Dave had to leave the station in the Fall of 1954 because of health reasons, but something good happened while he was at WEEU. He met Bill "Wee Willie" Webber. It was Dave who introduced and recommended his good friend Bill Webber for a job at WFIL after leaving WEEU.
Dave's failing health prohibited him from holding a full-time job after 1954. He did, however, on a part-time basis start a one-man television repair business in Churchville, PA, where he had been living since 1952, but even this was more than Dave could handle physically. A few years later, in 1958, he died at the age of 45.
David's son Robert told Broadcast Pioneers:
Dad never had the luxury of obtaining a college degree and he was advised that his career was therefore hindered somewhat. Top management positions were never offered. He vowed that his sons would not be hindered for that reason. Therefore, there was never a question regarding whether or not my brother and I would go to college. We were going, period. No choice in the matter. No discussion. My brother Dave graduated from the University of Pennsylvania with a degree in physics and later a Masters Degree from the same University, while I graduated from Penn State with a degree in electrical engineering.
Dave's biography would not be complete without mentioning that he was able to play almost any musical instrument, despite having never taken a lesson. He also designed and, with the help of my brother and myself, built his own home.
And those degrees that my brother and I received are, in a way, a large part of the legacy of David J Miller Jr., along with the development of what would soon become worldwide television.
Member Marie Pantarelli worked at WFIL on the 18th floor of the Widener Building. She said that the studio and master control were formerly a dentist's office. The tower for television was, according to Marie, atop the adjacent Lincoln Liberty Building which is today the PNB structure. One of Channel 6's first remotes was the broadcasting of the Mass on Christmas Eve live from the Christ the King Parish, Haddonfield, NJ. She believes that it was the first Christmas Eve Mass ever televised. We know of nothing to disprove this. Well, Marie started in July of 1947 at WFIL, her first-time job. She was the secretary of the television Assistant Chief Engineer, David Miller. Pantarelli said that to get the signal from the church to Center City Philly, a microwave dish was put on top of the grandstand at Garden State Park. The signal went from the church to the track and then to the Widener Building. Marie was a parishioner of that very same church for many years and remained so until the time of her death.
Ernie Kovacs in Philadelphia, Part 1 of 3!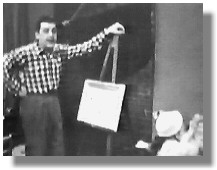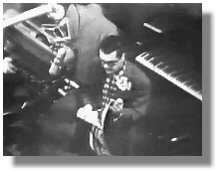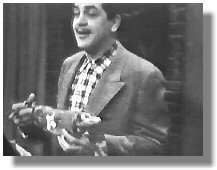 Ernie Kovacs
WPTZ
March 1952
Nationally known comedian Ernie Kovacs came to WPTZ in January of 1950 from radio station WTTM in nearby Trenton, NJ, where Ernie grew up. He pioneered the use of blackouts and trick photography in TV comedy. His first show was "Pick Your Ideal," a weekly fashion show. Ernie showed up for the audition dressed in his shorts and a barrel. He got the job.
Then he did another show entitled, "Deadline for Dinner," an afternoon program. It was supposed to be a straight show, but Kovacs played it anything but straight. The chef was Albert Mathis (chef and manager of the Gulph Mills Country Club) and they would get into funny bits and literally forgot what they were cooking.
"Deadline for Dinner" (aka "Dead Lions for Breakfast" as Ernie liked to call it) premiered on Monday, March 20, 1950 at 3 pm for a half-hour. The show aired on Mondays, Tuesdays and Fridays. On Wednesdays, the 3 pm show was "Television Kitchen" with Broadcast Pioneers member Florence Hanford. On Thursdays in the same time slot was a show entitled, "Charm Clinic." After "Deadline for Dinner," there was at 3:30 pm for a half-hour "The Handy Man Show" with Broadcast Pioneers member Jack Creamer.
Television was a lot different back then. The idea of "stripping" a program Monday through Friday existed but wasn't a hard and fast rule as we saw with "Deadline for Dinner." On Monday, November 6, 1950 "Deadline for Dinner" (DFD) moved to 2 pm. However, the Tuesday airing (on the next day) was still at 3 pm. No idea why!
There was no DFD shows on Wednesday or Thursday and on Friday, November 10th, it aired in the 2 pm slot. The first time we can find DFD in the 2 pm time period was on Friday, November 2, 1950.
Regardless of what some books about Ernie say, Pete Boyle, best known for his kids show broadcasts took over hosting duties of DFD. We know definitely that Pete Boyle was hosting the broadcasts (as a permanent host) in September 1951. This is the month when"Three to Get Ready" expanded to two hours. DFD's last broadcast was on Monday, July 7, 1952 at 2 pm for 30 minutes. There was special NBC-TV coverage of the Republican Convention on Tuesday. Wednesday saw Television Kitchen with a returning program called "Pots, Pans and Personalities" (PP & P) premiering in the 2 pm time slot. PP & P had aired in 1951 previously.

Born to what Kovacs called "quaint" parents of Hungarian roots, he worked in his teen years in a drug store. Ernie once referred to it saying, "I didn't like the job much, but the cigars were free." At 16, he became a singer in a local stock company performing Gilbert & Sullivan. He said, "whenever they needed a man that worked cheap, they got me."

In Philadelphia, Ernie created a bunch of his hysterical characters like Percy Dovetonsils, the lisping goody-goody; the French storyteller Pierre Ragout; Skodny Silsky, ace Hollywood reporter and the Edwardian-clothed Nairobi Trio.

At Channel 3, Kovacs hosted several different programs including "Three to Get Ready." It was originally on from 7:30 am to 9 am. Eventually, it expanded to two full hours starting at 7 am. The show premiered on November 27, 1950 and is reported to have been the very first early morning wake-up television show anywhere in the country. Andy McKay (Kovacs' right hand man) thought that this program was the best of Ernie Kovacs at WPTZ. The concept was to turn on Channel 3 and get ready to go to work. Sort of a local Today show, but it turned into a complete Kovacs vehicle. This show, according to Andy McKay was a "mish-mash" from other programs. A piece of this, a bit of that. They were doing five minutes of news incorporated into the broadcast at 8 am and 8:30. On Monday, September 17, 1951, "Three to Get Ready" expanded to two hours, starting at 7 am with news at 7:30, 8 and 8:30.
Ironic that a newspaper listing at that time (The Evening Bulletin) described the show as "news, music, weather." However, another paper described it as "Ernie Kovacs wakes you up with the latest in fun, music and weather reports. News at 7:30, 8 and 8:30 am."
On Monday, January 14, 1952, NBC-TV started the "Today Show." However, Philco, owners of Channel 3, elected to continue with its local "Three to Get Ready." The network brought pressure on the station to carry the new program and finally on Monday, March 31, 1952, The Today Show premiered in Philadelphia. The last "Three to Get Ready" program was the previous Friday. As of 2016, no known recordings (either video or audio) exist of "Three to Get Ready."

Roy Neal, who eventually went to NBC-TV was Ernie's newsman. Later, Norman Brooks did the news; also Randy Kraft. If Norman said it was raining, Kovacs would climb up a ladder behind the set and dump water on him. Joe Earley also said that the news originated from the same studio as Kovacs. This made it easy for Ernie to clown around with the newsman, something that would never happen today.

McKay said that Ernie would talk to the camera people and boom operator. He would wander into the control room and start pushing buttons. He had been known to pull out a deck of cards and start playing gin with the director. It was very ad lib. Ernie would show up only about ten minutes before air time. The show was known for doing all kinds of stuff live on Walnut Street in Center City Philadelphia. One problem: They just couldn't get a mike easily out on the street so the talent would hold up cards with dialogue printed on them. It was like a silent movie. Each show would end with the phrase "It's Been Real" supered over some weird shot.
We'll continue the story of Ernie Kovacs next month!
A LITTLE BIT OF BROADCAST HISTORY!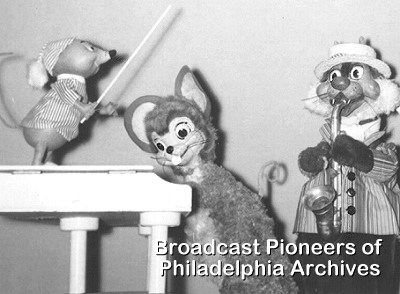 Lee Dexter Puppets
live performance
location unknown
circa 1958
This personal photo (not a professional picture) was donated by Roland Coover, a visitor to our website. During the fifties, television performers made extra money by making personal appearances throughout the Delaware Valley. This picture comes from one of those visits. The puppet characters have not yet been identified. Lee Dexter's claim to fame is that he created "Bertie the Bunyip," a long time children's favorite on Channel 3. By the way Coover tells us that these photographs were in Lee Dexter's personal scrapbook at one time.
OUR HATS OFF TO YOU FOR GIVING:
We are a federally recognized, state chartered charity with a 501(c)(3) status. Contact us at (856) 365-5600 or e-mail pioneers@broadcastpioneers.com for more details. Your gift to Broadcast Pioneers will help us and may lower your federal income tax. That's win-win, isn't it?
Special Thanks (in alphabetical order) for the gift of Appreciated Stock: (a federal tax advantage for the giver)
Member Marc Howard - $3,600 (put into our general fund to be used where needed)
Member Sylvia Kauders - $5,159.45 (used for the scholarships listed below)
Member Dan Lerner - $5,217.80 (used for scholarships during 2016)
Special Thanks (in alphabetical order) for contribution of $1,000 or more to our DAP, Digital Archival Project:
Member Elliot Abrams - $1,000
Member Jerry Del Colliano - $1,000
Member Johnny B. Hall and wife Ginny - $3,000
Member Harry Hurley's Golf Tournament - $1,000
Member Glenn "Hurricane" Schwartz - $1,000
Member Marlin Taylor - $1,000
Special Thanks (in alphabetical order) for April 2017 Scholarships:
Member Johnny B. Hall and his wife, Ginny - 6 scholarships
Member Harry Hurley's Golf Tournament - 1 scholarship (for a Stockton University student)
Member Sylvia Kauders - 1 scholarship (from a grant for 5 yearly scholarships running until 2019)
Member Kal Rudman - 5 scholarships (for Temple University students)
Special Thanks (in alphabetical order) for a contribution of $500 or more to our DAP, Digital Archival Project:
Member Esther Kurtz - $500
Member Marian Lockett-Egan - $500
Member Art Moore - $500
Member Rod "Storm" Phillips - $500
Underwrite a complete scholarship and we'll give you credit in the electronic newsletter until the scholarship is awarded in April of 2017. Give us a donation of appreciated stock of $2,000 or more and we'll list you in our "Thank You" column for two years. Give us a donation of $1,000 or more and we'll list you in our "Thank You" column for a year. Give us a donation of $500 or more and we'll list you in our "Thank You" column for six months. You can select how we use the money: for our archival project, for scholarships or for our general fund to be used as needed.
More Thanks:
We would love to give kudos to those of you who gave an extra contribution to Broadcast Pioneers when they paid for their April luncheon: They include: Diego Castellanos, Dorie Lenz, Gerry Wilkinson, Harry Hurley, Jerry Del Colliano, Marian Lockett-Egan, Mike Nozilo, Paul Big Bear, T. Morgan. Steve Sacks, Don Hurley, Eric Address, Keith Stacy and Steve Tatz.
A growing portion of the revenues that fund the different activities of the Broadcast Pioneers comes from donations. This includes our archival project and our scholarship program. Now, we are making it even more beneficial for our donors. Broadcast Pioneers is now able to accept gifts of appreciated stock, which provides a significant tax benefit to you. By giving appreciated stock (stock which is worth more now than what it cost when it was purchased), you can get a charitable contribution tax deduction based on the current market value of your stock. At the same time, you avoid the capital gains
tax that would arise if you simply sell the stock. So if you'd like to support our educational mission or our archival project and save money on taxes too, please consider making a gift of appreciated stock. We are a federally recognized, state chartered charity with a 501(c)(3) status. Contact us at (856) 365-5600 or e-mail pioneers@broadcastpioneers.com for more details.
Don't be left out. You too can make a pledge. It's never too late. You can earmark it for scholarships, our Digital Archival Project or our general fund. Thanks so much for your support. If you forgot to make an extra contribution (cash or memorabilia) and would like to do so now, you can do so. We would be thrilled to hear from you at: PO Box 2886, Bala Cynwyd, PA 19004, call us at (856) 365-5600 or e-mail us at: pioneers@broadcastpioneers.com.

A LITTLE BIT OF BROADCAST HISTORY!
WCAU Radio
Oscillator unit of 50 kw transmitter
1944
A FINAL THOUGHT....
Chief Halftown once said that his sympathies are with the Indians in the old Hopalong Cassidy movies. He said that he would hope they would get Hoppy in the next reel," but they never did. He was asked how did he feel when another Indian bit the dust? "I'm just glad it isn't me."
Chief Halftown
interview with Broadcast Pioneers member Harry Harris
Spring 1952

Please contact us by e-mail at newsletter@broadcastpioneers.com or by mail to: Broadcast Pioneers of Philadelphia, PO Box 2886, Bala Cynwyd, PA 19004. Your stories are important, to you, to us, and your colleagues. Contact us today and we'll include your story in the next newsletter!

© 2016, Broadcast Pioneers of Philadelphia
All Rights Reserved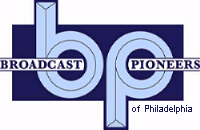 The e-mail address of the Broadcast Pioneers of Philadelphia is pioneers@broadcastpioneers.com
For luncheon reservations call (856) 365-5600 or e-mail us at: rsvp@broadcastpioneers.com