| | |
| --- | --- |
| | Broadcast Pioneers of Philadelphia is a federally recognized, state chartered 501(c)(3) non-profit organization serving the Philadelphia Broadcast Community since January of 1962. |
Our Annual Fundraising Banquet
The Hilton Hotel - City Avenue
Friday evening, November 17, 2017

Doors Open at 5:45 pm!
Reception starts at 6 pm!
Dinner served at 7 pm sharp!

Tickets are:
$88 each for our members
$98 each for everyone else
Our 2017 Honorees
for Hall of Fame and Person of the Year!
2017 PERSON OF THE YEAR!
RALPH "BUD" GALOW!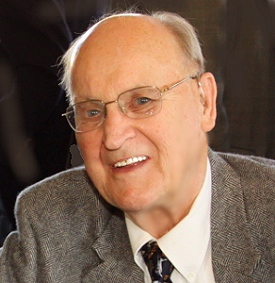 Broadcast Pioneers member Ralph "Bud" Galow worked for over four decades at KYW Radio. He engineered the very first KYW Newsradio "all news, all the time" newscast in September of 1965. Three months earlier, he was at the controls when WRCV Radio became KYW Radio. Galow is the first engineer/technician ever to receive the honor of "Person of the Year" from Broadcast Pioneers.
LISTEN TO BUD GALOW ENGINEER TWO HISTORIC EVENTS!
Hear the beginning of KYW Newsradio from September 21, 1965
On our next audio clip, you'll hear Reggie Lavong and Pat Delsi. It takes place seconds before 5 am on June 19, 1965. This is the on air switch for 1060 on AM radio, when WRCV became KYW Radio. Reggie is the musical host and Pat does the news. In retrospect, it is also fitting that the first bit of programming after the sign-on announcement is a KYW Radio newscast. This is a slightly edited version.
"HALL OF FAME" LIVING HONOREES!
Dave Abramson, Chief Engineer for the Phillies, former WPHL Director
Ray Didinger, sports producer, writer, author and WIP air personality
Dave Frankel, former 6 abc & CBS 3 Weather Guy and News Anchor
Charlene Horne, editor, videographer, CBS 3 Video Editing Supervisor
Pete Kane, WCAU-TV, NBC 10 photojournalist for a third of a century
Bob Kelly, morning Traffic Reporter for Fox 29's "Good Day Philadelphia"
T. Morgan, well-known area air personality and programmer for 50 years
Herman Rush, former Chairman and CEO for Coca-Cola Communications
Karen Scioli, Saturday Night Dead's Stella/Production Coordinator for COPS
Dick Standish, reporter for KYW Newsradio & CBS 3's Eyewitness News
Pat Stoner, theater and film critic for WHYY and syndicated "Flicks" program
Rick Williams, Executive Producer for WPVI's evening Action News shows
"HALL OF FAME" POSTHUMOUS HONOREES!
Murray Arnold, former station executive for radio stations WIP and WPEN
Doug Arthur, well-known air personality for decades on WIBG & WCAU
Ray Bowley, WPTZ Chief Engineer and Westinghouse Director of Engineering
Jonathan P. Casey, well-known South Jersey area air personality & programmer
Frank Chirkinian, CBS Sports Director & Producer, previously at WCAU-TV
Betty Killner Davis, W3XE/WPTZ television performer from 75 years ago
Mike Grant, former WCAU Radio announcer and station Program Director
Bob Knox, WIBG's The Gray Ghost, area newscaster and station disc jockey
Keneth Simons, pioneer of the development of cable television in the U.S.A.
TICKETS
MUST BE

PURCHASED IN ADVANCE
AND ARE

ON SALE

NOW!
ABSOLUTELY NO TICKETS AT THE DOOR!
Prices are $88 for members (each member can buy ONLY one ticket at the member price) and $98 each for everyone else (including spouses, friends and guests). Our co-emcees this year are Dom Giordano and Pat Ciarrocchi.
The event will once again take place at the Hilton City Avenue, 4200 City Avenue, Philadelphia. The date is Friday, November 17th. The reception is at 6 pm and dinner is served at 7 pm. Doors open at 5:45 pm. Cash bar all night long. Valet parking is $10. Event lot parking is $5.
Make plans to be there! A major portion of the ticket price may be deductible on your federal income tax. Ask your tax advisor for details! Tickets must be purchased in advance. Absolutely no tickets available at the door.
TICKETS ON SALE NOW!

WE WANNA SEE
YOUR FACE IN THAT PLACE!

Visit Our Website Often - http://www.broadcastpioneers.com
You should check the front page of our website often (link above) for important information!
Tune in to our YouTube Channel - http://www.broadcastpioneers.com/youtube
Our YouTube Channel has all our luncheons, exclusive interviews and archival material!
Check out our Facebook Page - http://www.broadcastpioneers.com/facebook
There are things on our Facebook Page that are NOT on our website (like our vintage photo of the week)
Go to our Twitter Account - http://www.broadcastpioneers.com/twitter
The Broadcast Pioneers Twitter Account has info and stuff not available elsewhere!
Go to our Instragram Section - http://www.broadcastpioneers.com/instagram
Here's another one of our social media sections. Visit it as often as you wish!

REMINDER!
IF YOU HAVEN'T PAID YOUR DUES BY NOW...
YOU'RE LATE!!!
Please note that ten weeks ago, we snail mailed your membership renewals. If you haven't paid by now, you are late. 16% of our members haven't sent their renewals in yet! Are you one of them? If you believe that you didn't get a renewal, please let us know and we'll send you another one (this time by e-mail).
If you joined in the past couple of months, you may have received a form, but you are not required to pay any dues at this time. The form will tell you whether there is an amount due. We sent the form so we could verify that all the info we have is still correct. The next membership directory will be printed before you know it.
WE DO NOT SEND YOU MULTIPLE NOTICES! THIS WILL BE THE ONLY NOTICE FOR RENEWAL THAT YOU WILL RECEIVE.
IMPORTANT!
If you haven't already done so, kindly return your form and check at your earliest convenience. Please also note that on the form is an important little box that you can check if you would like to make an extra contribution. Our archival project is becoming an expensive thing to do. It costs us over $9,000 a year just to store all our archival material. If you can can afford it and wish to do so, please help us in this important project. Any additional amount will be greatly appreciated! Large or small!
If you are not sure whether you paid the 2017 - 2018 dues, e-mail us and we'll let you know whether you are up to date. We thank you for your continued support!

NEW MEMBERS TO BROADCAST PIONEERS:
FULL MEMBERS:
David Gleason has been in the industry since 1958. While he lives on the western side of our country, we welcome broadcasters from everywhere. David started at WCUY/WJMO in Cleveland. In the mid-sixties he moved to Ecuador and has been in stations in Ecuador, San Juan and Univision in Los Angeles. Gleason is also the owner of a broadcast history website: www.americanradiohistory.com. It's worth a visit.
J.R. Russ started in our industry almost a half century ago. He was Director of TV Operations for the GeoTraffic Network. He's produced live sporting events for Sirius-XM Satellite Radio. He was PD for WECK in Buffalo in the early eighties. He was Production Manager for Z-106 here in Philadelphia in the middle eighties. He has a Masters in Broadcast Communications from Redding University.
Ronald O. Crumbliss (ROC) started in our business in 1967. He's currently the owner of CC Broadcasting, L.L.C., parent company of WGPA, 1100 AM in Bethlehem, Pennsylvania. He's worked as a radio announcer at WHOL, 1600 AM in Allentown, WYNS, 1160 AM in Leighton among other places. From 1998 until today, he has been a "real rock" and cool country promoter booking national touring musical artists.
Edward F. McGintley is a retired Vice-President for the Goldman Sachs Group in New York City. He was in the SLK Fixed Income Division. He now resides on Philadelphia's Mainline. He's a graduate of the Wharton School of the University of Pennsylvania with a Bachelors of Science Degree in Economics majoring in Marketing and Insurance. He was a member of the Phi Gamma Delta Fraternity from 1946 to 1950.
We are thrilled to have over 500 Members. More than ever. We hope to see as many of our members as possible at our annual banquet on Friday, November 17, 2017.. Get your tickets now!
DIGITAL ARCHIVAL PROJECT NEWS:
VIDEO: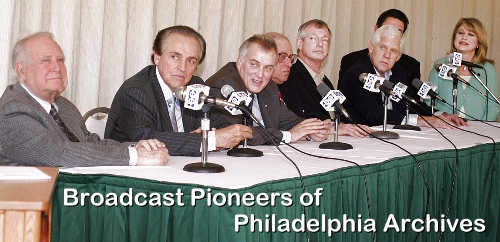 Our Action News Panel
Broadcast Pioneers Luncheon
Bala Golf Club, Philadelphia
Wednesday, March 17, 2010
Our topic for this luncheon was a celebration of 40 Years of Action News. Our moderator was Broadcast Pioneers member Larry Kane, who anchored the very first Channel 6, Action News broadcast. Our panel included:
Mike Davis, the genius behind promos like "There Goes That News Van"
Marc Howard, Action News anchor for a quarter of a century
Lew Klein, longtime Channel 6 Executive/co-owner of Gateway Communications
Steve Levy, Anchor and Sports Reporter for Action News, 1975 to 1981
Monica Malpass, current 5 pm WPVI-TV "Action News" Anchor
Matt O'Donnell, current weekday morning Anchor for "Action News"
Joe Pellegrino, former Sports Director for the station, 1976 to 1982
Don Tollefson, former Sports Director and anchor for 15 years at WPVI-TV
Our Board Member Bob Kravitz, photojournalist for Action News for decades, made special introductory remarks. Plus, live on the telephone from his home in South Carolina was"Action News' First Meteorologist," Dr. Francis Davis.
Watch the video in Windows Media Format
(video courtesy of Broadcast Pioneers VP Brad Seecof and Metramedia Broadcasting & Studios)
AUDIO: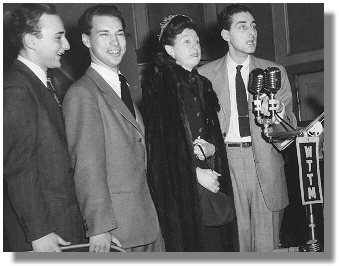 (left to right) Allen Stone, unidentified male, unidentified female and Jack Barry
WTTM Radio in Trenton, NJ
circa: the forties
One of the top radio newscasters of the sixties and seventies was Broadcast Pioneers member Allen Stone. When WFIL Radio flipped format to a contemporary rock and roll station in 1966, Allen Stone, a veteran of WFIL Radio for two decades, was kept on the radio's news staff. Many thought that he wouldn't make it, including PD Mike Joseph, but Allen became the "Dean" of the newscasters for rock and roll stations. It was he that led the way and started trends that others would follow.
He launched his broadcast career in the late 40s at WTTM in Trenton where his fellow staff announcers were Ernie Kovacs and Jack Barry. After which he won an on-air position at WIP where John Facenda was instrumental in urging him to pursue a career in news. John sent him to Jack Steck who put him on the air at WFIL and made him the morning newscaster on the Leroy Miller Show — inherited by Phil Sheridan following Leroy's unfortunate passing.
Allen Stone tells us a little more about Facenda:
I remember those days when John was at WIP, because I was there too, my first job in Philadelphia broadcasting. John and I became close friends. John believed I had a lot going for me, so he called Jack Steck at WFIL and advised him to hire me which Steck did. The rest is history. It was John's interest in me that opened the door to my own news career.
On Friday evening, November 17, 2006, Allen Stone was inducted into our Hall of Fame. Here's part of a Famous 56 newscast from June 18, 1969. Allen Stone helped to make Famous 56 really boss. Sadly, Allen passed away on Sunday afternoon.
Listen in Real Audio
Listen in Windows Media Format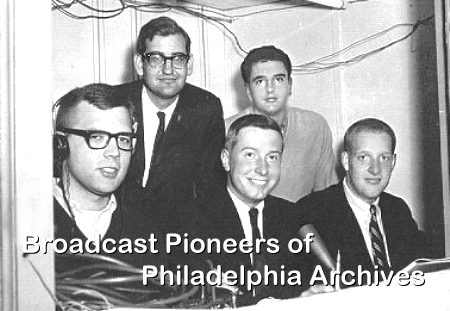 (Left to right) George Vandergheynst, Mike Biel, Ray Didinger, unidentified, Charles Liebman
Temple University Stadium
WRTI-FM Broadcast Booth
1968
On Saturday, March 16, 1968, WRTI-FM aired a Temple University basketball game against Kansas at the NIT, the National Invitational Tournament. The game was broadcast live from the "then" New Madison Square Garden in New York City. WRTI-FM's Charles Liebman was doing the play-by-play with Ray Didinger doing color. The broadcast was engineered by Broadcast Pioneers member Mike Muderick.
Listen in Real Audio
Listen in Windows Media Format
Today's News Becomes Tomorrow's History!
(This is what our Digital Archival Project, DAP, is all about!)
A LITTLE BIT OF BROADCAST HISTORY!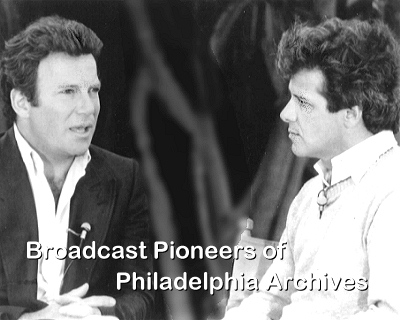 Actor William Shatner with member Dave Roberts
AM Philadelphia
WPVI-TV, Philadelphia
circa 1982
We believe that this photo was taken in 1982 during Shatner's visit to Philadelphia promoting the second Star Trek movie, "The Wrath of Khan." Dave tells us that it was definitely on AM Philadelphia which was a mid-morning hour long local program on Channel 6. Roberts was the co-host at the time.
IN TOUCH WITH OUR MEMBERS:
Member Michael Tearson tells us:
I have just produced a new CD by Philadelphia songwriter and singer Skip Denenberg who has done a lot of work with the Phillies. The Morningstar Sessions turned out to be not quite the album I envisioned--it got bigger and better! Am really proud of this and it is the first such project I have done.
StateBroadcastNews.com News Director and Broadcast Pioneers Member Steve Lubetkin won a first-place award from the Garden State Journalists Association in the Broadcast Radio General News category for his news report, "Three former governors on jobs, schools, public safety," which featured extended interviews with three former New Jersey governors, Thomas Kean, James Florio, and James McGreevey. SBN also won a print award and a video award in the annual competition.
StateBroadcastNews.com, a news content production company based in Cherry Hill, NJ, is providing a daily local newscast for a newly launched live music program, "Radio Jersey," being streamed via AsburyMusic.com, an Internet-only radio service based here.

The music show is hosted by Lee Mrowicki, who has been the house DJ at the Stone Pony, Asbury Park for 40+ years. Lubetkin is anchoring the newscasts from SBN's Cherry Hill newsroom, with coverage of New Jersey news from around the state.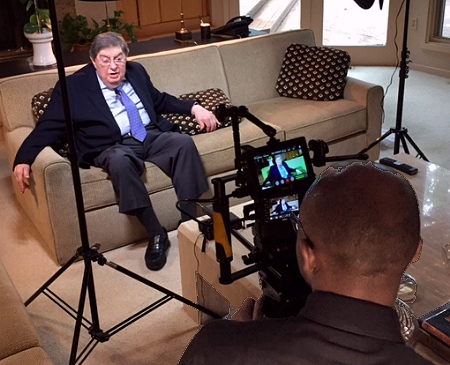 Broadcast Pioneers Board Member Kal Rudman (at left)
in his Cherry Hill, NJ home
being interviewed by "Who's Who"
Thursday, July 6, 2017
(Photo donated by Broadcast Pioneers member Paul Gluck)
Broadcast Pioneers Board Member Kal Rudman was interviewed on camera by "Who's Who." The footage was shot inside Rudman's exclusive Cherry Hall home. Kal Rudman was inducted into our Hall of Fame in 1998 and was our 2007 "Person of the Year." Kal has been on our Board of Directors since 1995 and served four years as Vice-President of Broadcast Pioneers.
The Kal and Lucille Rudman Foundation is helping 25 South Jersey high school students have a unique opportunity to raise their academic game this summer at one of the region's premier medical schools.
The newly established RAISE (Recognizing Achievement and Inspiring Student Excellence) at the Rowan University School of Osteopathic Medicine is a tuition-free, six-week science enrichment program that will give 11th and 12th grade students from nine South Jersey high schools a chance to get hands-on experience under the guidance of physicians, faculty and research scientists.

"We're extremely fortunate that Rowan has enabled us to expand our reach to New Jersey and create a truly regional network for our longstanding mission," comments Kal Rudman. "Having found tremendous success jump-starting the medical education of tomorrow's doctors in Philadelphia for over 20 years, the RAISE program we've created with Rowan elevates our work to an entirely new level. Lucille and I have been based in South Jersey for decades, and thanks to Rowan, we're finally able to boost the futures of the best and brightest high school students in our back yard in style." Kal is a long-time member of our Board of Directors.
Broadcast Pioneers member Bunny Gibson (of American Bandstand fame) e-mailed us to say she was in a new film called, "Fake News" starring Eric Roberts and John Savage. She says: "Eric was a true example of a talented and caring actor. He brought the set together with his outgoing and caring personality. And, remembering him from "Pope of Greenwich Village", I was honored to work with him." It will be in the theater sometime in the future.
Today's News Becomes Tomorrow's History!
(This is what our Digital Archival Project, DAP, is all about!)
A LITTLE BIT OF BROADCAST HISTORY!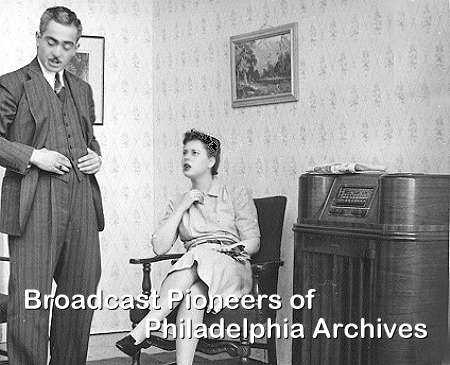 (Left to right) unidentified male and Member Betty Killner Davis
WPTZ, Channel 3
unidentified television show
circa 1942
Did you know...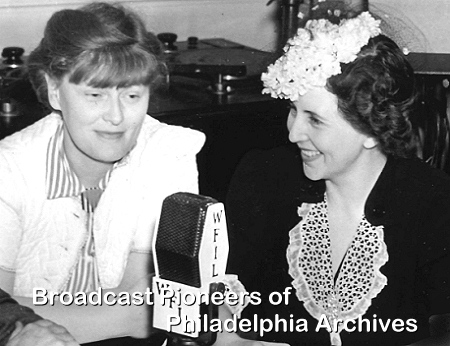 (Left to right) unidentified woman and Martha Lane
WFIL Radio, Philadelphia
circa 1939
Some people are surprised to learn that there was never a "real" Betty Crocker. Betty was created in 1921 by the advertising department of the Washburn-Crosby Company. It was a way to give a personal, female response to consumer's questions and comments.
Betty is all-American name that sounds full of cheer and wholesomeness. She was the perfect wife and mother. The last name, Crocker was taken from the company's director, William Crocker, who ran the company for many years.
However, two ladies were instrumental in Betty's development. Marjorie Husted was a home economist and business person. Agnes White became the voice of Betty Crocker on radio. These two women provided what was needed to make Betty Crocker a success. In 1928, Washburn-Crosby merged with several other milling firms to become General Mills.
When Agnes went out on her own, she assumed the name Martha Lane because she couldn't continue to use the name Betty Crocker. On her own, Agnes' sponsors could earn a "Testing Kitchen Seal of Approval." Her program was called, "The American Kitchen" and was recorded on transcription disc by Mertens and Price of LA, a well-known radio syndicator. She was now Martha Lane.
But there has always been some confusion with who Martha Lane was. That's because she was at least 2 different radio people and maybe more.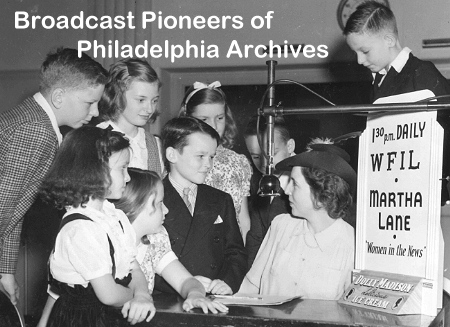 Martha Lane with some school children
WFIL Radio, Philadelphia
circa 1940
Philadelphians may remember Martha Lane was the lady on WFIL Radio daily at 1:30 pm from the mid-thirties until about 1941. Around that time, we believe that Martha Lane started using the air name of Martha Payne.
While the two Martha Lanes broadcast for several years, finally, it seems, the national radio producers got tough with WFIL Radio and forced the local Martha Lane off the air. Well, the local Lane was quite popular. WFIL wanted to keep her on the air so she became Martha Payne, a similar sounding name.
The sponsor for both local Martha shows was Dolly Madison Ice Cream. In fact, when Martha started calling herself Payne, something amazing happened. It was "Listen to Martha" is very large font and then in small type, it said Martha Payne. Everything was the same except the last name. (See photo below).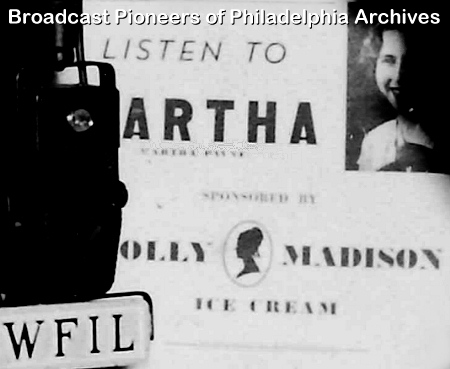 Enlargement of part of a photograph
WFIL Radio, Philadelphia
circa 1942
This went on for several more years. Martha was then replaced by Anice Ives (Ancker). Her husband was Louis Ancker, who was chief announcer for WIP Radio and passed away in 1937. Anice then went to New York City to head up WMCA Radio's "Everywoman's Club of the Air." It was on daily from 11:15 to 11:45 am with the last fifteen minutes on the network.
When the show was dropped, she moved back to Philly and replace Martha Payne. She continued with the station until her death in 1949. Some people have confused Anice with Agnes. There was no association.
With television, cooking shows continued to be popular, and, in fact, still are today.
This regular monthly column is written and researched by Gerry Wilkinson
(Martha Lane photographs donated to us by Astrid Johnson)
(The pictures were originally in a scrapbook owned by her mother)
(Items picked up and scanned by member Michael Muderick)
Our special thanks go to TUTV - Temple University Television and The Kal & Lucille Rudman Media Production Center.

They have underwritten a grant to be used to fund an entire year of all our newsletters for calendar year 2017. We thank them so much for their support!

You Can Help Us!



When you log into Amazon via http://smile.amazon.com, all eligible purchases earn Broadcast Pioneers a donation of 0.5% from Amazon. However, you must log in to Amazon through http://smile.amazon.com. We have made it simple. You can also log into them using http://www.broadcastpioneers.com/amazon. It's easy to remember and takes you to the same place.
AmazonSmile is the same Amazon you know. Same products, same prices and the same service. The only difference is that they donate 0.5% of your eligible purchases to Broadcast Pioneers. IT DOESN'T COST YOU ANY MORE TO DO THIS! Same price to you and we get a donation to help us continue with all our great educational projects! IT'S WIN - WIN!
MORE DIGITAL ARCHIVAL PROJECT NEWS:
VIDEO: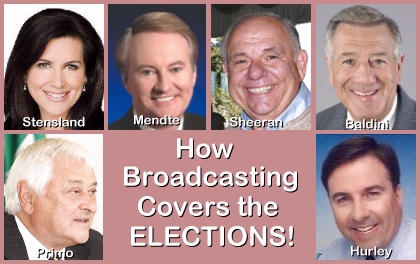 On Wednesday, October 17th, 2012 Broadcast Pioneers had a very interesting luncheon. Our October event was one that was as current as the news itself. The topic was: How Broadcasting Covers the elections. It's not about the candidates but about the electronic journalists who cover them.
Our moderator for the luncheon was Broadcast Pioneers member Jay Lloyd of KYW Newsradio. Our panelists include these six Broadcast Pioneers members (in alphabetical order): Bill Baldini, Harry Hurley, Larry Mendte, Al Primo, Dick Sheeran and Dawn Stensland.
Watch the Video in Windows Media Format!
Watch from our YouTube Channel (Better Quality)
(video courtesy of Broadcast Pioneers VP Brad Seecof and Metramedia Broadcasting & Studios)

AUDIO: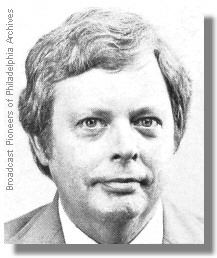 Harry Johnson
KYW Newsradio Publicity Photo
1980
Last month in this newsletter, we ran a clip from KYW Newsradio dating from Sunday, January 10, 1971. It was Bill Gregory. This time, we are going to give you an excerpt featuring KYW News Anchor Harry Johnson. It's about 2:34 pm.
The audio has been updated and previously was only available in the Real Audio format. Now, it is in both the Real Audio and in the Windows Media Format.
When we put this audio on our website back in 2001, we didn't know the correct date. That was sixteen years ago. The box that the original tape was in said October of 1971. We started with the idea that October '71 was the correct time period. However, shortly after it went on our website, we received an e-mail from a visitor to our site, William Brown of New York City. He was able to date the material precisely.
Listen to this excerpt from when KYW Newsradio was about five years old. In two months from now, KYW Newsradio will celebrate its 52nd anniversary. Here's Harry Johnson from 2:34 pm on Sunday, January 10, 1971.
Listen in Real Audio
Listen in Windows Media Format
Well, with all the heat right now, we thought you might enjoy this clip from WCAU Radio's news format from February of 1978. It's the Blizzard of 1978. That storm set a record for our friends at the shore. Atlantic City received over 20 inches of snow. The blizzard was deadly. It killed 100 people and injured around 4,500 along the east coast of the U.S. It had hurricane force winds at 86 miles per hour with gusts as high as 111. We believe the clip dates from either February 6th or 7th.
In fact, here's what member Tom Kranz (heard in this clip) told us:
Don't know what day it was but definitely the blizzard of early February 1978, a crippling storm that blanketed the entire northeastern U.S. I believe the anchors on WCAU 1210 that day were Robert Ames and Bruce Bradley.

You also heard NJ reporter Michael Schoen and suburban reporter Al Novack. It was my job to gather info and set up interviews with various officials who were available by phone, in this case City Managing Director Hillel Levinson.

That storm marked the first time the radio station seized a major weather event as a venue for wall to wall coverage and then marketed it as such. It was a massive storm.... I remember trudging across unplowed City Avenue to the Holiday Inn where the station got us rooms. I think weather coverage was never the same after that storm. The light bulb went on over the heads of programmers and marketers that you can't do enough about weather.
Listen in Real Audio
Listen in Windows Media Format
Remember, History is ONLY What Gets Saved!
(If there were no portraits of George Washington, how would we know what he looked like?)
A LITTLE BIT OF BROADCAST HISTORY!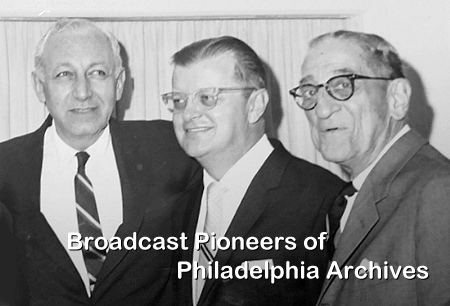 (Left to right) Murray Arnold, Bill Vogt and Billy Banks
At the time this picture was taken, Murray Arnold was the General Manager of WPEN Radio. Bill Vogt was at WDAS Radio as Sales Manager and Billy Banks was co-owner of WHAT Radio. We estimate the date of this picture being around 1964. It is possible that it was taken while the three were in attendance at a Broadcast Pioneers meeting.
IN TOUCH WITH THE INDUSTRY:
Univision decided to purchase WMGM-TV, Virtual Channel 40 (UHF Digital Channel 36) at the end of June. The station is licensed to WIldwood and serves the South Jersey shore areas. The station originally came on the air in 1966 as WCMC-TV. Current owners LocusPoint purchased the broadcast station in 2014 for six million bucks. People speculated that that's exactly what LocusPoint was doing; buying the station with the idea of selling it for a profit at the recent FCC auction. It didn't happen and now they are selling WMGM-TV to Univision for exactly what they paid; 6 million dollars.
Univision also owns WUVP-DT (Vineland serving Philadelphia) which is virtual channel 65 and UHF digital channel 29. Univision also operates WFPA-CD, UHF Digital Channel 28. Transmitters for both WUVP and WFPA are in Roxborough. Footnote: Fox29 is actually Virtual Channel 29 but UHF Digital Channel 42. Confused? It will only get worse with the upcoming re-packing.
102.9 WMGK's Brew Blast 2017 takes place on September 9th from 1 pm until 5 pm at the Battleship New Jersey, 100 Clinton Street in Camden. Come on out and talk music with the WMGK DJs and rock with the newly crowned WMGK Houseband. All tickets include a free tour of the Battleship.
WE REMEMBER:
On Sunday afternoon at 2pm, we lost a legend. Broadcast Pioneers member Allen Stone passed away at his home in Bala Cynwyd, Pennsylvania from congestive heart failure. His son, Jon, told us that he felt no pain. Broadcast Pioneers member Allen Stone was the dean of Boss Radio (Famous 56) newscasters. Allen was born on April 30, 1926. He was 91. A short service was held today, Tuesday, August 1st at Hyam Solomon Cemetery in Malvern, Pa. Allen Stone was inducted into the Broadcast Pioneers Hall of Fame on Friday evening, November 17, 2006.
Everyone was in shock to hear the news that long-time member Mel Klawansky's oldest son, David, passed away during the middle of last month. David, who was 38, had a wife and two sons. Mel also has another son, Ryan. Mel had just retired at the end of last year from WPPX-TV. Mel lost his wife, Joyce, last year. She was a WFIL Boss Chick.

THIS AND THAT! Little Bits of Information....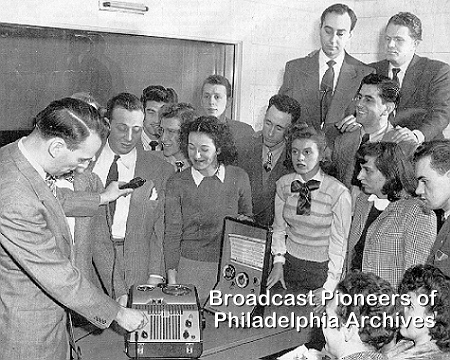 Professor John Roberts with students in a speech class
WRTI Studios, Thomas Hall
Temple University, Philadelphia
1948
(Photo scanned by Broadcast Pioneers member Jerry Klein)
In the above picture, former Broadcast Pioneers President John Roberts demonstrated to Temple University students the use of a Webster Chicago Model 80 Wire Recorder. The device found usage to help students improve the vocal delivery. Note that Roberts is holding the microphone in front of undergrad Temple student Norman Feld. You may know him as Norman Fell of "Three's Company" and "The Ropers" fame.
While going to college, Norman lived on Rugby Street, a block from Chelten Hills Cemetery. He graduated at age 26 from Temple in 1950 and was Chief Announcer for WRTI at the time the above picture was taken. He was a tail gunner during World War II, so he couldn't start his college education until 1946.. At some point in his career, Fell changed his name from Feld to Fell to sound less ethnic. However, during his September 20, 1954 performance as the foreman on the live "Studio One" production (sponsored by Westinghouse) of "12 Angry Men," Norman was stilling using his original name of Feld.

Member Ruth Weiman told us:

...many happy memories of my years at Temple. In those days, I was a Radio, Speech and Theater major but mostly Theater. I did, however have a class with John Roberts in radio production. My year of graduation was 1953. But Norman Feld, being a returning veteran, and I, were at Temple at the same time, along with his first wife, Dolly Pikoos.

And later, we lived in New York at the same time and kept in touch. Norman and I were in a show at Temple called "Missouri Legend," where I was the prima ballerina and he sang a song, called Maisie, that literally "brought the house down." From what I heard from my mother, I thought my father was going to need oxygen!

For those you are not aware, Ruth's father was Max M. Leon, owner of WDAS AM & FM. In the seventies, Max was a Vice-President of Broadcast Pioneers.
WPTZ, Channel 3 personality Rex Trailer ran a contest in 1953. The idea was to see how many four letter words they could make out of the name of his show, "Ranch House." The prize was a wrist watch from an area jeweler. They got 5,396 entries.
"Turn to U." That was the theme for New Jersey Public Television (NJPTV) in 1974. The network started officially on June 2, 1973. All of the stations were on the UHF band of the dial. Dr. Lawrence Frymire, Executive Director of the network said: "We want the people to turn to the 'U' position of their television dial for a look at themselves." In 1981, it became known as NJN. Operations ended at the end of June of 2011.
Colonel Bill was a character who appeared on KYW Radio in the thirties and forties. The colonel, in reality, was William C. Gallagher, the educational director for KYW Radio. The station in the forties maintained educational, behind the scenes workshops for teachers. Westinghouse, the group that owned KYW ran "Workshops" for educational leaders.
The show started back in the early thirties and ran for almost two decades. It was meant to be a direct competitor to WIP Radio's "Uncle WIP" programs. Part of Bill's job was to create associated clubs for advertisers. One of them was a model airplane club. It was ran in conjunction with Jacob Reed's Sons, a men's furnishings store. Claire Kasser, who was at our last luncheon, said that Colonel Bill taught her to cry on cue. She appeared on his program and later on Channel 3.
THANKS FOR THE MEMORIES:
Channel 3 - Program Logs for January 1942!
Monday, January 19, 1942
4:30 to 5:30 pm - Test Chart
8 pm to 8:20 pm - Behind the Scenes of Radio
(WDAS presents "Pop Johnson's Old Timers")
8:20 pm to 8:40 pm - Holy Comforter Church (of South Philadelphia)
(Members present a special TV feature)
8:40 pm to 9 pm - Hale American presents Major William J. Herrman in "Bayonet Combat Exhibition"
9 pm to 9:10 pm - Film Short
9:10 pm to 9:30 pm - Chalk Talk by City Council on Civilian Defense
9:30 pm to 10 pm - Featurette Film
10 pm to 11:30 pm - WNBT (now WNBC) retelecast - Amateur Boxing at Jamaica Arena
Tuesday, January 20, 1942
6:30 pm to 8 pm - Feature Film
8 pm to 8:10 pm - Film Short
8:10 pm to 8:30 pm - The Philco News Analyst with Ernest H. Traub
8:30 pm to 8:55 pm - WNBT Retelecast - Thrills and Chills from Everywhere with Douglas Allan and Father Hubbard
8:55 pm to 9:15 pm - WNBT Retelecast - Film - March of Time - "When an Air Raid Strikes"
9:15 pm to 9:20 pm - WNBT Retelecast - Our President's Diamond Jubilees
9:20 pm to 9:30 pm - WNBT Retelecast - The Face of the War with Sam Cuff
9:30 pm to 11 pm - WNBT Retelecast with the Adam Hats Sports Parade, Wrestling at Ridgewood Grove
Wednesday, January 21, 1942
4:30 pm to 5:30 pm - Test Chart
8 pm to 8:15 pm - Behind the Scenes of Radio
(WDAS Presents "Mae Desmond Theatre of the Air")
8:15 pm to 8:30 pm - Hale American presents "Arming Women for Defense Through Exercise"
8:30 pm to 8:40 pm - Film Short
8:40 pm to 9:10 pm - "The World Asleep" with Hypnotist Howard Klein
(SIDEBAR - At one time, NBC would not let Klein in front of their microphones for fear of hypnotizing the country)
9:10 pm to 9:20 pm - Film Short
9:20 pm to 9:45 pm - The Philco Players present "Ellen's Elopement," a comedy farce,
(directed by Frank Vreeland, a well-known comedy writer of the era)
9:45 pm to 10 pm - O.E.M. (Office of Emergency Management) Presents
(A Debate by Junk Dealers on Conservation of Metals)
10 pm to 10:10 pm - Film Short
10:10 pm to 10:50 pm - The Academy of Vocal Arts (an organization that specializes in the classics) presents
("La Serva Padrona," a comic opera)
Thursday, January 22, 1942
5 pm to 6:`15 pm - Feature Film
8:45 pm to 9 pm - The Philco News Analyst with Ernest H. Traub (he worked for Philco)
9 pm to 10 pm - WNBT Retelecast - America's Town Meeting from from Town Hall
10 pm to 11:15 pm - Feature Film #33 (whatever that was)
Friday, January 23, 1942
6:30 pm to 8:30 pm - The Philco Junior Hour presents "Hans Brinker" (the Silver Skates)
(by the Miriam Barol School of Dramatics. The program was a weekly show devoted totally to children)
8:30 pm to 11 pm - Wrestling Direct from the Philadelphia Arena
Saturday, January 24, 1942
8:30 pm to 10:30 pm - Ice Hockey direct from the Philadelphia Arena
-----------
Sally Starr - the Legend!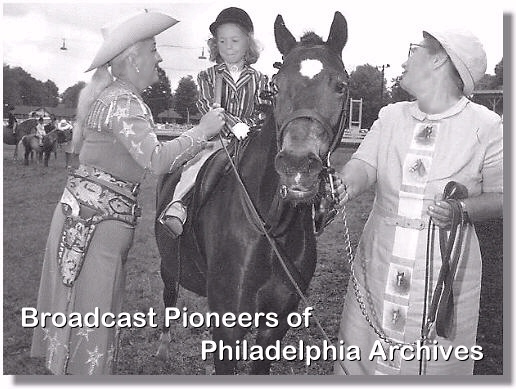 Channel 6 Kids Host and Broadcast Pioneers member Sally Starr (on left)
Riding her pony is Elizabeth Chapman
The Devon Horse Show
Saturday, May 29, 1965
Originally, we had planned to run this photo in last month's newsletter. Just a few weeks before going to press, we received an e-mail from a visitor to our website. She is the girl in the above photograph. We thought that this is interesting enough that we would expand the story and run it in our "Thanks for the Memories" column. Anyhow, in the e-mail, she tells us:
I am the child rider you have mentioned in the photo at the Devon Horse Show. My name is Elizabeth Chapman and I still remember her (Sally) interviewing me. I was so very excited. I still remember telling her my pony ate hamburgers when she asked what she liked to eat. I remember that day so clearly. I was very shy back then to as you can see from my expression. My parents even let me stay home from school so I could watch it (on TV).
Unfortunately I do not know the name of the woman holding my pony. The pony's name was "Fortunes Brown Beauty." She was called that because the book Beauty was a pure black, my Beauty was Brown. By the way, in the background of the photo, you can just glimpse a small dappled grey Shetland Pony and a young girl on the pony's back. That is my little sister, Abigail and my other pony, named Mischief.

It is quite possible that the woman with me (in the photo) is named Mrs. Butts, who was a pony breeder. We bought six of my ponies from her. After my wild late teen years of which I traveled across the USA and parts of Europe, I went back to what I knew best. Which was a rider and trainer of horses in Austin, Texas at a stable called Switchwillo Stables, one of the leading stables in the area run by Glenn and Phobe Johnson, (Glenn being an alternate on the Olympic team I believe in 1976).

I was fortunate enough to, along with my training of horses, coach children of that age (I was 4 at the time that was taken) which became the most joyful blessing of my life.
Broadcast Pioneers member Sally Starr is legendary in our market. Someone once said that even if a person is gone and no longer with us, they will live on as long as someone remembers them. Well, Sally literally touched the lives of hundreds of thousands (if not millions) of souls in the Delaware Valley.
On Monday, October 3, 1955, Sally Starr entered the "infant" medium of television as hostess of what would eventually become Philadelphia's highest rated children's program: "Popeye Theater." Sally's pioneering format consisted of her presenting half-hour western TV shows, cartoons, Three Stooges comedies, live acts and special features. During this same period in the mid-fifties, Sally also had a country music radio program over Philly's WJMJ.
At 6:15 pm, "Starr Theater" rode onto the airwaves with two westerns. The first one was Gene Autry and then "The Range Rider." At 7:15 pm was the ABC-TV network news with John Daly. On Monday, February 6, 1956, "Starr Theater" moved to the 6 to 7 pm time slot. The news went to 7 o'clock with a new anchor, Gunnar Back, a member of our Hall of Fame.
When "Starr Theater" first came on the air, Channel 6 managers didn't consider Sally to be that important. The TV Guide and the television listings in "The Philadelphia Inquirer" didn't even mention Sally Starr or "Starr Theater." Those two publications were owned at that time by Triangle Publications which also owned WFIL-TV. However, slowly Sally became more important than the westerns.
Until March of 1956, all the print ads just mentioned the western programs with no word of Sally and no photo of her. In March, we saw the first ads with Sally in them and her name being printed. On April 9, 1956, TV Guide changed the listings from "Gene Autry" & "The Range Rider" to "Starr Theater." Under that, it then mentioned the two westerns and what each show was about.
Sally Starr (just like Uncle WIP in the twenties) became more important and a larger draw than the show's content. "Popeye Theater" didn't hit the airwaves until Monday, July 29, 1957 at 6 pm. It replaced the first half-hour of "Starr Theater." At 6:30 pm, was "Starr Theater" which on that date featured "The Cisco Kid." Eventually "Popeye" would win out and the westerns were dropped.
Herb Clarke's Time in Richmond, Virginia!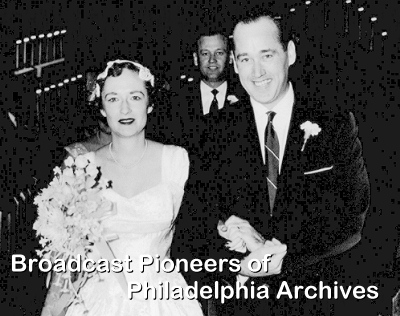 (Left to right) Barbara and Herb Clarke (their wedding)
Westminster Presbyterian Church
Lynchburg, Virginia
October 15, 1955
Last month, we ran the first part of a brief excerpt from member Herb Clarke's book, "The Times that Made Me - Me." It was a private 300 page printing for family and a few really close friends. This month, we conclude that part of the story.
Herb had been a fixture at WCAU-TV broadcasting our weather to us for 39 years. Clarke was also a special part of Broadcast Pioneers for decades. He was the Broadcast Pioneers' "Person of the Year" in 1991 and was inducted into our Hall of Fame in 1994. He served our our Board of Directors for more than a quarter of a century.
He was president of this organization in 1988 and 1989 and became of Chairman of the Board the following year. We now present here the conclusion of a very brief excerpt about Herb's times in Richmond, Virginia. Here's what he wrote:
I met a lovely young lady who was to become my wife one year after I came to Richmond. Barbara Cawthorne of Lynchburg, Virginia graduated from Westhampton College, the women's branch of the University of Richmond in 1952, spent a summer in Mexico for Spanish language "immersion" training and returned to Richmond to the Pan-American Institute to become skilled in secretarial skills, stenography and typing.

She had taken a position at WRVA and was touring the offices when a lady employee, Emma Glynn, brought her to the music library and the announcer's office. Approaching my desk, I heard Ms. Glynn say, "Avoid this one, he is the 'Nuisance.'" For more than 50+ years, I have been just that. We never exchanged love letters but traded scores of inter-office memos.

I don't remember officially asking Barbara to marry me. Perhaps the request was in one of the memos. We were married on October 15, 1955 in Westminster Presbyterian Church in Lynchburg.

My entire bank balance was $125. For a honeymoon, we drove thirty miles to the Hotel Roanoke, a rather classy hotel owned and operated by the Norfolk & Western Railroad. Dinner at the hotel would cost us too much so we found an inexpensive little restaurant nearby.

At breakfast the next morning, we discussed where to continue our travels. Wisely, and much to my pleasure, Barbara suggested we go back to my Richmond apartment. That way we could spend my vast savings on a new sofa. The very comfortable Malvern Manor apartment rent was $55 a month.

I shifted from radio when WRVA-TV went on the air in newly-built studios west of the Richmond city limits as a CBS affiliate in April, 1956.

My jobs included sports editor, reading and writing commercials, announcing call letters and station breaks, doing special programs and nightly five-minute weather segments, followed by Edward R. Murrow for another quarter hour. We also did another fifteen minute local news program at 11 p.m.

Since two other TV stations had been on the air a few years earlier, we had to do catching up to get larger audiences. The news director and newscaster, George Passage, who had been very successful on radio, did not fare so well on TV and accepted the editorship of the Newport News daily paper.

I was promoted to fill his seat. That meant I needed to be in the newsroom before 9 a.m. and send our only film cameraman, Bill Thompson, to cover scheduled stories and to answer others which were reported to us by the police and fire departments.

I packed as many as fifteen brief films and stories, some illustrated by road maps or photos clipped from magazines such as National Geographic, in the 10-minute ESSO Reporter news portion. Actually, it was only 7 1/2 minutes of news and 2 1/2 minutes of commercials.

To cover the whole state, we bought eighteen little Bell & Howell 8mm cameras and sent them with 100-foot rolls of film to photographers of regional weekly newspapers and small town photo shops. If they covered a story and sent the film by bus and it was used, I sent them $15 and another roll of film. If we didn't use it, we still sent a fresh roll of film and $5.00.

It must have worked because our fast-moving news program was tops in ratings five months later and more than doubled the ratings of both our competitors.
A LITTLE BIT OF BROADCAST HISTORY!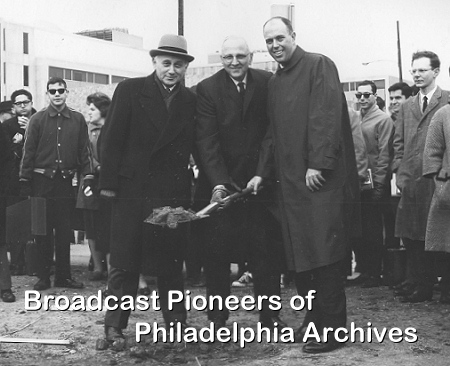 (Left to right) Robert P. Levy, Dr. Millard E. Gladfelter and Charles Klein
on site of what would become Paley Library, Temple University
November 26, 1963
It was four days after President John F. Kennedy was assassinated. Temple University broke ground for their "new" Samuel Paley Library. Robert Levy was the grandson of Sam Paley. His father was Dr. Leon Levy, co-owner for decades of WCAU Radio. His mother was Blanche Paley Levy, daughter of Sam and sister to CBS Chairman Bill Paley. Dr. Gladfelter was President of Temple University at the time (the University's fourth) and Charles Klein was the President Judge of the Philadelphia Orphans Court and Chairman of the Board of Temple's Board of Trustees. Photo was donated to us by the Levy family. On May 16, 1968, Dr. Leon Levy was honored as the Broadcast Pioneers' Person of the Year. He was inducted in our Hall of Fame in 1992.
OUR HATS OFF TO YOU FOR GIVING:
We would like to thank the following for their contributions donated during their membership renewal (received during the last month): Bob Craig, Josh Willgruber, Rob Jennings. David Rimmer, Debbie Lynn Elias, R. Alan Campbell, Ed Cunningham, Jim Loftus, Al Primo, Ivory Blackwood, Donna Lee Conte and David White. And also thanks to new member J.R. Russ for his donation included with his membership application.

We are a federally recognized, state chartered charity with a 501(c)(3) status. Contact us at (856) 365-5600 or e-mail
pioneers@broadcastpioneers.com
for more details. Your gift to Broadcast Pioneers will help us and may lower your federal income tax. That's win-win, isn't it?
Special Thanks (in alphabetical order) for the gift of Appreciated Stock: (a federal tax advantage for the giver)
Member Marc Howard - $3,600 (put into our general fund to be used where needed)
Member Sylvia Kauders - $5,159.45 (used for the scholarships listed below)
Special Thanks (in alphabetical order) for contribution of $1,000 or more to our DAP, Digital Archival Project:
Member Johnny B. Hall and wife Ginny - $3,000
Member Jerry Del Colliano - $1,500
Member Harry Hurley's Golf Tournament - $1,000
The Shunfenthal Family (in memory of Sherri Shunfenthal's father, Les Waas) - $2,000
Member Marlin Taylor - $1,000
Special Thanks (in alphabetical order) for April 2018 Scholarships:
Member Sylvia Kauders - 1 scholarship (from a grant for 5 yearly scholarships running until 2019)
The Shunfenthal Family (in memory of Sherri Shunfenthal's father, Les Waas) - 1 scholarship
Member Harry Hurley's Golf Tournament - 1 scholarship (for a Stockton University student)
Member Kal Rudman - 5 scholarships (for Temple University students)
Member Marlin Taylor - 1 scholarship
Member Johnny B. Hall and his wife, Ginny - more scholarships for 2018
Special Thanks (in alphabetical order) for a contribution of $500 or more to our DAP, Digital Archival Project:
Member Art Moore - $500
Member Lauren Lipton - $500
Bequests in their Will:
Member Sylvia Kauders passed away earlier this year. In her will, she bequest to the Broadcast Pioneers of Philadelphia, the amount of $5,000. This funding is to be used to underwrite one scholarship per year until gone. These scholarships will start in the year 2020 and continue until 2024. From a previous gift, Sylvia has underwritten one scholarship a year starting in 2015 and continuing until 2019.

Member W. Carter Merbreier passed away a couple of months ago. In his will, he bequest to the Broadcast Pioneers of Philadelphia, the amount of $1,000. This funding is to be used to underwrite one scholarship which will be awarded in April of 2017.
Underwrite a complete scholarship and we'll give you credit in the electronic newsletter until the scholarship is awarded in April of 2018. Give us a donation of appreciated stock of $2,000 or more) and we'll list you in our "Thank You" column for two years. Give us a donation of $1,000 or more and we'll list you in our "Thank You" column for a year. Give us a donation of $500 or more and we'll list you in our "Thank You" column for six months. You can select how we use the money: for our archival project, for scholarships or for our general fund to be used as needed.
More Thanks:
A growing portion of the revenues that fund the different activities of the Broadcast Pioneers comes from donations. This includes our archival project and our scholarship program. Now, we are making it even more beneficial for our donors. Broadcast Pioneers is now able to accept gifts of appreciated stock, which provides a significant tax benefit to you. By giving appreciated stock (stock which is worth more now than what it cost when it was purchased), you can get a charitable contribution tax deduction based on the current market value of your stock. At the same time, you avoid the capital gains
tax that would arise if you simply sell the stock. So if you'd like to support our educational mission or our archival project and save money on taxes too, please consider making a gift of appreciated stock. We are a federally recognized, state chartered charity with a 501(c)(3) status. Contact us at (856) 365-5600 or e-mail pioneers@broadcastpioneers.com for more details.
Don't be left out. You too can make a pledge. It's never too late. You can earmark it for scholarships, our Digital Archival Project or our general fund. Thanks so much for your support. If you forgot to make an extra contribution (cash or memorabilia) and would like to do so now, you can do so. We would be thrilled to hear from you at: PO Box 2886, Bala Cynwyd, PA 19004, call us at (856) 365-5600 or e-mail us at: pioneers@broadcastpioneers.com.

A FINAL THOUGHT....
George Benson worked much of his career in Philadelphia broadcasting. To differentiate between George and the jazz artist with the same name, he was usually referred to as George "Go-Go" Benson.
The story goes like this. Kiddie City was having financial trouble (this was shortly before the chain closed) and George was working for them appearing at their stores as a clown doing tricks. But George wasn't being paid on time. In fact, the company was running two to three months behind. George really needed the money, and demanded payment. They told him that it would be at least two more weeks. Benson was reported to have said that if he didn't receive his money by then, they could get themselves another clown. Double meaning there, George. A fortnight later, George showed up for his money and there in the personnel office was someone dressed as a clown. Rather than pay up, they got themselves another clown.
Bruce Smallwood
former area broadcaster
circa 1979

Please contact us by e-mail at pioneers@broadcastpioneers.com or by mail to: Broadcast Pioneers of Philadelphia, PO Box 2886, Bala Cynwyd, PA 19004. Your stories are important, to you, to us, and your colleagues. Contact us today and we'll include your story in the next newsletter!

© 2017, Broadcast Pioneers of Philadelphia
All Rights Reserved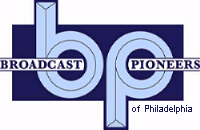 The e-mail address of the Broadcast Pioneers of Philadelphia is pioneers@broadcastpioneers.com
For luncheon reservations call (856) 365-5600 or e-mail us at: rsvp@broadcastpioneers.com