| | |
| --- | --- |
| | Broadcast Pioneers of Philadelphia is a federally recognized, state chartered 501(c)(3) non-profit organization serving the Philadelphia Broadcast Community since January of 1962. |
September Luncheon
The Bala Golf Club
Wednesday, September 17, 2014

Meet & Greet at 12 noon!
Lunch at 12:30 pm
Ratecard: $28 per person!

PLEASE RESERVE NOW!
CALL (856) 365-5600!
rsvp@broadcastpioneers.com
Another "Third Wednesday" Luncheon
The Beatles & Their Influence!
Wednesday, September 17th!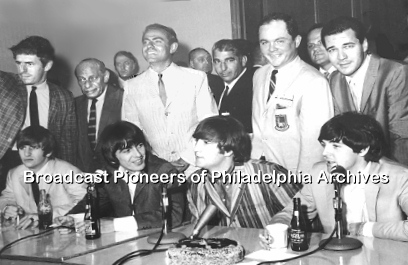 (Right side of photo - standing: Members Bill Wright, Sr. & Hy Lit
Seated are the Beatles
Philadelphia
September 1964
Hit After Hit! Smash After Smash! Blockbuster After Blockbuster! Here's another "monster" lunch where the "stars" don't wait to come out at night. They're here at lunchtime!
A half-century ago, the Beatles performed at Convention Hall, which was part of the old Civic Center. The date was Wednesday, September 2, 1964. The concert was sponsored by WIBBAGE, Radio 99 and was broadcast live by them. Broadcast Pioneers Hy Lit and Bill Wright were there on behalf of the station.
The station ran a contest during the month before the concert. Several people were selected to meet with the Beatles. One was them was 11-year-old Karen Cinelli. Karen will be with us at the luncheon and will say a few words. Broadcast Pioneers member Tim Kastner, Digital Media Manager for the Philadelphia Orchestra, will make introductory remarks.
It's all about the "Fab Four." The Beatles were in Philadelphia for a WIBG concert fifty years ago this September. That's our topic: The Beatles and their influence, both in music and our culture. It all takes place on Wednesday, September 17, 2014.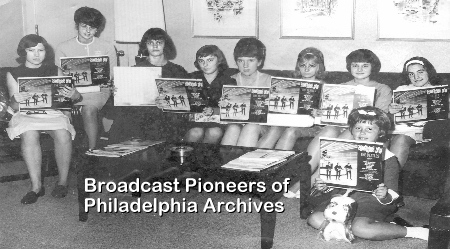 Right side of photo with white hair band is Karen Cinelli
The Beatles Concert
Philadelphia
September 1964
Our MC for the afternoon is Bob Charger, host of "Brunch with the Beatles" heard every Sunday morning on WOGL, 98.1 from 10 am to 12 noon. (Bob also does 7 to 12 midnight daily on WOGL).
Our panel will include (in alphabetical order):
Frank X. Feller, former WIBG Good Guy & Program Director at WYSP
Ryan Fleur, Executive Vice-President of the Philadelphia Orchestra
Charlie Gracie, super star rock and roll artist, just back from Europe
T. Morgan, veteran rock air personality, currently heard on WMGK
Michael Tearson, iconic rock broadcaster, former WMMR Music Director
Bill Wright, Sr., legendary WIBG and WPEN air personality extraordinaire
RESERVE NOW! (856) 365-5600!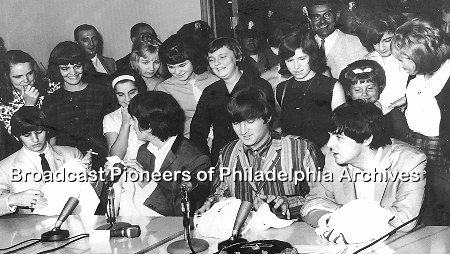 Third from the left is Karen Cinelli (with white hair band)
Seated are the Beatles
Philadelphia
September 1964
Meet and greet at 12 noon with snacks. Luncheon is at 12:30 pm. Lunch includes a wonderful, fresh salad plus yummy dessert and a full three-course meal. Cash bar all afternoon. Don't forget the date: Wednesday, September 17th.
This all takes place at the beautiful and historic Bala Golf Club, 2200 Belmont Avenue (across the street from the state police) in the Wynnefield section of Philadelphia. Only minutes away from Channels 6, 10 and 17 and the radio stations in Bala Cynwyd. Call now for reservations. (856) 365-5600! Don't miss this one!
Plenty of FREE parking. Our luncheons are open to all our members, their guests and any person in the industry or associated fields, whether active or retired. You do NOT have to be a member to attend.
The cost is only a donation of $28 (or more) per person! In order to speed up check-in at the luncheon, it would help if you had exact change or your check already written. Checks can be made payable to the Broadcast Pioneers of Philadelphia.
If you would like to add a few dollars extra, we would appreciate it. It would help us with all the important work we are doing. Thanks!
WE WANNA SEE YOUR FACE IN THAT PLACE!

Visit Our Website Often - http://www.broadcastpioneers.com
Check out of Facebook Page - http://www.broadcastpioneers.com/facebook
Tune in to our YouTube Channel - http://www.broadcastpioneers.com/youtube

MEMBERSHIP RENEWAL:
(If you haven't mailed in your dues, YOU ARE TWO MONTHS LATE!)
We mailed out membership renewals to all our members in mid-May. If you haven't returned the form, you are now officially two months late in paying your dues. Kindly return your form and check at your earliest convenience.
Please also note that on the form is an important box that you can check if you would like to make an extra contribution. If you can afford it and wish to do so, any amount will be greatly appreciated. Every little bit really does help.
Can't find your form? Don't remember getting it? No problem. Contact us and we'll send you another one. Unlike many organizations, we do not send out mailing after mailing after mailing reminding you about your dues. This costs money and that would come out of your dues. To pay for all that, your dues would have to be higher. Help us save you money. Mail in your membership renewal when you get it. Stay a member of Broadcast Pioneers. Renew today.
Don't get dropped from membership. Don't miss out on the newsletter, our membership directory and all the other great things from Broadcast Pioneers. The 2015 membership directory is going to the printer in the next 30 days. Make sure you are listed.
Need a new invoice? Contact Broadcast Pioneers of Philadelphia. E-mail address is pioneers@broadcastpioneers.com or call (856) 365-5600! Thanks so much for your support.
EXCELLENT ADVERTISING OPPORTUNITIES:
(Also a good way to show your support of Broadcast Pioneers!)
We are currently planning the 2015 membership directory and our 2014 Person of the Year/Hall of Fame Banquet Program booklet. Both publications go to press this fall and offer excellent reach, high rates of frequency use and a qualified buyer who will respond to your message! Several of last year's advertisers have already renewed for this year. Don't be left out. Send your message to a unique niche market via our Broadcast Pioneers publications.
You do NOT have to have a company to buy an ad. You, as an individual member, can elect to show your support by getting an ad. Ask us how. For more information or to place your ad contact Broadcast Pioneers of Philadelphia. E-mail address is pioneers@broadcastpioneers.com or call (856) 365-5600!
DIGITAL ARCHIVAL PROJECT NEWS:
VIDEO:
Broadcast Pioneers member Larry Kane
Anchor on "Action News"
WPVI-TV, Channel 6, Philadelphia
January 1975

Dr. Charles Evertt Koop
Surgeon-in-Chief at
Children's Hospital of Philadelphia
Fall 1974
This is an "Action News" story. It's the top piece of the newscast. Dr. C. Everett Koop had performed an "almost" miracle. He had separated twins joined at the abdomen. Alta and Clara Rodriguez were brought to the United States from their home in the Dominican Republic for their surgery. It was a success. Action News reporter Hank Sperka tells the story.
By the way, shortly after becoming President of the United States, Ronald Reagan appointed Koop Deputy Assistant Secretary for Health. He later became Surgeon General on January 21, 1982. In 1991, Koop hosted six episodes of a documentary series that aired on NBC-TV. It was called "C. Everett Koop, MD."
Watch with Real Video!
Watch with Windows Media!
AUDIO:
In a previous newsletter, we featured the 10 pm newscast from Sunday evening, January 10, 1971 on WCAU Radio. It was done by Ken Roberts. This month, we have the 11 pm cast from the same evening and the same newscaster. This is an off-air recording and you can hear slight surface noises throughout this newscast. An odd thing happened a year or so after this newscast. Ken Roberts took WDAS newsman Charlie Harmon's position and Charlie took Ken's job at WCAU.
Our CEO Gerry Wilkinson, who was Operations Manager at WDAS during this era, said that it was almost like they were "traded" like baseball players. Of course, they weren't, and no one seems to remember which opening became available first. By the way, Harmon later returned to WDAS Radio and became the station's News Director. This is the first time in 43 years that this newscast has been heard and is probably the only copy in existence today.
Listen in Real Audio!
Listen in Windows Media!
Next, we have audio from the 8:25 am Eyewitness News report on KYW-TV, channel 3. This is local cut away newscast that came in the middle of the "Today Show." While this was a television broadcast, we only have audio. It dates from May 26, 1969. It most likely is the only recording anywhere of that news telecast.
Listen in Real Audio!
Listen in Windows Media!
Today's News Becomes Tomorrow's History!
(This is what our Digital Archival Project, DAP, is all about!)
IN TOUCH WITH OUR MEMBERS:
Broadcast Pioneers' Chairman of the Board Jerry Klein will be honored later this month by Temple University. He is one of five honorees who have been nominated by their peers and will be recognized by the school at the annual Lew Klein Awards. Lew is a former President and former Chairman of the Board of this organization. Among the others selected are Tracy Davidson, reporter/anchor for NBC 10; Larry Margasak, longtime reporter at the Washington Bureau of the Associated Press; John Oates, musician and writer of the Hall and Oates duo; and Claire Smith, a pioneer for women in sports journalism. NBC Nightly News Anchor Brian Williams will receive the 2014 Lew Klein Excellence in the Media Award from Temple. Tickets are $150 each for this September 26 event, which takes place in Mitten Hall. For more details, please contact Dawn Ramos at 215-204-7092.
Member Charlie Gracie has just come back from a week's booking in Switzerland. At the beginning of November, Charlie Gracie returns to Europe for a dozen days of appearances in the United Kingdom. Paul McCartney saw Gracie during Charlie's appearance in Liverpool in the fifties. Well, Paul sent this note to Charlie to use to promote Gracie's upcoming autobiography, "Amazing Gracie - Rock's Hidden Giant tells his story!" McCartney said:
When we were starting out with The Beatles, the music coming over from America was magical to us and one of the artists who epitomized this magic was Charlie Gracie! The spirit of the times was captured beautifully by one of his big hit songs 'Fabulous' and I loved it so much that I used to perform it live with the boys.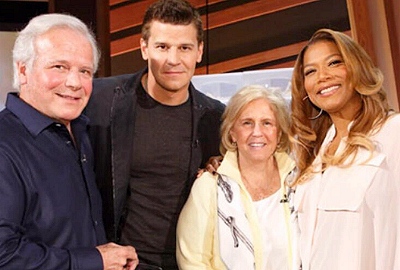 (Left to right) Member Dave Roberts, David Boreanaz, Patti Boreanaz and Queen Latifah
on the set of Queen Latifah's show
Sony Pictures Studios
Culver City, California
2014
Member Dave Roberts sent us the above photo of him, his wife Patti, their son (actor David Boreanaz), and talk show host Queen Latifah. The hour long Queen Latifah Show airs locally on CBS 3 (KYW-TV) daily at 3 pm. The new season of Queen Latifah starts on Monday, September 15th. Bones begins its 10th season on Thursday, September 25th on Fox.
"Lazarus House is where Director Frank Stone turns generosity into bread for those in need." That was the lead in an above the fold front page story in the Cape May County Herald about a month ago. Member Frank Stone told us: "What began as a behind the scenes advisory position on the board, has turned into a full time volunteer management job. The pantry is open three days a week, Monday, Wednesday and Friday from 10 am until 12 noon, staffed by over 45 volunteers. Combine this with my real, fulltime job for Morey's Piers, I'm a bit busy!' The food bank is in Wildwood, NJ and feeds about 1,500 a month.
SportsRadio 94WIP announced that Afternoon Host Anthony Gargano and Eagles Play by Play Announcer Merrill Reese (a member of the Broadcast Pioneers) will once again host the "Howie Roseman Show" every Monday during the 2014 Philadelphia Eagles Season. The show will be live from 5 to 6 pm at Chickie's and Pete's, 1526 Packer Avenue in South Philly.
Anyone hear Broadcast Pioneers member Beasley Reece on Sports Radio 94WIP last month? Angelo Cataldi was on vacation and CBS 3 Sports Director Beasley Reece joined Rhea Hughes and Al Morganti on the popular morning show four times in the last half of August.

Did you know...
that KYW Newsradio started 49 years ago this month? Well, it's true. The newscaster was Steve Porter. The editor was Fred Walters and the engineer was Bud Galow. In two months, we will induct both Walters and Galow into our Hall of Fame.
However, KYW Radio has an interesting history. It is the only station to be owned by the same owners but licensed to three different cities: Chicago, Philadelphia, Cleveland (and back to Philly again in 1965).
At our Wednesday, September 24, 1975 luncheon, Joe Baudino spoke. While Joseph didn't work at KYW in Chicago, he did start working for Westinghouse in 1927. He retired as a Senior Vice-President from Westinghouse in 1969. He died on his 94th birthday in 1998.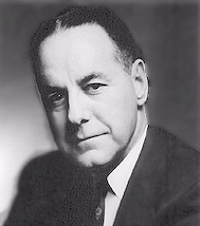 Joseph Baudino
1968
We thought you might enjoy some of what he said that day. While we don't have a recording of his remarks, he do have a transcript. Here's what he said about the first year of the station's operation (1921 - 1922) while they were in Chicago.
At 4:30 on the afternoon of November 11, 1921, a new broadcasting station, the first station in the Chicago area, KYW, went on the air with a program broadcast from the stage of the Chicago Civic Auditorium.

The first historic words to be heard over the new station, spoken by Mary Garden, opera star and General Director of the Chicago Opera Company, were, as she walked across the darkened stage and not knowing that the mikes were open, "My God, it's dark in here!"

Miss Garden continued with a short address announcing the intention of the Opera Company to bring to the radio listeners the season operas as rendered at the Auditorium. Her announcement was followed by music by the entire orchestra conducted by Maestro Polacco. This was followed by an aria from "Madame Butterfly" sung by Edith Mason, accompanied by the orchestra. This, with appropriate closing announcements, concluded the program.

The opera season opened on Monday November 14, 1921 with the opera "Samson and Delilah" with Muratore in the role of Samson and Marguerite D'Alvera in the role of Delilah. Polacco conducted. KYW broadcast the entire program.

Why all this great interest by KYW in broadcasting operas? By the fall of 1921, the Westinghouse Electric and Manufacturing Company had inaugurated broadcasting services through KDKA, Pittsburgh, Pennsylvania; WBZ, Springfield, Massachusetts and WJZ, Newark, New Jersey. This new form of mass communication, combined with a great public service possibility, had received widespread newspaper publicity and accounts of these broadcasting stations were being read with interest throughout the United States.

At this period the great mid-western Insull Empire had reached its peak. Samuel Insull, the automatic head of the Insull interests, made his headquarters in Chicago, Illinois, and from his suite of offices in the Commonwealth Edison Company Building, ruled the various public service enterprises which comprised his empire.

Mr. Insull had taken a great interest in the affairs of the Chicago Civic Opera and had been financially underwriting it for several years. When the Westinghouse broadcasting activities were brought to the attention of Mr. Insull, he conceived the idea of establishing a radio station in Chicago to operate as an adjunct of the Chicago Opera Company so the performances of the opera might be broadcast and be brought into the homes of the people of Chicago and the surrounding area. Mr. Insull, through intermediaries, contacted Mr. H. P. Davis, Westinghouse Vice President in charge of radio engineering and broadcasting and an arrangement was made whereby Westinghouse would set up a broadcasting station in Chicago. It was agreed that the station would remain the property and be under the control of Westinghouse, however, it would be erected on the roof of the Commonwealth Edison Company Building and be operated jointly by Westinghouse and the Edison companies.

The original transmitter for the new station, KYW, was located on the elevator penthouse on the top of the Edison Building and the studio was located six floors below, on the 16th floor. The transmitter consisted of two 250 watt tubes used in a self-excited Hartley circuit, the output of which was Heising modulated by three 250 watt tubes. The plate supply was obtained from a 2000 volt direct current generator. The original antenna was a four wire flat top supported by two 50 foot steel poles mounted on top of the building. The operating frequency was 560 kc.

On January 18, 1922, KYW broadcast the first midnight revue from the studio on the sixteenth floor of the Edison Building. These revues brought to the KYW audiences such entertainers as the Duncan Sisters, Dream Daddy Harry Davis, Uncle Bob, Wendell Hall, Herbie Mintz, Little Jack Little, Paul Ash and many others who later climbed to fame as a result of their start over KYW. The feature of the opening night of the midnight revue was a scene from the "French Doll" with Irene Bordoni and several of her company.


This regular monthly column is written and researched by Gerry Wilkinson

Our "Person of the Year &
Hall of Fame Inductees for 2014!
Our Annual Banquet!
Friday, November 21, 2014!

(Left to right) Chairman of the Board Jerry Klein
Broadcast Pioneers "Person of the Year" for 2014, Pat Delsi
Broadcast Pioneers CEO Gerrry Wilkinson
The CBS Broadcast Center
1555 Hamilton Street, Philadelphia
Tuesday, July 22, 2014
Our Honorees!
Our "Person of the Year" for 2014 is Pat Delsi
In 1953, Pat Delsi began a long-lasting broadcast career at a little station in Vineland, NJ. A year later, Delsi joined WCAM in his hometown of Camden and stayed until 1980. A popular Delaware Valley air personality since the fifties, Delsi has work at one time or another as an announcer, newsman, sportscaster or disc jockey for almost every station in the Philadelphia market, including WRCV Radio and KYW Radio. In fact, in June 1965, Pat did the first newscast on KYW Radio when it returned to Philadelphia, two months before the all-news format was introduced.
Delsi has introduced over a million songs on the air and, as a newscaster, has reported over 150,000 five-minute newscasts in the Delaware Valley. This legendary radio broadcaster has also devoted himself to a life of public service and has served on many boards and committees. Pat has served as this organization's president and then chairman of the board. He has been on our board of directors for over two decades.
Our Living Hall of Fame Inductees for 2014 are:
John DeBella, longtime Philadelphia morning drive host on WMGK-FM, 102.9
George Finkel, Emmy winning director of Super Bowl & Olympics coverage
Ralph (Bud) Galow, engineer for decades at WRCV and KYW Radio
Dom Giordano, morning talk show host on WPHT, 1210 Talk Radio on AM
Bill Henley, meteorologist at WCAU-TV (NBC 10) for more than 2 decades
David Henry, WPVI-TV news street reporter for almost three decades
Blaise Howard, Vice President and General Manager of More FM, 101.1
Agnes Nixon, creator of modern soap operas All My Children & One Life to Live
Connie Roussin (Spann), legendary TV host of many TV shows on Channel 6
Susan Schiller, Vice President and News Director, CBS 3 & CW Philly 57
Sue Serio, veteran meteorologist and morning Weather Anchor for Fox 29
Fred Walters, legendary executive editor at KYW Newsradio & more
Our Posthumous Hall of Fame Inductees for 2014 are:
Stella Alberts, famed producer of the Al Alberts Showcase on WPVI-TV
Marian Anderson, one of America's best contraltos in the entire 20th century
Walter Beaulieu, engineer extraordinaire for WFIL-TV/WPVI for 4 decades
Ralph Collier, iconic interviewer at WFLN, WCAU, WRTI-FM and WBUX
Warren Kraetzer, former president of WHYY-TV, WUHY-TV and Radio
John Leitch, Chief Engineer at WCAU Radio & WCAU-TV for decades
Bob Mitchell, popular DJ on WIBG during their heyday plus WDAS & WCAM
Fred Sherman, legendary business news commentator for KYW Newsradio
Joe Tamburro (Butterball), VP of Programming & PD for WDAS AM & FM
Ron Tindiglia, developer of the WFIL-TV/WPVI format of "Action News"
Joe Zawisklak, iconic horror movie host on Dr. Shock, WPHL-TV, Channel 17
Tickets on Sale NOW!
Prices are $88 for members (each member can buy ONLY one ticket at the member price) and $98 for everyone else (including spouses, friends and guests). The event will once again take place at the Hilton City Avenue, 4200 City Avenue, Philadelphia. The date is Friday, November 21st. The reception is at 5:45 pm and dinner is served at 7 pm. Doors open at 5:30 pm. Cash bar all night long. Valet parking is $10. Event lot parking is $5. Make plans to be there! A major portion of the ticket price may be deductible on your federal income tax. Ask your tax advisor for details! Tickets must be purchased in advance. Absolutely no tickets available at the door.
MORE DIGITAL ARCHIVAL PROJECT NEWS:
VIDEO:
(Left to right) Maury Povich and member Dick Sheeran
Eyewitness News, KYW-TV, Channel 3
October 28, 1980

Member Dick Standish
Eyewitness News, KYW-TV, Channel 3
October 28, 1980
It was one week before the 1980 Presidential Election. That night, Governor Ronald Reagan and President Jimmy Carter would hold the only presidential debate of the year. It was sponsored by the League of Women Voters and took place in Cleveland. Howard K. Smith was chosen as the moderator.
As you'll recall, independent John Anderson was on the ballot. There was an earlier presidential debate, which took place on September 21st. However, President Carter chose not to attend which left Reagan and Anderson to duke it out. On the October 28th debate, Anderson was dropped from the list of attendees at the insistence of Jimmy Carter. With Anderson no longer on the stage, Carter agreed to the one and only presidential debate that included President Carter.
This KYW-TV newscast took place earlier in the day on the 28th. Member Dick Standish does a report and then co-anchor Maury Povich led into a piece where they ran excerpts of a conversation he had that morning with First Lady Rosalynn Carter. This is a nice example of Maury's interview style when dealing with news topics. Povich joined KYW-TV earlier that year coming from KGO-TV in San Francisco.
Maury also had other ties to the Delaware Valley. While he grew up in Washington, DC., he went to the University of Pennsylvania, where he was graduated with a degree in television journalism in 1962. It was there that he got experience in major market broadcasting. While a student at Penn, he did announcing on WXPN (Penn's radio station) of the university's basketball games from the Palestra.
Maury came from a family of journalists. His sister, Lynn Povich was a senior editor for Newsweek magazine and later East Coast Managing Editor for MSNBC. Maury is married to anchor Connie Chung (they were wed in 1984.) Maury Povich's father was Shirley Povich, a sports columnist for the Washington Post for 75 years. Richard Nixon once told the Post that Povich was the only reason why he read that newspaper.

AUDIO:
Here's an audio clip from October 4, 1971, just before 8 pm. Member Ed Cunningham is heard here outroing a record and promoting the WFLN-FM Monitor Receiver that was tuned exclusively to WFLN-FM. The cost was $29. Of course, these receivers couldn't receive any other stations so it was a good way to increase listenership. Cunningham later went on to become the voice of WHYY-TV, Channel 12, here in Philadelphia.
Listen in Real Audio!
Listen in Windows Media!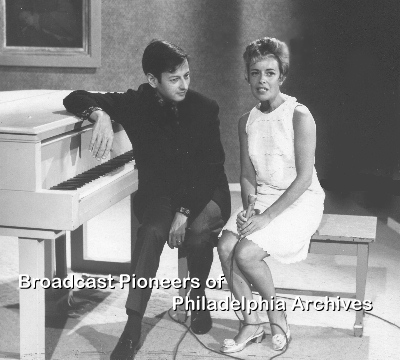 (Left to right) Andre Previn with Broadcast Pioneers member Connie Roussin
in Hollywood, California
during the 70s
Our final piece of audio comes from 1995. It's from WWFM which serves the Trenton - Princeton, New Jersey. It's a recorded interview done by Ralph Collier. It's talking with Andre Previn who has won four Academy Awards and ten Grammys. Recently, Mrs. Ralph Collier had donated to Broadcast Pioneers all the known recordings of her late husband in his possession. There were also tons of photos and lots of fan mail.
Listen in Real Audio!
Listen in Windows Media!
Remember, History is ONLY What Gets Saved!
(If there were no portraits of George Washington, how would we know what he looked like?)
IN TOUCH WITH THE INDUSTRY:
Did anyone notice that a couple months ago BMW came out with the i3, the company's new $40,000 all-electric car? If you did, did you notice that the vehicle doesn't have an AM radio? A company spokesperson said: "...the electric motor causes interference with the AM signal. Rather than frustrate customers with inferior reception, the decision was made to leave it off." The vehicle also does not have a CD player. BMW said that their other vehicles still do come with AM radio and CD players. The BMW spokesperson also said: " HD Radio is standard on the i3 and through multi-casting, many traditional AM stations in key markets are available on secondary and tertiary HD signals." Gordon Smith, the President and CEO of the NAB, the National Association of Broadcasters, has asked BMW to reconsider.
On Saturday, August 23rd, Phillies President David Montgomery issued the following statement on the death of team owner, Sara L. "Sally" Buck, who passed away a couple of weeks ago. He said:
The Phillies are very sorry to learn of Sally's passing. Sally and her late husband Alexander (Whip) Buck had been a part of the Phillies ownership group since December of 1981. Whip and Sally provided consistent support for the organization both as partners and fans. Sally was loved by many in the Phillies organization from front office staff, to players, to fellow owners. Her passing leaves the club with a profound sense of loss. Her presence at Citizens Bank Park will be missed by all who knew and loved her.

Our heartfelt condolences are expressed to Sally's sons Pete and Sandy, daughters-in-law Nancy and Sissy, and loving grandchildren and great-grandchildren.

As her sons Pete and Sandy said, 'Sally always put family and others first, ever humble and selfless, and deeply committed to her community, her friends and those in need. She modeled love, strength, virtue, good cheer and wisdom.'
CBS RADIO's KYW Newsradio, 1060 morning co-anchor Harry Donahue retired from the station on Friday, August 22nd, after a career in broadcasting that spans five decades in Philadelphia.
Donahue joined KYW in 1973 after starting his career as an announcer for the former WPBS-FM radio (now WUSL-FM), and as a manager of media relations for the Archdiocese of Philadelphia.

"When I was hired at KYW, I couldn't believe it," said Donahue. "It was, and remains, the preeminent radio station in Philadelphia. I've done what I always wanted to do. To work in my hometown and having been part of this iconic radio station – it just doesn't get any better."

"Harry's voice is one of Philadelphia's most familiar, and his contributions to KYW are immeasurable," said Broadcast Pioneers member Rayfield, Senior Vice-President and Market Manager for CBS Radio Philadelphia. "He is a consummate professional and will be sorely missed by our many listeners who set their alarms to 1060 each morning, as well as those who have worked with him all these years."

Donahue has served as the longtime play-by-play voice for Temple University Athletics (men's football and basketball, the latter heard on CBS RADIO's WPHT, 1210AM). He will continue with those his responsibilities.
Last minute word from member Joanne Calabria at KYW-TV. She said: " CBS 3 will host a casting call for 'The Price is Right' in its first ever male model search, Monday, September 8, 10 am to 3 pm here at the Philadelphia studios."
The Philadelphia Eagles and SportsRadio 94WIP announced that the annual Eagles Radiothon hit airwaves at 6 am this morning, September 2nd and will close on Thursday, September 4th at 6 pm. Through this auction, fans will be able to bid on exclusive sports and entertainment prizes with many involving their favorite Eagles players and SportsRadio 94WIP personalities. All proceeds will benefit Eagles Youth Partnership's vital health and education programs that serve over 50,000 low income children in our community every year.
WE REMEMBER: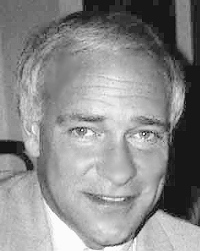 The Legendary Dan Donovan (Blaine Harvey) passed away early Sunday morning after suffering from a massive heart attack. We just confirmed this via telephone conversations including the Pavek Museum of Broadcasting (who supplied us with his photo) and KQQL-FM (Kool 108) where Dan worked recently. Donovan worked at WFIL Radio as a Boss Jock for ten years before heading to the mid-west and Minneapolis. Dan was born in Philly and began his radio career at WGET in Gettysburg. He worked in York, Boston and Baltimore.
As the "Dean of Philadelphia Morning Radio," Broadcast Pioneers member Don Cannon woke up the Delaware Valley every weekday, plus covered local news, weather, traffic, sports and the latest in entertainment news for decades. Don had been doing morning radio in Philadelphia since 1969, and was the morning man on WOGL from 1990 until his retirement in 2004! He began his career with WIBG and has also been heard on WIP, WFIL, WIFI, and WSNI. In the eighties, Don was program director of WSNI and WPGR. He passed away on Friday, August 22, 2014. Don is survived by his wife Terri, two sons and two granddaughters. Terri and Don met in 1973 at a Variety Club telethon.
Last month 65 year-old Lee Stanley was murdered in his Center City home. Some of us knew him from his college days in the late sixties at Temple University and his time spent at WRTI, the college's campus radio station. Others knew him as one of the archivists for the City of Philadelphia. When you needed something for a story, you talked with Lee Stanley. He had a great memory. Others may have known him from his love of opera and classical music or his days at the baseball park watching the Phillies. He lived alone in his three story row house, the same same house in which he grew up. As of our deadline for publication, Philadelphia police have not made an arrest.
A LITTLE BIT OF BROADCAST HISTORY!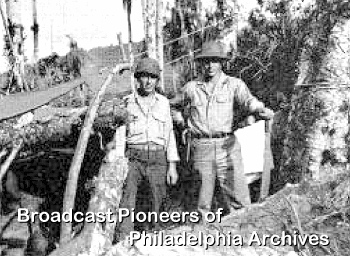 (in center) Lt. Com. John G. Leitch, US Navy
with the Allied Forces
on the Gilbert Islands
December 1943
John Leitch was the Engineering Supervisor/Chief Engineer and Vice-President of Engineering for the WCAU Stations for nearly 40 years. He retired on June 1, 1963. This November 21, 2014, John Leitch will be inducted posthumously into the Broadcast Pioneers' Hall of Fame.
THANKS FOR THE MEMORIES:
Roy Neal - First Part of His Unpublished Book!
Roy Neal was born and raised in the Philadelphia area. He is one of our own, a native son who went on to great things. He was at WIBG in the forties and then went to WPTZ, Channel 3 (1947 to 1952). From there, he went to NBC where he stayed for over three decades. In the sixties, when you really wanted to know what was happening in the space race, you turned to Roy Neal.
Well, Roy was semi-retired and lived in North Carolina. He was in the process of a writing a book, and was kind enough to send us the first three chapters. It's simply wonderful.
Our friend Roy Neal passed away on Friday, August 15, 2003. No further chapters of the book were ever written. We present here, the entire introduction to his unpublished book.
AND IN THE BEGINNING......
(The Introduction)
Come with me, back to 1927.
To a day when my father brought home a mysterious black box, with silver dials and knobs. It was small, about a foot on each side and a foot deep. I looked at it with the inquiring eyes of a six year old.
"It's a RADIO," my Dad said, as he strung a wire around the living room, hooked it up to the box, then gave all of us what looked like small tin cans on a frame. They were headsets. We put them on, over our ears and when they were plugged into that mysterious black box...PRESTO...IT WAS MAGIC. WE HEARD MUSIC AND VOICES. WE WERE LISTENING TO THE RADIO!
It was a crystal set. From our home in Philadelphia we were able to listen to a couple of local stations and occasionally we could hear as far away as New York and Pittsburgh.
The music we picked up was mostly piano or string quartets but it claimed our full attention by its novelty. The voices were announcers. From time to time they even described special events, parades and such, fed from the scene live for lack of recording devices.
The box truly was magic for its time but the larger magic was yet to come. Tubes and transistors were on their way. Those crystals of the early years actually were the predecessors of the transistors that would transform the world of electronics, although it took a long time for engineers to figure that out!
The early radios were simple devices. A Galena crystal was mounted in a casing of lead. A needle, called a "catwhisker" was the other half of the unit. When the catwhisker was touched to the crystal, and hit a "sweet spot" (a sensitive spot on the crystal), it rectified the current going through it, just as tubes and transistors do. Hooked up to an antenna, it could receive radio signals, turning them into electricity and amplifying the resultant product so that it could be fed into a headset to make sound.
A few years later, at the ripe old age of 11, I made one of the first "bicycle radios." I took one of the crystals, potted it in tar to keep the needle on the sweet spot, clamped the tiny unit to the frame of my bike, which performed as an antenna, fed the output into a headset and rode around town listening to WCAU, a powerful local radio station! It was the envy of all my friends.
In the 1930s, tube sets came in and radio became a focal point of the American way of life. Jack Armstrong, The All-American Boy, competed with Buck Rogers in the 25th Century for the attention of kids in the afternoon. In the evening, the whole world took time out for fifteen minutes to tune in Amos and Andy. Pundits such as Hans Von Kaltenborn and Boake Carter brought opinions on the news and Lowell Thomas brought us the real news in doses of ten or fifteen minutes. There was drama like The Little Theater Off Times Square and the Lux Radio Theater. Comics Fred Allen, Jack Benny and Bob Hope became stars. The Metropolitan Opera played a prominent role on Saturday afternoons, when we weren't busy listening to football and baseball broadcast live from the playing fields. SHORT WAVE brought us the world, live and noisy. The Olympic Games in Berlin were followed by the rantings and ravings of Adolph Hitler when his troops set out to conquer the world. A drama, War of the Worlds, drove listeners to a frenzy. Edward R. Murrow shocked the nation with his dramatic broadcasts from London as he covered the Nazi bombers' nightly raids. President Franklin D. Roosevelt talked to us regularly with his Fireside Chats. The Magic boxes of radio were opening a new world.
I was intrigued by those early day radios and went on to become a ham radio operator. The sounds of Big Ben, direct from London, and the chimes of DNA ( Nazi Germany's short wave stations), were frequent visitors in my bedroom.
It was a time of incredible growth in broadcasting. NBC grew so large it was forced to split its two networks. Its Red Network continued as NBC. The Blue Network became ABC. The National Broadcasting Company and the American Broadcasting Company were joined by the Columbia Broadcasting System.
As a student at the University of Pennsylvania, I became an avid member of the Pennsylvania Players. This campus drama club not only gave me a shot at amateur theatricals but also a chance to take part (as an incidental player) in some fascinating tests being made at the Philadelphia Academy of Music by the Walt Disney company. They would result in the incredibly advanced technology of the movie "Fantasia."
Imagine this. You are on a huge, empty stage, lit by 5 lamps on black metal stands. There are three VERY large microphones also on stands...stage left, center and stage right.
A muscular black man enters from the left, walking heavily. You can HEAR his footsteps. He is easily recognizable as Paul Robeson, one of the most popular actors of the day. He begins speaking loudly. The voice is rich, the words and the action are those of the Eugene O'Neill's "The Emperor Jones."
A loud voice reverberates through the theater. "OK Paul, CUT. Paul, I can hear what sounds like small change...are you rattling coins in your pocket?"
Robeson laughs...a deep, throaty laugh. "Come on, " he said, "You don't expect me to believe that!"
"Well listen then..." and the big voice was replaced by footsteps, the sound of Paul Robeson walking on stage! His recorded voice began the monologue and you could follow him as he moved across the stage. You ALSO could hear the jingle of coins!
"I'll be damned," said Paul, echoing what the rest of us felt that day so long ago as we watched the performance.
The engineers had wired up three one thousand watt audio amplifiers to three six foot loudspeakers and a three track film recording system. It was a noble experiment in the directional sound which is commonplace in our modern digital world and the film it made possible was years ahead of the times.
Recording was pretty crude in those days. The motion pictures recorded on film. Film quality was a little better than other methods in use by the new medium of radio. Radio and the music recording industry moved slowly and for many years were hampered by the poor quality of their audio.
In the studios, engineers cut grooves in large discs, made of acetate, to record. Needles imbedded in microphones sensed or felt the impressions on the sides of those grooves and the vibration created sound, although the quality still left a lot to be desired. It was possible to make a master recording and duplicate the master to make commercial records, most of which spun at 78 revolutions a minute. Experiments were ongoing at slower speeds such as 33 and 1/3 or 45 RPM. Audio quality was acceptable but scratchy at best. In spite of the relatively poor quality, records became big business and most homes had playback machines. At first they were called Victrolas, for the RCA Victor company. Later they were played through so- called "Hi-Fi" audio systems, although they still were far from the High Fidelity of today and did little to improve the quality of the records.
Big band recordings sold like hotcakes. Radio stations coined the word disc jockey for their popular announcers, who jockeyed the discs and became stars by simply playing records on the air.
SOME broadcast networks, including the Armed Forces Radio Service, used large, sixteen inch discs as a basis for their programming but most networks' programming in that era was LIVE.
Recording quality was so poor that the major networks would do LIVE repeats of their programs to accommodate the different time zones! Radio reports and broadcasts from overseas often were very hard to understand.
In 1940, I had a chance to work in radio on a network scale. When KYW, a powerful, NBC affiliate, decided to originate "The Lost Continent," the story of a group of boy scouts who got lost on The Lost Continent, I was one of the scouts! We aired on the network immediately following "Jack Armstrong," Monday through Friday.
Radio was and is an incredible medium. It allows free play of the imagination, including the way in which we put those early shows together. Working live in the studio, we actors would emote. An electric organ made exciting noises, much like those in use at basketball and hockey matches of the 1990s.
Sound men would crinkle newspapers to create the sound of fire...clap their hands and thighs to sound like horses hooves on soft soil and slap tables with toilet plungers to make the clip clop of horses' hooves on pavements They would open squeaky doors, real doors in a frame. Everything was done live. They could make your mouth water with the sound of bacon sizzling, made by drawing in breath over the tongue. Winds came from the same source, breath blown out with a slight whistle. Soundmen used recordings of real sounds sparingly. They were hard to make and play back in the thirties...and the early 1940s. It was easier to fake the sound.
Reporters, in the field, experimented with WIRE recorders and prayed for the day when they could properly bring back the sounds they experienced while covering the news. When Edward R. Morrow put microphones on the rooftops of London to bring his listeners the sounds of Nazi Bombers there were no field recorders capable of bringing back the audio of events as they happened, so he went on the air live and sometimes the bombers cooperated by dropping their bombs while he was on the air! Studio recording machines also were used by Murrow to make acceptable playbacks.
Live radio was king and it became part of the national psyche. Broadcast circuits made it possible to originate broadcasts from nearly anywhere. Dramatic shows originated in Hollywood and New York. Soap operas, named for the soap companies that sponsored them, came in from Chicago. News was anchored from New York and Washington with live pickups from newsworthy locations, including foreign pickups by cable and short wave from overseas. Dance bands from ballrooms everywhere were broadcast and picked up in homes all over the world where they became immensely popular. The broadcast frequencies soon filled with stations and short wave frequencies were equally populated by the propaganda machines of the nations that eventually became part of World War II.
I fell in love with the medium. I HAD to get into it. And so it was that I left college to go out into the world of RADIO! What a world and what a medium.
Harry Harris' Unpublished Book!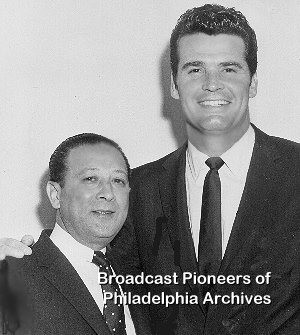 (Left to right) Broadcast Pioneers member Max E. Solomon and Actor James Garner
WFIL-TV
1958
Member Harry Harris was a TV Critic for the Evening Bulletin and then the Inquirer. When Harry passed away, his daughter Terri donated his archival collection to Broadcast Pioneers. The collection included photos, scrapbooks and unpublished books. One of those manuscripts was "TV Star Secrets." We thought you might enjoy a little of what he wrote. First, he talks about James Garner, who passed away about 6 weeks ago. Member Peggy King appeared on Garner's TV show, "Maverick." Here's what Harry wrote about James Garner.
James Garner had bitter memories of Warner Brothers peonage. Because of his discontent while starring in the popular "Maverick" series, ("I thought I had some share in the Maverick gold mine, but all Warners gave me was the shaft") he vowed he would never return.

"Warners took old movies," he recalled, "and rewrote them for 'Maverick,' adding humor. When 'Maverick' first came out, there were 17 Westerns, all with steely-eyes sheriffs, so we decided to put tongue-in-cheeck and put a pin in the other shows' balloons.

"They would take an old Errol Flynn script and make it a "Maverick" because they had some stock footage. Then they would do it over again as a "Cheyenne,' ten cut it down to a half hour and make it a 'Colt .45.' After that, they'd put the comedy back in and do it as a 'Sugarfoot." They did 'Ten Little Indians' three times. Once in a desert, once in a house and once in a boat.

"I didn't breach my contract with Warner Brothers; they did. They thought they knew what they could get away with. Only Olivia de Havilland had ever beaten them on a breach of contract suit. By a strange coincidence, Frank Wells, who wa my lawyer when I sued in 1960, later became president of Warner Brothers."

Despite their adversarial relationship, Garner returned to the Warner Brothers lot for another Western series, "Nichols." "We chose that name because we didn't have a big enough budget to call it 'Dimes!"

Circumstances had changed, he said. "The Warner management is different, and this a a Cherokee (reflecting Garner's part-Indian ancestry) co-production. There's a difference between being owned by a studio, being told when and how to do everything, and going back, renting the studio and having creative control."

Because early "Nichols" ratings were weak, Garner switched in midseason from a passive, pusillanimous sheriff to the sheriff's more heroic look-alike brother. The sheriff was dispatched while trying to arrest a bully after a barroom brawl; his bother popped up immediately after to attend the funeral and take over the deceased's duties. The sibling takeover was concocted after Garner nixed a plan to substitute an alternative detective format because 'That detective wasn't blind like Longstreet or in a wheelchair like Ironside. Without a new infirmity, it didn't seem worth doing.

Why, I asked, had he returned to TV after demonstrating considerable box office clout in movies? "There wasn't a shortage of jobs. I just got tired of reading permissive scripts. I have done a picture rated PG, but I didn't do it as a PG, 'A Man Called Sledge.' I called it 'Sludge." After I left, Dino de Laurentiis shot some nude scenes. Personally, I don't consider any subject taboo, if the script is right. But I got tired of reading scripts about having affairs with six or seven girls, then killing them off. That kind of thing is terrible. What a waste of girls." My most recent film was 'The Skin Game' but only its title is permissive."
Harry Harris' Unpublished Book - Part Two!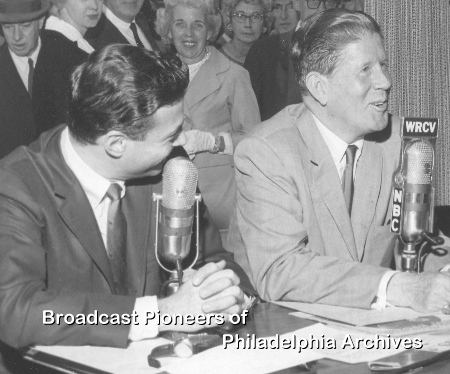 (Left to right) Ralph Collier and Rudy Vallee
WRCV Radio
October 2, 1962
In another part of the book, Harry Harris talked about radio and film star Rudy Vallee. Here's what Harry said:
In the grumpiness department, the irascible, uninhibitedly outspoken and often profane Rudy Vallee, who became a national rage as the crooning leader of a band tagged the Connecticut Yankees and later hosted a popular radio variety show, was the champion, hands down. He couldn't understand why he, rather than the likes of Arthur Godfrey, Dick Clark ("a kid still wet behind the ears" and Jim (Mr. Magoo) Backus, hadn't been invited to host the "Talent Scouts" program. After all, he had "discovered" such exceptional performers as Victor Borge, Edgar Bergen, Alice Faye, Frances Langford, Joe Penner and Bob Burns! On the other hand, he didn't mind being passed over as host of "The $64,000 Question."

"They said I was just what they had in mind, someone who spoke easily, with a college background, who wouldn't be thrown by foreign words. Joe Cates came to my suite to brief me; I don't like people,' and I guess that killed me. At the audition it was like "no film in the camera.' I'm not gregarious. I have no particular interest in other human beings. Most people aren't interesting, and I'm involved too much in what I'm doing. It's just as well I didn't get that job. I'm not particularly religious, and I don't like unattractive women. I'm sure my hostility to people like that expert on the Bible would have come through."

The man who older Americans automatically associated with a nasal "heigh ho, everybody," "my time is your time" and "I'm just a vagabond lover," is generally credited with initiating national hysteria over pop singers, a craze that later benefited Bing Crosby, Frank Sinatra, Elvis Presley and the Beatles. But his appeal, Vallee claimed, was to housewives and their husbands. "I was not, in any sense, a teenagers' delight."

"We've made young kids too important," he opined, "with articles about what they think. Who gives a damn? They don't contribute anything important, but they feel they must do something periodically to get themselves in the paper. I don't think the Beatles vogue is an honest one. It's just a fad, a cult. I don't think those who say they enjoy it really do, but they feel they have to be 'with it.' The Beatles have nothing to offer. Listen to their recordings, or close your eyes when they're on television, and there's nothing to justify all the hoorah. It's the crazy haircut that clinches it!"

Vallee fancied himself a stand-up comedian. "It's frustrating to see the Smothers Brothers, with their little act, earning up to $410,000 a night,' he griped. "And Bob Hope gets $0,000, $15,000, $20,000! I could do the same sort of thing, but unless my comedy record sells better, people are going to keep asking, "What the hell does he do?" He volunteered examples of his patter, unrelated, uninspired jokebook gags, delivered without any semblance of comedic know-how. On my arrival, he had given me, as a souvenir, his comedy album. After I failed to laugh convincingly, he asked for its return. To my mind, Hubert Prior Vallee totally lacked a sense of humor, making me wonder what, other than a dyspeptic disposition, he hared with his crony, the wryly-funny Henry Morgan.
LeRoy Miller, an early "Morning Man"!
LeRoy Miller. Now, there's a name from the past. For decades, Miller was one of those disc jockeys that woke up the Delaware Valley on the radio.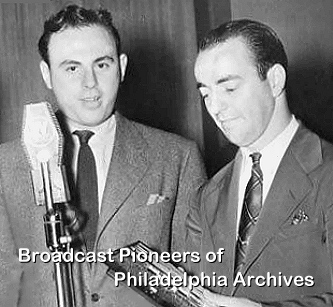 (Left to right) Ed Heller, Raymond Rosen's Record Sales Promotion Manager and LeRoy Miller
KYW Radio
1941
Someone once said that the LeRoy Miller story could have been easily called "From Milk to Mike." It's probably a good title. The story goes that he used to walk 9 miles after milking the cows on the family farm to nearby Lancaster, Pennsylvania to be an announcer on a local program there. Since the average person can walk about 3 miles an hour, that would make it a three hour walk to the station and three hours back (in good weather). However, back in the day, it was quite common for travelers to pick up hitchhikers. So he could have made the trek much faster.
Anyhow, that announcing gig in mid-state was his first taste of broadcasting.
In 1935, LeRoy started at KYW Radio (which had just moved to the Quaker City from Chicago). He was assigned the morning shift (later called AM drive) and hosted a daily program called "The Musical Clock." (He was called "the conductor" of the broadcast.) WPEN Radio had a similar program with the same title that originated on air before the Miller broadcast. By the way, Miller's "Musical Clock" show was almost an exact carbon copy (anyone remember carbon paper?) of the show LeRoy did in Lancaster, except it was called "The Early Bird Club."
While at KYW, Miller also announced on NBC Radio Network broadcasts that originated from Philadelphia and KYW.
Like most morning air personalities, Miller did crazy stuff. He had a recording of what sounded like a group of children crying in unison. Old timers said that it was produced at the station with adult personnel from both on and off air. No one really knows for sure. He called it his "junior choir."
He played the violin (both on and off air) and had a constant amount of chatter between records. KYW reported back in the late thirties that the program used to attract a fair amount of people stopping by to see the broadcast. Most, according to the station, were adult men who had worked the all-night shift and stopped in for a peek at their favorite program before heading home to hit the sack.
Here's something interesting. KYW's Musical Clock program was, for a while, sponsored by RCA Victor. During the time of that contract, only RCA Victor recording artists were played on the broadcast. Later, the show was sponsored for several years in part by Bond Clothes and had no restriction on the selection of music.
Miller was a volunteer fireman for the Philadelphia Steam Fire Engine Company Number One located in Pottstown. That fire fighting organization is one of the oldest in the country.
On March 16, 1940, Miller felt sick but he came to work anyway. He did his broadcast and then was ushered off to Graduate Hospital here in Philadelphia with an attack of appendicitis. He had emergency surgery. Two days later, he was back on the air from his hospital room assisted by KYW Engineer Roy Nuss. An interesting sidebar is that just two weeks before, on March 19th, Fred Wood, host of "The Dawn Patrol" on WIP Radio was struck also with appendicitis.
When Miller started his "Musical Clock" program on KYW, it was an hour broadcast running from 7:30 to 8:30 am. By 1941, it was a two-hour show airing from 7 to 9 am. Preceding Miller's broadcast in 1941 was "RFD 1060" hosted by John Thorpe. Farm information was very information in those days. Remember, Howard Jones (Happy the Clown) was a farmer and did the agriculture news on WFIL Radio.
Miller loved life. He spent a lot of time (and money) decorating his home for the Christmas holidays. He won first prize in 1940 for the best Christmas home display by the Westgate Hills Civic Association in Manoa. He donated his check to the area's welfare fund.
LeRoy was married on June 13, 1941 to Anna Alessandroni, daughter of Philadelphia Commons Plea Court Judge Eugene Alessandroni.
LeRoy Miller also hosted an evening program called "The KYW Little Show," that aired daily from 6:05 to 6:30 pm. Clarence Fuhrman was the show's musical director. It featured little kids performing. In those days, the air people were kept busy. In 1944, for example, LeRoy Miller made over 300 public appearances (sponsor products are featured).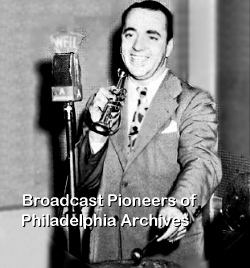 Morning Man LeRoy Miller
WFIL Radio Official Photo
1947
Miller once said this about his program. "It's two hours of sheer monotony. It's the sort of monotony that translates into steady repeat sales such as Bond Clothes, Thom McAn Shoes and Griffin Shoe Polish." Obviously, it was a pitch to sponsor and possible sponsors. By 1945, Miller had jumped ship and moved over to WFIL Radio as their morning man. In 1951, Miller had been with WFIL Radio for six years. WFIL said to a trade publication that Miller's program was almost continually sold out. Just one airing of announcement on his WFIL program brought 6,000 requests for coupons good on Hudson Paper Napkins. WFIL called it "wonderful." Miller's new contract called for the addition of a lunchtime daily broadcast.
LeRoy Miller died on December 28, 1952 at St. Hospital in Lancaster. He was only 39 years old. He left behind his wife and two children. The couple was married on June 13, 1941. He married Anna Alessandroni, daughter of Philadelphia Commons Plea Court Judge Eugene Alessandroni.
Upon the passing of LeRoy Miller, the show was retitled "Rise and Shine" and was hosted for years by the legendary Phil Sheridan.
OUR HATS OFF TO YOU:
Special Thanks for 2015 Scholarships:
Vice-President Kal Rudman - 5 scholarships (all for Temple students)
Member Johnny B. Hall and wife Ginny - 4 scholarships
Members Robin and Ira Adelman & Leon Love - 2 scholarships
Member R. Alan Campbell - 1 scholarship in the memory of Fred Ruggieri (Fred Randall)
Member Harry Hurley's Golf Tournament - 1 scholarship (for South Jersey residents or students)
Member Sylvia Kauders - 1 scholarship (from a grant for 5 yearly scholarships)
Member Marlin Taylor - 1 scholarship
Member Esther Kurtz - 1 scholarship in memory of her late husband, David Kurtz
Special Thanks for contribution of $1,000 or more to our DAP, Digital Archival Project:
Member Johnny B. Hall and wife Ginny - $3,000
Member Marlin Taylor - $1,000
Member Harry Hurley's Golf Tournament - $1,000
Member Jerry Del Colliano - $1,000
Underwrite a complete scholarship and we'll give you credit in the electronic newsletter until the scholarship is awarded in April of 2015. Give us a donation of $1,000 or more and we'll list you in our "Thank You" column for a year.
More Thanks:
We would like to thank those of you who included an extra contribution with your membership renewal. Those members include R. Alan Campbell, John Johnson and Allen Murphy. If you don't see your name here and sent in an extra contribution, you were thanked in a previous newsletter.
Don't be left out. You too can make a pledge. It's never too late. You can earmark it for scholarships, our Digital Archival Project or our general fund. Thanks so much for your support.
WELCOME NEW MEMBER:
FULL MEMBER:
Marc Zumoff, 76ers play-by-play announcer has been in the business for 37 years. He has been doing the 76ers games since 1994 for Comcast SportsNet. He also does play-by-play of college football for the Comcast Network. He also does the Philly Union Soccer games and NBA Basketball for the NBA-TV. He has filled in on Radio Times of WHYY-FM during the last 11 years. He has won numerous Emmys over the years.
Our special thanks go to TUTV and The Kal & Lucille Rudman Media Production Center.

They have underwritten a grant to be used to fund an entire year of all our newsletters for calendar year 2014. We thank them so much for their support!
If you forgot to make an extra contribution (cash or memorabilia) and would like to do so now, it's never too late. We would be thrilled to hear from you at: PO Box 2886, Bala Cynwyd, PA 19004 or call us at (856) 365-5600.
A FINAL THOUGHT....
"If you go to bat enough, you're bound to get a hit."
Actor Paul Douglas
who was one time a staff announcer for WCAU Radio

Please contact us by e-mail at newsletter@broadcastpioneers.com or by mail to: Broadcast Pioneers of Philadelphia, PO Box 2886, Bala Cynwyd, PA 19004. Your stories are important, to you, to us, and your colleagues. Contact us today and we'll include your story in the next newsletter!

© 2014, Broadcast Pioneers of Philadelphia
All Rights Reserved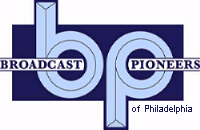 The e-mail address of the Broadcast Pioneers of Philadelphia is pioneers@broadcastpioneers.com
For luncheon reservations call (856) 365-5600 or e-mail us at: rsvp@broadcastpioneers.com