| | |
| --- | --- |
| | Broadcast Pioneers of Philadelphia is a federally recognized, state chartered 501(c)(3) non-profit organization serving the Philadelphia Broadcast Community since January of 1962. |
October Luncheon
The Bala Golf Club
Wednesday, October 15, 2014

Meet & Greet at 12 noon!
Lunch at 12:30 pm
Ratecard: $28 per person!

PLEASE RESERVE NOW!
CALL (856) 365-5600!
rsvp@broadcastpioneers.com
Another "Third Wednesday" Luncheon
WFIL, Famous 56 & its legacy!
Wednesday, October 15th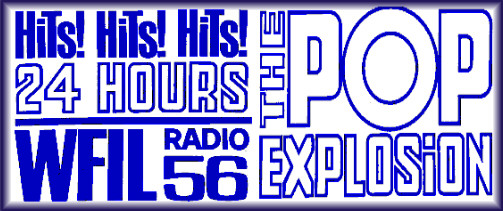 Hit After Hit! Smash After Smash! Blockbuster After Blockbuster! Here's another "monster" lunch where the "stars" don't wait to come out at night. They're here at lunchtime! It's all happening on Wednesday, October 15th, 2014.
Almost a half century ago, WFIL Radio turned into one of the greatest rock and roll stations in the world! The Boss Jocks took the town by storm.
At this luncheon, we'll find out all about WFIL, Famous 56 and how it affected American broadcasting. They owned the marketplace and were icons in United States radio.
Our MC for the afternoon will again be member Bob Charger, your musical host on WOGL daily from 7 pm until the stroke of midnight. He did such a great job last month that we are holding him over for another luncheon. Bob was "The Last Boss Jock" to be hired on WFIL, Famous 56 during The Boss Is Back era.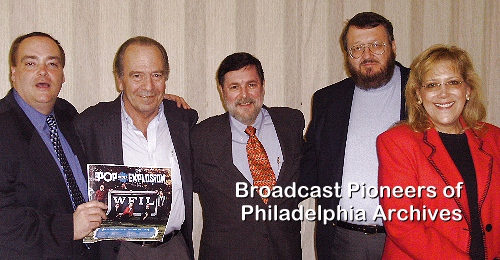 (left to right) Bob Charger, Jim Nettleton, Jerry Klein
Kris Chandler and Leigh Richards
Bala Golf Club, Philadelphia
Broadcast Pioneers Luncheon
Wednesday, September 20, 2006
We will have special remarks by the legendary newscaster Allen Stone (a member of Broadcast Pioneers), who will tell us all about how he got the job with Famous 56. We'll have some thoughts by Ron Turner of the Famous56.com website.
Our panel includes (in alphabetical order):
Kris Chandler, Famous 56 Boss Jock during the 1973 - 1974 WFIL era
Lauren (Lauri) Lipton, former WFIL newscaster, now with KYW Newsradio
Leigh Richards, board op and boss jock, who later spent 25 years with country WXTU
Steve Ross, former WFIL Boss Jock, now co-host of WPHT's Remember When
Barbara Sommers, the first female Boss Jock for WFIL, Famous 56 radio
and more!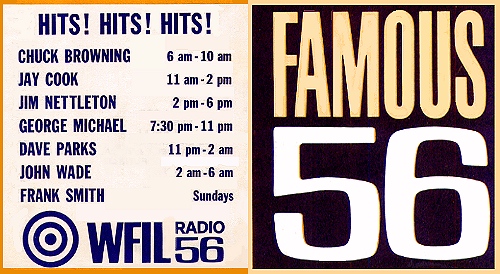 Also, live on the telephone, we'll be talking with Kevin Fennessy from Florida. Kevin was the last program director under the ownership of LIN Broadcasting (1986 - 1987).
This all takes place at the beautiful and historic Bala Golf Club, 2200 Belmont Avenue (across the street from the state police) in the Wynnefield section of Philadelphia. Only minutes away from Channels 6, 10 and 17 and the radio stations in Bala Cynwyd. Call now for reservations. (856) 365-5600! Don't miss this one!
Plenty of FREE parking. Our luncheons are open to all our members, their guests and any person in the industry or associated fields, whether active or retired. You do NOT have to be a member to attend.
The cost is only a donation of $28 (or more) per person! In order to speed up check-in at the luncheon, please have exact change or a check written in advance. Checks can be made payable to the Broadcast Pioneers of Philadelphia.
If you would like to add a few dollars extra, we would appreciate it. It would help us with all the important work we are doing. Thanks!
WE'LL BE PROUD TO SEE YOU IN THE CROWD!

Visit Our Website Often - http://www.broadcastpioneers.com
You should check our website often on the front page (above) for important information!
Check out of Facebook Page - http://www.broadcastpioneers.com/facebook
There are things on our Facebook Page that are NOT on our website (like our vintage photo of the week)
Tune in to our YouTube Channel - http://www.broadcastpioneers.com/youtube
Our YouTube Channel has all our luncheons, exclusive interviews and archival material

WELCOME NEW MEMBERS:
FULL MEMBER:
Bill Shusta was a news anchor for KYW Newsradio for thirty years. He prepared and presented hour and half-hour newscasts during all dayparts. Before that, he was a news anchor for WHAM in Rochester. In the early seventies, he was News Director for WNNJ-AM in Newton, NJ. Earlier still, he was news director and announcer for WCBT Radio in Roanoke Rapids, North Carolina. He holds a BA degree in broadcasting from the University of Maryland.
ASSOCIATE MEMBERS:
Nicholas B. Thomas and Liz Thomas are both brand new members. Both are officers in the Bruce Montgomery Foundation for the Arts based in Blue Bell. In 1981, Nicolas and Elizabeth started a small company called Chalif, Inc. They made Chalif Hot 'n' Spicy Mustard that was sold in 3,000 high scale stores across America. The original recipe came from Liz's aunt. The aunt almost 100 years ago married the son of Louis Chalif, the famed ballet dancer who headed the Chalif Russian Normal School of Dancing. Nicholas and Liz started with two hundred bucks and manufactured the product in their kitchen. Quickly, they had to move to a small factory. Two years later, they added two more varieties of mustard. Then came mayonnaise and sauces. In 1992, they sold the company. The couple have appeared on many radio and television programs.
We are thrilled to have these new members. More members than ever. We hope to see as many of our members as possible at our October luncheon.
DIGITAL ARCHIVAL PROJECT NEWS:
VIDEO:
Member Cathy Gandolfo
Home of Agnes Nixon
Date: ????

Agnes Nixon
in her home
Date: ????
As part of our ongoing series on oral histoy, Broadcast Pioneers interviewed Agnes Nixon, creator and writer of many of America's soap operas. In November, Agnes will be inducted into the Broadcast Pioneers' Hall of Fame.
Watch the interview!
Videos courtesy of Board Member Brad Seecof and Metramedia Broadcasting and Studios
AUDIO:
Broadcast Pioneers member Neil Harvey worked for the WFIL stations during the fifties and sixties. We have in our archives a 1956 clip of Neil doing the sign on for WFIL-FM.
Listen in Real Audio!
Listen in Windows Media!
Here's a WCAU-TV, Channel 10 sign-off done in 1957 while the station was owned by the Evening Bulletin newspaper. The announcer is Barry Cassell. Barry played the role of Ace Bancroft, a slightly sleazy gambler type always one step ahead of the law. While this is from a TV broadcast, we only have audio.
Listen in Real Audio!
Listen in Windows Media!
Today's News Becomes Tomorrow's History!
(This is what our Digital Archival Project is all about!)
IN TOUCH WITH OUR MEMBERS:
Member John John Primerano, popular singer-pianist-songwriter, returned to The Bristol Lions Club's Italian Festival last month. He performed in the gazebo just off Radcliffe Street at Mill Street in downtown Bristol, PA. Primerano has been extremely active this spring and summer as a radio guest in New York City, North Jersey, Chicago, and Hawaii.
Member Debbie Lynn Elias (Ed's daughter) is on the West Coast. She tells us:
The short film "Bunker," which I exec-produced, was bought by DirecTV for its ShortsHD programming, and will start airing after Wednesday. Production wrapped on THE CAT'S CRADLE, which I exec-produced, and itis now on the festival circuit. Our world premiere is at the Twin-Cities Film Fest in Minnesota (this month).

I'm on the radio!! In addition to my global network of print and online publications that carry my movie reviews and interviews, you can now catch me on AdrenalineRadio.com. I've joined the weekly radio show and podcast "Movie Reviews and More," which airs live on Fridays at 2 pm ET and is then archived for 24/7 access. I'm in-studio for the full hour of the show once or twice a month and then the rest of the weeks, calling in at the top of the hour to talk new film releases and other interesting film AND TV info. Got in a big plug for Broadcast Pioneers during the August 15th show!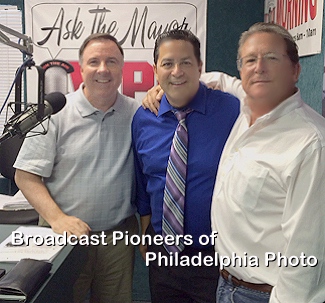 (Left to right) Harry Hurley, Dr. Bob Zlotnick and Gary Hendler
"Hurley in the Morning" Broadcast
WPG Radio, Atlantic City, NJ
Tuesday, September 9, 2014
We thought you might enjoy this photo of one of last year's inductees into our Hall of Fame Harry Hurley. He's a member of this organization as is Gary Hendler (seen on the right). In the middle is Dr. Bob Zlotnick, Chief Executive Officer (CEO) of Atlantic Prevention Resources.
The Tridels are currently three people, all members of the Broadcast Pioneers. They are Mike Bove, Jackie Strauss and Art Wilson. On October 10th, they are performing for the Hillside Community outside Coatesville. It's a traditional sock hop. Two days later, they will be appearing at the Pennsylvania Music Expo at the Continental Inn in Lancaster. It's the Keystone Record Collectors monthly get-together.
Here's news from the west coast. Member Bunny Gibson let us know that she just did the promo of "Bad Judge" with Kate Walsh and cast. She's wearing a gray wig. She also says that she did her 12th "Funny or Die" with Dave Koechner and Adam Mc Kay and she did a lead in "Betrothed" feature film playing Jenny.
Our Chairman of the Board is Jerry Klein. When in college, during his first years at Temple, his roommate was Mike Biel. Biel went on to get his doctorate and taught college in the south for decades. Mike is also a noted broadcast historian (and he saves everything). While at Temple, WRTI-FM broadcast live a John Coltrane concert (November 11, 1966). Broadcast Pioneers member Ed Sciaky was the audio engineer. Dr. Biel had the tape in his collection and it now coming out on CD in Japan and America. Last Tuesday, there was a big night at Temple to celebrate this event. Michael Biel told us that 250 people attended.
More news about Jerry Klein. He and his wife, Anne, spent most of September traveling through Europe. They visited the grave of Dick Clark's brother Bradley. You can read about the trip and watch a video to Bradley's grave.
Still more news about Jerry Klein. This past Friday, he was inducted into the Temple University School of Communications Alumni Hall of Fame (sometimes called the Lew Klein Awards). Lew is a past president and past chairman of the board of this organization. Lew was the Executive Producer of American Bandstand while it was originating from WFIL-TV and their Philadelphia studios.
We have some photos from the event. By the way, TUTV (the campus TV station and carried on cable in the Philly area) broadcast the ceremonies live on their TV station and on their website. The TV broadcast was repeated twice Friday evening. TUTV is run by Broadcast Pioneers member Paul Gluck and funded by the Kal and Lucille Rudman Foundation. Kal is a vice-president of this organization and a long-serving board member. By the way, Kal was on TV news over the weekend. He was busy feeding our men and women in blue, the police. Rudman said it was yummy Chinese food.
We heard from Broadcast Pioneers member Mort Crim. He and his wife led the Queens Harbour Yacht Club on a short journey to Cuba. Mort says:
I'm commodore of our Queens Harbour Yacht Club this year, and the Cuba trip was a club activity. Renee and I led the group to Cuba (18 of us). I'll attach a couple of photos; one of them is at

the Hemingway Yacht Club in Havana

, where I was presented with that Club's burgee (and will be sending them one of ours). It's customary to hang burgees from any visiting yacht club in the club's dining room.

The other is my wife (Renee) and me

at a community art project in old Havana.
We've heard from the legendary TV Kids Host Gene London. He tells us:
Our neighbor, who passed away this summer, had 40 cats that she fed in the backyard of her home and in a lot across the street.

Slowly but surely we have been getting the cats to the vet and adopted out. The ones at her home were more easily adoptable and we now have just 6 in her backyard but still have 10 in the lot.

Homes needed for two twelve year old cats. The male (Fred) is a very friendly neutered gray tabby, updated on all his shots but suffering from cataracts in both eyes.

The female (Ginger) is a big quiet torti colored female with a gentle disposition. She is spayed, updated on shots and healthy.

Both are twelve years old and ready to find a loving home with a warm windowsill to dream about mice catching days gone by. Cats are located in Reading, PA They do not need to be adopted together

Fred & Ginger were brought in from the lot and when the vet told us their ages and about Fred's cataracts, we knew we couldn't release them to the lot so we brought them home and are now working to find them the perfect homes.
Our Person of the Year &
Hall of Fame Inductees for 2014!
Our Annual Banquet!
Friday, November 21, 2014!
145 tickets sold so far!
(Left to right) Chairman of the Board Jerry Klein
Broadcast Pioneers "Person of the Year" for 2014, Pat Delsi
Broadcast Pioneers CEO Gerry Wilkinson
The CBS Broadcast Center
1555 Hamilton Street, Philadelphia
Tuesday, July 22, 2014
Our Honorees!
Our "Person of the Year" for 2014 is Pat Delsi
In 1953, Pat Delsi began a long-lasting broadcast career at a little station in Vineland, NJ. A year later, Delsi joined WCAM in his hometown of Camden and stayed until 1980. A popular Delaware Valley air personality since the fifties, Delsi has work at one time or another as an announcer, newsman, sportscaster or disc jockey for almost every station in the Philadelphia market, including WRCV Radio and KYW Radio. In fact, in June 1965, Pat did the first newscast on KYW Radio when it returned to Philadelphia, two months before the all-news format was introduced.
Delsi has introduced over a million songs on the air and, as a newscaster, has reported over 150,000 five-minute newscasts in the Delaware Valley. This legendary radio broadcaster has also devoted himself to a life of public service and has served on many boards and committees. Pat has served as this organization's president and then chairman of the board. He has been on our board of directors for over two decades.
Our Living Hall of Fame Inductees for 2014 are:
John DeBella, longtime Philadelphia morning drive host on WMGK-FM, 102.9
George Finkel, Emmy winning director of Super Bowl & Olympics coverage
Ralph (Bud) Galow, engineer for decades at WRCV and KYW Radio
Dom Giordano, morning talk show host on WPHT, 1210 Talk Radio on AM
Bill Henley, meteorologist at WCAU-TV (NBC 10) for more than 2 decades
David Henry, WPVI-TV news street reporter for almost three decades
Blaise Howard, Vice President and General Manager of More FM, 101.1
Agnes Nixon, creator of modern soap operas All My Children & One Life to Live
Connie Roussin (Spann), legendary TV host of many TV shows on Channel 6
Susan Schiller, Vice President and News Director, CBS 3 & CW Philly 57
Sue Serio, veteran meteorologist and morning Weather Anchor for Fox 29
Fred Walters, legendary executive editor at KYW Newsradio & more
Our Posthumous Hall of Fame Inductees for 2014 are:
Stella Alberts, famed producer of the Al Alberts Showcase on WPVI-TV
Marian Anderson, one of America's best contraltos in the entire 20th century
Walter Beaulieu, engineer extraordinaire for WFIL-TV/WPVI for 4 decades
Ralph Collier, iconic interviewer at WFLN, WCAU, WRTI-FM and WBUX
Joe "Dr. Shock" Zawislak, iconic horror movie host on WPHL-TV, Channel 17
Warren Kraetzer, former president of WHYY-TV, WUHY-TV and Radio
John Leitch, Chief Engineer at WCAU Radio & WCAU-TV for decades
Bob Mitchell, popular DJ on WIBG during their heyday plus WDAS & WCAM
Fred Sherman, legendary business news commentator for KYW Newsradio
Joe Tamburro (Butterball), VP of Programming & PD for WDAS AM & FM
Ron Tindiglia, developer of the WFIL-TV/WPVI format of "Action News"
Tickets on Sale NOW!
Prices are $88 for members (each member can buy only ONE ticket at the member price) and $98 for everyone else (including spouses, friends and guests). The event will once again take place at the Hilton City Avenue, 4200 City Avenue, Philadelphia. The date is Friday, November 21st. The reception is at 5:45 pm and dinner is served at 7 pm. Doors open at 5:30 pm. Cash bar all night long. Valet parking is $10. Event lot parking is $5. Make plans to be there! A major portion of the ticket price may be deductible on your federal income tax. Ask your tax advisor for details! Tickets must be purchased in advance. Absolutely no tickets available at the door.
Did you know...
that a dentist once sponsored his own radio broadcast on WLIT? WLIT and WFI merged into WFIL in 1935. Up until that time, the two stations broadcast on the same frequency and shared airtime.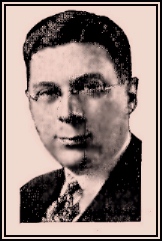 Dr. Charles G. Algase
Philadelphia dentist and broadcaster
1934
A visitor to our website, Leon Kellerman e-mailed us:
For some strange reason the tune keeps popping into my head. It is a commercial that I've heard many times on the radio in my childhood and beyond. It had to do with smiles and making folks like you if you do so. I remember the tune with the singing part, it had a 1920's sound. It advertised Dr. Algase whose dental practice was near the Wanamaker (now Macy's) store. There is a rumor that Dr. Algase sang it himself!
The song Leon was talking about was called "Show a Sunny Smile," with the words and tune written by Dr. Algase himself. The dental office that Kellerman was mentioning used to be located at 901 Market Street in Center City Philly. About two-thirds of a century ago, this structure was called "The Algase Building" and was located on the northwest corner of the intersection. The architects for the building was Savery and Scheetz and was erected at the end of the 19th century. Today, that area is part of the Gallery. In 1958, Dr. Algase's phone number to 901 Market was WAlnut 2-5100. He advertised that no appointment was needed.
By the way, Algase had three locations on Market Street. The main one was 901 Market but he also had an office at 939 Market and at 1301 Market. All at the same time. He advertised that he was open all day and evenings plus Sundays. He also claimed to be the largest and most modern dental offices in Philadelphia. According to his ads, he was the "Dentist that does not hurt." He said that his "sleep air" made extractions totally painless. He stated that he specialized in nervous patients.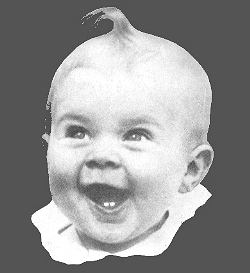 baby photo
appearing on the sheet music of
"Show a Sunny Smile"
1934
The Dr. Algase Sunny Smile Club was incorpated in the state of Delaware as a non-profit corporation on October 2, 1933. In 1934, the broadcast aired three times a week at 7:30 pm. A few years earlier, it was broadcast from 7:45 to 8 pm, but let's take a look at one special day in that year.
On Friday, June 15, 1934, from 7:30 to 7:45 pm, Dr. Algase did a broadcast on WLIT Radio. It was a radio wedding. On that night, the doors open for guests. From 6:45 pm to 7 pm, there was a band concert. Then, there was an introduction of some of the Algase prize winners and other guests.
7:30 pm was the start of the 15 minute broadcast wedding ceremony. From 7:45 pm to 8:15 was the wedding reception and then a procession to the Broad Street Pennsylvania Railroad Train Station. At 9:15 pm, the train departed for the ride to Niagara Falls in New York State. There, the happy couple stayed on Saturday and Sunday at the Hotel Niagara in Niagara Falls, NY.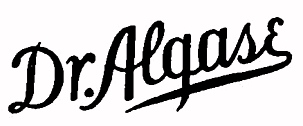 We thought you might like some info on the bridal party. The bride was Miss Helen Muschert and her husband-to-be was William Dale. The Matrons of Honor were Mrs. Walter Hall and Mrs. Walter C. Muschert. The bridesmaids were Miss Doris Hoff and Miss Mildred Spier. Best man was Paul Dale and the flower girl was another Dale, Jean. The ushers were Albert Hilt, Walter Muschert and Ed Hilt. The clergy performing the ceremony was the Rev. J. Martin Kern.
By the way, the same type of broadcast had been done twice before. In 1932, it was Virginia Barker and Charles Todd and in 1933, Gertrude McCauley and Ted Smith.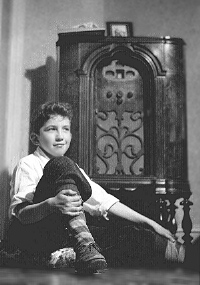 Leon Kellerman in front of
an old Zenith radio receiver
A singer called "Singin' Sam, your Sunny Smile Man performed on the show. Rumors have had it the Singin' Same was actually Dr. Algase. We have never been able to confirm the identity. That being said, we thought you might enjoy what Dr. Charles Algase said about his club. He said:
On January 1, 1931, with the coming of the new year, was born a new idea; one which was destined to spread far beyond the hopes of its founder (Dr. Algase).

Realizing that good health and good cheer go hand-in-hand to further happiness, Dr. Charles G. Algase hoped that he and his associates might "do their bit" in making life more sunny.

And so the "Dr. Algase Sunny Smile Club" was incorporated. Through it, Dr. Algase hoped to reach out to his many clients and their friends for the purpose of spreading good health and good cheer through the proper and systematic care of the teeth.

Little did he realize, when the idea first came to him, how fast it would grow. The membership has grown tremendously until now there are more than 200,075 members of the Dr. Algase Sunny Smile Club.

Then came the radio broadcasting, every Monday, Wednesday and Friday evening over WLIT (owned by Lit Brothers Department Store) at 7:30 pm with Van Avery as the chairman of the meetings.

Today, after 512 broadcasts, we are happy to say that the spirit of the club has been instilled in the hearts of its many members so that the army of the Sunny Smile Club is spreading its message of sunshine to every corner.

The Sunny Smile Club held a contest for the best slogan. The winning slogan was "Show a Sunny Smile." Dr. Algase wrote the words and music of the club song, "Show a Sunny Smile." You hear this song at each broadcast. Its popularity has spread sunshine wherever good fellows get together. Hundreds of contest prizes have been awarded to our members.

"Show a Sunny Smile." That's it. For, when you show a sunny smile who are making others happy and by making them happy, you, too, can be happy in the thought that you are doing your bit to lighten the burden of others.

Never overlooking the fact that the Sunny Smile Club has gained popularity because of its clean and joyful ideals, all meetings have been conducted to give the greatest amount of pleasure to the largest number.

And in return for joining the Dr. Algase Sunny Smile Club each and every member receives cash bonus checks for sending in their family and friends to any of the dental offices of Dr. Algase, founder and official dentist of the Sunny Smile Club, Inc. Remember, keep smiling. It becomes you.
This regular monthly column is written and researched by Gerry Wilkinson

BROADCAST PIONEERS NECKTIES:

Several of our members want to know where they can get these Broadcast Pioneers ties, and now we're going to tell you. They come in 8 colors and have the Broadcast Pioneers logo on them. What a great way to show your support for Broadcast Pioneers!
Jerry Klein and Johnny B. Hall have the red ones and have gotten quite a few comments at our lunches. Gerry Wilkinson has the blue one and got several remarks about it at the Lew Klein Awards Luncheon at Temple this past Friday. You can have one too.
MORE DIGITAL ARCHIVAL PROJECT NEWS:
VIDEO: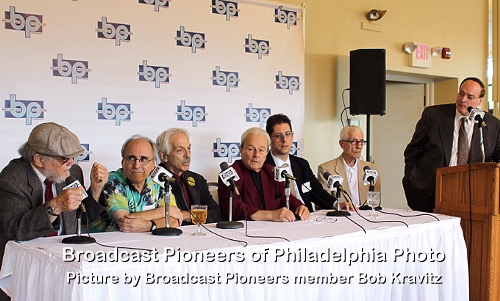 (left to right) Bill Wright, Sr., Michael Tearson, T. Morgan, Charlie Gracie,
Ryan Fleur, Frank X. Feller and MC Bob Charger
Bala Golf Club, Philadelphia
Wednesday, September 17, 2014
On September 17th, Broadcast Pioneers held its first luncheon of the year. This luncheon was all about the Beatles, their influence and the contest WIBG ran during the summer of 1964 to "meet the Beatles."
Watch the entire Beatles Luncheon Video!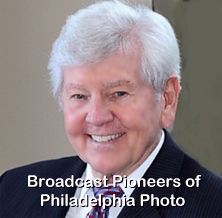 Rock and Roll Star Jimmy Clanton
Bala Golf Club, Philadelphia
Wednesday, September 17, 2014
Watch what Jimmy Clanton said!
Videos courtesy of Board Member Brad Seecof and Metramedia Broadcasting and Studios
AUDIO:
There was a program on WCAU Radio called "Hi Neighbor Party Time" and its host was Ralph Collier. On this particular show, Philadelphia singer-turned-actor James Darren was interviewed. The house singer was Susan Brooklyn. It dates from early May of 1958.
We do not have the complete show of this broadcast. However, we can present to you three excerpts (as one piece of audio with 1 second dead air between cuts). The running time is a little over 14 minutes.
This specific recording was made via a transcription disc and not on reel to reel audio tape. Because of that, the recording is fairly noisy. We have spent about 20 hours cleaning up the audio and removing over 500 pops and clicks from the original recording. It's available as both Real Audio and in the Windows Media format.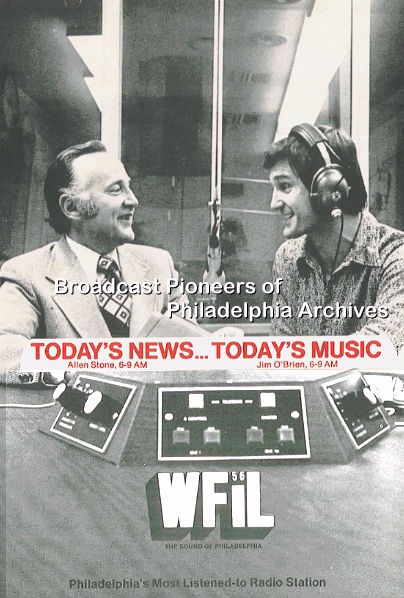 Broadcast Pioneers' Hall of Famers Allen Stone and Jim O'Brien
WFIL, Famous 56 advertisement
Time Magazine
June 9, 1975
One of the top radio newscasters of the sixties and seventies was Broadcast Pioneers member Allen Stone. When WFIL Radio flipped format to a contemporary rock and roll station in 1966, Allen Stone, a veteran of WFIL Radio for two decades was kept on the radio's news staff. Many thought that he wouldn't make it, but Allen became the "Dean" of the newscasters for rock and roll stations. It was he that led the way and started trends that others would follow.
The Broadcast Pioneers of Philadelphia has four Allen Stone newscast clips in its archive. All are offered here for your enjoyment. They are only available in Real Audio Format!
Remember, History is ONLY What Gets Saved!
(If there were no portraits of George Washington, how would we know what he looked like?)
IN TOUCH WITH THE INDUSTRY:
SportsRadio 94WIP and The Philadelphia Eagles are excited to announce are excited to announce that the 2014 Eagles Radiothon raised more than $290,000, exceeding last year's total by more than $100,000 and setting a Radiothon record. All proceeds will benefit Eagles Youth Partnership (EYP) and its various programs that serve over 50,000 low income children in our community every year with a focus on health and education programming.
"The kindness and generosity of WIP listeners and Eagles fans never fails to astonish me," said Senior VP/Market Manager CBS Radio Philadelphia Marc Rayfield, a member of the Broadcast Pioneers. "Every year the donations we raise during the WIP Eagles Radiothon exceeds our expectations, but this year we set an all-time record. Radiothon is a source of pride among everybody at WIP. By working with Eagles Youth Partnership we're able to help children here in the Delaware Valley through important programs that improve the local community."
CBS-TV and the NFL's deal to air eight football games on both CBS and the NFL Networks on Thursday evening got a great start on September 11th. On CBS-TV, the game found 17.4 million viewers and among adults (18 to 49), an average 5.9 rating. The NFL Network averaged 3.4 million and a 1.6 rating in the target demo. The game doubled the viewership over a similar airing on just the NFL Network last year.
Locally, the game was carried over the air on KYW-TV, CBS 3. It posted a 10.7 household rating (almost 318,000 homes). In adults, 25 to 54, it was seen in almost 238,000 homes or a 7.8 rating. The football game on CBS 3 improved the performance over the night last year by +174% household rating and 290% in ratings, adults 25 to 54).
The 98.1 WOGL Loves Our Kids Radiothon driven by the Philadelphia Area Mazda Dealers raised $681,575 in two days for The Children's Miracle Network (CMN) at The Children's Hospital of Philadelphia. In the past thirteen years, 98.1 WOGL has raised $6,928,760.33 for Children's Hospital.
CC Media Holdings, Inc. is now known as iHeartMedia, Inc. Clear Channel Media and Entertainment is now iHeartMedia. Premiere Networks (national talk syndicators), Total Traffic and Weather Network and Katz Media Group will retain their current names. Clear Channel owns several radio stations in the Philadelphia market including the Urban Contemporary powerhouse, WDAS-FM.
Did you notice that this past Sunday, WPVI-TV broadcast the 52nd annual Puerto Rican Day Parade? For the first time, Univision 65 teamed up with 6abc. The hosts for the event were news anchor Walter Perez and member Diego Castellanos, WPVI's host of "Puerto Rican Panorama." President and General Manager Bernie Prazenica (a member of the Broadcast Pioneers) said: "We are dedicated to serving the Puerto Rican community, and we're honored to, once again, televise this great event. We believe these types of events should be showcased for everyone to enjoy."
This coming Sunday, October 5th, Logan Circle comes alive with the costumes, songs, and traditions of Polish-American heritage. Action News Alicia Vitarelli and Michael Blichasz of the Polish American Cultural Center co-host the parade beginning at 12:30 pm. On Sunday, October 12th, Broad Street will be lined with floats, dancing, and theme marching bands that honor Italian-American heritage. Vitarelli returns to host the annual Columbus Day Parade beginning at 1 pm.
Pennsylvania Gubernatorial Candidates Republican Governor Tom Corbett and Democratic nominee Tom Wolf will square off Wednesday, October 1, 8 to 9 am (that's tomorrow) at the CBS Broadcast Center. This is the only debate between Corbett and Wolf scheduled to originate from Philadelphia. KYW Newsradio's "Breakfast with the Candidates" will be broadcast live on KYW Newsradio 1060 and televised on The CW Philly 57 (WPSG-TV). The one hour forum will also be streamed live on www.CBSPhilly.com and rebroadcast on CBS 3(KYW-TV) on Sunday, October 5 at 1 p.m.
KYW Newsradio special contributor and veteran news anchor Larry Kane (a member of the Broadcast Pioneers) will moderate the discussion, along with panelists CBS 3 Anchor Chris May and KYW Newsradio Reporter Cherri Gregg. KYW Newsradio has hosted "Breakfast with the Candidates" for its sizable Morning Drive for more than 20 years, including the campaigns for U.S. Senate in Pennsylvania and the Philadelphia Mayor's office.

"We are pleased to give the candidates the opportunity to present their positions on the critical political issues that affect our state and provide this vital information to the public," says Broadcast Pioneers member Jon Hitchcock, president and general manager of CBS 3 and The CW Philly, "which is why we wanted to present this program across all of the CBS platforms – radio, television and digital."

"Breakfast with the Candidates has a long history of allowing candidates to discuss the issues in a conversational format that we believe gets beyond the sound bite," adds Broadcast Pioneers member Marc Rayfield, senior vice president and market manager for CBS RADIO. "We're proud to bring that unique opportunity to the gubernatorial race."
NBC10 Philadelphia announced that two new award-winning journalists are joining the station. On September 22 Randy Gyllenhaal started reporting from the station's Lehigh Valley bureau, and Mitch Blacher joins the NBC10 Investigators tomorrow.
Randy Gyllenhaal joins NBC10 from WPBF in West Palm Beach, Florida, where he has been a reporter since 2011. Prior to WPBF, he was with WPTZ in Burlington, Vermont. He has received numerous national awards for his reporting, including from the Society of Professional Journalists and the Associated Press.

Emmy-award winning reporter Mitch Blacher joins NBC10 from ABC affiliate KGTV in San Diego, where he has been an investigative reporter since 2009. While there, Blacher exposed major administrative scandals in the San Diego Mayor's office, assault and cover ups inside the San Diego Police Department and safety violations inside the largest nuclear power plant in Southern California.
WE REMEMBER:
At the beginning of September, we lost Fritz Blank. He was the Executive Chef and owner of Deux Cheminees Restaurant. He was from South Jersey and thought he would have a career in science. Instead, he became a famous chef. His famous restaurant opened in the seventies. He closed the eatery in 2007 and moved overseas. Blank was well known in the Philadelphia area and kept popping up on TV. In December 2000, WHYY-TV aired an edition of "Great Chefs of Philadelphia." In this 80 minute program (plus 40 minutes of pledging thus filling a 2 hour block) shot in October of that same year, two of Philly's top chefs cooked for the Delaware Valley.
One was Fritz Blank and the other Jim Coleman who was Executive Chef at the Rittenhouse at that time. Broadcast Pioneers member Ed Cunningham hosted the program. Producer/Director Gerry Wilkinson (our CEO) said "the best part of working on a cooking show was you got to eat the food. Fritz made wonderful Goose Stuffing. We all ate it up. Then we remembered that he didn't shot a beauty shot (a picture of the food to be used in editing to make the edit look smooth) of the stuffing. Fortunately, Fritz had another one ready and we shot that. That program, by the way, was the first digital program start to finish ever aired on WHYY-TV.
ON THE HEALTH FRONT:
Member Eric Address had surgery 8 days ago. His wife, Marlene, reports that he is doing well. She said that get well cards and notes would be appreciated. Eric is one of the people who works really hard on the Broadcast Pioneers Digital Archival Project. Marlene told us that 3 hours after the surgery, Eric was up and walking around. We wish him continued recovery.
"ON THE SCENE" BY MEMBER FRANK STONE: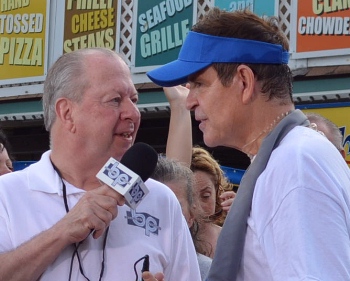 (left to right) Member Frank Stone and Fox 29 Anchor Mike Jerrick
On the Boardwalk in Wildwood, NJ
September 2014
Broadcast Pioneers was On the Scene to welcome the Fox 29 "Good Day Philadelphia" broadcast team to the Wildwoods on Labor Day, Monday, September 1, 2014.
On one of the hottest and most humid days of the summer, we welcomed Alex Hulley, new Good Morning Philadelphia co-anchor, reporter Jennaphar Frederick, weather anchor Sue Serio (one of our Hall of Fame inductees next month) and anchor Mike Jerrick. To read more and see additional photographs, Click Here!
THANKS FOR THE MEMORIES:
Uncle WIP and His Friends!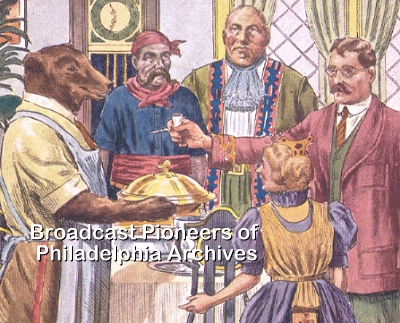 (left to right) Big Brown Bear, Black Browed Pirate, Genial Giant and Uncle WIP
Frowny Fairy Godmother seen in lower right
These characters lived in Castle Broadcast
from the hardback book "Uncle WIP and His Friends"
1923
A couple months ago, a visitor to our website sent us a copy of the hardback book, "Uncle WIP and His Friends." It's an entire book featuring the adventures of Uncle WIP and his friends. The above photo was on the cover and also inside the book. Our digital rendition is from the plate inside. We thought you might enjoy knowing more about Uncle WIP's friends. Here's what the book said in the very beginning:
High up on top of a big white cloud stands Castle Broadcast. It is built of solid gold and diamonds which glitter in the sun, and its tall towers and chimneys reach on up into the blue sky above it.

At the foot of the big white cloud is a very high wall built entirely of moonstones set in silver, and guarding its big silver gate are two fierce dragons who breathe fire and smoke from their mouths and nostrils. From the silver and moonstone wall up to the door of Castle Broadcast are three hundred and fifty-one and a half steps.

They are made entirely of gold with the exception of the half step which is soft clay and is directly in the middle of the staircase, and which nobody every steps on. They always hop carefully over that step.

In Castle Broadcast lives Uncle WIP, and with him four companions who all keep house together, because they think it's lot more fun than living alone.

There is the Frowny Fairy Godmother, who is a dear little old lady, with long trailing gowns, and pretty high-heeled slippers with jeweled buckles that always twinkle in the light as she walks. She wears a frown on her face to keep people from knowing what a very kind heart she has, and she spends most of time down on earth doing kind acts for beautiful princesses.

Then there is the Genial Giant, who is very rich, very big, very fat and very ugly. And so lazy that he never used to do a stroke of work, but lay out in the sun all day long, coming into the Castle only for his meals and to sleep.

But he is the best natured giant in the world. He never hurt anyone in his whole life, and is so jolly that no one who ever knew him could keep from liking him.

The Black Browed Pirate is very alarming in appearance until one gets to know him. He has heavy black eyebrows that almost hide his eyes, and a long black moustache. He wears a read handkerchief knotted around his head, and another about his neck, and a big red sash in which he sticks sixteen long and shining knives whenever he starts out on an adventure.

He also wears high red leather boots, and big gold earrings in his ears. He spends most of his time going about after adventures and hidden treasures. He has a good scout called the Talking Eagle who finds out where the treasure is hidden and comes in the night and tells him about it.

The Black Browed Pirate starts off the next morning in the golden car strapped to the back of the Flying Salamander, a strange steed who breathes fire and smoke like a dragon, and flies through the air like a bird, although he has no wings.

He also has an old pirate vessel called the Skull and Crossbones in which he occasionally makes a trip, and which he keeps anchored somewhere along the seacoast with his old pirate crew on board, ready whenever he wants them.

Last, but not least, is the Big Brown Bear who is just what his name implies, a very big brown bear. He is their faithful servant and friend who cooks all the meals, does all the housework, runs all the errands, and makes them generally comfortable.

He has such a wonderful sense of humor that he can find something to laugh at in everything. His only fault is that he is very absent-minded, and this gets him intro trouble sometimes.

Every evening after sundown, Uncle WIP goes into his big, comfortable room in Castle Broadcast and talks to the children down on earth whom he loves so much.

He tells them all about the adventures that he and his friends in Castle Broadcast have had. Sometimes, it is a story about the Frowny Fairy Godmother and a beautiful princess, sometimes it is a tale of something the Big Brown Bear did when he was absent-minded, and other times it is a thrilling adventure of the Black Browed Pirate or the Genial Giant.

But whatever the story may be about it is always interesting; for there is magic in Castle Broadcast and anything may happen to the people who live in it.
This book is often attributed to Christopher Graham. He was Uncle WIP at the time. However, his name is not mentioned in the book. These were "bedtime" stories for the children who listened to Uncle WIP. They were portrayed as real, not imaginary. It was published by Gimbel Brothers.
More Uncle WIP!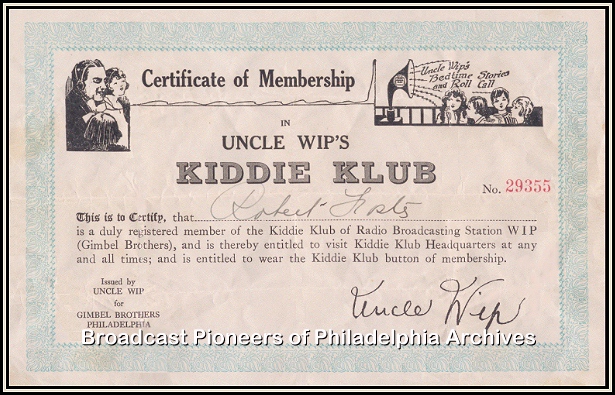 A little while ago, we received an e-mail from a visitor to our website. It said: "My father passed away in 2001 in the Philadelphia area. Among his belongings is his paper certificate of membership in Uncle WIP's Kiddie Klub. It is signed by Uncle WIP with a number 29335."
Col. William J. Foster, USAF (Ret.) sent us the certificate (seen above). He also sent some information about his dad.
Robert Foster was born in Philadelphia, PA on October 31, 1913. As a child he lived on Baynton street in Germantown. He attended Northeast Catholic High School and German High School. He married Sally Ball, also from the area.

He diary reads as follows:

April 15, 1937: "Started work with Carnegie Illinois Steel at Pencoyd at $0.56 per hour."

April 29, 1937 "Started work at Girard Trust Company, Broad and Chestnut Street as a porter."

May 23, 1937 - laid off at Pencoyd. Bought a suit for $15."

Honorably discharged from the Marines in 1945 and went into the reserves.

When he returned from the Marines, the family move to Ardsley Avenue in Glenside.

On August 7, 1953, he moved his family to Wonderland Road in Easton (and the family lived there until around 1958). The was followed by a move to Easton Road in Roslyn, where he opened his Nationwide Insurance Business in front of the home (and later established a square dancing store there). In his later years, he was a school bus driver. Robert continued to live in his home until his death on October 1, 2001 of Parkinson's disease.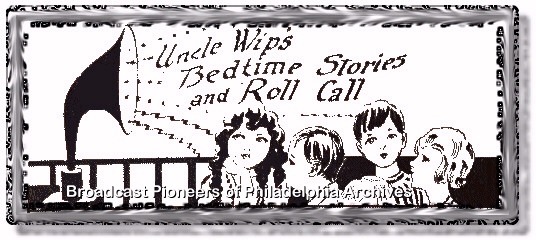 Drawing from the top of "Uncle WIP's" stationery
WIP Radio
January 1924
The above drawing appeared on official station stationery for "Uncle WIP." You would have prepared typed messages (today, called a form letter) on the notes and when he received correspondence from the children, he would simply write their name next to where it said "Dear." The messages would change from time to time but one such communication had this:
Just want you to know, my little one, how much I enjoyed your message which I just received, and hope you will continue to write me.

You are now a member of the Kiddie Club [sic] and if you have not [sic] a button, you can receive one when you visit me. I am at my desk from 11-12 am & 3:30-4:30 pm.

I hope you will continue to enjoy the Bed Time Stories.

Thank you, I will close now.

Yours from the smiling pool
The above was typed, and the only thing written by hand was the child's name and Uncle WIP's signature. It was, basically, a form letter (there were several different ones) that were already prepared in advance.
WIP's EXCLUSIVE OFF THE JERSEY SHORE!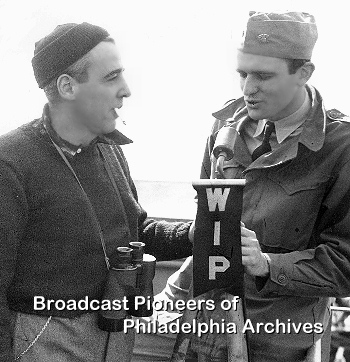 Broadcast Pioneers' Hall of Famers Ben Gimbel and Ed Harvey
Off the South Jersey shore near Cape May
WIP Radio (later broadcast over the Mutual Broadcasting System)
May 15, 1945
Nazi U-boats (submarines) caused all kinds of problems for the Allies and the United States. These ships weren't in the European or Pacific Theater, but right here along the eastern seaboard.
U-858 was one of these ships and it survived throughout the war. It was 240 feet long and weighed 740 tons. It had six torpedo tubes. It was built to carry 21 torpedoes and 57 men. This craft became the first German sub to surrender to the United States Navy after V-E (Victory in Europe) day and it happened right here in the Delaware Valley. They signaled the United States of their intention to surrender on May 14th and surrendered officially the next day.
Upon the surrender, the commander of the German U-boat asked to be allowed to fight the Japanese along side of the Americans and Allied forces. The offer was refused. The sub eventually was towed here to the Philadelphia Naval Shipyard and turned into scrap metal.
Founding member of Broadcast Pioneers Jim Tisdale was WIP's Chief Engineer at that time. Member Sam Serota was the station's Special Events Director. Broadcast Pioneers' Hall of Famer Ben Gimbel was mainly along for the ride. He and his family owned the station and he could do pretty much whatever he wanted.
The broadcasts were not done live but instead were transcribed on a wire recorder. Sam got seasick and slept much of the time. Ben Gimbel filled in for Sam and eventually Sam was able to pull himself together and do some of the broadcasting. The material was then broadcast over WIP Radio and then later fed to the Mutual Broadcasting System for airing with them. At that time, WIP was affiliated with Mutual. Broadcast Pioneers member Ed Harvey was assigned by the navy to be a media specialist for broadcasters. He was the Navy's spokesperson. Early in this century, Ed Harvey wrote for us a little about his adventure that day, May 15, 1945. Here's what he said:
It was the first ever broadcast of surrender of enemy submarine from any war. As officer in charge of Broadcast Media for the Fourth Naval District, I handled all broadcast coverage of this historic event off Cape May, New Jersey.

After one false alarm, we spent the night ashore and returned the next day and sure enough, within yards of us, the German sub broke the surface. Our Marines went aboard. They (the Germans) came out of the sub hands in the air and a U.S. crew went aboard. I did a broadcast from the Coast Guard Cutter and later from inside the submarine for WIP.
Thoughts about KYW Radio!
Last month in our "Did You Know" column, we ran some remarks given by Joe Baudino, former executive for Westinghouse Broadcasting. It was a speech given to this organization on Wednesday, September 24, 1975. We have received several requests for the rest of what he said that day. So here it is:
In 1922 the news arrangement with the Chicago Evening American was expanded to a 24 hour service under the title "World Crier." News bulletins were read over the air on the hour and half-hour 24 hours a day. Bulletins were delivered by messenger every few hours and usually there were sufficient bulletins to provide the announcer with enough material for 5 or 6 "World Crier" schedules.

The "World Crier" service started on December 27, 1922 and continued until 1927 when it was found necessary to discontinue it due to complications of program scheduling.

At night, the "World Crier" bulletins were usually read by the operators on duty at the transmitter as the announcers were not always available. This resulted in a couple of embarrassing incidents and the paper from there on sent over material for the "World Crier" which could be put on the air as soon as possible.

In June 1924, the KYW frequency was changed to 1020 kc and the results were disastrous. In many places in Chicago, the KYW signal could not be received, fortunately the station was permitted to change back to a lower frequency, 570 kc.

In 1925 KYW moved to the roof of the Congress Hotel and a high powered (20 Kw) transmitter was installed. This was the first water cooled transmitter in the mid-west area.

In 1923, Westinghouse had installed a transmitter with call letters KFKX in Hasting, Nebraska to relay KDKA programs and also to originate some programs for the local area. In 1927, KFKX operations in Hastings were discontinued and the license moved to Chicago where KYW and KFKX shared time. (The move of KFKX to Chicago was made in anticipation of the upcoming 1928 frequency reallocation). Finally the Commission is effect said "quit kidding yourselves, which license do you want?" So the KFKX license was deleted.

In the November 11, 1928 frequency reallocation, KYW was again assigned to 1020 kc with the same disastrous effect on the station's coverage in Chicago. To improve coverage in the Chicago area, a 500 watt synchronized booster station KYWA was installed on the roof of the Edgewater Beach Hotel. This improved the coverage in the North Side area but did not help the main problem so plans were made to move KYW to a new site out in the country, near Wheaton, Illinois, and at the same time the studios were moved to the Strauss Building and arrangements made for the Chicago Herald and Examiner to take over the program and sales operations of the station.

The 1020 kc frequency assigned to KYW in the 1928 frequency reallocation had been, in the Davis amendment (the Davis amendment divided the country into five zones with all available broadcast frequencies divided equally among the five zones) assigned to the third zone, as well as new applicants applied for the 1020 kc frequency creating an almost continuous legal battle for KYW to protect its frequency assignment.

Finally, in 1932, KYW applied to the Commission to move to Philadelphia. The application was granted on October 27, 1933 for the facilities at this site.

The new KYW transmitter for the Whitemarsh location was the first all AC operated high powered transmitter, no rotating equipment except water pumps for circulating cooling water for the power tubes (now even the power tubes are air cooled). The antenna, a four tower array consisting of steel poles mounted on wood sub-bases was the first directional antenna designed to suppress sky-wave radiation while providing the required horizontal directional pattern.

As part of the move of KYW from Chicago to Philadelphia, arrangements had been for WCAU personnel to handle the program and sales operations of KYW and for Westinghouse personnel to take care of all technical operations. The KYW studios were located in the WCAU building on Chestnut Street. I worked with Jack Leitch, then Chief Engineer of WCAU on the layout and design of the studios for KYW. Jack was certainly a fine man to work with during the daytime but it was awfully tough trying to keep up with him at night.

In May, 1938, KYW studios were moved into the KYW Building at 1619 Walnut Street and NBC took over the programming and sales operations. This arrangement with NBC continued until July, 1940 when Westinghouse resumed the programming and sales operations of all the Westinghouse stations.

About the move out of the WCAU Building, some KYW personnel commented that KYW had gotten a divorce from WCAU on the ground of incompatibility.

On January 16, 1941, the power of KYW was increased from 10 kw to 50 kw and March 29, 1941 there was a frequency reallocation in which KYW's frequency was changed from 1020 kc to 1060 kc.

In 1949, the present directional antenna system consisting of two IDECO 450 foot steel towers which had better radiation efficiency than the shorter steel poles, was installed.

In January, 1956, Westinghouse and the National Broadcasting Company swapped their Philadelphia and Cleveland stations and KYW moved to Cleveland. On June 19, 1965, by action of the Department of Justice and by order of the Federal Communications Commission, the swap was reversed and KYW moved back to Philadelphia where we still are.

In 1965, KYW changed its programming to a 24 hour all news operation which, in a way, would be repeating the very successful 1922 "World Crier" news operation but on a much more highly sophisticated basis.

In January, 1968, a new Continental Electronics air cooled 50 kw transmitter was installed replacing the original water cooled transmitter installed in 1934.

In 1972, KYW moved its studios to the present Independence Mall East location and I sincerely hope that KYW has at last found a permanent home.
Several years ago, KYW Newsradio moved from its Independence Mall East location to 400Market Street, less than a block away from its old home. Earlier this year, the station moved to 1555 Hamilton and joined sister TV stations KYW-TV (CBS 3) and the CW Philly 57. Their new home is called "The CBS Broadcast Center." About 9 weeks ago, we took a tour of that facility and the video is available on our YouTube Channel.
A LITTLE BIT OF BROADCAST HISTORY!
(ONE OF FAVORITE CAPTAIN & MRS. NOAH PICTURES)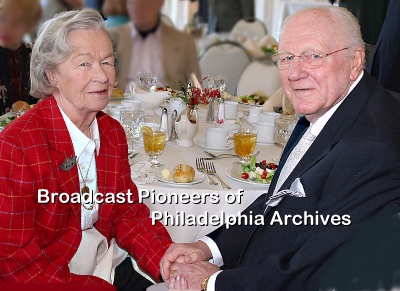 Members Patricia Merbreier and W. Carter Merbreier
(Captain and Mrs. Noah)
Broadcast Pioneers Luncheon
Bala Golf Club, Philadelphia
Wednesday, January 17, 2007
Picture taken by member Bob Kravitz
OUR HATS OFF TO YOU:
Special Thanks for 2015 Scholarships:
Vice-President Kal Rudman - 5 scholarships (all for Temple students)
Member Johnny B. Hall and wife Ginny - 4 scholarships
Members Robin and Ira Adelman & Leon Love - 2 scholarships
Member R. Alan Campbell - 1 scholarship in the memory of Fred Ruggieri (Fred Randall)
Member Harry Hurley's Golf Tournament - 1 scholarship (for South Jersey residents or students)
Member Sylvia Kauders - 1 scholarship (from a grant for 5 yearly scholarships)
Member Marlin Taylor - 1 scholarship
Member Esther Kurtz - 1 scholarship in memory of her late husband, David Kurtz
Special Thanks for contribution of $1,000 or more to our DAP, Digital Archival Project:
Member Johnny B. Hall and wife Ginny - $3,000
Member Marlin Taylor - $1,000
Member Harry Hurley's Golf Tournament - $1,000
Member Jerry Del Colliano - $1,000
Underwrite a complete scholarship and we'll give you credit in the electronic newsletter until the scholarship is awarded in April of 2015. Give us a donation of $1,000 or more and we'll list you in our "Thank You" column for a year.
More Thanks:
We would like to thank those of you who included an extra contribution when you paid for your meal at our September luncheon. Those include Diego Castellanos, Henry Chmielefski, Bill Kelley, Mel Klawansky, Bob Kravitz, Dorie Lenz, Mike Nozilo, Les Waas and Gerry Wilkinson. Thank you.
Now, it is membership renewal time and we would like to thank those of you who included an extra contribution with your membership renewal. Those members include Henry Chmielefski, Pat Ciarrocchi and Neil Rattigan.
Don't be left out. You too can make a pledge. It's never too late. You can earmark it for scholarships, our Digital Archival Project or our general fund. Thanks so much for your support.
Our special thanks go to TUTV and The Kal & Lucille Rudman Media Production Center.

They have underwritten a grant to be used to fund an entire year of all our newsletters for calendar year 2014. We thank them so much for their support!
If you forgot to make an extra contribution (cash or memorabilia) and would like to do so now, it's never too late. We would be thrilled to hear from you at: PO Box 2886, Bala Cynwyd, PA 19004 or call us at (856) 365-5600.
A FINAL THOUGHT....
"If you want to stay young-looking, pick your parents very carefully."
Dick Clark
host of "American Bandstand"

Please contact us by e-mail at newsletter@broadcastpioneers.com or by mail to: Broadcast Pioneers of Philadelphia, PO Box 2886, Bala Cynwyd, PA 19004. Your stories are important, to you, to us, and your colleagues. Contact us today and we'll include your story in the next newsletter!

© 2014, Broadcast Pioneers of Philadelphia
All Rights Reserved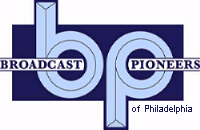 The e-mail address of the Broadcast Pioneers of Philadelphia is pioneers@broadcastpioneers.com
For luncheon reservations call (856) 365-5600 or e-mail us at: rsvp@broadcastpioneers.com