| | |
| --- | --- |
| | Broadcast Pioneers of Philadelphia is a federally recognized, state chartered 501(c)(3) non-profit organization serving the Philadelphia Broadcast Community since January of 1962. |
October Afternoon Luncheon
The Bala Golf Club, Philadelphia
Wednesday, October 18, 2017

Meet and Greet at 12 noon!
Lunch served at 12:30 pm!
Ratecard: $28 per person

Please reserve now!
CALL (856) 365-5600!
rsvp@broadcastpioneers.com
Another Third Wednesday Luncheon!
Wednesday, October 18th, 2017!
Good Food - Great Programs - Wonderful Times
Tribute to Jane Norman
(TV's "Pixanne")
Lunch is only $28 per person!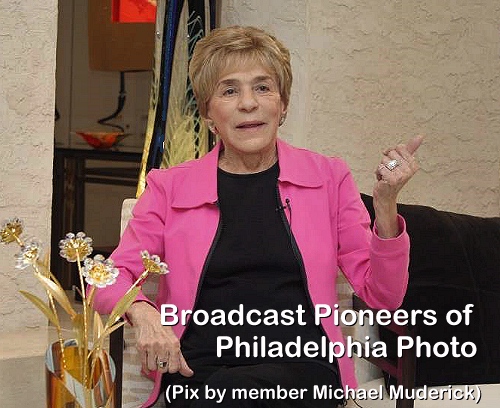 Jane "Pixanne" Norman
at her Bala Cynwyd home
Monday morning, January 2, 2017
Jane Norman did it all! She was a singer, composer, writer and television personality. She began her musical career at age three, and at age eight one of her compositions was performed by the renowned Philadelphia Orchestra.
She went on to create and star in the nationally syndicated award-winning television show PIXANNE, which received a 12 rating and 62% share of audience when it aired on CBS, where it out-rated every other program, including soap operas and early evening news-a rare TV phenomenon.
With a handful of "pixie dust" and an ocean full of talent, Jane Norman flew into the hearts of millions of children who watched her as PIXANNE for 17 years on local and national television.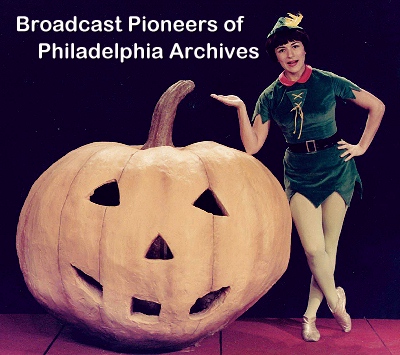 Watch Half-hour Interview with Jane Norman
(video courtesy of Broadcast Pioneers VP Brad Seecof and Metramedia Broadcasting & Studios


Hit After Hit, Smash After Smash, Blockbuster After Blockbuster... Here's another "monster" lunch where the "stars" don't wait to come out until night. They're there at lunchtime!
Our tribute to Jane Norman is a star-studded event. Our MC for the afternoon is former WCAU-TV News Personality, Bill Baldini. (Special note: If you watch the interview we did with Jane in January, you'll notice someone very familiar doing the interviewing. It's Bill Baldini, so it just made sense to bring Bill back as our MC.)
Our scheduled speakers include::
Jerry Blavat who will be telling us all about the era of the hosts of local Philadelphia children's programs. Jerry was doing his Discophonic Scene telecast at WCAU-TV while Jane portrayed Pixanne on the same station.
Ed Cunningham, producer, writer of the smash hit, the WHYY-TV Special from ten years ago, "Philly's Favorite TV Kids Show Hosts."
Dick Kearney, who worked at WCAU-TV for decades as a camera operator. He has many inside stories to tell you.
David Madden, KYW News reporter and anchor who used to watch Jane Norman's "Pixanne" show when he was a child.
Steve Ross and Jim Murray of the long running radio program, "Remember When." It was an interesting era in television in the sixties.
Jim Craine, radio host "The Jim Craine Show" at WOND, 1400 AM at the shore. Heard Saturday evenings from 8 to 10 pm.
Liz Stadler, Jane Norman's granddaughter, who will be presenting to the organization Jane's original Pixanne costume and other memorabilia for the Broadcast Pioneers Archives.
Plus, the trio of musicians who performed on many of Jane's recordings. They are: Paul Jost, Dean Schneider and Kevin MacConnell.
This takes place at the beautiful and historic Bala Golf Club, 2200 Belmont Avenue (across the street from the state police) in the Wynnefield section of Philadelphia. Only minutes away from Channels 6, 10 and 17 and the radio stations in Bala Cynwyd. Call now for reservations. (856) 365-5600! Don't miss this one! Meet and greet at 12 noon! Lunch served at 12:30 pm.
Plenty of FREE parking. Our luncheons are open to all our members, their guests and any person in the industry or associated fields, whether active or retired. You do NOT have to be a member to attend. There is no reserved seating at our luncheons. Feel free to sit anywhere. Well, okay--the three people on the camera crew sit near the cameras, but that's in the back of the room.
The cost is only a donation of $28 (or more) per person! In order to speed up check-in at the luncheon, it would help if you had exact change or your check already written. Checks can be made payable to the Broadcast Pioneers of Philadelphia.
If you would like to add a few dollars extra, we would appreciate it. It would help us with all the important work we are doing. Thanks!

WE WANNA SEE
YOUR FACE IN THAT PLACE!

Visit Our Website Often - http://www.broadcastpioneers.com
You should check the front page of our website often (link above) for important information!
Tune in to our YouTube Channel - http://www.broadcastpioneers.com/youtube
Our YouTube Channel has all our luncheons, exclusive interviews and archival material!
Check out our Facebook Page - http://www.broadcastpioneers.com/facebook
There are things on our Facebook Page that are NOT on our website (like our vintage photo of the week)
Go to our Twitter Account - http://www.broadcastpioneers.com/twitter
The Broadcast Pioneers Twitter Account has info and stuff not available elsewhere!
Go to our Instragram Section - http://www.broadcastpioneers.com/instagram
Here's another one of our social media sections. Visit it as often as you wish!

Our 2017 Honorees
for Hall of Fame and Person of the Year!
2017 PERSON OF THE YEAR!
RALPH "BUD" GALOW!
Friday evening, November 17, 2017
201 tickets already sold

It's the event of the year. It's a WHO'S WHO of Broadcasting. Everyone, pretty near, who's anyone will be there. Don't be left out. Send for your tickets now. Once they're gone, they're gone. It's our annual banquet. We honor our "Person of the Year" and our inductees into our "Hall of Fame." ABSOLUTELY NO TICKETS AT THE DOOR! Make plans to be there.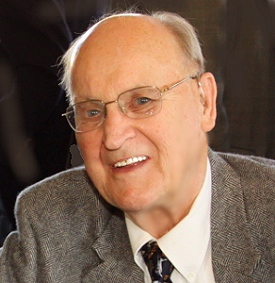 Broadcast Pioneers member Ralph "Bud" Galow worked for over four decades at KYW Radio. He engineered the very first KYW Newsradio "all news, all the time" newscast in September of 1965. Three months earlier, he was at the controls when WRCV Radio became KYW Radio. Galow is the first engineer/technician ever to receive the honor of "Person of the Year" from Broadcast Pioneers.
LISTEN TO BUD GALOW ENGINEER TWO HISTORIC EVENTS!
Hear the beginning of KYW Newsradio from September 21, 1965
On our next audio clip, you'll hear Reggie Lavong and Pat Delsi. It takes place seconds before 5 am on June 19, 1965. This is the on air switch for 1060 on AM radio, when WRCV became KYW Radio. Reggie is the musical host and Pat does the news. In retrospect, it is also fitting that the first bit of programming after the sign-on announcement is a KYW Radio newscast. This is a slightly edited version.
"HALL OF FAME" LIVING HONOREES!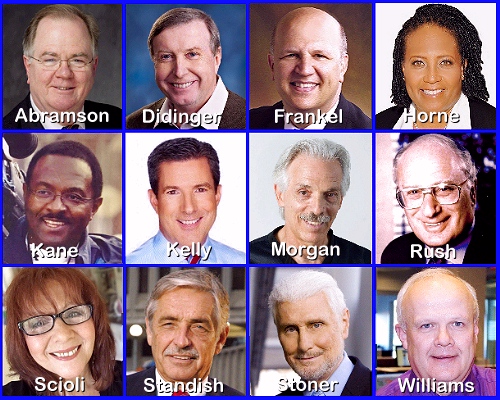 Dave Abramson, Chief Engineer for the Phillies, former WPHL Director
Ray Didinger, sports producer, writer, author and WIP air personality
Dave Frankel, former 6 abc & CBS 3 Weather Guy and News Anchor
Charlene Horne, editor, videographer, CBS 3 Video Editing Supervisor
Pete Kane, WCAU-TV, NBC 10 photojournalist for a third of a century
Bob Kelly, morning Traffic Reporter for Fox 29's "Good Day Philadelphia"
T. Morgan, well-known area air personality and programmer for 50 years
Herman Rush, former Chairman and CEO for Coca-Cola Communications
Karen Scioli, Saturday Night Dead's Stella/Production Coordinator for COPS
Dick Standish, reporter for KYW Newsradio & CBS 3's Eyewitness News
Pat Stoner, theater and film critic for WHYY and syndicated "Flicks" program
Rick Williams, Executive Producer for WPVI's evening Action News shows
"HALL OF FAME" POSTHUMOUS HONOREES!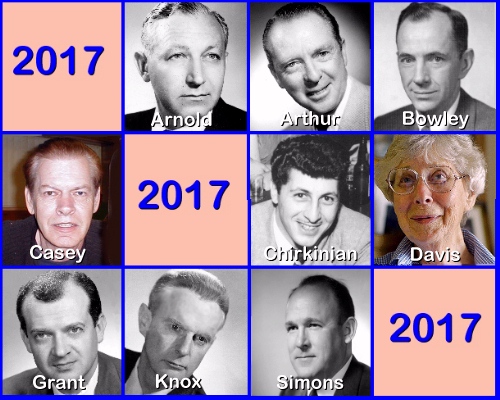 Murray Arnold, former station executive for radio stations WIP and WPEN
Doug Arthur, well-known air personality for decades on WIBG & WCAU
Ray Bowley, WPTZ Chief Engineer and Westinghouse Director of Engineering
Jonathan P. Casey, well-known South Jersey area air personality & programmer
Frank Chirkinian, CBS Sports Director & Producer, previously at WCAU-TV
Betty Killner Davis, W3XE/WPTZ television performer from 75 years ago
Mike Grant, former WCAU Radio announcer and station Program Director
Bob Knox, WIBG's The Gray Ghost, area newscaster and station disc jockey
Keneth Simons, pioneer of the development of cable television in the U.S.A.
TICKETS
MUST BE

PURCHASED IN ADVANCE
AND ARE

ON SALE

NOW!
ABSOLUTELY NO TICKETS AT THE DOOR!
Several people asked about having an order form for purchasing ads. You can advertise your business or you can just decide to place a congratulatory ad. Payment is required in advance. Deadline for ads (including payment) is October 20, 2017.
Prices are $88 for members (each member can buy ONLY one ticket at the member price) and $98 each for everyone else (including spouses, friends and guests). Our co-emcees this year are Dom Giordano and Pat Ciarrocchi.
The event will once again take place at the Hilton City Avenue, 4200 City Avenue, Philadelphia. The date is Friday, November 17th. The reception is at 6 pm and dinner is served at 7 pm. Doors open at 5:45 pm. Cash bar all night long. Valet parking is $10. Event lot parking is $5.
Make plans to be there! A major portion of the ticket price may be deductible on your federal income tax. Ask your tax advisor for details! Tickets must be purchased in advance. Absolutely no tickets available at the door.
TICKETS ON SALE NOW!



WE WANNA SEE
YOUR FACE IN THAT PLACE!
NEW MEMBERS TO BROADCAST PIONEERS:
FULL MEMBERS:
John Ostapkovich has been in the business for 43 years. He has been an anchor and reporter on KYW Newsradio since 1984. Before that, he worked for Eyewitness News, KYW-TV as a producer and writer. He also was at WDHO-TV (now WNWO) in Toledo where he said that he did damn near everything. He was also a sportscaster for AP Radio for a couple of years in the 70's and started at WKBO Radio in Harrisburg.
We welcome Jerry Tomeo into our membership. You may know him better as Damon Castle, his air name. He started in the business in 1966 and is now retired. He worked at WEEZ, Chester from the mid-sixties until 1970 when he went to WIFI. He stayed there a couple of years and then went over the Delaware River to WCAM in Camden. He stayed for a year and then went to WCAU-FM. He also did rock promotions for decades.
ASSOCIATE MEMBERS:
Ben Carotenuto is rather new to our wonderful business. He's only been in it for just four years. Carotenuto has employed at WMGM-TV, Channel 40 at the shore for two years as a multimedia producer. He's also been with Comcast Sportsnet Philly as a studio tech and with the Fox O&O, WTXF-TV, Fox 29 as an engineering tech. Ben has also been a studio engineer for Temple University.
Benjamin McWilliams is a recent graduate of Temple University. Ben covered high school basketball based in Philly for "City of Basketball Love." He also served as a sports content management intern for Sportle, based in Los Angeles. Last year, he covered sports for Philadelphianeighborhoods.com with news about basketball, football, men's soccer, women's lacrosse and gymnastics.
We are thrilled to have over 500 Members. More than ever. We hope to see as many of our members as possible at our annual banquet on Friday, November 17, 2017.. Get your tickets now!
DIGITAL ARCHIVAL PROJECT NEWS:
VIDEO:
WPVI 6 pm and 11 pm News Anchor Jim Gardner
Broadcast Pioneers Luncheon
Bala Golf Club, Philadelphia
Wednesday, September 13, 2017
(Photo by member Michael Muderick)
On September 13th (to the day), we celebrated 70 Years of Channel 6. It came on the air on September 13, 1947 and has been entertaining, informing and educating people of the Delaware Valley for the last seven decades. Now, they have started the beginning of their eighth decade of telecasting.
Our MC for the afternoon was former Action News anchor for WPVI, 6 abc, Marc Howard. Included in this jubilee were the following scheduled speakers (in alphabetical order): Broadcast Pioneers members Diego Castellanos, Bob Feldman, Dave Frankel, Liz Matt, Linda Munich, Mike Nozilo, Joe Pellegrino, Steve Sacks, Mike Strug and the Executive Producer (not the anchor) of Action News' 10 pm and 11 pm reports, Rick Williams.
SPECIAL ADDED SCHEDULED SPEAKER: The anchor of the 6 pm and 11 pm Action News Program, JIM GARDNER!!
(video courtesy of Broadcast Pioneers VP Brad Seecof and Metramedia Broadcasting & Studios)
AUDIO:
Here's another broadcast. It's from October 28, 1965 and WCAU Radio. On the "Talk of Philadelphia" broadcast, Broadcast Pioneers member Ed Harvey speaks with psychic Jean Dixon. Ed had his program recorded by the station engineer and then asked them to remove the commercials. It is from that tape that this broadcast is mastered. Because of that, there are no commercials. It just rolls right on through for a half-hour.
Listen in Real Audio!
Listen in Windows Media!
We also thought you might enjoy hearing this excerpt from a WRCV morning program hosted by Jack Pyle. The date is August 6, 1962, the day after Roberts pitched for the Orioles. Pyle talks for over 7 minutes with no music. Even though this dates from 1962, the original recording was on transcription disc. We were able to clean it up pretty good. Be advised that the tonal quality is not high fidelity. However, that's how it was on the original recording.
Listen in Real Audio!
Listen in Windows Media!
Today's News Becomes Tomorrow's History!
(This is what our Digital Archival Project, DAP, is all about!)
A LITTLE BIT OF BROADCAST HISTORY!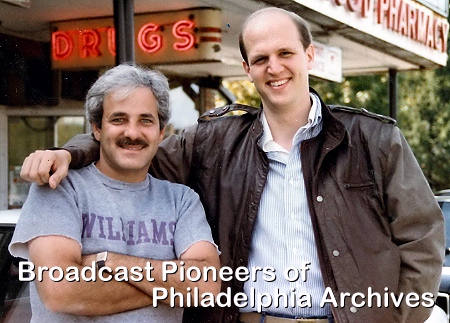 (Left to right) WPVI's Action News Anchor Jim Gardner with member Dave Frankel
(taken when Dave was at 6abc)
Bala Cynwyd, Pa.
(about 25 years ago)
IN TOUCH WITH OUR MEMBERS:
The next upcoming performance starring Broadcast Pioneers member John Primerano will have a style of its own and contain music and a few laughs to entertain most ages. This performance on October 21, 2017 will be held at The Order of Sons of Italy in America, Lodge 610, located at 2537 East Monmouth St., Philadelphia. Seating and drinks begin at 7:30 and the show starts at 8 pm.
SportsRadio 94WIP, the flagship radio station of the Philadelphia Eagles, will provide extensive coverage of the 2017 season. Every game will be aired on WIP with additional live pre and postgame shows. Once again, the radio broadcast team consists of Broadcast Pioneers Hall of Famer Merrill Reese, in his 41st year as the voice of the Eagles, and former Eagles wide receiver Mike Quick.
Broadcast Pioneers Hall of Famer Howard Eskin will do live in game sideline reports. Before every Eagles home game, WIP will be live from the stage on Headhouse Plaza at Lincoln Financial Field. Hosts will include Broadcast Pioneers Hall of Fame inductee for 2017 Ray Didinger and others.

By the way, WIP and The Philadelphia Eagles told us that they raised over $200,000 last month. The funds will be used to support the Eagles Charitable Foundation's mission of providing greater access to vision care and autism research in the Philadelphia region.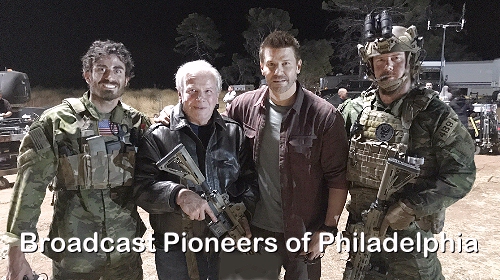 Broadcast Pioneers member Dave Roberts and his son, Actor David Boreanaz
in the California Mountains at night
on location for the CBS TV series "Seal Team"
September 2017
Broadcast Pioneers member Dave Roberts has been out west for the last month or so with his son, David Boreanaz. David's new series premiered last Wednesday on CBS-TV, KYW-TV here in the Philly area. It's on every Wednesday evening at 9 pm. Dave Roberts tells us by e-mail:
in the California desert with my son David on location in the mountains during an overnight shoot. Seal Team premiered Wednesday September 27th at 9pm on CBS. Hope you got a chance to watch. A physically demanding role for him but he's very challenged by it and is working with an excellent production team. Ex-Seals are part of the team and are always there to authenticate the action and dialogue. Lots of hard work but everyone is committed to make this show the best of all their efforts.
Over the summer, we celebrated New Jersey's most revered crop as 102.9 WMGK-FM presented John DeBella's Tomato Fest in Pennsauken.
The South Jersey Food Bank set up on site at the event for attendees to donate fresh produce and canned goods to help the less fortunate in the community. All donors were rewarded with the chance to dunk a member of the John DeBella Show in the dunk tank.

The idea for the event came to DeBella while on the way to the Jersey Shore. Broadcast Pioneers member DeBella said: "Throughout my drive, I came across farm stands selling tomatoes and I thought, with all of these stands and talk about the great Jersey tomato, why isn't there a celebration for this piece of produce."
Broadcast Pioneers member Ruth Leon Weiman has written a 200 page book entitled, "In With a Crash and Out With a Roar: A Memoir." It's available in paperback from Amazon. Ruth is the daughter of Max M. Leon who owned WDAS AM & FM in the fifties, sixties and seventies. One interesting part is about her dates with actor Steve McQueen which she said were fun.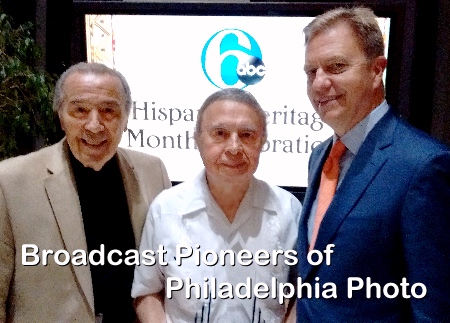 Broadcast Pioneers members Pat Delsi, Diego Castellanos and Bernie Prazenica
(Pat is our Chairman of the Board, Diego is a member of our board and Bernie is President and GM of 6abc)
Main Lobby of WPVI, Philadelphia
Friday evening, September 29, 2017
(Photo taken by Member Gerry Wilkinson, who is our CEO)
Broadcast Pioneers Board Member Diego Castellanos is the host of Puerto Rican Panorama which airs on WPVI, 6abc here in Philadelphia. Last month, Diego and the program celebrated 47 years on the air. Now in its 48th year, the show is the longest running English language program in the world focusing on Hispanic issues and Latin culture.
The start of the show, September 13th coincided with the 23rd anniversary of the first official broadcast of Channel 6 (September 13, 1947). Last Friday evening, WPVI held a gala dinner at the station in celebration of Hispanic Heritage Month and Diego. By the way, this past Sunday, member John Primerano was on Diego's program, "Puerto Rican Panorama." As mentioned earlier, Primerano has a concert on Saturday, October 21st at the Sons of Italy, Lodge 610 in Port Richmond.
Today's News Becomes Tomorrow's History!
(This is what our Digital Archival Project, DAP, is all about!)
Did you know...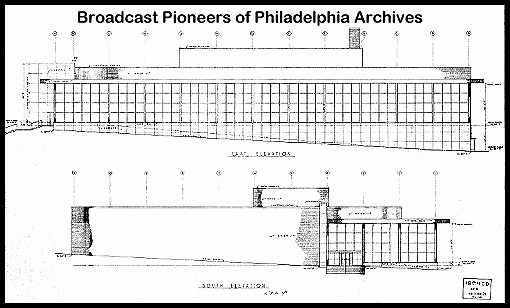 One of the original pages of architect's drawings
WCAU Building
City Avenue and Monument Road, Bala Cynwyd, PA
1951
that records show the address for WCAU-TV is 393 City Avenue. Not City Line, but City Avenue. That's on official records.
The Lower Merion Historical Society believes that the building was designed by George Howe, although no architect's name appeared on any of the drawings. Howe also did (with William Lescaze), the PSFS Building in Center City Philadelphia and the former Evening Bulletin Building at 30th Street. While each building looks different, every one was designed to fulfil the need of the owner. The plans list the contractor as The Austin Company, who specialized, it is believed, in building broadcast structures. No architect's seal appears on any of the drawings.
Promoted as "the most integrated structure of its kind", the new WCAU Building on City Avenue was opened in May of 1952. It sat on a 10 acre site and had a 100,000 square foot physical plant. The building was completely air-conditioned and it was designed so that the facilities could triple in size at some time in the future. That was never done.
The backlot of the station was used as the exterior set of "Action in the Afternoon," broadcast nationally on CBS-TV and originated live from WCAU-TV. In later years, much of the property has been sold off for rental office space.
Over three hundred people were on hand for the grand opening. They included Donald W. Thornburgh, president and general manager of the WCAU stations. Also among the guests were Rosel H. Hyde, Robert F. Jones and George E. Sterling from the Federal Communications Commission. William S. Paley, chairman of the board of CBS was also there as was Justin Miller, president of the National Association of Radio and Television Broadcasters. Robert and William McLean, president of the Evening and Sunday Bulletin newspaper and Philadelphia Mayor Joe Clark. Adrian Murphy, president of CBS Radio and J. L. Van Volkenberg, president of CBS-TV also attended..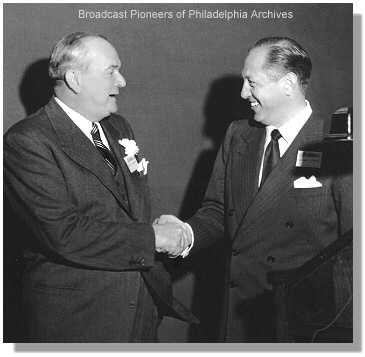 (Left to right) Donald Thornburgh & Bill Paley
The Opening of the WCAU-TV Building on City Line Avenue
Tuesday, May 27, 1952
Here are the remarks of William S. Paley, Chairman of the Board of the Columbia Broadcasting System on Tuesday, May 27, 1952 at the dedication of the "new" WCAU Building on City Line Avenue.
It is with no small amount of personal pride that today I return to Philadelphia, the city where I grew up to pay my respects to WCAU, an old friend.

My relationship with WCAU started with my introduction to the business of broadcasting.

It was just 25 years ago, in 1927, when a WCAU salesman came to call on me at the Congress Cigar Company here in Philadelphia. The station was then located in a hotel in West Philadelphia. It had one studio, not a very large one, and its organization was housed in a few small rooms. I didn't learn about this until I became a customer, for, to continue the story, the salesman sold me a "bill of goods." The "goods" consisted of a 24-piece orchestra, a choral group, a male singer, a girl singer, a master of ceremonies, a guest artist, plus the time period, one hour once a week, and the bill for the whole package came to exactly $50. They didn't give discounts in those days.

(EDITOR'S NOTE: The Salesman was Stan Lee Broza, host of the long running "Children's Hour." Broza was also the very first President of this organization and a founding member).

Before the opening show, I wired our LaPalina distributors telling them of our new radio campaign. I gave them the wavelength and invited them to send their comments and criticisms as soon as possible. As a result, I became WCAU's first dissatisfied customer. That poor salesman. It took him a long time to make me understand why distributors in such places as Denver, Salt Lake City and Seattle weren't able to hear our program.

Well, one thing lead to another and about a year and a half later, the world lost a pretty good cigar-maker, and gained a very frightened broadcasting man.

(EDITOR'S NOTE: At the time, the Levy Brothers owned WCAU Radio. Dr. Leon Levy was married to Bill Paley's sister. The Paleys owned part of WCAU and the Levys owned part of CBS. Both Levy Brothers were founding members of this organization. Dr. Leon Levy was our "Person of the Year" in 1968.)

WCAU has had a glorious history since its early days. The people of Philadelphia and its surrounding territory know well of its many accomplishments, its pioneering spirit, and its consistent determination to serve its listeners with the best in entertainment, information and public service. Broadcasters throughout the country would have no hesitation in naming WCAU as an illustration of broadcasting at its best.

It would take me too long to list WCAU's achievements. Just let me say that within this year alone, it has received seven important awards, an example of the preeminent position it holds in the world of broadcasting.

Back of all this, of course, are people; and it is to them I want to pay tribute. First, Leon Levy and his brother, I. D. Levy, who managed WCAU's destinies for many years. Then with the purchase of the station by the Evening Bulletin, the Messrs. Robert and William McLean and Dick Slocum, who, along with their high ideals, brought to WCAU, the finest traditions of newspaper publishing. Next, Don Thornburgh, President of WCAU, with whom I was happily associated at CBS for many years, and whose drive and ability are made so evident by what is happening today.

(EDITOR'S NOTE: Thornburgh started with CBS within the first few years of the radio network. Six years later, in 1936, he became GM of KNX, the CBS O&O in LA. He also was CBS' key guy on the west coast). He came to WCAU in 1949 when it was owned by the Evening Bulletin newspaper. He later became VP of the paper.)

My tribute also extends to thee many men and women in all the departments of WCAU, who, day by day, give clear meaning to the best high standards of our industry.

Still from the CBS-TV daily live western, "Action in the Afternoon,"
which originated from the backlot of backlot just a year after the building opened

And now today, there comes into operation this magnificent and highly efficient radio and television center, the finest thing of its kind in the country. Philadelphians have cause to be very proud of this structure. And so has everyone in broadcasting, for, more than anything, it represents past accomplishments which deserve the highest praise and a faith in the future which gives encouragement and incentive to us all.

We at CBS are very proud of the happy association we have had with WCAU for the past 25 years. We share with you the excitement and pleasure, which you must feel on this occasion. We wish you every continuing success in the knowledge that in the years ahead, you will never waiver from the high purpose, which has set your course.
This regular monthly column is written and researched by Gerry Wilkinson

Our special thanks go to TUTV - Temple University Television and The Kal & Lucille Rudman Media Production Center.

They have underwritten a grant to be used to fund an entire year of all our newsletters for calendar year 2017. We thank them so much for their support!

You Can Help Us!



When you log into Amazon via http://smile.amazon.com, all eligible purchases earn Broadcast Pioneers a donation of 0.5% from Amazon. However, you must log in to Amazon through http://smile.amazon.com. We have made it simple. You can also log into them using http://www.broadcastpioneers.com/amazon. It's easy to remember and takes you to the same place.
AmazonSmile is the same Amazon you know. Same products, same prices and the same service. The only difference is that they donate 0.5% of your eligible purchases to Broadcast Pioneers. IT DOESN'T COST YOU ANY MORE TO DO THIS! Same price to you and we get a donation to help us continue with all our great educational projects! IT'S WIN - WIN!
MORE DIGITAL ARCHIVAL PROJECT NEWS:
VIDEO: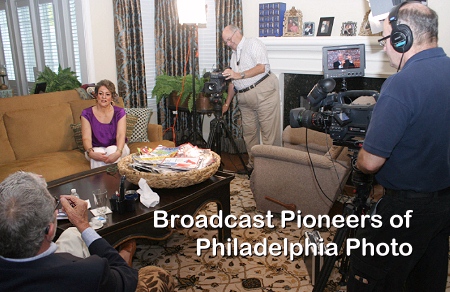 (Left to right) Members Mike Strug, Lisa Thomas-Laury, Steve Sacks and Brad Seecof
at the Mainline home of Lisa Thomas-Laury
Monday, September 25, 2017
(Photo by member Michael Muderick)
On Monday afternoon, September 25th, we recorded another one of our "Pioneers in Philadelphia Broadcasting" programs. Member Mike Strug was the interviewer and he spoke with long-time anchor at WPVI, 6 abc, Lisa Thomas-Laury. It was a fantastic program.
(video courtesy of Broadcast Pioneers VP Brad Seecof and Metramedia Broadcasting & Studios)

AUDIO:
We told you awhile ago that Sue Wright, Nat's widow, donated a couple boxes of old audio reel to reel tapes. They have all been digitized. Not only do they include Nat on WIP Radio where he was a mainstay for a quarter of a century, but also some pre-WIP broadcasts from WWDC in Washington. Here's a cut from a Nat Wright beeper news report about a PTC Elevated train derailment. Can anyone help us date it? We know it's between 1961 and 1968.
Listen in Real Audio!
Listen in Windows Media!
Ice Hockey always seems to be on some people's minds. Because of this, we thought you might enjoy hearing a 13-minute excerpt of a Philadelphia Falcons and New York Rovers (a farm team of the Rangers) Ice Hockey game broadcast over WFIL Radio on February 6, 1946. By the way, if you listen carefully, you can hear Tom Moorehead (the 8th President of the Broadcast Pioneers of Philadelphia) mention a player on the NYC team called "Shero." Tom was talking about Coach Fred Shero who led the Flyers to two Stanley Cups during the 1974 and 1975 seasons. Sorry, only the Real Audio version is available.
Listen to the game in Real Audio!
Remember, History is ONLY What Gets Saved!
(If there were no portraits of George Washington, how would we know what he looked like?)
A LITTLE BIT OF BROADCAST HISTORY!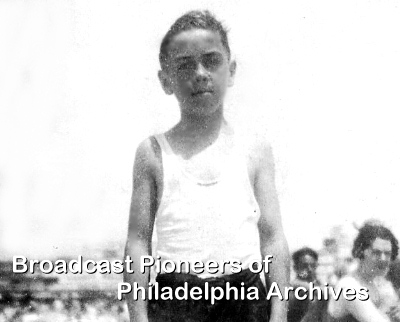 Member Bill Campbell
at the Jersey Shore
circa 1933
IN TOUCH WITH THE INDUSTRY:
Pennhurst Asylum and CBS Radio stations in Philadelphia, Today's 96.5 - WTDY, 92.5 XTU - WXTU, 94.1 WIP, 1210 WPHT and 98.1 WOGL partnered to present the first annual Haunted Hops Festival. The event took place on Saturday, September 23rd at the former Pennhurst State School and Hospital located at Church Street and Bridge Road in Spring City, PA. A portion of ticket sales will go to benefit former residents of Pennhurst.. The festival allowed visitors to sample dozens of the best craft seasonal beers.
NBC10, WCAU announced that two local people are coming home to the Philadelphia area to work at the station. They are meteorologist Steven Sosna and reporter/anchor Dray Clark . A Montgomery County native, Sosna was born in Sellersville and raised in Lansdale, PA. He comes to NBC10 from NBC 4 in New York where he was Senior Weather Producer and fill-in on-air meteorologist for MSNBC. Born and raised in Chester, Delaware County, Dray Clark has worked in television for 17 years. He comes to NBC10 from WABC in New York. Prior to that, Clark worked for five years as a reporter and anchor at KYW-TV here in Philadelphia.
Launched in 2002, "Lights for the Cure," a joint effort by CBS 3 and Susan G. Komen® Philadelphia, will turn the area skyline pink for the 16th year in a row in recognition of National Breast Cancer Awareness Month and to remind women to schedule an annual mammogram.
All this month, buildings and landmarks throughout the region from Lincoln Financial Field in South Philadelphia to the Bethlehem Steel Blast Furnaces in the Lehigh Valley will turn their exterior lighting pink to promote the cause. New buildings joining the campaign this year include The Ritz-Carlton, Philadelphia, the FMC Tower, One Riverside and SugarHouse Casino. Also included are such landmarks as the Battleship New Jersey, Boathouse Row, Macy's Grand Court and the Lits Building.
WE REMEMBER: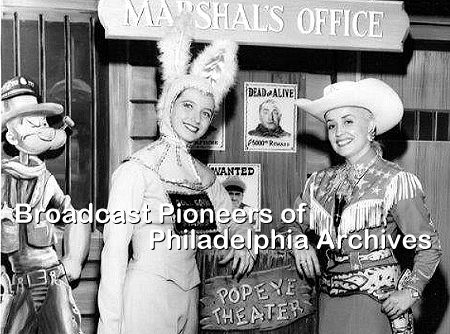 (Left to right) Members Iris Loev and Sally Starr
WFIL-TV, Studio C
46th and Market Streets, Philadelphia
circa 1959
Last month we lost member Iris Loev (pronounced Love). Many of us will remember her as Goldie the Bunny on "Popeye Theater" with Sally Starr on WFIL-TV, Channel 6. Iris represented Gold Square Stamps for both the Food Fair Grocery Chain and Lit Brothers Department Store. Iris is had a cubby next to Dick Clark at Channel 6.
Iris' husband, Arthur, told us a little about their life together. He said:
Iris was born on July 11, 1937 and was just 80 when she passed due to lung cancer. We were married 52 3/4 years and have three children and six grandchildren. I first saw her in a show starring Donald Woods. She played the French maid in it and i told my cousin how lovely she looked and so wanted to meet her. Went back to active duty as i was in the Army.

About 5 months later, my twin brother and sister-in-law happened to meet her as they both had a Metropolitan car which was unique. I called and made the blind date She was gorgeous inside and out. She was on Sally's Show for 4 years and the only other regular live person on regularly besides Our Gal Sal. Her smile lit up the entire room.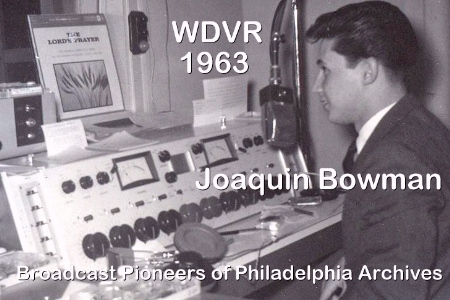 Broadcast Pioneer Joaquin Bowman passed away during the summer. Joaquin had a long career in broadcasting and public relations including the fact that he was one of the first FM disc jockeys in the Philadelphia region. That would be WDVR which today is known as More FM. He was a dancer for a couple of years on American Bandstand. He also worked for WJMJ and WIBF before becoming Director of Public Relations and Advertising for SEPTA.
During his last year or so, Board member Les Waas needed a ride to our luncheons. We asked Joaquin if he could bring him since they were both in the same area geographically. Afterwards, Bowman called and thanked us. He said that Les had such great stories that it was his pleasure to transport Les. After that, Joaquin brought Les to almost every luncheon. They became good friends. One the way to the luncheons, they often sang some of the jingles Waas wrote including: "Everyone you know goes to Melrose" and "Gimme a little Kissling's Sauerkraut."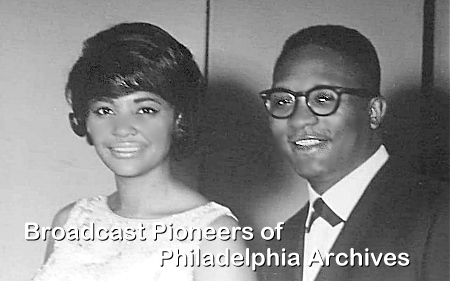 (Left to right) Nancy Wilson and member Reggie Lavong
circa 1962
Reggie Lavong, 83, passed away last month. He became a radio announcer at WRTI when attending Temple University. Reggie was well known in Philadelphia and elsewhere including New York, Los Angeles and Chicago. In the early sixties, Broadcast Pioneers member Len Stevens was looking for investors in what would become WPHL-TV, Channel 17 in Philadelphia. Reggie and his good friend, Georgie Woods each became involved. They were the first black owners of a TV station in the United States. Reggie and his partner Miller Parker purchased WHAT Radio in 1986 and flipped the format to African-American telephone talk. Lavong was a member of the Broadcast Pioneers of Philadelphia.
Though not an employee of the station, Reggie became the voice of WDAS (AM) during its heyday in the early to mid-seventies. Gerry Wilkinson, CEO of Broadcast Pioneers, who was Operations Manager of WDAS at the time recalls: "Reggie was visiting the station to get VP of Programming Jimmy Bishop to play records that Lavong was promoting. Reggie has a deep, rich voice and Bishop sent him over to the production studio to cut the tracks. He was always professional and usually cut everything in one take."

THIS AND THAT! Little Bits of Information....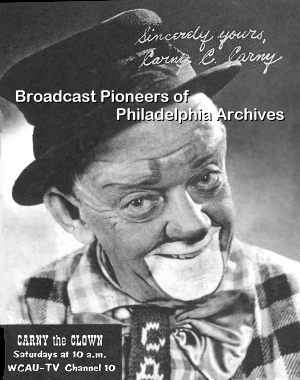 Carny the Clown
WCAU-TV, Philadelphia
circa 1958
In 1940, radio host Bob Horn had a broadcast on WIP Radio called, "What Shall I do?" The program aired on Thursday evenings from 8:15 pm until 9 o'clock. It dealt with advice on family problems and usually discussed six different cases. The announcer for the show was a young guy named John Facenda.
Before it simply became "The Chief Halftown Show," it had a different name. Chief Halftown's daily telecast was on WFIL-TV, Channel 6 and was called, "Pony Express." Often, the Chief would make guest appearances at the old Woodside Park. Later, the amusement outlet became the home of the studios and towers of WDAS Radio.
The beginning of 1941 saw the announcement that the Mutual radio affiliation was moving from WFIL Radio to WIP. WFIL was an affiliate of both NBC Blue's network and Mutual. However, because of having two network affiliations, many of the Mutual shows had to air elsewhere and that was WIP.
In 1932, WCAU Radio did an experiment. Announcers could only mention their names at the end of a radio broadcast. It was a three month trial started by the station's program director, Stan Lee Broza. It didn't last long.
In March of 1977, WFIL Radio ran an ad saying: "Big Bucks for a pro in the tradition of Dr. Don Rose and Jim O'Brien. WFIL is looking for a very special person to do mornings. Send an aircheck to Jay Cook, Program Director, WFIL Radio.
In January of 1952 (before his TV Bandstand days) WFIL broadcaster Bob Horn was manager of a local comedy team of Layne and Hines. Bernie Hines owned a TV and drama school in the city.
And speaking of Bandstand, when the program first went on the network, 67 stations carried the broadcast. However, they quickly took notice when Dick Clark pulled 900,000 letters in two weeks in response to an American Bandstand contest.
On January 18, 1971, a new local program started on Channel 6. It was called, "Al Alberts' Stage 6." It was originally a half-hour in length. Backing up Alberts was sidekick Bob London and the Showstoppers. The program ran for three decades.
Now, we know member Sid Mark as the host of the long-running Frank Sinatra program. However, in 1974, a trade paper referred to him as the Dean of the Jazz DJs. It was that year that Mark started his WHYY-TV program, "The Mark of Jazz." The show ran for 13 weeks and first aired on October 2, 1974, when his special guest was Buddy Rich.
THANKS FOR THE MEMORIES:
Soul for Sale!
(The Story of Ed Eisen)
Broadcast Pioneers member Ed Eisen's career in communications spans 52 years. He worked in radio, television, newspapers and pubic relations. He was a top 40 DJ, a TV producer, booth announcer, career counselor and read books for the blind. Ed wrote a book called "Soul for Sale". It's his life story. You can read his bio here! We thought you would enjoy hearing about how he first got started in the business. We present it in three parts. The first installment is presented this month with the other two in months to come. His tale starts this way:
The road from the graduating class at Camden High School in 1954 to the general assignment desk at The Philadelphia Inquirer took 12 years. It was a path littered with more than a few twists and turns.

The fact that I got there at all is not a tribute to great writing talent. There were far better scribes who stumbled, smarter entrepreneurs who bombed and dulcet toned DJs who crashed. Mine was a journey that straddled all these slippery slopes.

That I succeeded at all over these 52 years is a tribute largely to one thing: dogged persistence. Many quit after rejection. I survived because I strived to seek the next 'yes' after enduring scores of 'nos.' I learned in my teens when I hawked Fuller Brushes, that life, like sales, is a numbers game. Hang in long enough and a door is likely to open. The key: keep knocking. From early on, my career target was radio. Only later did I see journalism as a path more stable.

My earliest passion was to someday study at the Pasadena Playhouse in California. Perhaps write a screen play. That was not to be. It has been said if you aim at nothing, you will succeed at hitting nothing. So I pursued radio with a passion, discovering later that a far better strategy is to build a reputation as a print journalist. Once I arrived, it didn't take long to figure out that broadcasting, as exciting a career field as it may appear, can be a highly discouraging pursuit, akin in many ways to answering a cattle call as an actor. You stand atop the heap today. Tomorrow a better voice, a smoother style, a prettier face enters. Suddenly you're out. Out as in canned, dispatching tapes and resumes again. Let me tell you what radio was like when I started back in the mid-50s.

Television was coming of age. Radio was in a struggle for survival, just as newspapers are today. Soap operas, including my beloved Lone Ranger, were vanishing from the AM dial. The sound of hooves were heard again but this time as moving pictures on tiny screens. What emerged was a hip-swinging Elvis Presley, the Beatles and dozens of other white entertainers who began to mirror black rhythm and blues singers. A guy by the name of Gordon MacClendon sat in a restaurant one day and noticed that teens, soon to be known as baby boomers, would play the same songs over and over again on the jukebox. Why not make radio programming like that, MacClendon reasoned. His formula worked: the repetition of short play lists saved local radio from extinction. A new concentration on delivering local news began to dominate the airwaves. The deeper, the brassier the voices, the bigger the audience. Philadelphia, like other major metro areas, had radio stations building their brand on top hits and big personalities.

It was in this milieu that my radio career was launched first in high school, then as a freshman at WRTI at Temple University, and then at WWBZ, a small 1,000 watter in Vineland, N.J. Egg farmers were its prime commercial audience. I remember bombarding the station with phone calls and letters while working the night shift as a copy boy at the old Philadelphia Daily News. Nothing seemed to work. Later the station manager told me it was my persistence that won the day.

My paycheck was $55 a week. My job was to ferret out local news, work weekends and take the trash out at night. The summer passed and as I was preparing to enter my sophomore year at Temple University, WWBZ fired its morning DJ. I was offered the slot and decided to stay. I remember how my mom, a lady with only a 4th grade education, pleaded that I remain at Temple. Years earlier this diminutive woman from Latvia labored long hours as a seamstress in New York's overcrowded garment industry. Lillian Koppel innately understood the value of an education. Sadly, I failed to heed her pleadings. My thirst for broadcasting overcame her objections. It was a thirst born of the same dreams that propel others to New York and Hollywood for careers in show business. Call it the 15 Minutes of Fame Syndrome, a condition more often than not terminating with a curtain that never rises.

My schedule at WWBZ went something like this: Get up at 4:30 a.m., get dressed, drive off the farm on which I lived while making an effort to avoid hitting the chickens on the way out. I would open the station at 5:30 a.m. At 6, I would start spinning records, announce egg prices and tout Purina chow.
More Herb Clarke's Garden Reports!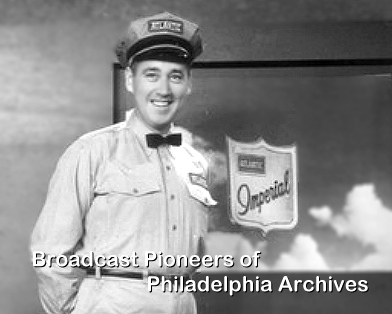 Member Herb Clarke
"Your Atlantic Weatherman"
WCAU-TV, Philadelphia
circa 1958
We have in our archives, every garden report script that member Herb Clarke wrote when he was doing "The Garden Report" on KYW Newsradio. He did them for years. We thought you might enjoy three of them from October of 2002. Herb was our "Person of the Year" in 1991. Clarke also served as President of this organization during 1988 and 1989.
October 3, 2002
Landscaping - especially with trees – can spurt in growth in a few years and upset the best-laid plans for the yard. Where you once planted sun-loving flowers and green lawn is hidden now by shade trees, and the ground is largely bare. You have a challenge here, but it's also an opportunity to create a backyard oasis – cool, colorful and relaxing.
Do some planning and make friends with an expert at a good garden center and ask for advice. This is a good time of year for that.
You might consider putting in a small pond. Garden centers have the plastic forms, the little pumps, the water plants and the how-to directions.
Add good topsoil, several inches of it, where you'll be planting and decide what to plant and where. Hostas and ferns are ideal for shady areas. Ivy, too. A lot of flowers do their best in shade: Impatiens, Begonias, Crested Iris, Native Phlox and Columbines.
How about a little path and maybe a bench? 'Cause I think you'll be spending time in the shade garden on hot summer days.
October 8, 2002
Plant grass when Mother Nature does – in October. Your lawn is re-seeding itself now. If it needs help for bare or thin spots, heavy wear or play areas, you probably need to seed this month.
As a homeowner, nothing you buy all year is as important as grass seed. The lawn is "stage" for the home and garden. Here are a few things you should know:
The bag or package of grass seed comes with a label: where it was grown, what type seed it is, the varieties, the mixture – that is, an annual which gets you started and dies or a perennial which stays with you.
The label also tells you the percentage of seed which will germinate.
There's a listing of "crop seed," such as clover and bentgrass. Look for less than three-percent "crop grass."
High quality grass seed will have very little weed seed. On the label, less than point-five percent weed seed is about as good as it gets.
October 14, 2002
Clay soil may be rich in nutrients, but its particles are so tightly packed it's tough for roots to move through them. But don't give up hope. Clay soil can be loosened for better drainage and changed to a good gardening medium.
Don't use sand, though. Sand may make clay soil even worse by compacting the clay tighter, causing less drainage.
So, how do you loosen tight clay soil? With organic matter in any form, including peat moss, leaves, sawdust, rotted manure, and compost. Work a mix of these deeply into the soil, digging it into the heavy clay.
Another thing: Add gypsum. Gypsum is neutral and inexpensive and it has the ability to make very fine clay particles lump together to create bigger particles, more pore space and looser soil.
Do it now, in October, and again in the spring and you'll have far better garden soil.
What Would Become an Entire School at Temple University!

From volume 1, number 8, the November - December 1946 issue of the WFIL Time, a house organ for the WFIL stations.
Armand Hunter Named Director
of the Temple University Radio Department
(out of this came the beginning of WRTI)
Temple University's new department of Radio, Dramatics and Speech, which is being established in cooperation with WFIL, will be in full operation at the start of the February semester. Armand Hunter, chairman of the department of radio at Northwestern University, has accepted the post of chairman of Temple's new department.
Delayed by the shortage of materials and building space, the proposed campus workshop and studio are now planned, and the entire course has been outlined.
Students enrolling in the Temple radio department will receive instruction in "Introduction to Radio," "Public Speaking," "Elementary Acting," "Radio Speaking," "Radio Writing," "Radio Production," "Voice and Phonetics," "Argumentation and Discussion" and "Current Broadcasting Problems."
The four-year course will be rounded out with basic background subjects and graduates will receive a Bachelor of Science Degree.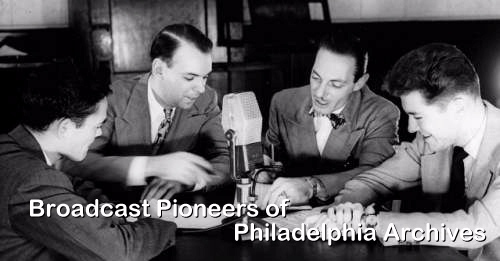 (Left to right) Romulo Soldevilla, instructor; John Roberts, director of Radio-TV
Armand Hunter, department chairman and David Davis, graduate student and later instructor
The basement studios of WRTI
Thomas Hall, Temple University
circa 1948
Mr. Hunter comes to Temple and WFIL with a wealth of experience in both radio and education. A graduate of the University of Nebraska, he taught radio, public speaking, theater, and interpretation there for four years. He has been on Northwestern's radio staff for five years, and has been chairman of the department for three years.
He has been director of Northwestern's NBC Summer Radio Institute and of the University's radio Playshop since 1943. At the same time, Mr. Hunter has acted in dozens of network dramas and has done radio production work for many Chicago and Nebraska radio stations.
Under the agreement reached by WFIL and Temple last March, the radio station will set up and equip the studio and workshop on the campus. Likewise, WFIL Staff members will aid the department by giving counsel and assistance to students. Programs of merit developed at Temple will be given an outlet through WFIL and WFIL-FM.
OUR HATS OFF TO YOU FOR GIVING:
We would like to thank the following for their contributions donated at our September luncheon. They include: Andrea DeFabio, Art Wilson, Bill Kelley, Bill Shusta, Diego Castellanos, Dorie Lenz, Gerry Wilkinson, Janice Collins Irby, JR Russ, Kal Rudman, Lucille Rudman, Linda Munich, Liz Matt, Marilyn Thomas, Mike Bove, Paul Big Bear, Phil Shuman, Ron Corbin, Sandee Bengel, Steve Sacks, Steve Tatz, Todd Tuckey and Pam Tuckey.
We appreciate that when John Ostapkovich and Damon Castle became members, they included a contribution. By the way, those who have sent (and will send) a contribution to our banquet fundraising fund will be thanked in our December newsletter. That way, we will thank everyone at one time so we don't forget anyone.

We are a federally recognized, state chartered charity with a 501(c)(3) status. Contact us at (856) 365-5600 or e-mail
pioneers@broadcastpioneers.com
for more details. Your gift to Broadcast Pioneers will help us and may lower your federal income tax. That's win-win, isn't it?
Special Thanks (in alphabetical order) for the gift of Appreciated Stock: (a federal tax advantage for the giver)
Member Marc Howard - $3,600 (put into our general fund to be used where needed)
Member Sylvia Kauders - $5,159.45 (used for the scholarships listed below)
Special Thanks (in alphabetical order) for contribution of $1,000 or more to our DAP, Digital Archival Project:
Member Johnny B. Hall and wife Ginny - $3,000
Member Jerry Del Colliano - $1,500
Member Harry Hurley's Golf Tournament - $1,000
The Shunfenthal Family (in memory of Sherri Shunfenthal's father, Les Waas) - $2,000
Member Marlin Taylor - $1,000
Special Thanks (in alphabetical order) for contribution of $1,000 into our General Fund to be used where needed:
Member Art Moore - $1,000
Special Thanks (in alphabetical order) for April 2018 Scholarships:
Member Sylvia Kauders - 1 scholarship (from a grant for 5 yearly scholarships running until 2019)
The Shunfenthal Family (in memory of Sherri Shunfenthal's father, Les Waas) - 1 scholarship
Member Harry Hurley's Golf Tournament - 1 scholarship (for a Stockton University student)
Member Kal Rudman - 5 scholarships (for Temple University students)
Member Marlin Taylor - 1 scholarship
Member Johnny B. Hall and his wife, Ginny - more scholarships for 2018
Member Alan Tripp - 1 scholarship in honor of his 100th birthday
Special Thanks (in alphabetical order) for a contribution of $500 or more to our DAP, Digital Archival Project:
Member Lauren Lipton - $500
Bequests in their Will:
Member Sylvia Kauders passed away earlier this year. In her will, she bequest to the Broadcast Pioneers of Philadelphia, the amount of $5,000. This funding is to be used to underwrite one scholarship per year until gone. These scholarships will start in the year 2020 and continue until 2024. From a previous gift, Sylvia has underwritten one scholarship a year starting in 2015 and continuing until 2019.

Member W. Carter Merbreier passed away a couple of months ago. In his will, he bequest to the Broadcast Pioneers of Philadelphia, the amount of $1,000. This funding is to be used to underwrite one scholarship which will be awarded in April of 2017.
Underwrite a complete scholarship and we'll give you credit in the electronic newsletter until the scholarship is awarded in April of 2018. Give us a donation of appreciated stock of $2,000 or more) and we'll list you in our "Thank You" column for two years. Give us a donation of $1,000 or more and we'll list you in our "Thank You" column for a year. Give us a donation of $500 or more and we'll list you in our "Thank You" column for six months. You can select how we use the money: for our archival project, for scholarships or for our general fund to be used as needed.
More Thanks:
A growing portion of the revenues that fund the different activities of the Broadcast Pioneers comes from donations. This includes our archival project and our scholarship program. Now, we are making it even more beneficial for our donors. Broadcast Pioneers is now able to accept gifts of appreciated stock, which provides a significant tax benefit to you. By giving appreciated stock (stock which is worth more now than what it cost when it was purchased), you can get a charitable contribution tax deduction based on the current market value of your stock. At the same time, you avoid the capital gains
tax that would arise if you simply sell the stock. So if you'd like to support our educational mission or our archival project and save money on taxes too, please consider making a gift of appreciated stock. We are a federally recognized, state chartered charity with a 501(c)(3) status. Contact us at (856) 365-5600 or e-mail pioneers@broadcastpioneers.com for more details.
Don't be left out. You too can make a pledge. It's never too late. You can earmark it for scholarships, our Digital Archival Project or our general fund. Thanks so much for your support. If you forgot to make an extra contribution (cash or memorabilia) and would like to do so now, you can do so. We would be thrilled to hear from you at: PO Box 2886, Bala Cynwyd, PA 19004, call us at (856) 365-5600 or e-mail us at: pioneers@broadcastpioneers.com.

A FINAL THOUGHT....
Broadcast Pioneers member Joe Ball, founder and continuing president of Act. Inc., a 61 year old marketing company, says: "I still have the fire." Joe is 88 years old. He's running commercials on WWDB, 860 on the AM dial. The spots advertise his services. He says on the ads, "I am 88, Call me quickly, for obvious reasons."
Member Joe Ball
September 2017

Please contact us by e-mail at pioneers@broadcastpioneers.com or by mail to: Broadcast Pioneers of Philadelphia, PO Box 2886, Bala Cynwyd, PA 19004. Your stories are important, to you, to us, and your colleagues. Contact us today and we'll include your story in the next newsletter!

© 2017, Broadcast Pioneers of Philadelphia
All Rights Reserved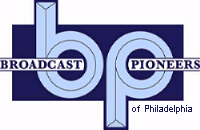 The e-mail address of the Broadcast Pioneers of Philadelphia is pioneers@broadcastpioneers.com
For luncheon reservations call (856) 365-5600 or e-mail us at: rsvp@broadcastpioneers.com