The Broadcast Pioneers of Philadelphia is a federally recognized, state chartered 501(c)(3) non-profit corporation serving Philadelphia since 1962.

Ed Eisen
News Editor

Annual Banquet
The Hilton City Avenue
Friday, November 22, 2013

Doors open at 5:45 pm
Reception at 6 pm
Dinner at 7 pm

Advance Tickets Required!
Ratecard: $85 for member
Everyone else: $95 each
Our 2013 Person of the Year is TOM MORAN!
Plus a Star-Studded cast of inductees
to our HALL OF FAME!
Annual Banquet!
Friday, November 22nd!
Tickets On Sale Now!
Tickets Must Be Purchased in Advance!
None available at the door!
347

tickets already sold!
Send in for yours today!

The date is Friday evening, November 22nd!
The 2013 "Person of the Year" is our very own Tom Moran, a long-time member of the Broadcast Pioneers and air personality at WIP Radio and WPEN.
The living inductees into our 2013 "Hall of Fame" class are (in alphabetical order):
Louise Williams Bishop, Philadelphia's Gospel Queen Air Personality for 50 years
Danny and the Juniors, Legendary rock & roll group, famous for "At the Hop"
Sid Doherty, longtime WCAU-TV and WPHL-TV announcer and sports anchor
Jimmy Hirschfeld, Emmy award winner, former PD at WCAU-TV, Channel 10
Harry Hurley, 25 year veteran of the leading local talk show at the Jersey Shore
Dr. Brian McDonough, physician and longtime medical reporter for KYW Newsradio
Nora Muchanic, longtime New Jersey correspondent for WPVI-TV, 6ABC
Mike Nise, producer/director for "Dancin' on Air" and "Dance Party USA"
Kathy Orr, Emmy-winning meteorologist for KYW-TV (CBS 3) & the CW Philly
Bill Roswell, 30 year veteran at KYW Newsradio, now Director of Digital News
Vai Sikahema, former NFL player, now news/sports anchor for WCAU, NBC 10
Len Stevens, co-founder of WPHL-TV and president of Tower Economics
HALL OF FAME (POSTHUMOUS - in alphabetical order):
Dick Clayton, former WIP/WPEN radio air personality & voice-over announcer
Harry Harris, former TV reporter for the Evening Bulletin & Philadelphia Inquirer
Doug "Bud" Hibbs, in the biz for over 75 years at several different stations in town
Les Keiter, former Sports Director/Sports Anchor for WFIL-TV, now WPVI-TV
Cal Milner, former WPEN Radio co-host of the ever-popular "The 950 Club"
Rex Morgan, former TV air personality and kids host for WFIL-TV, now 6ABC
Bill Russell, stage manager, technician for WFIL-TV and later 6ABC, WPVI-TV
Jean Shepherd, former KYW Radio & later WOR talk host for many decades
Hank Sperka, former beloved WPVI-TV, 6ABC news reporter and news anchor
Dave Zinkoff, former PA announcer for the Philadelphia 76ers basketball team
TICKETS ARE ON SALE NOW! Prices are $85 for members (each member can buy ONLY one ticket at the member price) and $95 for everyone else (including spouses, friends and guests). The event will once again take place at the City Avenue Hilton, 4200 City Avenue, Philadelphia. The date is Friday, November 22nd. The reception is at 6 pm and dinner is served at 7 pm. Doors open at 5:45 pm. Cash Bar all night long. Valet parking is $10. Event lot parking is $5. Make plans to be there! TICKETS ARE ON SALE NOW! A major portion of the ticket price may be deductible on your federal income tax. Ask your tax advisor for details!
DINNER MENU (subject to change)
Salad:
Tossed Garden Salad with Raspberry Vinaigrette or Ranch Dressing
Entrée:
Boneless breast of chicken, apples and seasoned corned bread filling with plenty of pan gravy. Seasonal vegetables and roasted potatoes with warm bakery rolls and creamery butter.

OR

Vegetarian entrée tower, cous cous and tomato basil sauce. Seasonal vegetables and roasted potatoes with warm bakery rolls and creamery butter. (If you prefer the vegetarian meal, just tell your server.)
Dessert:
Lemon cheesecake with strawberry sauce

OR

Fruit cups (these are very limited and are for those on special diets only)
Drinks:
Fresh brewed coffee, decaffeinated coffee, tea and water
Cash bar all evening long
WE WANNA SEE YOUR FACE IN THAT PLACE!

Visit Our Website Often - http://www.broadcastpioneers.com

WELCOME NEW MEMBERS:
FULL MEMBERS:
Well, our September luncheon was a tribute to WPHL-TV, Channel 17. We are delighted to welcome into Broadcast Pioneers membership Mr. Sandy Kerr, who is employed by WPHL-TV as an engineer. He started working there in 1977. Thirty-six years later, he's still there. He started in the business in 1972 in Southern Florida, where he worked for educational and public television. We are delighted to him in our ranks. Welcome, Sandy.
Another one of the broadcast technicians that keeps everything running smoothly at Channel 17, WPHL-TV here in Philadelphia has joined. His name is Steve Leff. He's been in the business since 1975. That's thirty-eight years, almost four decades. We are also thrilled to have Steve in our membership.
Larry Haynes has been a lighting designer and Lighting Director for WPVI-TV for the last two decades. He designs lighting for a majority of the shows produced by Channel 6. Before coming to WPVI, he held the same post for Black Entertainment Television in Washington, DC. Before that he was with WHMM-TV, the PBS station in DC, and was the Lighting Director for the Christian Broadcasting Network in Virginia Beach.
Eleanor Jean Hendley started in the business in 1975. She is an Emmy Award-winning former TV news journalist & public school educator who created nationally-recognized empowerment programs for adolescent girls. She isthe founder & CEO of Teenshop & EJ Hendley Consultants. She worked at KYW-TV for more than twenty years as a reporter, producer & air host. She was named one of the Most Influential African Americans in the city by the Philadelphia Tribune.
Leonard Friedman has been in the industry for more than 3 decades. Some of his work includes documentaries about Holocaust survivors. He has also worked on educational material and productions for Fox Children's Entertainment. His present day activities including producing documentaries for Fox. He has also done work with Broadcast Pioneers member Pearl Polto, who suggested that he become one of our members.
Linda Penney has been in our industry for thirty-one years. She is an award-winning conceptual copywriter and copy director and has worked with some of the major Philadelphia agencies for over a quarter of a century. Currently, she is an independent consultant for Philadelphia-area advertising and marketing communications firms. Clients have included Delaware County Community College, National Penn Bank, Comcast, LaSalle University, Penn State and Campbell Soup.
We are thrilled to have these new members. 497 Members. More than ever. We hope to see as many of our members as possible at our May Luncheon.
DIGITAL ARCHIVAL PROJECT NEWS:
VIDEO:
(left to right) Jim O'Brien & Dave Roberts
The 61st annual Gimbels Thanksgiving Parade
Thursday, November 27, 1980

Santa Claus
The 61st annual Gimbels Thanksgiving Parade
Thursday, November 27, 1980
The Gimbel Brothers Department Store chain was the largest in the world and had 36 stores throughout the country. Started in 1887, the operation would last a hundred years before going through liquidation. The company owned three radio stations, WGBS in New York, WCAE in Pittsburgh and WIP here in Philadelphia. The annual Gimbels parade started in 1920 here in Philadelphia. Santa would arrive in Philadelphia and his float would come down the Parkway and then go to the 8th and Market Streets Gimbel Store where Santa would climb a Philadelphia Fire Department ladder and enter the department store through an upper floor window.
Families of Gimbels' employees were allowed to bring their children into the store and watch Santa come in the window from inside the store. Our Chairman of the Board was one such child. His grandfather, T. Lawrence Rhoades, worked as a security guard for WIP Radio (which was then part of Gimbels). Gerry said: "It was a thrill to actually see Santa come in the window. I must have been 4 or 5 at the time. I also got to see WIP. It was the first time I ever saw a real radio station."
By the way, Gerry's mother, Virginia Rhoades (at that time) sang on The Uncle WIP radio program when she was nine. At that time, Lawrence was a manager of an American Store (forerunner of ACME Super Markets). When he suffered a heart attack, the company fired him because he could no longer lift heavy boxes and that's when he became a guard.
Well, anyhow, back to the parade. This is a real find. Our recording came direct from the original 2" video tape aircheck recorded at WPVI. The parade at that time was 90 minutes long and on this particular date, it went long and ran into part of the noon Action News broadcast. The quality is the tape is excellent and is a real treasure. We have the entire parade (including commercials) digitized in our video archive.
Until now, this is the only known copy (although home video taping was just starting). Certainly, it is the highest quality recording in existence as it is broadcast quality. Our clip is 7:39 in length and starts with member Lisa Thomas-Laury doing an announcement for Jefferson Hospital. In our opinion, the Real Video version is clearer and better quality.
Watch in Real Video!
Watch in Windows Media!
AUDIO: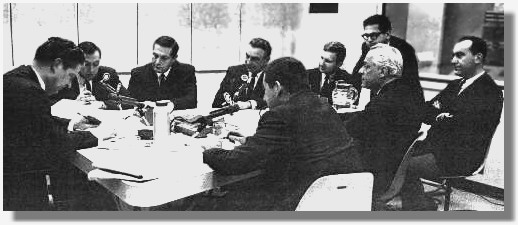 The Evening Edition Radio News Team (WCAU Radio)
(Left to right) Broadcast Pioneers member Taylor Grant, Tom Spence, Mike Stanley, John Facenda, John Clough
Gary Sherpard, Broadcast Pioneers member Dr. Charles Lee, Norm Fastow and Dan Curtis
circa 1965
Here's a real find. It has been available on our website for a decade now, but this is the first time that it is available in the Windows Media format. This video dates from November 22, 1963. Barry Reisman, a member of our current board of directors, placed a seven inch reel of audio tape on his home tape machine and air checked WCAU Radio. Because of this, we have several local clips from coverage of the assassination of President John F. Kennedy. During this time, WCAU, 1210 on AM and WCAU-FM, 98.1, were simulcasting. Today, the stations are known as WPHT and WOGL. The first cut we have is a 24-minute segment from "Evening Edition," a mainstay on WCAU for years during afternoon drive and the dinner hour. On this broadcast, we hear Broadcast Pioneers member Taylor Grant, George Lord, Mike Stanley and John Clough.
Listen in Real Audio!
Listen in Windows Media!
Next is another cut, about six and a half minutes long from a little later on that same day. Heard on this excerpt is Taylor Grant, Broadcast Pioneers member Charles Lee, George Lord, Mike Stanley and Joe Livingston from the Evening Bulletin, a daily newspaper in Philadelphia.
Listen in Real Audio!
Listen in Windows Media!
Cut #3 (5 minutes and 27 seconds long) features a WCAU icon: John Facenda. Although mainly known for his TV work, John also did radio work on WCAU Radio.
Listen in Real Audio!
Listen in Windows Media!
The last cut from that day also features Broadcast Pioneers member John Facenda, plus Dan Cryor. It's 11 minutes and 44 seconds in duration. It starts with something rare, a live ID for both AM & FM done by Facenda.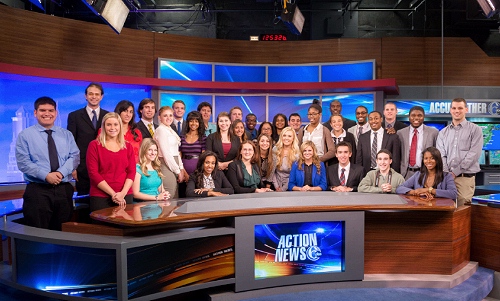 Students in the Action News newsroom
WPVI-TV
at the Broadcast Pioneers Symposium
Saturday, October 26, 2013
Photo by Andrey Kolyada
You can see more pictures and watch videos from our symposium. This includes a tour of the station. All the information is available right here!
IN TOUCH WITH OUR MEMBERS:
Expect to be enchanted! Can you guess who'll be "flying" into New York on Thursday, December 19th to spread her "magic" at 54 BELOW, the hottest Supper Club in the Big Apple? Of course, it's everyone's favorite pixie, Pixanne (Broadcast Pioneers member Jane Norman). She'll be making her New York debut at 54 BELOW, with a brand new show that is sure to wow NY audiences, as well as her many fans who will travel to be enchanted once again by their childhood idol. To make Reservations and find out more info, go to: www.pixanne.com or call (610) 622-1899. Ticket price includes Private Bus Transportation. No hassles! No parking worries! Just a fun-filled, affordable, fantastic adventure. Join Jane and special guest star, Paul Jost, for a "Holiday Evening of Love."
We heard from member John Brown, Senior Studio Anchor and Chief Meteorologist for Total Traffic and Weather Network. He is retiring. His last traffic report was last Thursday at 5:52 pm on KYW Newsradio. Brown has done both weather and traffic. John adds:
Back in the late 90's, I was doing weather for WJBR (rip and read) when the PD who was doing the morning asked me about a Nor'Easter. I just happened to be watching the Weather Channel and was able to flub my way through an answer.

I decided after that never to get caught with my (weather pants down) and enrolled in the Broadcast Meteorology program as a distant student. Four years I received my BS in Geo Sciences from Mississippi State University.


I started to do weather for other stations (WDAS AM/FM, WWDB-FM and WXPN-FM) winning two best weather forecaster Air Awards to go along with my four best traffic reporter air awards and the achievement in radio award. (Sorry about the shameless plug).

After 44 years in radio, I have decided to hang up the headphones and turn off the mic. It's been a great run but time to move on. I'll be busy writing a book (not about traffic) and traveling to Scotland to do family research. Will also find time to work with disabled youth.

When I was a young boy, there were no disabled folks that I knew of I could look up to. I also remember like it was yesterday when I said I wanted to be a DJ. I was told you can't do that because you're ....! Here I am 44 years later, retiring after having a great career. I must say I enjoyed proving them wrong. I want disabled kids to know not to be afraid to try and that you CAN do it!
Broadcast Pioneers' Chairman of the Board Gerry Wilkinson and his wife Michele went to the Country Squire Diner and Restaurant in Broomall one Thursday in October. Who was having lunch there? Only the legendary folk music DJ Gene Shay and his wife! Also in the restaurant enjoying his noontime meal was the Governor of Pennsylvania Tom Corbett. Gerry and his wife sat across the aisle from the governor's security detail. Not sure why Corbett was there but he was having lunch with one guy and eight young women.
Broadcast Pioneers member John Cardinal Foley was our "Person of the Year" in 2011. He passed away shortly thereafter. He was the Pope's right hand man for decades. He also had a broadcast career before and after entering the priesthood. He did the commentary yearly on the Christmas Eve Vatican service on NBC-TV. St. Charles Borromeo Seminary in Lower Merion has created the John Cardinal Foley Chair of Homiletics and Social Communications. This faculty position is the only one of its kind in seminary or university education. The first appointment to the chair is the Rev. Thomas Dailey, a priest in the Oblates of St. Francis de Sales.
Jim Glogowski, who recently joined Broadcast Pioneers and attended our October luncheon, was featured in an article with Radio World. In it, he talks about the future of AM broadcasting and much more. A little while ago, he met with FCC Commissioner Ajit Pai. You read all about this by clicking here!
Broadcast Pioneers board member Kal Rudman is back to his old tricks. He is showing his support for the Philadelphia police department by purchasing ads on billboard and ads in newspaper. Kal is responsible for recruiting new police officers who currently live outside Philadelphia but are willing to relocate to the city. A couple of weeks ago, Rudman sponsored a breakfast for police officers from around the country. So, if you ever run afoul of the police in Philly, you know what to do. Like they say, "Who you gonna call?" Well, it's not Ghostbusters.
It is no secret that Broadcast Pioneers member Larry Kane, dean of Philadelphia's news anchors, will co-host again this year's Broadcast Pioneers Person of the Year/Hall of Fame Awards banquet. But the big story is that Larry has released his 5th book, "When They Were Boys." The book presents the true story of the Beatles' rise to the top of charts.
Kirkus, a reviewer of books, reports that Kane chronicles many characters and moments in time that shaped the Beatles into the band that rocketed onto American shores in 1964. "Despite being occasionally starry-eyed and corny, Kane writes with an evocative clarity, attention to detail and familiarity," says the magazine publisher, recognized as one of the most trusted and authoritative voices in book discovery.
Last week, member Karen Scioli celebrated her high holy day, Halloween. You remember her from "Saturday Night Dead" as Stella. Well, she just recently hosted our October luncheon as Rere Dinucci (a character she does on WOGL's morning drive show. Karen told us she had a great time at both our luncheon and during Halloween. Her credo at the end of October is "A-Haunting She Will Go." She also says she's available for hilarious Murder Mysteries and Comedy Roasts.
WE REMEMBER:
Steve Porter, 73, passed away late in September. Steve was the very first anchor on KYW Newsradio in September 1965. A couple years later, he had the same honor at WCBS Radio. Later, Porter went on to be the White House correspondent for NBC News. He retired twenty years ago and moved to Myrtle Beach, SC where he purchased part interest in WRNN Radio there. For many years, he was the drive time morning host on their news and conversation program. He died shortly after having heart surgery.
ON THE HEALTH FRONT:
We heard from Broadcast Pioneers member Gil Thompson who tells us that his wife of 61 years, Emalee Earon, is not doing well. Gil says: Emalee was a finalist in the Philadelphia Orchestra "Voice of Tomorrow" competition judged by our 1979 Person of the Year, Eugene Ormandy. She sang opera both here and abroad. Emalee and Gil sang regularly on "Hi, Neighbor," a WCAU Radio broadcast with Ralph Collier.
Suddenly in March (after actively singing at dinner and in church), her dementia took a nose-dive! Em went from walking normally to a walker to a wheelchair to our nursing home! Today, Emalee can't read, can't write and sadly she can't even sing "Jesus Loves Me" in church.
ANYONE HAVE A D2, D3 OR M2 (Panasonic) VIDEO TAPE MACHINE?
Broadcast Pioneers is looking for working D2, D3 video tape machine to be used in conjunction with our DAP, Digital Archival Project. We also have need for a working M2 (Panasonic) machine. If you have one (or more) to donate, please let us know. You can contact us at (856) 365-5600 or e-mail us at: pioneers@broadcastpioneers.com
BROADCAST PIONEERS' MEMBERSHIP DIRECTORY!
Our 2014 Broadcast Pioneers Membership Directory has just been mailed. If you are not retaining your old version, please dispose of it properly by shredding it. Remember, it contains confidential contact information for all our members - including you!
VISIT THE NEW BROADCAST PIONEERS' YouTube CHANNEL!
Yes, Broadcast Pioneers now has its own YouTube Channel. You can go in and watch many great videos. We'll be adding more to it all the time. There's interviews with people like Ed Hurst plus our luncheons and more. Check us out on YouTube at: The Broadcast Pioneers YouTube Channel!
Did you know...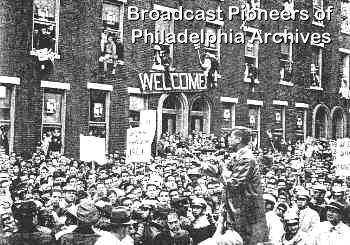 Senator John F. Kennedy at Temple University
Williams Hall on Park Avenue
North Philadelphia
Wednesday, October 31, 1960
Shortly after 3 pm, Senator John Kennedy motorcaded up Broad Street and arrived on the campus of Temple University. Less than a half-hour later, at 3:30 pm, the future president spoke on what is now known as Park Mall. It was a cloudy, misty afternoon with light rain from time to time. Just to the west of Curtis Hall, a wooden temporary platform was erected. Curtis Hall on one side and Williams Hall on the other. Williams Hall at this time was a men's dorm and Park Avenue still a city street. The speech took just 15 minutes and ended an extensive four day visit to the state. It would be Kennedy's last journey to Temple.
Broadcast Pioneers member Kenn Venit wrote, "The President was almost holy. I could not bring myself to comprehend the sudden and horrible death of our beloved President Kennedy. I shared with the world the feeling of disbelief. I recall trying to understand how the world felt when President Roosevelt died. I had read some news copy by Damon Runyon describing the funeral 'of the dead chieftain of the mightiest armed force on the face of the earth.' I am sorry that I now know how they felt." Kenn wrote that on November 22, 1963. He was a young Temple University student at the time.
How was this historic event covered by the local broadcast media? We asked some of our members to recall the events of the day.
Broadcast Pioneers member Vince Leonard, who was the main anchor at WRCV-TV, Channel 3 here in Philadelphia, recalls for us the days surrounding the assassination of President Kennedy:
On that Friday in November, I came to work early to attend a business luncheon at the Bellevue Hotel. Bob Shafer, our news director, our sales manager and I were hosting two local bank executives, trying to persuade them that their bank should sponsor my six o'clock news program. A little after one-thirty, our waiter told Bob he had a phone call, an emergency. When he returned to the table, Bob said. "President Kennedy has been shot. I don't have any other information." Our luncheon broke up and we hurried back to the newsroom.

It wasn't long before we learned that President Kennedy had died. Shafer, who had been one of our finest news directors, soon had the reporters contacting the local individuals who had close ties to the president and his administration. They were to head out with their photographers to get interviews. Our program producers began writing stories for our local cut-ins. It was the beginning of the busiest, most hectic four days we'd ever experience in the Channel 3 news operation. We were WRCV-TV, at the time, owned by the NBC network. They depended on us to feed them anything pertaining to the Kennedys as it affected the Philadelphia area.

It was my job to go on the air anytime there was a break-in during the network stories and to narrate many of the reports we fed to NBC.

The next day, another shocking drama, totally unexpected. As the Kennedy shooting suspect, Lee Harvey Oswald, was being led out of the Dallas police station, a man named Jack Ruby stepped from the small group of spectators and shot Oswald at point blank range. Standing just a few feet away, on camera with a live microphone in his hand, was NBC reporter Tom Pettit. Tom shouted, "He's been shot. Lee Oswald has been shot …."

NBC was the only network live on the scene at the police station that day. A real advantage for us. Tom Pettit had built his reputation as a reporter working with us at Channel 3. After about three years, he went to work for NBC television.

Watching the funeral on Monday was a stirring, emotional experience. No one will ever forget the scene of Jackie Kennedy and her two small children, Caroline and John John, watching the casket roll by with little John john saluting.

The assassination remains a continuing story. There are still rumors of a conspiracy. Many critics believe there was more than one gunman, that there was another man firing from the grassy knoll. They insist Oswald could not have fired those accurate shots at a moving car from a window of the Texas Book Depository. They will never accept the official explanation. All of this happened 50 years ago. An incredible experience.
Broadcast Pioneers member Mike Quinn worked at WCAU-TV. He wrote to us:
November 22, 1963. I was a 20 year old junior member of the Channel 10 News staff: a copy boy and John Facenda's teleprompter typist. I was at home when JFK was assassinated, because I didn't have to be at work until mid-afternoon. A friend who also worked in the newsroom heard the bulletin on his car radio and drove to my house. We went into work immediately.

Listening to the car radio, we wondered if this was a communist act, would it mean war? This was in the depths of the Cold War. The atmosphere in the newsroom was grim, of course. But everyone was doing their job, contacting local political leaders and others to get reaction; man-on-the street interviews; phones ringing nearly non-stop; reporters and film crews going in and out.

I began helping the dayside copy boy to clear the AP and UPI teletype machines. One bulletin and urgent after another with the warning bells ringing almost constantly. There was one bulletin quoting two Roman Catholic priests leaving the hospital, saying the president was dead. I still have that wire copy.

Others arrived. Facenda. Herb Clarke. The WCAU Radio and TV operations were in the same room in those days. At some point, we heard Allan Jackson report on CBS Radio, the official announcement that President Kennedy was dead. A few moments later, we watched Walter Cronkite do the same on TV in that now famous broadcast when he nearly broke down on the air. We were stunned. A couple of staff members began crying quietly. We all continued to work, our training and sense of duty compelled us.

Then came the arrest of Lee Harvey Oswald, film of him in the hallway at Dallas Police HQ surrounded by reporters and photographers. The CBS Network was going to give local stations air time briefly at 11pm. Someone suggested that our local newscast end with John reading "Oh Captain, My Captain," which I think was written by Walt Whitman. Someone remembered we had a lot of film of ships at the Philadelphia Navy Yard that could accompany that.

John insisted that it be taped because he was concerned he might become emotional on the air. He did it perfectly in one take. I left the newsroom for home about midnight. An exhausting and emotional day. The details of which are still vivid in my memory.
Steve Sacks, a member of our organization worked at WFIL-TV, now WPVI. He tells us what it was like at his station:
The day the earth stood still: November 22, 1963. Who can forget where they were at 1:30pm in the Delaware Valley? I was at 46th and Lancaster Avenue coming back from an enjoyable lunch with Ralph Goldstein on that bright sunny day. We were just pulling up to Triangle Broadcasting's Division Film office in my car listening to the radio, when we heard come over the air, "We interrupt this program to tell you that the President has been shot in Dallas, more details to follow."

We sat stunned in the car for several minutes listening to the details as they started to trickle in. Once inside our offices the only communication we had was a little AM clock radio to tell us what was happening and keep us posted on this very tragic day.

The mood at the station, like everywhere else, was very somber. It is important to note that Walter Annenburg, head of all Triangle Publications and Roger Clipp station manager of WFIL AM, FM, and TV were staunch Republicans, and so were most of the station's management, but they too as Americans felt they had taken a bullet to the head, and realized what a wound the American People had suffered and the pain, shock, and uncertainty it had created around the world.

WFIL-TV at the time canceled its regular program schedule and filled much of its programming with somber music, local political pundits, and very important information fed down to us by ABC News. With all this sadness in the community, WFIL kept broadcasting the news and dedicated its local resources to broadcasting as much information as it possibly could provide.
Member Ralph "Bud" Galow worked at WRCV Radio during this era. He recalls the events of those fateful days in November of 1963:
As a representative of WRCV Radio (now KYW Newsradio) at that time, I was enjoying a day off and working in my cellar on a project that at this time I don't recall. I had my radio tuned to WRCV and was initially shocked when the Big Band music was interrupted with the special announcement that President John F. Kennedy was shot in Dallas Texas. I remember stopping work and going outside to look up and the sky and think, "What the hell is going on?"

The next few days were just a blur for everyone was on duty covering the News of The Day. We followed all the reports and had a former WRCV newsman on scene namely Tom Pettit. As we watched the news on TV we were a bit surprised to see Tom in the mix of reporters as the fight over the hand gun Jack Ruby was holding after he shot Oswald was turned and pointed at the belly of Tom Pettit. He later told the newsroom "That scared the Sh-t out of me." It was a very bad few days and something I don't think any people who were in the broadcasting business will ever forget.
On the other end of our state, Broadcast Pioneers member Al Primo was working at Westinghouse station KDKA-TV in Pittsburgh. Al tells us what it was like that day:
I was eating lunch at Stauffer's Restaurant just across the street from the station in Gateway Center, the office complex built at the Point where the Allegheny and Monongahela Rivers meet to form the mighty Ohio. Salesman Bob Dickey came to our table breathlessly announcing the president had been shot. We dropped everything and rushed back to the station.

Bill Burns, Anchorman/News Director was already in the announce booth reading posts from Associated Press and United Press International, just outside the newsroom. He was on the air before CBS, our network, had only the bulletin slide up. When Walter Cronkite came on live, we went back to the newsroom.

I had the idea of bringing a live camera right into the newsroom which was on the second floor above the studio. The Chief Engineer absolutely refused, warning the camera and dolly were too large and expensive to get into the elevator. I went to the General Manager and begged that he move it into the newsroom. He granted permission and for one of the first times in TV history we were broadcasting "live" from a television newsroom.

I sat next to Bill Burns gathering information from the mayor, local officials, and clergy, handing my copy to Burns who was masterful in his delivery. We were all sad when we had to throw it to the network for full coverage. A few weeks later I received word that after 12 long years at the station, I was being promoted to News Director of KYW-TV (which was then in Cleveland).
MORE DIGITAL ARCHIVAL PROJECT NEWS:
VIDEO: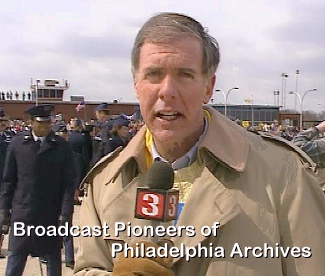 Broadcast Pioneers member Robin Mackintosh
Andrews Air Force Base, Maryland
KYW-TV
March 10, 1991
In 1991, the United States Coalition against Iraq had 35 servicemen and women captured by the Hussein regime. About half of them were from the United States. One of them was from Delaware County, near Philadelphia. He was 1st Lt. Robert J. Sweet, 24, of the United States Air Force. Another person from the Air Force, Major Jeffrey S. Tice, 35, lived in Sellersville, a suburban of the Quaker City. Still another was Jeffrey Zaun, 28 of Cherry Hill. They landed at was then Andrews Air Force Base in Maryland (part of the Baltimore-DC area). Today that base is called Joint Base Andrews and used both by the Air Force and Navy Air.
The video we have was donated to our DAP, Digital Archival Project by former KYW-TV Reporter Marge Pala. It is a feed from Group W in Washinton, DC to Channel 3 here in Philly. At the time of transmission, there were no keys on the report. These were added later back at the station. In our opinion, the Real Video version is sharper and clearer.
Watch in Real Video!
Watch in Windows Media!
Broadcast Pioneers member Robin Mackintosh (who we inducted into our Hall of Fame last November) tells us a little more about this video. He e-mailed:
When Gerry Wilkinson called me at home to tell me the Broadcast Pioneers had unearthed a report I had done more than twenty years ago about the homecoming for freed POWs from the Gulf War, I told him I didn't remember a thing about it.

Twenty years is a long time and for any street reporter memories are fleeting. As a reporter you remember today's facts and then move on to the next day and the next story. But then he sent me the video and suddenly the memories came rushing back. Names and faces like Jeffrey Zaun, Jeffrey Tice and Robert Sweet were instantly recognizable. They were the faces of the Gulf War. Held in captivity by Saddam Hussein, they were our local heroes and we did dozens of stories on them and their families in 1991.

But just like most other news stories, they moved to the back pages and then to distant and almost forgotten memories. It is reassuring to know that thanks to the Pioneers' archives they are not lost forever. The videos and recordings keep that history as alive and valuable as today. Thank you, Gerry, on behalf of those brave men and women who can come home again and again with the simple push of a "play" button.
A word from our Chairman of the Board Gerry Wilkinson:
No thanks is deserved. All kudos go to Broadcast Pioneers. This is an organizational project. Many of our members are involved in this and to them we offer Robin's (and our) thanks. As a broadcast historian I know that nothing is more frustrating than not finding old shows. It's our history and the unfortunate truth is that history is only what gets saved. Our goal is to save as much as we possibly can. Most of the material we save comes from our members. If you have items you wish to donate, please contact us by calling (856) 365-5600 or e-mail us at: pioneers@broadcastpioneers.com.
AUDIO:
We have two special IDs aired over WCAU Radio during those dark days in late November of 1963. Neither announcer has been identified. Both station breaks were pre-recorded. They both explain that the station and network have suspended all commercials until after the funeral of President John Kennedy.
ID #1
Listen in Real Audio!
Listen in Windows Media!
ID #2
Listen in Real Audio!
Listen in Windows Media!
On Sunday, November 24, 1963, we have a one minute and nine second excerpt. It's Art Raymond on WHAT-FM. Broadcast Pioneers member Barry Reisman who recorded these cuts off air in 1963 e-mailed:
The voice is that of Art Raymond who, back in the 1950's, was "The Man in the Black Sombrero" on WPEN, and did a program of dance music. In the early 60's, he moved to WHAT-FM to host "The Bagels & Lox Program," which featured a variety of Jewish music every Sunday from 10:30 am to 1:30 pm. At the time of the Kennedy assassination, Raymond broke format and did a series of interviews reflecting on the assassination with local rabbis and other members of the Jewish community, and that is what you hear on the brief audio clip that I had recorded.

WHAT-FM later became WWDB and eventually replaced Art Raymond with Sid Mark's "Sunday with Sinatra." Art Raymond continued his program on WEVD (now ESPN) in New York and remained there for many years. (His program was the forerunner of the Jewish-oriented program that I now host, which has been on the air in Philadelphia since 1965.)

Who would have guessed that a teen-aged radio geek back in 1963 would have his recordings available for the entire world to hear at www.broadcastpioneers.com? I knew that there was some reason that I should keep changing reels and pushing the record button!
Listen in Real Audio!
Listen in Windows Media!
On this same day, Broadcast Pioneers member John Facenda delivered the eulogy for President Kennedy. John was speaking at Independence Hall. His words were carried live by all three commercial television stations in our market.
Listen in Real Audio!
Listen in Windows Media!
Remember, History is ONLY What Gets Saved!
(If there were no portraits of George Washington, how would we know what he looked like?)
And special thanks to member Johnny Hall who gave us a poster of George Washington
so we will know what he looks like.
A LITTLE BIT OF HISTORY!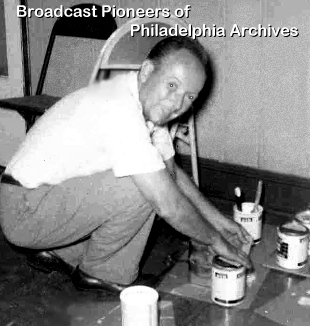 Broadcast Pioneers member Doug "Bud Hibbs"
painting WTEL Radio (even though he was Station Manager)
1960
Photo originally donated by member R. Alan Campbell
THANK YOU:
As we do every month, we want to thank Broadcast Pioneers member Johnny B. Hall for his monthly cash donation to our DAP, Digital Archival Project. Johnny donates $250 every month. The amount totals $3,000 yearly and really helps us to underwrite this much needed but expensive project. By the way, that's a $600 a year increase over his contribution from last year.
We already have a good start for the April 2014 scholarships. We already have pledges and/or funding for fifteen $1,000 scholarships to be awarded in April of 2014. We received $1,000 for a scholarship in the memory of Broadcast Pioneers Hall of Famer Mac McGuire. The contribution came from member R. Alan Campbell. Also, the final $1,000 scholarship (part of a five year package) from Broadcast Pioneers Hall of Famer Sylvia Kauders. We also have pledges for seven $1,000 scholarships from member Johnny B. Hall and his wife, Ginny. That's one more than last year. Also, a scholarship from the Adelman family for a $1,000 scholarship and also one from Robin Adelman's dad, member Leon Love. Member Harry Hurley has pledged a $1,000 scholarship from the proceeds of this year's Hurley in the Morning Golf Tournament.
Broadcast Pioneers Vice-President Kal Rudman started underwriting scholarships for our organization several years ago. He was the person that underwrote our first scholarship way back when. Now, there are many following in his footsteps. Kal has just said that he'll be underwriting two more scholarships for the coming 2014 year. Thanks, Kal. Another contribution came from Esther Kurtz. Included in her membership renewal was a $1,000 for a scholarship in memory of David Kurtz (founder of B101).She has been doing this now for 8 years.
And again, we wish to thank member Jerry Del Colliano for his $1,000 contribution to our DAP fund. This is the second year in a row that Jerry has done this. We thank him so much for his gift to this most important project.
A little while ago, Robin Adelman (on behalf of the entire Adelman family and Leon Love) presented us with a $1,000 contribution to be split between of our DAP project and our general fund.We welcome other gifts for these and other projects in the form of money and/or donated items like video tapes, audio transcriptions and photos.
We would like to thank those who gave us a donation for our general fund this month. They include Corky Warren, Bill Kelley, Dorie Lenz, Jerry Klein, Dick Standish, Sally Berlin, Anthony DiFlorio, Mike Bove and Gerry Wilkinson.
Our special thanks go to TUTV and The Kal & Lucille Rudman Media Production Center.

They have underwritten a grant to be used to fund an entire year of all our newsletters for calendar year 2013. We thank them so much for their support!
If you forgot to make an extra contribution (cash or memorabilia) and would like to do so now, it's never too late. We would be thrilled to hear from you at: PO Box 2886, Bala Cynwyd, PA 19004 or call us at (856) 365-5600!
A LITTLE BIT OF HISTORY!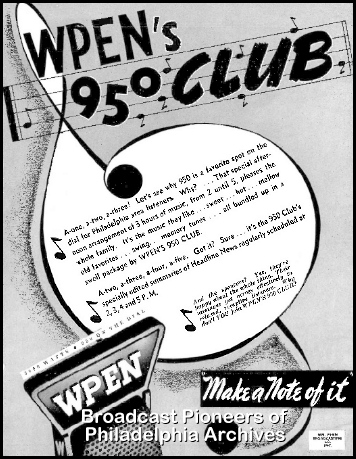 WPEN Radio Advertising in a trade publication
July 1943
IN TOUCH WITH THE INDUSTRY:
Marc Musgrove has been promoted to Director of Broadcast Operations and Engineering for CBS 3 and The CW Philly. Musgrove has been Chief Engineer for both stations since 2004. In that position, Musgrove led the broadcast engineering design team for the construction of the stations' all high definition television facility. Musgrove was also responsible for engineering and logistics for the termination of analog TV transmission and the conversion to full time HDTV transmission for CBS 3 and The CW Philly.
Syma Chowdhry has joined CBS 3 and The CW Philly's Eyewitness News team as a reporter. She has been a freelance reporter with the stations since March 2013.
Chowdhry, a native of Toms River, New Jersey, returns to the area from the CBS stations in Detroit, WWJ-TV and WKBD-TV, where she had been a morning anchor since 2011. In June, she won an Emmy award from the Michigan Chapter of the National Academy of Television Arts and Sciences for a 30-minute show she produced and hosted about Steve Harvey (current host of Family Feud) and his struggles making it to the top.

Previously, Chowdhry was a reporter/anchor for News 12 New Jersey in Edison and a reporter for The University Network in Jersey City. In 2008, she received a Telly Award for her features reporting with News 12 New Jersey. Chowdhry began her broadcasting career at News 14 Carolina in Raleigh, North Carolina as a reporter/producer in 2004. Chowdhry is a 2004 graduate of Temple University, where she earned a Bachelor of Arts degree in broadcast journalism. She speaks Hindi and Urdu.
Thanks to KYW Newsradio and Comcast, The Tacony Center of the Police Athletic League received a brand new 10-piece laptop computer lab. CBS Philadelphia Market Manager Marc Rayfield (a member of the Broadcast Pioneers) said, "By partnering with a community-minded organization like Comcast for nearly 15 years, it is gratifying to assist organizations like PAL who help make a difference in the community and the lives of local children. With these laptops, it will enhance our continued support in PAL's efforts throughout the year."
Saint Joseph's University has renewed its partnership with CBS Sports Radio 610 (WIP-AM) for the 2013-14 season and for the third consecutive year, the station will carry the broadcast of every Hawks' men's basketball game. The broadcast schedule begins on November 9 with the Hawks' season opener at Vermont, with a total of 30 regular-season games being carried live and in their entirety on CBS Sports Radio 610.
Talk Radio 1210, WPHT told us that Jared Hart starts as Program Director beginning next Monday, November 11th. Hart joins WPHT from KGO in San Francisco where he is currently Assistant Program Director. Earlier in his career, he was the producer for current WPHT morning show host Chris Stigall when Stigall hosted mornings at KCMO – Kansas City.
WPHT, Talk Radio 1210, has picked up Rush Limbaugh and Sean Hannity's syndicated talk shows. The programs started airing on WPHT, 8 days ago on October 28th. Limbaugh is aired live from noon to 3 pm and Hannity on a six-hour delay.
Limbaugh debuted on 1210AM, WPHT in July 2000 and remained on the station until June 2012 when the broadcast moved to WWIQ, Camden (the old WKDN). Rush is heard by up to 20 million people each week and he is the most listened to radio talk personality in America. Hannity is America's second most-listened-to radio talk show with nearly 13 million weekly listeners.

Senior Vice President/Market Manager CBS RADIO Philadelphia Marc Rayfield (a member of the Broadcast Pioneers) said, "We couldn't be more pleased to bring Rush and Sean home to WPHT. They are leaders in the format and the standard by which talk radio is measured. Rush will be the lead-in for Dick Morris who has been developing a strong program the past six months."

The other WPHT talk shows basically shrink by an hour. Broadcast Pioneers member Dom Giordano returns back to his old 9 am to 12 noon time slot. WWIQ has been sold with resulted in the talk line up finding new homes. So far, no one in the Philadelphia market has picked up Glenn Beck, Mark Levin and Michael Savage. WWIQ will switch to a religious format called "K-Love" shortly.
In case you were wondering where syndicated talk show host Mark Levine previously heard on WWIQ was going, he's now on WNTP, 990 on AM (the old WIBBAGE). In fact during the last week on WWIQ, they bought spots saying that Mark was moving to WNTP. What made it more interesting was that the spot said that Levine was during the last full week of October running on both stations and they encouraged you to switch from WWIQ to WNTP right now.
Michael Savage does yet have a radio home here in this market. He was heard daily from 9 pm to 12 midnight. However, his new deal with Cumulus Media Networks moves him into the 3 to 6 pm time slot. On many of the Cumulus stations, Sean Hannity was carried. Cumulus syndicates the Savage program and is trying Savage in a new time period to increase the company's bottom line.
No word yet where talker Glenn Beck will go. A little while ago, he bought time on WWIQ urging listeners to tune in to The Blaze Radio on the Internet and follow his radio broadcast. Beck is also pushing local cable and satellite providers to start carrying his Blaze TV Network which carries the radio broadcast with cameras (similar to Imus' radio broadcast which is also broadcast on the Fox Business Network on TV.
Since Limbaugh and Hannity started on WPHT on Monday, October 28th, and Mark Levine moved to WNTP, WWIQ had to fill their schedule until the station's sale is final. So during the week of October 28th, the station carried "The Blaze Radio Network - Philadelphia." The Blaze is Glenn Beck's venture with networks on both radio and television. Beginning yesterday, "The Blaze Radio - Philadelphia" will be on the Internet. Programming includes local news, weather twice per hour and traffic every 15 minutes. WWIQ signed off at midnight this past Sunday and then the station signed back on as WKVP (now owned by EMF Broadcasting) doing a Christian AC Format called K-Love. The KVP call letters were previously on EMF's station in Cherry Hill at 89.5 when they were doing the K-Love format.. That station is now WYPA and they will carry EMF's Christ CHR Air-1 Network. Gerry Wilkinson, our Chairman of the Board said that he noticed on his car radio that the WWIQ call letters disappeared off the display a few weeks ago; it was just saying 106.9 in preparation for the format and call letter flip. 106.9 has much greater power and antenna height than the 89.5 frequency.
A LITTLE BIT OF HISTORY!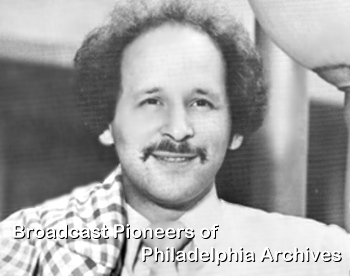 WFIL, Famous 56 Boss Jock Tom Dooley
WFIL Radio
Official Publicity Still
circa 1975
THANKS FOR THE MEMORIES:
Growing Up in the 40s!
Broadcast Pioneers member Bobbie Caplan Shaffner e-mailed us with some of her childhood memories about Philadelphia broadcasting. She writes:
When I was a student at The Samuel Pennypacker Elementary School in Philadelphia, we had, at the time, what was called "The Verse Speaking Choir." I was in the 5th grade when I was chosen to be a soloist with the choir. One Saturday morning in the early 1940's we were invited to appear on WFIL Radio. This was a thrill to all us girls because we were big fans of "The Magic Lady."

One of the reasons was Eddie Fisher, whose picture was plastered all over the PTC trolleys we took to school. I remember being escorted downtown to the WFIL Studios on Chestnut Street by my mother, and standing before the big mikes of the day. This was my initiation into radio, and I have been a fan of radio, both am and fm, ever since.

Skipper Dawes was a popular figure on "The Magic Lady" and he used to come around to different schools and entertain on the piano. He came to Pennypacker when I was in the 5th grade, and it was a big event to us kids. He was like a pre-cursor to Steve Allen, doing parodies of songs, seemingly making it up as he went along, and tailoring it all to the school he was at.

As it turned out I wound up working at WCAU, both radio & TV, on City Line Avenue, and am now a member of The Broadcast Pioneers.

My big event in those days, especially 1943, during WWll was getting hundreds of free movie tickets because my aunt's boss gave me the privilege of submitting to my 5th Grade Class a $l0,000 War Bond. Every $25 War Bond was given a $.25 ticket to see a movie, free. I wound up with several hundred movie tickets, and happily distributed them to everyone in my class. It made me very popular.

As for Radio, in the l940's "Helen Trent" was the soap opera we listened to the most. We would walk home from school, and the first thing was to turn on the radio to "The Romance of Helen Trent." It was a l5-minute break from our daily grind, and a"must" as we ate our lunch, before walking back to school.

WCAU seemed to have the best soap operas, as I remember, and then, of course, in the evening there was "The Lone Ranger" and "Superman." The "Shadow" was on there, too, as well as all The Phillies games, with By Saam announcing.

Some great talents came out of 'CAU, one of them being the actor, Paul Douglas. My husband Henry and I just watched him in an MGM classic starring Van Johnson, playing a Catholic Priest, and Douglas, a con man...a movie called "When In Rome." Alan Scott was a voice you heard over 'CAU over the years. He was a Central High School grad who changed his name from "Schwartz," which was not uncommon in that era.
More Memories about Jean Shepherd!
Broadcast Pioneers member Kenn Venit wrote for us some of his thoughts about one of the people we will induct posthumously this month. The man's name is Jean Shepherd. Here's what he wrote:
"Excelsior, You fathead!
"Wanda Hickey's Night of Golden Memories."
"Radio drama is dead. What I do is radio drama."

The immortal words of Jean Shepherd – but, OK, maybe the last one is not exactly immortal.

However, almost half-a-century later, I still remember them from Shep's speech on Friday, May 8, 1964, at the Temple University Communications & Journalism Annual Banquet (better known as the WRTI Banquet). It was held at the Alden Park Manor on Wissahickon Drive. I was 19, and one of the many "undercover'' young listeners to his late-night radio broadcasts on 50,000 watt WOR 710 New York. (Shep worked at 50,000-watt KYW Philadelphia from 1951-1953, but I was in single digits.)

As Shep stepped to the microphone, a WRTI engineer played his theme song, the Bahn Frei Polka," by Eduard Strauss, with the U.S Cavalry Bugle First Call at the start of the Polka. I still listen to it now and then.

I was in awe just being in the same room, and amazed that he was so at ease in a room full of strangers. He questioned why Temple University still had a course in radio drama, theorizing maybe it was because some faculty members were old-fashioned (I think he said it another way) or behind the times. Professor Del Dusenbury, who taught the required radio drama course, was obviously shocked and displeased. I think he left the room at that point.

Shep worked unscripted that night as he did every night on the radio. For the life of me, I can't remember what else he said to us in that speech, but in a publicity release which had been sent to me for use in the May 7, 1964 Temple NEWS, he was described as someone who "presents ideas in the form of conversation and drama."

He also used sound effects (some emanating from his mouth), and music to help convey his thoughts. You created your own images as you listened.

After his speech (which, as I recall was recorded on reel-to-reel audiotape by WRTI-FM student staffers), Shep signed autographs, mingled with students, and showed absolutely no signs of being an egotist. He seemed somewhat surprised at how many of us at Temple were faithful listeners (he was on WOR from 1956-1977).

Shep died on October 16, 1999. Among the many online tributes to him was one from a fan, Prof. Rob Kleidman of Ohio State University, who said a colleague of his claimed the best evaluation as to what a teacher meant to a student comes years later.

If we "evaluate" Shep as having been a "teacher," I can say he did a great job teaching me, and so many others, about how to combine drama and conversation to be an effective storyteller. I actually use some of his techniques in my journalism classrooms, at times playing "roles" and always engaging my students (it's now called being "interactive") in discussions requiring critical thinking. Early in the semester, I interview some in front the class, take some notes, and then tell a story about them, unscripted. They also learn that I can take that verbal version, and convert it to another medium, with or without pictures.

Shep worked in radio, TV, theater, and as an author, musician, and public speaker. He was "converged" before the word was defined as it is today.

His signature motto, "Excelsior!" was his reminder to us to always be higher, loftier, better than we thought we were or could ever be. His polka theme song, "Bahn Frei," translates to "make way!" – which he did.

As to whether Shep's words are "immortal," you can still hear many of them thanks to online podcasts and airchecks. And when I hear the "Bahn Frei Polka" (starting with the U.S. Cavalry Bugle First Call), I go back to a place in time when I would fall asleep listening to someone who told stories – not necessarily bedtime ones, but about people, places, and ideas I could dream about, one way or another.

Thanks, Mr. Shepherd…
A LITTLE BIT OF BROADCAST HISTORY!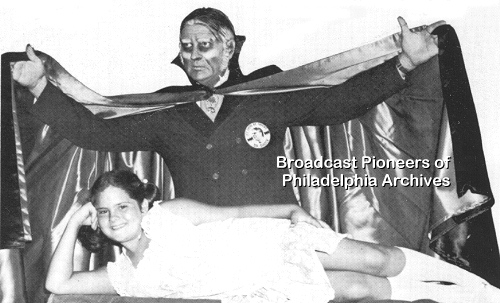 Dr. Shock (Joe Zawislak) and daughter Doreen (Bubbles)
WPHL-TV
circa 1979
Photo originally donated by Roland Coover
Johnny B. Hall remembers Bandstand!
Broadcast Pioneers member Johnny B. Hall e-mailed us about our October luncheon and the Pedicins. Johnny said:
I was living on Long Island, New York, in the late 50s, and graduated from Garden City High in 1960, and so, like every other music-loving teen of the era, I came home after school and turned on Bandstand to see which recording star was lip-synching that day. Instead, the guests were the Mike Pedicin Quintet, who played live! Their first number was "Shake a Hand," which I had never heard before - real jazzy. Their second number was a thing called "The Dickie-Doo." Just before they started the song, a boy came over to the mic and yelled, "Hey, kids! Let's do the Dickie-Doo!" That obviously was Mike Jr. After the song, Dick Clark came over to Mike Sr. and they had a little discussion on how much Mike Jr.'s little intro had added to the song. I never heard the recording, so I can't attest to the accuracy of that statement, but it was cool live!

Fast forward to 2013, and on August 17, at the dream team reunion of Joe Nardone and the All Stars and Eddie Day and the Star Fires (my band), our last song together, unrehearsed, was "Shake a Hand." I had never played it before, but it's not a hard song to play, so I played forth with a right good will! A lot of fun!

WPTZ Announces they will carry Penn Football!
During the summer of 1945, WPTZ, Channel 3 (owned by Philco at the time) said that they would telecast all the home games of the University of Pennsylvania football. They said that all the telecasts would be sponsored by the Atlantic Refining Company. They had been doing so for five years.
Paul Knight, who was the TV station manager at that time said: "We are throwing the doors open to agencies. We were on the air for 20 to 25 hours before the war and we plan to resume regular telecasting this fall." The bombings of Hiroshima and Nagasaki were just days before.
Knight also said that WPTZ will feed the football games to WNBT (now WNBC-TV) in New York City if the station can obtain the necessary equipment. He also said that Channel 3 expects to increase their staff from 15 to 20 in just the next couple of months. WPTZ is now known at KYW-TV.
During 1945, Atlantic started a month later (in September) broadcasting more sporting events than ever before. The company sponsored 180 games on 78 different stations (all on the east coast). That was a record for them. They had been sponsoring local sports since 1936.
Navy games were included along with those for Penn, Duke, Virginia, Georgia Tech, Temple, Pitt, Ohio State, Cornell, Syracuse, Brown, Dartmouth and F & M. Princeton had been missing for a year or so, but returned to the 1945 schedule.
The largest radio broadcast was on 52 stations and was the October 20, 1945 broadcast of the University of Pittsburgh vs. Notre Dame. Professional football was also included with games of the Eagles and the Pittsburgh Steelers.
Most television broadcasts in 1945 had to be viewed on sets made before the Second World War. Early the next year (January 1946), John Ballantyne, president of Philco told government officials that he hopes to have Philco TV sets on the market by that summer.
David B. Smith, vice-president in charge of engineering for Philco said that Philco intends to use its television station in Philadelphia and its proposed Washington, DC. station as a proving ground for relay video transmission. He did say, however, that the company did not foresee itself establishing its own broadcast TV network. Smith said: "We have been looking forward for 18 years to the time when television would be a commercial reality and ready for widespread use. We believe that time has now come."
1954 Awards Dinner!
On March 2, 1954, the first regional TV awards banquet was sponsored by the Television Association of Philadelphia and TV Guide (owned at that time by Walter Annenberg, who also owned WFIL-TV, Channel 6). Hubbell Robinson, VP in charge of programming for CBS-TV was there. Why does Robinson's name sound familiar? Why, the name of the town on "Action in the Afternoon" was called Huberle, Montana. WCAU-TV's VP, Charlie Vanda made up the name on the spot at a CBS meeting in NYC by combining the names of two network executives, Henry "Harry" Omerle (formerly with ad agency "Ruthrauff & Ryan) and Hubbell Robinson.
Well, back to our story. Awards were based on a TV Guide Poll with more than 14,000 people responding. Some of the award winners that evening included:
Children's Programming
The Children's Hour (WCAU-TV)
Willie the Worm (WCAU-TV)
Women's Programming
Let Skinner Do It (WPTZ)
Sports Programming
Sports Final with Jack Whitaker (WCAU-TV)
Early Morning Programming
Mr. & Missus with the Cranes (WCAU-TV
Educational Programming
Operation Blackboard (WPTZ)
Weather Programming
Phil Sheridan with the Weather (WCAU-TV)
News Programming
John Facenda and the News (WCAU-TV)
Music Programming
Bandstand with Bob Horn (WFIL-TV)
Quiz Show Programming
Cinderella Weekend with Alan Scott (WCAU-TV)
Interview and Comment Programming
Skinner's Spotlight (WPTZ)
Commercial Announcer
Shelly Gross (WFIL-TV)
Networking Programming Originating from Philadelphia
The Big Top (WCAU-TV)
Special Citations
The Big Idea with Donn Bennett (WCAU-TV)
Great Music with Guy Marriner (WPTZ)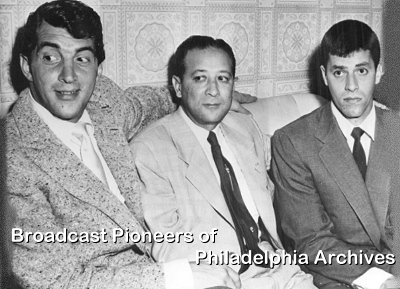 (Left to right) Dean Martin, member Max E. Solomon and Jerry Lewis
circa 1952

A FINAL THOUGHT....

One time, Harry Harris, film and TV Critic for the Philadelphia Inquirer (and before that, for the Evening Bulletin) asked Tom Snyder what he would do for an hour if no one showed up to appear on his telecast. Tom said:
"If a guest calls in late or sick, maybe I'll just come out with a dummy. I could sit for an hour and talk to myself. I'm one of the most interesting people I know."
Tom Snyder
as told to Broadcast Pioneers member Harry Harris
in Harry's unpublished book, "TV Star Secrets"
unknown date
Please contact us by e-mail at newsletter@broadcastpioneers.com or by mail to: Ed Eisen, 1110 Longshore Avenue, Philadelphia, PA 19111. (215) 725-7253. Your stories are important, to you, to us, and your colleagues. Contact us today and we'll include your story in the next newsletter!

Photo Editor & Archival Historian - Gerry Wilkinson
© 2013, Broadcast Pioneers of Philadelphia
All Rights Reserved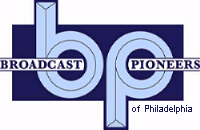 The e-mail address of the Broadcast Pioneers of Philadelphia is pioneers@broadcastpioneers.com
For luncheon reservations call (856) 365-5600 or e-mail us at: rsvp@broadcastpioneers.com