This was the last newsletter that our Newsletter Editor Paul Norton ever wrote. It was sent to our membership on the regularly scheduled day which happened to be the day Paul died. HE WILL BE MISSED! Our family and thoughts go out to the Norton family and Paul will be "forever in our hearts."
No festivities this month, just rolling with the great summer and keeping posted on what other Pioneers are doing. During the summer, the Hall of Fame/Person of the Year honorees have been selected. They are:
Cathy Gandolfo, Channel 6 Reporter
George Michael, WFIL Boss Jock and NBC-TV "Sports Machine" Host
Bob Pantano, WOGL "Saturday Night Dance Party" for 30 Years
Dave Schratwieser, Investigative Reporter for WTXF-TV, Fox 29
Mike Strug, Reporter for NBC10
Ukee Washington, News Anchor, CBS3
And The Person Of The Year - BILL CAMPBELL!
We're geared up for our big banquet, The Hall of Fame/Person of the Year meeting, which will take place on November 21st, Friday (before Thanksgiving). It'll be at 6 pm at Bala, cash bar, and music by Bucky Clark. Dinner will be at 7 pm, then the Hall of Fame portion, and Person of the Year. It's always great fun and we raise enough money to give significant scholarships to students in communications schools; recipients will be announced at a meeting later. Some of our previous beneficiaries have gone on to significant careers. It's enough to make a Pioneer proud. Meantime member Esther Kurtz, widow of David L. Kurtz, founder of B101 has pledged another thousand dollar scholarship donation in her husband's memory. She did it last year too.

We had a large crowd that enjoyed the tour of the CBS Group Stations - WOGL-FM, WPHT, The Big Talker (formerly WCAU Radio), and WIP Sports radio. Thanks to Tommy McCarthy, Dave Skalish and Steve Ross for their help in this.
The Broadcast Pioneers of Philadelphia are all about the glorious past of radio and TV in this city. Many of us have heard stories of the legendary WCAU-TV western action/adventure series "ACTION IN THE AFTERNOON." You can now see two episodes courtesy of the Rudman Institute and Drexel University's cable TV station DUTV Channel 54, Broadcast Pioneers and WCAU-TV. These two rare, preserved, episodes of the series, and new interviews with original cast, crew and production team members, can be seen on DUTV (Comcast Channel 54). All you have to do is go online, to DUTV.ORG, click on Action in the Afternoon button. Look for the full length program/click on that. Soon there will be more, on the Pioneers website, this fall. Profuse thanks to Paul Gluck who provided this information.
While we're on the subject of the peripatetic Paul Gluck, we note that he is leaving his current post at Drexel to join Temple University. He will be an Associate Professor in the School of Communications and Theater. Paul attended Temple, as did one of his sons, and he taught there some years back. Paul will continue working on projects for the Rudman Foundation.
Jim Nettleton advises that his internet radio station has been doing quite well over the last two years. Oldies, with a Philly emphasis, pre-Beatle era music have brought listeners from 51 countries, 47 of the 50 states, and over 200 U.S. cities. Charlie Bennett, Kim Martin, Christy Springfield and Jim do air stints daily. You'll find it streaming live all day, www.radiophillystyle.com.
I am not young enough to know everything.
Oscar Wilde
I had a wonderful chance to talk to Ed Harvey last week, as perhaps many of you did. He was 92, and unparalleled in broadcasting in this city, and he has died; cancer of the neck. Up to the last moments, Ed was answering calls and listening to his daughter read mail his many, many friends had sent to him. To quote his daughter's letter, "Dad has broached dying with the same enthusiasm he did life. He is ready," by having friends send cards, and call, Susan Rhoades, his daughter, gave me and many others a boost we never expected. I called and talked to Ed, and we laughed, as we always did. He said he just wanted to fade away. A man of such great grace and charm and longevity, the father of the golf extravaganza, "The Cadaver Open," who lived so honorably, and so well, his end is a trophy to the life he lived. A memorial is planned for Saturday, September 6th at 4 pm. It will be in the Chapel at Valley Forge.
Just a brief note from Al and Stella Alberts, they're fine. They're on the air every Friday morning for a promotion for "On The Way to Cape May" on "the Breakfast Club" on WOGL, and with Andy Kortman's Morning Show on WNJC and WFYL.
Sorry we're late on this, but Frank Stone, Pioneers' Board member, Development Coordinator, lost his wife Dorothy on March 19th after 41 years of happy married life. A painful disease called schlerderma took her life.

A lovely note from perhaps our oldest living Pioneer. Edna Whittington Cathcart writes to say she heard Paul Norton and Steve Ross talking about the good old days on "Remember When" on WPHT. Edna says she'll be 100 years old on September 13th, "hale, hearty, and happy." She was on duty in the WIP Newsroom on December 7, 1941, and called the program director to tell him of the attack on Pearl Harbor. Gene Crane adds she was at WCAU and discovered Joe Pyne, Al Alberts and the Four Aces, and was a founding member of American Women in Radio and Television. And she's still a doll.
Pioneers member Bob Jawer sends a note reflecting on his, and wife Helene's, long association with Florence Hanford, who died July 1st at 99, and the five times a week hour long Philadelphia Electric Show, "The Electric Kitchen," which began in 1949. Bob was producer of the show, which had many features but had Florence cooking a full course meal. A recent Wall Street Journal article remembered Florence, and mentioned Bob and Helene. They had just gotten married and Helene learned from Florence how to prepare a well-balanced meal.
Experience is what you get when you don't get anything else.
Unknown
Member Jay Meyers has informed us that Alta Communications has acquired Cavalry Media Services and will merge with First Broadcasting Investment Partners. Gary Lawrence, CEO of First, will become CEO of BMT, and Jay Meyers will join as President /COO. Lawrence and Meyers join Alta partners Brian McNeill and Bob Emmert on the Board of the new entity.
Chairman of the Board of Pioneers, Bill Webber just doesn't want to quit his 'over 50 years' career in Broadcasting. He starts a new DJ Show on Martini Radio, 1340 AM on August 18th. It will air Monday through Friday from 9 to 10 am following Mike Bowe's Morning Show 6 am to 9 am. Bill is delighted to continue his long career, which included WFIL, WIP and WPEN, playing middle of road music that people in Philly have always supported.
Ronn Homer, Evil Irving's son, advises that dad is back on the air on www.irvhomer.com, and if you go there on Monday Wednesday and Friday from 6 to 7 pm, the Evil one will be there with guests, a chat room, and phone calls. Be great to have Irv around again. The shows will be archived so that you can get them when you are available. Keep punchin', Irv.
Edie Huggins, a Pioneers member, has died at age 72, of cancer. She was with Channel 10 from 1966 'til she died. Good reporter, hard worker, a great friend. She will be missed by the many Pioneers who knew her.
Anne Campbell has died. A long time employee and HR Director for WCAU, then owned by CBS, she had a long bout with alzheimer's. She is survived by her husband of 66 years, Charles.
If you should go to see the movie "The Happening," you'll see a number of Philadelphians. They include; Ukee Washington as at TV Reporter, Sid Doherty as a radio announcer, and Bill Shusta, retired from KYW Newsradio, as a news reporter.
Member Joel Levitt has died, but his business will continue with his wife Patsy as Chairperson of the Board and Mike Taylor, executive of the company and long time friend, as President. They will continue to provide duplication and replication services in the Mid-Atlantic Region.
Member Jack Ryan of Gwynedd, PA has died. Our other Jack B. Ryan is doing fine and just renewed his membership.
Greet new members. Fred Woskoff who began in Philadelphia at WKBS-TV and had a number of jobs in and around the area is now with WisconsinEYE and has joined our organization. Mike McGrath, host of the nationally syndicated radio show "You Bet Your Garden" which airs on Sirius and on WHYY FM at 11 am on Saturday. He lives in Zionsville, PA.
Welcome aboard. We hope you can join us at lunch soon.
Paul Norton would have wanted the newsletter to continue and it will. While no one could ever do what Paul did, Board Member Frank Stone will try his best.
Send items for the newsletter to Frank Stone at: newsletter@broadcastpioneers.com.

© 2008, Broadcast Pioneers of Philadelphia
All Rights Reserved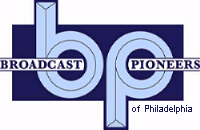 The e-mail address of the Broadcast Pioneers of Philadelphia is pioneers@broadcastpioneers.com
For luncheon reservations call (856) 365-5600 or e-mail us at: rsvp@broadcastpioneers.com