The Broadcast Pioneers of Philadelphia is a federally recognized, state chartered 501(c)(3) non-profit corporation serving Philadelphia since 1962.

Ed Eisen
News Editor

September Luncheon
The Hilton City Avenue - Important
Wednesday, September 18, 2013

Meet & Greet at 12 noon!
Lunch at 12:30 pm
Ratecard: $28 per person!

PLEASE RESERVE NOW!
CALL (856) 365-5600!
rsvp@broadcastpioneers.com
Another "Third Wednesday" Luncheon!
Wednesday, September 18, 2013!
TRIBUTE TO CHANNEL 17!
A WPHL-TV REUNION!
ONE-TIME VENUE CHANGE:
THE HILTON CITY AVENUE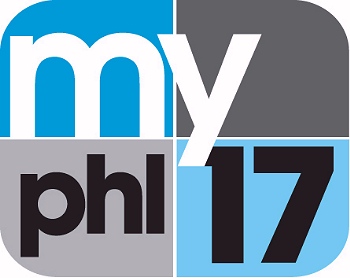 RESERVE NOW! CALL (856) 365-5600!
Our first luncheon of the 2013-2014 season will be on Wednesday, September 18th. This luncheon is a tribute to Channel 17 or, as some would like to call it, "Our WPHL-TV Reunion." We're celebrating the fact that WPHL has been on the air for 48 years.
FOR THIS ONE LUNCH ONLY: The location is The Hilton City Avenue, 4200 City Avenue, Philadelphia. It's just one block from City Avenue and Montgomery and right across the street from B-101. (This is where we have our annual banquet).
The luncheon will be held at the Hilton City Avenue in Philadelphia on Wednesday, September 18th (that's the third Wednesday of the month). Meet and greet is at 12 noon and lunch will be served at 12:30 pm. Make plans to be there!
SNOOZE & YOU LOOSE! (856) 365-5600!
FOR THIS ONE LUNCH ONLY: The location is The Hilton City Avenue, 4200 City Avenue, Philadelphia. It's just one block from City Avenue and Montgomery and right across the street from B-101. (This is where we have our annual banquet).
For your enjoyment, we have scheduled many marvelous speakers (subject to change). They are (in alphabetical order):
Dave Abramson, Chief Engineer for the Philadelphia Phillies, formerly a WPHL-TV staff director
Sam Feinberg, former Station Manager and former Sales Manager for WPHL-TV
George Finkel, former Production/Ops Manager for WPHL-TV, winner of 3 national Emmys
Vince Giannini, current Vice-President and General Manager of WPHL-TV, Channel 17
Ed Hurst, former host of "Summertime on the Pier," a dance TV show which aired on WPHL
Ron Joseph (RJ), former TV host on WPCA-TV, Channel 17, a forerunner to WPHL-TV
Reggie Lavong, one of the original investors with WPHL-TV and a former announcer/manager
Dorie Lenz, former Public Affairs Director for WPHL-TV for more than three decades
"Big Al" Meltzer, former voice of Big 5 Basketball and the Philadelphia 76ers on WPHL-TV
Mike Nise, Executive Producer of "Dancin' On Air," a daily dance program on WPHL-TV
Len Stevens, co-founder and former co-owner of WPHL-TV, Channel 17, Philadelphia
Our MC for the afternoon is Broadcast Pioneers member Steve Highsmith, the current Director of Community Relations for WPHL and host of their "In Focus" program.
FOR THIS ONE LUNCH ONLY: The location is The Hilton City Avenue, 4200 City Avenue, Philadelphia. It's just one block from City Avenue and Montgomery and right across the street from B-101. (This is where we have our annual banquet).
(856) 365-5600! RSVP TODAY!
Meet and greet (networking) starts at 12 noon, and a full course lunch including salad, coffee or tea and dessert will be served at 12:30 pm. There will also be a crudité and cheese table. Cash bar available all afternoon!
(856) 365-5600! CALL IMMEDIATELY!
The luncheon is open to all our members, their guests and any person in the industry or associated fields, whether active or retired. You do NOT have to be a member to attend. Call NOW with your reservation(s), (856) 365-5600!
Please note that there are two types of parking at the Hilton: $10 valet parking at the main entrance of the hotel and event parking, which is a half-block down the street. Event parking costs $5 per car but bring your parking stub and we can validate it so you'll have free parking. No validation or reduction is available on the valet parking.
In order to speed up check-in at the luncheon, it would help if you had the $28 in exact change or your $28 check already written. Make it payable to the Broadcast Pioneers of Philadelphia.
WE WANNA SEE YOUR FACE IN THAT PLACE!
A LITTLE BIT OF CHANNEL 17 HISTORY!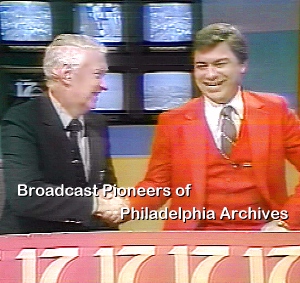 1986 Broadcast Pioneers "Person of the Year" Bob Bradley with former Phil Johnny Callison
WPHL-TV, Channel 17, Philadelphia
screen capture from our tape of the 1980 Phillies Parade
October 29, 1980

Visit Our Website Often - http://www.broadcastpioneers.com

Our 2013 Person of the Year is TOM MORAN!
Plus a star-studded cast of HALL OF FAME inductees!
Annual Banquet!
Friday, November 22nd!
Tickets On Sale Now!

Our 2013 "Person of the Year" is our very own Tom Moran, a long-time member of the Broadcast Pioneers and air personality at WIP Radio and WPEN.
For 2013, the living "Hall of Fame" inductees are (in alphabetical order):
Danny and the Juniors, legendary rock & roll group, famous for "At the Hop"
Sid Doherty, longtime WCAU-TV and WPHL-TV announcer and sports anchor
Jimmy Hirschfeld, Emmy award winner, former PD at WCAU-TV, Channel 10
Harry Hurley, 25 year veteran of the leading local talk show at the Jersey Shore
Dr. Brian McDonough, physician & longtime medical reporter for KYW Newsradio
Nora Muchanic, longtime New Jersey correspondent for WPVI-TV, 6ABC
Mike Nise, producer/director for "Dancin' on Air" and "Dance Party USA"
Kathy Orr, Emmy-winning meteorologist for KYW-TV (CBS 3) & the CW Philly
Bill Roswell, 30 year veteran at KYW Newsradio, now Director of Digital News
Vai Sikahema, former NFL player, now news/sports anchor for WCAU, NBC 10
Len Stevens, co-founder of WPHL-TV and president of Tower Economics
Louise Williams Bishop, Philadelphia's Gospel Queen air personality for 50 years
HALL OF FAME (POSTHUMOUS - in alphabetical order):
Dick Clayton, former WIP/WPEN radio air personality & voice-over announcer
Harry Harris, former TV reporter for the Evening Bulletin & Philadelphia Inquirer
Doug "Bud" Hibbs, in the biz for over 75 years at several different stations in town
Les Keiter, former Sports Director/Sports Anchor for WFIL-TV, now WPVI-TV
Cal Milner, former WPEN Radio co-host of the ever-popular "The 950 Club"
Rex Morgan, former TV air personality and kids host for WFIL-TV, now 6ABC
Bill Russell, stage manager, technician for WFIL-TV and later 6ABC, WPVI-TV
Jean Shepherd, former KYW Radio & later WOR talk host for many decades
Hank Sperka, former beloved WPVI-TV, 6ABC news reporter and news anchor
Dave Zinkoff, former PA announcer for the Philadelphia 76ers basketball team
Tickets went on sale September 1st. Tickets cost $85 for members (each member can buy ONLY one ticket at the member price) and $95 for everyone else (including spouses, friends and guests). The event will once again take place at the City Avenue Hilton, 4200 City Avenue, Philadelphia. The date is Friday, November 22nd. The reception is at 6 pm and dinner is served at 7 pm. Doors open at 5:45 pm. Cash bar all night long. Valet parking is $10. Event lot parking is $5. Make plans to be there! TICKETS ARE ON SALE NOW! A major portion of the ticket price may be deductible on your federal income tax. Ask your tax advisor for details!
WE'LL BE PROUD TO SEE YOU IN THE CROWD!
BROADCAST PIONEERS/WPVI COLLEGE SYMPOSIUM:
It is t ime for area college students to sign up for our 12th annual College Symposium. This year our symposium will take place at WPVI-TV, 6ABC on Saturday, October 26th. Please check the front page of our website for more details.
BOARD OF DIRECTORS MEETING:
The normal September board meeting is being postponed until Wednesday, October 16th. More details will be in our October newsletter.
DIGITAL ARCHIVAL PROJECT NEWS:
VIDEO: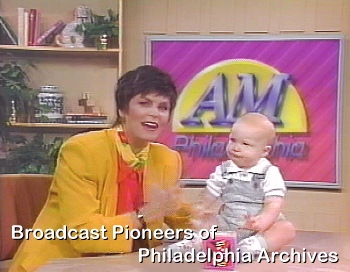 Broadcast Pioneers member Liz Matt (Lizabeth Starr) with son Hank Mushinski
AM Philadelphia
WPVI-TV, Philadelphia
August 16, 1990
From 1984 to 1995, Broadcast Pioneers member Liz Matt, using the stage name Lizabeth Starr, was the co-host and co-producer of Philadelphia's longest running, award-winning morning show, "AM Philadelphia." Her co-host was Broadcast Pioneers member Wally Kennedy. At the end of one of the shows, Liz showed us her son, Hank Mushinski, who was eight months old at the time. He was at the station to take part in a taping later that day. Liz Matt said to us:
That baby, Hank Mushinski, is now a sports blogger at www.thewoodercooler.com and just wrapped a year assignment as an assistant editor in the cable distribution division at CNBC in Englewood Cliffs, NJ.

The presence of our son Hank in this Broadcast Pioneers picture is telling. Hank's birth, when I was 38, proved to be the beginning of the "tipping point" that explains why I opted to leave this wonderful professional setting five years later, when he was five, in early 1995. I sensed then that if I left, I would never equal the opportunities I had there. I was pretty much right, but there are zero regrets.

I was fortunate to be able to create new ways to make a living in broadcasting (at Fox 29), in corporate TV, in teaching at Temple and Widener, and creating a home-based sales business when the internet was just catching fire. All of that freelance-based work gave me the flexibility to enjoy Hank's school years. That was an enviable situation, I recognize. I'll always be grateful to my husband Steve Mushinski that he supported that transition.

Now that Hank is launched, I think back to 1986 and standing on the 42nd floor of Liberty Place, when it had no walls, broadcasting "live" and sharing the view from a perch where no woman had yet stood on a solid decking, in the then-highest building ever built in town. All of the building trades people at that elevation had been men, so I was indeed the first female to experience that view. I recall the thrill of sharing this with our viewers. My voice probably even got accidentally shrill, in my undisguised excitement about what we could show them.
Watch in Real Video!
Watch in Windows Media!
AUDIO:
July 28, 1967. It was time for the noon broadcast of Eyewitness News and anchors George Caldwell and member Marciarose Shestack were on vacation. Tom Snyder, then a local KYW-TV news anchor, was in for Caldwell and Broadcast Pioneers member Trudy Haynes was filling in for Marciarose. While this is a television broadcast, we only have audio, but it is the only part of that newscast that has survived into the 21st century. We asked member Trudy Haynes to say a little about this era and here is what she said:
I don't recall what the supermarket was called, but it was THEN, and even today, the only location in that immediate neighborhood for that community to get fresh fruits and veggies. Today it is Super Fresh, and still an important outlet for students and new neighbors. Then it also served as a beacon of Reverend Sullivan's commitment to his people and his organization, OIC. (He was) a pillar in our community who had foresight and courage with dignity and a legacy to follow.

I want to thank you for keeping your dream alive with the continuing examples of how we all got started. I am not originally from Philadelphia, but because of Broadcast Pioneers, I know, and can appreciate the communication service its members have brought to this community. You have done much to open dialogue on many of our problems. Keep up the good work, and thanks again.
Listen in Real Audio!
Listen in Windows Media!
We have some audio from KYW Newsradio that is 48 years old this month. This audio is from Saturday, September 25, 1965. The station's all-news format is just four days old. While we wish that we had a complete newscast, we do have excerpts of one. We are not picking and choosing stories--this is all we have. We have put one second of silence between excerpts. The newscaster has yet to be identified.
Broadcast Pioneers member Bud Galow tells us about the station getting ready to go all-news. He e-mailed:
Shortly after Westinghouse came back to Philadelphia as KYW, they announced they would be going all-news all the time. That was a shock because we were a big band station. The announcement started a whirlwind of activity in all departments. I had been trained as a production studio engineer and given the task of recording all the sounds and jingles for the new format. As days went by, I found myself and a producer in the A&R Studios recording the newest jingles for Westinghouse, which could be used on other Group W stations. We laid down 8 tracks on 2 inch tape and then only had to edit one section at a time for the other stations.

The studios had to be reworked in order to play jingles instead of LP's. The master board was removed because the operation was going to be in one studio. The studio and control room where I was working became pretty busy during the last few days of big band music. I had recorded messages from the governor, the mayor, and the president of Group W (Don MA Gannon), and this was the last 15 minutes of the show that Wee Willie and I were airing in my studio.

Now the kicker is that the studio supervisor came and got me from my studio and said, "ou have to pick up the channel to start the new show." I made some limp excuse that I didn't know how the studio was rewired to run the show. Pete said to me, "Just run the show and I will tell you which jingle machine is next and which mike will be the next one." With all this going on, I was trying to get focused on what was what, and in came Marciarose and a camera man, who I never got to see. They were shooting over my shoulder--through the glass and into the studio! It was one wild day.
Listen in Real Audio!
Listen in Windows Media!
Next, we take you to January 2, 1971. Again, this is a television broadcast but we only have audio. This clip is from the 1971 Mummers Parade on WFIL-TV. Mere months later, the station changed call letters to WPVI. While we have 90 minutes of audio in our audio archive, here we present six minutes of commentary by Roy Nassau and Broadcast Pioneers member Connie Roussin Spann. There are three different segments separated by one second of silence.
Listen in Real Audio!
Listen in Windows Media!
By the way, recently we digitized a two-inch reel of video tape and we were thrilled to find out what was on it. This tape contained 90 minutes of video from the 1975 Mummers Parade on WPVI. The tape transferred beautifully and it is off line. We know this because Phil Sheridan and member Connie Roussin Spann are heard talking before the broadcast starts. What a find for our video archive!
A LITTLE BIT OF BROADCAST HISTORY!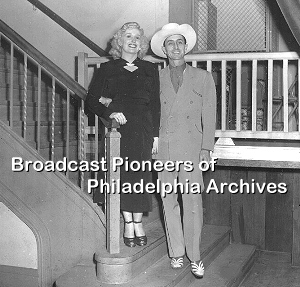 (left to right) Broadcast Pioneers member Sally Starr and her husband Jesse Rogers (Ranger Joe)
1949
Photo donated by Roland Coover
IN TOUCH WITH OUR MEMBERS:
Broadcast Pioneers member Marc Rayfield (Senior Vice-President and Market Manager for the CBS Radio Group in Philadelphia) e-mailed us:
KYW Newsradio will relocate from 4th and Market to 1555 Hamilton Street, home of CBS3 and CW57, in mid-January, 2014. In late spring 2014, WOGL and WPHT will move into the current KYW Newsradio studios at 4th and Market Streets.
Broadcast Pioneers member Joe Ball and his company American Advertising Services, located in Bala Cynwyd, Pennsylvania, have celebrated the organization's 57th birthday. Joe was presented with golden colored crown for the occasion. One of his staffers, who wished to remain anonymous, told us, "We wanna crown him everyday."
On September 9th, the Eagles open the NFL season against the Washington Redskins. Former KYW-TV3 sports reporter/producer Steve Gary (a member of the Broadcast Pioneers) has begun a campaign focused on area supermarket deli departments asking that for the season opener, the markets refrain from offering "redskin" potato salad and offer instead "Eagles" potato salad. "Eagles fans have many things on their plate these days but 'redskin; potato salad shouldn't be one of them," said Gary.
"I've broached the idea with the manager of my local Superfresh market," Gary said, "and he's willing to consider the idea. I targeted this particular market since it is located in Havertown on Eagle Road. Fans hope the team will have more bite this season. They can put their support where their mouths are by buying 'Eagles' potato salad. It may still be made with tasty red skinned potatoes but should be named for our local team."
SportsRadio 94WIP announced that afternoon host Anthony Gargano and Eagles play-by-player announcer Merrill Reese, a member of the Broadcast Pioneers, will host the "Howie Roseman Show" every Monday during the 2013 Philadelphia Eagles Season. The show will be live from 5-6 PM at Chickie's and Pete's in South Philadelphia.
In addition to discussing each week's game with Gargano and Reese, Roseman will take calls and talk with fans. It is the only live weekly interactive radio show with an NFL General Manager.

Due to the Labor Day holiday, the first edition will air today, Tuesday, September 3rd. Second edition will air on Tuesday, September 10th due to the Eagles Redskins Monday Night Football debut on September 9th. All remaining shows will air on Monday nights. During the second half-hour, an Eagles player will join the show.
Broadcast Pioneers member Bunny Gibson just did "Crescent Hotel." That's a show in the Travel Channel series "Hotel Confidential." She plays Lulu Tunis, a woman who finds out that Dr. Norman Baker is a con man and not a physican.. In this show, the character was injecting watermelon juice into the bodies of patients with the claim that it could cure cancer. Lulu saves herself and others from a terrible outcome. This broadcast will air in January of 2014. It is based on a true story that unfolded 70 years ago.
Broadcast Pioneers member Gary Hendler tells us that the Upper Darby Performing Arts Center will pay tribute to Jim Croce (who died 40 years ago in this month) on September 21st. Croce was from our region and friendly with many area DJs and radio air personalities. For more details, visit here!
Member Kenny Jeremiah let us know that the Jeremiah Hunter Band will be appearing this Saturday, September 7th on the deck of the Golden Nugget Casino in Atlantic City, NJ from 2:30 pm to 6:30 pm. Later that same day, Kenny and Bittersweet will be at the LaPiazza Restaurant and Nightclub in Wildwood, NJ. Show starts at 8 pm.
Broadcast Pioneers members Henry and Bobbie Shaffner have been spearheading a campaign to have the US Post Office issue a commemorative stamp honoring the late actor Van Johnson. The Shaffners have donated a pair of Johnson's trademark red socks to the permanent collection of the Smithsonian Institute in Washington. Henry and Bobbie have collected over 25 pounds of signatures on petitions to get Johnson on a stamp and recently turned the petitions over to the Citizens Stamp Advisory Committee.
WE REMEMBER: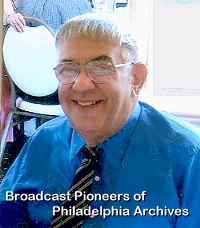 Broadcast Pioneers member Fred Ruggieri
Broadcast Pioneers Luncheon
Wednesday, September 15, 2010
Photo originally donated by Joe Silvestri
Broadcast Pioneers member Fred Ruggieri, 69, passed away on Friday at Virtua Hospital in Voorhees, NJ. His health had deteriorated over the last two years, and much of that time had been spent in a nursing home. Fred worked at WDVR (now B101) from 1964 to 1971 using the air name Fred Randall. He also worked for stations in South Jersey. While he was unable to make the station's 50th Anniversary luncheon in May, Fred did have an opportunity to watch the video on our website. He also worked at the Showboat in Atlantic City for almost two decades. There will be a visitation from 7 to 9 pm tomorrow evening, Wednesday, September 4th and 10 to 11am Thursday morning September 5th at the Gardner Funeral Home, Runnemede, NJ.

We all love "On the Way to Cape May," recorded by Broadcast Pioneers member Al Alberts. However, Thomas "Cozy" Morley was one of the people who helped it become popular by performing it in his comedy nightclub. Morley, 87, died last month. John Morrison of the Philadelphia Daily News said that Morley was "an iconic part of the South Jersey entertainment scene, a jokester who could pack his 1,200-seat Club Avalon in North Wildwood every night and became a hit in the Atlantic City casinos." Morley was born on Two Street in South Philly. A tribute to him is planned for this weekend.
ON THE HEALTH FRONT:
Broadcast Pioneers member Liz Matt is on the mend after a few weeks spent on sick leave for a broken foot. She spent some of her free time writing some of the bios that will appear in the booklet that is distributed the evening of our annual "Person of the Year/Hall of Fame" banquet in November. You'll recall that Matt was inducted into our Hall of Fame last year. She was the very first Broadcast Pioneers' scholarship winner to be honored by us in such a capacity.
Broadcast Pioneers Board Member Ed Eisen was recovering well from a heart attack in the spring when doctors decided he needed a pacemaker. Everything went well for our newsletter editor, who is now returning to some of his Broadcast Pioneers duties as a member of our Board of Directors.
Broadcast Pioneers former President and former Chairman of the Board Pat Delsi is still recovering from a mini-stroke suffered a couple of months ago. We saw Pat early in August and he looked well and seemed to be doing fine. He is back in the saddle handling his normal duties for this organization.

Did you know...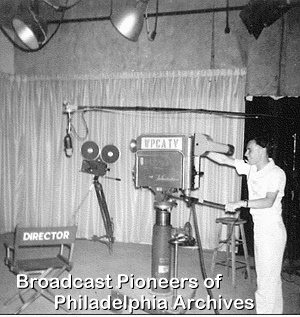 Cameraman Bill Stock
WPCA-TV, Channel 17, Philadelphia
Early 1962
Broadcast Pioneers Chairman of the Board Gerry Wilkinson and our President Jerry Klein, both went to Temple University at roughly the same time. One of the people they met at Temple and the student radio station WRTI-FM was a guy by the name of Bill Stock. Bill now lives in New York but before leaving he worked at a couple of Philadelphia TV stations and some radio outlets. Bill sent us this information about his experience as a high school student working at WPCA-TV, Channel 17, owned by the Percy Crawford church organization. This pre-dates the station put on the air by Broadcast Pioneers member Len Stevens in 1965. Stock says:
My involvement with channel 17 started in 1960 when, as a student, I wrote to them asking if they would be interested in our high school chorus performing a Spring Concert program. To my amazement, they said yes and one evening we all bussed down from William Tennent High in Johnsville to the studios at 1230 East Mermaid Lane.

Of course, I was fascinated to be in a TV studio and asked if they could use any help. Again, to my amazement, they said yes and I soon started working there 4-6 nights a week, learning and doing everything: camera, audio, booth announcing, film editing, directing, switching, film chain and, yes, even sweeping up. They had zero money and were pretty much ready to hire anyone who had a warm nose. Knowing some Bible verses didn't hurt either.

There were only two cameras (TK-31s) and one film chain (two 16mms and a slide drum), all RCA equipment. I remember the camera tubes being orthicons, not vidicons. I occasionally helped the engineer swap them out with our "spares," meaning "less burn-in spots.") The switcher was a simple two row T-bar with 4 inputs and a fade to black. (We never had any video source to connect to that extra input.) The cameras and much of the lighting equipment were stenciled with the NBC "Today" logo. I'm guessing they came from the original 1950s Dave Garroway glass front studio in Rockefeller Center.

There was one large studio and one small "B" studio (where Dave's newscaster photo was taken). The "Kiddie Kottage" set was the only professionally-constructed set at the station. The other sets were thrown together at the last minute, using various combinations of curtains, folding screens, potted plants, comfy chairs, etc. We had a few lights on moveable stands, but mostly we just grabbed the gaffer hook, reached up to the grid and "swung the scoops around."

The station was on the air seven days a week from late afternoon to around midnight. Much of the programming was religious, but there were two live newscasts each night (read-outs from the UPI printer), "Sally Dixon" with the weather, "Aunt Barbara" Bunting with "Kiddie Kottage," a homemaker show with Dot Johnson and other talk shows, most notably (Broadcast Pioneers member) Ron Joseph.

On film, we had Oral Roberts, various other "Christian Crusades" and a very small library of half-hour dramas. We rotated the same limited episodes of "Royal Theater" again and again and the ancient "Kottage" cartoons ran so often that I practically knew every line. Arguably, the best programs were the live music performances, mostly of religious music. Ruth Crawford (Percy's wife) had an attractive, matronly TV presence as she sang and played the grand piano or the Hammond organ. She would also accompany her son Don, Sam Seymour, Steve Musto and another amply-built man whose name escapes me. Church choirs would often give recitals. Some were quite talented. WPCA was licensed as a commercial station, but the only spot I can remember was for Schenks Bakery, usually just a single slide with live announcer copy. It was repeated again and again (and I never saw so much as a cupcake!).

For me, as an 18 year-old high school kid, the chance to learn TV from the ground up was an amazing opportunity. My teen voice had lowered to "announcer level," but I still looked too young to appear on camera. However, I did everything else, including climbing to the top of the tower a few times to replace the flashing red marker bulbs.

Unfortunately, no amount of Schenks Bakery commercials could keep the financial boat afloat and after a time, I was seriously instructed NOT to disturb the court subpoena notices that started to pile up near the entrance when I swept the hallway. Then, one day, we arrived to find the doors locked. Alas, the end of an era, but I did receive my last weekly check in the mail. I remember it well - $11.75 (with tax withheld).
When WPHL-TV came on the air on Friday, September 17, 1965, this was their program schedule for that day:
9 am - Test Pattern
12 noon - WPHL's Dedication Ceremony
12:30 pm - Divorce Court
1:30 pm - Love That Bob
2 pm - Double Feature Matinee
5 pm - Seventeen Canteen with Georgie Woods
6 pm - Cartoon Club with Wee Willie Webber
6:30 pm - Tales of Wells Fargo
7 pm - Astro Boy
7:30 pm - Canadian Pro Football
9:30 pm - Friday Night Movie
11 pm- Tomorrow's Weather
11:05 pm - Sports Scoreboard
11:10 pm - Cinema 17
1 am - Sign off
MORE DIGITAL ARCHIVAL PROJECT NEWS:
VIDEO:
High School Student Jack Jones
being interviewed by John Facenda, WCAU-TV
circa 1967

Hall of Famer Jack Jones
KYW-TV, Channel 3, Eyewitness News Election
1990
Broadcast Pioneers Hall of Famer Jack Jones' life was, indeed, a profile in courage. While his life was short, only 41 years, he accomplishments are long. He was one of the first African American News Anchors in the entire country. He started working in television as a copy editor right after graduation from West Philadelphia Catholic High.
The photo on the right is Jack being interviewed live on WCAU-TV by his idol, Broadcast Pioneers member John Facenda. John told the young future broadcaster that if he really wanted to work in television, then he would succeed. Jones went to LaSalle on a full scholarship and graduated summa cum laude with a bachelor's degree in English. While working full-time at Channel 10, Jack told classes at the University of Pennsylvania and received his master's in education in 1973. Jack started anchoring in 1972 and in 1976 went to KYW-TV. Except for a few years in Chicago, Jack Jones would stay with KYW-TV until the end.
Jonathan Storm reported in the Philadelphia Inquirer the day after Jones' death that "he had to be helped into and out of the anchor chair. At one point, painkillers blocked his hearing in the middle of a broadcast and he had to improvise his way to the end." Jack Jones' last newscast was 4 and a half weeks before he passed away. After he did the 6 pm news on Saturday, February 2nd, Jack was too weak to do the 11 pm broadcast.
Broadcast Pioneers member Tom Lamaine did many a KYW-TV newscast with Jack Jones. Tom said this to us:
Jack Jones' mentor was John Facenda and Jack was John personified but maybe a bit more hip. Jack was always cool, calm, collected and classy. He was that way until the end,working on the air and off, with that same demeanor up until he passed away. No pretensions, just natural. Arare breed.

On his last day, I was with him on the anchor desk, the two of us separated by medical equipment that kept him alive while he continued to broadcast, just before he died.

My on-air tribute to him was my version of the military missing man formation. He is still missed by all who knew him. Working with Jack gave me the opportunity to work with a consummate pro and, more importantly, gain a friend.
Broadcast Pioneers member Robin Mackintosh also worked with Jack Jones. Here's what Robin said to Broadcast Pioneers:
It has been more than twenty years since I lost my friend Jack Jones, and it still fills me with sadness. Jack worked inside as an anchor most of the time while I worked the streets as a reporter but in the time we spent together we shared stories, laughs and advice that still make me smile.

We were both born and bred Philadelphians and took great pride in our jobs as television news communicators, Jack in front of the camera with a voice that demanded attention and me in the field trying to scramble to keep up.

But it was off camera that we both got that gleam in our eye, plotting a script change or our next financial move. Jack worked hard for his money and didn't like to waste it. If he could save a few dollars with a clipped coupon he clipped away. If he could make a wise investment, which he did on a regular basis, he didn't mind sharing his philosophy. Following his examples, I made a few of my own and, just as he said, "With real estate, at least if it doesn't make you rich, you can always live in it."

Jack was a professional on camera and a real person off. He wrote me a note just weeks before he died. The note ended with two words: Stay healthy.
The video we have here is from KYW-TV, Channel 3, on Tuesday, March 5, 1991. It's the 6 pm newscast. Operation Desert Storm had ended just a few days before, but in Philadelphia the top story was Jack Jones, the news anchor who we lost to pancreatic cancer. Here's the first five minutes of that newscast.
Watch in Real Video!
Watch in Windows Media!
AUDIO:
On Monday morning (very late Sunday evening), October 11, 1971 from 3 am to 4 am, WFIL, Famous 56 ran an one-hour news program called "The World This Week" hosted by Broadcast Pioneers member Allen Stone. Now, you may ask why the station would break format to run 60 minutes of news. Well, back in the day, stations had to promise the FCC a news committment. By running 60 minutes of news between 3 and 4 am early Monday mornings, it wouldn't hurt the format and would eat up 60 minutes of the committment. We have most of one of these newscasts. It's about 8 minutes short.
The first few minutes of the first reel of tape had water damage from a flood (the damage occurred in 1973). So we had to incue past the damage. The second reel was probably recorded on the same machine as the first, which means that we missed 30 seconds of so of the broadcast. It is possible that they were recorded on separate machines but there was no half-hour station identification (which would have been required during that era). We put reels one and two together and it all makes sense except that it is missing the half-hour ID (which is why we believe there is a few seconds missing in the middle of the program).
Broadcast Pioneers member Mel Klawansky, who worked with Allen Stone during the Famous 56 days at WFIL Radio, said this about Allen:
I had the pleasure of working with Allen Stone during my employment at WFIL radio from the mid-1970s to the early 1980s. I was a young man then, just starting out in my broadcasting career as an engineer, and he had been in the business for many years. I learned a lot about the business just by watching Allen work.

As an engineer, I didn't get to work too closely with the news staff, because we all had our own duties. Allen, along with the rest of them, spent most of his time compiling and writing the news, while I and the other engineers were recording and editing, or doing some kind of production work. But twice an hour, for about five minutes each time, when that ON AIR light came on, it was all business. Tight, informative and professional. News at WFIL, during the Boss Radio heyday, had to be as exciting as the rest of the on air experience, and Allen knew just how to make that happen.
Listen in Real Audio!
Listen in Windows Media!
Imagine Friday evening, August 4, 1944. Here, for the first time in almost 70 years, you can hear part of a WCAU broadcast. Listen WCAU celebrate Connie Mack (age 81), who had managed the Philadelphia Athletics for half a century. These activities took place at Shibe Park in North Philly. Shibe Park would later be renamed Connie Mack Stadium.
Almost 30,000 fans were on hand that evening. This was no easy task as there was a city-wide PTC transit strike at the time. Some came in cars, some hitch-hiked and thousands and thousands walked there to experience this amazing celebration. Several fans even showed up in a hearse. Mack was introduced to the crowd at home plate by Pennsylvania Lt. Governor John Bell. Connie was presented a gold box with a check inside for $5,000. The audio starts with William Harridge, president of the American League, presenting Connie with another check, this one in the amount of $2,500.
A little information regarding this audio and its history: it was taken directly off a 16" aluminum transcription disc. It was transferred onto reel to reel by a young Temple University college student by the name of Gerry Wilkinson (our current Chairman of the Board). Our digital file came from a direct transfer from that reel to reel tape. The original transcription is believed to have been destroyed decades ago and our reel to reel and digital copy are the only known copies in the world.
Because we have restored (restoration date is August 4, 2013) the audio back to what it may have sounded in 1944, the new digital copy is protected by US copyright (URAA) and cannot be reproduced without permission (this includes Youtube). This item will remain under US copyright (with NIE) until August 4, 2039.
Listen in Real Audio!
Listen in Windows Media!
In September 1958, WCAU announcer George Thomas filled in for Creighton Stewart on "For Women Only." We have presented several different episodes of that radio program, but never this one. The original source of the material came from member Michael Muderick and was a 9 inch green flexible transcription disc. The quality is not the best but it is certainly a rare find.
Listen in Real Audio!
Listen in Windows Media!
Remember, History is ONLY What Gets Saved!
(If there were no portraits of George Washington, how would we know what he looked like?)
A LITTLE BIT OF HISTORY!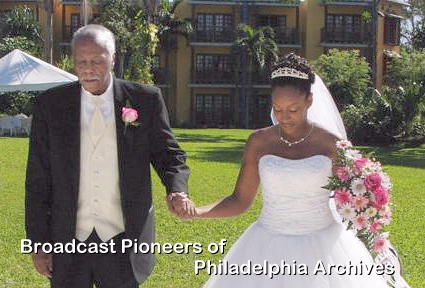 (Left to right) Georgie Woods and his daughter Devin Simms
on her wedding day
Photo originally donated by Devin Simms
THANK YOU:
As we do every month, we want to thank Broadcast Pioneers member Johnny B. Hall for his monthly cash donation to our DAP, Digital Archival Project. Johnny donates $250 every month. The amount totals $3,000 yearly and really helps us to underwrite this much needed but expensive project. By the way, that's a $600 a year increase over his contribution from last year.
We already have a good start on the April 2014 scholarships. We already have pledges and/or funding for fifteen $1,000 scholarships to be awarded in 2014. We received $1,000 for a scholarship in the memory of Broadcast Pioneers Hall of Famer Mac McGuire. The contribution came from member R. Alan Campbell. Also, the final $1,000 scholarship (part of a five year package) from Broadcast Pioneers Hall of Famer Sylvia Kauders. We also have pledges for seven $1,000 scholarships from member Johnny B. Hall and his wife, Ginny. That's one more than last year. Also, a $1000 scholarship from the Adelman family and one from Robin Adelman's dad, member Leon Love. Member Harry Hurley has pledged a $1,000 scholarship from the proceeds of this year's Hurley in the Morning Golf Tournament.
Broadcast Pioneers Vice-President Kal Rudman started underwriting scholarships for our organization several years ago. He underwrote our first scholarship way back when. Now, there are many following in his footsteps. Kal has just said that he'll be underwriting two more scholarships for the coming 2014 year. Thanks, Kal. Another contribution came from Esther Kurtz. Included in her membership renewal was a $1,000 for a scholarship in memory of David Kurtz (founder of B101).She has been doing this now for 8 years.
Again, we wish to thank member Jerry Del Colliano for his $1,000 contribution to our DAP fund. This is the second year in a row that Jerry has done this. We thank him so much for his gift to this most important project.
A little while ago, Robin Adelman (on behalf of the entire Adelman family and Leon Love) presented us with a $1,000 contribution to be split between of our DAP project and our general fund.We welcome other gifts for these and other projects in the form of money and/or donated items like video tapes, audio transcriptions and photos.
It is membership renewal time and we would like to thank those of you who included an extra contribution with your membership renewal. Those members include Dave Petrelius, Marc Howard, Steve Tatz, Marie Pantarelli and Dave Roberts. Thanks so much for your support.
Our special thanks go to TUTV and The Kal & Lucille Rudman Media Production Center.

They have underwritten a grant to be used to fund an entire year of all our newsletters for calendar year 2013. We thank them so much for their support!
If you forgot to make an extra contribution (cash or memorabilia) and would like to do so now, it's never too late. We would be thrilled to hear from you at: PO Box 2886, Bala Cynwyd, PA 19004 or call us at (856) 365-5600!
A LITTLE BIT OF HISTORY!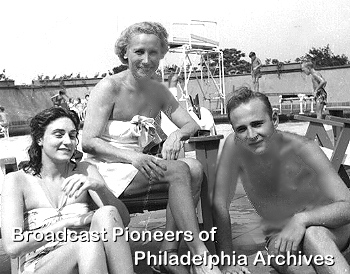 (Left to right) Sue Marella, Irene (Rene) Smith and Broadcast Pioneers member Allen Stone
WFIL Radio and TV Outing
Medford Lakes, NJ
1949
Photo originally donated by Suzanne (Sue) Marella Friedberg (WFIL Receptionist, 1947 to 1951)
IN TOUCH WITH THE INDUSTRY:
Matt Rivers joined CBS 3 and The CW Philly's Eyewitness News team as a reporter on August 12th. Rivers, a New Jersey native, returns to the area from KSAT-TV in San Antonio, Texas, where he has been a reporter since 2011. Matt specialized in breaking news and in-depth investigative pieces. His three part series into alleged campaign abuses by the sheriff of San Antonio led to an investigation by the Texas Rangers.
Rivers has also spent a lot of time covering the violence surrounding the Mexican drug war. In 2013, he was detained and ultimately released by the Mexican military while reporting on the violence in the Mexican border city of Reynosa. He also spent a year at KTSM-TV in El Paso, Texas, reporting on the daily murders and kidnappings occurring just over the border in Ciudad Juarez.

Rivers is a 2010 graduate of Syracuse University's S.I. Newhouse School of Communications, where he earned a Bachelor of Science degree in broadcast digital journalism and a Bachelor of Arts degree in Spanish. While attending Syracuse, he interned with the 60 Minutes team at CBS News in New York.
Merlin Media has agreed to sell its station here in our market. When they purchased the 106.9 FMer for $22.5 million, they originally thought of going all news, but other Merlin stations were as successful as they hoped, so they decided to go all talk. Just last month, they added the Imus in the Morning program to its lineup in the 6 am to 9 am slot. Previously, they were doing news, weather, traffic and talk locally. Syndicated lineup throughtout the rest of their day.
The new buyers are EMF (Educational Media Foundation) and the sale price is a reported $20.25 or 2.25 million less than what they paid. Rumors have been circulating for the last year that the broadcast station was for sale. The station has been talk since April of last year. The new buyers confirmed that they will flip the format to K-Love, a Contemporary Christian format. WWIQ was previously WKDN which ran a Christian format. At the end of last year, Family Radio (former owners of WKDN) purchased WPEN and flipped the format using the call letters WKDN.

At this time, this sale will leave syndicated talkers like Rush Limbaugh without a radio home here in the Delaware Valley. If no new station is found, it will be the first time since Limbaugh's national broadcast started a quarter of a century ago that he will be without a Delaware Valley outlet.
Marilyn Phister is retiring. She has spent 32 years with WPVI and before that, she was with Capital Cities. Her last day at 6ABC is the day after Thanksgiving. Marilyn came to Philly from Buffalo. There, she was the director for the noon news with a young Jim Gardner. She also produced "Dialing for Dollars" and "Rocketship 7," both hosted by a young Dave Roberts. Phister showed up at WPVI in 1982 working on "AM Philadelphia." She also responsible for much of the success 6ABC has had with different parades.
We received word from KYW Newsradio that they are now broadcasting the audio of the TV broadcast of the CBS Evening News with Scott Pelley. It occurs Monday through Friday at 6:30 pm. So if you are not in front of your television set, you can still keep informed by listening to the network half-hour broadcast. Steve Butler, KYW Newsradio's Director of News and Programming said: "We've had a positive response when presenting the program in the past on days of big news events – like the Boston Marathon bombing – and decided to air the broadcast each evening to serve our commuting audience "
Jessica Dean will join CBS 3/CW Philly anchor Chris May as co-anchor of the stations' weekday evening newscasts this month. Dean will co-anchor with May on Eyewitness News at 5, 6 and 11 p.m. on CBS 3 and on The CW Philly's 10 p.m. newscast.
Dean comes to Philadelphia from KARK-TV, the NBC affiliate in Little Rock where she has been the evening news anchor since 2011. She joined the station in 2010 as weekend anchor after three years as a reporter, anchor and co-host at KATV there. She began her career as a reporter in 2006 at KNWA/KFTA in Fort Smith, Arkansas.

Dean is a 2006 Cum Laude graduate of the University of Southern California at Los Angeles where she earned a Bachelor or Arts degree in broadcast journalism. While at USC, she interned at Dateline NBC.
NBC10 announced plans for expanded high school sports coverage, with the debut of a weekly high school football show, a "Game of the Week" feature, new online content and increased viewer engagement through social media.
The station's efforts kicked-off with the debut of "NBC10 High School Blitz" on last Saturday, August 31st. Hosted by NBC10's John Clark (a member of the Broadcast Pioneers) and Jillian Mele, the show will celebrate the intense rivalries and passionate fans of high school football, and will include extensive highlights and scores from Friday and Saturday games across the Tri-State viewing area.

In addition to the weekly broadcast on NBC10, "High School Blitz" will air on The Comcast Network Mondays at 6 pm and on Comcast SportsNet Wednesdays at 4 pm. The program will also be available through XFINITY On Demand.
A LITTLE BIT OF HISTORY!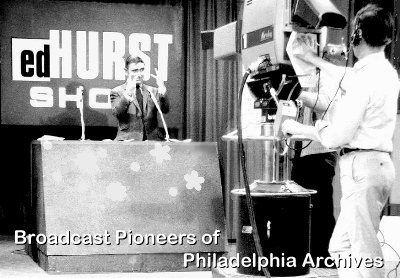 (Left to right) Broadcast Pioneers member Ed Hurst and cameraman Billy Egbert
The Ed Hurst Show
WPHL-TV, Channel 17
circa 1968
Photo originally donated by Carmen Malizia
THANKS FOR THE MEMORIES:
More Jean Shepherd!
Last month, we ran a piece about Jean Shepherd and his early days at WOR Radio in New York City. Well, we heard from member Ralph "Bud" Galow. Bud was Jean's engineer during the time when Shepherd worked at KYW Radio. Here's what Galow said:
Jean was a man of many talents. I think very few people knew that he also hosted a classical show on KYW on Saturday afternoons. He usually brought his own records from home, so he was familiar with the music and had a good rapport with the few listeners. Anyway, one afternoon he was introducing a piece by a Brazilian composer. This piece contained a Flute Solo and he wanted to make the listeners aware of, so he said "Pay attention to the Slute Folo in the Second Movement." That brought on a very long dissertation on "Spoonerism," which took up the rest of time and he never got to play the record that day.

On another Saturday afternoon, the show was going on OK when the board operator fell asleep during a long and boring passage. Jean could not leave the studio to wake him up so he just lifted the playback head off the record and talked until he was able to get the attention of the board operator.

One night, as we were leaving to go to the Sheraton Hotel, we had to had to pass the entrance to the Warwick Hotel just as presidential candidate Ike Eisenhower came out of the front door. Jean threw up his arm and shouted 'Hi, Ike!' That was all it took to get us pinned to the wall by the Secret Service. Just another evening with Shep.

Shep was a connoisseur of all cars but especially sports cars. He could talk all night about them. One night as we were stopped at a traffic, our car (a small English Austin) was shaken by the sound of the engine of the car next to us. It turned out to be a Stutz Bear Cat. That was the topic for "tonight's show."

While in the record library one afternoon, Jean asked if we had a sound effect of a cricket. I said I guess we had one and he asked if I could fill up one side of a record with just the one cricket chirping? That afternoon I did just that and in the evening we took the sound record along. During the course of the show, when the night manager Kurt Smith would stick his head in the door I would get the hand signal to crack the pot on the sound. Kurt would start looking around for the location of the cricket and when he would get near one of the speakers the sound would stop...Poor Kurt we drove him nuts all evening.

When the nightly program was over, we would go next door to a little deli to have a cup of coffee and a bite. Most nights there was a tough-looking person sitting in the corner with a few of his 'friends.' He would always have a stub of a cigar in the side of his mouth while he ate a half of a grapefruit at the same time.
Jean would say "There is good Old Blinkie again." He was on the cops' most wanted list of gangsters. Jean would always tell me that if City Hall really wanted to get Blinkie, we could tell them where to look.

On the night of the last Jean Shepherd Show from the Town Room of the Sheraton Hotel at 39th and Walnut Street, the room could hold about 300 people comfortably but was packed with 500 or more. The staff had to being in more tables and chairs to make everyone happy. It was a very loud and noisy group. Some joker brought Lilly with a big black bow on it and hung it up on the wall behind Mr. Shepherd. Jean was ensconced on a dais which held a seat for him and two large RCA turntables. I think he only used one because it was the one I could see from my position. As usual we played only the theme song and very few records after that. He told the crowd that he was in WWII and served in the mess kit repair battalion (air borne) handle platoon. That kept everyone laughing for a while. As the night wore down things got a bit more serious until the three faithful listeners brought out four paper hats fashioned from the Phila Inquirer and lettered with the words 'Good Bye Olde Shep' on the front. We took a photo for Jean only we lined up so the hats spelled 'Shep Olde Bye Good' - another spoonerism! Shep left the studio at 1619 Walnut Street the next day and never came back. The next time I heard of him he was doing quite well at WOR, 710 on your dial, the Bamberger Broadcasting Company.

Then came the TV show "A Christmas Story." It was about this kid named Ralphe who wanted a Red Rider BB-gun for Christmas, but his mother was against it because "You will shoot your eyes out with it!" His father had entered a contest and one day when he got home from work there was a package for him. In all the excitement, the BB-gun was forgotten - but the kicker was the prize was a huge woman's leg that was lit up and placed in the parlor window! I won't tell you more; you will just have to wait for Christmas and see for yourself.

Jean died somewhere in [Florida], I don't know [October 16, 1999] when but he is missed by many people. In passing, my experience working with Jean was for only a few short years Oh so long ago! It was 1951/52, to be exact, and it is etched in my mind and I will never forget "Old Shep."
Broadcast Pioneers member Tony Williams adds this about a show that came out of Studio 2:
In reference to Jean Shepherd's Philly TV appearances, in the early 60's, WCAU-TV (CBS O&O at the time) locally aired a series titled "The Dissenters." The series ran at least one season, perhaps more and was hosted by Jean. I recall two memorable 30 minute programs mainly because of their content. One was an interview with the chief from a New York Indian reservation and the other was 30 minutes with Malcolm X.

I was an AD (floor manager) at the time. Years later I was sitting at a secretary's desk in the Program Department and saw a letter from the Library of Congress requesting a dub of the Malcolm X interview. No one in management recalled the interview. I spent hours in the so-called video library looking for the program... not one of the series was saved.
A LITTLE BIT OF HISTORY!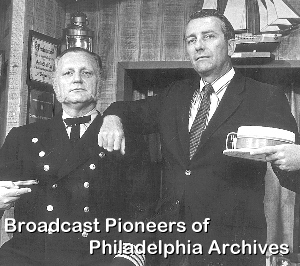 (Left to right) Broadcast Pioneers members W. Carter Merbreier (Captain Noah) and Bill Russell
"Captain Noah and His Musical Ark"
WFIL-TV, Channel 6, Philadelphia
circa 1969
Photo originally donated by the family of Bill Russell
Philadelphia Radio in December 1942!
Just some odds and ends on what was going on in Philadelphia Radio over 70 years ago. Tom of WIBG (announcer) was commissioned a lieutenant in the Army Air Forces at Davis-Monthan Field in Tucson. Dick Olanoff joined the announcing staff at Gimbel's WIP. He formerly was on staff at the Philadelphia Record Newspaper. He was "the assistant announcer" of the all-night "Dawn Patrol."
Jerry Stone, a former announcer and publicity director at WDAS Radio, was graduated from officers training school at Fort Monmouth, NJ and commissioned a second lieutenant in the Army Signal Corps. Jerald Morvay moved from WKIP in Poughkeepsie, NY to WIP Radio as Production Manager. Broadcast Pioneers member Sam Serota had that position and was promoted to assistant PD and PR Director.
Over at WPEN, Dorothy Wolf of their programming department was appointed head of their commercial department. She took over from Les Weiss who took a post in "the war industry." Former night news editor Jerry Austin became chief announcer of W73PH (later known as WPEN-FM). He also became the stations' librarian. Maxine Kravitz joined WPEN as secretary to General Manager Arthur Simon. She took the place of Mary Schwartz, who left WPEN to get married. Lew London, PD of WPEN, was named head of the newly formed Philadelphia Civilian Defense Committee
Broadcast Pioneers founding member Ike Levy, chairman of WCAU Radio, was named co-chairman of the local March of Dimes campaign (started four years before by President Franklin Roosevelt) of the National Infantile Paralysis Foundation. Eddie Cantor gave the campaign its name. It was a play on the newsreel "March of Time."
That same month, there were big changes at KYW Radio. Bob Cottingham took a leave of absence to join the Douglas Aircraft Company in Los Angeles to help with the war effort. He was previously assistant publicity director. Chick Kelly from the station's news department filled Cottingham's position. Bill Rambo joined the station's news staff as editor. He was previously with the Norristown Herald-Times. Former sports editor of the Record Jimmy Gantz also joined the news department.
Three members of the station's staff joined the Armed Forces. They were Jay Faraghan, announcer, who became a private in the Army reserve. Irene Skilton of the Westinghouse audit department joined the WAACs as did Clara Lausterer. Clara was the asistant to Helen Kiley, who headed the station's woman's department. Ella Oertel went to the audit department and Barbara M. Volkman, formerly of CBS, Washington's music department goes to the woman's department. Jim McCann and "Snuffy" Smith were accepted for officers candidate school. McCann was an announcer and Snuffy was part of the station's mailroom staff.
During this same time, a young news editor left WSB in Atlanta and joined the announcing staff of CBS Radio. His name was Douglas Edwards.
LESS WORK FOR MOTHER!
Any of us old enough to remember Horn and Hardart certainly recall their slogan, "Less Work for Mother." Well, let us tell you a little about the lady who created that well known phrase. Her name was Mrs. Alice V. Clements of the Isaac W. Clements Company of Philadelphia. The slogan was created to promote H&H's automats and ready-made baked goods. That slogan meant more work for one mom, Alice. She was the radio director of her husband's outfit. According to Broadcasting Magazine, "Children's Hour dates back to the 'make believe' mike placed in a nursery park to amuse the kids." The article goes on:
Playing radio proved to be so popular that the real estate contractor responsible for the park installed a 100-watt station (WCAU) from which the children could broadcast to nearby listeners in the community. Mrs. Clements persuaded her husband to sell Horn and Hardart through the program.

Starting on WCAU, Philadelphia, the child talent show under the direction of "Aunt Alice" finally landed a permanent spot on WEAF in 1939. Commuting to Manhattan every two weeks, Mrs. Clements auditions 50 children and supervises
Alice Clements lived in Drexel Hill, Pennsylvania and commuted to NYC (and Radio City Music Hall where the show originated) for the broadcasts. Born in 1901 on Childs Avenue right here in Drexel Hill, Alice lived there from 1928 until 1990 when she moved to the Haverford Nursing and Rehabilitation Center.
Through the years, it is estimated that she auditioned over 300,000 youngsters. The show in the "Big Apple" was patterned after the hit broadcast here in Philadelphia, created by Stan Lee Broza, the host of the Philly program and our first president.
Broadcast Pioneers Hall of Famer Esther Broza, wife of founding member Stan Lee Broza, did the same thing here in Philadelphia. Stan Lee once said that he asked his wife to do it just for a few weeks and that became 30 years. The "Stores at 69th Street" were the first sponsors of "The Children's Hour" in Philadelphia. Stan Lee Broza created the play area complete with make-believe microphone to tie into the broadcast. H&H picked up the show after the 13 week run sponsored by the Upper Darby stores. H&H continued with the show until its end with Plymouth being co-sponsor during the last few years.
Ann Guiliano, a visitor to our website, e-mailed:
I appeared on the New York Children's Hour from 1948 when I was 5 years old until 1954. My sister, who was 10 when we started, and I were known as "The Toscano Sisters" and we sang. My sister and I and our younger brother Joey, who started in 1950 or '51 when he was about 3, each have a poster in our dining rooms that was used for advertising purposes. The entire cast is in the photo with our names at the bottom.

I have very fond memories of "Aunt Alice," "Aunt Marilyn" (a producer) and "Uncle Morty," who played the piano for us all. We were ALWAYS treated like the children we were and felt loved by all. By the way, she never forgot us. She sent us Christmas cards for many many years, and from her many travels all over the world. I was married with children and still receiving and sending cards to her. She was a wonderful person.
The Governor Complains to the FCC!
In the November 10, 1934 issue of Microphone, the Governor of Pennsylvania filed a complaint with the FCC. It was the top story in the magazine that looked more like a newspaper. The journal's slogan was "The Original U.S. Radio Newspaper." The article said in part:
Elections are past, but a red-hot fight is being waged before the Federal Communications Commission over alleged sabotage of candidates' programs by partisan radio stations or their employees.

Governor Gifford Pinchot brought the issue to a head by filing a complaint with the FCC that many of his speeches in the recent Pennsylvania campaign were sabotaged by radio stations.

Though other candidates got clear reception, there was much interference when he spoke over the radio, Pinchot said.

He wrote Chairman Eugene O. Sykes of the FCC that last April a campaign speech was cut off the air on the ground that it was not received properly by KDKA in Pttsburgh from the Harrisburg studios of WHP.

Pinchot said a speech delivered by jim October 18th at Charleroi, Pa., through stations KQV, WHP, WIP, WGBI and WRAU was "ruined by a loud buzz from beginning to end of the speech.

He added: "I do not believe I am called upon to submit in silence to sabotage of this kind." Pinchot complaint recalled a statement several months ago by Senator Borah of Idaho that he has received reports a speech he made attacking the Roosevelt 'New Deal' was sabotaged by radio stations.

Senator Schall of Minnesota frequently charged that his manuscripts for radio addresses have been censored, especially sizzling attacks on the Roosevelt administration.

Congressional Leaders were puzzled over the Commission's powers when complaints of sabotage were made. Some thought the Commission was powerless. The radio is a private agency and if a purchaser of time does not get satisfactory service his complaint is with the private station, it was argued.

Others contended that since the government is trying to police the radio industry and regulate everything private capital desires to do, it also must assume the responisbility for seeing that the ether lanes are kept open and free from sabotage.
Governor Pinchot lost his bid for re-election in 1934. The FCC took no action on Pichot's complaint. Four years later, he again tried to be elected Governor but was defeated.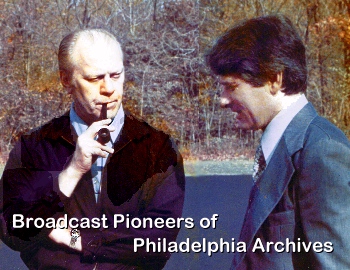 (Left to right) U.S. President Gerald Ford & Broadcast Pioneers member Al Primo
Camp David, Frederick County, Maryland
1974
Photo originally donated by Broadcast Pioneers member Al Primo
A FINAL THOUGHT....
"The 'live on the scene' element (of a news story) is there for a reason. It's part of the story. ...The live location means something. It's in context and we should not just be standing 'live' in the dark (because) we can do that. There is no substitute for the news."
Al Primo
Creator of the Eyewitness News Format
from his book, "Eyewitness Newsman"
2008
Please contact us by e-mail at newsletter@broadcastpioneers.com or by mail to: Ed Eisen, 1110 Longshore Avenue, Philadelphia, PA 19111. (215) 725-7253. Your stories are important, to you, to us, and your colleagues. Contact us today and we'll include your story in the next newsletter!

Photo Editor & Archival Historian - Gerry Wilkinson
© 2013, Broadcast Pioneers of Philadelphia
All Rights Reserved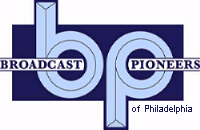 The e-mail address of the Broadcast Pioneers of Philadelphia is pioneers@broadcastpioneers.com
For luncheon reservations call (856) 365-5600 or e-mail us at: rsvp@broadcastpioneers.com