Hit After Hit! Smash After Smash! Blockbuster After Blockbuster! Here's another "monster" lunch where the "stars" don't wait to come out at night. They're there at lunchtime!
"It's What's Happening." That's our next Broadcast Pioneers luncheon. It will be held at the Bala Golf Club, 2200 Belmont Avenue in Philadelphia on Wednesday, May 21st (that's the third Wednesday of the month). Meet and greet is at 12 noon and lunch will be served at 12:30 pm. It's a three course meal with salad and dessert. Plus, we'll have a snack table. Be there or be square!
Our MC for the day is member Dick Sheeran, former KYW-TV News Anchor and Reporter. We have scheduled (subject to change) four marvelous members for your enjoyment. They are (in alphabetical order):
Trudy Haynes, host of "The Trudy Haynes Show"/former Channel 3 reporter
Marc Howard, former WPVI "action News" and KYW-TV News Anchor
Tommy McCarthy, music director of WOGL, one one Philly's top rated stations
Jim Murray, Remember When co-host/co-founder of Ronald McDonald Houses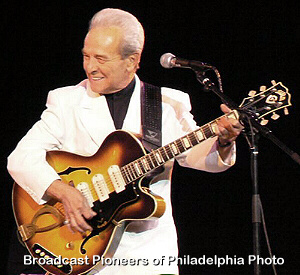 And last but not least, just back from a European tour is member Charlie Gracie who will provide 20-25 minutes of fun and excitement. Yes, the "Butterfly" man is returning to Broadcast Pioneers from headlining across the sea.
It all takes place at the beautiful and historic Bala Golf Club, 2200 Belmont Avenue (across the street from the State Police) in the Wynnefield section of Philadelphia. Only minutes away from Channels 6, 10 and 17 and the radio stations in Bala Cynwyd. Call now for reservations. (856) 365-5600! Don't miss this one!
Plenty of FREE parking. Our luncheons are open to all our members, their guests and any person in the industry or associated fields, whether active or retired. You do NOT have to be a member to attend.
In order to speed up check-in at the luncheon, it would help if you had the $28 in exact change or your $28 check already written. Make it payable to the Broadcast Pioneers of Philadelphia.
If you would like to add a few dollars extra, we would appreciate it. It would help us with all the important work we are doing. Thanks!
WE WANNA SEE YOUR FACE IN THAT PLACE!