Spectacular, sensational, informative, magnificent, dramatic, impressive…these are just a few of the words being used to describe our next luncheon. This September gathering is certain to be right up there where the air is rare! 50 Years of KYW Newsradio will be full of great stories, memories and tales of this legendary radio station. Can you hear the teletype in the background?
It all takes place on Wednesday, September 16th at the beautiful Bala Golf Club, 2200 Belmont Avenue in Philadelphia! Just minutes away from Channels 6, 10 and 17 plus the radio stations in Bala Cynwyd. Tons of free parking. Our moderator will be Jay Lloyd, long-time KYW Newsman.
Our speakers will include (in alphabetical order):
John Brown, former KYW Newsradio traffic report and expert
Harry Donahue, former KYW Newsradio morning news anchor
Ralph "Bud" Galow, former 1060, KYW Newsradio Technician
Lauren Lipton, current KYW Newsradio morning news editor
David Madden, current KYW Newsradio reporter, editor & anchor
Warren Maurer, former General Manager of KYW Newsradio
Bill Roswell, KYW Newsradio's Director of Digital News & Media
Bob Witten, former 1060, KYW Newsradio anchor and reporter
(Left to right) Sam Katz, Bill Bransome and Richard Maloney
Atlantic City remote covering the opening of the first Jersey casino
May 1978
Photo taken by Warren Maurer who was GM at the time
Picture sent to us by member Sam Katz
Meet and greet (networking) starts at 12 noon with a full-course lunch including salad, coffee or tea and dessert being served at 12:30 pm. There's also a snack table. Cash bar available! The cost is still only $28 per person and is open to all our members, any person in the industry or associated fields; both people now active and retirees. You do NOT have to be a member to attend. Make your reservations early by calling (856) 365-5600. It's going to be a great turn out. Attending this luncheon is the biggest "no-brainer" on the planet! Be there and say hi to old friends (and make some new ones).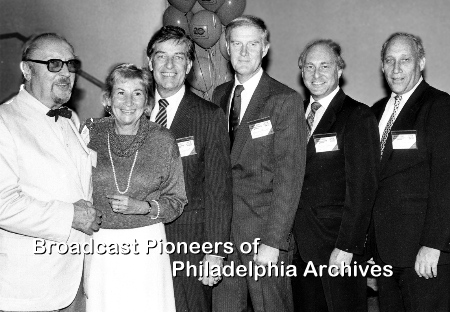 (Left to right) Westinghouse Vice-President Franke Tooke, General Manager's Secretary Muriel Ettlinger), General Managers Frank Oxarart, Warren Maurer, Nelson Cohen, Roy Shapiro
Photo courtesy of Warren Maurer
Picture sent to us by member Jay Lloyd
If you miss this one, you will have missed an extraordinary experience and a good time! But don't worry. Your friends and colleagues will tell you about it. RESERVATIONS ARE CRUCIAL! Don't wait until the last minute, reserve now! This is sure to be another blockbuster turn out. Make your reservation now by calling (856) 365-5600. This is THE place to be on Wednesday, September 16th!
Plenty of FREE parking. Our luncheons are open to all our members, their guests and any person in the industry or associated fields, whether active or retired. You do NOT have to be a member to attend.
The cost is only a donation of $28 (or more) per person! In order to speed up check-in at the luncheon, it would help if you had exact change or your check already written. Checks can be made payable to the Broadcast Pioneers of Philadelphia.
If you would like to add a few dollars extra, we would appreciate it. It would help us with all the important work we are doing. Thanks!
We'll Be Proud to See You in the Crowd!