It's our traditional holiday gathering. Plenty of music, wonderful conversation and good cheer. It all takes place on Wednesday, December 21st at the Bala Golf Club.
If you are a member and your dues are paid up-to-date, your cost for the luncheon is only $10. It's our holiday gift to you. Everyone else is at the regular price of $28. You must reserve your space in advance by calling or e-mailing us in order to get the special $10 price.
Your dues aren't up-to-date? No problem! Pay what you owe and then your lunch is at the $10 charge. Not a member? No problem! Join that day and you'll get the $10 price.
In doubt as to whether your dues are up-to-date? E-mail us and we'll tell you. Just e-mail! pioneers@broadcastpioneers.com.
Reserve by e-mail: rsvp@broadcastpioneers.com
Reserve by phone: (856) 365-5600!
Your MC for the afternoon will be Broadcast Pioneers member "Santa" Bob Charger, local radio personality. You don't want to miss him. Bob will be there wearing a complete Santa suit and hat. Seeing this alone is certainly worth the trip.
At this time, we are still firming up our performers. However, here's some of the ones we know are confirmed: Danny and the Juniors, Billy Carluccci (of Billy and the Essentials), Kenny Jeremiah (formerly of the Soul Survivors), Stephen Caldwell of the Orlons, Denise Montana, Frank Jordan of the Jordan Brothers, Eddie Collins, Joe Pellegrino, Johnny Lerro, Corky Warren, Grace Otley (with her Electric Violin), Sandee Bengel, Johnny B. Hall, John Primerano, Greg Martiello and Meagan Hill.
It all takes place at the beautiful and historic Bala Golf Club, 2200 Belmont Avenue (across the street from the state police) in the Wynnefield section of Philadelphia. Only minutes away from Channels 6, 10 and 17 and the radio stations in Bala Cynwyd. Call now for reservations. (856) 365-5600! E-mail: rsvp@broadcastpioneers.com. Don't miss this one! THIS EVENT IS OPEN TO THE PUBLIC! Make plans to be there.
Reserve by e-mail: rsvp@broadcastpioneers.com
Reserve by phone: (856) 365-5600!
Plenty of FREE parking. Our luncheons are open to all our members, their guests and any person in the industry or associated fields, whether active or retired. You do NOT have to be a member to attend. There is no reserved seating at our luncheons. Feel free to sit anywhere. Well, okay--the three people on the camera crew sit near the cameras, but that's in the back of the room.
In order to speed up check-in at the luncheon, it would help if you had exact change or your check written in advance. Checks should be made payable to the Broadcast Pioneers of Philadelphia.
If you would like to add a few dollars extra, we would appreciate it. It would help us with all the important work we are doing. Thanks!
Reserve by e-mail: rsvp@broadcastpioneers.com
Reserve by phone: (856) 365-5600!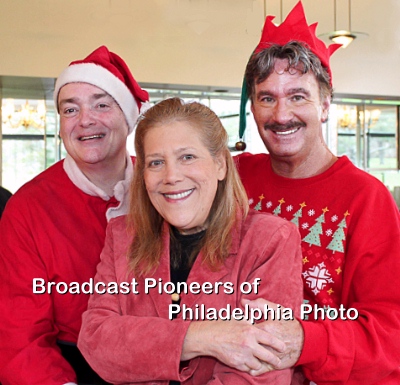 SANTA AND HIS HELPERS WILL BE
PROUD TO SEE YOU IN THE CROWD!