Hit After Hit! Smash After Smash! Blockbuster After Blockbuster! Here's another "monster" lunch where the "stars" don't wait to come out at night. They're here at lunchtime! It's all happening on Wednesday, September 17, 2014. Make plans to be there.
It was a half-century ago when the Beatles performed at Convention Hall which was part of the old Civic Center. The date was Wednesday, September 2, 1964. The concert was sponsored by WIBBAGE, Radio 99 and was broadcast live by them. Broadcast Pioneers Hy Lit and Bill Wright was there on behalf of the station.
The station ran a contest during the month before the concert. Several people were selected to meet with the Beatles. One was them was then 11 years old. Her name is Karen Cinelli. She'll be with us and will say a few words. Also making introductory remarks will be Broadcast Pioneers member Tim Kastner, Digital Media Manager from the Philadelphia Orchestra.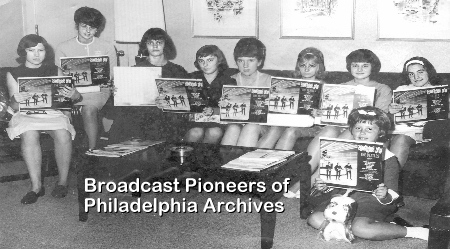 Right side of photo with white hair band is Karn Cinelli
The Beatles Concert
Philadelphia
September 1964
It's all about the "Fab Four." The Beatles were in Philadelphia for a WIBG concert fifty years ago this September. That's our topic: The Beatles and their influence, both in music and our culture.
Our MC for the afternoon is Bob Charger, host of "Brunch with the Beatles" heard every Sunday morning on WOGL, 98.1 from 10 am to 12 noon. (Bob also does 7 to 12 midnight daily on WOGL).
Our panel will include (in alphabetical order):
Frank X. Feller, former WIBG Good Guy & Program Director at WYSP
Ryan Fleur, Executive Vice-President of the Philadelphia Orchestra
Charlie Gracie, super star rock and roll artist, just back from Europe
T. Morgan, veteran rock air personality, currently heard on WMGK
Michael Tearson, iconic rock broadcaster, former WMMR Music Director
Bill Wright, Sr., legendary WIBG and WPEN air personality extraordinaire
Plus, live on the telephone from Arkansas, Broadcast Pioneers member Larry Kane, author of three books about the Beatles. Larry also was the only broadcast journalist to travel with the Beatles during their 1964 and 1965 American tours.
RESERVE NOW! (856) 365-5600!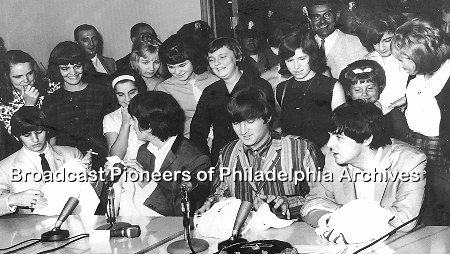 Third from the left is Karen Cinelli (with white hair band)
Seated are the Beatles
Philadelphia
September 1964
Meet and Greet at 12 noon with munchies. Luncheon is at 12:30 pm. Lunch includes a wonderful, fresh salad plus yummy dessert and a complete, full three-course meal. Cash Bar all afternoon. Don't forget the date. It's Wednesday, September 17th.
This all takes place at the beautiful and historic Bala Golf Club, 2200 Belmont Avenue (across the street from the state police) in the Wynnefield section of Philadelphia. Only minutes away from Channels 6, 10 and 17 and the radio stations in Bala Cynwyd. Call now for reservations. (856) 365-5600! Don't miss this one!
Plenty of FREE parking. Our luncheons are open to all our members, their guests and any person in the industry or associated fields, whether active or retired. You do NOT have to be a member to attend.
The cost is only a donation of $28 (or more) per person! In order to speed up check-in at the luncheon, it would help if you had exact change or your check already written. Checks can be made payable to the Broadcast Pioneers of Philadelphia.
If you would like to add a few dollars extra, we would appreciate it. It would help us with all the important work we are doing. Thanks!
WE WANNA SEE YOUR FACE IN THAT PLACE!