At the end of June of this year, Channel 3 will complete 85 Years of telecasting here in Philadelphia. While they went through several owners and lots of managers, Channel 3 (now known as KYW-TV, CBS 3) has always been dear to people in the Delaware Valley.
Come out and help us celebrate their birthday, 85 years of telecasting! You'll certainly have a wonderful time. Make plans to be there on Wednesday, June 21st.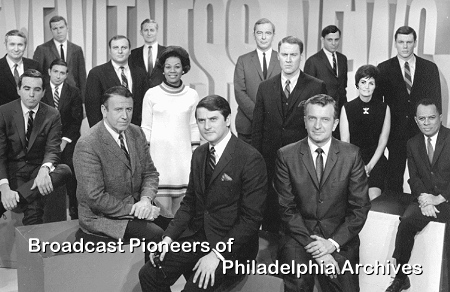 The First Eyewitness News Team
KYW-TV, Philadelphia (now CBS 3)
circa 1965
Our MC for the afternoon will be the ever lovely Pat Ciarrocchi, former anchor and reporter for KYW-TV, CBS 3.
Included in this jubilee will be the following scheduled speakers (in alaphabetical order): Anne Amico-Mirkin, Carol Erickson, Irv Grodsky, Trudy Haynes, Ed Hurst, Tom Lamaine, Robin Mackintosh, Gary Mirkin, Dick Sheeran, Marciarose Shestack, Dick Standish and Mike Strug.
It all takes place at the beautiful and historic Bala Golf Club, 2200 Belmont Avenue (across the street from the state police) in the Wynnefield section of Philadelphia. Only minutes away from Channels 6, 10 and 17 and the radio stations in Bala Cynwyd. Call now for reservations. (856) 365-5600! E-mail: rsvp@broadcastpioneers.com. Don't miss this one! THIS EVENT IS OPEN TO THE PUBLIC! Make plans to be there.
Plenty of FREE parking. Our luncheons are open to all our members, their guests and any person in the industry or associated fields, whether active or retired. You do NOT have to be a member to attend. There is no reserved seating at our luncheons. Feel free to sit anywhere. Well, okay--the three people on the camera crew sit near the cameras, but that's in the back of the room.
The cost is only a donation of $28 (or more) per person! In order to speed up check-in at the luncheon, it would help if you had exact change or your check already written. Checks can be made payable to the Broadcast Pioneers of Philadelphia. Meet and greet starts at 12 noon with lunch being served at 12:30 pm.
If you would like to add a few dollars extra, we would appreciate it. It would help us with all the important work we are doing. Thanks!
WE'LL BE PROUD TO BE YOU IN THE CROWD!