Breaking News! WTXF-TV, Fox 29 is 50 Years Old in May. Come out and help us celebrate a half century of this market's first commercial UHF television station.
Our MC for the afternoon is Alex Holley, morning co-host of Fox 29's "Good Day Philadelphia."
Our speakers are: (in alphabetical order):
Dennis Bianchi, Vice-President and General Manager of Fox 29, WTXF
Howard Eskin, Fox 29's Sports Anchor & host of Fox 29 Sports Sunday
Doug Henson, the station's first newscaster back in 1965 when it was WIBF-TV
Dave Schratwieser, investigative and street reporter on Fox 29 for two decades
Sue Serio, Fox 29's Morning Weather Anchor for "Good Day Philadelphia"
EXTRA SPECIAL ADDED ATTRACTION!
GENE CRANE!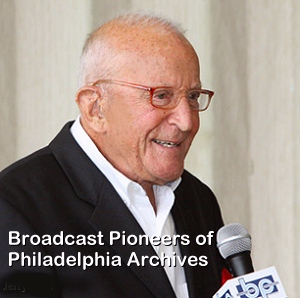 Broadcast Pioneers Member Gene Crane
Bala Golf Club, Philadelphia
Wednesday, May 19, 2010
Photo taken by Broadcast Pioneers member Jerry Klein
It's been five years since member Gene Crane has joined us at a Broadcast Pioneers luncheon. That's because he lives in Mexico. However, Gene will be in Philadelphia this spring and will be joining us at our May 20th luncheon. He'll be saying a few words telling us what he has been up to. By the way, Gene turns 95 years old on May 27th. Make it a point to come out and say hi to Gene.
This all happens at the beautiful and historic Bala Golf Club, 2200 Belmont Avenue (across the street from the state police) in the Wynnefield section of Philadelphia. Only minutes away from Channel 6. (Also close to channels 10 and 17 plus the radio stations in Bala Cynwyd).
Plenty of FREE parking. Our luncheons are open to all our members, their guests and any person in the industry or associated fields, whether active or retired. You do NOT have to be a member to attend. There is no reserved seating at any of our luncheons. Feel free to sit anywhere. Well, okay--the three people on the camera crew sit near the cameras, but that's in the back of the room (who wants to sit there except them?).
The cost is only a donation of $28 (or more) per person! In order to speed up check-in at the luncheon, it would help if you had exact change or your check already written. Checks can be made payable to the Broadcast Pioneers of Philadelphia.
If you would like to add a few dollars extra, we would appreciate it. It would help us with all the important work we are doing. Thanks!
WE WANNA SEE YOUR FACE IN THAT PLACE!