RSVP IMMEDIATELY!
(856) 365-5600!
An author is the originator of a written work. Well, we have four of the best in our area scheduled to speak at our February luncheon. It all takes place on Wednesday, February 17th at the Bala Golf Club. Make plans to be there. Our MC for the afternoon will be member (and author) Alan Tripp.
Here's our speakers scheduled to appear, subject to change (in alphabetical order):
Charlie Gracie, author of "Rock & Roll's Hidden Giant: Story of Rock Pioneer
Larry Magid, author of "My Soul's Been Psychedelicized: Electric Factory"
T. Morgan, author of "Confessions of a Teenage Disc Jockey" & WMGK jock
Bill Shull, author of "Philadelphia Television" (with hundreds of great photos)
JUST ADDED!
TRIBUTE TO ED KLEIN!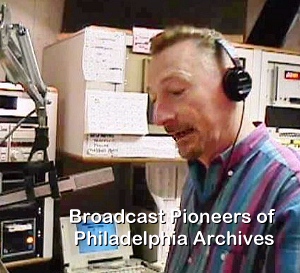 Broadcast Pioneers member Ed Klein, former Music Director of WPEN (when it was the Station of the Stars) passed away earlier this month. We'll do a short tribute to Ed just before our regular luncheon program will begin. Speaking will be Dean Tyler and Andy Kortman.
(856) 365-5600! CALL NOW!
It all takes place on Wednesday, February 17th at the beautiful Bala Golf Club, 2200 Belmont Avenue in Philadelphia! Just minutes away from Channels 6, 10 and 17 plus the radio stations in Bala Cynwyd. Tons of free parking.
Meet and greet (networking) starts at 12 noon with a full-course lunch including salad, coffee or tea and dessert being served at 12:30 pm. There's also a snack table. Cash bar available! The low cost donation is only $28 per person and is open to all our members, any person in the industry or associated fields; both people now active and retirees. You do NOT have to be a member to attend.
MAKE YOUR RESERVATIONS NOW!
(856) 365-5600!
Make your reservations early by e-mailing us at: pioneers@broadcastpioneers.com or calling us at (856) 365-5600! It's going to be a really huge crowd and an extremely fun time. Attending this luncheon is the biggest "no-brainer" on the planet! Be there and say hi to old friends (and make some new ones).
If you miss this one, you will have missed an extraordinary experience and a good time! But don't worry. Your friends and colleagues will tell you about it. RESERVATIONS ARE CRUCIAL! Don't wait until the last minute, reserve now! This is sure to be another blockbuster turn out. Make your reservation now by calling (856) 365-5600. This is THE place to be on Wednesday, February 17th!
(856) 365-5600! CALL TODAY!
Plenty of FREE parking. The cost is only a donation of $28 (or more) per person! In order to speed up check-in at the luncheon, it would help if you had exact change or your check already written. Checks can be made payable to the Broadcast Pioneers of Philadelphia.
If you would like to add a few dollars extra, we would appreciate it. It would help us with all the important work we are doing. Thanks!
WE'LL BE PROUD TO SEE YOU IN THE CROWD!